a no cook salad from Udupi cuisine using lentils and cucumber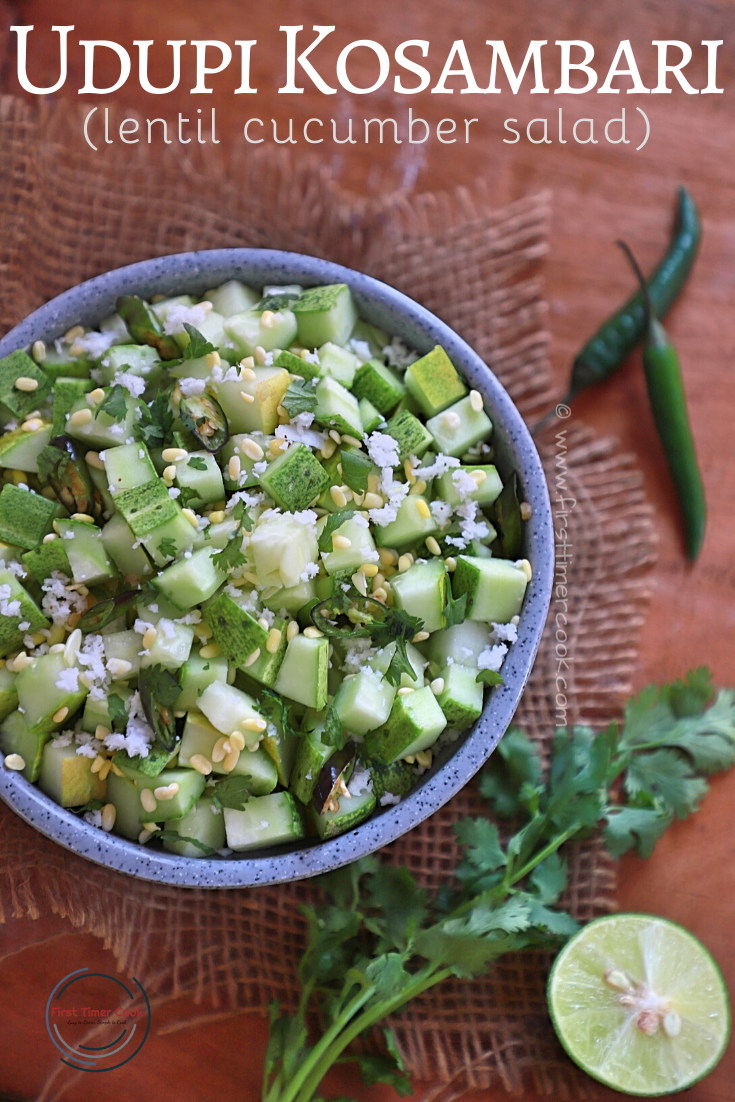 Kosambari or Koshambari !!!
This is a raw salad made of pulses (split legumes) served as it is or sometime seasoned with fresh curry leaves and mustard seeds. Kosambari is a popular dish all over the state of Karnataka mainly made during most festivals, marriages and special occasions etc. The traditional fresh kosambari is a mix of the lentils, vegetables (most time cucumber is picked), coconut and few drops of lemon juice to give a zing to the salad. This combination of lovely light green, yellow colors looks very attractive, appealing and tempting to eat. The kosambari salad is usually a part of the full course meal in authentic Udupi cuisine.
Udupi cuisine in details :
Udupi Cuisines is one of the renowned cuisines of Southern part of India. It takes its name from the city, Udupi in the state of Karnataka. This is a land of temples and has many beautiful temples including Krishna Mutt. Udupi cuisine is similar to the temple meals, sometimes devoid of onion and garlic. It comprises dishes made basically from grains, beans, vegetables and fruits. Usage of foreign vegetables like carrots, capsicum, potatoes and the like were avoided, which made it all the more restrictive. And also there is a common misconception that Udupi cuisine entails only tiffin and breakfast items, well in fact it has a wide array of full course meal including curries, saar or rasam, side dishes, sweets, kosambari (Salads) etc. A typical full course Udupi meal is always served on a plantain leaf, which is traditionally kept on the ground.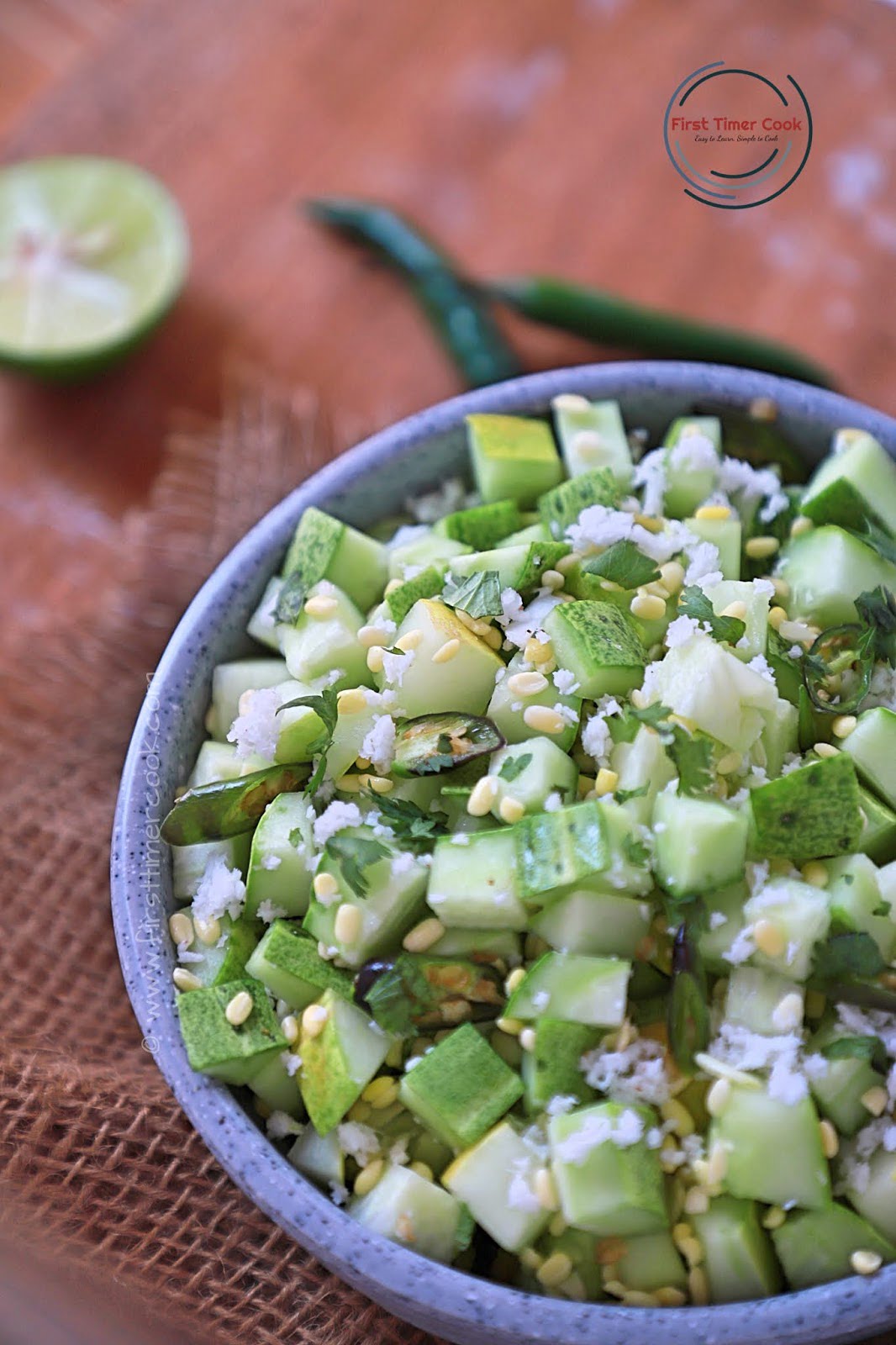 Ingredients to make this salad :
The pulses generally used in this salad are split Bengal gram (chana dal / kadale bele in Kannada) and sometime split green gram (moong dal / hesaru bele in Kannada). There are many variations of the kosambari particularly by selecting the vegetables like cucumber or carrot or both in grated form. By adding both of them, the salad looks so colorful. I have picked moong dal and cucumber to make this salad. Green chili gives slight spiciness in the salad, but if serving to kids, then simply skip this. In addition to this, some freshly grated coconut is mixed. Lemon juice gives the tangy-ness in the salad. In summer when fresh raw mangoes are easily available, one can use some grated raw mangoes instead of lemon here. Some also uses a tempering to the salad. And for tempering, few curry leaves and mustard seeds are used along with a pinch of asafoetida. I have not added any tempering here. So this is a completely NO COOK recipe.
Preparation method of this Kosambari :
The time consuming part here is the soaking of lentils, else rest everything is so quick. I have picked split green gram (moong dal) and soaked in water for 1 hour. Then those are drained well and kept aside. Next in a mixing bowl all the
cucumber cubes, soaked moong dal, grated coconut, chopped green chilies & coriander leaves are mixed well. If preferring the tempering, then now heat oil in a tadka pan. Add mustard seeds, curry leaves, asafoetida and allow to crackle. Add this tempering to the salad bowl and mix everything. Then just before serving lemon juice and salt are added and mixed. After that, it is served immediately, else the salt will make the salad slightly soggy.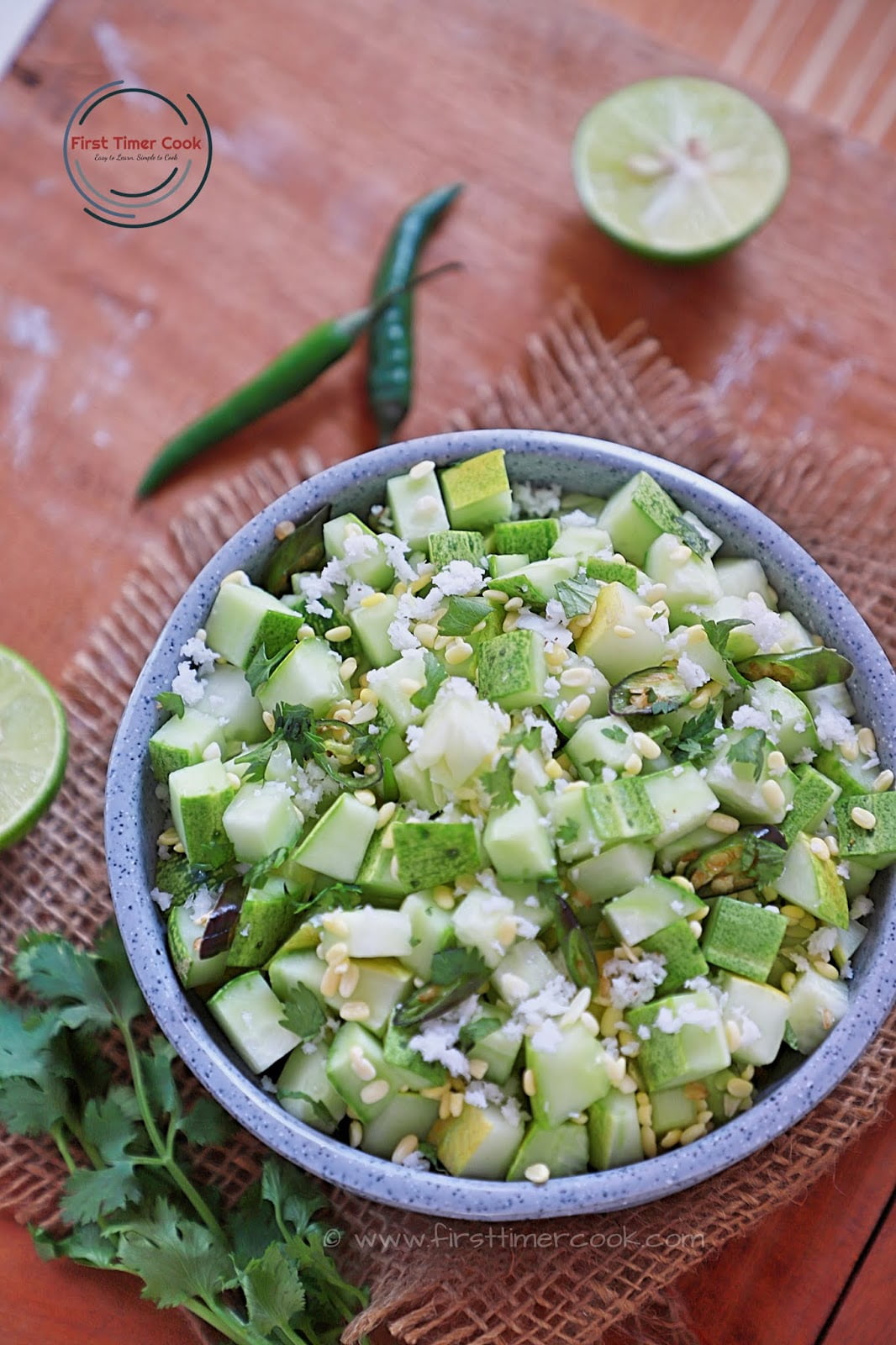 Why one should make this ?
so easy, simple & refreshing salad
NO COOK dish
perfect healthy dish during festival
Vegan as well as Gluten free
No oil recipe
Serving suggestion :
This raw salad is very refreshing and cooling. Usually this is offered as Prasad (offerings) in most of the temples. As most of the ingredients are eaten raw, the kosambari salad is highly nutritious and energetic. In Udupi cuisine, it is one of the first five items to be served on the leaf during any feast which is also an indication that Kosambari is quite the star dish. This makes a good balance in the overall meal.
It is also believed that Kosambari was first made to celebrate the victory of Rama who came triumphantly after slaying the 10-headed demon king Ravana. So this salad is often prepared during Ram Navami too. Soaking the moong dal is the most time consumed while preparing the salad. Else the rest process like mixing everything and finally tossing with lemon juice and salt make it so easy, quick to have the salad. Also this is completely vegan and gluten free. Although this is usually served as an appetizer, still one can opt as a healthy main meal or even snack. So do give a try this simple salad using lentil and cucumber !
Event related to this post :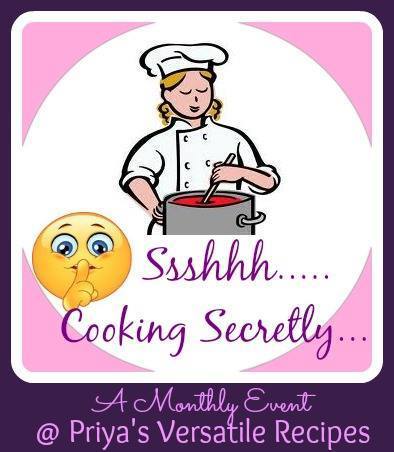 Well, the May month challenge in 'Shhhhh Cooking Secretly Challenge' group was 'Udupi Cuisine'. The theme was suggested by Jayashree, she is a talented blogger friend of mine. Well for the current theme, my partner was Ashima (blogs at my weekend kitchen) who gave me 2 secret ingredients as Lemon juice & Coconut and I gave her as Jaggery & Tamarind. Do check this chutney prepared by her 😊 And as usual, using mine two ingredients I had to prepare a dish from Udupi cuisine. So I have picked the salad using lentil as Udupi Kosambari / Lentil Cucumber Salad.
: Recipe Card :
Udupi Kosambari / Lentil Cucumber Salad / Hesaru Bele Koshambari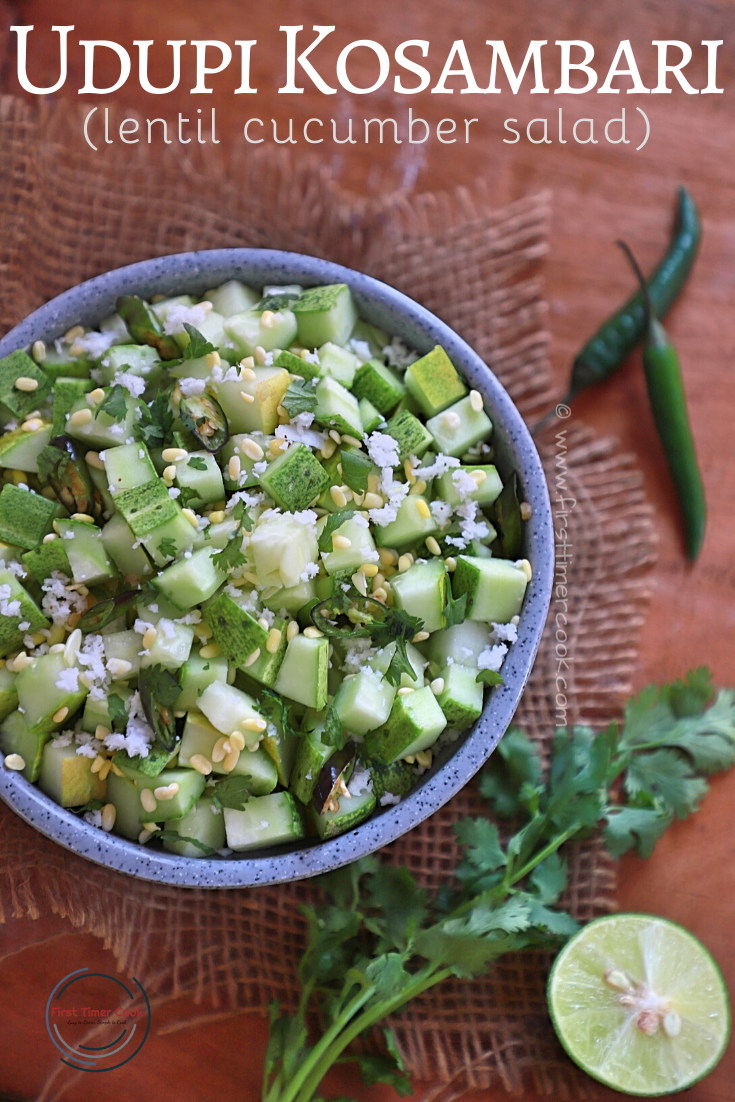 Prep time: 10 MCook time: Total time: 10 M
a no cook salad from Udupi cuisine using lentils and cucumber
Ingredients:
Moong dal (split green gram) 1/3 cup
Cucumber (cut into cubes) 1 cup
Coconut (grated) 2-3 tbsp
Green chili (finely chopped) 1-2 no.
Lemon juice 1 tsp
Salt as needed
Coriander leaf (finely chopped) (optional) few
Instructions:
First wash and clean the moong dal.
Soak with enough water in a bowl for 1 hour.
Drain well and keep aside.
Next in a mixing bowl take cucumber cubes, soaked moong dal, grated coconut, chopped green chilies & coriander leaves.
Mix well.
Just before serving, add lemon juice and salt.
Give a nice mix and serve immediately !
Notes:
While serving to kids, just avoid the green chili addition.
Always mix the salt just before serving. Else the salad becomes slightly soggy.
kosambari, lentil salad, cucumber, moong dal, split green gram, coconut, lemon,
vegan, gluten free, salad, no cook recipe, Udupi koshambari
Udupi
Did you make this recipe?
Tag @firsttimercook on instagram and hashtag it #firsttimercook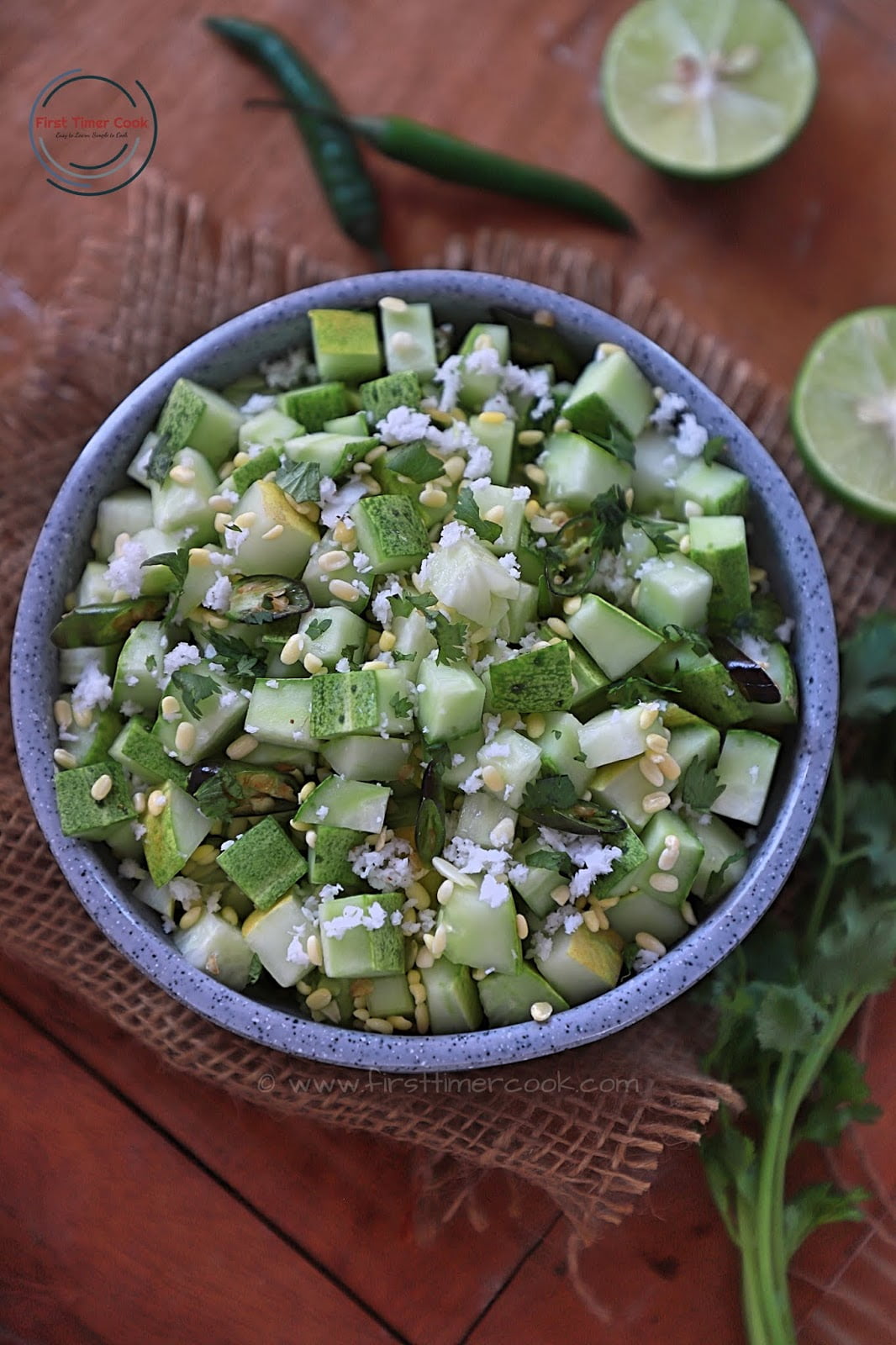 You may also follow me on Facebook, Pinterest, Twitter, Google+, Instagram and can subscribe for free to get new recipes directly into your inbox 😊
PIN for later :