only 2 ingredients Sorbet without using any sweetener and ice-cream maker.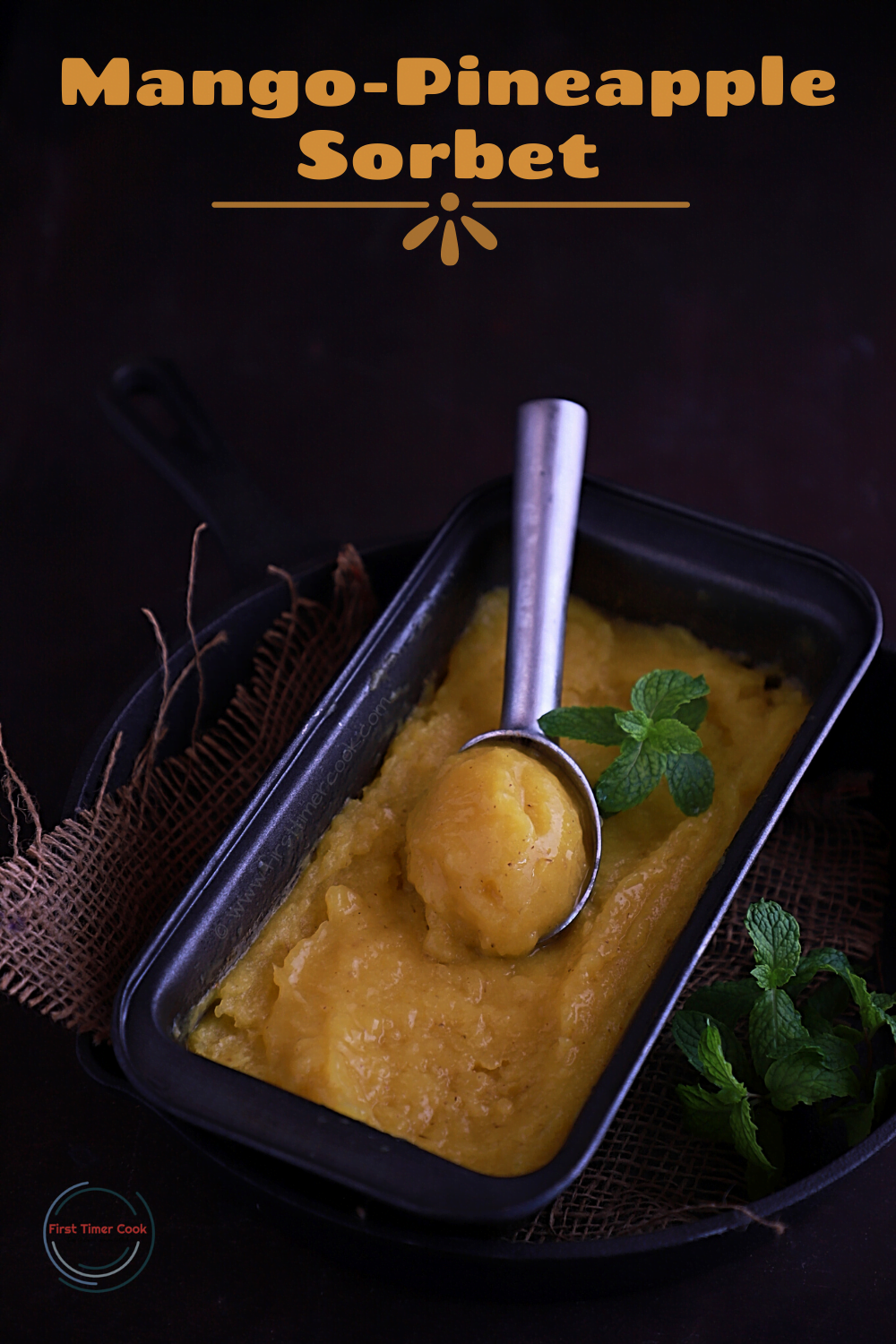 Sorbet !
Sorbet is a sweet frozen treat. Unlike ice cream or gelato, it doesn't contain milk or cream. Still it has a deliciously creamy texture if prepared perfectly. Sorbets are really easy to make at home and one cant even believe that without any ice cream maker also sorbet can be prepared. Just some frozen fruits are pureed along with sugar and water. One can also add some other flavorings like chocolate or wines to enhance the flavor the sorbet.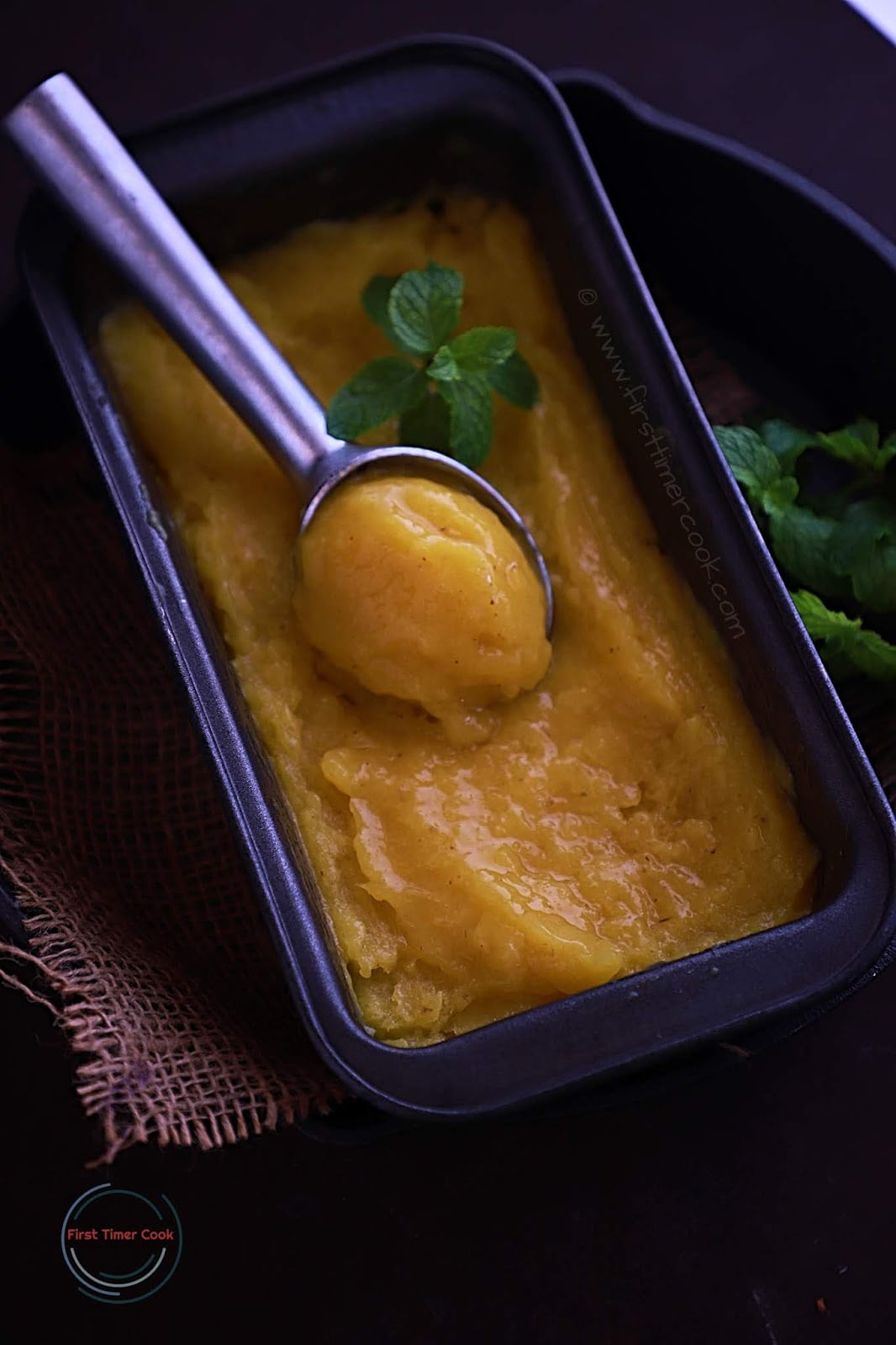 Today's post is a sorbet using two tropical fruits : mango and pineapple as Mango Pineapple Sorbet. This sorbet is prepared without using any ice cream maker. And that too no sweetener is added and it is dairy free too. Doesn't it sound so delicious ! Super simple and that too using only 2 ingredients, who can deny to have 🙂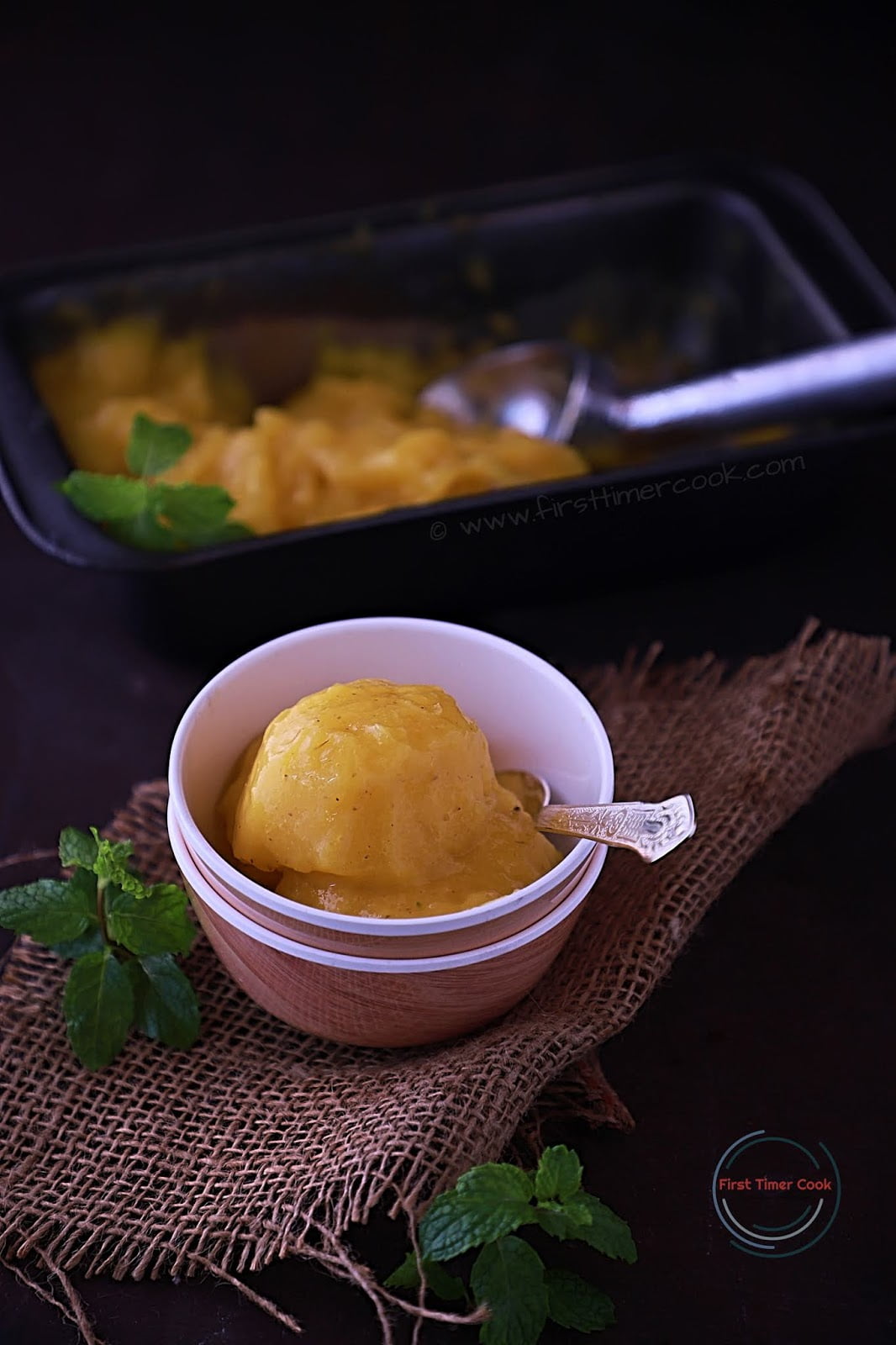 Now let's go through how to make "

Mango-Pineapple Sorbet (without sweetener & Ice-Cream Maker)" at home 👇
The event related to this post :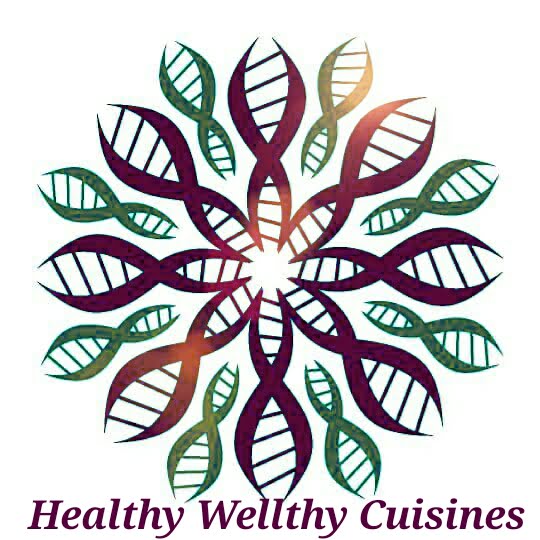 Well this time our fortnight foodie group named as Healthy Wellthy Cuisines is decided to select 87th theme : 'Cool Dessert' and is suggested by Vanitha di. She shares amazing recipes which are vegetarian and I love her baked dishes mostly, do check her space. Well coming back to theme, she suggested to make any cold desserts as the summer is here, So I have come up with this Mango-Pineapple Sorbet. Here are some similar recipes shared by our Healthy Wealthy Group members Carrot Kheer by Preethi di, Mango Phirni by Vanitha di, Basundi by Narmadha, Mint Rasgulla by Sujatha, Mango Panna Cotta by Jayashree.
.

: Recipe Card :
Mango-Pineapple Sorbet (without sweetener & Ice-Cream Maker)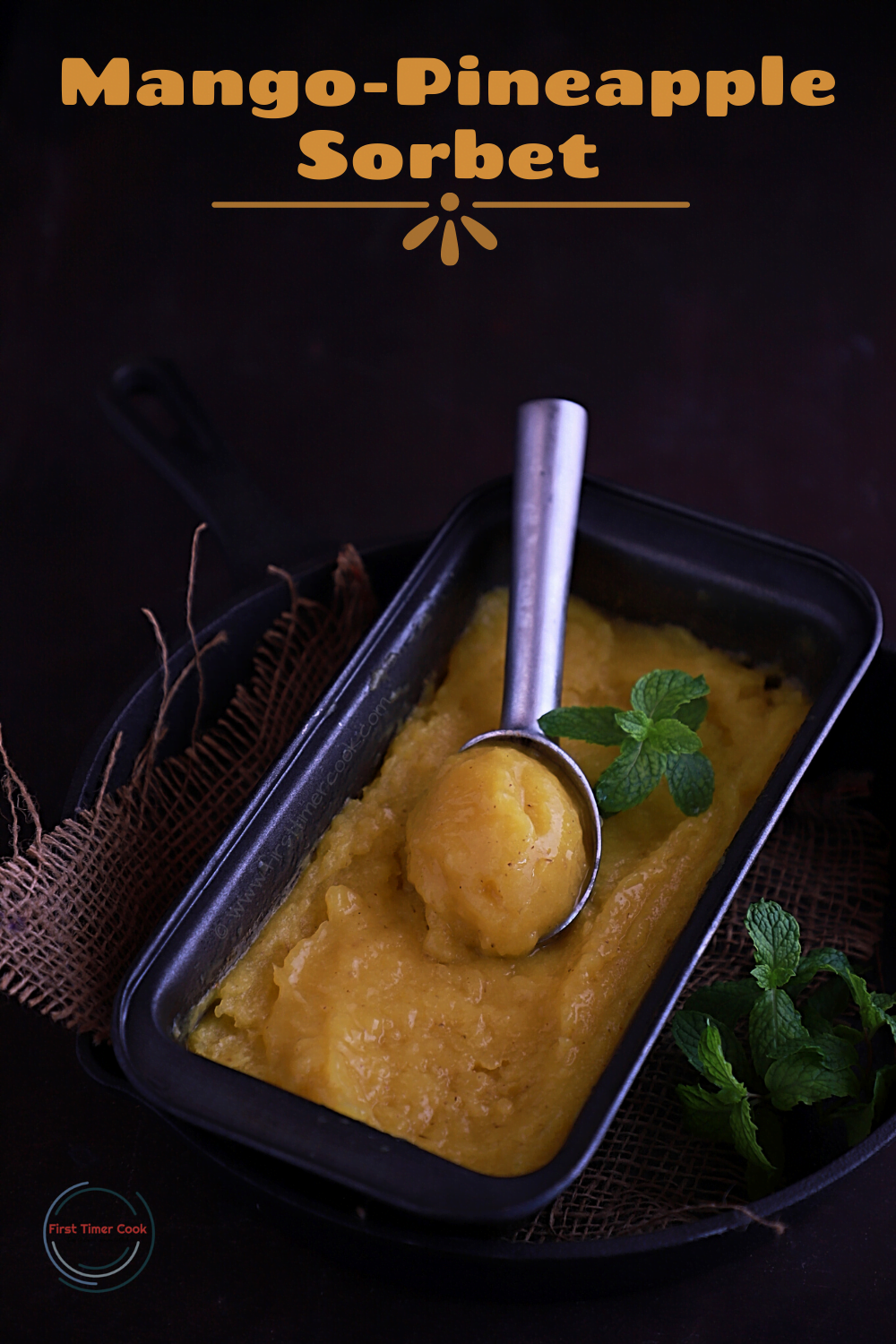 Prep time: 5 MBlend time: 10 MFreeze time: 4 HTotal time: 15 M
only 2 ingredients Sorbet prepared from mango and pineapple without using any sweetener and ice-cream maker.
Ingredients:
Mango (ripe) 2 no.
Pineapple (ripe) 1 no.
Water (warm) (optional) 1/4 cup
Instructions:
Peel and dice both the fruits, mango & pineapple.
Lay all the dices over a plate and freeze until completely solid (preferably overnight).
Then transfer the frozen dices into a food processor in batches and blend until smooth.
Few splash of warm water can be added while blending.
Transfer to an air-tight container and keep in freezer until serve.
Serve immediately for a softer texture, else serve after 3-4 hours of freezing to get a firm texture !
Notes:
Always pick ripe and sweet mango as well as pineapple, else extra sweetener has to be added.
Warm water is optional. Add if it becomes difficult while blending. I have not added any water actually.
Preferably use a heavy duty blender to blend easily.
This can be kept fresh for 3-4 days in freezer.
No sweetener, No ice cream maker, 2 ingredients, Cold dessert
Dessert, Sorbet, Mango pineapple sorbet, Vegan, Gluten free
International
Did you make this recipe?
Tag @firsttimercook on instagram and hashtag it #firsttimercook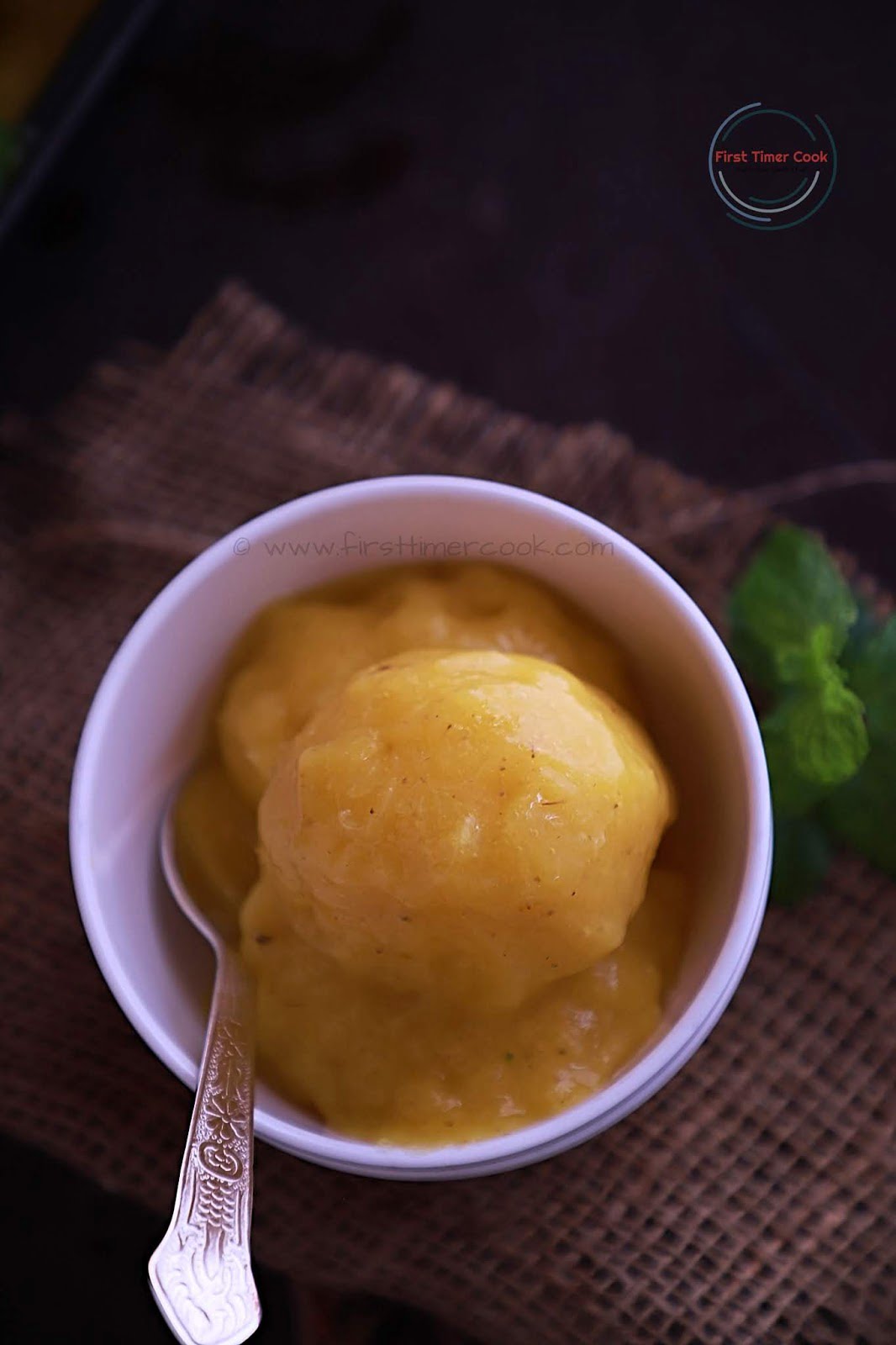 You may also follow me on Facebook, Pinterest, Twitter, Google+, Instagram and can subscribe for free to get new recipes directly into your inbox 😊
PIN for later :