Ghanta is purely an authentic odia delicacy. Basically a variety of vegetables are cooked with soaked pulses. Ghanta is preferred to prepare on the next day of 'dwitbahana osa'. Now-a-days this is a must-dish on special occasions of any odia family. Ghanta literally means 'mixed' in odia, which indicates mixed vegetables.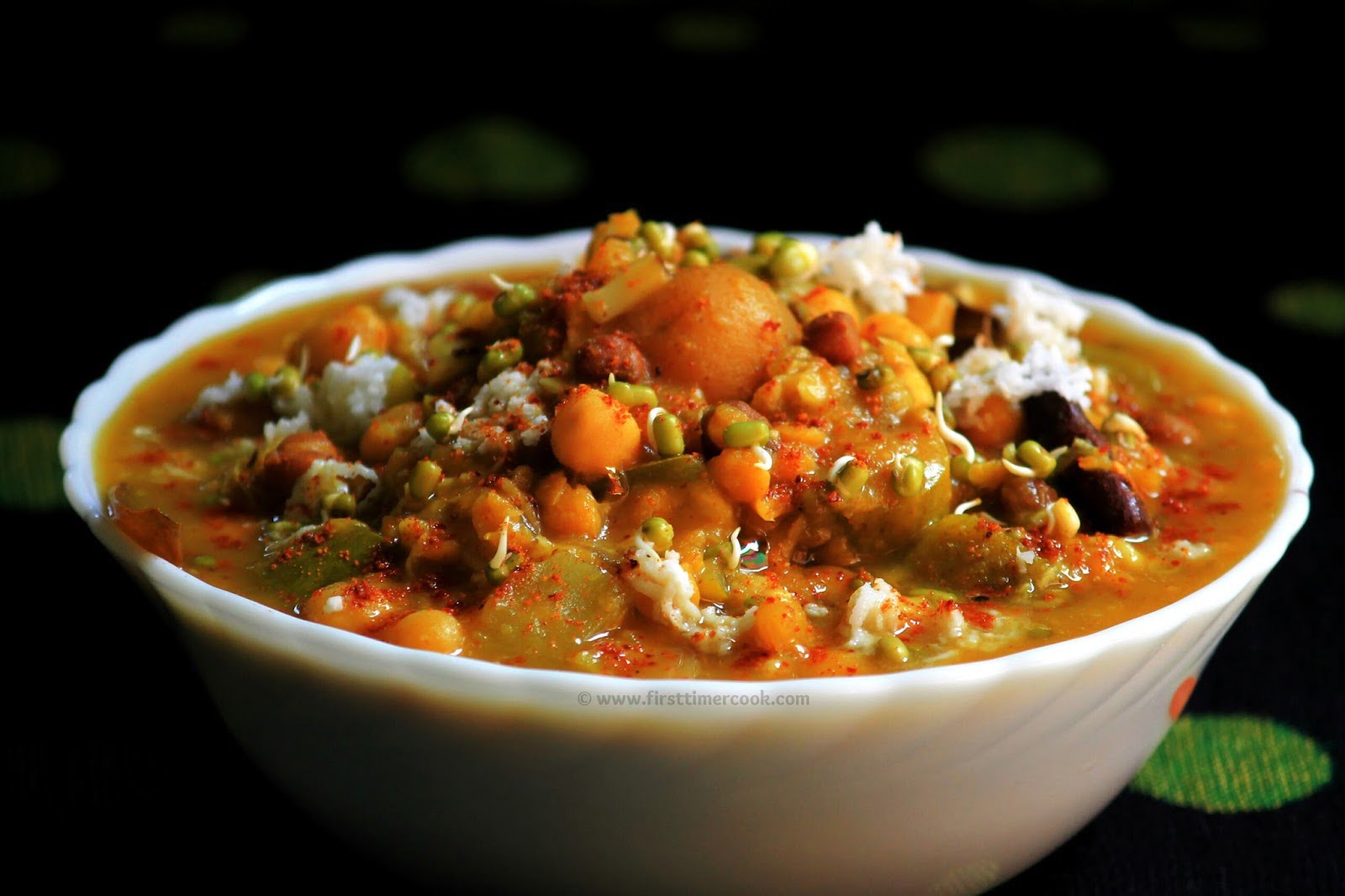 There are several versions of preparing ghanta. Here I have the method of my MIL. She always avoid to pressure cook the vegetables. Instead of that, she cooks the ghanta in a big kadhai / a broad dip pan. Also she adds variety of sprouts. After learning from her, I also started adding sprouts along with other soaked pulses while preparing ghanta. Due to the presence of so many vegetables along with sprouts, the nutrient content of this dish is also high.
So do follow the steps mentioned below to make this authentic nutritious odia dish. If you tried my recipe and enjoyed fully, then please share some pictures of your creation with me. Also kindly give your valuable feedback either in the comment box below or tag me as #firsttimercook on Instagram. You may also follow me on Facebook, Pinterest, Twitter, Google+, Instagram and can subscribe for free to get new recipes directly into your inbox 😊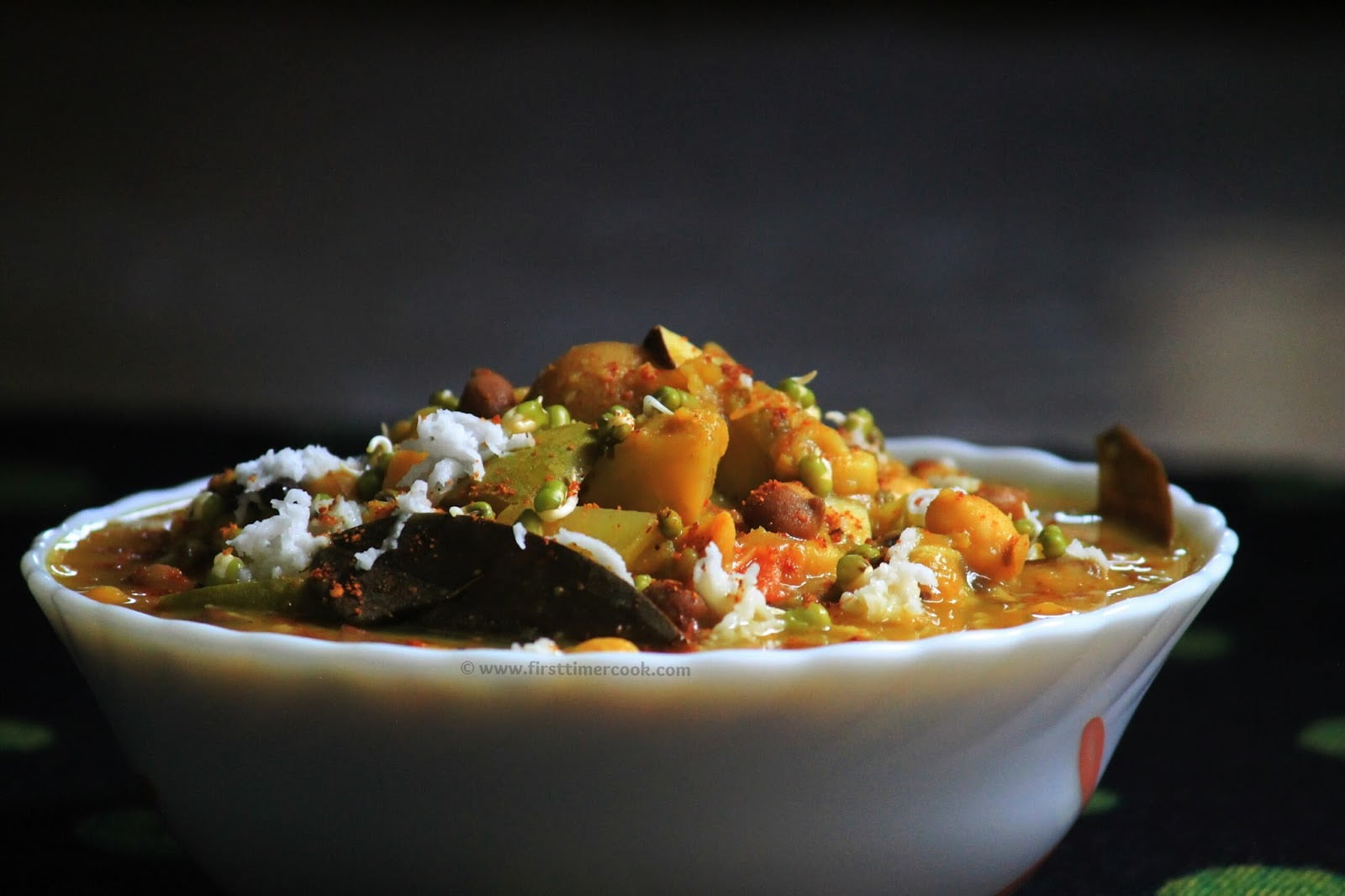 Preparation Time : 20 mins | Cooking Time : 40 mins
Ingredients :
Ingredients

Measurements

Potato (peeled and cut into cubes)

1 cup

Yam (peeled and cut into cubes)

½ cup

Colocasia (arbi) (peeled and cut into cubes)

½ cup

Raw banana (peeled and cut into cubes)

½ cup

Pumpkin (peeled and cut into cubes)

1 cup

Pointed gourd (parwal) (cut into cubes)

½ cu

Spine gourd (teasel gourd) (cut into cubes)

½ cup

Ridge gourd (turee) (peeled and cut into cubes)

½ cup

Broad beans (sim) (cut into 1')

¼ cup

Long beans (cut into 1')

¼ cup

Elephant
apple (peeled and cut into pieces)

/ tomato
(cut into pieces)

½ cup

Ripe
cucumber (peeled and cut into pieces)
(optional)

½ cup

Sprouts
(kala chana, green gram)

½ cup

Chana dal,
kabuli chana

½ cup

Coconut
(chopped and shredded)

½ cup

Ginger
(grated)

3-4 tbsp

Bay leaf

3-4 no.

Roasted
cumin and red chili powder

2 tbsp

Turmeric
powder

1 tsp

Jaggery
(grated)

1 tbsp

Cumin
seeds

1 tsp

Red
chili

4-5 no.

Ghee

for
tempering

Salt

as
needed

Water

as
needed


​Method :
Soak chana dal, kabuli chana for 6-7 hours.
Wash all the vegetables and cut them as mentioned in the ingredients table.
Take a heavy bottomed pan. Put potato, yam, arbi, pumpkin, chana dal, kabuli chana, turmeric powder, salt, grated ginger and water into it. Cover and cook for 5-10 min on medium heat. Since these vegetables took long time to cook, so cook them first.
After 5-10 min, add raw banana, parwal, spine gourd, ridge gourd, sim, long beans, ripe cucumber, chopped coconut. Give a qick stir, cover and cook again.
Once the vegetables are half cooked, add elephant apple along with grated jaggery. Stir, cover and cook till all the vegetables are fully cooked.
Switch off the flame, add sprouts and mix well. keep aside.
Heat ghee in a tadka pan for tempering on medium heat. Add bay leaves, red chilies and cumin seeds.
Once spluttered, pour this over the cooked vegetables immediately.
Add grated coconut, mix well and cook on low flame for 5 min.
Switch of the flame, sprinkle roasted cumin and red chili powder. Give a gentle stir and serve this

nutritious dish

with plain rice / roti !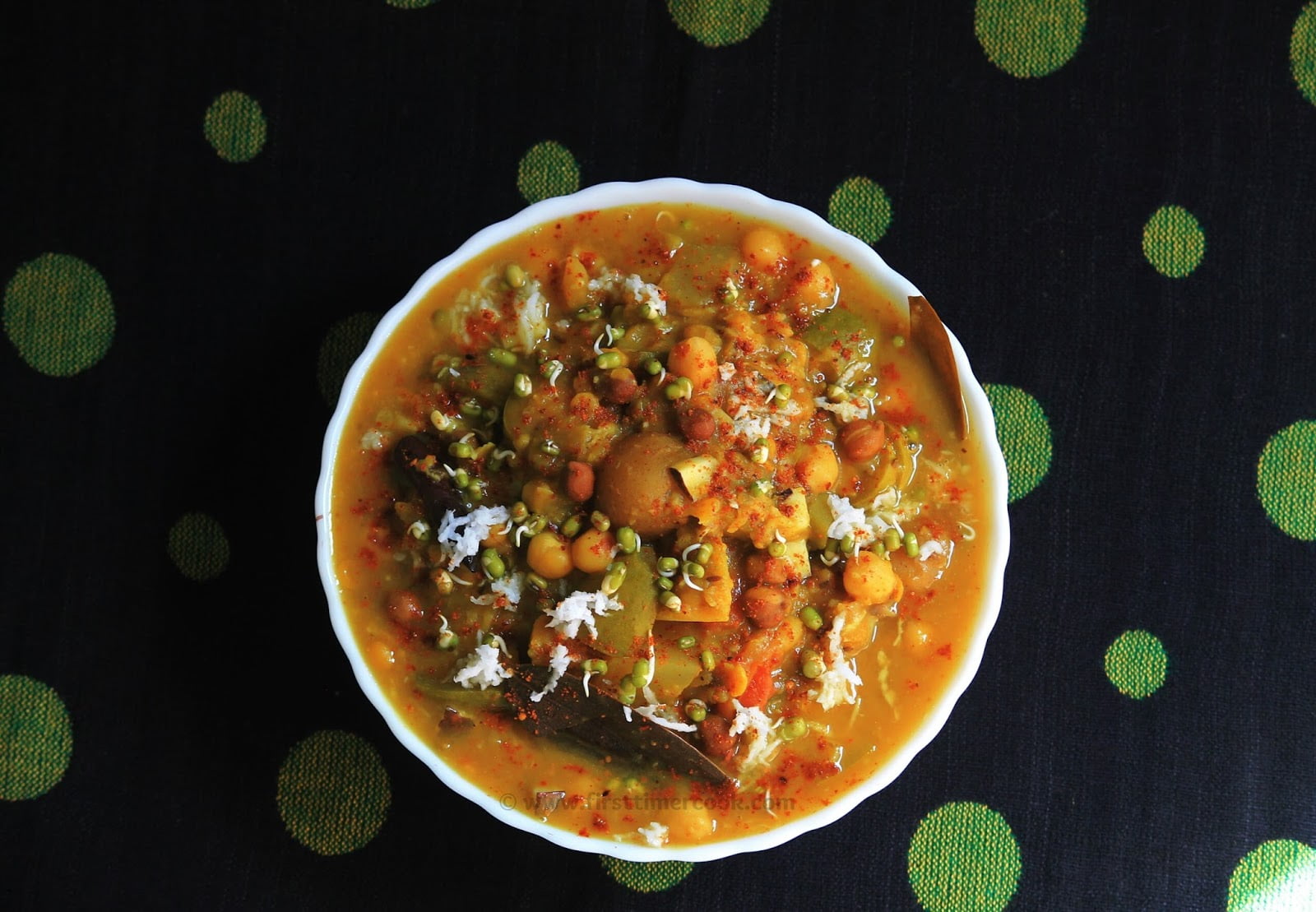 Notes :
Vegetables used for this type of curry totally depends upon choice.
Always try to use sprouts.


PIN for later :