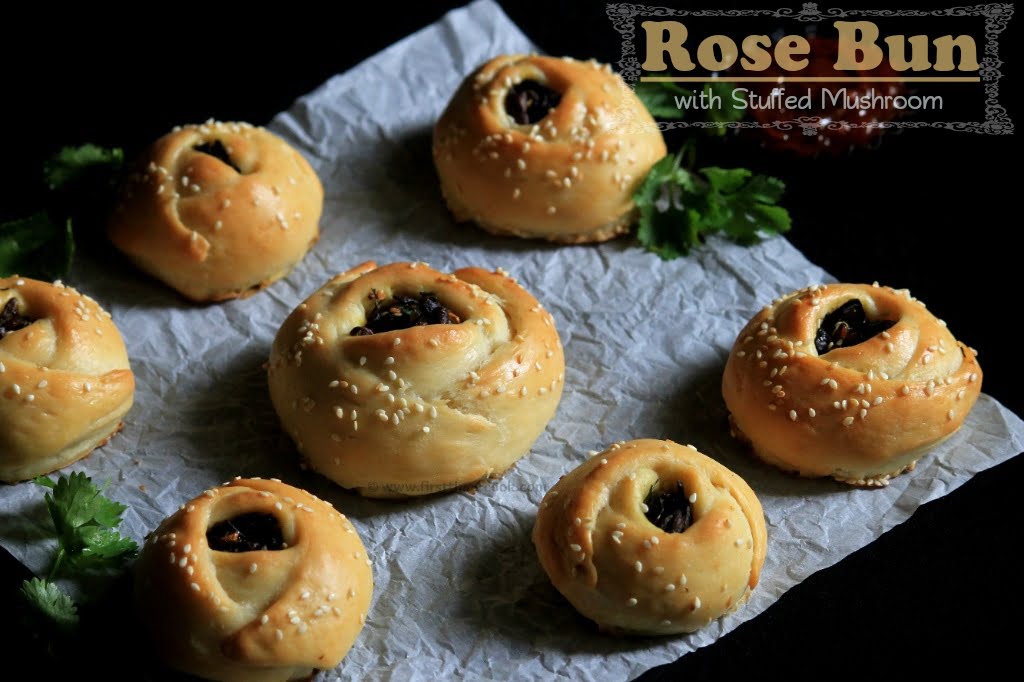 Rose bun or rose shaped dinner rolls with mushroom stuffing !! whichever you may say, but these are lovely and cute looking rolls. Not only these are pretty in looks, but also delicious in taste. These are light and fluffy, soft and moist as well. These pretty rolls are guaranteed to be a big hit in party as well as loved by kids.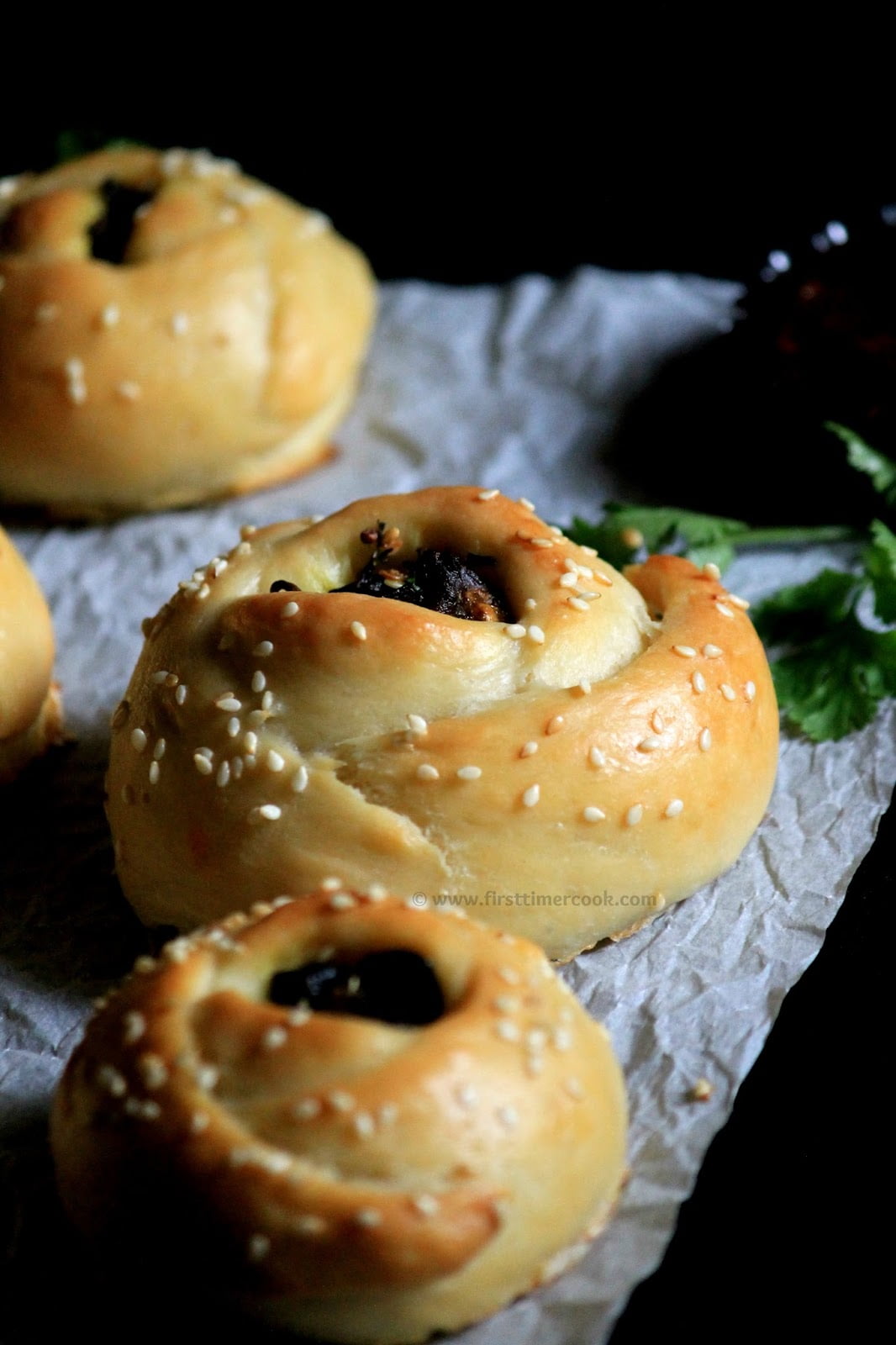 The theme for 105th Foodie Monday Blog Hop is decided as 'Savoury Baked Dish'. So I have prepared these buns as contribution of mine. The dough used is completely egg less. Also I have used the mushroom stuffing. Any other stuffing can be used depending upon choice.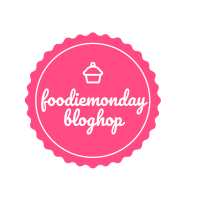 Apart from looking great, the taste of these rose buns with stuffed mushroom is outstanding. You can make these buns with any bread dough recipe, but I can assure that this is the much simpler version with no fail.
So below is the details method of preparation of these soft rose buns with a delicious mushroom stuffing.
Preparation Time : 12 mins(except resting time) | Cooking Time : 35 mins
Ingredients :
Ingredients

Measurements

For bun

All purpose flour (maida)

1 & ½ cup

Active dry yeast

1 tbsp

Water (Luke warm)

½ cup

Sugar

½ tbsp

Salt

¾ tsp

Oil

1/8 cup

For stuffing

Mushroom (finely chopped)

½ cup

Onion (finely chopped)

¼ cup

Ginger garlic paste

½ tsp

Green chili

2 no.

Turmeric powder

½ tsp

Red chili powder

½ tsp

Oil

2 tsp

Salt

As needed

Coriander leaves (finely chopped)

As needed

​
Method :
In a medium mixing bowl, mix sugar with luke warm water. Then add yeast to the sugary warm water and keep aside for 10 minutes. After 10 minutes, the mixture should turn frothy and have risen well.
Take another broad bowl. Add all purpose flour, oil, salt along with the frothed yeast mixture.
Gather to get a smooth dough. No need to knead so much.
Keep covered with a wet cloth for 1-2 hour or till doubled in size.
Meanwhile, start preparing the stuffing.
Heat oil in a frying pan. Add in finely chopped onion and saute a bit.
Then add ginger garlic paste and cook for some more minutes.
Add finely chopped mushroom, turmeric powder, finely chopped green chilies, red chili powder and salt.
Mix everything well, cover and cook over medium heat for about 10-15 minutes or until all liquid has evaporated.
Add chopped coriander leaves and give a quick stir.
Once done, remove from the heat and allow the stuffing to cool completely.
After 1-2 hour, the dough will be doubled in size.
Now sprinkle some all purpose flour on a flat surface, punch down the dough and knead on the floured surface until smooth with the help of your palm.
Divide the dough into 6 no. of small balls.
Take one ball and roll out to about 5″ diameter.
Place a round cookie cutter of 1.5″ diameter in center without pressing down.
Make four diagonal slits, leaving 1.5″ center area.
Now take out the cookie cutter. Place 1 tbsp of stuffing in the center.
Brush a bit of butter on the edges of rolled dough.
Take one of the sections and cover the side of the filling with it.
Next take the opposite side's section and cover the other side of the filling with it. Press a little on the edges so that it stick to each other.

Next similarly take and cover other two sections and finally give to a rose shape.
Repeat for rest of the dough balls.
Preheat oven to 180 degree C.
Place all the roses on a baking tray lined with butter paper.
Brush those with milk and sprinkle some white sesame seeds.
Bake the roses for 18-20 minutes at 200 degree C or until the tops are golden.
Take out from oven and brush them with melted butter.
Serve as it is like me or with some sauce or as an accompaniment with any soup.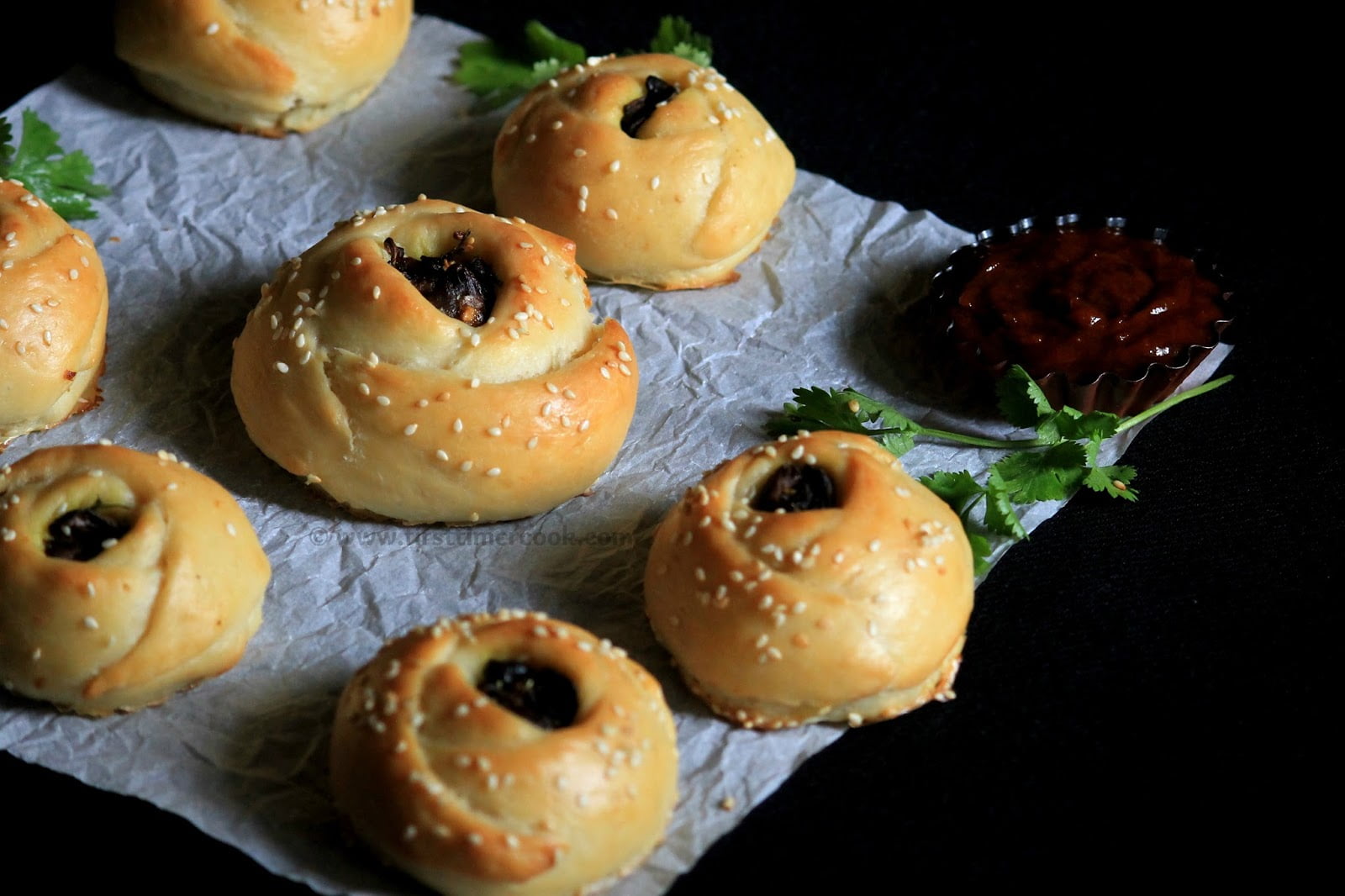 Notes :
Keep the baked rose buns covered until time of serving so that they stay soft.
Proofing the yeast is the most important part.