Who doesn't love desserts !! And when it comes to desserts of Hyderabad, 'khubani ka meetha' is a must dish on menu whether the occasion may be a wedding or any celebration.
Apricots is named as khubani in Urdu language. Khubani ka meetha or sweet dish from apricot or apricot pudding is a very popular sweet dish of Hyderabad- the city of nizam's.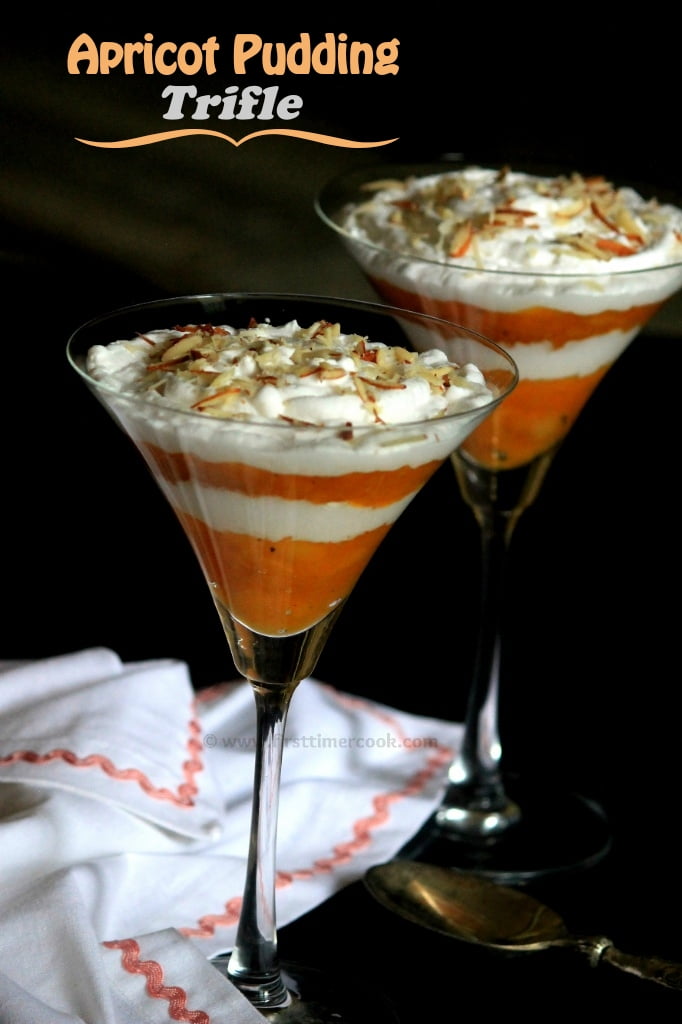 Apricot or khubani is extremely good for digestion because of its alkaline and fiber content. The reason that we are more familiar with the dried version of apricot is that, these fruits don't last for more than a few days and hence they are dried to keep them consumable.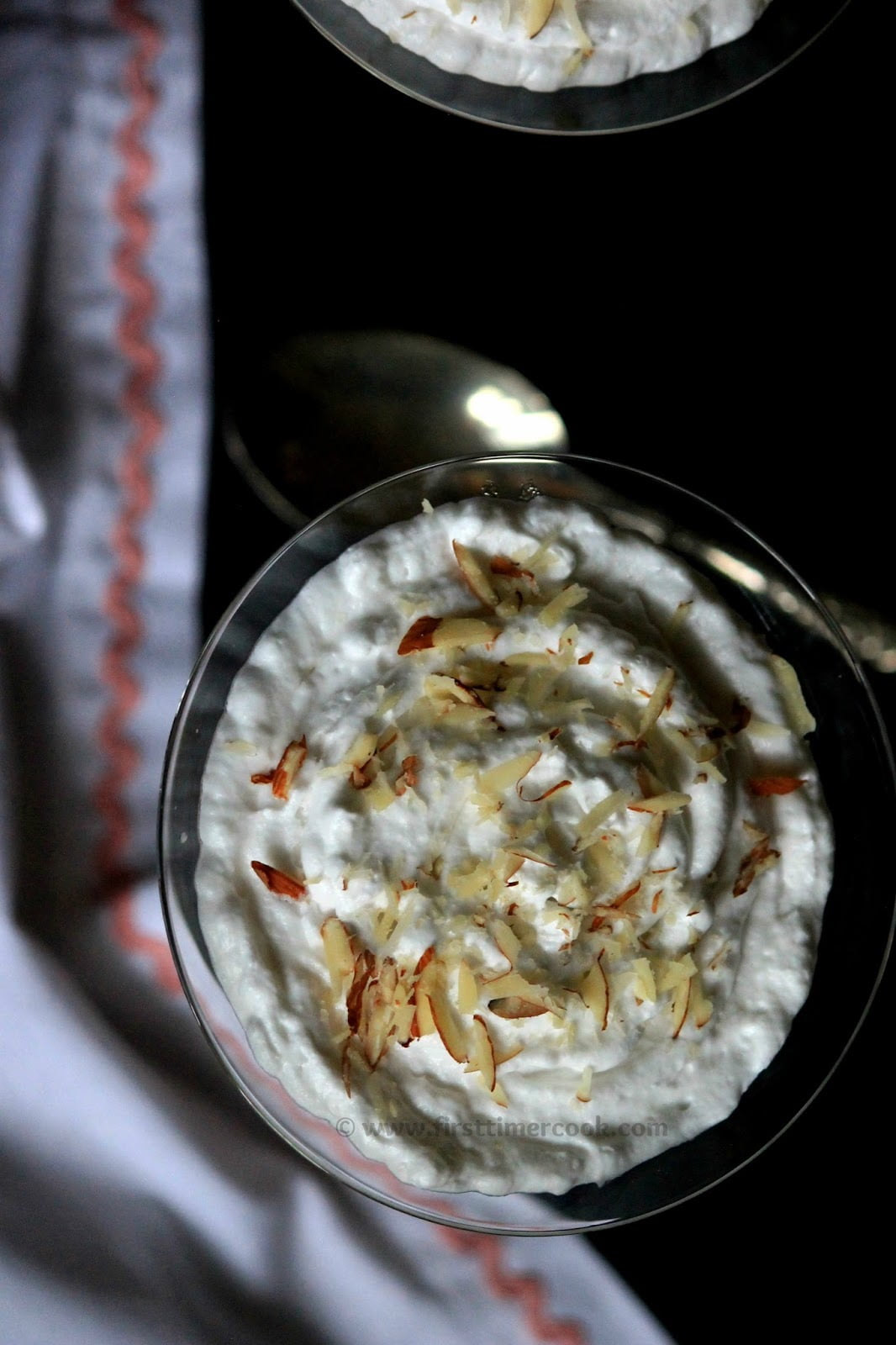 Preparation of the dish involves boiling apricots with syrup until they assume the consistency of a thick soup or compote. The dessert is topped with chopped almonds or apricot kernels and is traditionally garnished with thick cream. Now-a-days khubani ka meetha is also served with custard or ice-cream. Here I have given a twist to the traditional hyderabadi dessert and presented this special dessert as a trifle. It is so simple, quick and easy to make. Lets go in details.
Preparation Time : 5 mins(except soaking time) | Cooking Time : 20 mins
Ingredients :
| | |
| --- | --- |
| Ingredients | Measurements |
| Apricot (dried) | 25-26 no. |
| Heavy cream | ½ cup |
| Sugar | ¼ cup |
| Almond (finely chopped) | As needed |
| Cardamom powder | 2 pinch |
| Water | As needed |

​
Method :
Rinse all dried apricots well, then soak overnight or at least 4-5 hours in enough water.
Next day drain the re-hydrated apricots and keep the water aside.
Deseed the apricots and keep the hard kernels aside if any seed present in the dried apricots.
Chop the apricots roughly.
Cook the apricots along with strained water in a pan on a low flame for 15 minutes stirring occasionally.
If the mixture looks dry then add some more water.
Now add sugar,cardamom powder and cook for 5-6 minutes more or until the mixture becomes pulpy and blended well.
Switch off the flame and allow the pudding to cool.
Meanwhile whisk the heavy cream for about 7-8 minutes in a large bowl.
Now take a dessert glass, pour 2 tbsp apricot pudding as base layer, sprinkle some finely chopped almonds, top it with cream.
Repeat again the layering if desires.
Finally sprinkle some chopped almonds and serve chilled !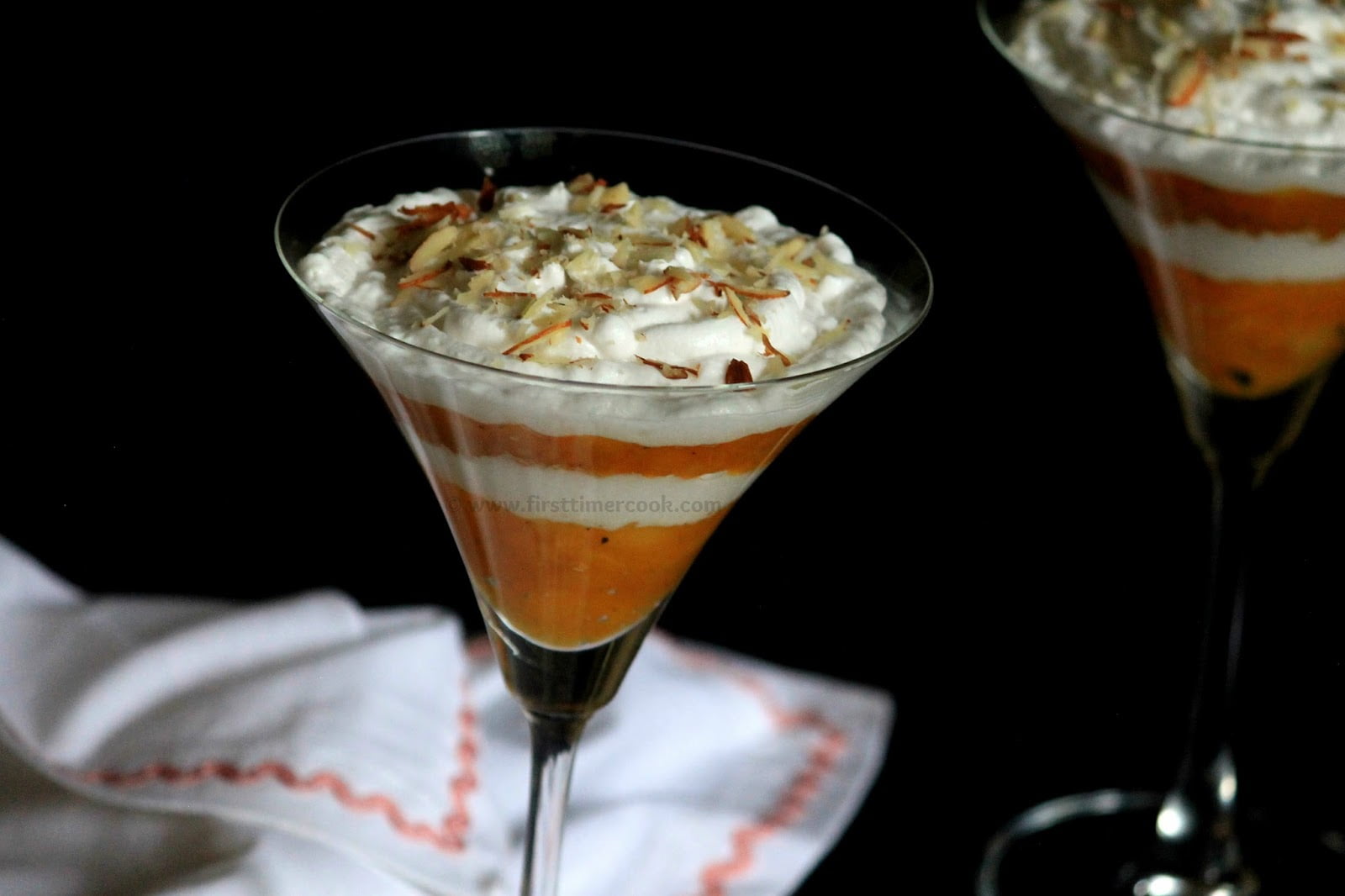 Notes :
If possible just add few drops of orange extracts while cooking the chopped apricots with water. It enhances the flavor to another extent.
Cinnamon powder can be used instead of cardamom.

This apricot pudding trifle recipe is contributed for 104th Foodie Monday Blog Hop where the theme is 'Festive Recipes'.