Dosa is a crispy, savory crepe from southern part of Indian subcontinent. This is prepared from a fermented batter made from rice and lentil (black gram). Basically the batter is spread over a hot pan / tawa to make thin crepes. Then the crepes are cooked till crispy and brown in color. These are full of protein and carbohydrate. Dosa is one of the popular south Indian breakfast. There are many varieties of dosa found across India as well. Each one has its own flavors. Among all varieties of dosa, rava dosa is an instant version of dosa which is very easy and quick to make. This dosa batter does not require any soaking, grinding or fermentation like the normal traditional dosa batter. So you can easily make crispy dosa with rava in no time for breakfast.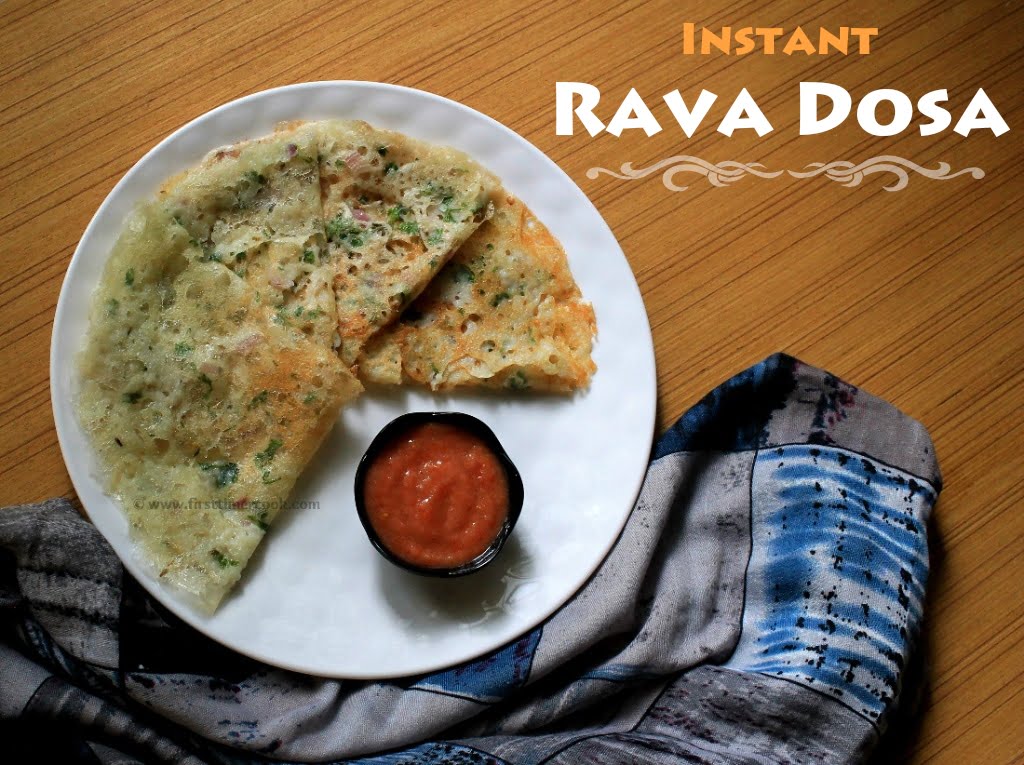 Basically the main ingredients of the rava dosa are rice flour, all purpose flour and semolina or rava or sooji. So the name of the dosa is according to one of its main ingredient, rava or semolina. The batter can be made with water / thin buttermilk. If you are in a hurry and don't have time to soak the batter for 15 minutes, then always prefer to use thin buttermilk instead of water. The batter should be very thin as of running consistency. Crispiness of dosa depends upon the consistency of the batter. So thinner the batter, crispier the dosa. Also the temperature plays a vital role for making the crisp dosa. Though it will take time, still always prefer to cook the dosa on medium flame.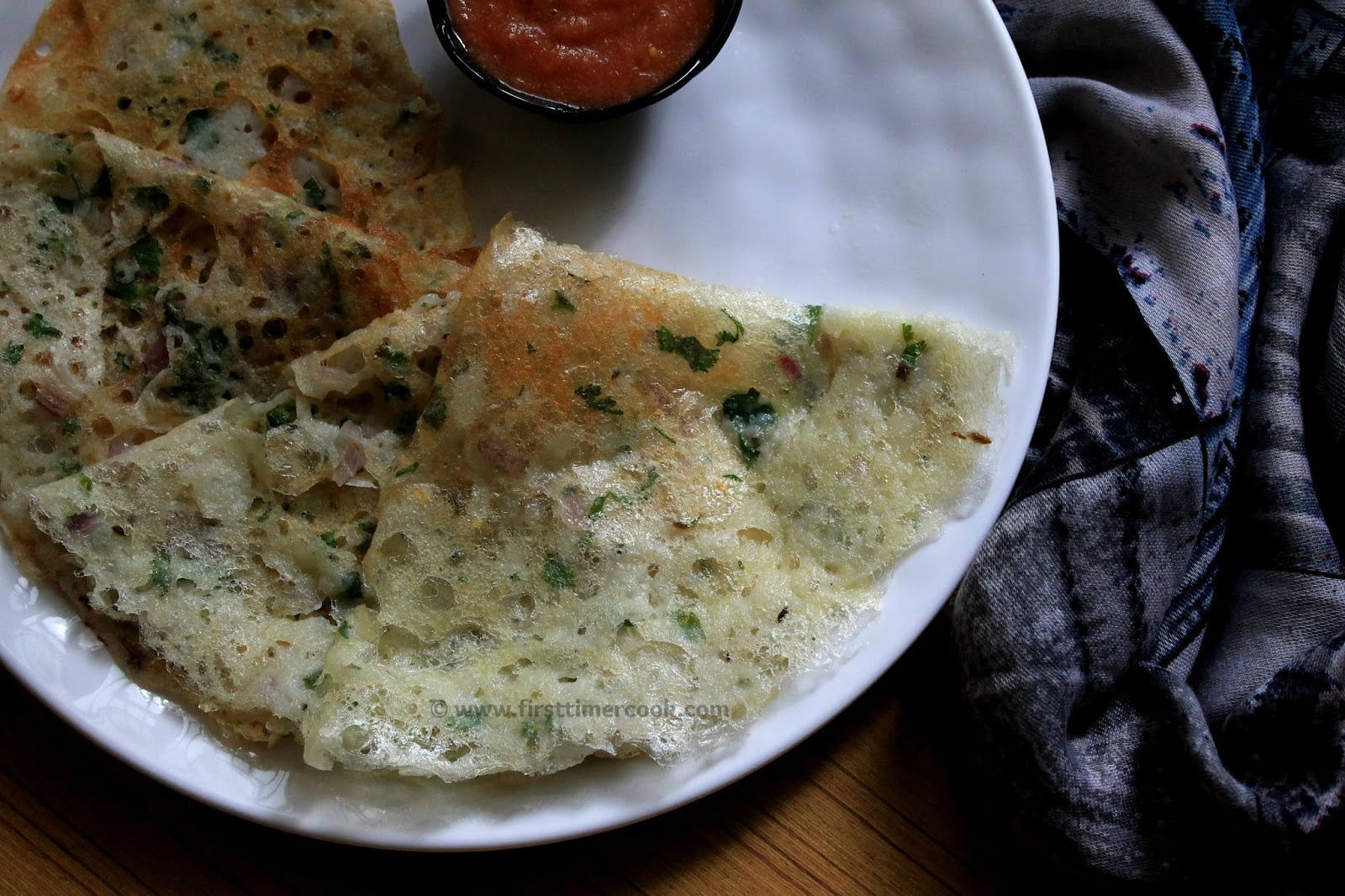 Rava dosa batter has to be poured on the pan or tawa from certain height (3-4 inch height over the pan). This pouring method helps in the netted texture of the dosa. Here I have added finely chopped onions which can be omitted too. This type of dosa is one of the easiest recipes which is more delicious and enjoyable by all age groups. So what's next ? Lets go in details method of preparation of this instant rava dosa or instant onion rava dosa.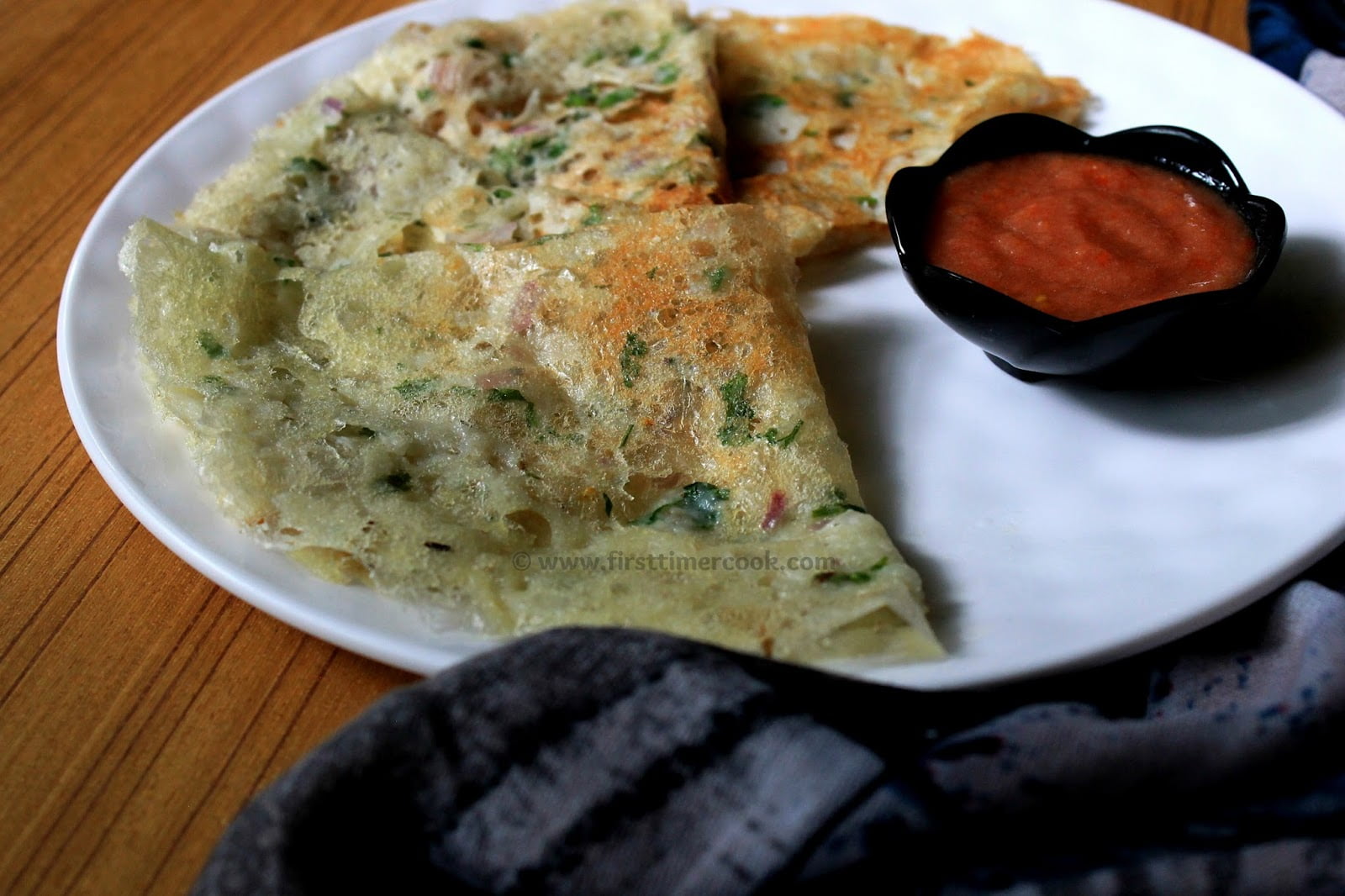 Preparation Time : 10 mins | Cooking Time : 15 mins
Ingredients :
| | |
| --- | --- |
| Ingredients | Measurements |
| Rava / semolina / sooji | ½ cup |
| Rice flour | ½ cup |
| All purpose flour / maida | ¼ cup |
| Onion (medium) | 1 no. |
| Green chili | 1 no. |
| Ginger | ¼ inch |
| Cumin seed | ½ tsp |
| Coriander leave | As needed |
| Salt | As needed |
| Water | As needed |
| Oil | As needed |
Method :
In a mixing bowl, take sooji / rava / semolina, maida, rice flour and salt. Mix well.
Next add water and again mix well using a hand whisk till no lumps in the batter. Keep aside for 15 minutes.
Then add finely chopped green chilies, finely chopped onion, grated ginger, cumin seeds, finely chopped coriander leaves.
Again give a quick stir. The batter should be very thin as of running consistency. Otherwise, add some more water to adjust the batter consistency.
Now heat a non-stick dosa pan on high flame.
When the pan is hot enough, then first stir the batter in mixing bowl, take a ladle full of batter, pour here and there from about 3-4 inch height over the pan. Do not spread the batter like normal dosa batter.
Sprinkle ½-1 tsp of oil on top of the dosa and cook on medium flame till it turns golden.
No need to flip and cook the other side.
Switch off the flame and serve these crisp rava dosa hot immediately as it is or with accompaniment as sambar or any preferable chutney like tomato-mint chutney, coconut chutney etc !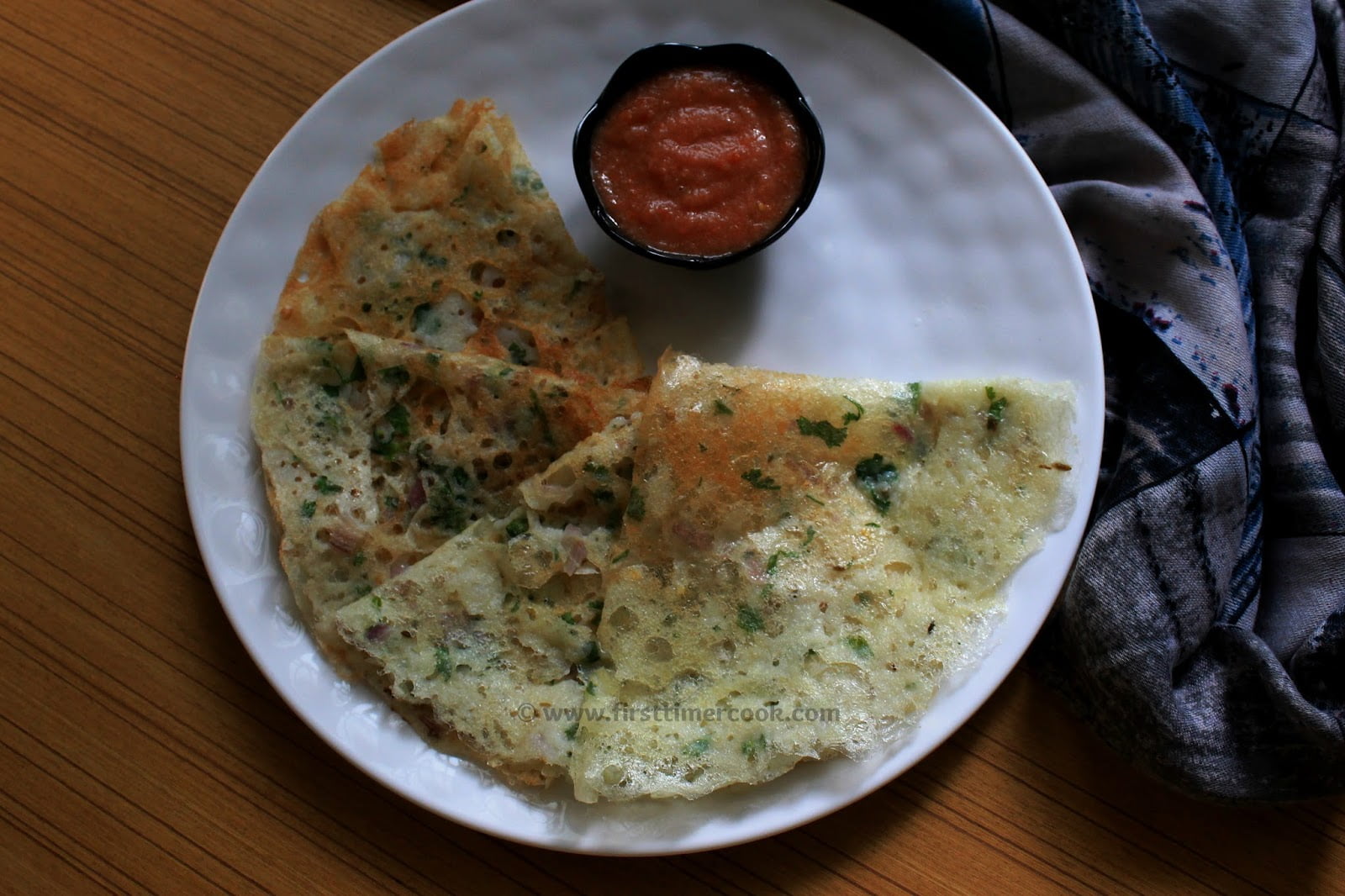 Notes :
The batter should be very thin as of running consistency.
Each time just before making the dosa, stir the batter very well in the mixing bowl and then only take ladle full of batter from it.
Crispiness of dosa depends upon the consistency of the batter. So thinner the batter, crispier the dosa.

Also the batter tends to get thick, so add water as well as salt to the batter for the needful consistency.

The pan or tawa should be hot enough while pouring the batter over it.
Prefer to use non-stick pan to make this rava dosa, so that no oil greasing is needed. But if you are using the cast iron tawa, then before pouring the batter first grease the tawa with oil well.
Always cook this rava dosa on medium flame instead of high flame.


PIN for later :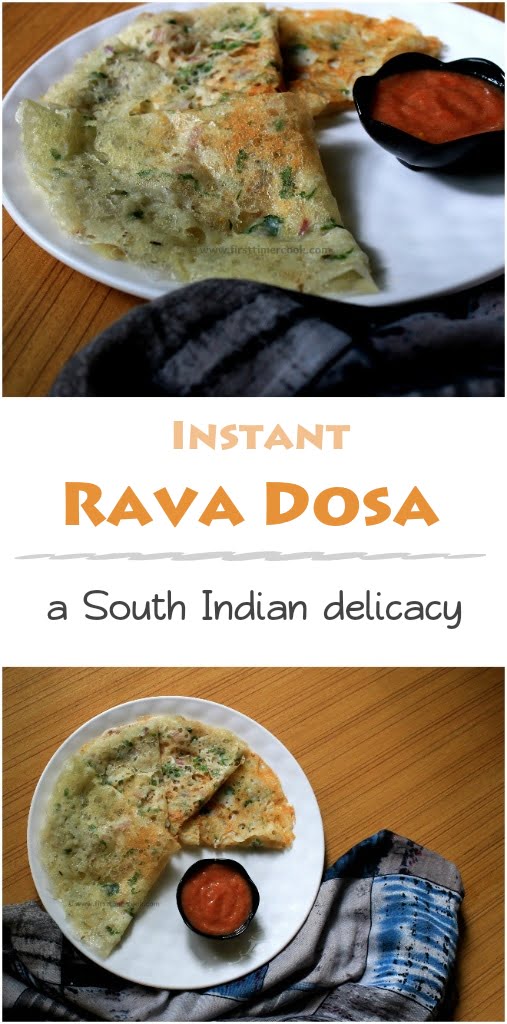 This Instant Rava Dosa is contributed for 35 Healthy Wellthy Cuisines where the theme is 'Instant Dish'.
Here are few more recipes contributed by our members as Moong dal cheese stuffed chilla, Instant Suji Matar Pancakes, Paan Shots, Rice Krispies Chivda / Mixture, Instant Sambar Dry Mix.