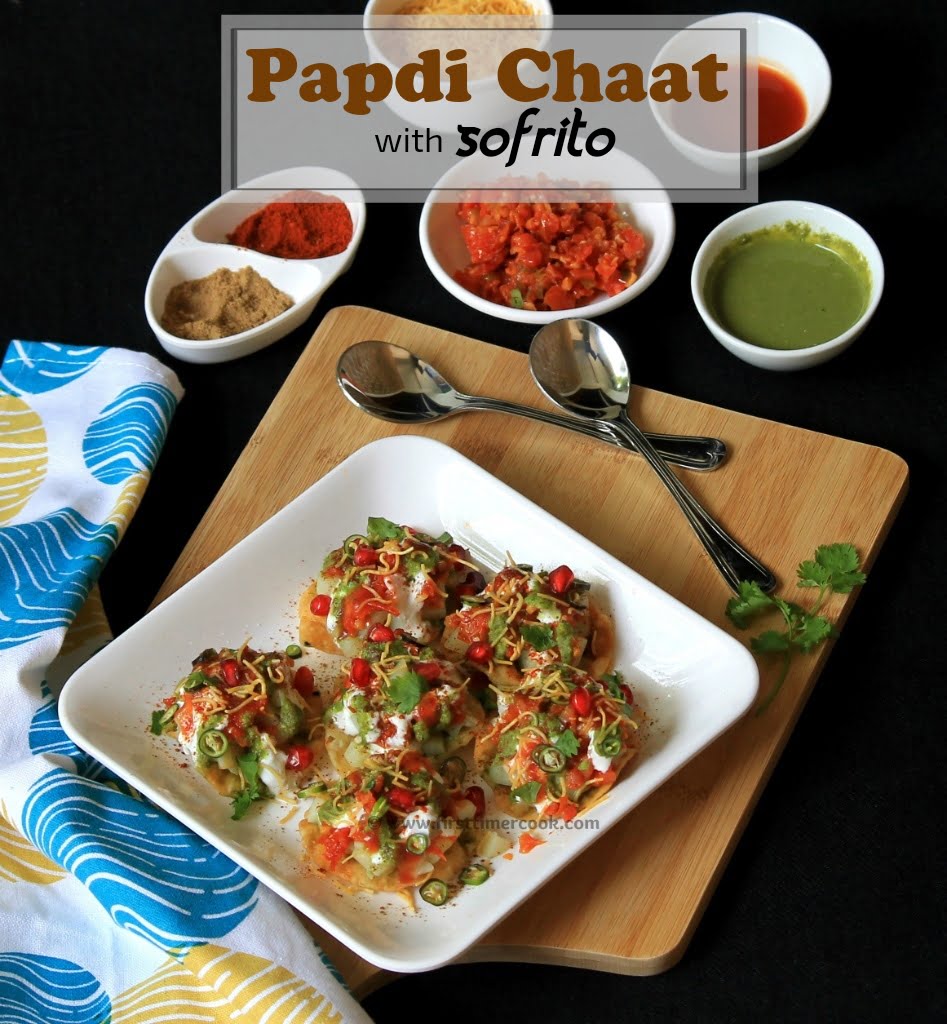 Papdi chaat or papri chaat is a popular street food of the Indian subcontinent. Mainly this chaat is more popular in the northern part of India as compared to rest part. Papdi chaat is basically prepared using crisp fried flat puris (about 2-3 inch size) known as papdi or papri along with chopped boiled potatoes, boiled chick peas, curd / yogurt, green and tamarind chutney, finally topped with chaat masala and sev. This chaat has mix flavors of sweet, sour, tangy as well as spicy. You can either use the papdi bought from market or the homemade ones.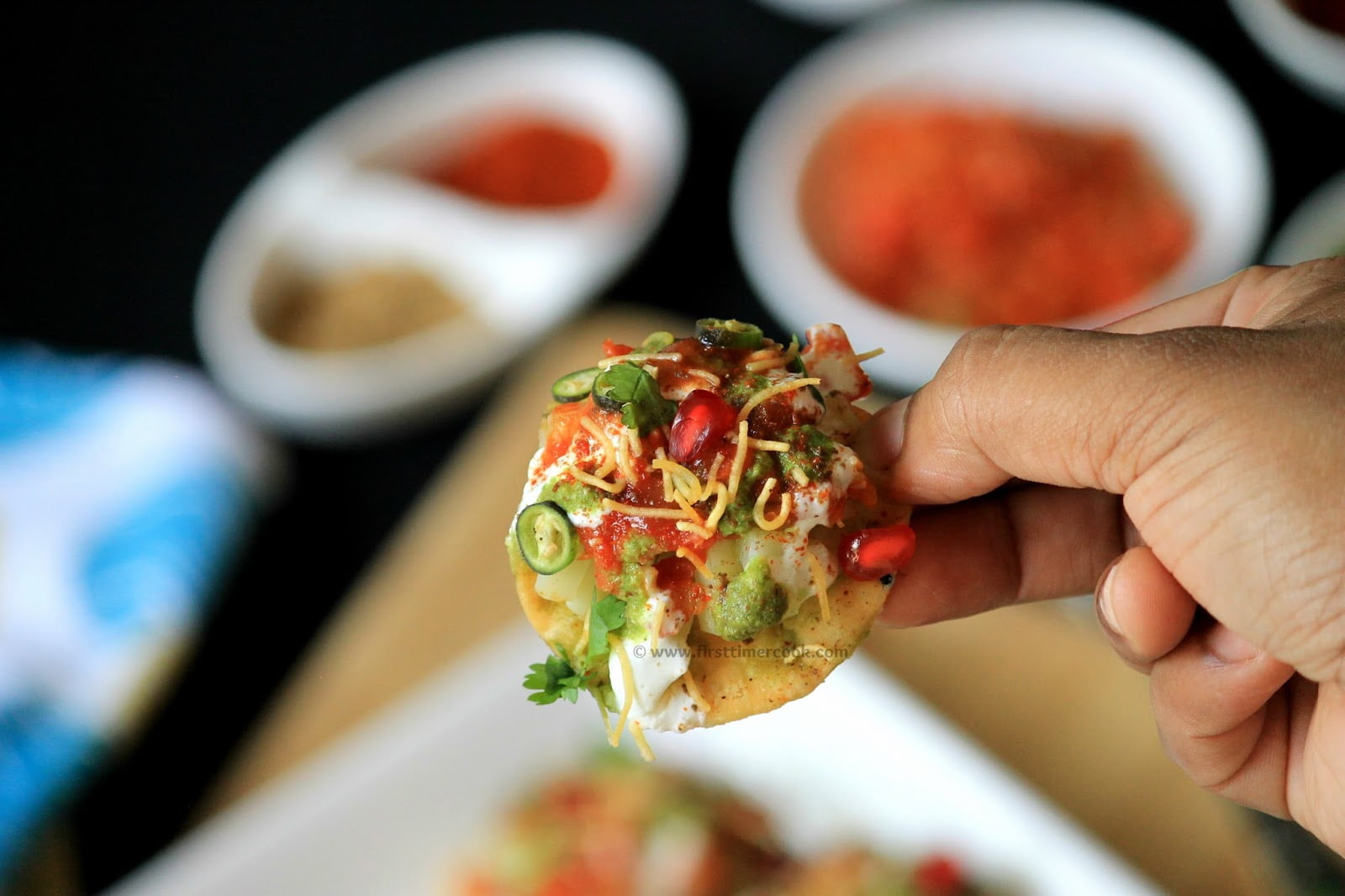 These days a lot of variations of the papdi chat are available. Again today is Monday !! The theme for 116th Foodie Monday Blog Hop is decided as 'Fusion Fiesta', that means any Indian dish with any particular International twist or vice versa. So I have come up with a Spanish touch to one of the Indian tongue tickling sweet, sour and spicy chaat – papdi chaat. That Spanish touch is Sofrito which is a basic tomato sauce that forms the base of many traditional Spanish dishes.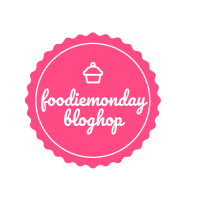 Sofrito is very easy to make. This sauce is an aromatic puree of tomatoes, peppers, onion and garlic. Any food processor or blender can be used to get the desired texture of the sauce. Once blended, sofrito is ready to use. This sauce can be used immediately or freeze for future use. Use of sofrito is totally versatile one. This may be used at the start of a dish that means the first thing into the cooking pot or as a topping for any grilled dish.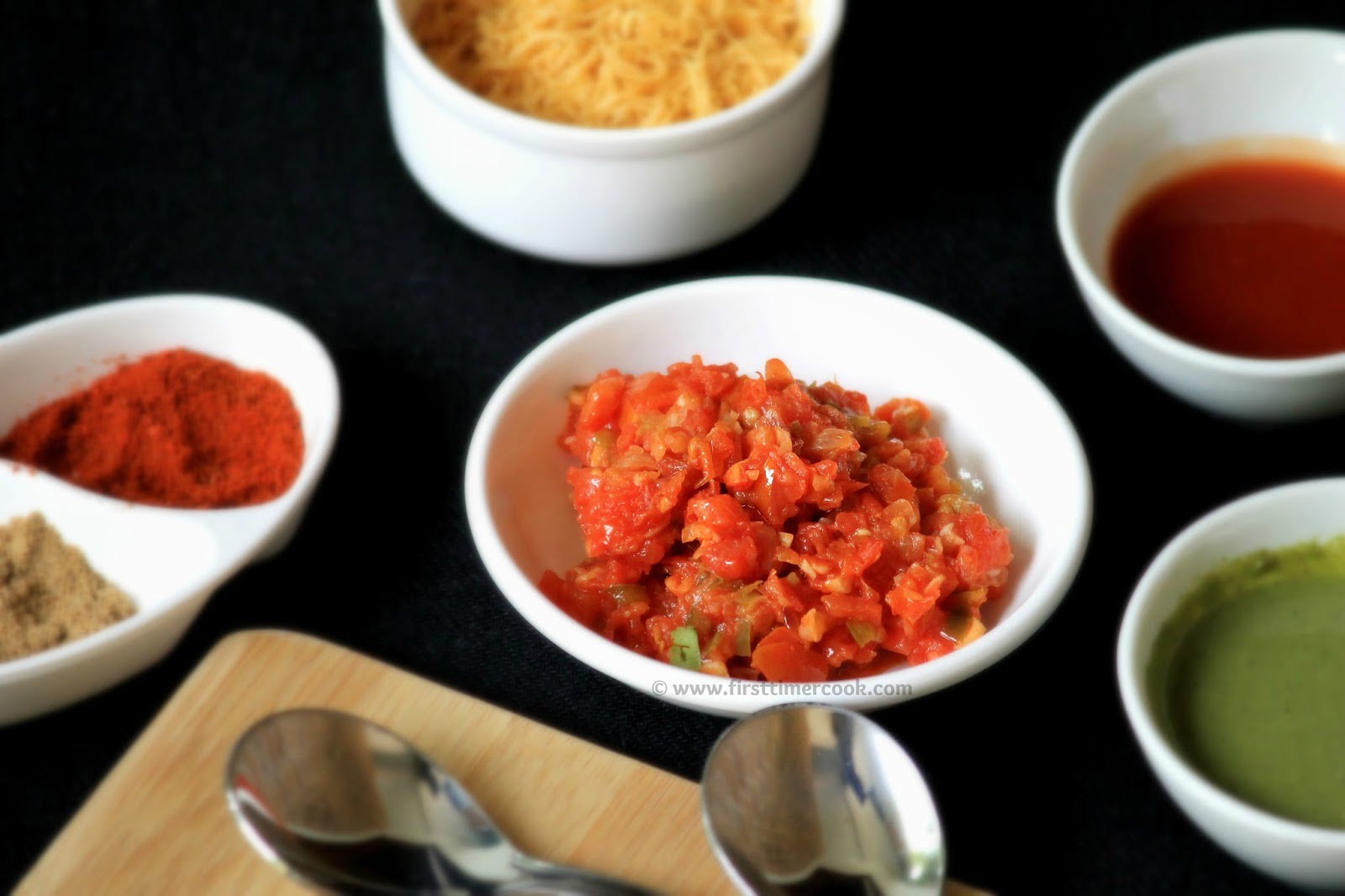 Here in this papdi chaat, I have used this Spanish tomato sauce, Sofrito. Instead of blending to a puree, I have chopped all the ingredients finely and then these are sauteed on slow flame. After some time, everything incorporate well and become a mushy texture. When the sauce cools completely, then the boiled chopped potatoes are just tossed with this sofrito and placed over the papdis along with rest ingredients of the chaat.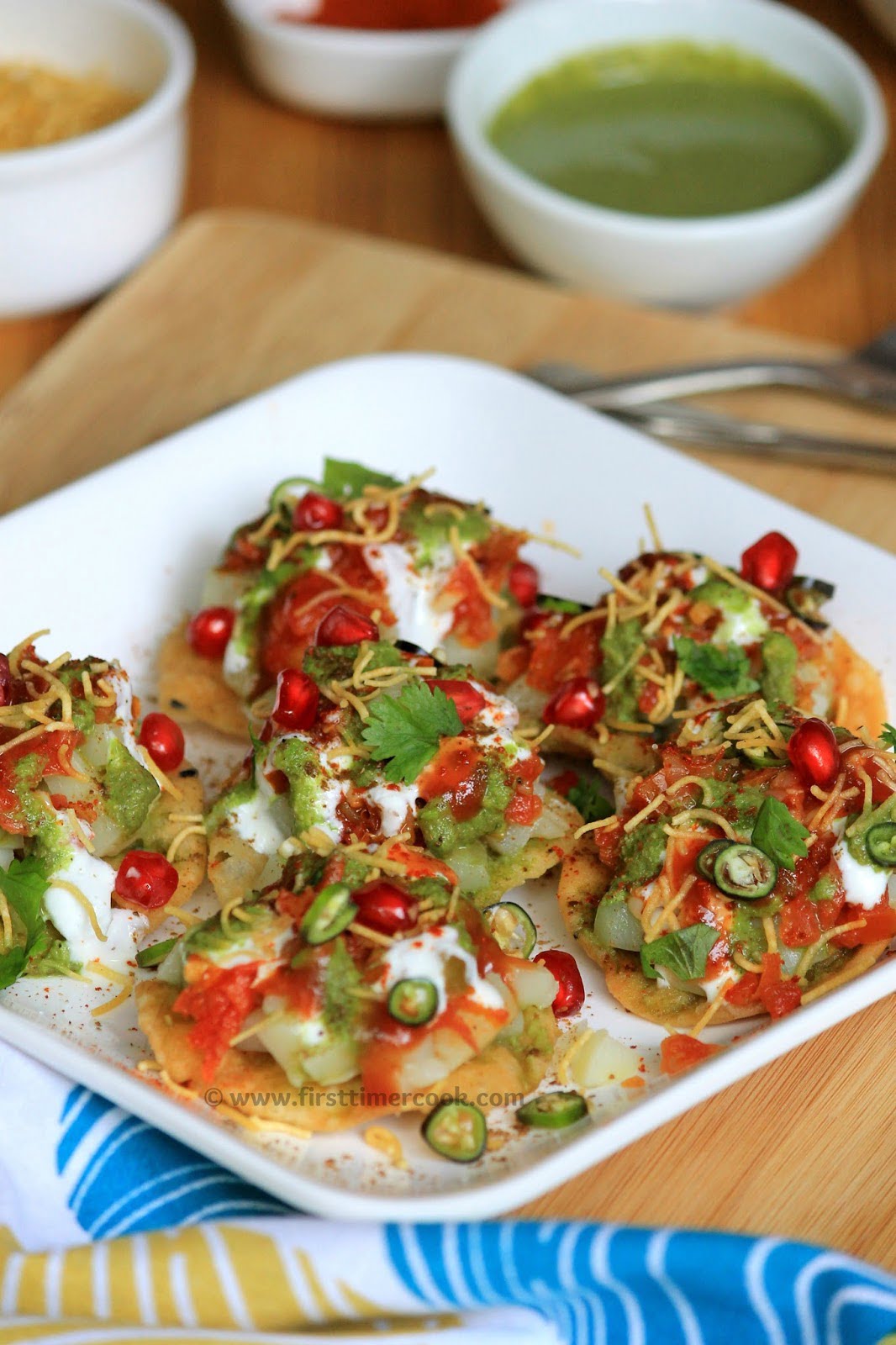 This fusion papdi chaat can be a perfect party appetizer. Just prepare all chutneys, arrange curd, papdi and other ingredients in advance. Keep each of them in separate serving bowl. Allow your guests to assemble the chat depending upon their choice. So lets go in details.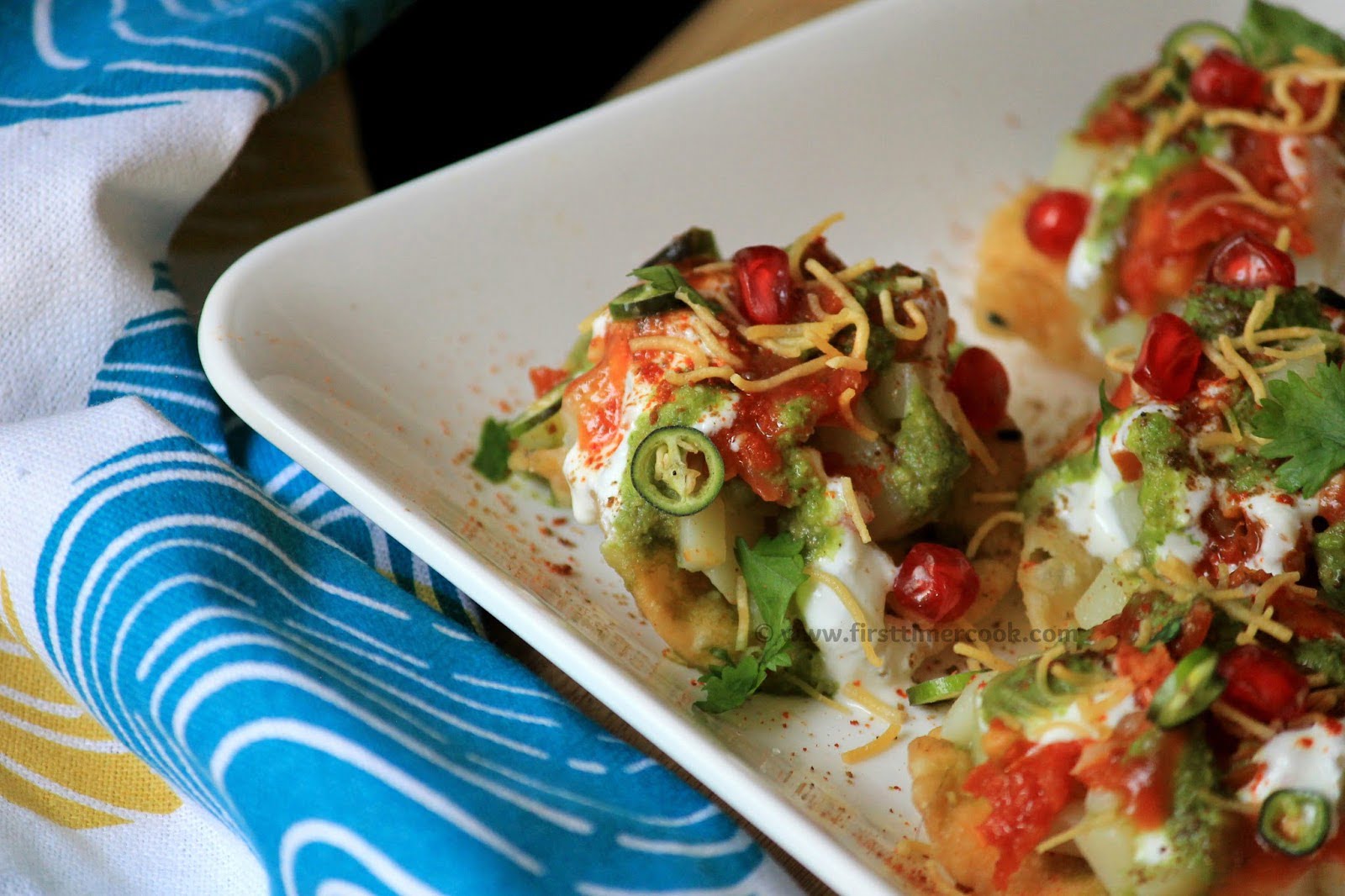 Preparation Time : 40 mins | Cooking Time : 20 mins
Ingredients :
Ingredients

Measurements

Sofrito

Ripe tomato

4-5 no.

Green pepper

1 no.

Red pepper

1 no.

Onion

1 no.

Garlic clove

2 no.

Paprika

¾ tsp

Olive oil

2 ½ tbsp

Papdi Chaat

Papdi

11-12 no.

Boiled potato (medium)

1 no.

Curd / yogurt

¾ cup

Red chili powder

¼ tsp

Chaat masala

1 tsp

Roasted cumin powder

½ tsp

Green chili

1 no.

Green chutney

As needed

Tamarind chutney

As needed

Sev

As needed

Black salt

As needed

Coriander leaf

as needed

Pomegranate seed

For garnishing

​
Method :
Sofrito (Spanish Tomato Sauce) :
Finely chop tomato, red and green pepper, onion and garlic. Keep aside.
Heat oil in a pan over low-medium flame. Then saute chopped onions until transparent.
Next add chopped green and red pepper and continue to saute for 5 minutes.
Add finely chopped garlic and saute for 1 minute.
Then add chopped tomatoes and paprika. Mix everything well. Cook for 10-15 minutes or till all the juice released from tomatoes and a mushy texture formed.
Switch off the flame and keep sofrito aside to cool completely.
When the sofrito cools down completely, then take out 6 tsp and freeze rest sofrito to use later.
In a mixing bowl, mix 6 tsp sofrito with chopped boiled potatoes. Keep aside.
Take a serving platter and arrange the papdis.
Top it up with mixture of sofrito and chopped boiled potatoes.
Sprinkle some black salt, chaat masala and red chili powder.
Next top with yogurt / curd, then green chutney, tamarind chutney.
Sprinkle again some chaat masala, red chili powder, roasted cumin powder.
Finally sprinkle sev on top, chopped coriander leaves and green chilies.
Garnish with some pomegranate seeds and serve this fusion papdi chaat immediately !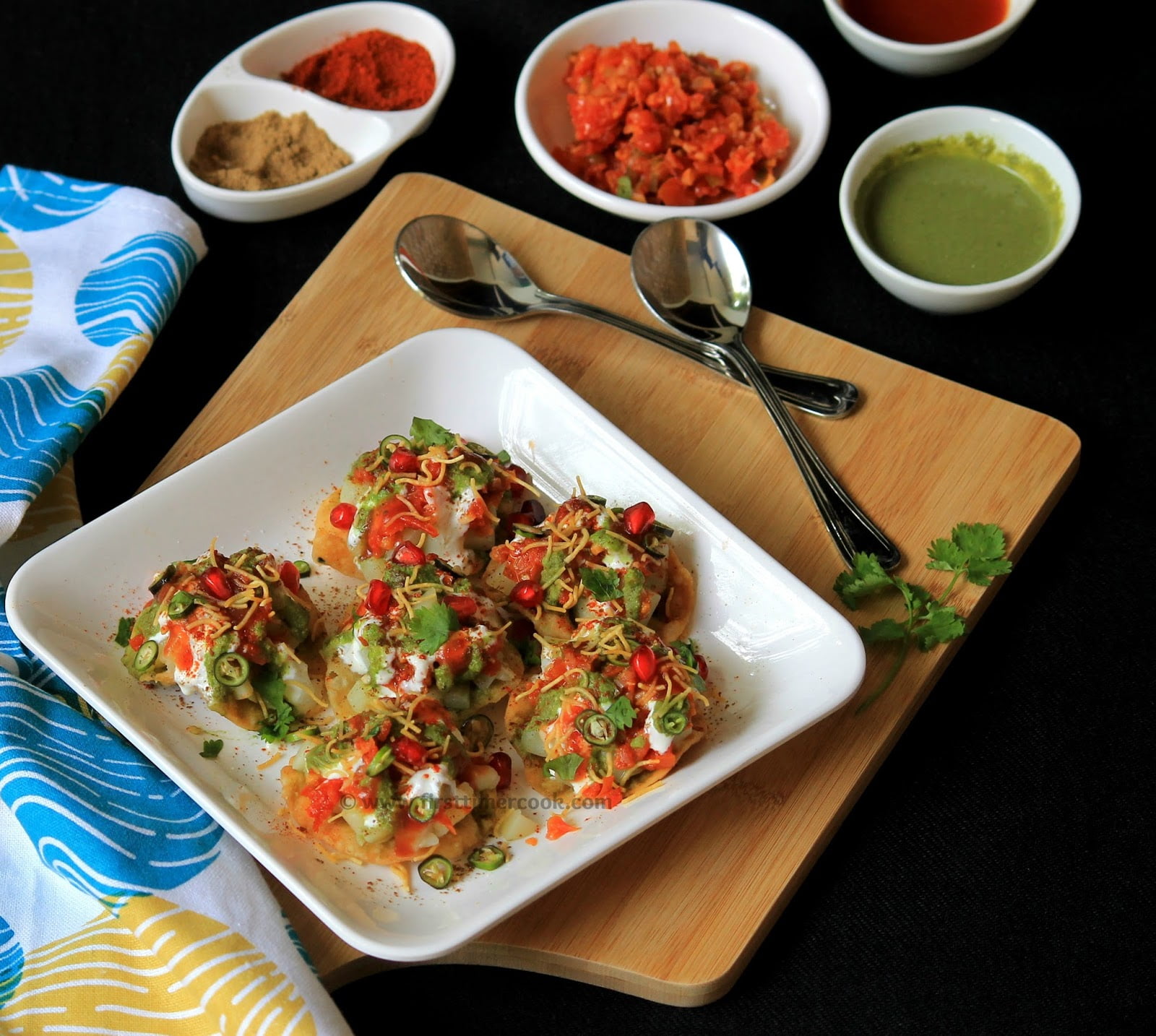 Notes :
Red chili powder can be avoided for sprinkling or can be adjusted depending upon the spiciness desire.
Chickpeas can also be added to the papdi chaat. Just boil chickpeas with a little salt and then add along with boiled potatoes in the chaat.
Instead of mixing with potatoes, sofrito can be just topped over the potatoes after placing the chopped potatoes over the papdi.
PIN for later :