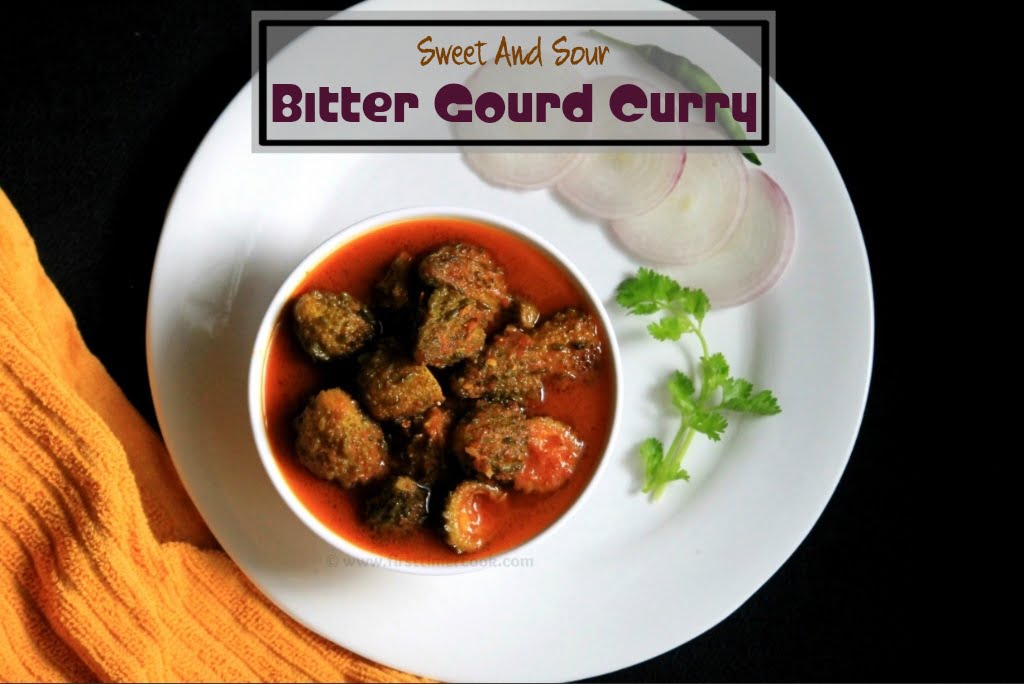 Bitter gourd !!
The first thing that comes to my mind seeing it, is the bitterness in the name. Bitter foods do not appeal to many people, but the bitter gourd is a common food in Indian cuisine. This vegetable is commonly named as karela in Indian subcontinent. These are dark or light green in color depending on the region where they are grown. Apart from their bitter and undesirable taste, bitter gourd is a good source of nutrients, vitamins and minerals.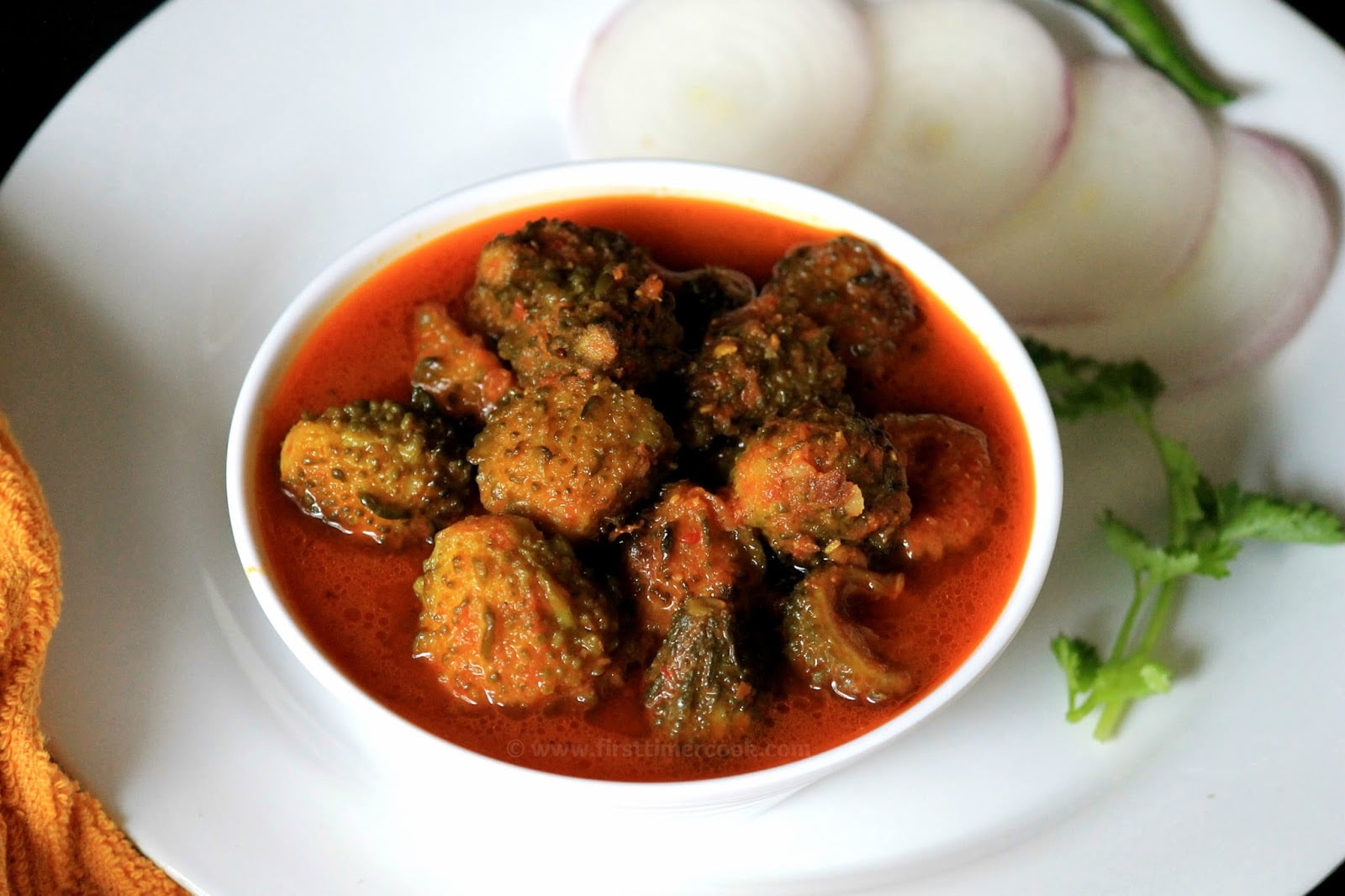 Bitter gourds are very low in calories but dense with precious nutrients. These are an excellent source of vitamins B1, B2, and B3, C, magnesium, zinc, phosphorus, manganese and have high dietary fiber as well. Bitter gourds are also rich in iron, contain twice the beta-carotene of broccoli, twice the calcium of spinach and twice the potassium of a banana. Always prefer to choose young, tender bitter gourds. Because young, tender ones are least bitter since the bitterness increases as the vegetable mature. So if you can handle the bitterness, you will be able to enjoy the health benefits of the bitter gourd.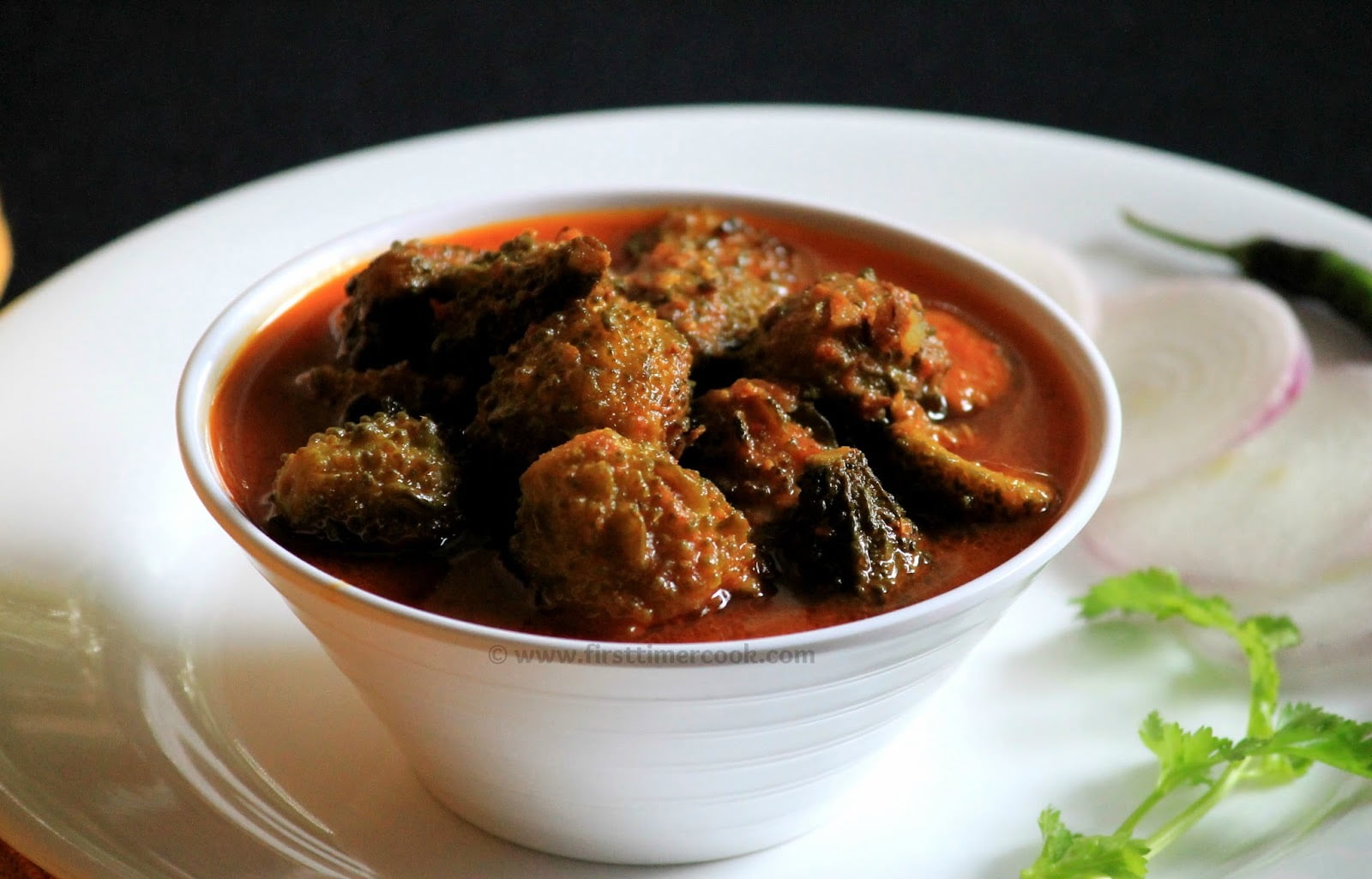 My mom-in-law often makes a curry of bitter gourd or karela with a taste of sweet as well as sour. She prefers to make this without onion and garlic. But I am here made some changes with her dish. This sweet and sour curry of bitter gourd is prepared with addition of onion and garlic. The sourness of this bitter gourd curry is for the tamarind pulp and sweetness is from jaggery. Basically this is a Telugu cuisine. This dish is very simple to prepare and can be an accompaniment for any rice item. Completely vegan and gluten free side dish option it is. The bitter gourd curry prepared with tamarind, jaggery and spices is a diabetic friendly recipe as well. So lets go in details.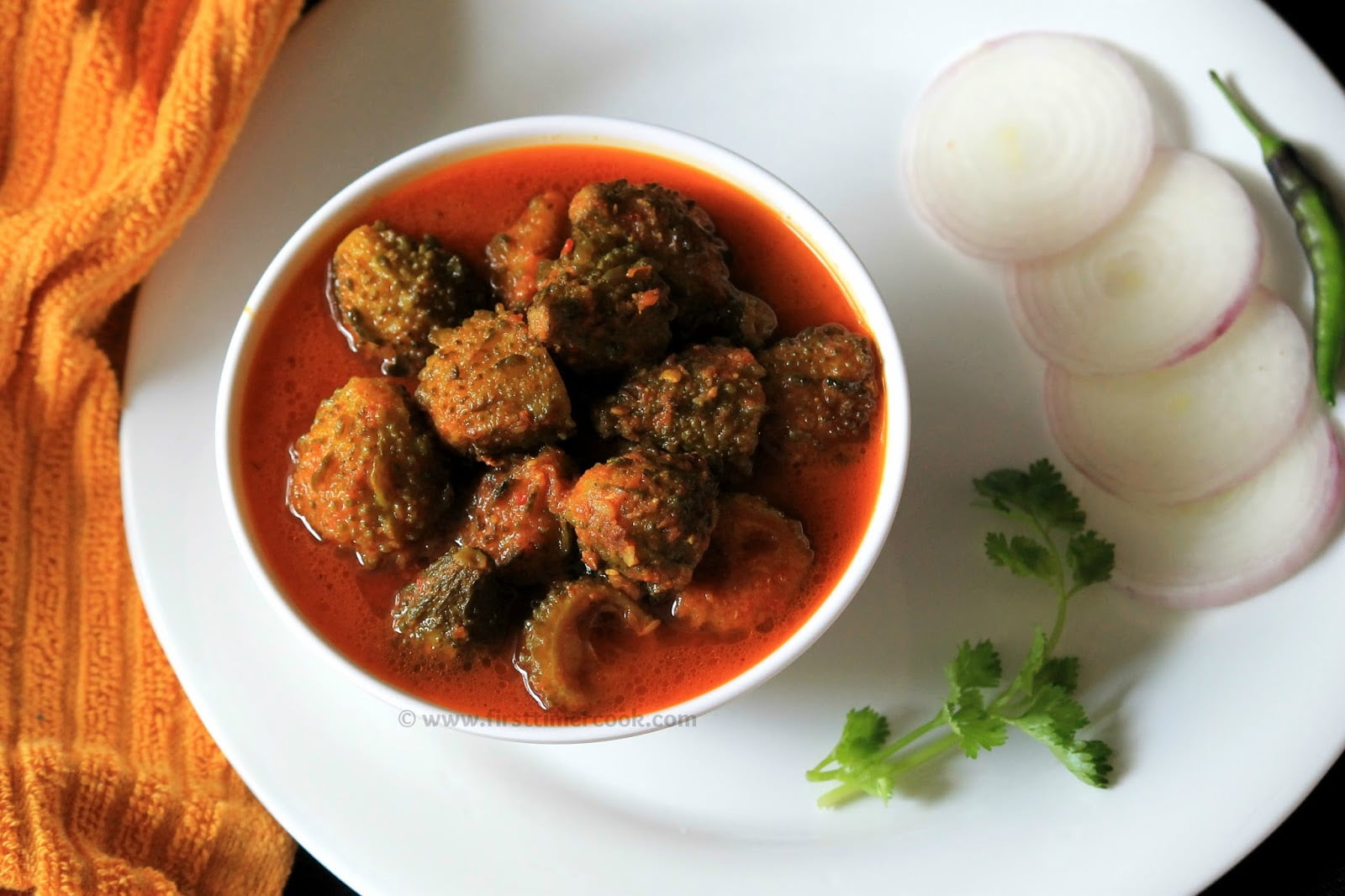 Recipe Card for 'Sweet and Sour Bitter Gourd Curry | Khatta Meetha Karela' :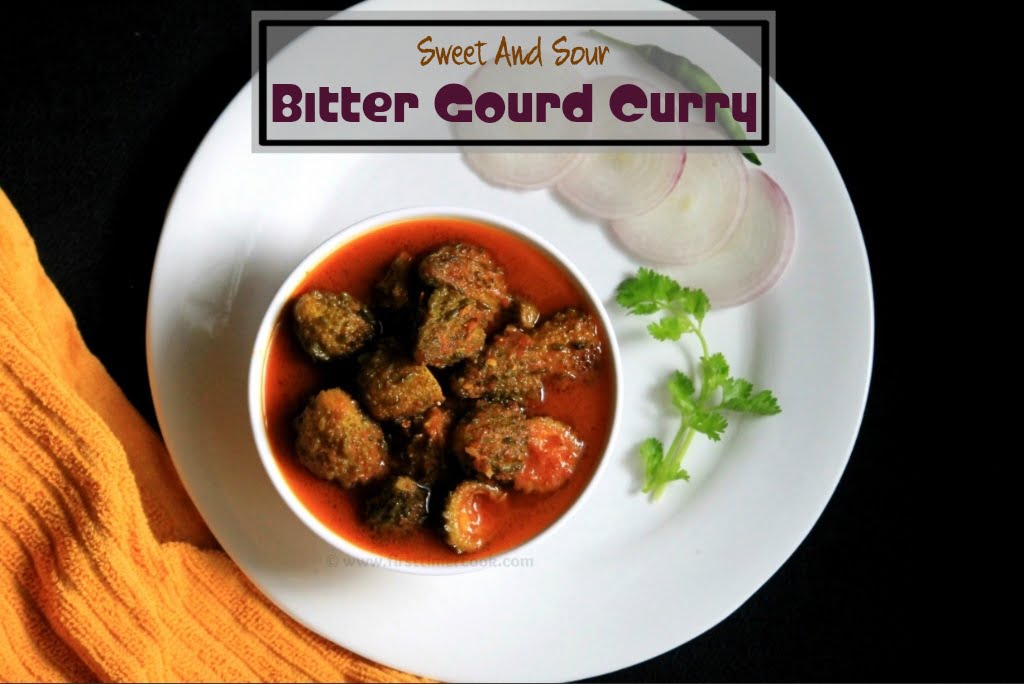 Sweet and Sour Bitter Gourd Curry / Khatta Meetha Karela
prep time: 10 Mcook time: 15 Mtotal time: 25 M
a different kind of curry using bitter gourd / karela
ingredients:
Bitter gourd 3-4 no.
Onion (chopped) ¾ cup
Ginger garlic paste 1 tsp
Cumin seed ¼ tsp
Mustard seed ¼ tsp
Red chili powder 1 tsp
Turmeric powder ½ tsp + ¼ tsp
Coriander powder ½ tsp
Tamarind pulp 2 tbsp
Jaggery (grated) 2 tbsp
Roasted sesame seed powder ½ tbsp.
Oil 3 tbsp
Salt As needed
Water As needed
instructions:
How to cook Sweet and Sour Bitter Gourd Curry / Khatta Meetha Karela
Wash the bitter gourds or karelas very well and pat dry.
Discard the top and tail portion of each bitter gourd and then cut into 1.5 inch long pieces.
Take all the bitter gourd pieces in a mixing bowl.
Add in 1/2 tsp turmeric powder, little salt and mix everything well. Keep aside for 2-3 minutes.
Heat oil in a pan and fry all the slightly coated bitter gourd pieces for 5-6 minutes or till slightly browned.
Take out all the fried bitter gourd pieces, keeping oil in the pan. Keep aside.
In the same pan add mustard seeds, cumin seeds and allow them to splutter.
Next add in chopped onion and saute for a minute.
Add the ginger garlic paste and saute for one more minute.
Then add 1/4 tsp turmeric powder, red chili powder, coriander powder and mix all the spices very well by sprinkling some water.
Now add fried karela and salt after sauteing the spices for 1-2 minutes.
Mix well, cover the pan with a lid and cook for 2-3 minutes on low-medium flame.
Next add tamarind pulp, grated jaggery, water (depending upon the desired thickness of the curry) and cook again for 2-3 minutes covered with lid.
Finally add some roasted sesame seed powder, mix again and cook for 1 minute.
Turn off the heat.
Serve this sweet and sour bitter gourd curry with steamed rice or phulka !
NOTES:
If the size of bitter gourd or karela is small, then just cut into halves horizontally after discarding the top and tail portion.
Roasted sesame seed powder is optional.
karela, vegan, gluten free, side dish, vegetarian, sweet and sour curry, bitter gourd
Bitter gourd, Side dish, Curry
Telugu Cuisine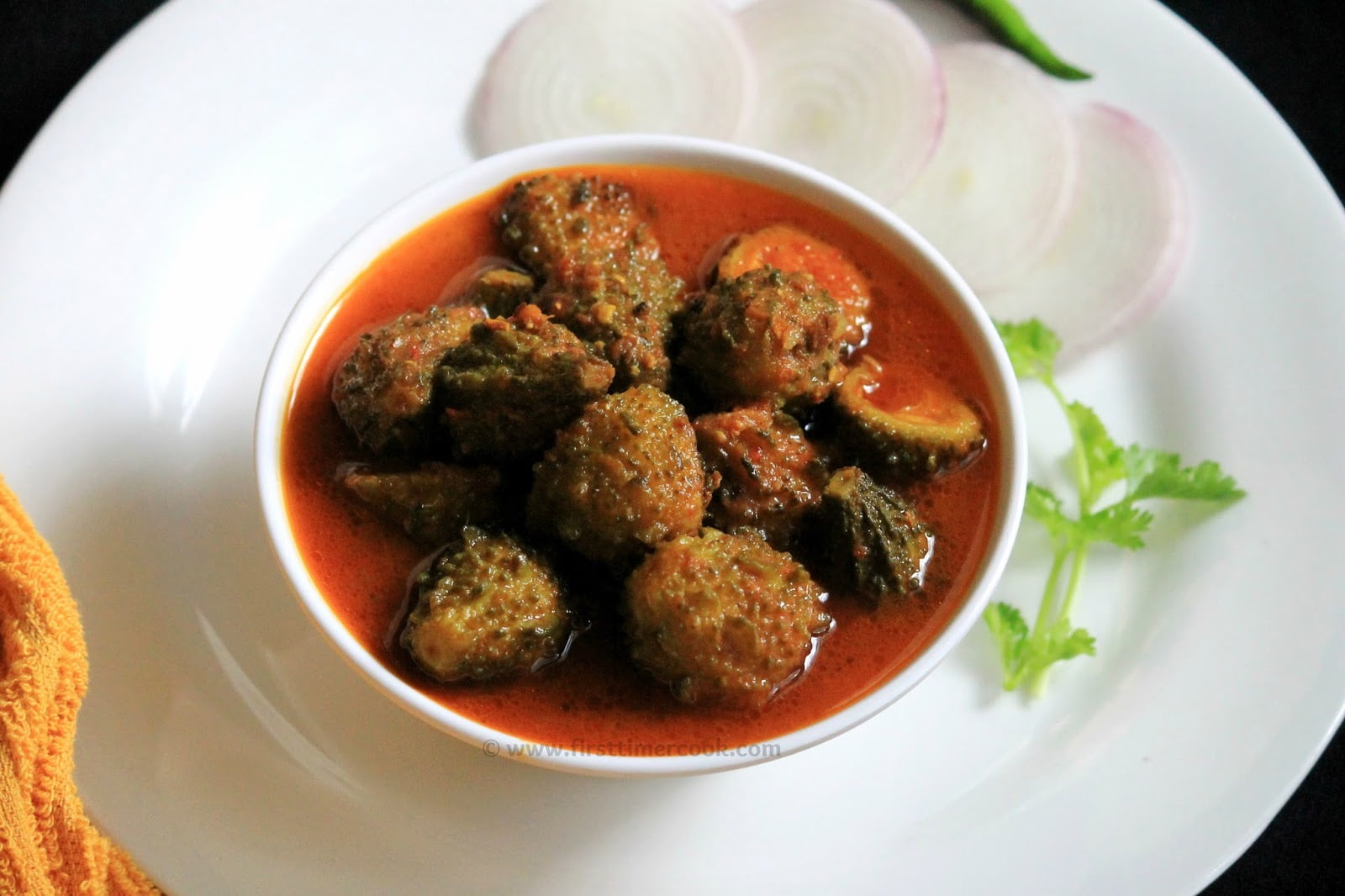 And this post is also related to Foodies Redoing Old Posts which is initiated by one of my fellow blogger Renu. The basic funda of this is to redo our old posts which need changes in picture, writings etc to get boost.
PIN for later :