a refreshing salad using the king of fruit, mango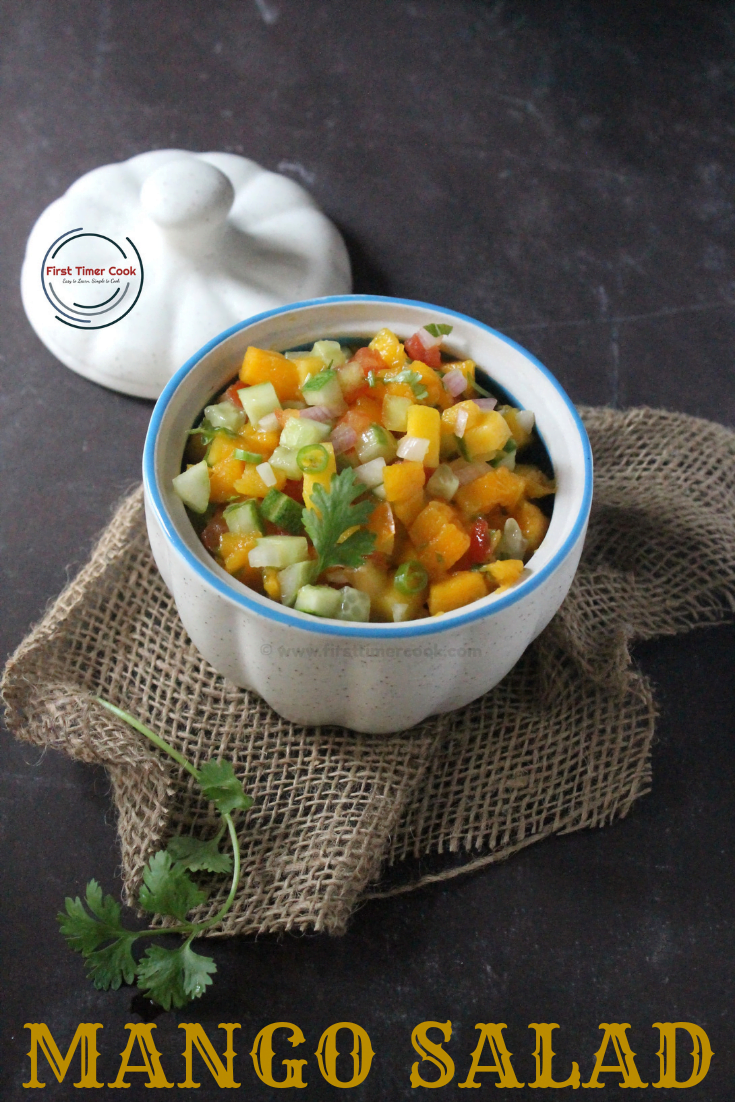 Summer is on with a bang. As the scorching heat is here, so I always crave for some light and fresh meal option which takes a very less time or even no cooking method is required for those kinds. And Salad is one of that kind. I have already shared a
salad recipe using
Green Chickpeas
recently in one of my previous post.
Do check here
.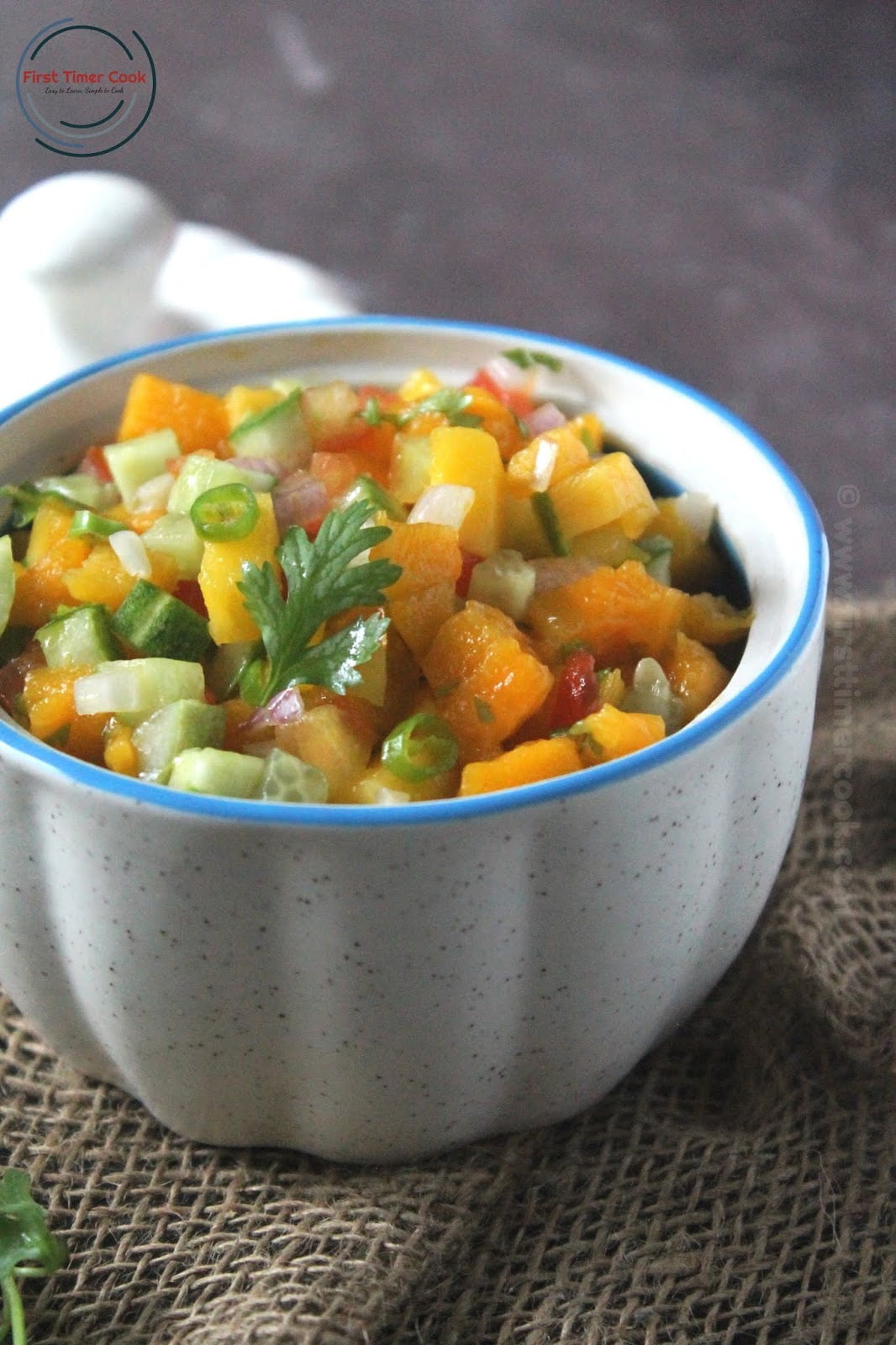 Today again I have come up with another salad recipe using the king of fruit, Mango. Summer season means Mango dishes are on pick category to be loved by any age group. Then how about some salad !!! This mango salad is such a refreshing one and perfectly fit to satisfy our soul in these hot weather. Completely vegan and gluten free too this mango salad. Use of some crushed roasted peanuts gives a nice crunch in the salad. Just chop, mix and serve !! it's that much simple and quick. It can be served as it is or even along with some nachos, fryums etc.
HOPE YOU WILL LIKE THIS Mango Salad 😊 ! WHY NOT TRY THESE 👇 recipes using mango AS WELL :
Now let's go through how to make "Mango Salad" at home 👇
Video procedure of this "Mango Salad" :
: Recipe Card :

Mango Salad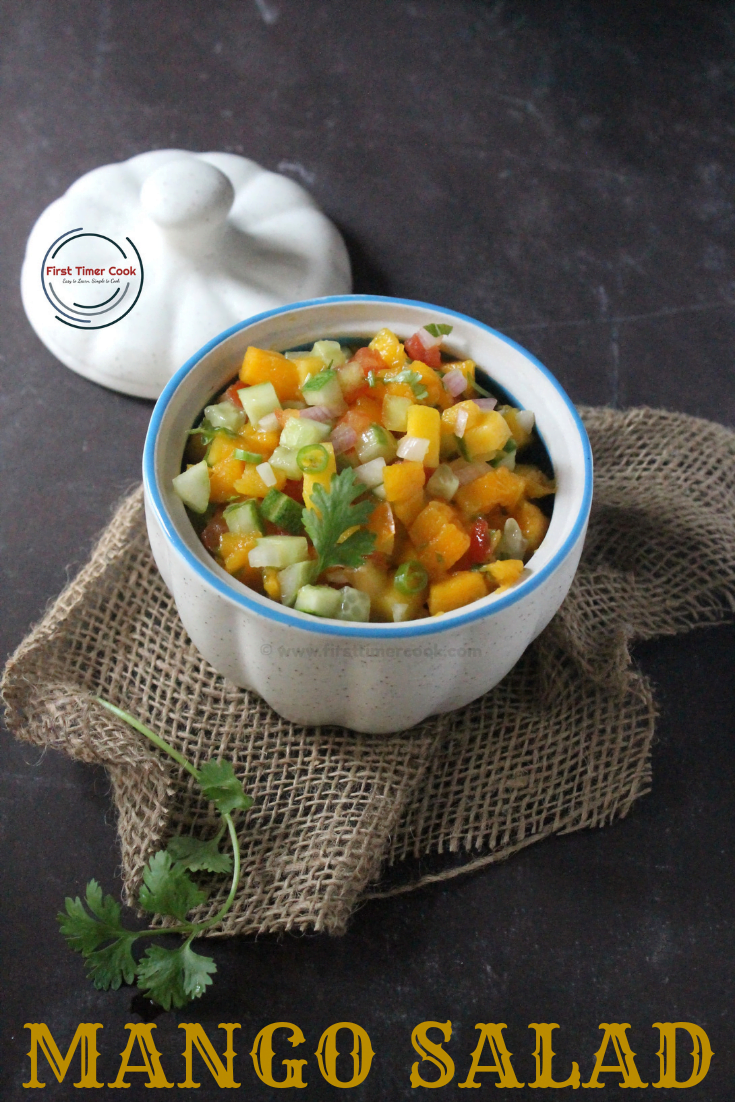 Prep time: 10 MCook time:Total time: 10 M
a refreshing salad using the king of fruit, mango
Ingredients:
Mango (ripe) 1 no.
Onion (finely chopped) 1 no.
Tomato (finely chopped) 1 no.
Cucumber (finely chopped) 1/4 cup
Coriander leaves (finely chopped) few
Mint leaves (finely chopped) few
Green chili (finely chopped) 1-2 no.
Peanut (roasted) 1 tbsp
Tamari sauce 1/4 tsp
Lemon juice 1 tsp
Brown sugar 1/2 tsp
Black salt as needed
Instructions:
In a mortar and pestle first roughly crushed all the roasted peanuts and keep aside.
Then take a mixing bowl and put all the ingredients.
Using a spoon mix everything well and keep aside for 10 minutes.
After 10 minutes, serve as it is or along with some nachos / fryums !
Notes:
Spiciness can be adjusted.
Both fully as well as slightly ripe mangoes one can use here.
If tamari sauce is not available then do use soy sauce but then the salad will not fall in gluten free category.
https://firsttimercook.com/2019/06/mango-salad-vegan-gluten-free.html
Salad, Mango, Vegan, Gluten free, Vegetarian, Summer dish,
Salad, Mango, Vegan, Gluten free
Did you make this recipe?
Tag @firsttimercook on instagram and hashtag it #firsttimercook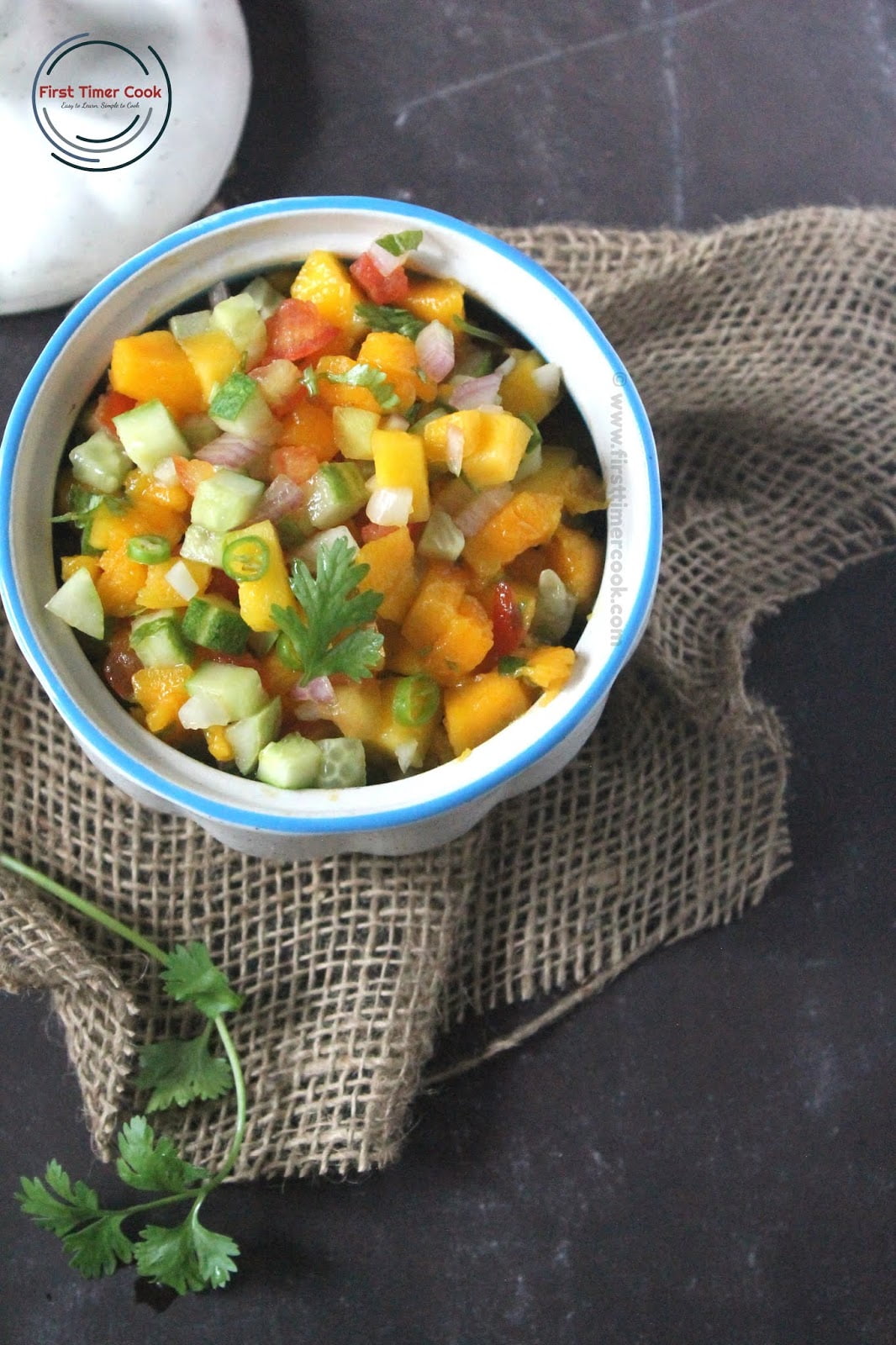 The event related to this post :




And this post is also related to Foodies Redoing Old Posts which is initiated by one of my fellow blogger Renu. The basic funda of this is to redo our old posts which need changes in picture, writings etc to get boost. Here I have modified the text.

You may also follow me on Facebook, Pinterest, Twitter, Google+, Instagram and can subscribe for free to get new recipes directly into your inbox 😊
PIN for later :