Sandesh is one of the most widely known sweet recipe of Bengali cuisine made from curdled milk called chenna or cottage cheese and sugar. The chenna used here can be flavored with essences of fruits, different colors, cooked to many different stages of consistencies or can be of plain. Sometimes it is also filled with syrup or molded into a variety of shapes such as conch shell, fish etc.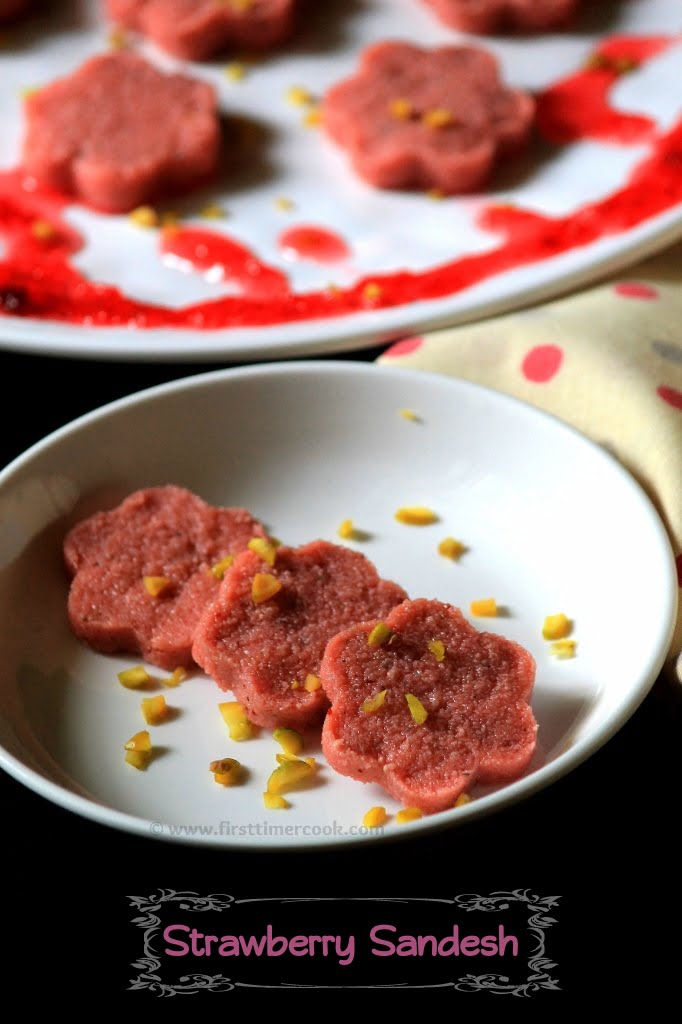 The simplest kind of sandesh is the makha sandesh ('makha' means kneaded). Makha sandesh is prepared by tossing the chenna lightly with sugar over low heat. In this recipe I have used strawberries while making sandesh, hence the name is strawberry sandesh which has a beautiful pink color. Previously also I have posted another sandesh post which is 'pista sandesh'.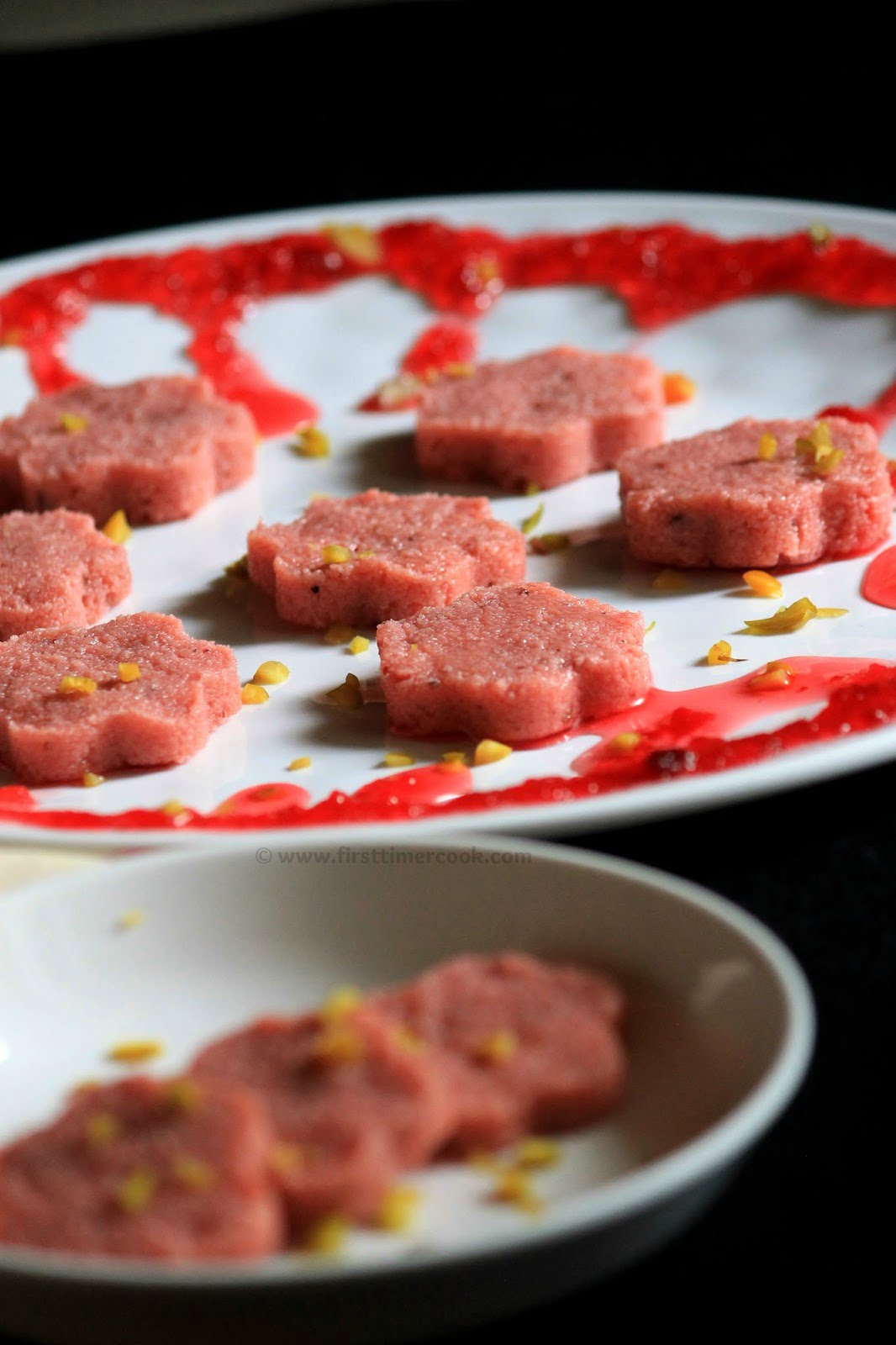 The chenna used here is purely homemade. This sandesh is so easy to make and tastes heavenly. If the chenna or cottage cheese is ready, then this sandesh can be made within 15 minutes. This recipe uses cooked chenna or cottage cheese technique that removes the raw smell of chenna. However it can be prepared without cooking technique, but I prefer to cook in this way. So the step by step method of preparation of these pink beauties are mentioned below.
Preparation Time : 10 mins | Cooking Time : 15 mins
Ingredients :
| | |
| --- | --- |
| Ingredients | Measurements |
| Chenna (cottage cheese) | 500 gm |
| Powdered sugar | 7- 8 tbsp |
| Sugar | 2 tbsp |
| Strawberry (finely chopped) | 2 cup |
| Cardamom powder | 1 tsp |
| Water | 2 tbsp |

​
Method :
In a heavy bottom pan put chopped strawberries, sugar & water. Cook it on medium flame till strawberries are soft & the sauce gets thick, keep it aside to cool.

Take the

chenna

in a plate and mash it with heels of the hand till it becomes soft & you start feeling the oil in the palm.

Then stop mashing and add powdered sugar, cardamom powder and prepared strawberry sauce. Mix well.
Take this mixture in a heavy bottom pan and cook on low heat.
Stir continuously, till the mixture starts leaving the pan and is thickened like a soft dough consistency.
Turn off the heat and keep aside to cool completely.
Make small balls from the soft dough, give desired shape.
Keep these strawberry sandeshes in refrigerator until ready to serve !!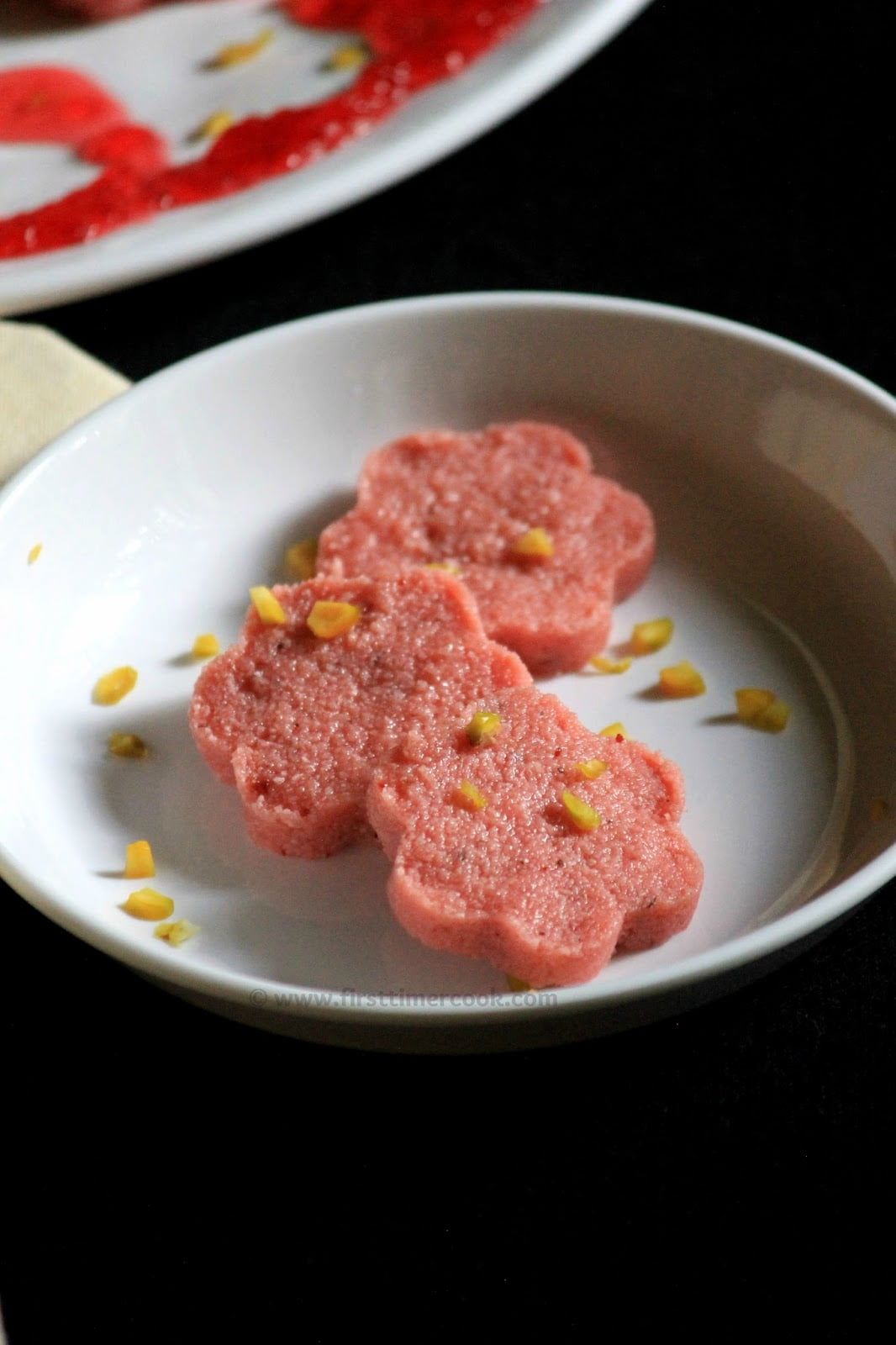 Notes :
While cooking the chenna and strawberry sauce mixture, do not cook on high heat as it will curdle the chenna.
Since these strawberry sandeshes are made with fresh chenna, so consume within 24 hours of preparation.