Dosa is a type of pancake from the Indian subcontinent, made from a fermented batter. It is somewhat similar to a crepe in appearance. Among all varieties though the masala dosa is famous in different parts, but still mysore masala dosa is unique and stands apart. The dosas in other parts are mainly thin and crunchy whereas the mysore masala dosa is crisp one having red or brown on outside and spongy soft on inside.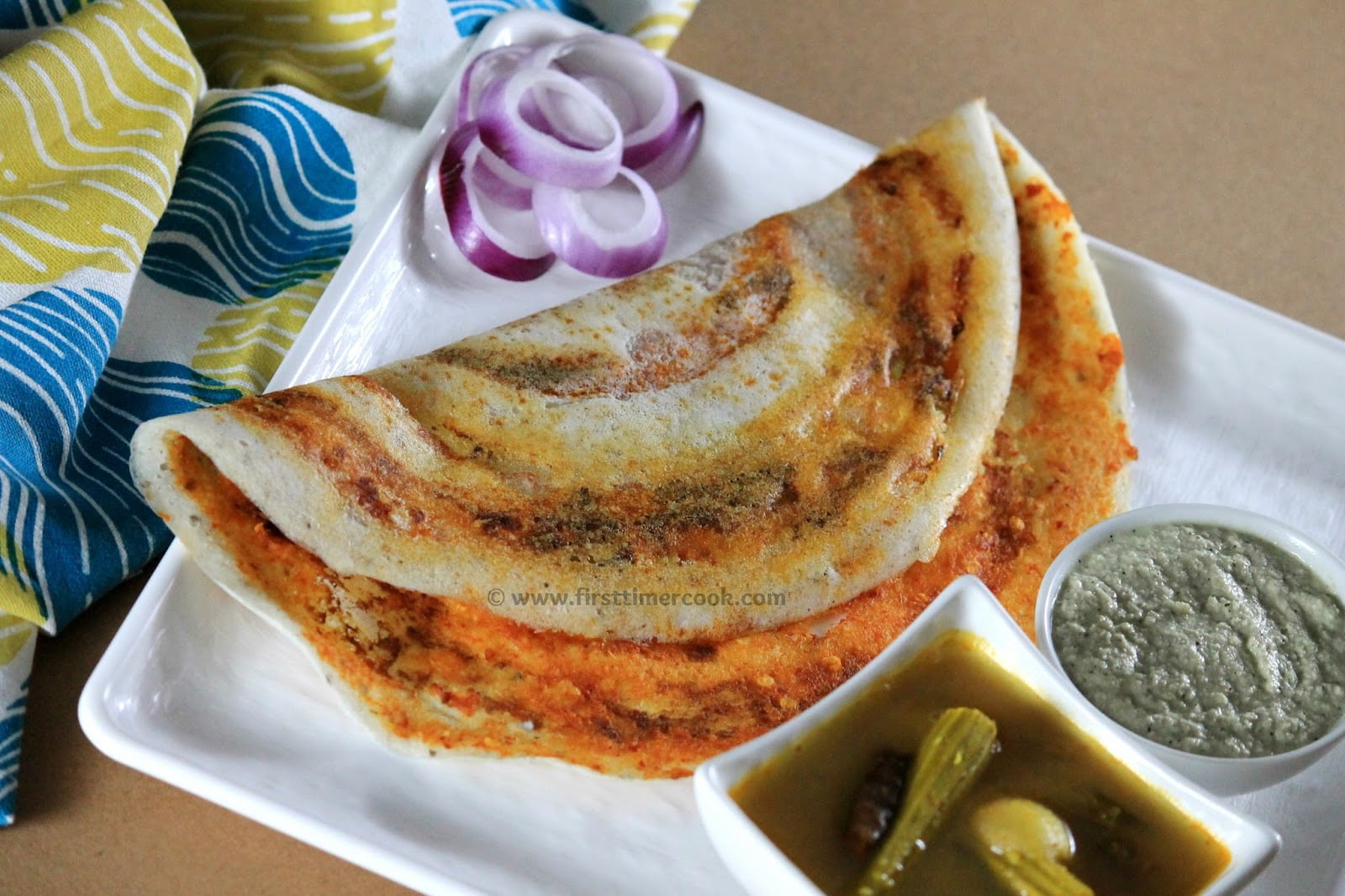 Basically a thick red chutney is smeared inside the dosa before the potato masala is filled. Also a small amount of butter is spread before filling the potato masala over the dosa. Finally the dosa gets folded, ready to be served hot with sambar and coconut chutney as accompaniment. This mysore masala dosa is a perfect south Indian snacks and must be liked by everyone. If preferring for kids, just minimize the addition red chili in the red chutney.
You may have interest to check out some other dosa recipes as
So lets go in details method of preparation of mysore masala dosa.
Soaking Time : 5 hrs | Fermenting Time : 8 hrs
Preparation Time : 20 mins | Cooking Time : 25 mins
Ingredients :
Ingredients

Measurements

For dosa batter

Rice

2 cup

Poha / flattend rice flakes

½ cup

Urad dal

½ cup

Methi seed

¼ tsp

Water

As needed

For red chutney

Channa dal

2 tbsp

Onion (roughly chopped)

1 no

Garlic cloves (roughly chopped)

3 no

Ginger (roughly chopped)

1 inch

Kashmiri red chili

4-5 no

Salt

½ tsp

Oil

2 tsp

Water

As needed

For potato masala

Potato (boiled)

3 no

Onion

1 no

Ginger (finely chopped)

1 tbsp

Green chili

2 no

Mustard seed

¾ tsp

Curry leave

1 sprig

Turmeric powder

1/8 tsp

Oil

1 tbsp

Salt

As needed
Method :
Soak rice, poha, urad dal, methi seeds all together for 5-6 hours with enough water.
Then drain the water and put everything in a blender jar.
Blend to make a fine paste by adding water little by little.
Transfer all the batter to a mixing bowl (large size comparatively to the amount of batter).
Add salt and mix well.
Cover the bowl loosely and keep aside 7-8 hours or overnight for fermentation.
Once the batter fermented well, mix gently using a ladle and then keep aside.
In a pan heat oil. Add in mustard seeds, curry leaves and allow to splutter.
Add chopped onion, green chili, ginger and fry for 1 minute.
Add the turmeric powder, salt and give a quick mix.
Next add boiled and roughly mashed potatoes and mix well.
Cook for 2-3 minutes over low heat.
Turn off heat, transfer the potato masala to a plate and keep aside to cool.
Next in the same pan, heat oil again.
Roast channa dal, roughly chopped ginger, garlic, onion, Kashmir red chili well.
Continue till golden brown channa dal.
Cool down completely and then blend to a thick paste by adding little water.
Transfer this red chutney to a small bowl.
Add salt, mix well and keep aside.
Now heat a griddle or tawa (dosa tawa) and pour a ladleful of batter.
Then spread the dosa batter with circular motion starting from center towards the edges of the griddle.
Once the top side cooked a bit, add 1 tbsp of the prepared red chutney on the dosa and spread it nicely all over the dosa with the back of a spoon.
Then spread some butter and finally put some potato masala.
Spread little and fold the dosa.
Serve immediately this mysore masala dosa hot along with sambar and coconut chutney as accompaniment !
Notes :
Generally mysore masala dosa is slightly thick unlike normal dosa, so no need to spread too thin.
Adding butter gives nice brown color to the dosa as well as enhances the taste.
This 'mysore masala dosa' is contributed for 41 Healthy Wellthy Cuisines where the theme is 'Desh ke Rang'. Here are more similar recipes shared by our Healthy Wealthy Group members as Dhuska, Pudina Lachha Paratha, Banana Fritters, Mohanthal / Chana Dal Barfi, Dal Baati Choorma.