a cold & refreshing milk beverage flavored with rose syrup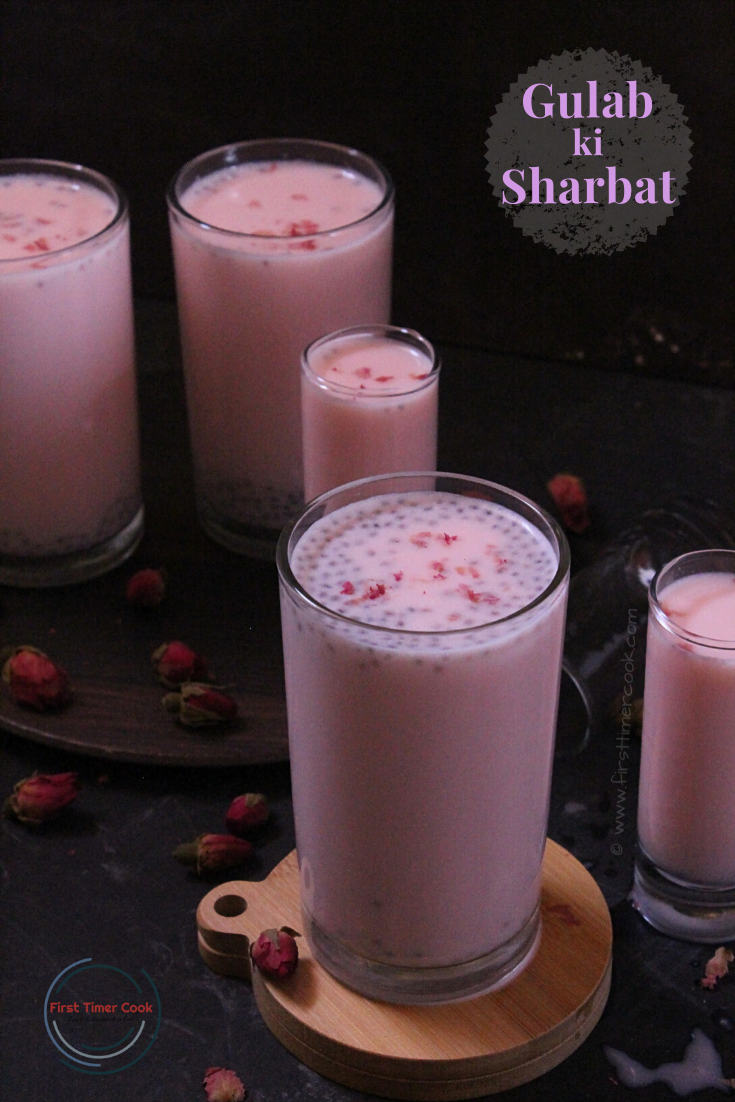 Holi, festival of colors is tomorrow. We all are prepping up for the festival with singing and dancing, splashing of vibrant gulal, pichkaris and some delightful food and drinks to indulge in. From lip-smacking bhallas and bhaang to decadent yummy gujiyas, Holi is truly an occasion that brings everyone closer. And like any other Indian festival, what is Holi without some tasty and delicious food ?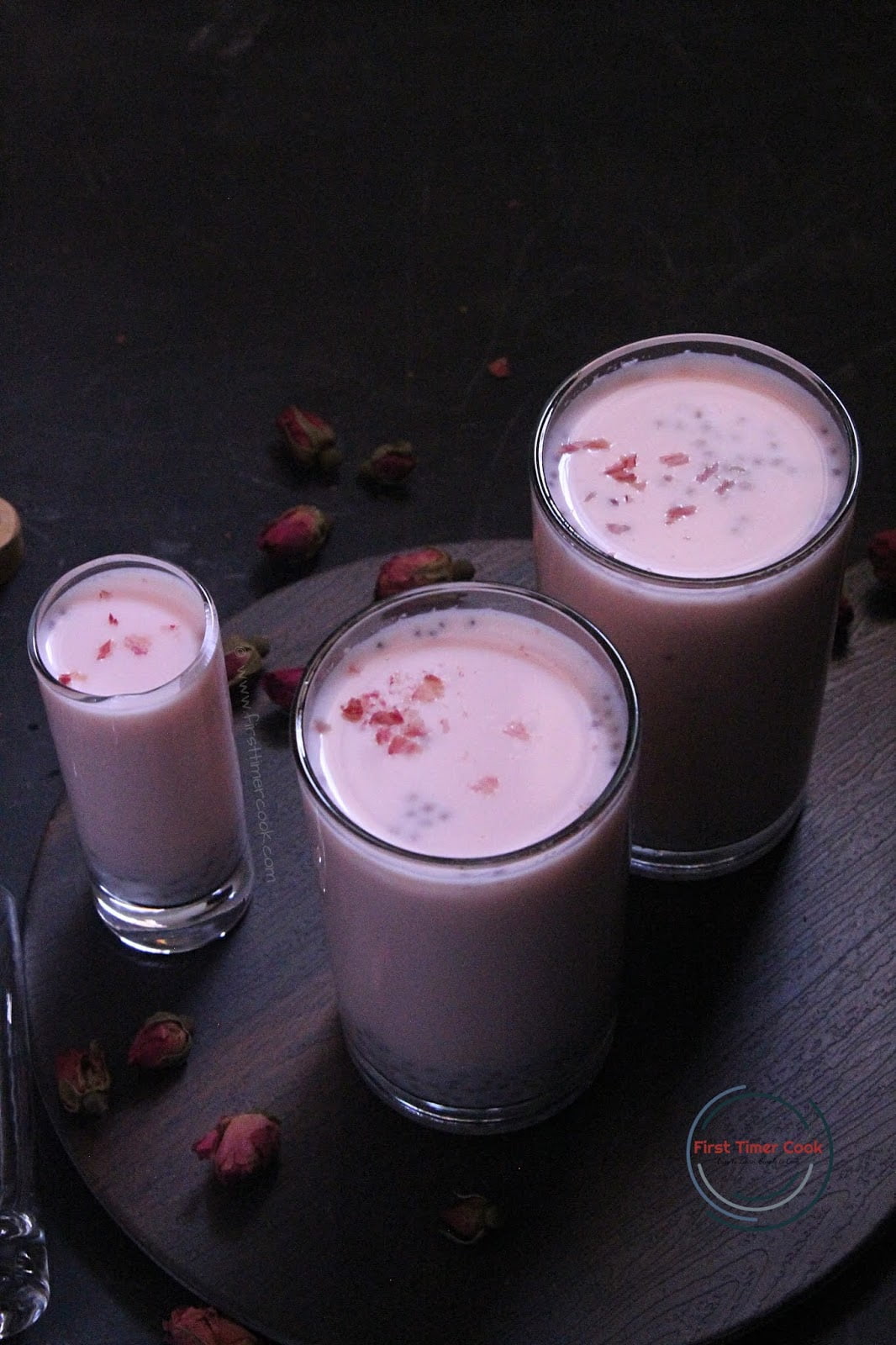 There are a plenty of foods for the celebrations and making it impossible for us to not binge in the festive spirit. You may check some dishes for Holi as
Slurping right away after reading all these names 👆👆, do try without wasting time 😄. Also check below one 👇 😉
Well, today for the holi celebration I have come up with a refreshing cold beverage as Gulab ki Sharbat / Rose Milk. It is a simple and easy drinks that one can prepare and store in the refrigerator for a day. While playing Holi, this will be act as a best and healthy drink to quench thirst.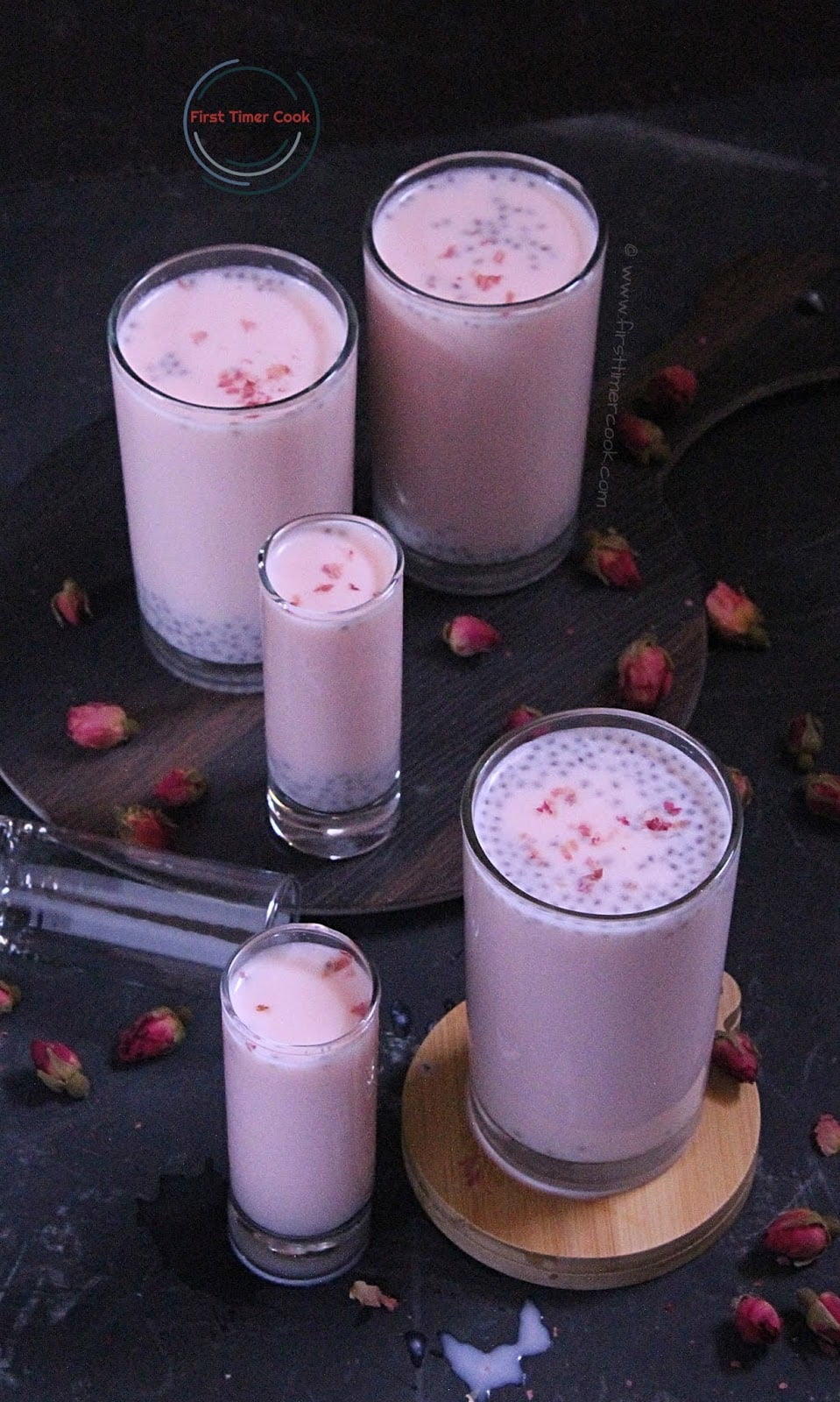 Ingredients that can be chosen :
The main ingredient here is the milk and rose syrup or rooh afza. For vegan version, do choose vegan milk like almond milk etc. I love to add some soaked sabja seeds in this drink. For more sweetness in the drink sugar can be added, but it is totally depend upon personal choice. One can use honey instead of sugar as well. Cardamom powder also gives a nice flavor to the drinks, so do add. If using chilled milk then ice cubes can be omitted. Else one has to add few ice cubes in the drink.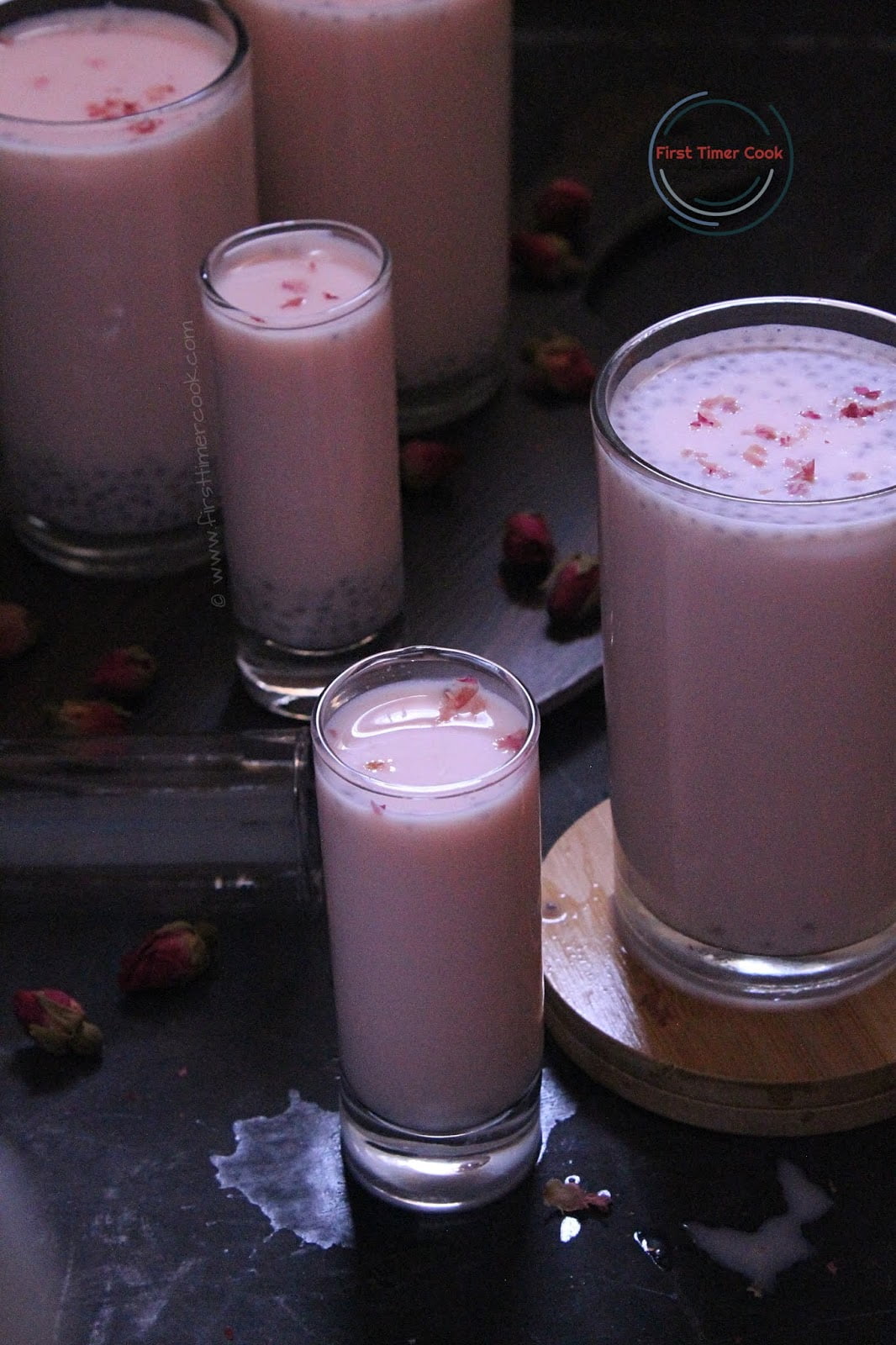 Preparing Rose Milk :
First the milk has to boil and allow to cool down. One can put into the refrigerator when it cools down to room temperature. Else some ice cubes can be added to the room temperature stage of boiled milk. Also if the pasteurized milk is opted,then simply use as such without boiling. Then some sabja seeds are soaked and added to the milk along with cardamom powder, rose syrup, sugar (as per the sweetness desired). Everything is mixed up well and then the whole mixture can be served immediately or kept in refrigerator to be used within 1 day.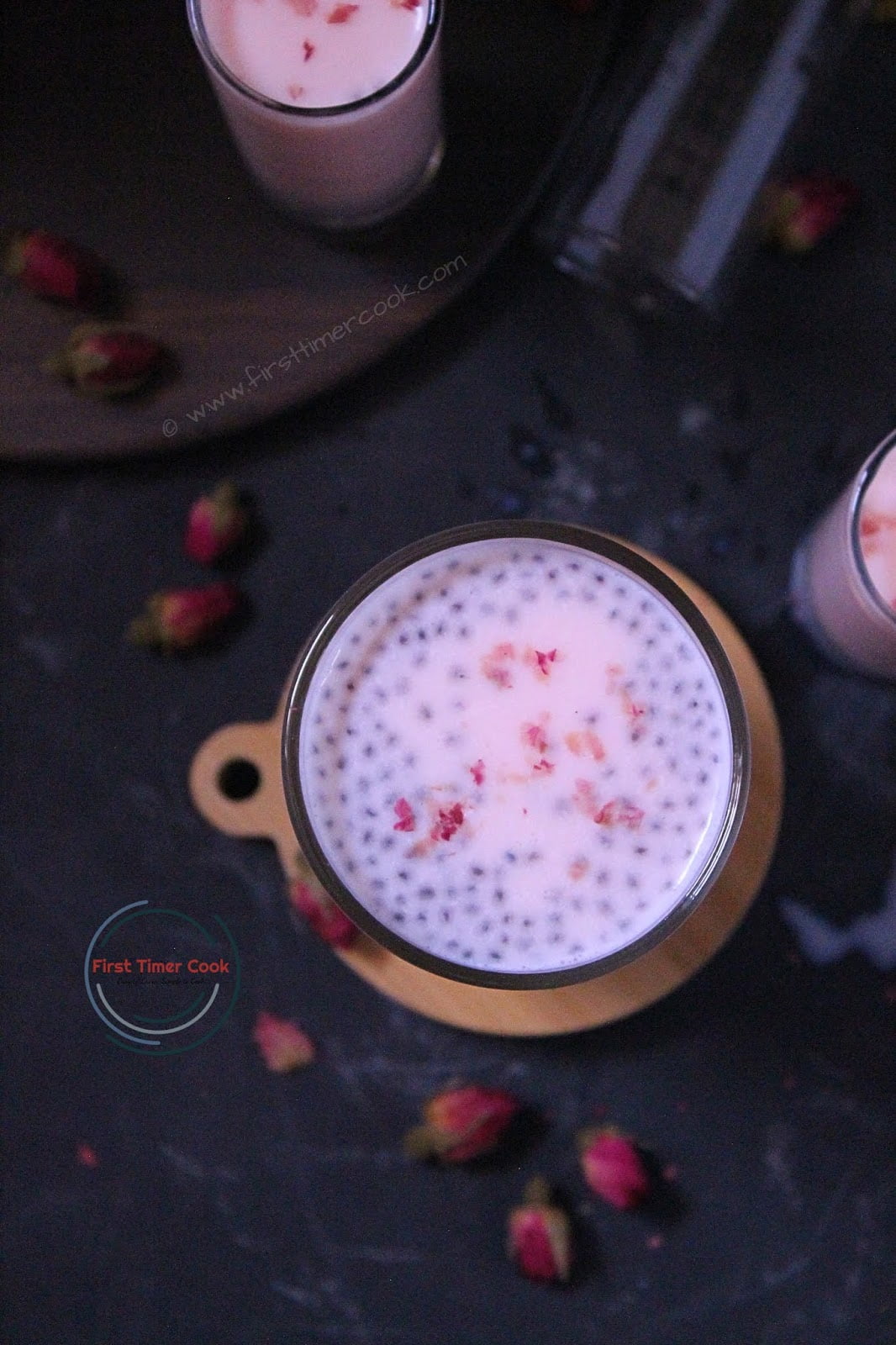 Serving suggestion :
During summer time when everyone needs some cold beverages, this rose milk is best fit for that. And for the Holi, this is an awesome choice to make and serve while playing the colors with near and dear ones. It is one of the traditional Indian drinks. It is loved by any age group. Even if you are going to make any summer kitty party, the I am sure all will surely enjoy this refreshing drink. Do make surely in this upcoming hot times !
Some more rose based recipes –


Kaju Katli | Cashew Fudge (rose flavored)
Eggless Rose Thumbprint Cookies
The event related to this post :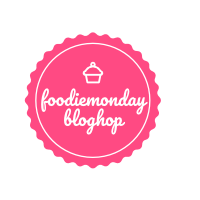 Monday is here again and this time the Foodie Monday Blog Hop team has decided the 237th theme as 'Holi on my Plate'. As Holi festive time is on, so we are doing some Holi special dishes and so I chose to make this Rose Milk aka Gulab ki Sharbat.
: Recipe Card :

Rose Milk / Gulab ki Sharbat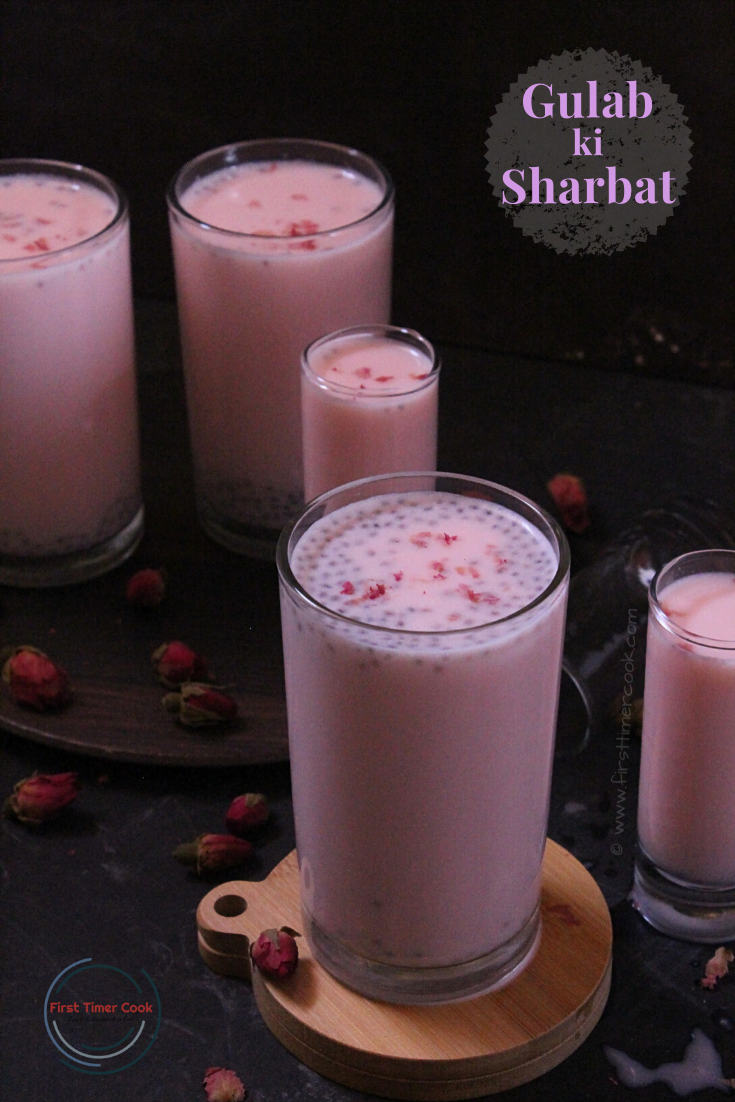 prep time: 5 Mcook time: 10 Mtotal time: 15 M
a cold & refreshing milk beverage flavored with rose syrup
ingredients:
Milk 1 lt

Sugar 1 tbsp

Rose syrup (roohafza) 1/4 cup

Ice cube few

Sabja seed 3 tsp

Cardamom powder (optional) 1/2 tsp

Rose petal for garnishing
instructions:
How to cook Rose Milk / Gulab ki Sharbat
Boil milk in a saucepan and keep aside to cool down.

Soak the sabja seeds in water till the water is well absorbed. Still if any excess water is there, then just discard by putting all the sabja seeds in a strainer.

Next in a mixing bowl add the milk, few ice cubes, soaked sabja seeds, sugar, rose syrup / rooh afza, cardamom powder.

Mix until sugar dissolves completely.

Pour into serving glass, sprinkle some rose petals and serve immediately !
NOTES:
Cardamom powder is optional.
Addition of sugar one can omit completely or increase as per the sweetness desired.
After boiling the milk, the milk can be kept in refrigerator till cold enough. After that it can be used for rose milk and in this case, ice cubes addition can be skipped.
Holi, Holi drinks, Rose milk, Gulab, Gulab ki sharbat, Cold healthy drinks
Beverage, Rose, Milk, Sharbat, Indian drink, North Indian beverage
Indian
Did you make this recipe?
Tag @firsttimercook on instagram and hashtag it #firsttimercook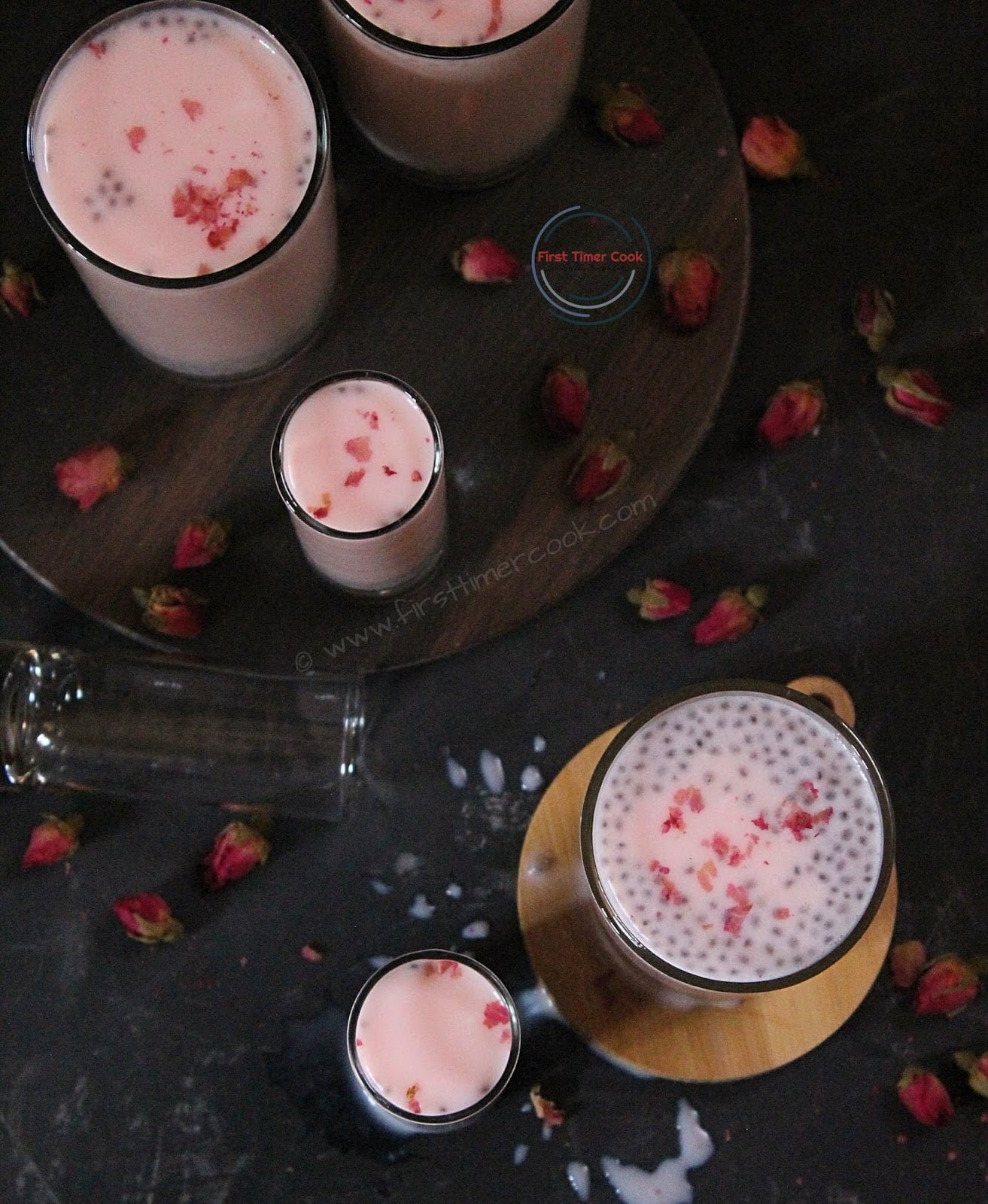 You may also follow me on Facebook, Pinterest, Twitter, Google+, Instagram and can subscribe for free to get new recipes directly into your inbox 😊
PIN for later :