a minty touch to the much popular Middle Eastern dip, Hummus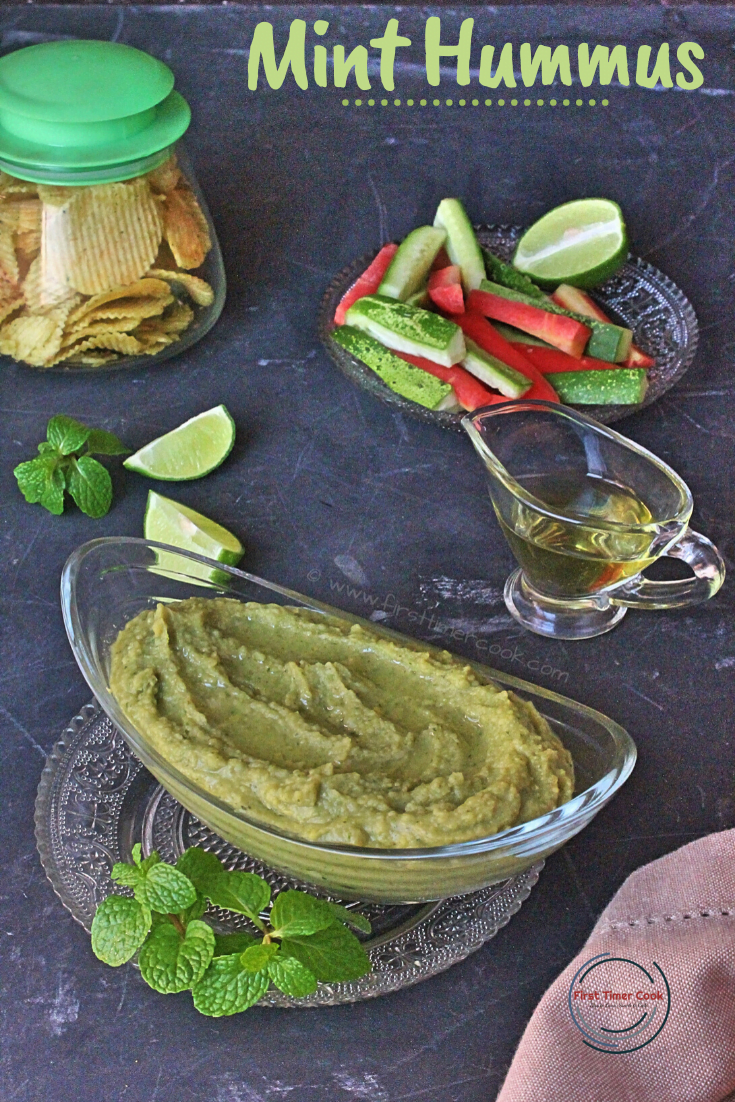 What is Hummus ?
Hummus is an incredibly popular Middle Eastern dip as well as spread. The word here, hummus means 'Chickpea' in Arabic. Chickpeas are abundant in the Middle East part of the world and that is why this dip is commonly eaten. And these days this becomes much popular all over the world. Typically hummus is prepared by blending chickpeas (garbanzo beans), tahini (ground sesame seeds), olive oil, lemon juice and garlic in a blending jar. Hummus provides a wide variety of vitamins and minerals. It is also a great plant-based source of protein, which makes it a nutritious option for vegans as well as vegetarians.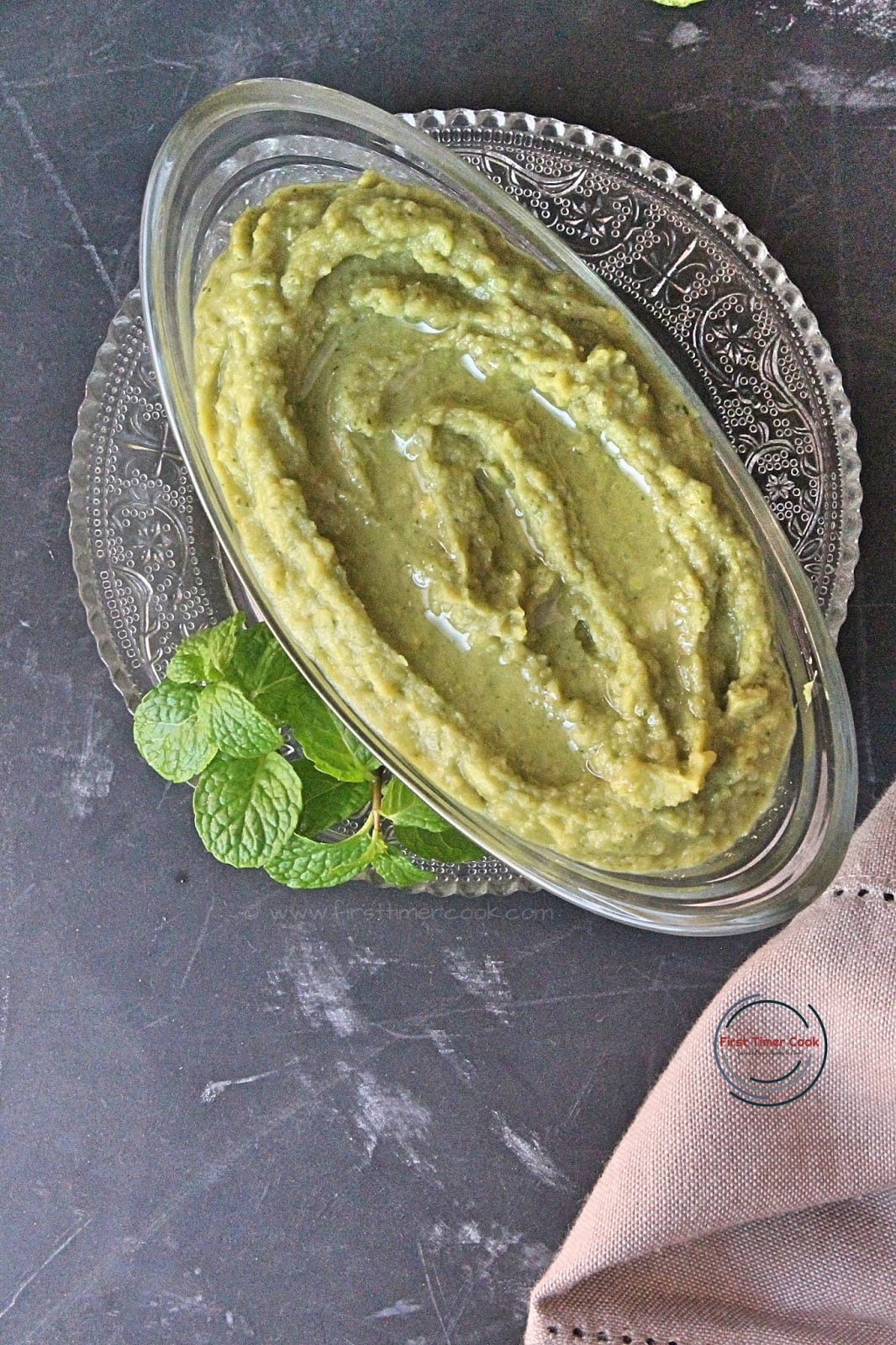 Variation in Hummus :
As everything is modifying as per taste these days, so this dip is also getting its newer version accordingly. The flavors are being changed, even the lentil used here (the chickpeas) is also replaced with some other lentils or fresh vegetables. Have you checked one of my earlier hummus recipe as Roasted Beetroot Hummus where some roasted beetroot are added to get some earthy roasting flavor in the classic chickpea hummus and also yields in a beautiful pink color. Well today again I have come up with another hummus recipe as Mint Hummus.
Preparation in details :
In the preparation method, nothing I have changed to the traditional one. Only the extra addition here is some fresh mint leaves. Simply I have added some freshly plucked mint leaves from my small balcony garden after blending the chickpeas in the blender jar. The overall result comes into a nice greenish color with a smooth texture. Then just transfer to a serving platter and before serving drizzle few more olive oil on top of the mint hummus.
Best thing about this hummus
–
Low carbohydrate
simple & easy to make
Protein packed dip
Vegan and gluten free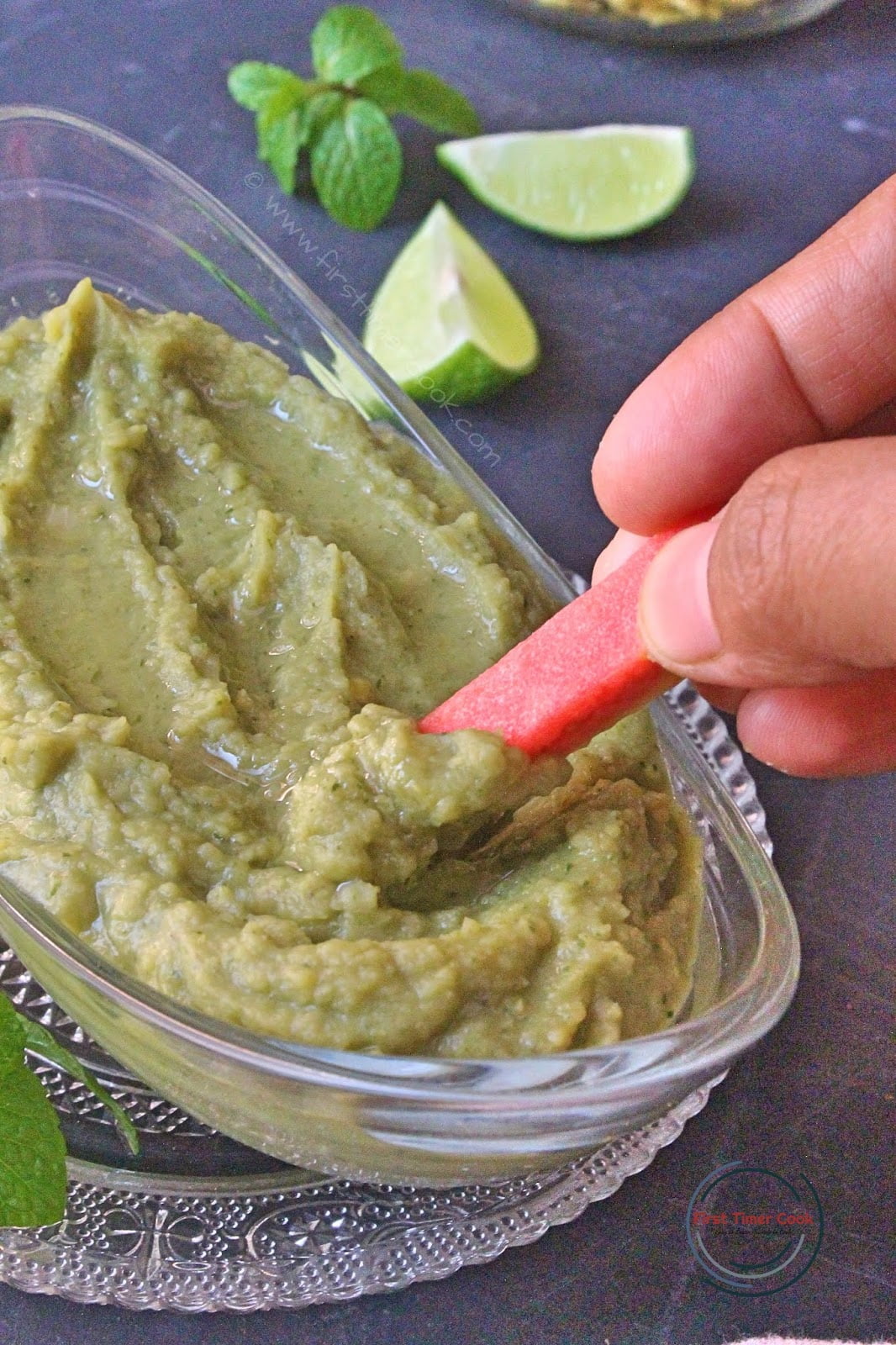 Serving suggestion :
The hummus are generally used as a spread, dip. This minty hummus we thoroughly enjoy with some chips and my boy loves to have with some fresh carrot and cucumber fingers. One can spread this minty one in any wrap and even in sandwiches. The whole process is quite easy and simple to make too. Just blend everything and voila ! the dish is ready to devour. Do make !
The event related to this post :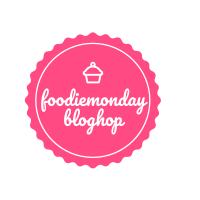 Monday is here again and this time the Foodie Monday Blog Hop team has decided the 236th theme as 'Hummus Time' which is suggested by Kalyani. Her blog is full of easy to cook recipes and mostly Vegan and Gluten-free kinds. She has a lovely collection of hummus too, do check her space. Well coming back to the theme, she suggested to make some varieties of the much popular Middle Eastern dip, Hummus. So I chose to make this Mint Hummus (Vegan & Gluten free).
: Recipe Card :

Mint Hummus (Vegan & Gluten free)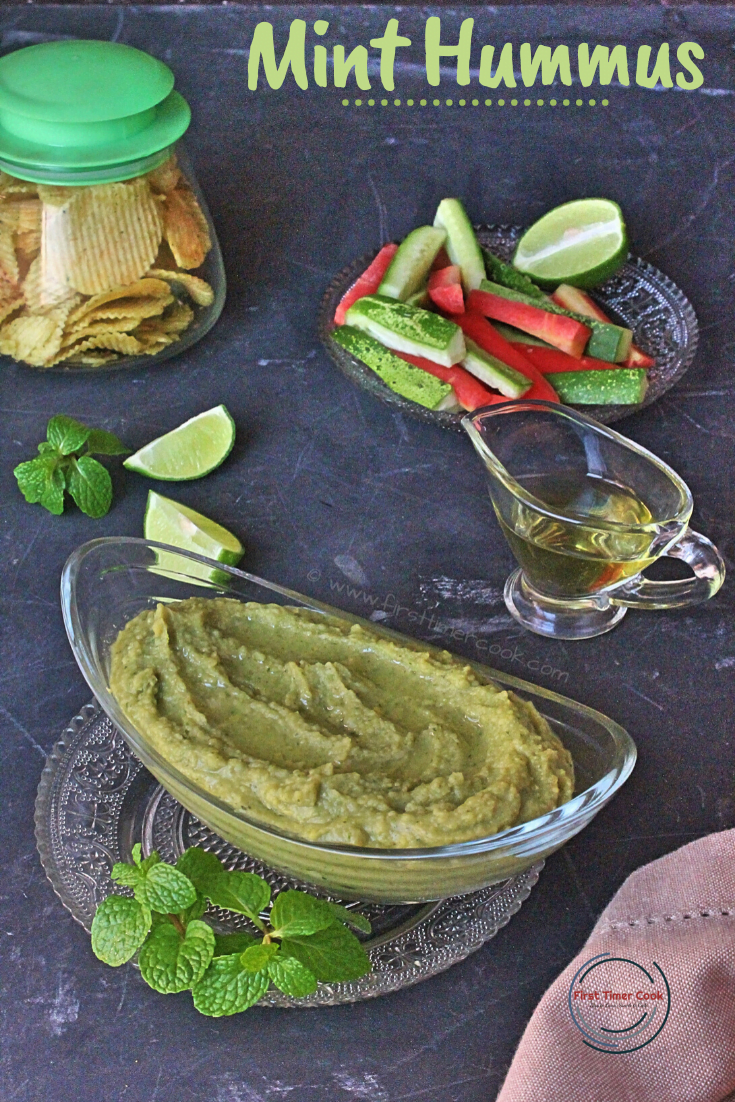 prep time: 10 Mcook time: total time: 10 M
a minty touch to the much popular dip, Hummus.
ingredients:
Chickpea (canned / boiled) 1.5 cup

Mint leaf (tightly packed) 1/4 cup

Tahini 2 tbsp

Garlic (crushed) 1 tsp

Olive oil 2 tbsp + 1/2 tsp

Lemon juice 2.5 tbsp

Salt as needed
instructions:
How to cook Mint Hummus (Vegan & Gluten free)
In a blender jar put all the ingredients except mint leaves and 1/2 tsp olive oil.

Blend everything together until smooth.

Then put the mint leaves and again blend well.

Transfer the hummus to a serving platter.

Drizzle 1/2 tsp of olive oil on top and serve !
NOTES:
For some spiciness, one can add few green chilies while blending.
If using canned chickpeas, then just rinse in normal water and drain completely. Then use.
If using boiled chickpeas, then first soak the raw chickpeas for at least 5-6 hours / overnight. Then boil the soaked chickpeas with some salt until done. Allow to cool down and then use boiled chickpeas.
Garlic can be omitted also.
Lemon, tahini, Vegetarian, garlic, olive oil, garbanzo beans
Hummus, Mint Hummus, Chickpeas, Vegan, Gluten free, Dip, Spread
Levantine Cuisine
Did you make this recipe?
Tag @firsttimercook on instagram and hashtag it #firsttimercook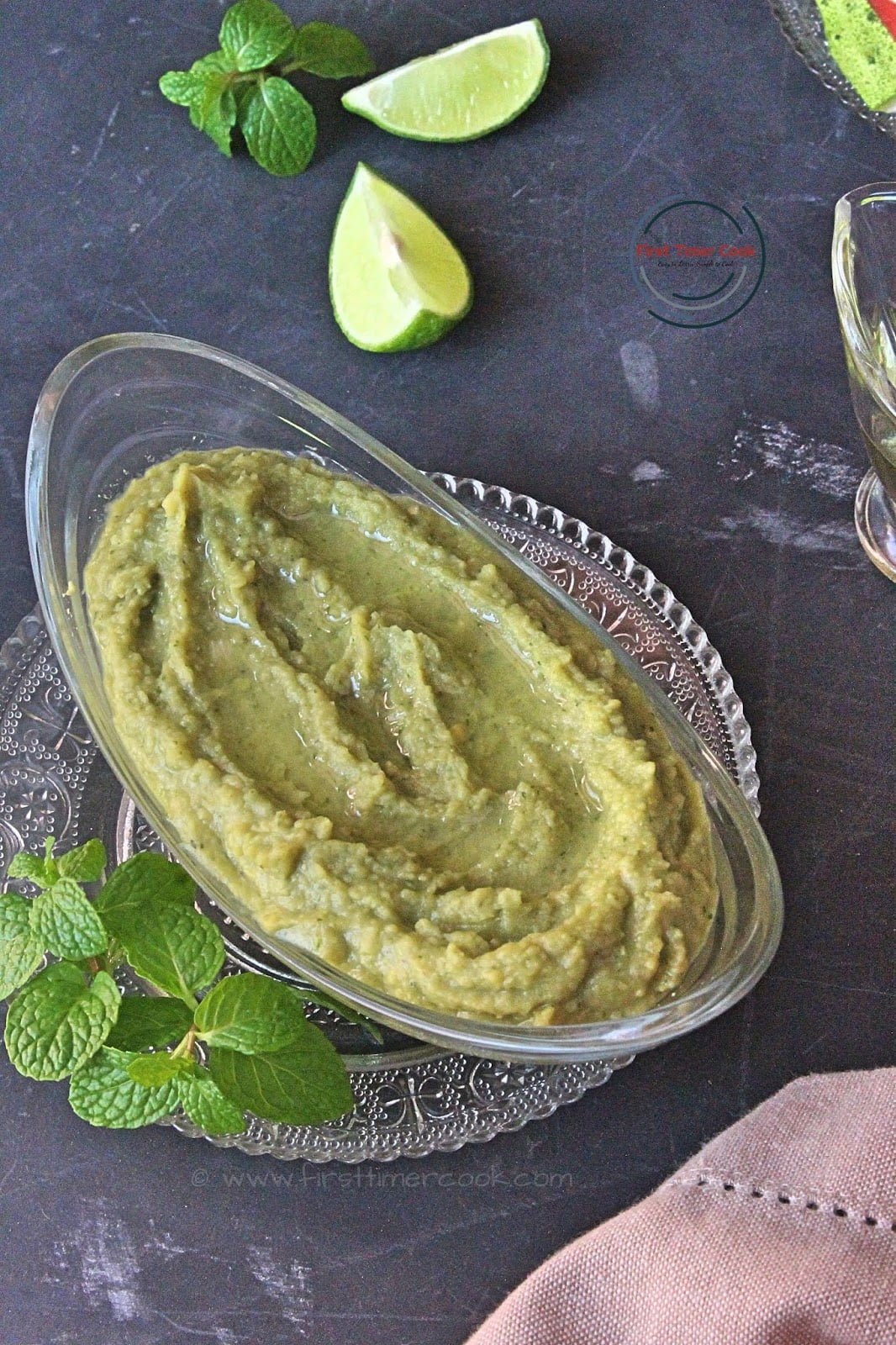 You may also follow me on Facebook, Pinterest, Twitter, Google+, Instagram and can subscribe for free to get new recipes directly into your inbox 😊
PIN for later :