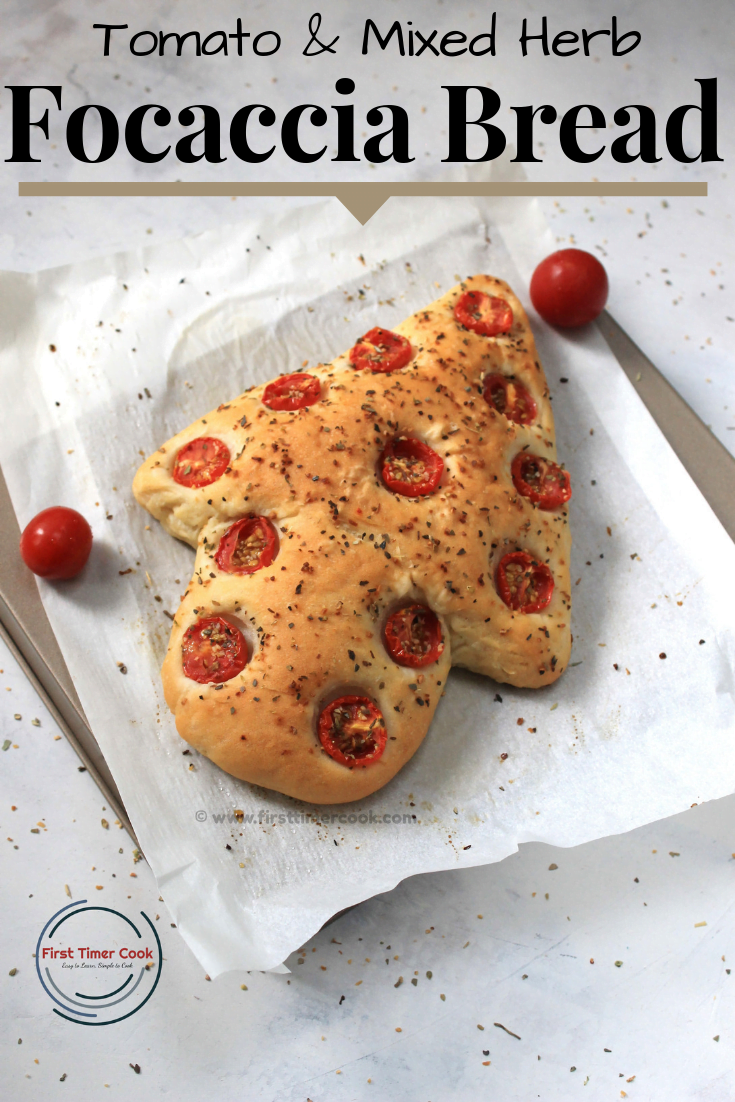 Happy Christmas to all my reader here !!
As you all know that yesterday I had prepared the Christmas special fruity cookies which are completely Vegan and APF (maida) free and also posted in the previous post. So while munching those fruity cookies on yesterday evening, hubby suggested to make some focaccia bread since I had not made since a long time. Today is Christmas and so an idea came to mind to make a focaccia bread in Christmas tree shape topped with cherry tomatoes as 'Tomato & Mixed Herb Focaccia Bread' 🙂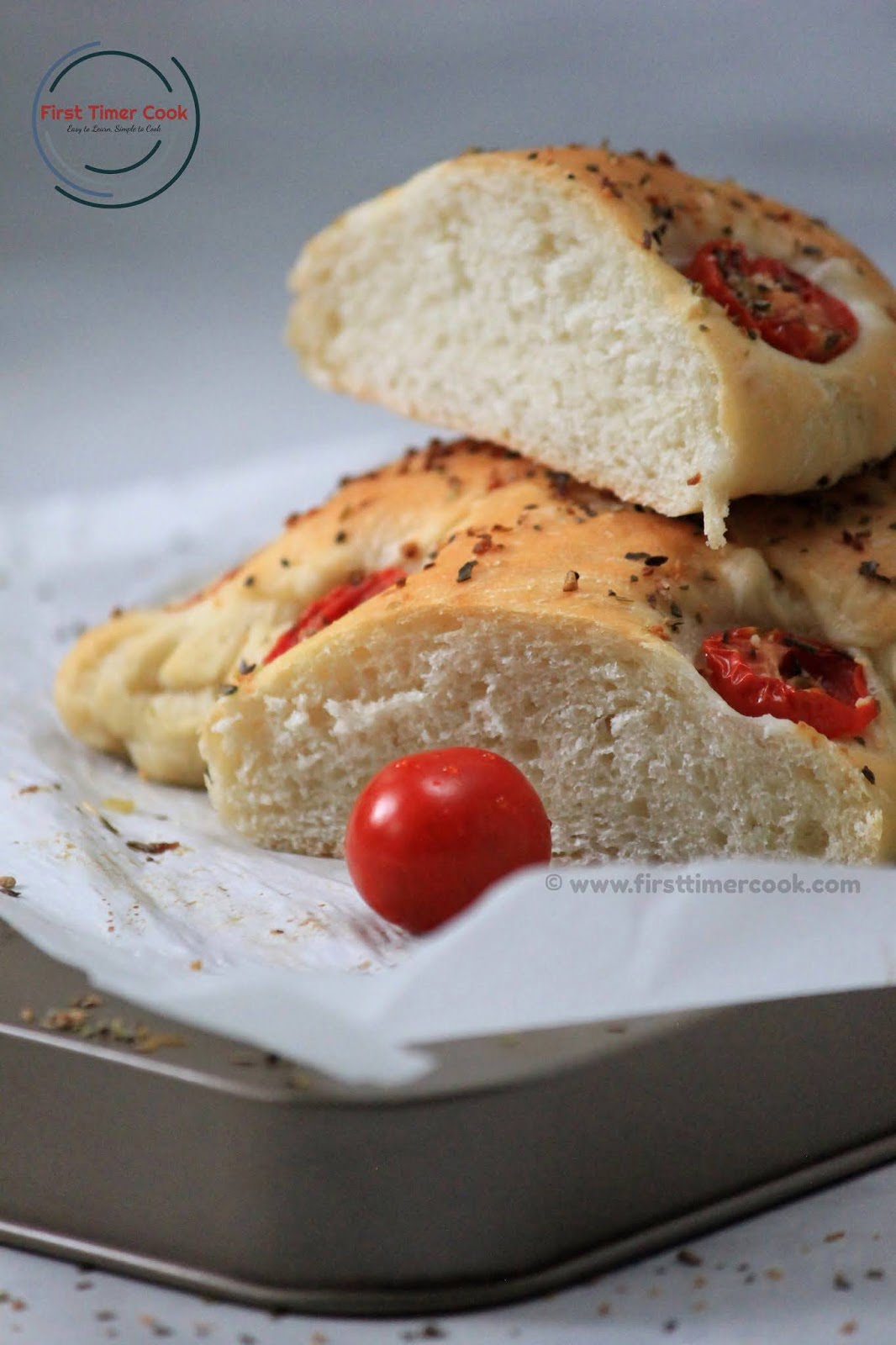 Basically the focaccia is a type of Italian yeast bread and its dough is much similar in style and texture to pizza dough. The focaccia dough is flavored with olive oil most of the time. These breads can be eaten as it is or sliced to have with some soups / salad too. The breads are so versatile means the toppings can be a variety of flavors. Both salty as well as sweet version of focaccia can be prepared and indulged. Here the version which I have prepared is quite simple one and as usual so easy to prepare. Only the time consuming part is the resting time of the dough to proof fully. The toppings are some halved cherry tomatoes along with some mixed herbs. The whole dish is fully vegan and so perfectly fit to be on Christmas special breakfast option. So do try and enjoy each slice.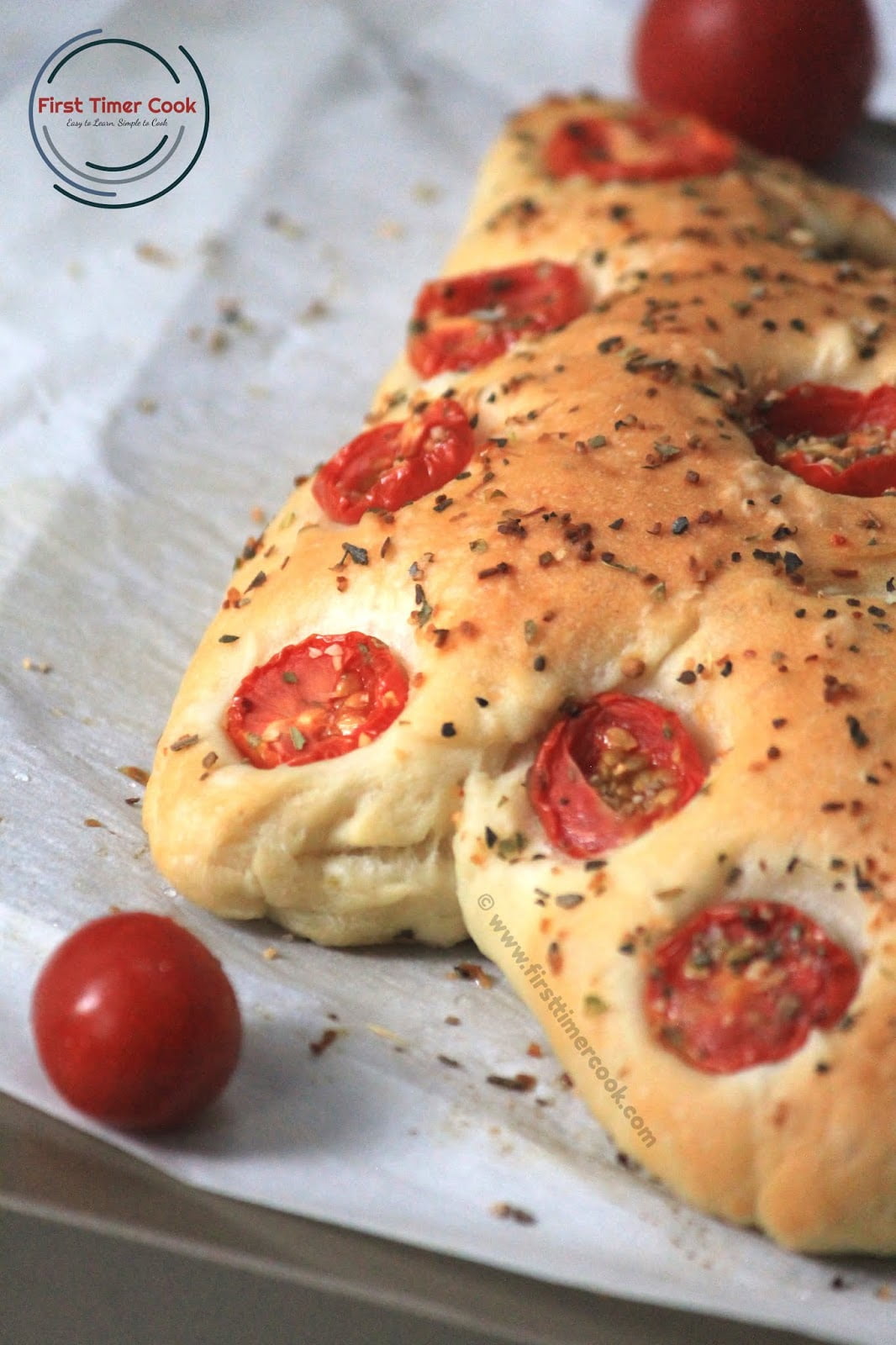 Recipe Card for 'Tomato & Mixed Herb Focaccia Bread' :
Author: Sasmita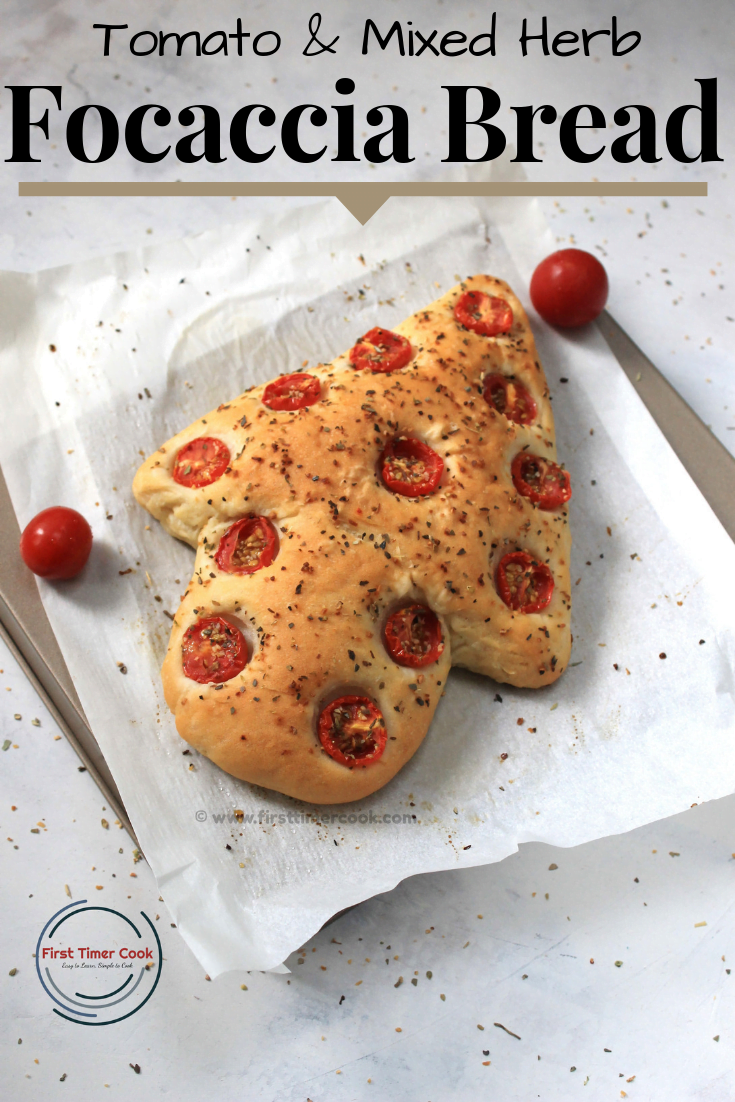 Tomato & Mixed Herb Focaccia Bread
a super simple focaccia bread with topping as cherry tomatoes and mixed herbs
prep time: 10 mins | rest time: 2.5 hrs cook time: 20 minstotal time: 3 hrs
ingredients:
All purpose flour (maida) 1 cup
Warm water 3/8 cup
Instant yeast 3/4 tsp
Sugar 1 tsp
Salt 3/8 tsp
Olive oil 3/4 tbsp
Mixed herb for sprinkling
Cherry tomato 6 – 7 no
Salt 1/2 tsp
instructions
First in a bowl take warm water, sugar and then mix.
Add yeast and mix properly using a spoon.
Cover the bowl and keep aside for 7 – 8 min till starts frothing.
Then in another big bowl take all purpose flour, salt and oil.
Mix and next add the yeast mixture.
Mix well and knead to make a sticky and soft dough.
Cover the bowl and allow to proof by keeping the bowl in a warmer place for 1-2 hours.
When the dough becomes double in size, then take out from the bowl.
Knead the dough with an oil-greased palm over a board for 1-2 minutes.
Shape the dough as a Christmas tree shape or any other shape as desired and place over a baking tray lined with parchment paper.
Slice the cherry tomatoes into halves and press in the border area of the Christmas tree shape dough keeping nearly equal space in between.
Cove the tray and allow to proof again for at least 1 hour.
Meanwhile preheat the oven at 200 deg C.
After 1 hour, sprinkle some salt over the cherry tomato halves and mixed herbs on top of the whole dough.
Bake for 18-20 minutes or till the top turns golden brown.
Transfer onto a wire rack to cool.
Cut and serve along with a hot bowl of soup or some salad as desired !
NOTES:
Th herbs can be added directly to the dough as well as used to sprinkle on top to get some extra flavor in the focaccia bread.
https://firsttimercook.com/2018/12/tomato-mixed-herb-focaccia-bread-VEGAN.html

If you tried my recipe and enjoyed fully, then please share some pictures of your creation with me. Also kindly give your valuable feedback either in the comment box below or tag me as #firsttimercook on Instagram. You may also follow me on Facebook, Pinterest, Twitter, Google+, Instagram and can subscribe for free to get new recipes directly into your inbox 😊

PIN for later :