an exotic vegetarian side dish from Bengali Cuisine using chhena and mustard paste mixture wrapped in pumpkin / banana / turmeric leaves.
Bengali cuisine in details :
Bengali cuisine, the cuisine of the West bengal state of Indian subcontinent is famous for the maach (fish) and bhaat (rice) combo. Bengali shares an
unimaginary relationship with these two foods that are a staple in almost every Bengali household. Bengali cuisine is a blend of sweet and spicy flavors basically. The 'panch phoron' is used generously in most Bengali dishes (in Odia cuisine also this is a common spice used and pronounced as Pancha Phutana) and it is a combination of five spices as cumin, nigella, fenugreek, mustard and fennel seeds. This cuisine has kept its presence in most of Indian's choice. Starting from sweets like misti doi, chumchum etc to many chhena, dahi / curd based savory side dishes there are a variety of Bengali dishes one can fond of. Some Bengali dishes that I have already in my blog are :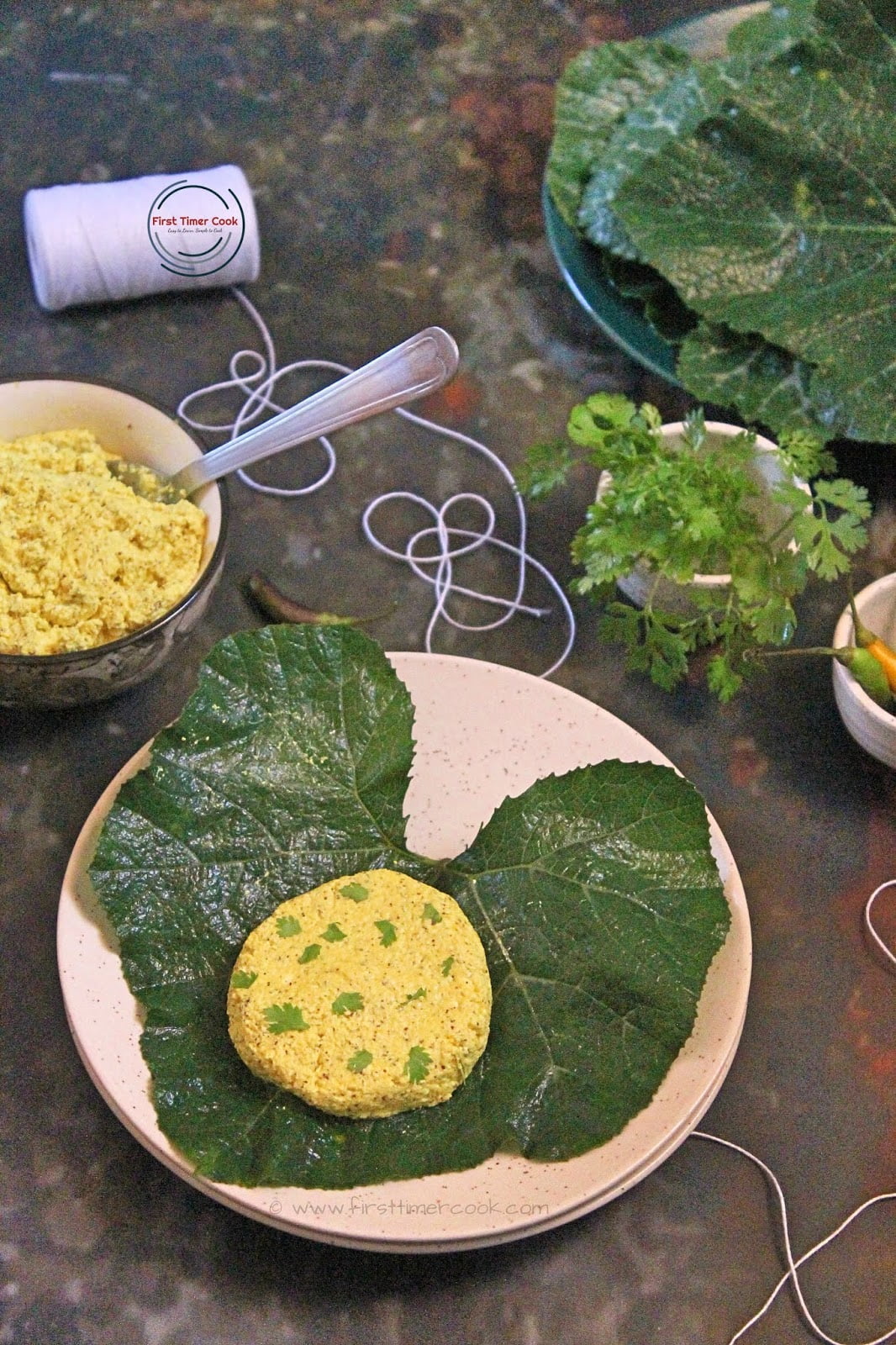 Well today here I have come up with another bengali dish as Chhena Paturi / Chanar (in bengali language, chhena is called as Chanar) Paturi / Cottage cheese wrapped in pumpkin leaves. This is actually a vegetarian version of Maacher Paturi (a trademark dish from Bengali cuisine). In maacher paturi mostly the Bhetki Maach (fish) is used as the stuffing along with coconut, green chili, mustard paste. I have just changed the ingredient fish and used some fresh chhena (homemade). Completely gluten free and vegetarian dish it is.
Main ingredients to make this dish :
Fresh chhena

gives a nice texture and taste to the end result. Still one can use paneer here also. Either chhena or paneer

each has to smoothly mashed before using.
For mustard paste mostly black mustard are used. But one can used 1:1 ratio of black and yellow mustard seeds. To make the mustard paste, mustard seeds along with grated coconuts and green chilies are used. One can choose the mortar pestle or even grinder to make a smooth paste.
Mustard oil is the must here. No other oil could match to the taste of the dish if used.
Either banana leaves / pumpkin leaves / turmeric leaves are used to make the parcel. Always prefer to pick big size leaves so that the parcel is made without any difficulty (mainly while folding the leaves to make parcels by sealing from all the sides). If big size leaves are not available, then just put another leaf over the leaf containing chhena mixture and then gently cover from all side to make parcel.
If using the pumpkin leaves, then there are two choices : either open the leaves and serve the paturi or just cut into halves without unwrapping the leaves as the pumpkin leaves are edible. But if using banana leaves or turmeric leaves, then the leaves have to unwrap first and then the chhena has to serve by discarding the leaves.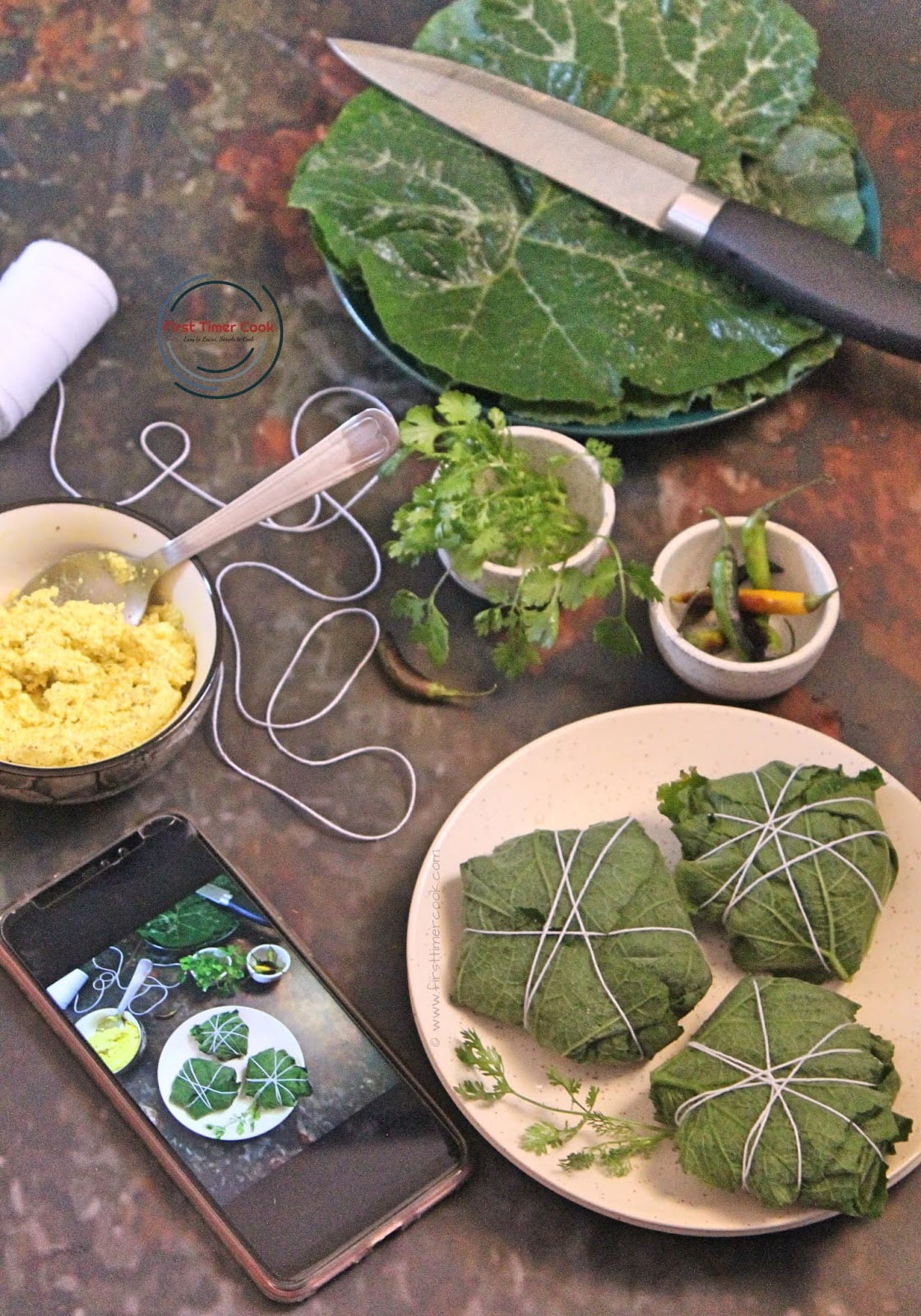 The method of preparation is quite easy and simple. Just make a mixture of mustard paste, chhena, turmeric powder, salt along with coriander leaves. Then place over the greased leaves (pumpkin / banana / turmeric). I have used pumpkin leaves as my small garden always has the pumpkin trees through out the year. Wrap to make a parcel and tie using a cotton thread to ensure no leakage while cooking. Then the parcels are either steamed or fried over gas stove till slight brown from both top and bottom.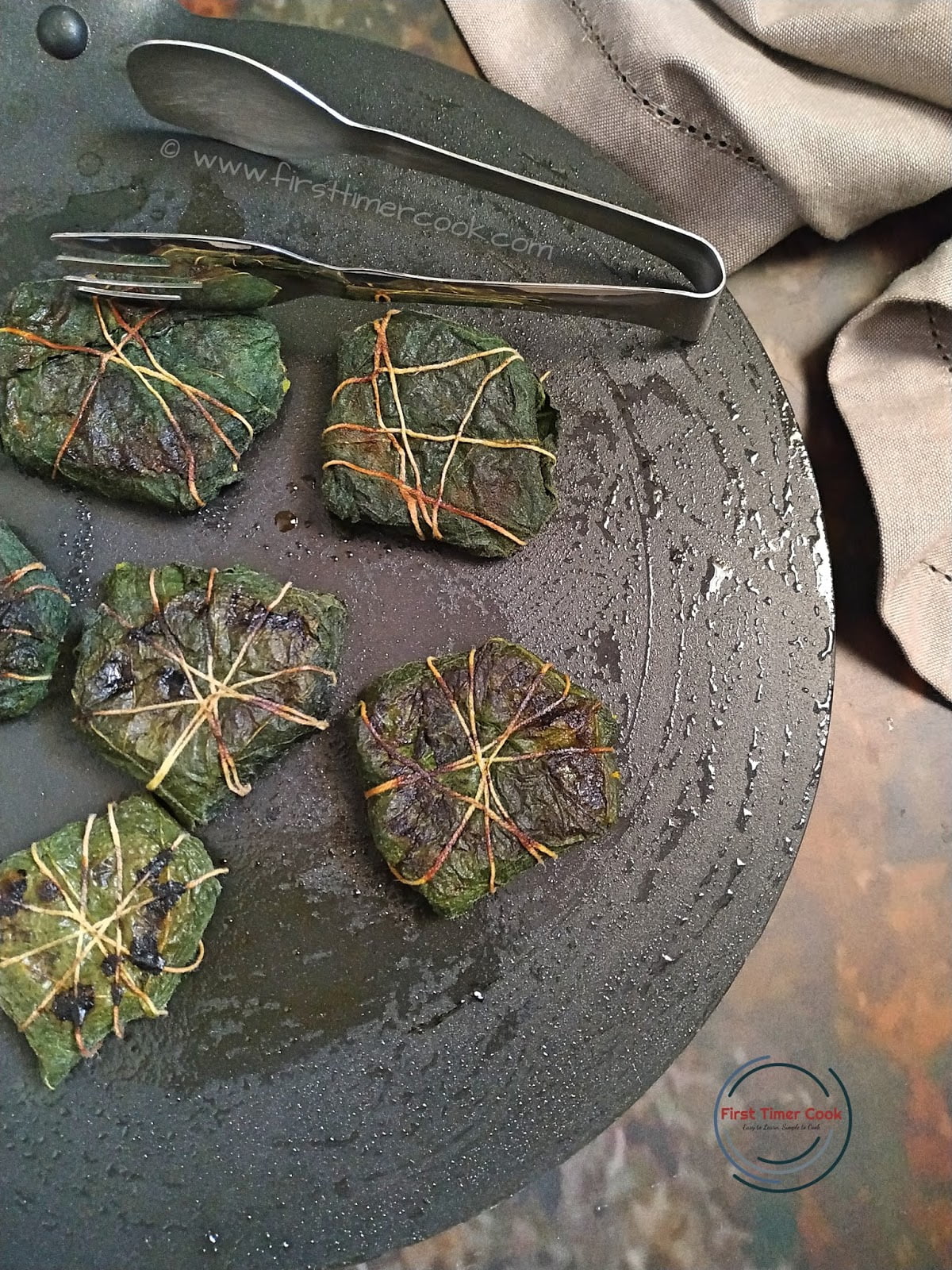 This type of paturi dishes go very well with steamed rice, dal as a side dish. We thoroughly enjoy this chhena paturi with rice-dal-salad-pampad spread. Some prefers to first wilt the leaves before using, But I directly use the leaves to make the dish and there is no problem till now I have faced. So try this simple vegetarian still look wise exotic side dish using chhena from Bengali cuisine.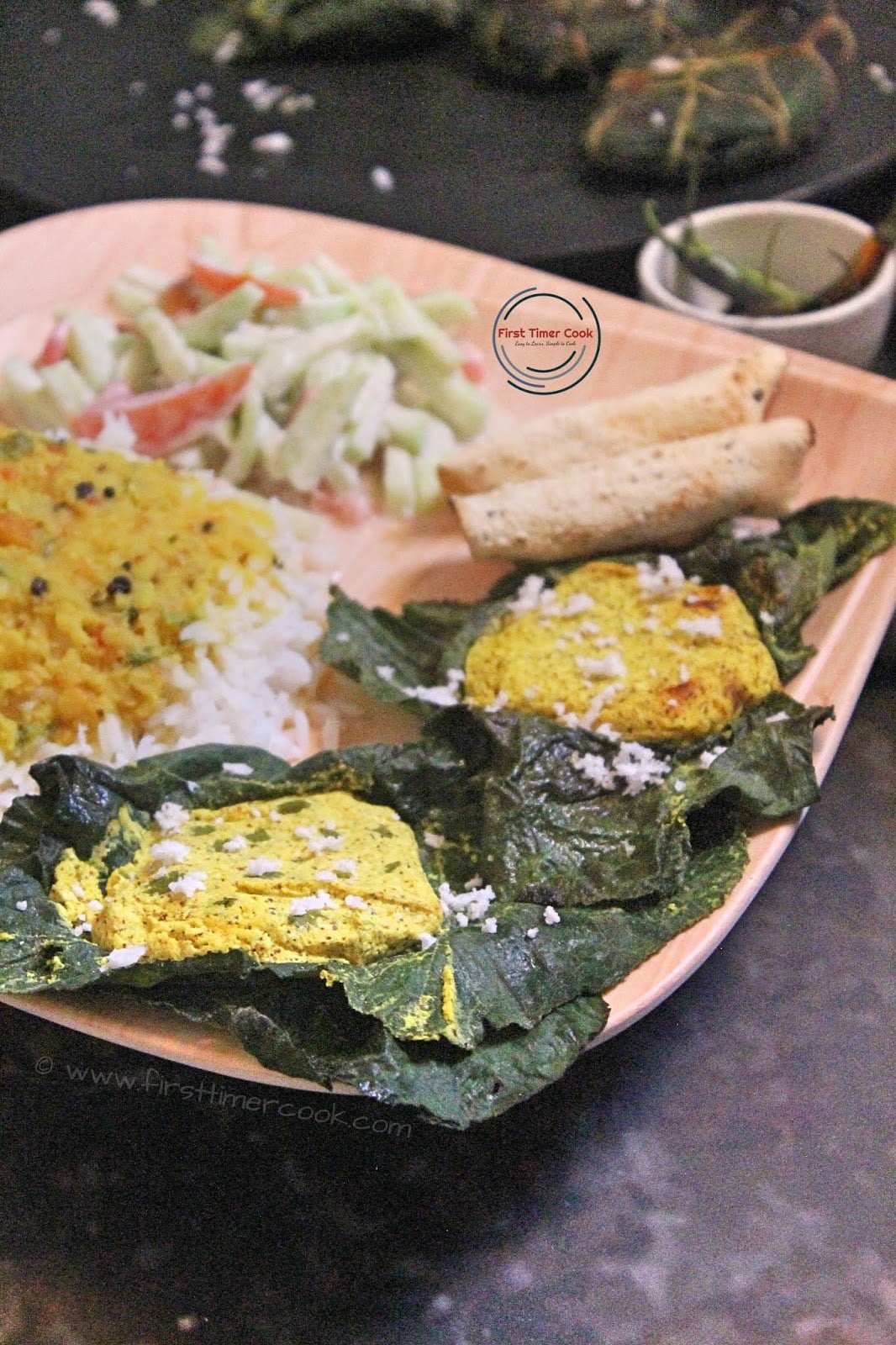 Event related to this post :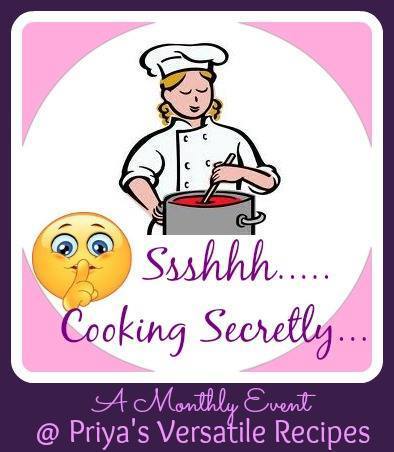 Well, the November month challenge in 'Shhhhh Cooking Secretly Challenge' group was 'Bengali Cuisine'. And for the current theme, my partner was Rafeeda who gave me 2 secret ingredients as Coconut & Turmeric powder and I gave her as Ghee & Cinnamon. Do check here for her dish 😊 And as usual, using mine two ingredients I had to prepare a dish from Bengali cuisine. So I have come up with this Chanar Paturi or Cottage Cheese Wrapped in Pumpkin Leaves.
Recipe Card :

Chhena Paturi / Chanar Paturi / Cottage cheese wrapped in pumpkin leaves
prep time: 20 Mcook time: 15 Mtotal time: 35 M
an exotic vegetarian side dish using chhena and mustard paste mixture wrapped in pumpkin / banana / turmeric leaves.
ingredients:
Chhena / paneer (smoothly mashed) 1.5 cup
Coconut (grated) 1/2 cup
Mustard seed 2 tbsp
Green chili 3 no.
Turmeric powder 1/2 tsp
Salt as needed
Coriander leaf (finely chopped) 1-2 tbsp
Mustard oil 2 tbsp + few more
Pumpkin leaf (big size) 5-6 no.
instructions:
How to cook Chhena Paturi / Chanar Paturi / Cottage cheese wrapped in pumpkin leaves
First in a small bowl, soak mustard seeds with water for 20-30 minutes.
Drain and make a smooth paste of the soaked mustard seeds along with grated coconut, green chilies in a mortar pestle or grinder jar. Keep aside.
In another mixing bowl take mashed chhena, chopped coriander leaves, turmeric powder, salt and the mustard paste.
Mix everything very well.
Now place one big pumpkin leaf (around 8-9 inches) over a plate and grease the top part of the leaf with little mustard oil.
Put 2 tbsp of chhena mixture onto the center of the leaf.
Gently wrap from all the sides by folding the leaf (without tearing) and make a parcel. (if the pumpkin leaf is small, then after placing the chhena mixture, put another small pumpkin leaf on top of the chhena. Then fold from all side gently to make a parcel.)
Using a cotton thread, tie the parcel to ensure no leakage while cooking.
Similarly make few more parcels using the rest chhena mixtures.
Now heat a tawa or flat pan and spread little mustard oil.
Place the parcels, cover the pan and cook for 14-15 minutes over low heat, flipping in between.
After 15 minutes or when the paturis look slightly brown from both sides, turn off heat.
Cut the threads from the parcel and serve the hot paturis either unwrapping the leaves from parcel or simply cutting the parcels into halves (here the pumpkin leaves one can eat along with chhena, but if using banana leaves or turmeric leaves then discard the leaves while eating) !
NOTES:
Adjust the spiciness as desired.
Instead of pumpkin leaves, banana leaves or turmeric leaves can be used for wrapping the chhena mixture.
Gluten free, Vegetarian side dish, Paneer, Cottage cheese, Bengali delicacy, Coconut, Coriander leaves, Mustard oil,
Vegetarian, Side dish, Chhena, Chhena Paturi, Bengali dish, Pumpkin leaves
Bengali Cuisine
Did you make this recipe?
Tag @firsttimercook on instagram and hashtag it #firsttimercook
You may also follow me on Facebook, Pinterest, Twitter, Google+, Instagram and can subscribe for free to get new recipes directly into your inbox 😊
PIN for later :