a healthy soup using ragi (finger millet) and some chopped vegetables which is perfect for weight loss, diabetes.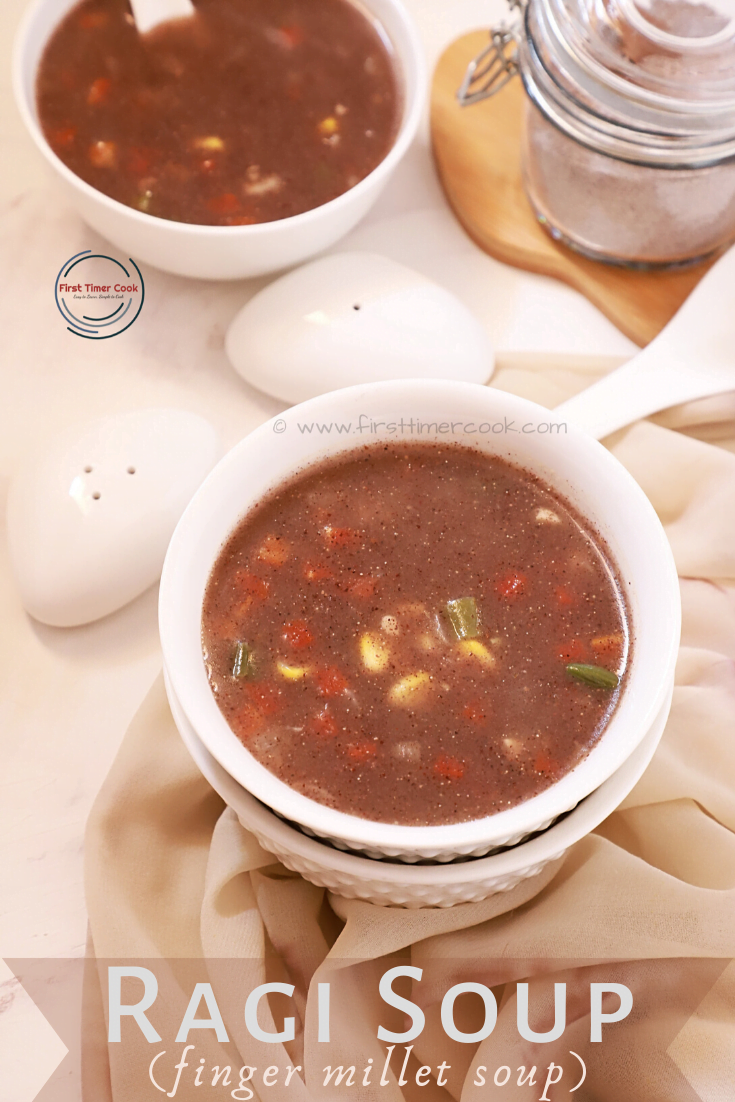 Millet is a wonderful gluten-free grain which is widely cultivated and used in India. Like quinoa and amaranth, millet is actually a seed that cooks like a grain. There are 2 categories of millet as Major Millet (finger millet / ragi, Pearl millet / bajra, soghum / jowar, foxtail millet / thinai, proso millet, maize) and Minor Millet (kodo millet / varagu, little millet / samai, barnyard millet / varai). Today's post is a finger millet based recipe. Finger millet aka ragi (in Hindi) / mandia (in Odia) is an extremely nutritious millet which mostly in appearance wise resembles mustard seeds. Ragi flour is prepared by either simply crushing the dried grains or spouting, drying and then grinding into powder. I will share soon a post about making the ragi flour at home by sprouting which makes it more healthy and nutritious and also easier to digest. The good thing here is since it is too tiny to be polished or processed, so it is mostly consumed in its purest form.
What can be prepared using Ragi ?
Besides wheat and rice, in current days this millet (Ragi) has comeback with a bang. Ragi is quite versatile one and can be used to make a variety of dishes. As this has a neutral taste, so can easily take the flavor of any dish in which it is used. For babies, it is believed that ragi is the best solid food to start first. One can make ragi dosa, sweet ragi malt, salty ragi malt, ragi idli, sugar free cookies using ragi etc. Today I have come up with a soup using this finger millet as Ragi Vegetable Soup. One can say it to be the makeover of the traditional ragi kanji into a soup along with some vegetables !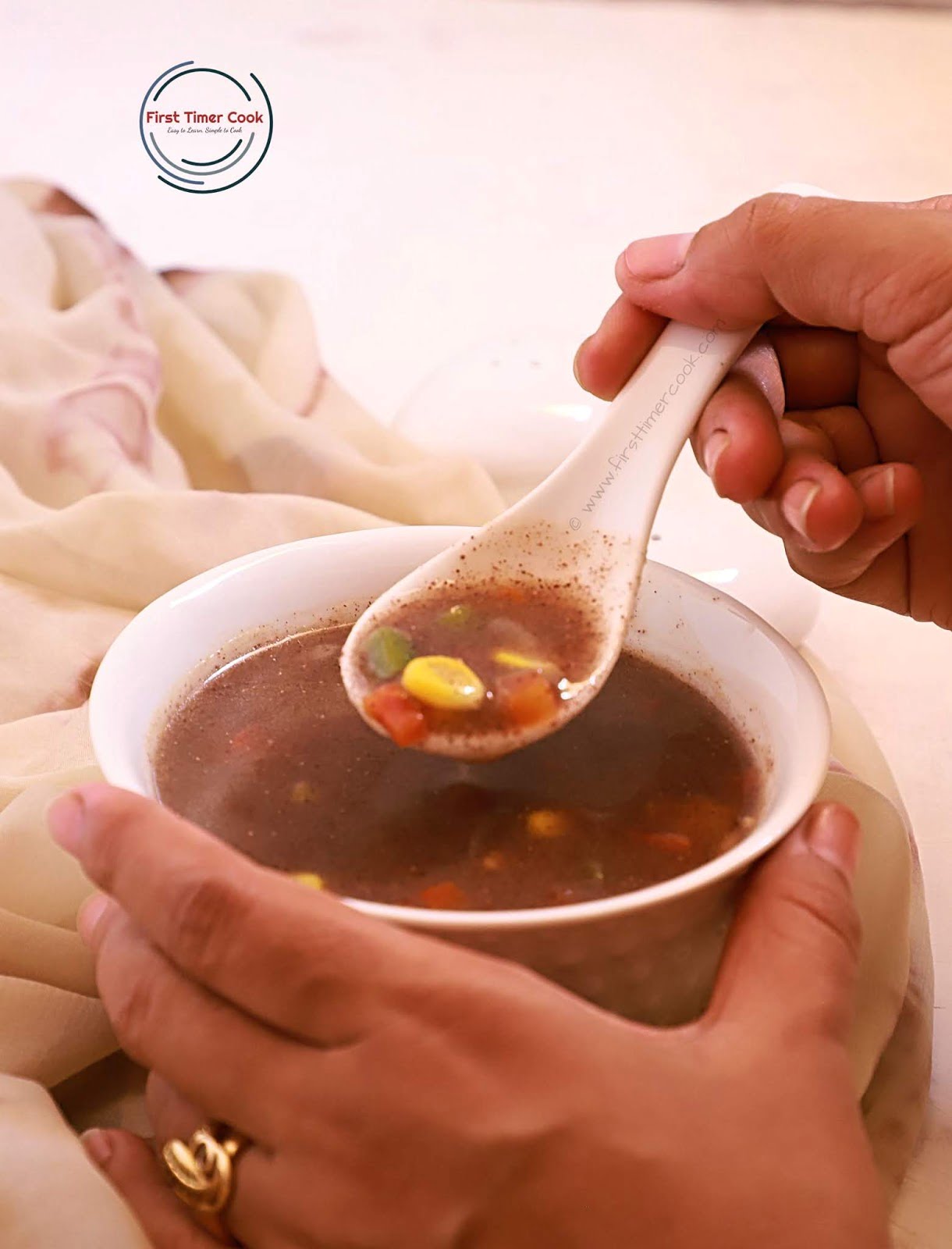 Ingredients for this ragi soup :
Ragi flour along with some chopped vegetables are the main ingredients here. Ragi flour one take the regular store brought / the homemade ones, means that can be simple dried flour or the spouted flour of the grain. In the vegetables, one can choose any vegetables of choice. I have used sweet corns, carrots, french beans. Some cauliflowers, green peas, some green like spinach etc also can be taken. Besides them, some onions are finely chopped for the tempering part with oil. Salt and pepper powder is used to balance the taste of the soup. Instead of oil, ghee / butter also can be chosen. Water is added as per the consistency of the soup desired.
Preparation process of this millet soup :
First some chopped onions are saute in oil till transparent. Then the chopped vegetables are added along with salt. These are then allowed to cook with few amount of water till well done. Meanwhile in a small bowl, a thin paste is prepared using the ragi flour and water without having any lumps. This paste is then added to the pan and immediately it has to be stirred well, else the whole mixture tends to become thick. Then pepper powder is added as per taste and some more amount of water is poured. After that everything is stirred well and allowed to cook till it reaches a thin soup consistency over low-medium heat. Finally the soup is ready and best tested when serve hot !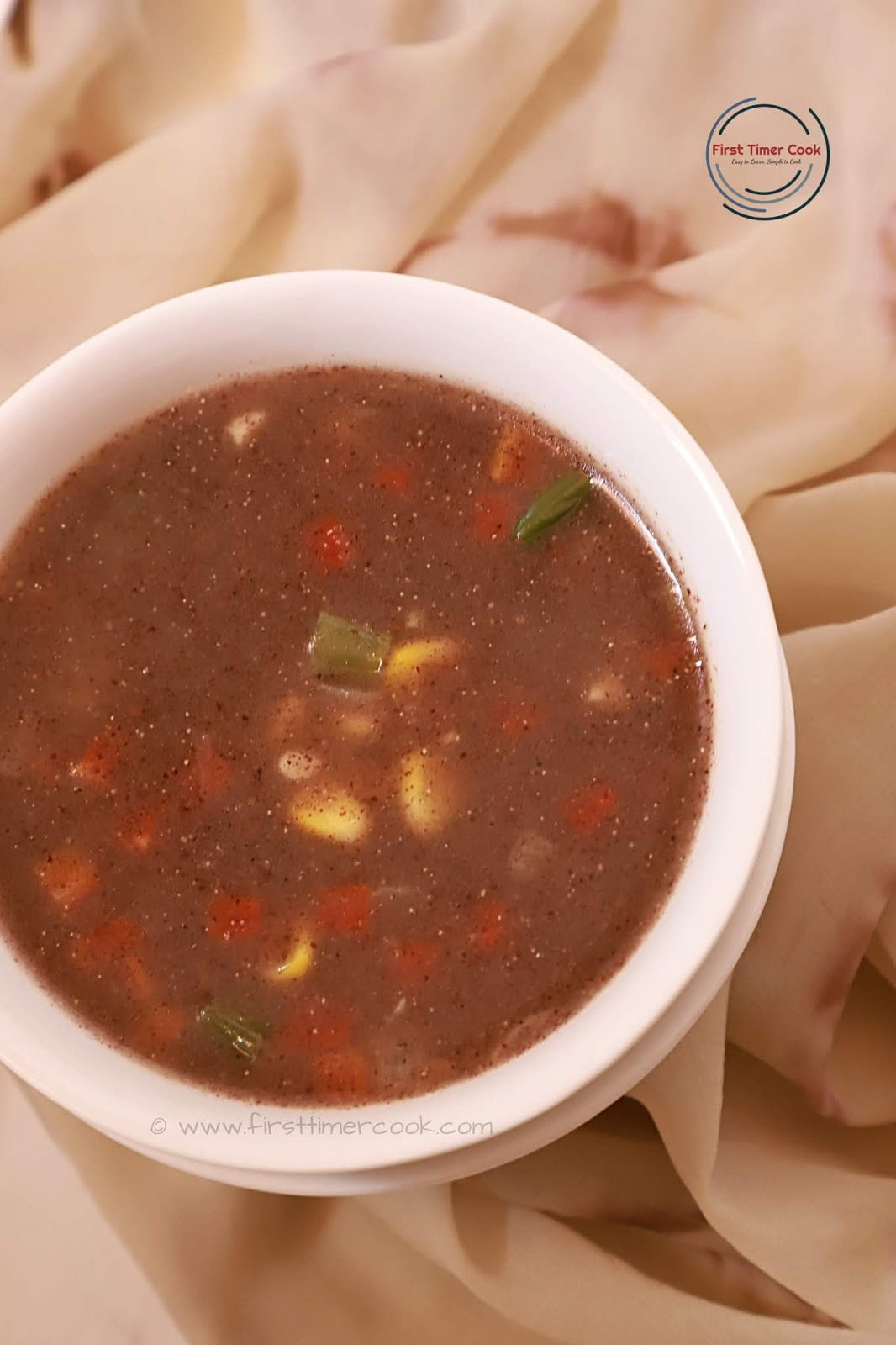 Why one should make this ?
so easy, simple & healthy soup
perfect choice for diabetes, weightloss diet
wholesome dish
Vegan as well as Gluten free soup
low oil recipe
This soup has a creamy texture and always tends to thicken as cool. So the consistency one can adjust by adding some more warm water to the thickened soup. In winter cold time, this is a best nutritious soup loaded with goodness of ragi and some vegetables. But still, one can enjoy this in anytime of the year like me. If you are not in a mood to cook, then go ahead and make this super delicious Ragi Vegetable Soup which takes hardly few minutes. Also this soup is loved by any age group for sure, just while serving to kids just skip / adjust the spiciness (if using some green chilies).
Event related to this post :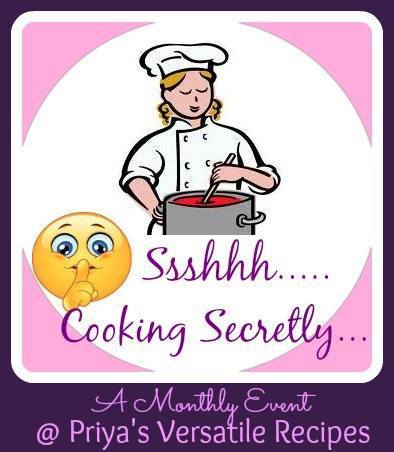 Well, the March month challenge in 'Shhhhh Cooking Secretly Challenge' group was 'Millet Recipes'. The theme was suggested by Aruna. She is a so kind blogger friend of mine and her blog has a varieties of dishes, recently she has also started her you-tube channel. Do check my recent bookmarked dish Curry Leaves Powder. Well for the current theme, my partner was also Aruna who gave me 2 secret ingredients as Onion & Pepper Powder and I gave her as Jowar Popcorns & Peanuts. Do check here for her dish 😊 And as usual, using mine two ingredients I had to prepare a millet based dish. So I have picked Ragi (finger millet) and come up with this Ragi Soup.
Recipe Card :
Ragi Soup (Vegan & Gluten free)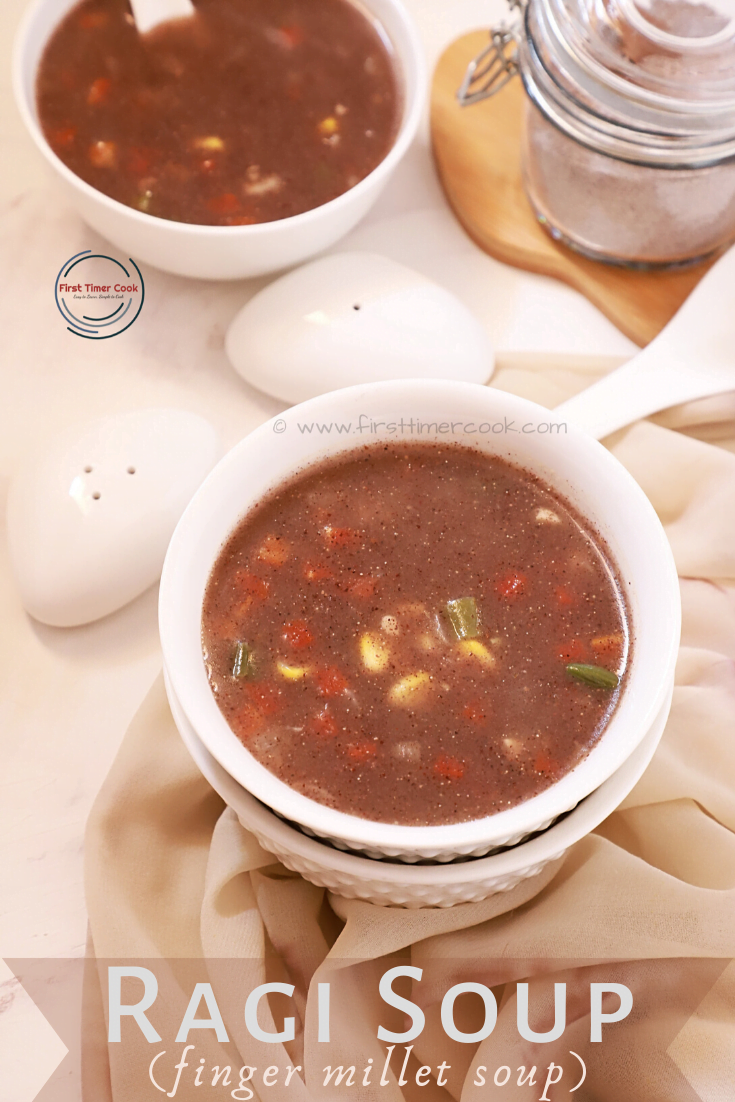 Prep time: 15 MCook time: 10 MTotal time: 25 M
a healthy soup using ragi (finger millet) and some chopped vegetables which is perfect for weight loss, diabetes.
Ingredients:
Ragi flour 2 tsp
Sweet corn 3 tbsp
Carrot (finely chopped) 3 tbsp
French bean (finely chopped) 3 tbsp
Onion (finely chopped) (medium) 1 no.
Pepper powder 1/2 tsp
Salt as needed
Water as needed
Oil 1 tsp
Instructions:
Heat oil in a pan.
Add chopped onion and saute till transparent.
Then add all the chopped vegetables and salt.
Mix well and pour 1/2 cup water.
Cover the pan and allow to cook till all the vegetables are well done.
Meanwhile take ragi flour, 1/4 cup water in a small bowl and mix well to get a thin paste.
Put this paste along with pepper powder into the pan and immediately stir .
Again add 1 cup water, stir again and cook till it reaches a thin soup consistency over low-medium heat.
Turn off heat and serve hot this Vegetable Ragi Soup !
Notes:
Vegetables here are choice-able. Some cauliflower florets, green peas, some green like spinach etc can be added too.
One can opt butter instead of oil.
For spiciness, some finely chopped green chilies can be used along with chopped onion.
Diabetes Soup, Weightloss recipe, Vegetarian Soup, Millet Soup, Mandia, Ragi, CArrot, Sweet corn, French bean, Pepper powder
Soup, Vegan Soup, Gluten free, Finger Millet Soup, Ragi, Healthy Soup
South Indian Cuisine
Did you make this recipe?
Tag @firsttimercook on instagram and hashtag it #firsttimercook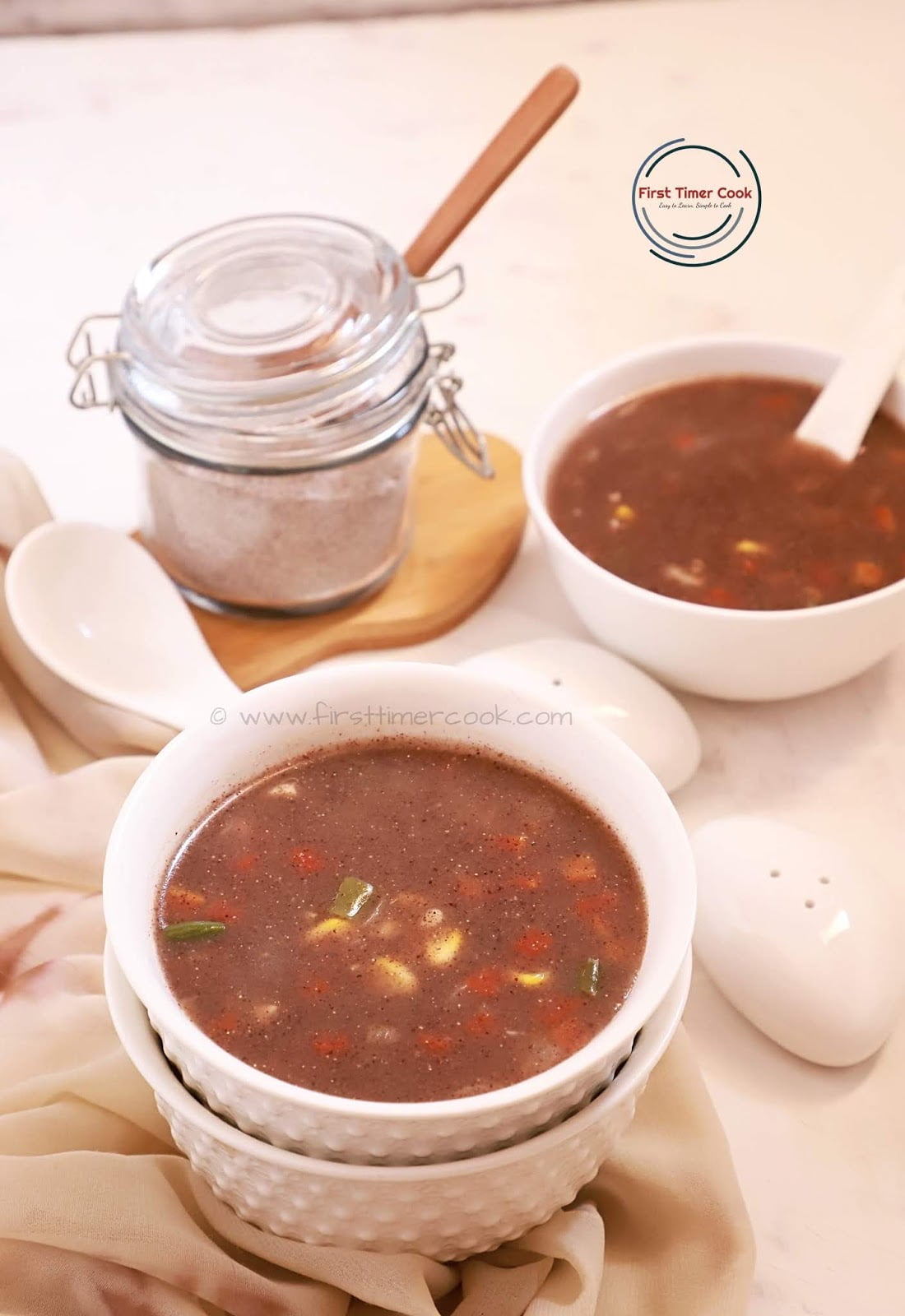 You may also follow me on Facebook, Pinterest, Twitter, Google+, Instagram and can subscribe for free to get new recipes directly into your inbox 😊
PIN for later :