Perfectly ready-to-cook mixture to make south Indian Rava Upma instantly which is perfect for bachelors, students and even when there is no mood to cook.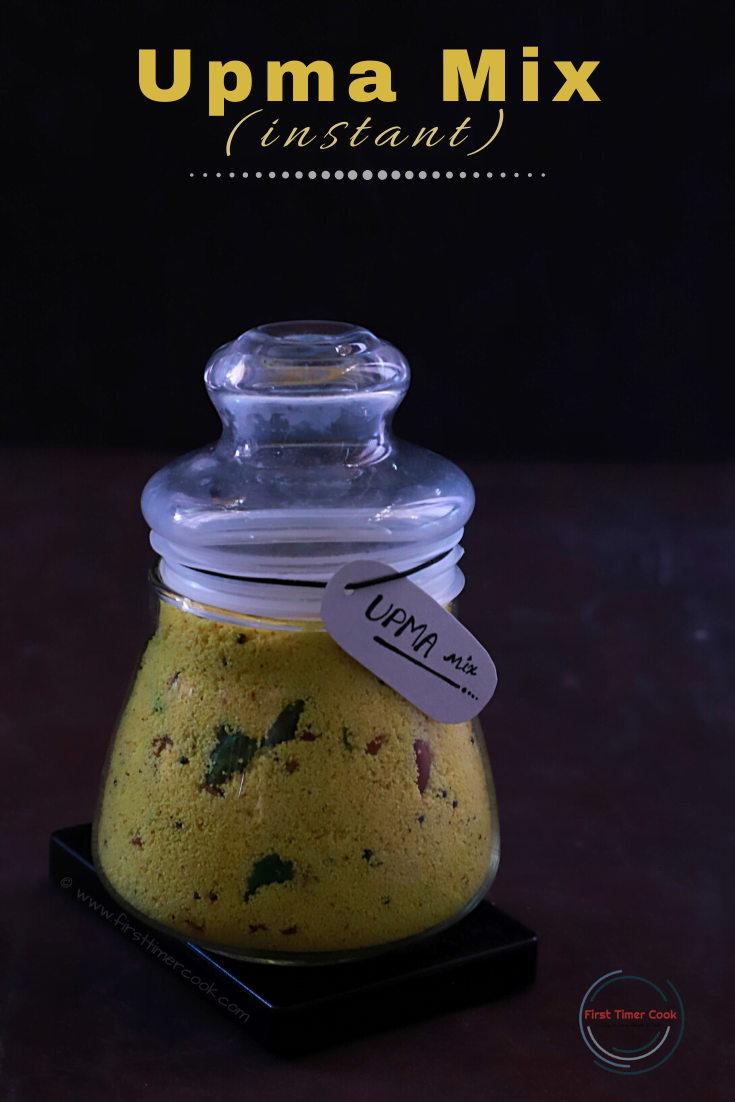 Ready to cook dishes are always a super choice when someone is in hurry or even not in a mood to cook elaborately or there is a sudden hunger pangs. Although these days the super markets are flooded with these kind of INSTANT mixes from various food companies, still those are loaded with preservatives. Instead of that, if one can make such kind of mix at home using some easily available ingredients and that too can keep them perfectly to use later, then those mix could be a great help. Just mix or boil and enjoy the simple, easy and delicious food !
Today's recipe is something like that Ready-To-Make. And it is Instant Sooji Upma Mix. Particularly for bachelors, college students or even for us those don't have mood to cook or nothing at home to cook or in busy morning, these are quite perfect option. Plus thing here is, once the mix is ready then one can make in gas stove, microwave and even in a mug.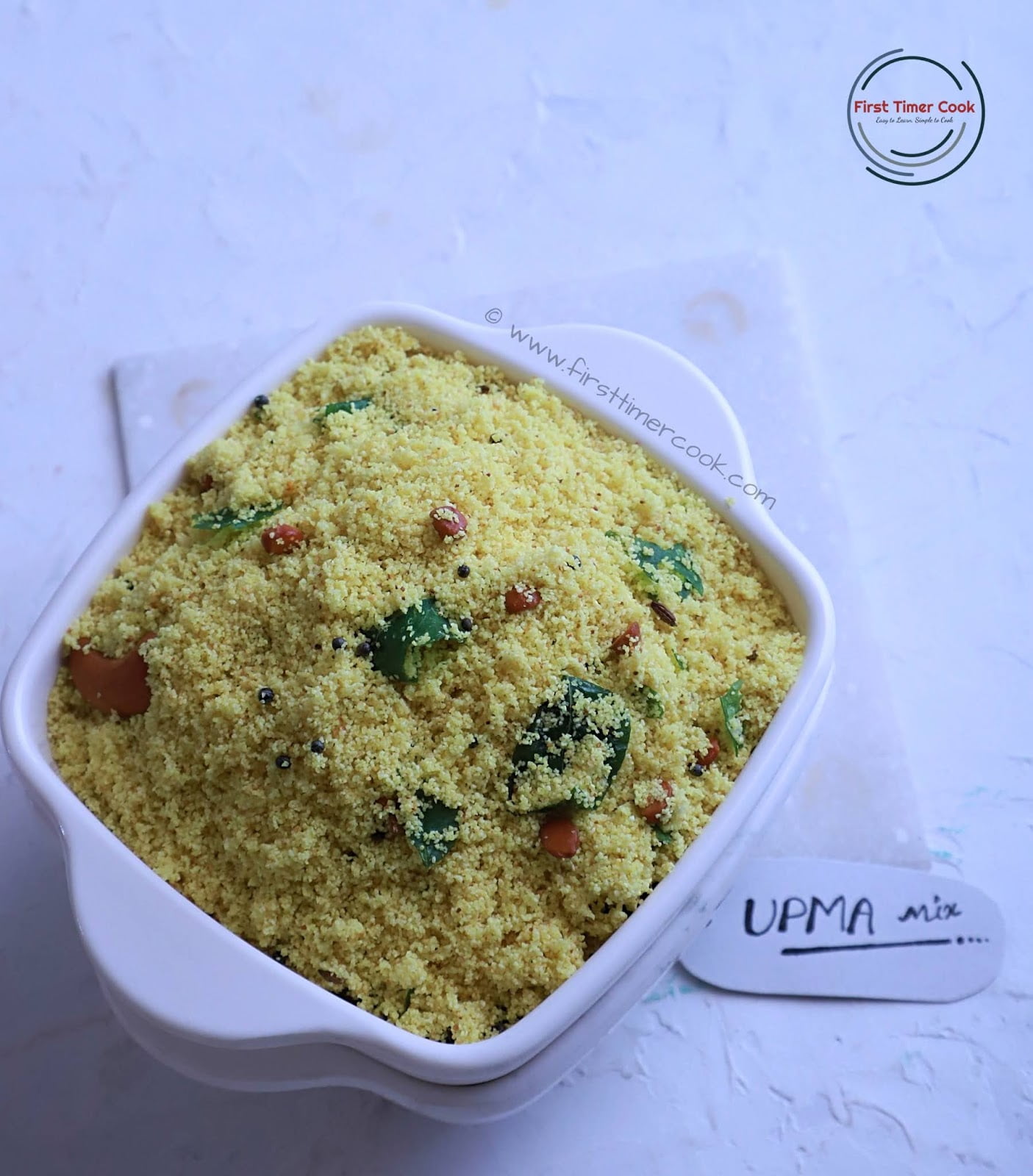 The Ingredients for the Instant Sooji Upma Mix :
Semolina / sooji / rava is the main ingredient. Among all the varieties of semolina, I have used Bombay rava which gives a best texture to the upma. Also some roasted sooji can be used here. And then there is no need of roasting the semolina after adding to the tempering.
For slight crunchiness urad dal, chana dal, cashew, peanuts are used. I have not used urad dal and peanuts here.
For tempering, cumin seeds, mustard seeds along with green chili and curry leaves are opted here.
For a lovely color of the upma one can use turmeric powder, but is optional.
Lemon juice is added to give a slight tangy taste to the upma, still can be omitted.
Salt one can add to the mix or can be skipped. But while preparing the upma, salt has to be added then to the boiling water.
Oil is used here to fry everything. Ghee can be used if want. I have used oil to keep it vegan completely.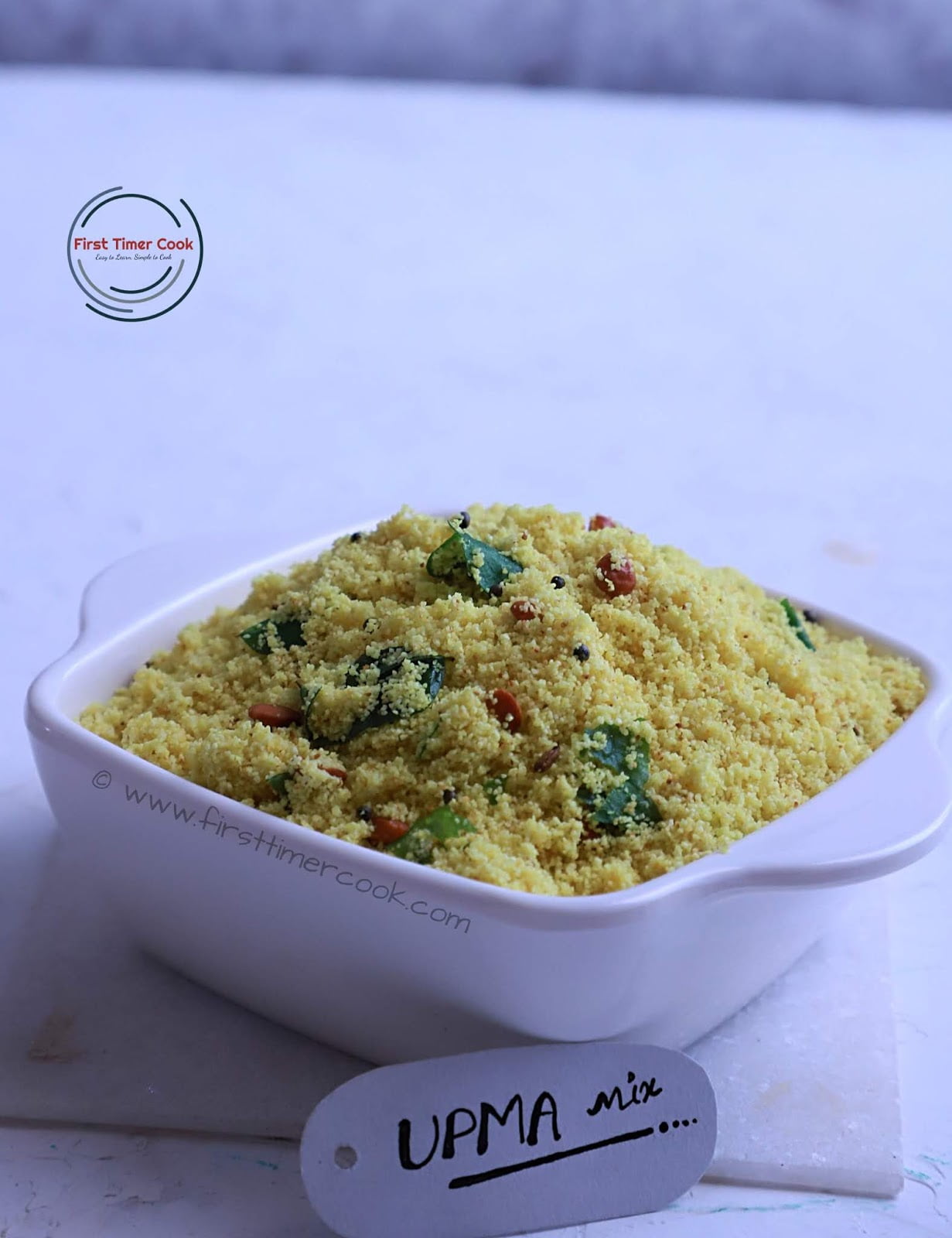 How to prepare this Ready to make Upma Mix ?
Over low-medium heat, first the chana dal, peanuts, cashew and urad dal are roasted till light brown in color. Then for the tempering part cumin seeds, mustard seeds along with green chili, curry leaves are added and saute till crisp. Here one thing to keep in mind that there should not be any moisture in the green chilies and curry leaves. Then turmeric powder and semolina is added and roasted over low heat till raw smell of the sooji / semolina goes away and its color changes slightly. Finally lemon juice is mixed up and the whole mixture is allowed to cool down completely. The mixture is then kept in any air-tight container or zip lock bag and finally stored in refrigerator to use whenever needed.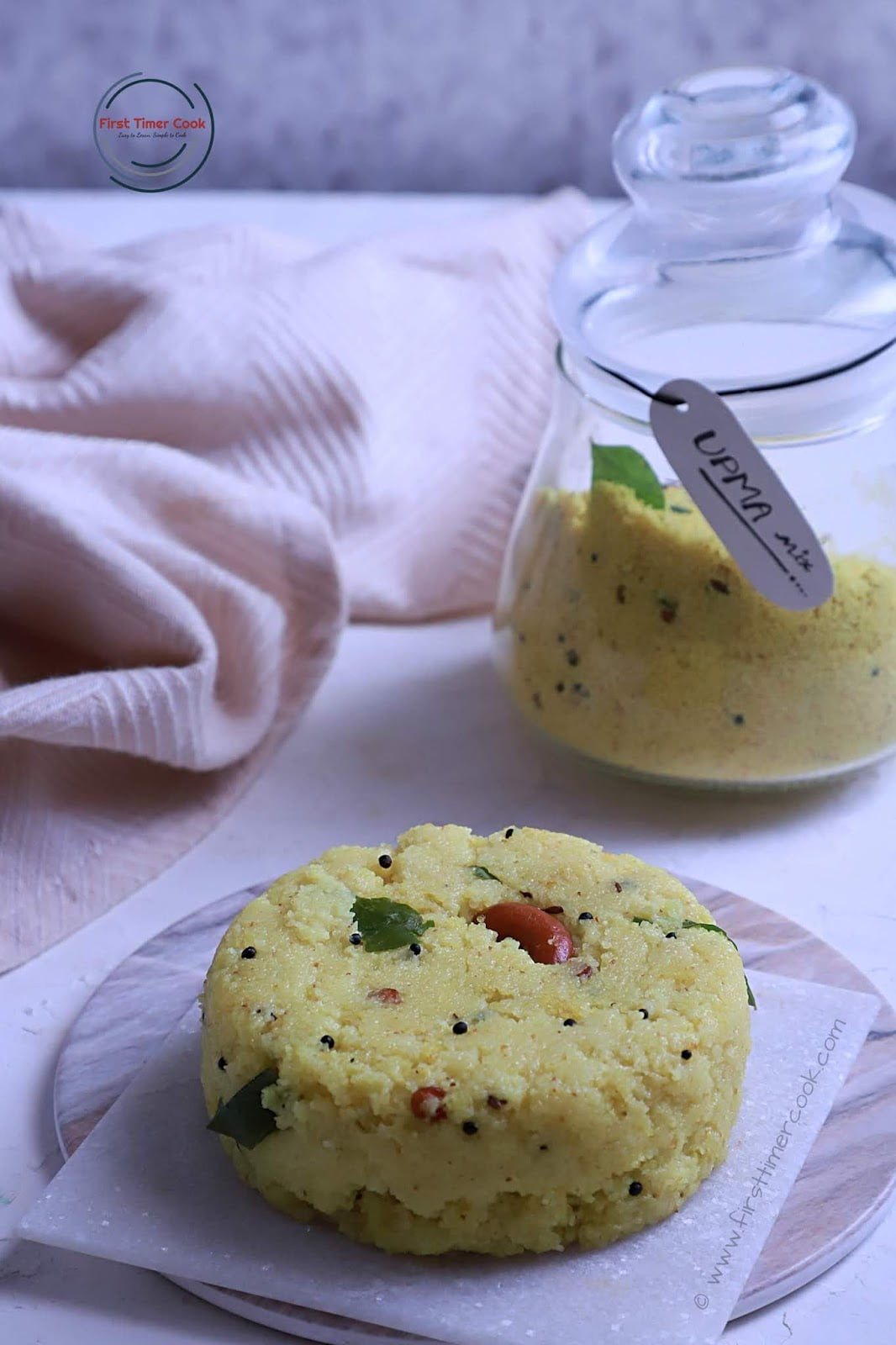 Preparing Upma using this Instant mix 👆 :
These type of ready-to-make mix are super handy and perfect to make a dish instantly whenever needed. For breakfast / snack this upma mix is a great option. Just add some boiling water and upma is ready to go. The water to upma mix ratio is 2 : 1 to get a grainy texture in the upma. Else use 2.5 : 1 ratio, 3:1 ratio. I prefer to use 2 :1 ratio for my upma.
In stove top : Boil 2 cup of water in a pan, add salt if the upma mix has no salt in it, then add 1 cup of the Instant upma mix, give a nice stir and allow to cook by covering the pan for 1-2 minutes. Then fluff and serve.
In mug : Fill upma mix till half of the cup and the pour boiling water till full. Cover and keep aside for 1-2 minutes. It is ready to serve.
In microwave : Take 1/2 cup of water and 1/4 cup of instant upma mix in a microwave safe container, mix well. Microwave for 2-3 minutes. Fluff and serve.
Few vegetables like carrots, cabbage, beans, frozen corn, green peas etc can be added to make a vegetable upma using this instant mix. Just all the vegetables here have to be either shredded or grated well. Add to the water before boiling and then add instant upma mix. This upma mix can be kept at room temperature too, but I will recommend to keep in refrigerator for few long time either in zip log bag / air-tight container.
Some semolina based recipes from the blog :
Stuffed Savory Paniyaram (INSTANT appe)
Instant Veggie Quinoa Mini Idli
Egg-free Basbousa | Egg-free Semolina Cake
The event related to this post :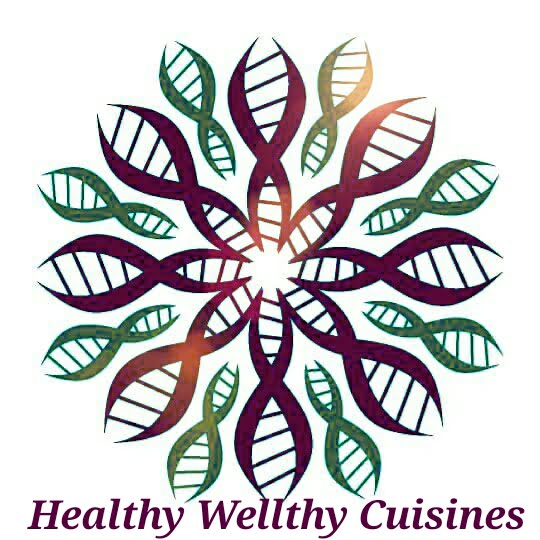 Well this time our fortnight foodie group named as Healthy Wellthy Cuisines is decided to select 85th theme : 'Time for Semolina' and is suggested by Swaty. I love her recent baked dish which is 4 mug cakes varieties, do check her many more culinary expertise. Well coming back to theme, she suggested to make any dishes using semolina aka sooji / rava, So I have come up with this Instant Sooji / Rava Upma Mix. Here are some similar recipes shared by our Healthy Wealthy Group members as Dry Fruit and Seeds Kesari Bhat by Preethi Prasad, Cheesy Sooji Semolina Bites by Swaty, Sooji Upma by Shalu di, Eggless Sooji/Rava Malai Cake by Sujata Roy, Ragi Rava Dosa with Dill Leaves by Vanitha di.


: Recipe Card :
Instant Sooji / Rava Upma Mix (Ready-To-Cook Semolina Upma)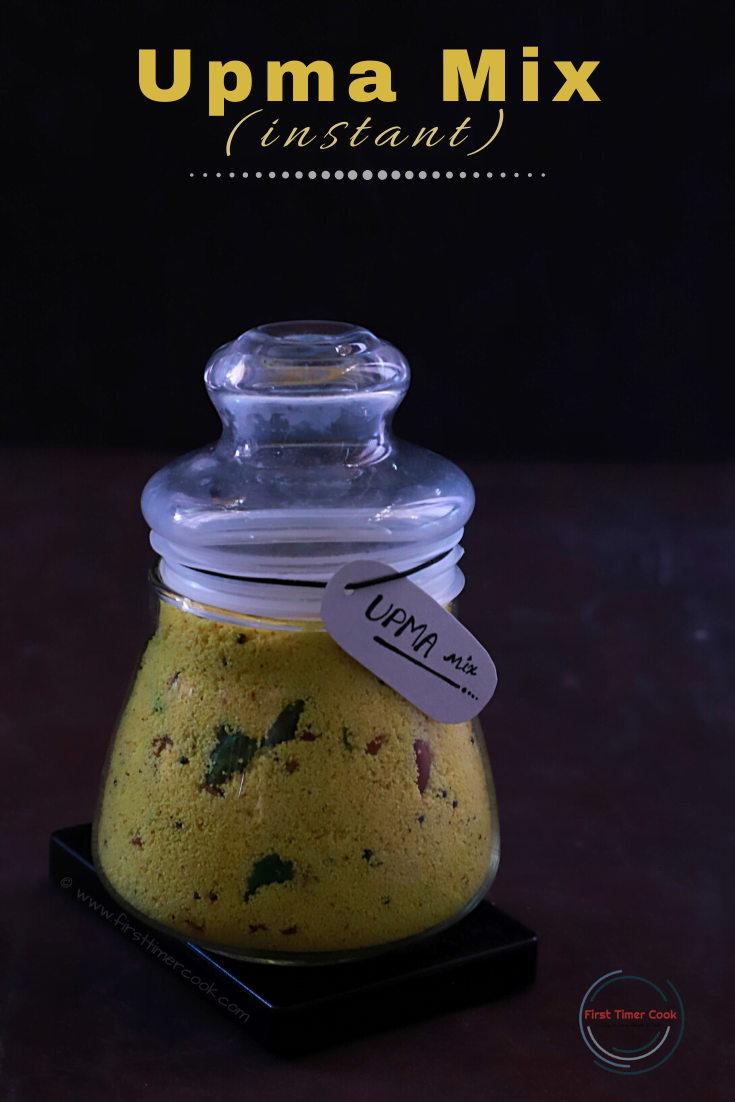 Prep time: 5 MCook time: 15 MTotal time: 20 M
Perfectly ready-to-cook mixture to make south Indian Rava Upma instantly which is perfect for bachelors, students and even when there is no mood to cook.
Ingredients:
Semolina 1 cup
Chana dal (split bengal gram) 1 tbsp
Cashew 5-6 no.
Mustard seed 1/2 tsp
Cumin seed 1/2 tsp
Green chili (chopped) 1-2 no.
Curry leaf 1 sprig
Turmeric powder 1/4 tsp
lemon juice 1.5 tsp
Salt 1 tsp
Oil 2 tbsp
Instructions:
Heat oil in a pan.
Add chana dal, cashew and fry till light brown in color.
Put in mustard seeds, cumin seeds and allow to splutter.
Next add chopped green chilies, curry leaves and again saute till crisp (no moisture should be there).
Add turmeric powder and mix well.
Finally add semolina / sooji and salt.
Mix well first and then continue to roast over low heat for 10-12 minutes or till raw smell of the sooji goes away and its color changes slightly.
Then add lemon juice and give a quick mix.
Turn off heat and allow the upma mix to cool down completely.
Store this mix in any air-tight container or zip lock bag in refrigerator to use later !
Notes:
Urad dal (Black gram) (around 1 tsp) can be added along with chana dal. I have not added.
Make sure not to fry the semolina over high heat, that results into a burnt semolina / rava.
Adjust the chilies as per spicy desired.
Easily these can be refrigerated in an airtight container / zip lock bag for 2-3 months.
Few peanuts can be added along with cashew if want.
Semolina, Sooji, Vegan food, Instant Food
Ready to make mixture, Vegan Snack, Upma, Rava Upma, Breakfast, Snack
South Indian
Did you make this recipe?
Tag @firsttimercook on instagram and hashtag it #firsttimercook

You may also follow me on Facebook, Pinterest, Twitter, Google+, Instagram and can subscribe for free to get new recipes directly into your inbox 😊
PIN for later :