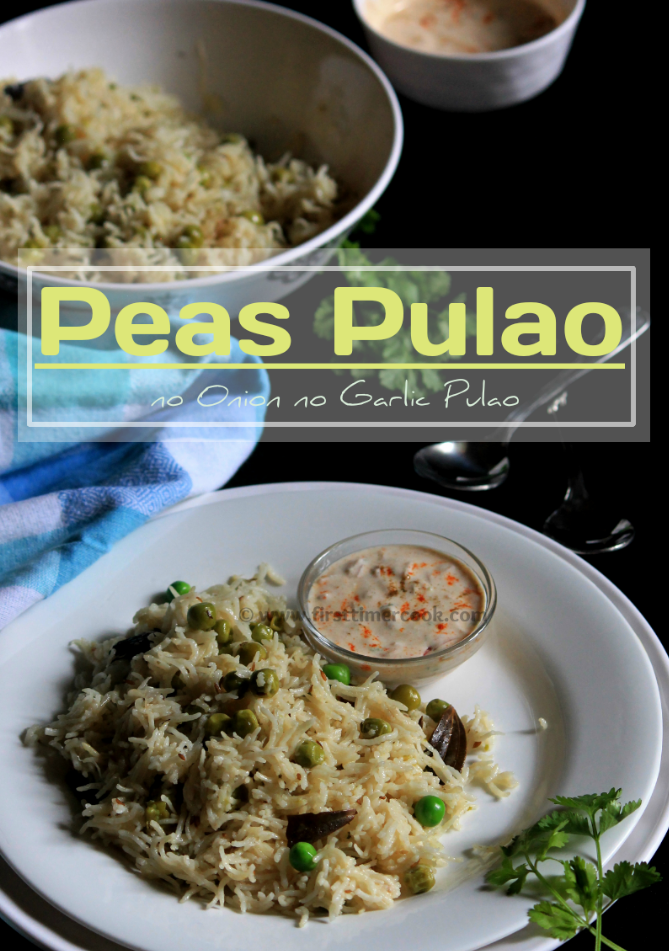 Pulao is an Indian rice pilaf consisting of rice and a mixture of either lentils or vegetables, mainly including peas, potatoes, french beans, carrots or meat, mainly chicken, fish, lamb or prawn. It is usually served on special occasions and weddings, though it is not uncommon to eat it for a regular lunch or dinner meal. It is considered as very high in food energy and fat. A pulao is often complimented with either spiced yogurt or raita. Usually basmati rice is used to make pulao.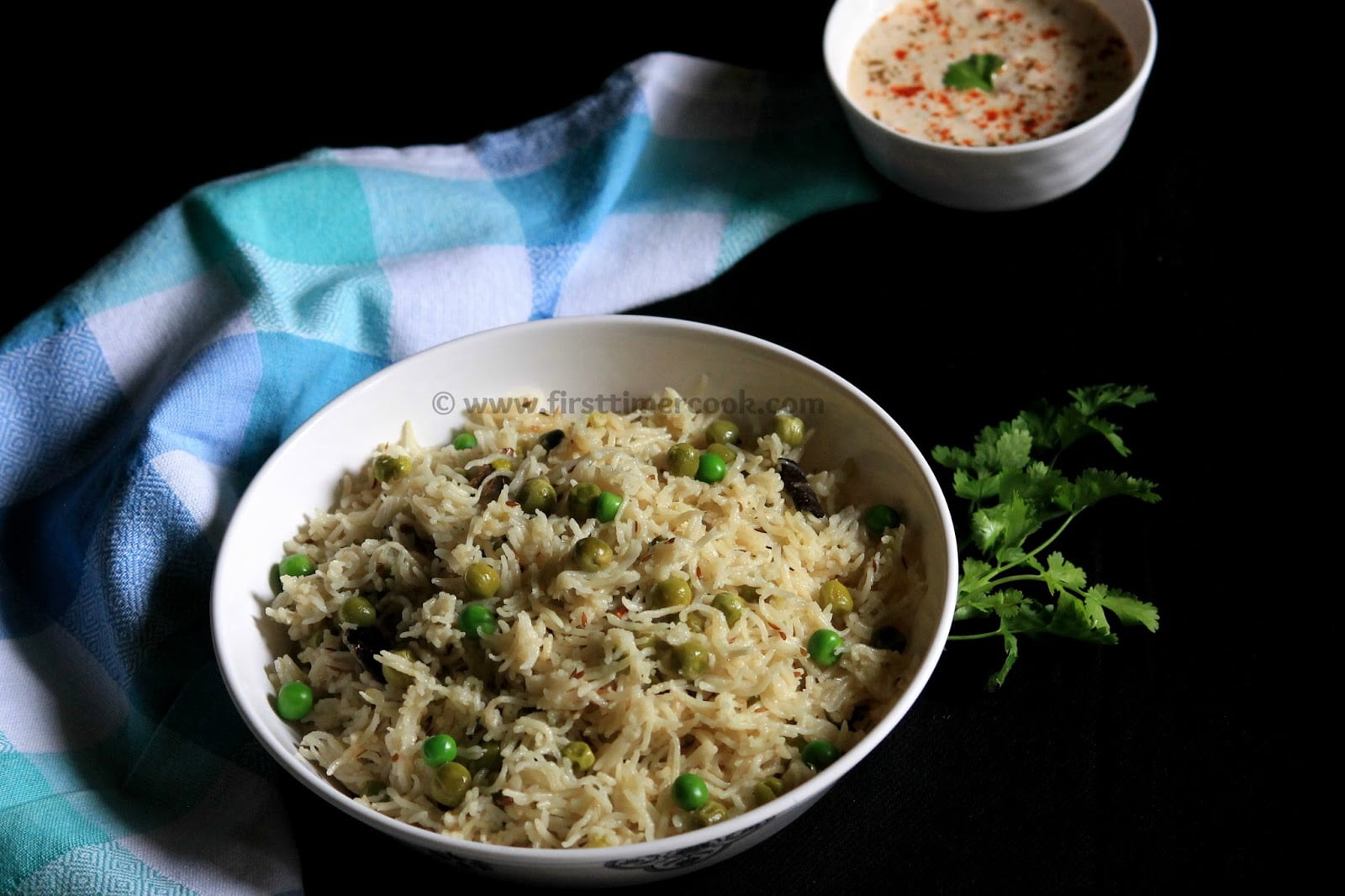 Any pulao without onion garlic is a pure vegetarian recipe famously eaten during festivities or fasting days in India. This peas pulao is made without adding onion or garlic, so this is essentially a healthy and sattvik version of food. Since there is no chopping of any veggies or no addition of any meat, hence this is made so quickly. Because of use of only peas, this pulao has some sweet taste as compared to other pulao. The spices like cinnamon, cardamom, cloves, star anise add the perfect flavor to the dish.
So lets go in details as mentioned below.
Preparation Time : 10 mins| Soaking Time : 30 mins | Cooking Time : 20 mins
Ingredients :
| | |
| --- | --- |
| Ingredients | Measurements |
| Basmati rice (long grain) | 1 & ½ cup |
| Green pea | 1 cup |
| Ginger (grated) | ½ tsp |
| Green chili | 2 no. |
| Cumin seed | 1 tsp |
| Clove | 3 no. |
| Black peppercorn | ½ tsp |
| Green cardamom | 2 no. |
| Black cardamom | 1 no. |
| Cinnamon | ¼" |
| Bay leaf | 2 no. |
| Cashew | 5-6 no. |
| Star anise | 1 no. |
| Red chili powder | ½ tsp |
| Water | 3 cup |
| Salt | As needed |

​
Method :
Rinse rice well in fresh water.
Soak for at least 30 mins. Drain and keep aside.
Soak frozen peas in water for 5 minutes.
In a pressure cooker, heat oil. Saute cashews till light brown. Take out and keep aside.

In the same oil add cinnamon stick, cloves, peppercorns, green cardamom, black cardamom, bay leaves, star anise and

cumin seeds.

Saute till a nice aroma of spices comes out and also cumin seeds starts to splutter.
Next add grated ginger and green chilies and saute for 1 minute.
Then add green peas, fried cashews, red chili powder and cook for for 1-2 mins in medium flame.
Add drained rice, mix well gently and saute for 1-2 minutes in medium flame.
Pour water, add salt and mix.
Close cooker lid and cook for 2 whistles on high flame.
Let the pressure settle down on its own and then open the lid of cooker.
Gently fluff the pulao, serve hot with any raita or side dish of choice !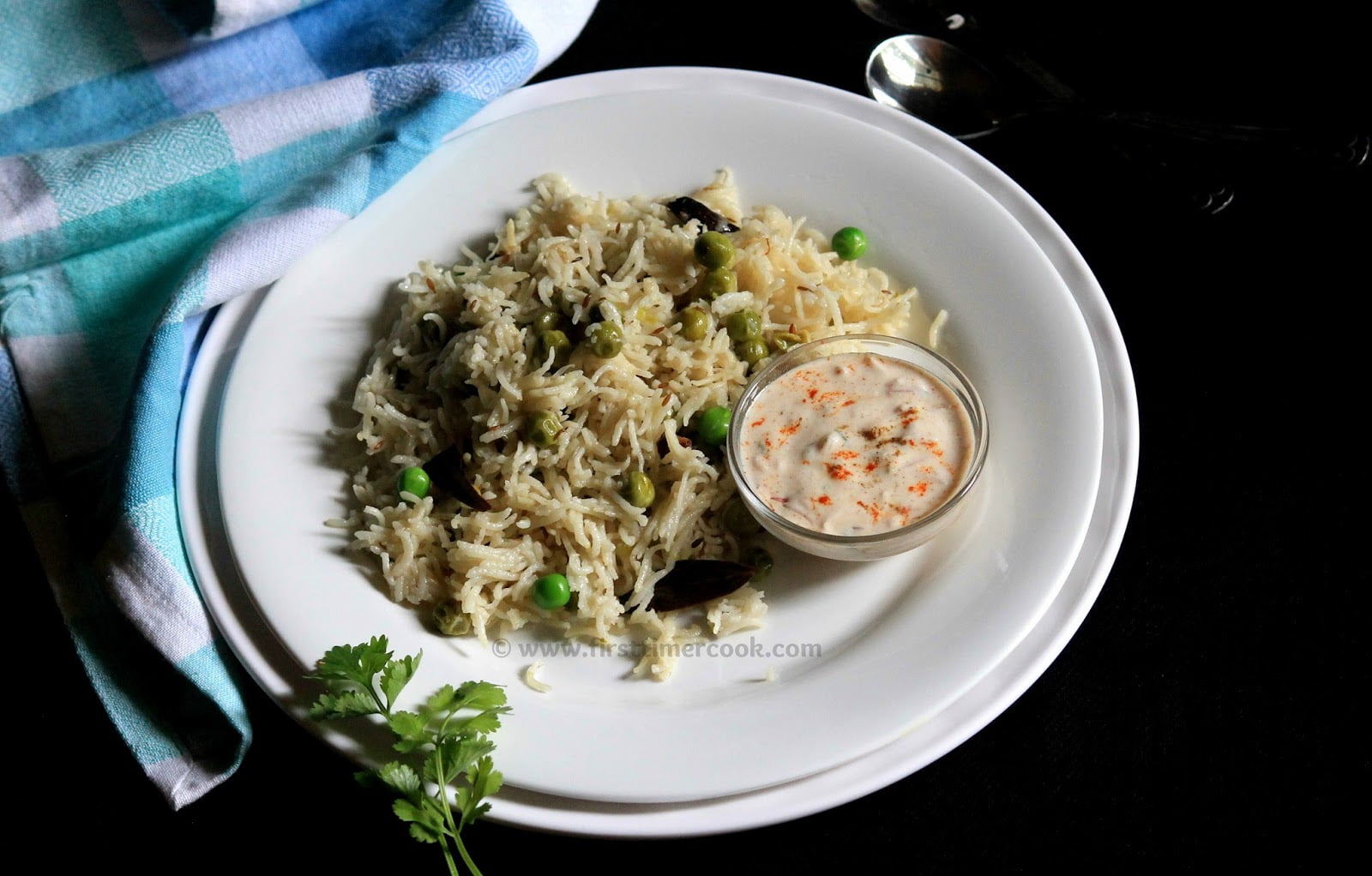 Notes :
Always prepare any type of pulao in 1:2 ratio of rice and water that means use 2 cups of water for each 1 cup of rice.
If using fresh peas, then cook those for a little more as compared to above mentioned time.