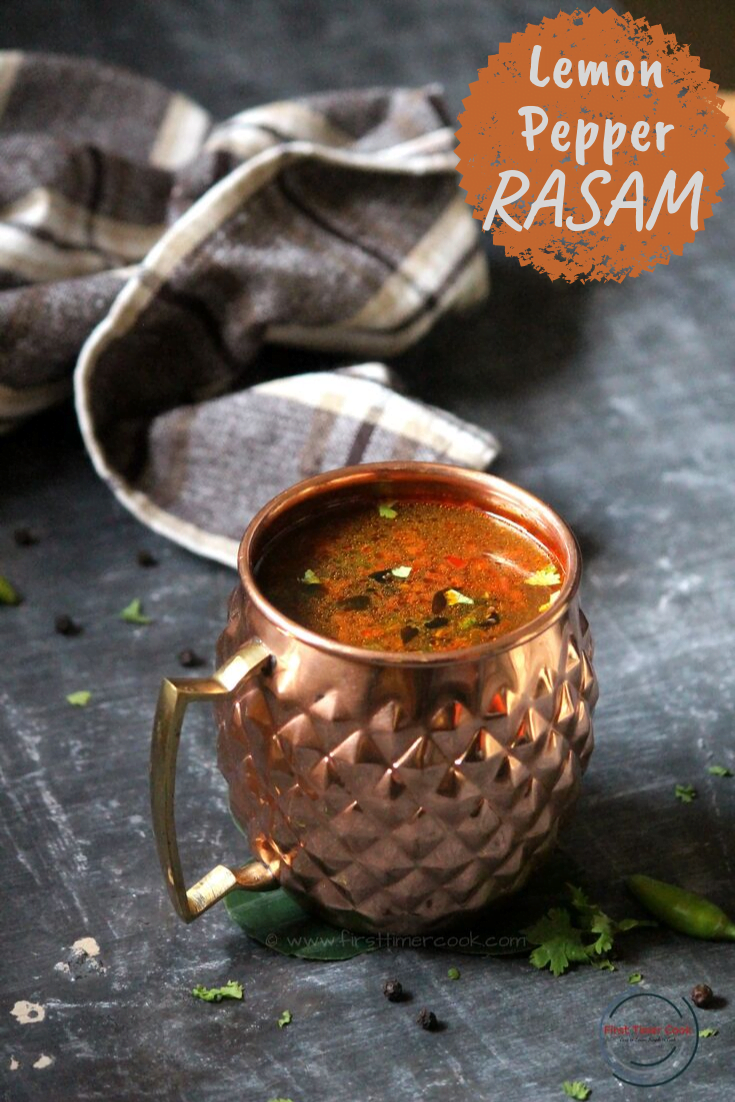 What is Black Pepper ?
This is the fruit of the black pepper plant from the Piperaceae family. Black pepper, the 'king of spice' is one of the most widely used spice in cuisines globally since ancient times. A pinch (either powder of whole black peppers or whole as it is) per meal is all that is needed to make it work like charm. Not only is it used as a spice but also has medicinal values, making it an important ingredient in Ayurveda too. Some health benefits of these black peppers are :
Improves digestion
Prevents asthma
Helps in weight loss
Provides respiratory relief
Good for constipation
Remedy for depression
Helps reduce joint pains and many more.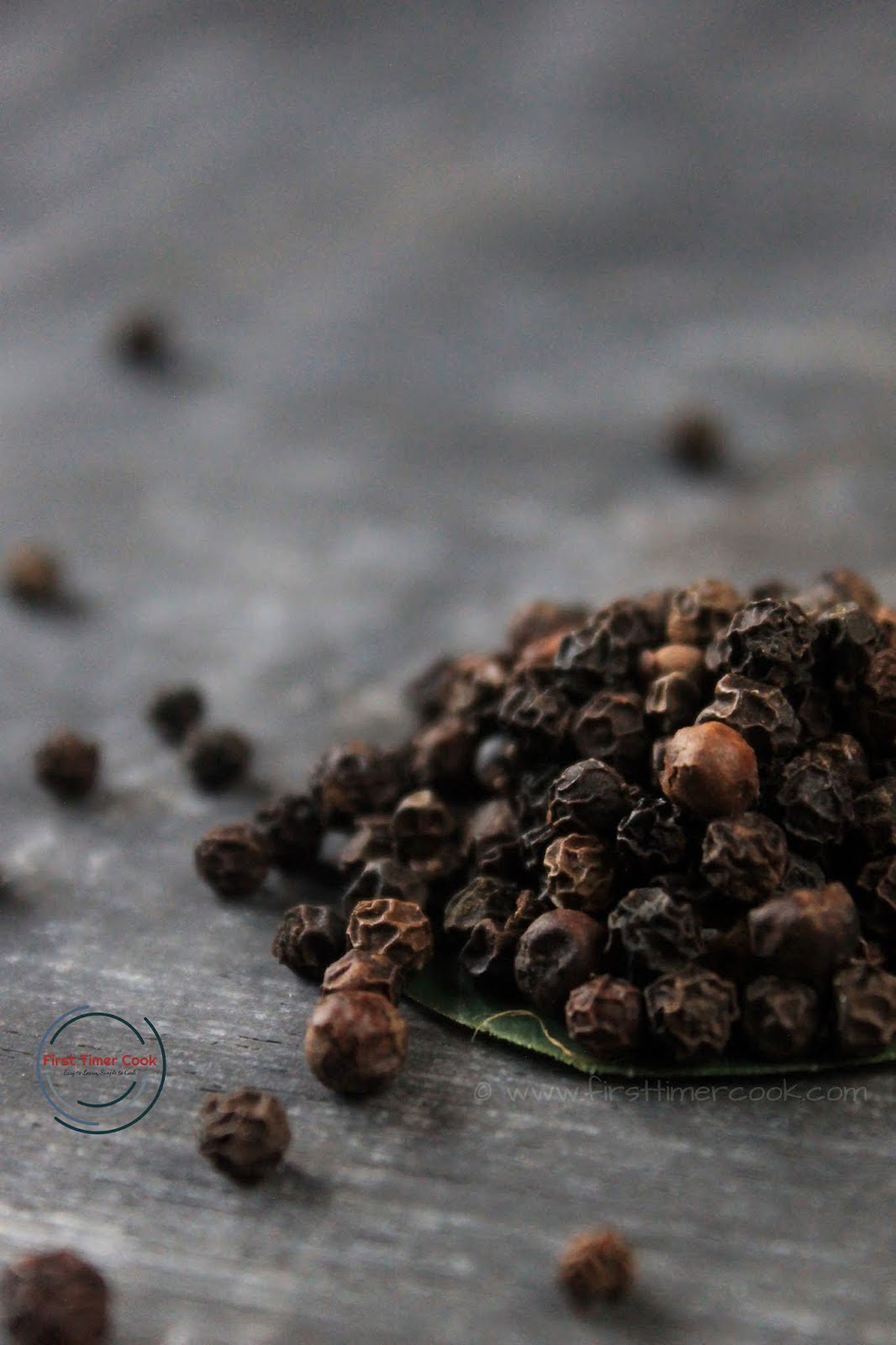 Why I am discussing Black pepper here ?
Well Monday is here again and the Foodie Monday Blog Hop group has come up with the 214th theme as 'Rasam Raga' which is suggested by Priya. Her blog is full of traditional South Indian dishes as well as of gujurati. She basically suggested to prepare different types of rasam and for that here I have come up with Lemon Pepper Rasam which is totally Vegan as well as Gluten free.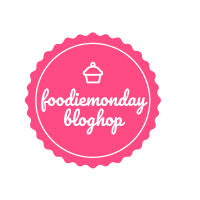 So what is Rasam ?
Rasam is a traditional South Indian food (a kind of soup). This is a heart-warming soup preparation by using tamarind juice, pepper, tomato, cumin and some other spices. Rasam has a distinct sour, peppery and spicy taste that makes it full of flavors. It is either eaten along with any rice or savored after a meal. There are many types and variations of Rasam prepared in several households. Though the main characteristic of sambar and rasam is same as both are are sour and spicy, still there are some differences :
Sambar is thick in consistency, while rasam is more liquid as it has very little or even no cooked dal in it.
The spice powders added in both are different.
Addition of vegetables is a must for sambar, while there is either no or 1-2 vegetables in the rasam.
Though both the powders contain black pepper in them but the proportion of black pepper is more in rasam.

Sambar is used as an accompaniment to many items like for idlis, dosas, utappam, rice etc; while rasam is consumed with

rice only.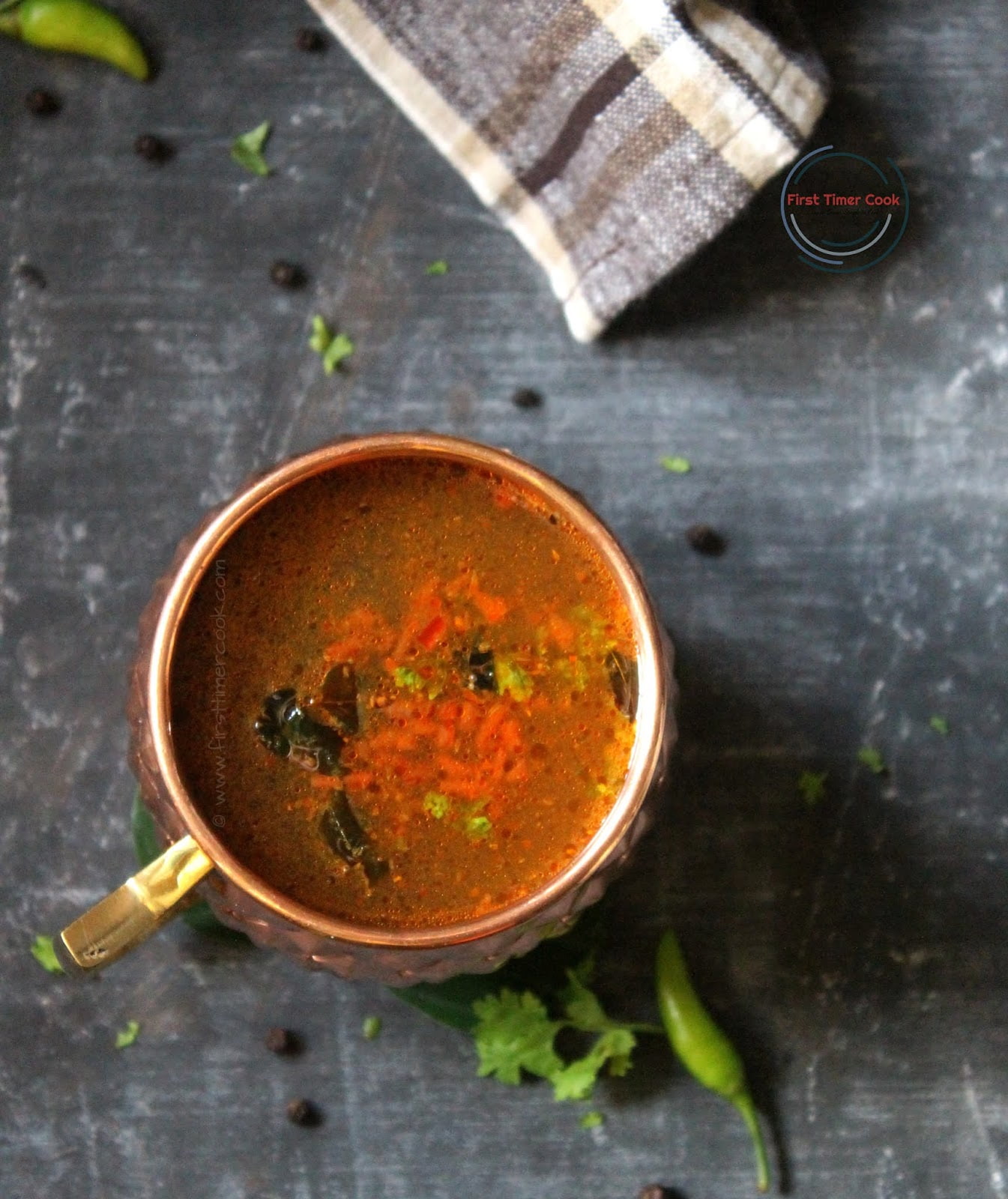 Which Rasam I am going to share here ?
So as per the theme, I am here with a rasam which has strong flavor of pepper as well as lemon. Although tamarind is used to make the rasam bit sour, but here I have skipped that addition, means this rasam has no tamarind in it. Instead I preferred freshly squeezed lemon for that sourness. Also that part is also affected by the sourness of tomatoes being used for the rasam. Accordingly the lemon juice which is added at the last step is adjusted as per own taste bud needs. This lemon pepper rasam is also prepared here without using any dal and even no rasam powder.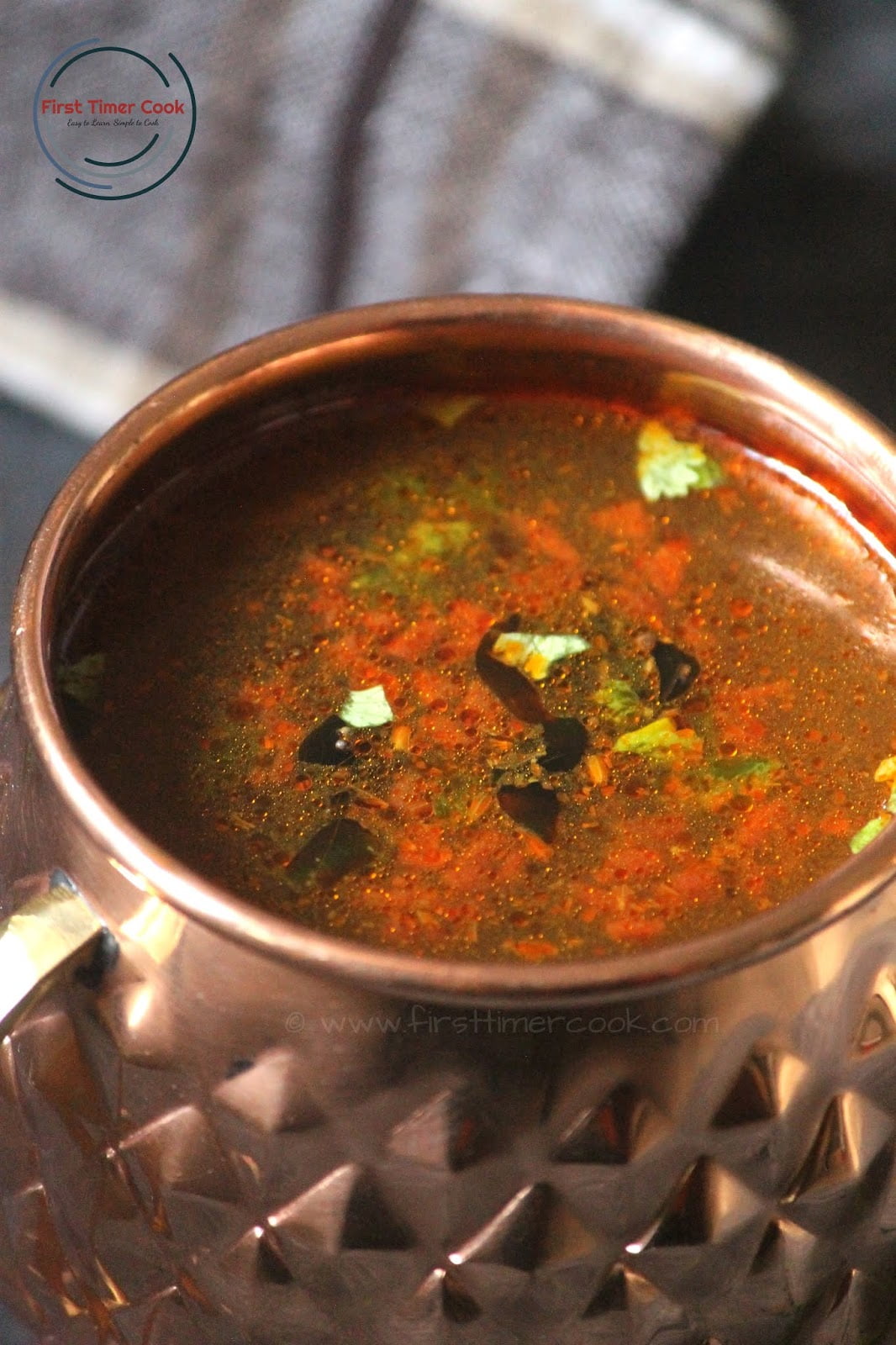 Overall what is the preparation procedure of this rasam ?
Simply first the peppers and cumin are dry roasted and then roughly crushed. Some finely chopped tomatoes are cooked till mushy in this crushed as well as some other spices. Then some quantity of water is added and the rasam is allowed to cook till desired consistency. Finally freshly squeezed lemon juice is added to get the desired sourness in the rasam. This is prepared completely without using onion and garlic. Along with some steamed rice this rasam combines very well. Even one can enjoy as it is like a soothing and satiating soup. Particularly during fever or cold, this is very comforting and effective. So do try !
Recipe Card for 'Lemon Pepper Rasam (No Lentil, No Rasam Powder, No Tamarind)' :

Lemon Pepper Rasam (No Lentil, No Rasam Powder, No Tamarind)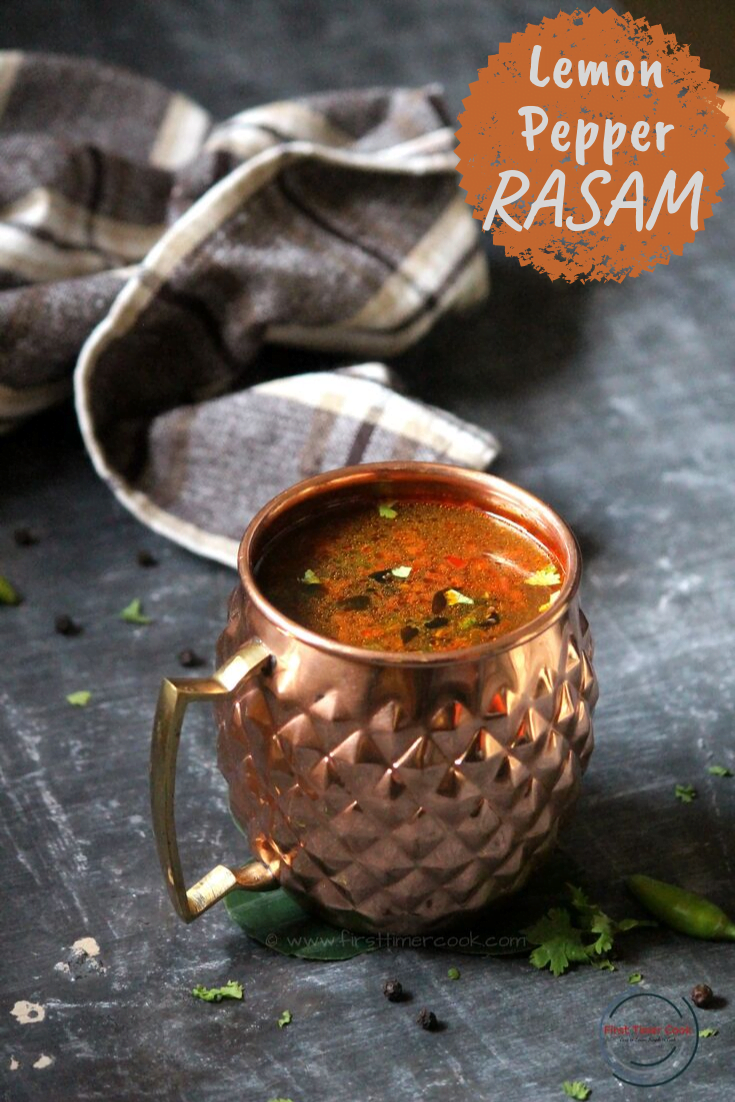 prep time: 10 Mcook time: 15 Mtotal time: 25 M
an easy and quick rasam without using rasam powder, tamarind, lentil
ingredients:
Tomato (medium) 1 no.

Green chili 1 no.

Whole black pepper 1 tsp

Cumin seed 1 tsp

Coriander powder 1/2 tsp

Turmeric powder 1/4 tsp

Mustard seed 1 tsp

lemon juice as needed

Curry leaf 1 sprig

Coriander leaves (finely chopped) 1 tbsp

Oil 1 tsp

Salt as needed

Water as needed
instructions:
How to cook Lemon Pepper Rasam (No Lentil, No Rasam Powder, No Tamarind)
First dry roast black pepper and cumin seed in a pan over low-medium heat.

Take out to a plate and allow to cool.

Roughly crush these roasted pepper and cumin in a mortar & pestle. Keep aside.

Now take a pan and heat oil in it.

Add in mustard seed and allow to splutter.

Next add curry leaves along with chopped green chilies, saute a bit.

Then add finely chopped tomatoes, roughly crushed pepper and cumin.

Saute for 1-2 minutes.

Add turmeric powder, salt, coriander powder and mix well.

Saute again for 5-6 minutes till tomatoes get mushy.

Add 2 – 2.5 cup water and give a quick stir.

Cover and allow to cook for 5-6 minutes more, accordingly adjust the consistency of the rasam.

Turn off heat.

Add the chopped coriander leaves and lemon juice as per the sourness desired in the rasam.

Serve piping hot pepper rasam as it is or as an accompaniment with steamed rice !
NOTES:
I always prefer to dry roast the spices. Still one can just crush the peppers and cumin without roasting.
Adjust the sourness of the rasam as per choice. Sometimes the tomatoes are tangy, so there the lemon juice has to be reduced.
No tamarind, No rasam powder, No lentil, Tomato, Black pepper, Vegan soup, South Indian Soup
Rasam, Soup, Pepper, Lemon, Vegan, Gluten free,
South Indian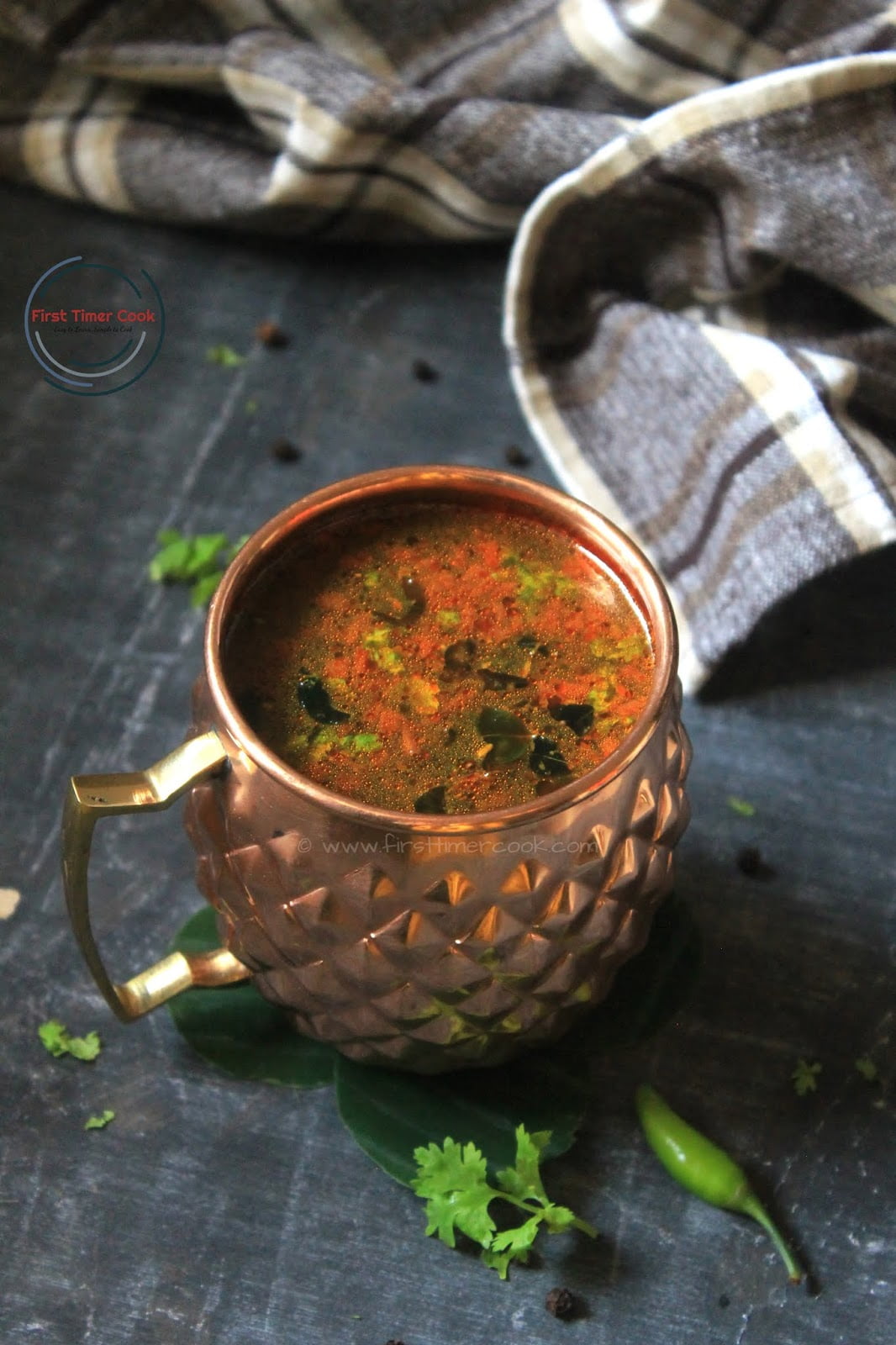 If you tried my recipe and enjoyed fully, then please share some pictures of your creation with me. Also kindly rate the recipe below, give your valuable feedback either in the comment box below or tag me as @firsttimercook on Instagram.
You may also follow me on Facebook, Pinterest, Twitter, Google+, Instagram and can subscribe for free to get new recipes directly into your inbox 😊
PIN for later :