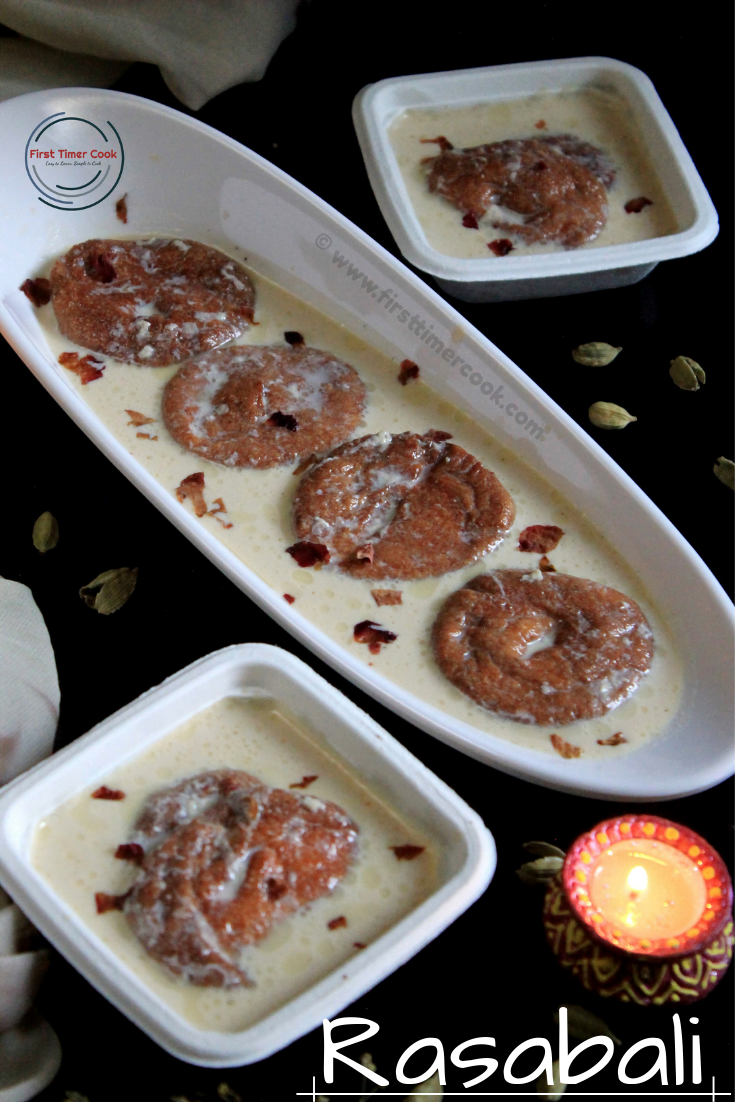 Wish you all a very happy Diwali !!!
Diwali is the Hindu festival of lights which is celebrated every year in the months between mid-October to mid-November in Indian subcontinent. Diwali is also known as Deepavali and its spirituality signifies 'the victory of the light over the darkness', 'good over the evil'.The celebration of this festival mainly includes millions of lights in the form of lamps, candles, diyas inside the respective homes and at outdoors also. Although the preparations and rituals of this festival extend up to five days starting from Dhanteras to Bhai dooj, but the main festival of Diwali is celebrated in the night of 3rd day and this coincides with the new moon night of the Hindu Lunisolar month also.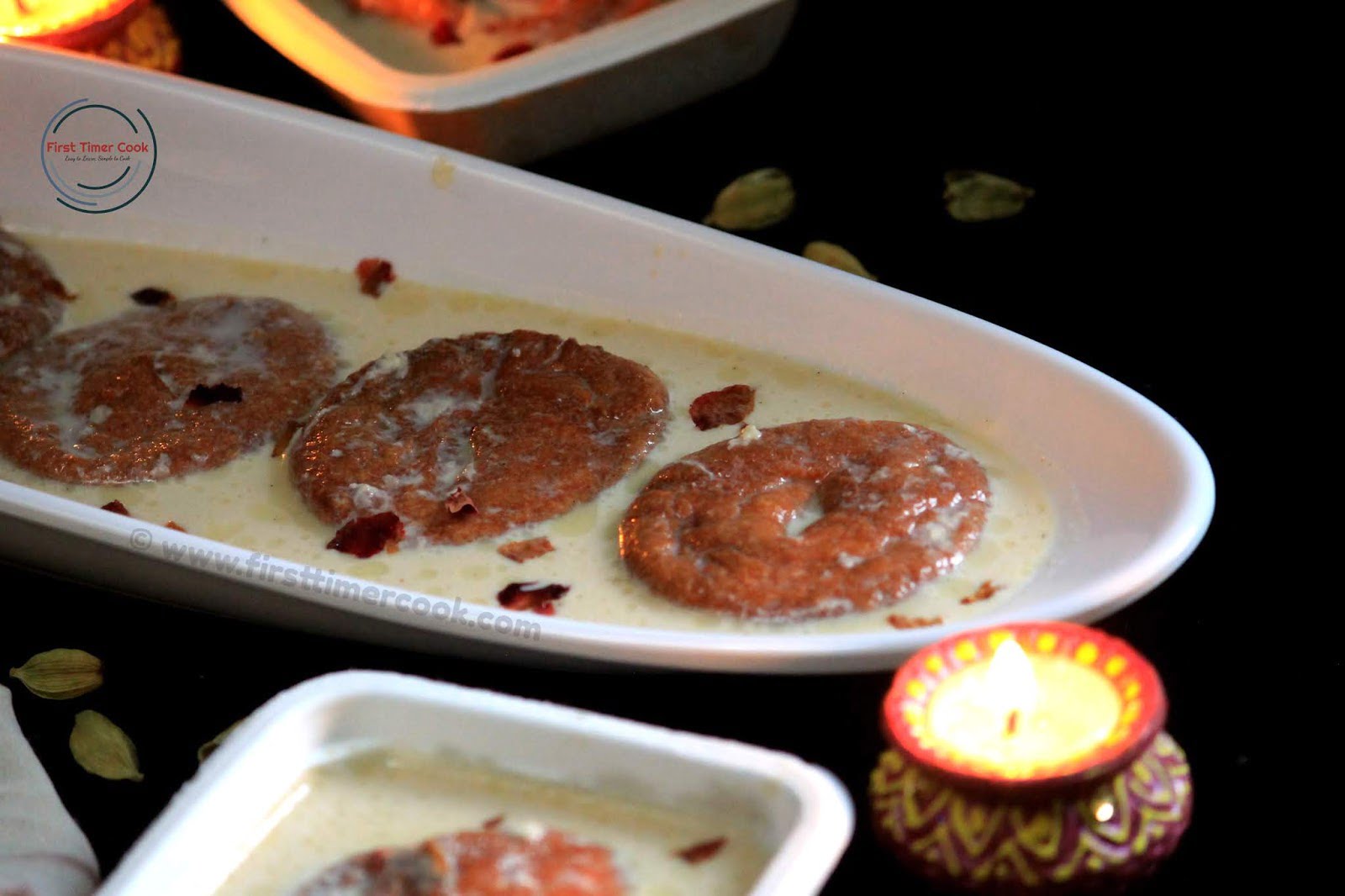 Since today we odias celebrate Diwali, so I thought to share an authentic sweet dessert from the Odia cuisine as 'Rasabali'. The top most famous sweets from Odia cuisine means either Chhena Poda or Rasabali. I have already shared in my blog the recipe of Cheena Poda, the favorite sweet of Lord Jagannath. So today I have come up with his brother Lord Baladeba Jew's favorite sweet, Rasabali which is offered as the evening snack. The Baladeba Jew temple is situated in Kendrapada district of Odisha (Tulasi Kshetra) and hence the dish is famous from that district and often named as 'Kendrapada Rasabali'.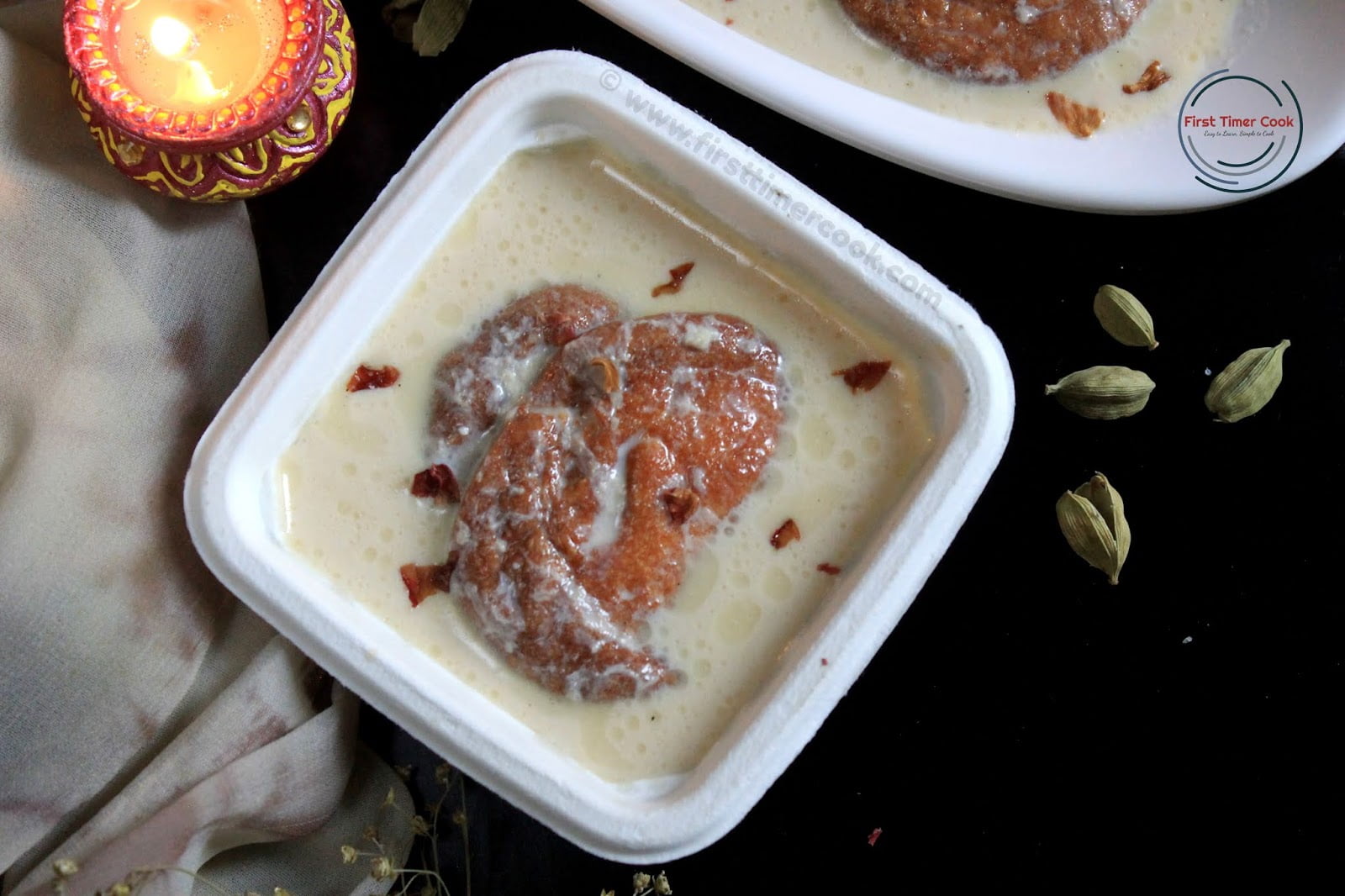 The preparation method includes some easily available ingredients in our pantry. First some fresh and soft chhena (I have used homemade chhena) are kneaded along with little amount of flour to get a smooth texture dough. The flour acts as a binder and prevents the chhena from disintegrating while deep frying. That dough is then divided into equal small balls which are then flattened as patties, keeping in mind that there should not be any cracks. These chhena patties are deep fried and soaked in a cardamom flavored thickened milk. Few strands of saffron and some chopped dry fruits can also be added to the flavored milk, but traditionally only cardamom is added to enhance the flavor. This sweet dish is also one of the chappan bhogs (56 types of Prasad) which is offered to Lord Jagannath, Puri.
So do try this divine sweet treat, Rasabali from Odia cuisine. If you tried my recipe and enjoyed fully, then please share some pictures of your creation with me. Also kindly give your valuable feedback either in the comment box below or tag me as #firsttimercook on Instagram. You may also follow me on Facebook, Pinterest, Twitter, Google+, Instagram and can subscribe for free to get new recipes directly into your inbox 😊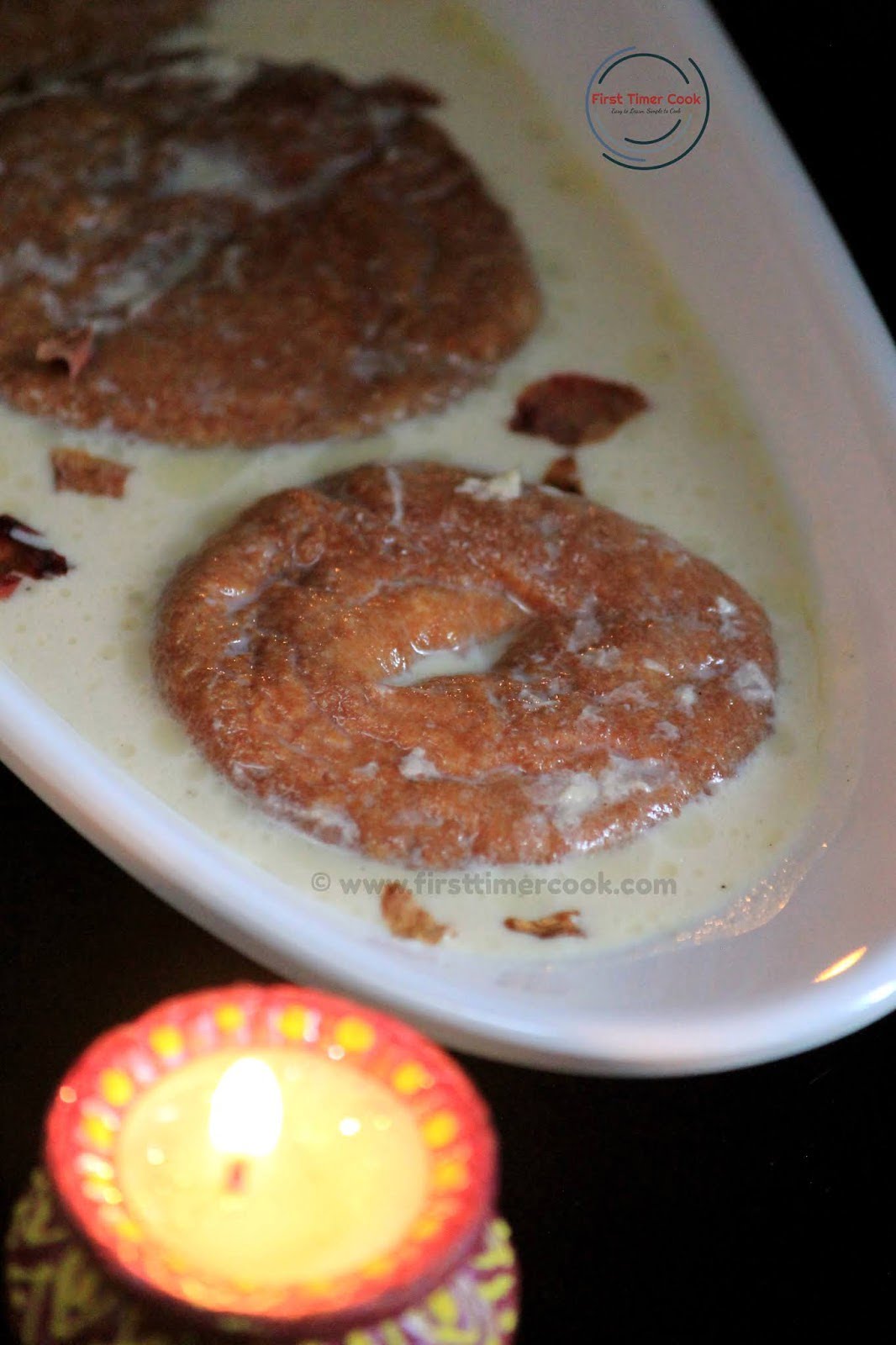 Preparation Time : 15 mins | Cooking Time : 40 mins
Ingredients :
| | |
| --- | --- |
| Ingredients | Measurements |
| | 1 cup |
| All purpose flour | 1 tsp |
| Milk | 1 Lt |
| Sugar | 3 tbsp |
| Powdered sugar | 1 tbsp |
| Cardamom powder | ½ tsp |
| Cardamom pod | 2-3 no |
| Oil | For deep frying |

​
Method :
First take the milk into a heavy bottomed pan and start boiling it, stirring in between.

Meanwhile in a mixing bowl take

chhena

, all purpose flour, cardamom powder, powdered sugar and start kneading to get a smooth and soft texture dough.

Divide the dough into equal ball shapes and then flatten each one without any crack to give a patty or tikki look.
Keep aside and heat oil in a deep pan.
By the time,the milk must be reduced to 3/4th quantity.
Add freshly crushed cardamom pods and sugar.
Mix well and boil for 2-3 minutes more.
Turn off heat.
Next deep fry each flatten patty till golden brown.
Take out the rasabali patties from the oil and gently drop into the hot / warm milk.
Keep aside till the rasabalis soak the milk.
Serve these soft and melt in mouth dessert : RASABALI either cold or warm !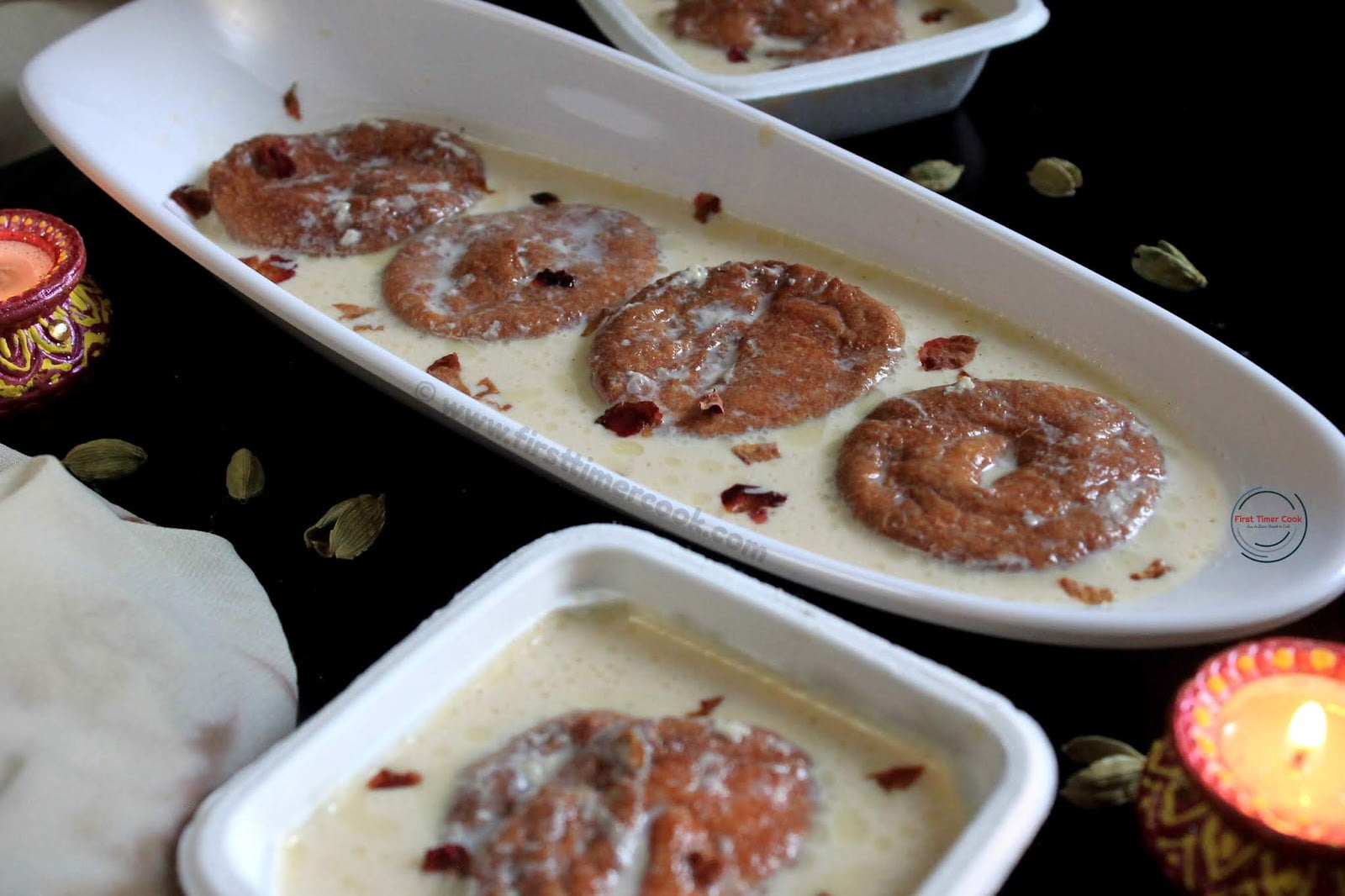 Notes :
Do not over fry the flatten chhena patties, otherwise these'll become hard.
I don't prefer to add any dry fruits here in the dish like the authentic version. But if desire, some chopped dry fruits can be added.
PIN for later :