a mildly spiced biryani using the tender unripe jack fruit pieces in dum process.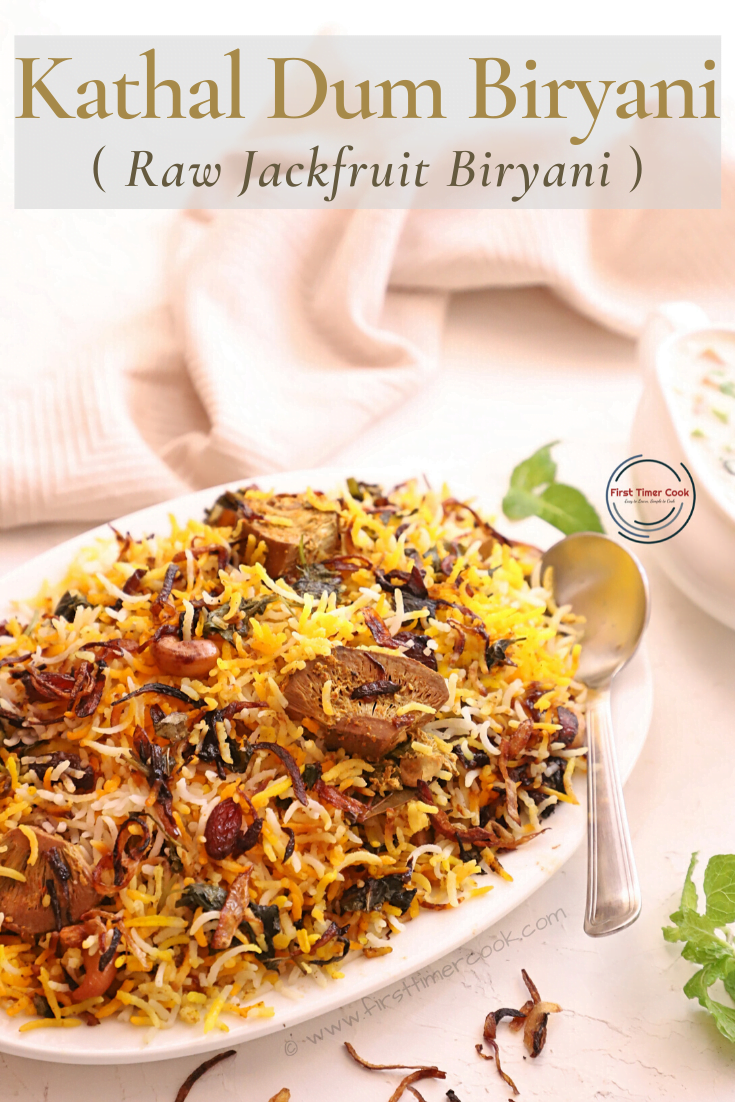 Jack fruit and its culinary uses :
Jack fruit aka Kathal (in Hindi), Panasa (in Odia) is one of the commonly consumed tropical food in Southern Asian countries and is known to be the largest edible fruit in the world. Both in young (raw / unripe / green) as well as in ripe stage this is edible along with its seeds. But its texture (in unripe stage) is similar to that of chicken or pork. So it is a healthy vegan meat replacement and one of the biggest food trends among vegetarians, vegans and even meat lovers. Ripe ones are yellowish in color, sweet in flavor and can be eaten as it is or as a part of any dessert. Where as the unripe ones are very tender, have a neutral taste and hence take the flavor of whatever sauce or seasoning one can pair it with.
In starting period of summer, the unripe jack fruits are plentifully available in local market. I love to make varieties of dishes like Panasa Katha Tarkari (Jack fruit Gravy in Odia style), a vegetarian version of Rajasthani Laal Mass, snacks item like kathal ki tikki. Using lentil also we odias make a dalma named asPanasa Katha Muga Dalma (Jack fruits with Moong Dal). One can make an Indochinese dish as Chili Jack fruit which goes very well as a starter, appetizer or even pairs with paratha. Well another few recipes one can make too using unripe jack fruits as Kathal paneer kofta curry, Mango Jack fruit Or Aam Kathal etc. Since the ripe ones are sweet in taste, so it is easy to use in dessert. Here is a dessert using this as Dhonas, a traditional Goan Sweet.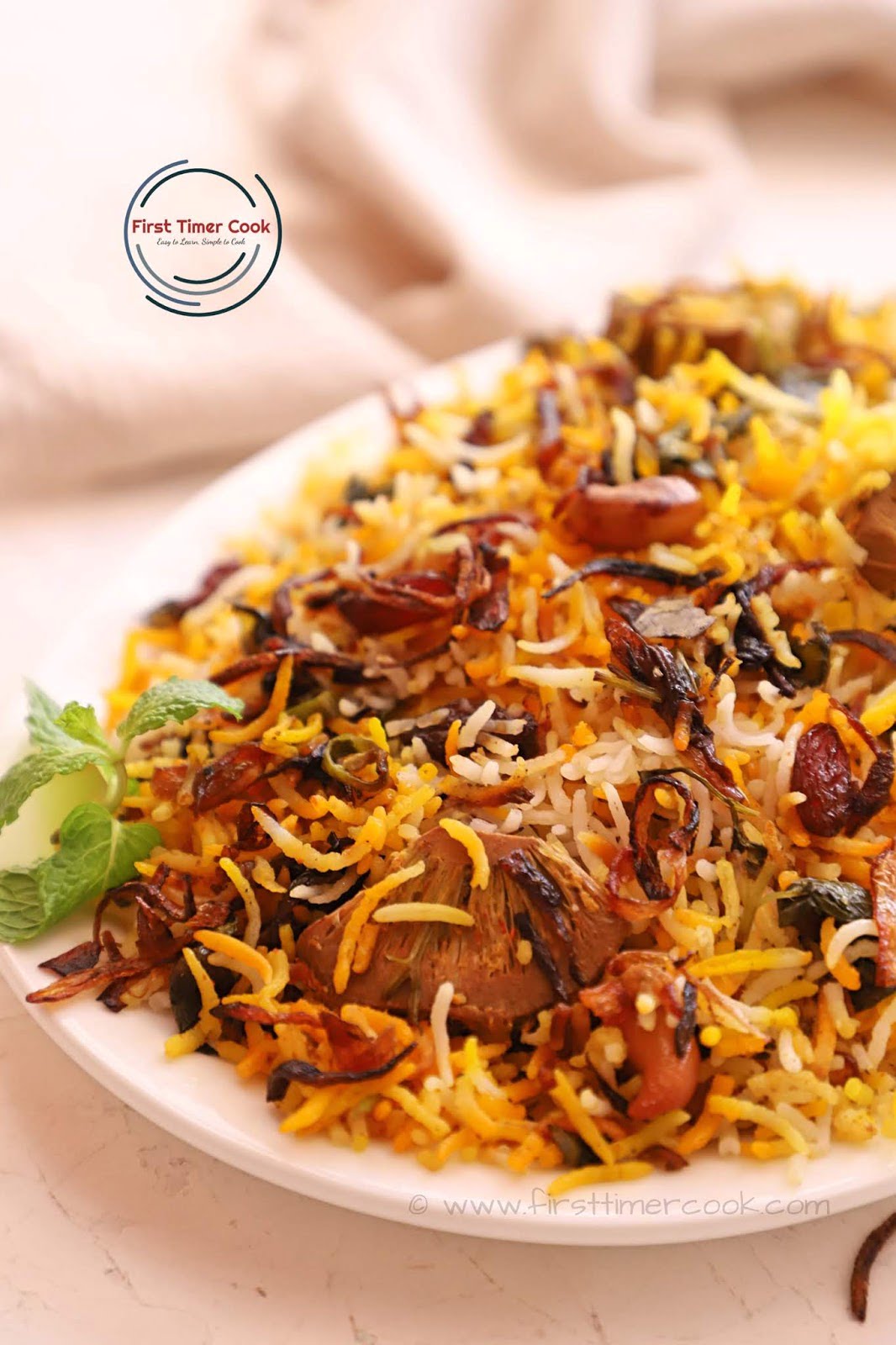 Today's recipe in details :
As the summer is just started now, so in my locality I am easily getting the unripe or raw jack fruits. So today I am going to share a rice based dish using this as Raw Jack fruit Biryani aka Kathal Dum Biryani. If you are looking for gluten free recipe, then this comes under that category. Also one can use Vegan yogurt and oil instead of ghee to make the dish completely Vegan.
Well Biryani is a popular dish throughout India. This is basically a rich and flavorful layered rice based dish where the rice (basmati long grain types) are flavored using some exotic spices and then layered with a thick gravy of either mix vegetables, chicken, fish, lamb etc. In this recipe, the raw jack fruit cubes along with yogurt and few spices play the thick gravy role.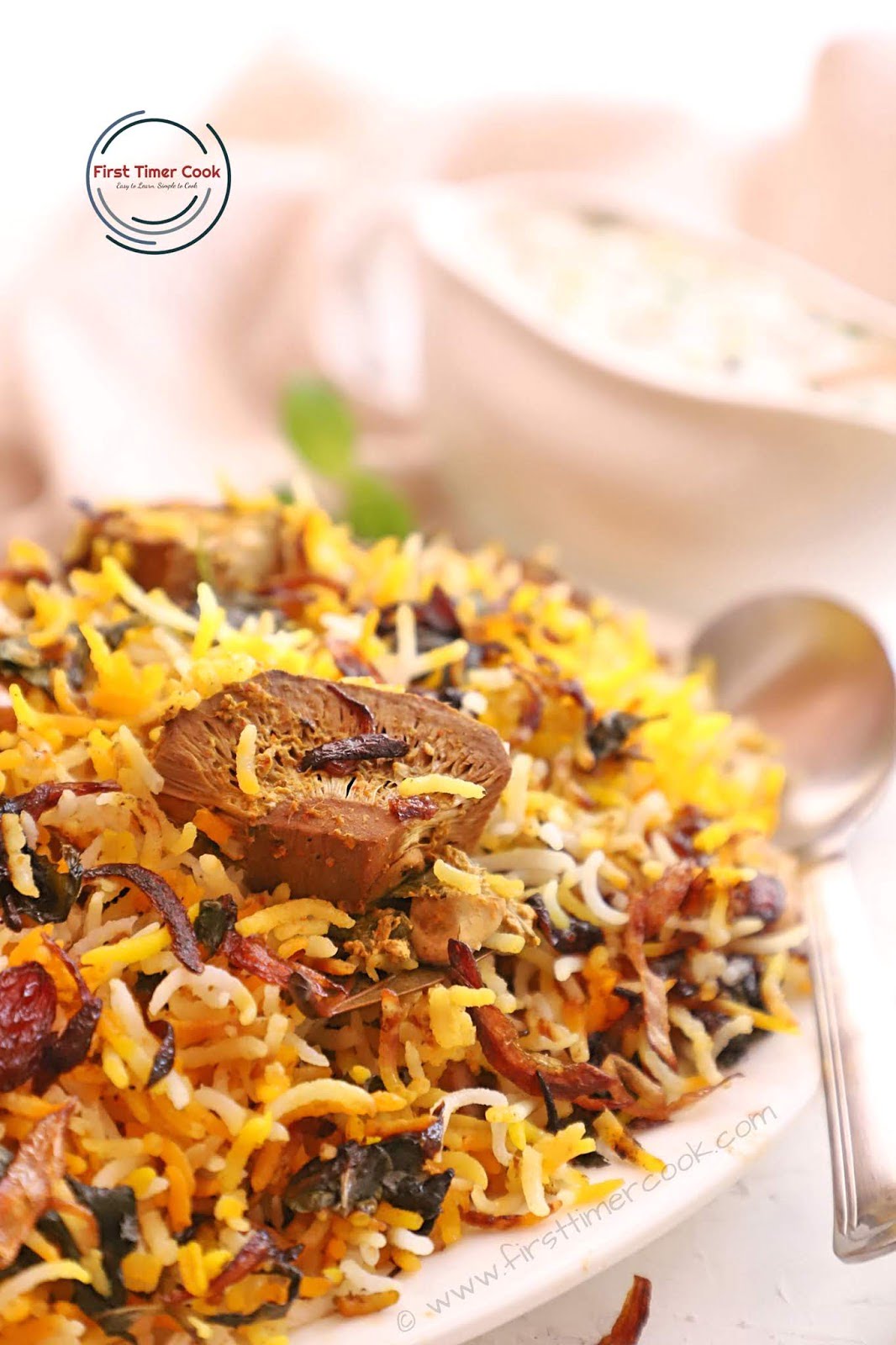 Preparation methods :
The raw jack fruits cubes are first pressure cooked till 80-90 % done. Here while pressure cooking, its has to keep in mind to not overcooked the jack fruit cubes, else there will a complete mesh. Then these cubes are marinated in a mixture of some fresh yogurt along with some ginger-garlic paste, turmeric powder, chili powder, biryani masala powder. I have used homemade biryani masala powder here. Do check if you need. And the whole marination is covered and set aside for 1-2 hours.
Meanwhile the rice is cooked till 80% done with some spices like green cardamom, bay leaf, cinnamon stick, star anise, mace (javitri) etc. Then it is strained, kept aside to cool and then it is ready to use as layering for biryani. Finally for the assembling part, a deep broad pan is chosen and well greased with ghee. First the marinated jack fruits are placed in the bottom and then the rice is put on that in an even layer followed by saffron, mint & coriander leaves, birista (crisp fried onions), ghee and some dash of biryani masala powder. The pan is then covered with a lid and placed over a hot tawa / griddle to cook for 25-30 minutes over low heat. This procedure is named as DUM cooking style. Although a dough is used to seal the lid so that no air can pass out while cooking. My lid is tight enough so I have not used that.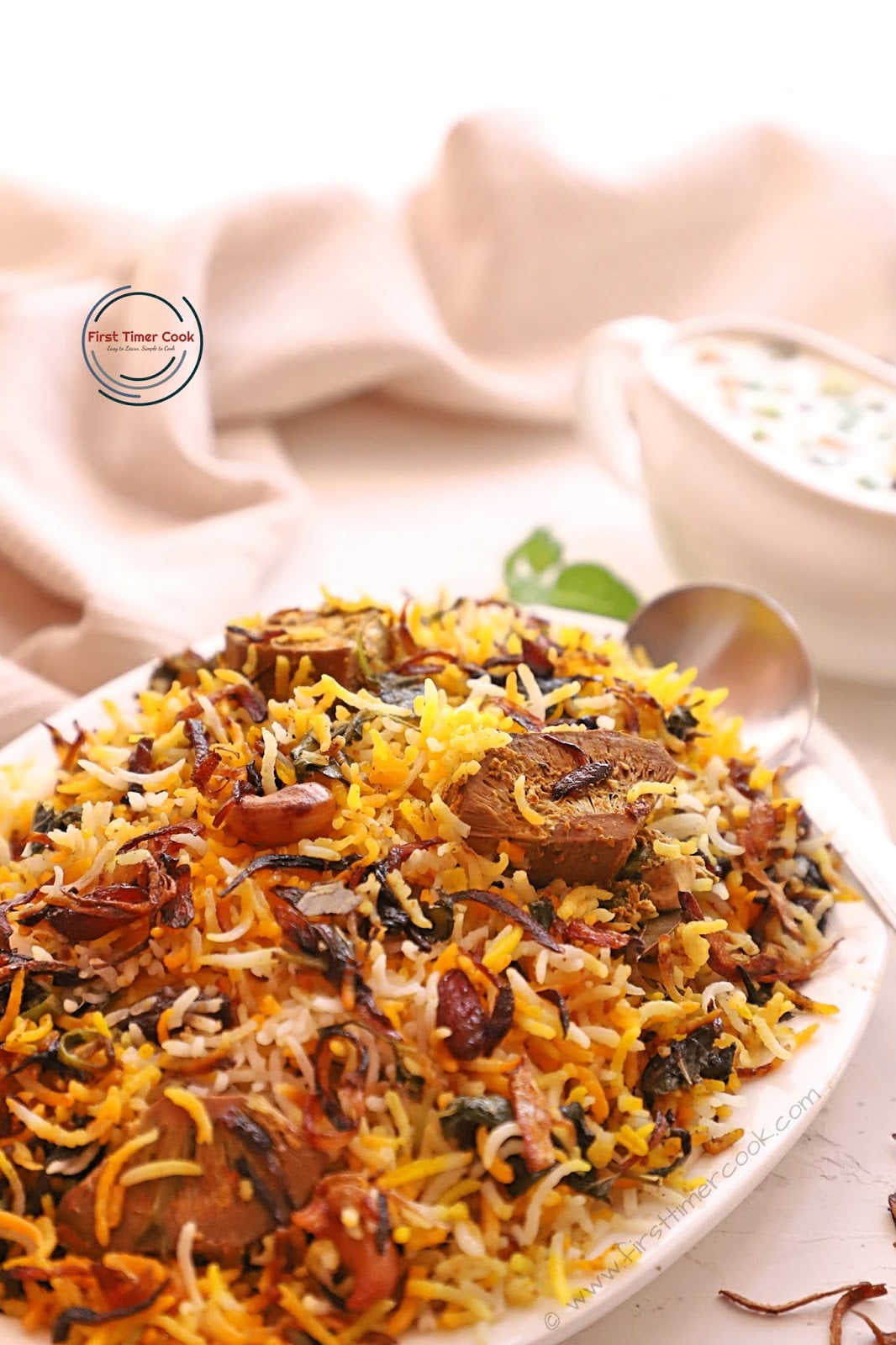 Serving suggestion :
Dum biryani is always prepared in layering the rice with the gravy. Here I have 1 layering of rice with the marinated jack fruits. One can make few more layers. This biryani can be best enjoyed with some raita like Achari Aloo Raita, Pudina Raita (Mint Yogurt Dip) etc. If you are a meat lover, then I am sure you will fully enjoy this vegetarian meat aka jack fruit based biryani. This is one of the exotic vegetarian main course which can be opted to be in parties, any special celebrations and even simply for special Sunday brunch. So do try for sure !
The event related to this post :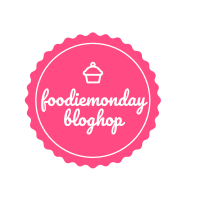 Monday is here again and this time the Foodie Monday Blog Hop team has decided the 240th theme as 'Cooking with Rice' which is suggested by Narmadha. Do check her some interesting rice dishes like Curry Leaves Rice, Beetroot Pulao. Well coming back to the theme, she suggested to make some rice based dishes by us which can be served as a full meal. So for that theme, I am here with my Kathal Dum Biryani | Raw Jack fruit Biryani.
: Recipe Card :

Kathal Dum Biryani / Raw Jack fruit Biryani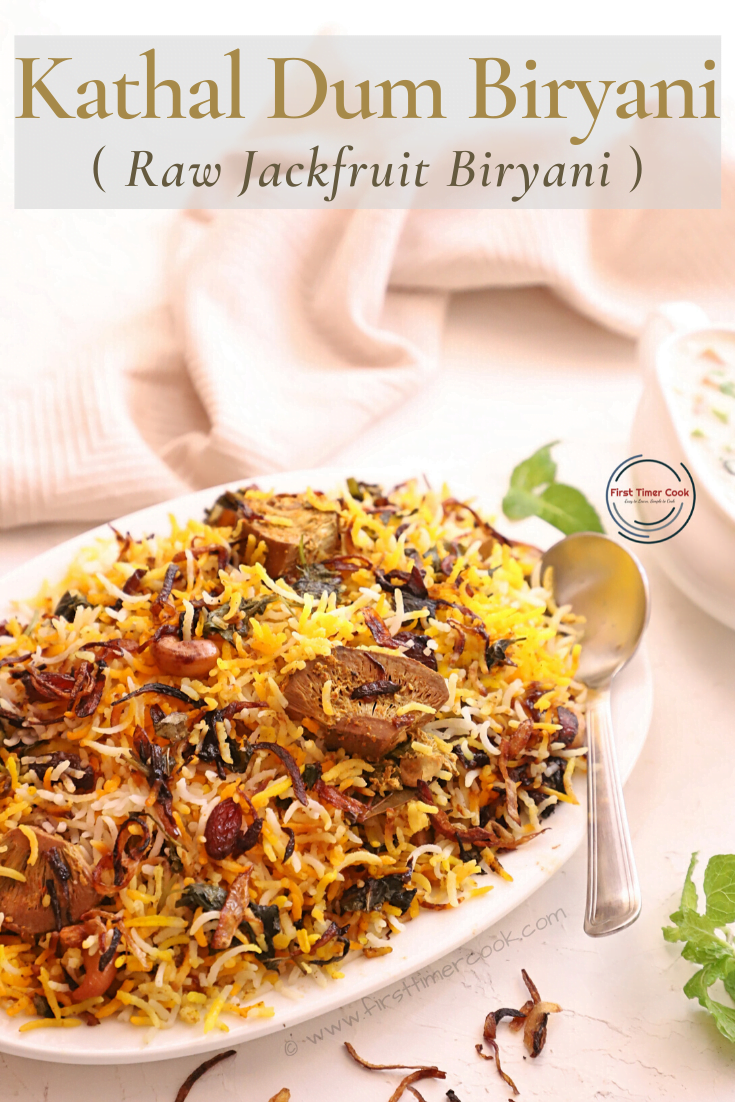 Prep time: 25 MCook time: 45 MTotal time: 70 M
a mildly spiced biryani using the tender unripe jack fruit pieces in dum process.
Ingredients:
For marination
Raw jack fruit cubes 1.5 cup

Yogurt 1/2 cup

Ginger-garlic paste 2 tbsp

Red chili powder 1/2 tsp

Turmeric powder 1/4 tsp

Salt 1 tsp

Biryani masala powder

1.5 tbsp

Mint leaf (roughly chopped) 1.5 tbsp
For biryani
Basmati rice (long grain) 2 cup

Green cardamom 1-2 no.

Cinnamon stick 2 inch

Star anise 1 no.

Bay leaf 1 no.

Mace (javitri) 1 no.

Water as needed

Salt as needed

Ghee as needed

Mint leaves (roughly chopped) 3 tbsp

Coriander leaves (roughly chopped) 3 tbsp

Crisp fried onions (birista) 3-4 tbsp

Saffron 1/2 tsp

Milk 3 tbsp

Kewra water / rose water 1/2 tsp

Cashew nuts (fried) 2 tbsp

Raisins (fried) 2 tbsp
Instructions:
How to cook Kathal Dum Biryani / Raw Jack fruit Biryani
First in a small bowl soak saffron stands in milk and keep aside.

Wash & clean rice, then soak in a bowl.
Cook the Jack fruit cubes :
In a pressure cooker take all the raw jack fruit cubes with enough water, 2 pinch of turmeric powder, salt as needed.

Pressure cook till soft and almost 80-90% done. Do not over cook the jack fruits.

Transfer to a plate and keep aside to cool down completely.
Marination :
Now in a mixing bowl, take yogurt / curd along with ginger-garlic paste, red chili powder, turmeric powder, salt,

biryani masala powder

, roughly chopped mint leaves.

Mix well and then add the cooled jack fruit cubes.

Again gently mix everything and cover the bowl.

Keep aside to marinate for 1-2 hours.
Cook the Rice :
Meanwhile start boiling water in a deep pan with bay leaf, green cardamom, cinnamon stick, star anise, mace (javitri).

When it starts to boiling add soaked & drained rice and 1 tsp ghee.

Give a nice stir and allow to cook the rice till 80% done.

Strain and keep aside to cool.
Assemble the biryani :
Now take a deep broad pan and grease with ghee.

Put some chopped mint and coriander leaves along with few birista (crisp fried onions).

Then put the marinated jack fruits in even layer followed by some more birista.

Next put all the cooked rice and gently spread all over.

Add kewra water / rose water with the soaked saffron and pour over the rice (here and there).

Again top with some birista, chopped mint & coriander leaves, 1-2 pinch of biryani masala powder, fried cashew nuts & raisins and few drops of ghee.

Cover the pan and place over a hot tawa or griddle.

Cook for 25-30 minutes over low heat.

Turn off heat and gently fluff the biryani.

Serve along with raita of your choice !
Notes:
I have simply topped the marinated jack fruits with rice. One can make few more layers.
Adjust spiciness (here main spicy factor is the biryani masala powder) according to taste.
In pressure cooker, do not over cook the jack fruits. Else there will be a mesh.
Main course, Kathal dum Biryani, dum biryani, yogurt, Panasa
Biryani, Jackfruit Biryani, Kathal, Vegetarian, Rice dish, Gluten free
Indian
Did you make this recipe?
Tag @firsttimercook on instagram and hashtag it #firsttimercook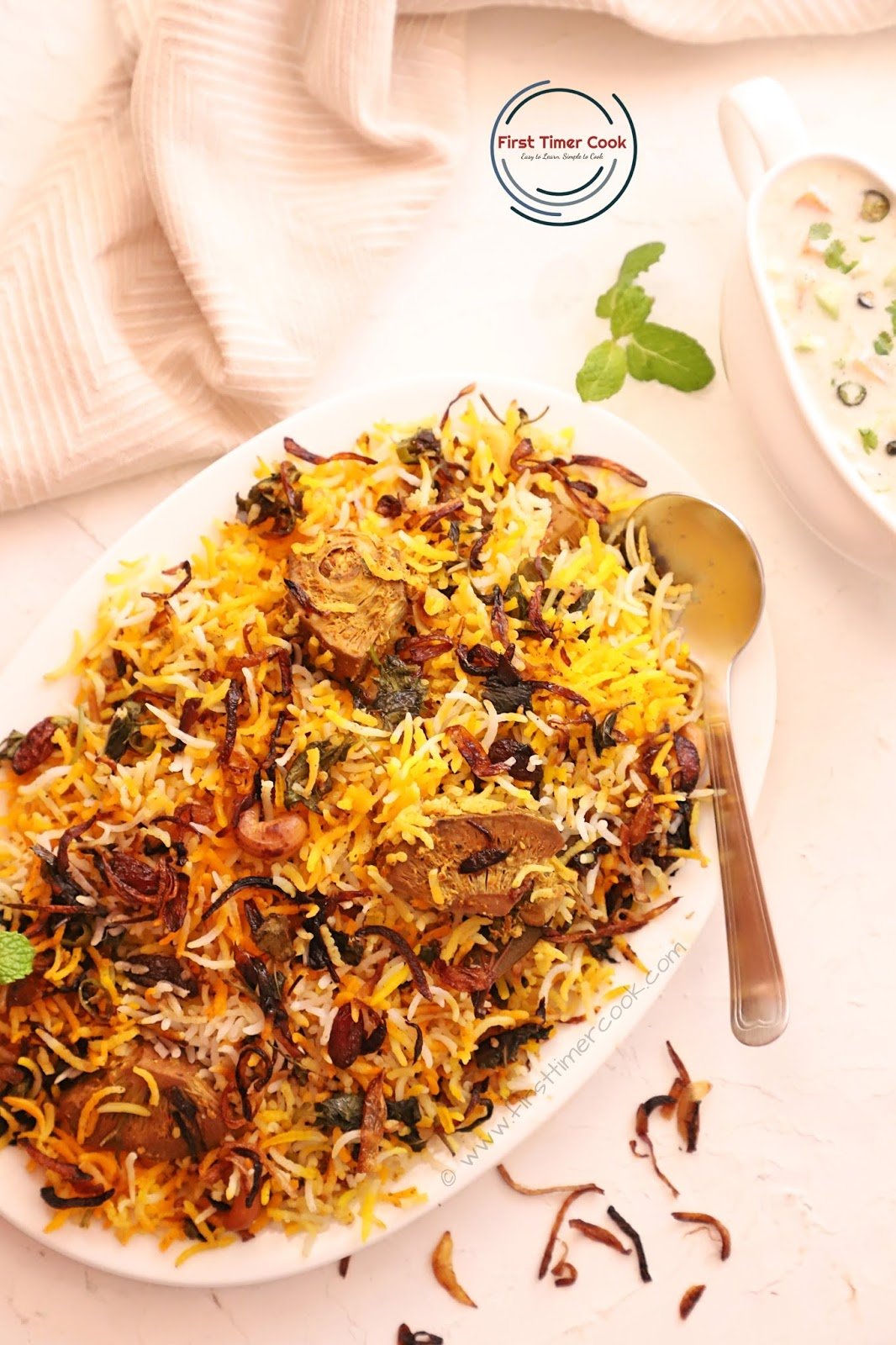 You may also follow me on Facebook, Pinterest, Twitter, Google+, Instagram and can subscribe for free to get new recipes directly into your inbox 😊
PIN for later :