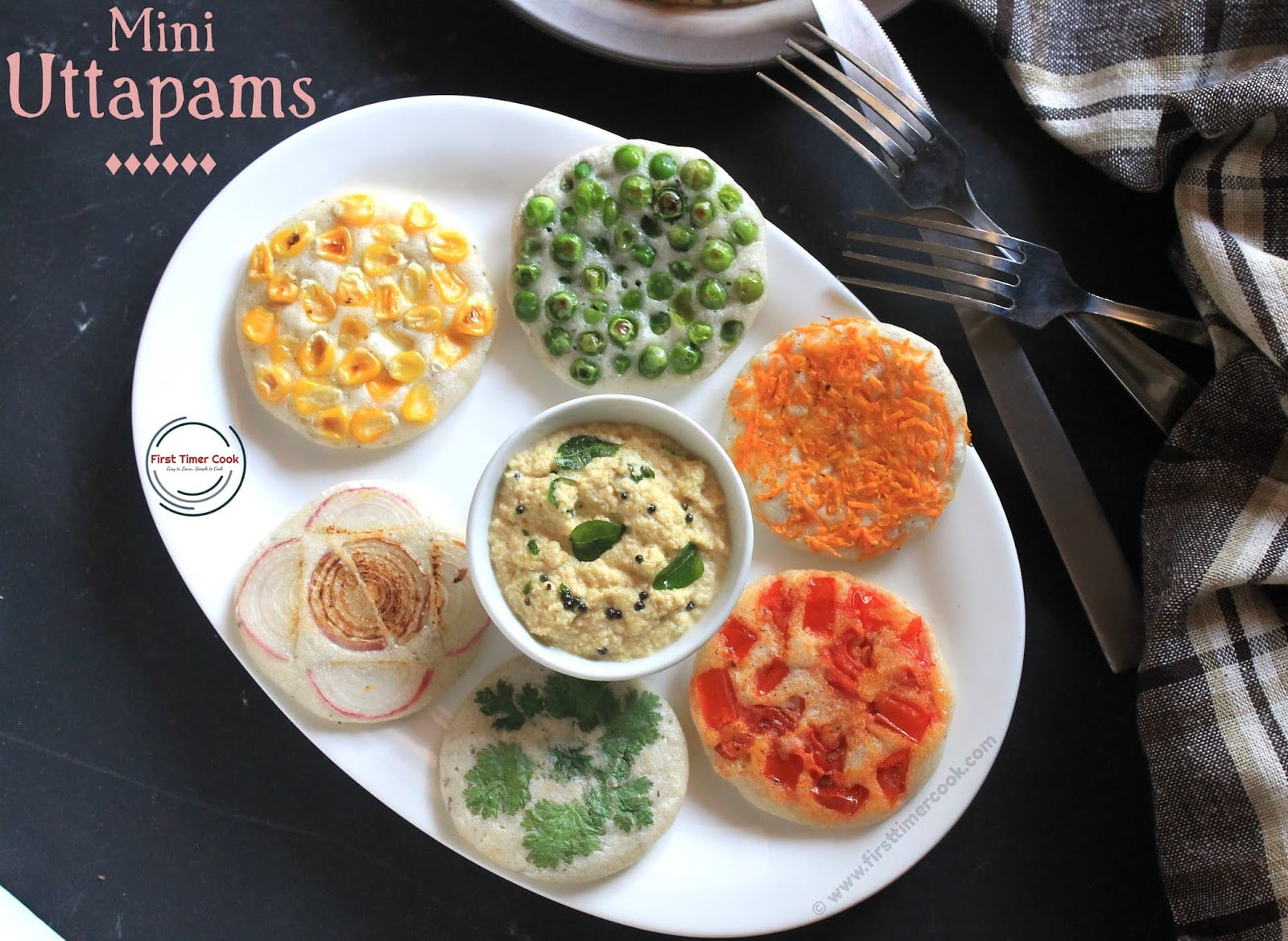 I am a big foodie lover of South Indian breakfast options like Idli, dosa, uttapam etc. Recently we have been transferred to another new place and during that time our kitchen remained close for around 5-6 days. We were having our food from an outside South Indian restaurant which was just in front of our stay, particularly for me Idli and Dosa were the breakfast options alternatively for few days from that shop ;P at those times although my two boys (hubby and son 😉 ) were ordering some other foods. I am that much fond of these foods and never get bored of having. All these three means Idli, Dosa and Uttappam are same in many aspects yet different too. Idli is cooked by steaming; dosa is prepared with a slightly thinner batter and has a stuffing inside; uttapam is topped with a varieties of veggies.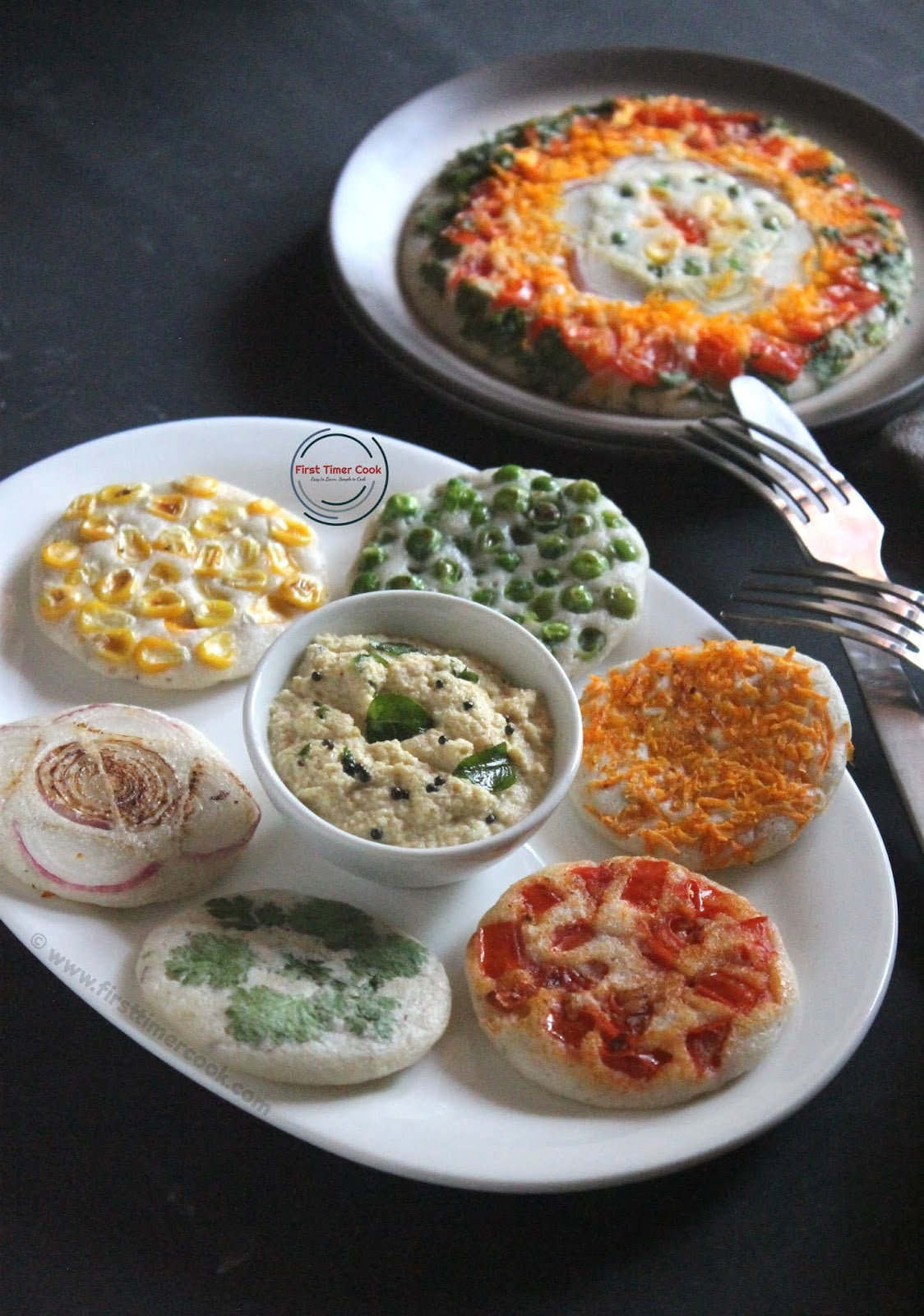 Today's post is all about some mini uttapams. Well, Uttapam or Uttappa or Oothapam or Uthappam is nothing but a thick pancake prepared using some thick dosa batter. The texture of this is quite soft and spongy unlike dosa which is crisper always. There are a no of variations in uttapam depends particularly upon the toppings. And accordingly the name of the uttapam varries. Pour some batter on dosa tawa / pan and allow the batter to spread at its own. Top the batter with any desired toppings and allow to cook over low-medium heat. Flip and cook the top part and its then ready to serve 🙂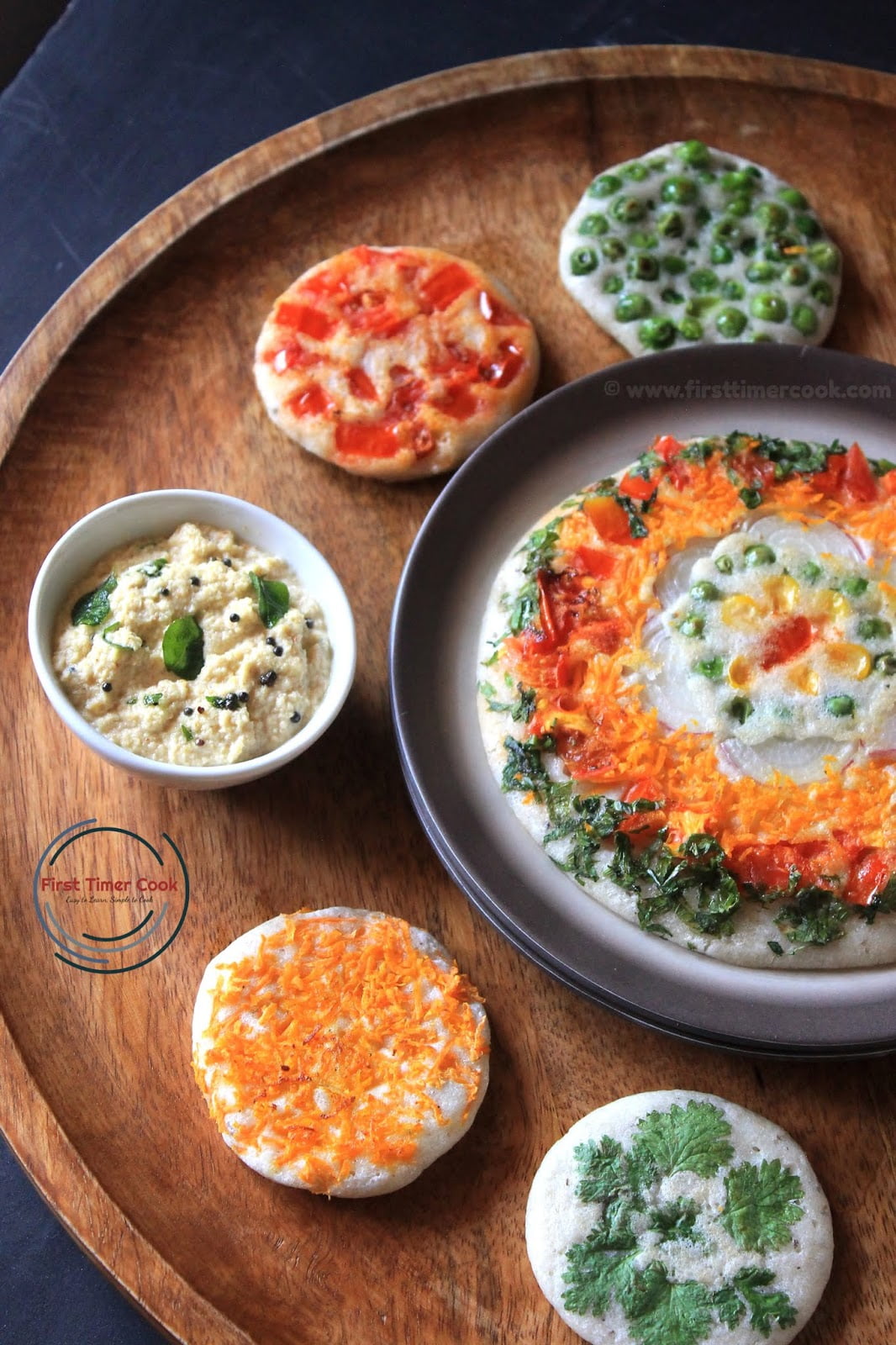 Regular uttapams are approximately 8-9 inches in diameter where as one can make mini uttapams of size around 3-4 inches in diameter. Everything is same except the size of regular uttapam here is different for mini uttapams. I have prepared with different toppings each mini uttapam here as onion, sweetcorn, coriander, green peas, carrot, tomatoes. These toppings are totally variable and depending upon the choice one can use. The dosa batter here I have prepared at my home which recipe I will share in another post, still the ready-made dosa batter which are easily available these days at the super markets in packet format can also give the same result.
Well after making some mini uttapams, I just mixed rest toppings and made a regular uttapam with those and voila ! a regular mix vegetable uttapam was ready to devour ! These mini uttapams look more cute as compared to regular ones. A much more healthier and tastier breakfast options are these mini uttapams. Completely vegan and gluten free dish is this. In just few minutes one can prepare and serve. Kids'll surely love these cute Indian pancakes with so many colorful toppings. Do try soon !
Recipe Card for 'Mini Uttapam Varieties' :

Uttapam, Mini uttapam, Vegan, Gluten free, Onion, Carrot, Sweet corn, tomato, coriander, green peas
Breakfast option, Vegan, Gluten free, Kids snack, Mini Uttapam
South Indian Cuisine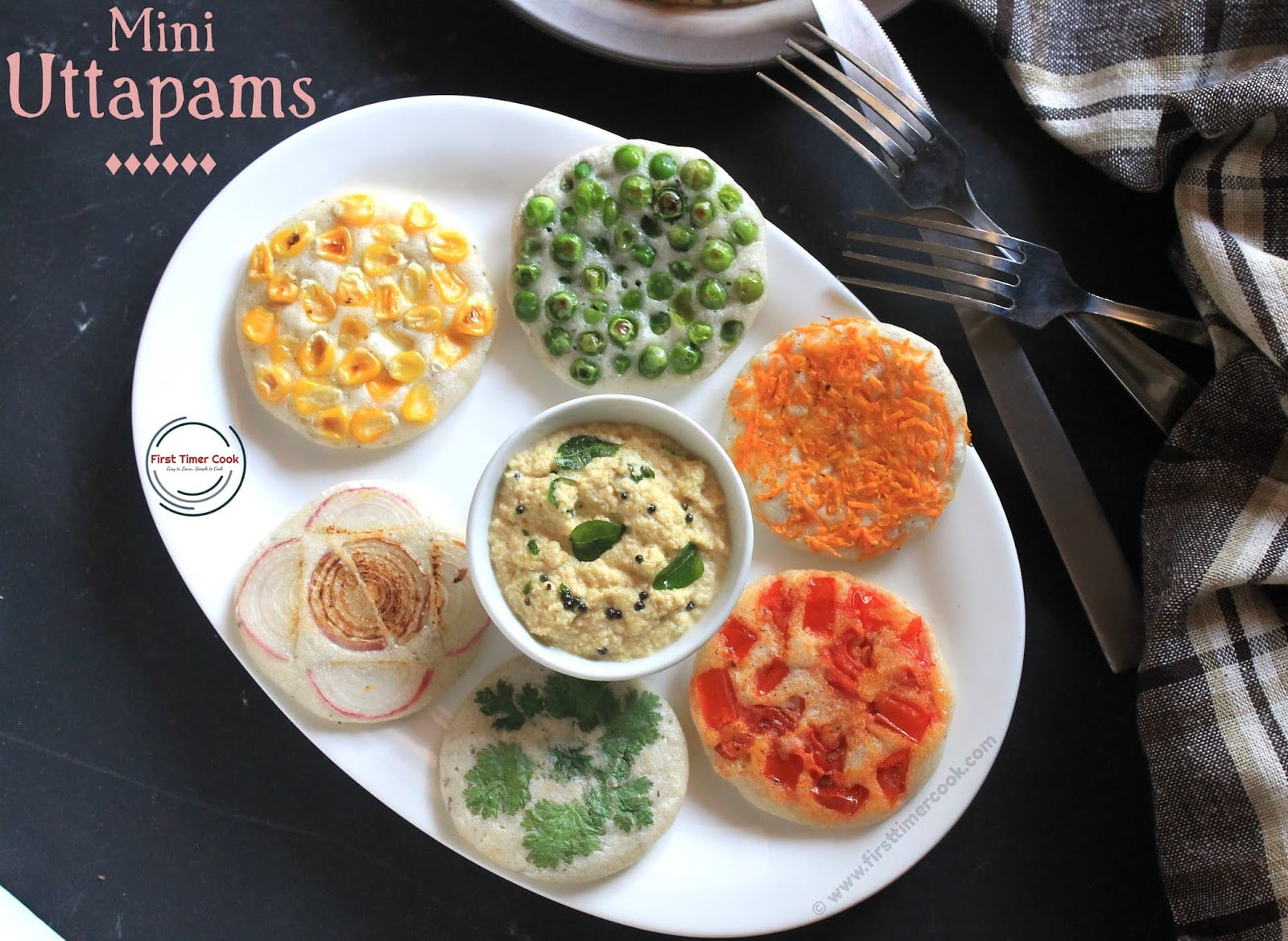 Mini Uttapam Varieties
deliciously healthy & cute looking uttapams topped with various toppings
prep time: 10 Mcook time: 10 Mtotal time: 20 M
ingredients:
Dosa batter 1 cup

Shallot 3-4 no.

Sweetcorn 2-3 tbsp

Green peas 2-3 tbsp

Coriander leaf as needed

Tomato 1 no.

Carrot (grated) 2-3 tbsp

Salt as needed

Oil as needed
instructions:
How to cook Mini Uttapam Varieties
First slice all the shallots thinly and keep aside.

Now heat a dosa pan / a mini uttapam pan.

If using dosa pan then pour 2 tbsp of batter for each mini uttapam and if using mini uttapam pan, then pour 1.5 tbsp of batter in each slot of the pan.

Next for onion mini uttapam spread thin shallot slices on one mini uttapam batter, for sweetcorn mini uttapam spread some sweet corns on another mini uttapam batter, for coriander mini uttapam spread coriander leaves / some chopped coriander leaves on another mini uttapam batter, for green peas mini uttapam spread green peas on another mini uttapam batter, for carrot mini uttapam spread grated carrots on another mini uttapam batter, for tomato mini uttapam spread some chopped tomatoes on another mini uttapam batter.

Then press each toppings using a spoon gently so that they stick to the batter perfectly.

Drizzle little oil and allow to cook the bottom of the mini uttapams.

Next carefully flip all the mini uttapams and cook till all the toppings are well done.

Transfer to the serving plate and serve along with any desired chutney or even with sambar !
NOTES:
Some jeera powder can be sprinkled over the topping to get some extra flavor in uttapams, but it is optional.
The dosa batter must be well fermented.
The key point to perfectly cook uttapam is that the heat should be kept on low which leads to cook the uttapam thoroughly.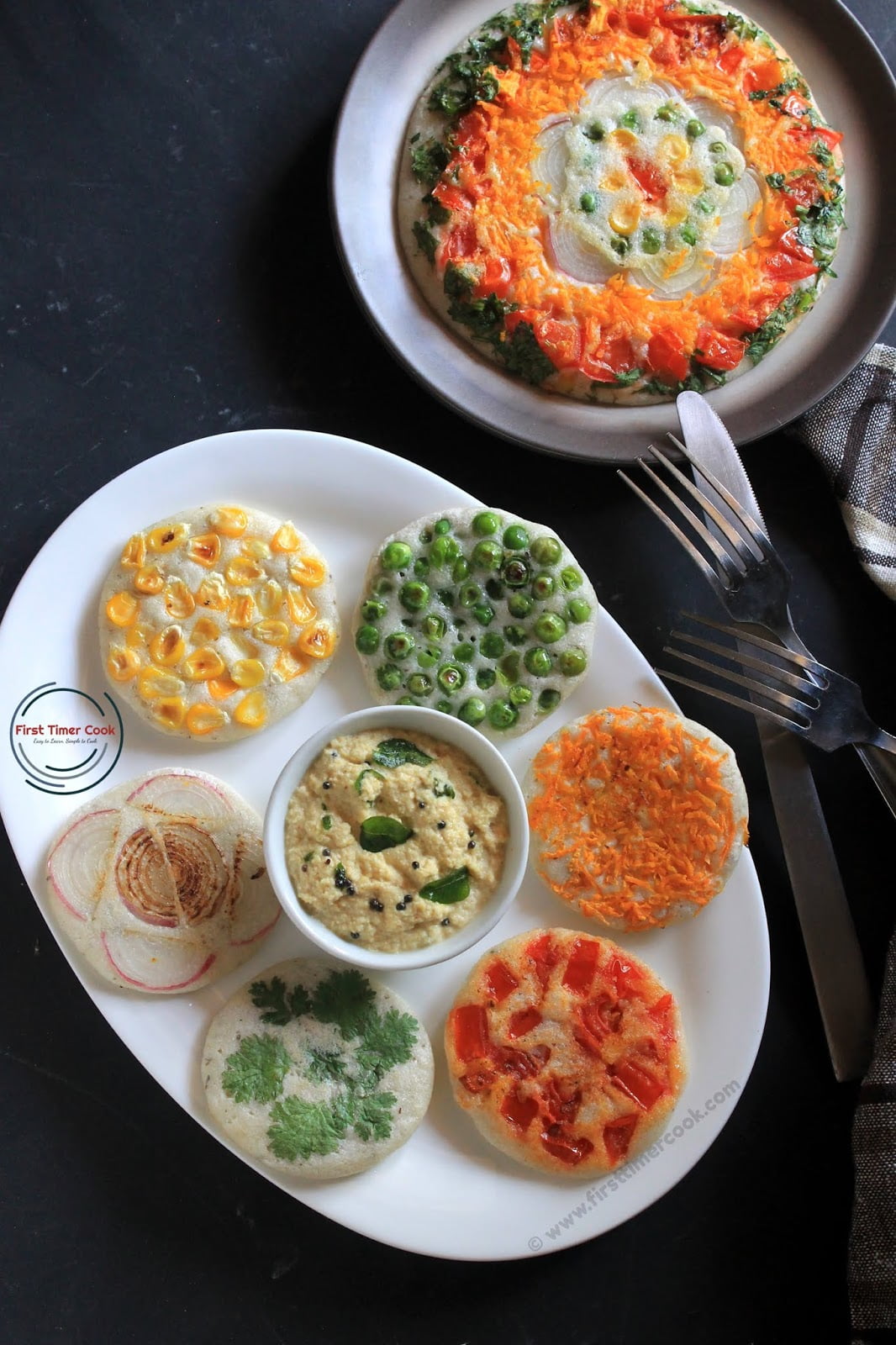 If you tried my recipe and enjoyed fully, then please share some pictures of your creation with me. Also kindly rate the recipe below, give your valuable feedback either in the comment box below or tag me as @firsttimercook on Instagram.
You may also follow me on Facebook, Pinterest, Twitter, Google+, Instagram and can subscribe for free to get new recipes directly into your inbox 😊
This Mini Uttapam Varieties is contributed for 197th theme of the Foodie Monday Blog Hop foodie group which is decided as 'Get In Shape' and suggested by 'Kalyani' who blogs at Sizzling Tastebuds. This theme indicates that the final presentation of the dish must be in any geometrical shapes. And here I chose the cute circular shape of these Mini Uttapam Varieties for the contribution.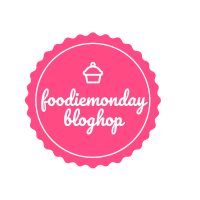 PIN for later :