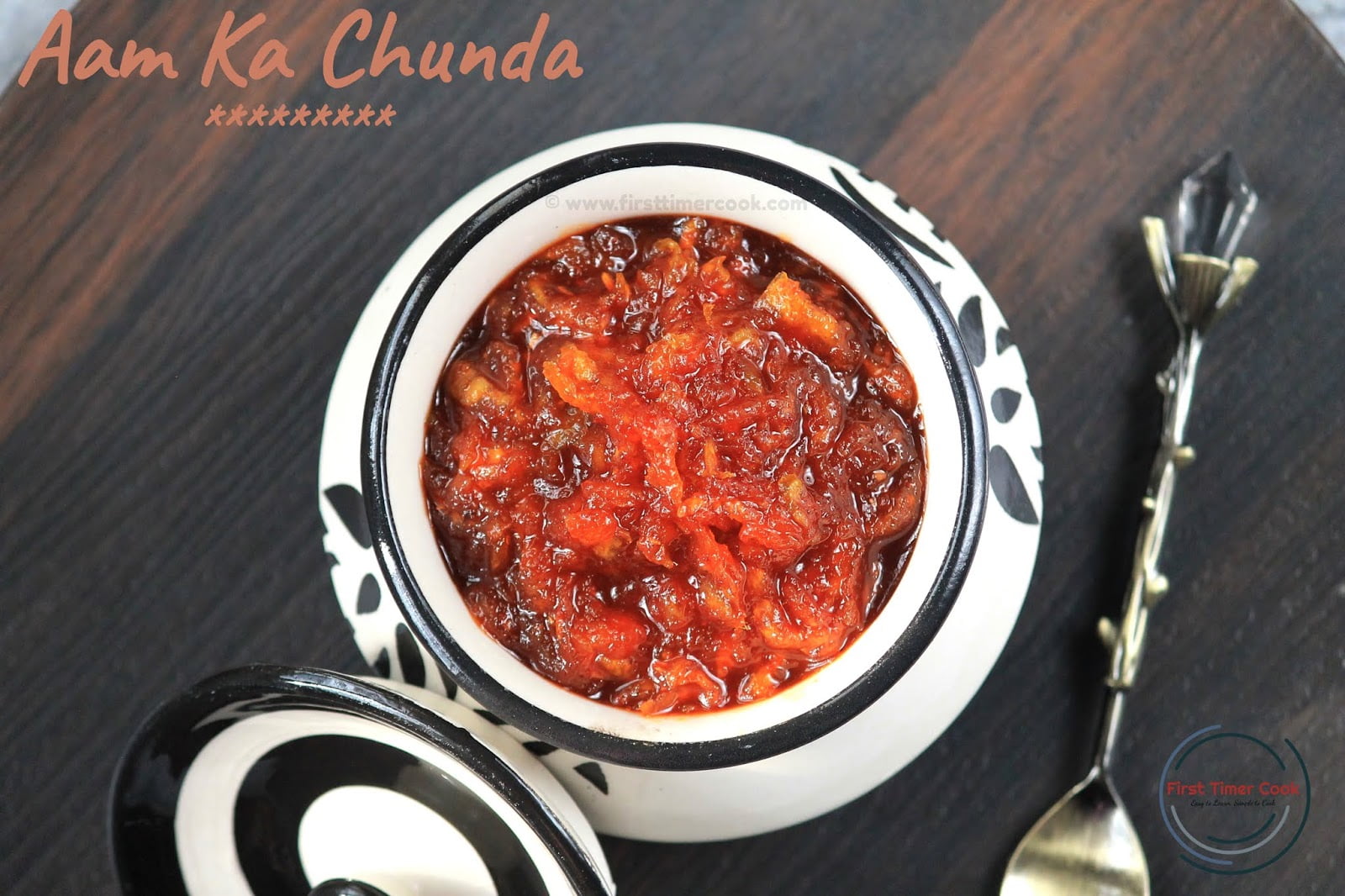 Summer season is going on and the nearby markets are flooded with the King of Fruits, Mangoes of a lot of varieties which are either raw / ripe ones. The raw ones look green in color and have a tangy taste. These add a lovely tangy twist to any dish mostly. Most of Indians love to make pickle using these raw mangoes. And those pickles are an important part of Indian meals and pair very well with parathas, rotis and even rice dishes. The process most of the time either follow traditional method or instant version. But both processes are easy to make and can be preserved for a good amount of time.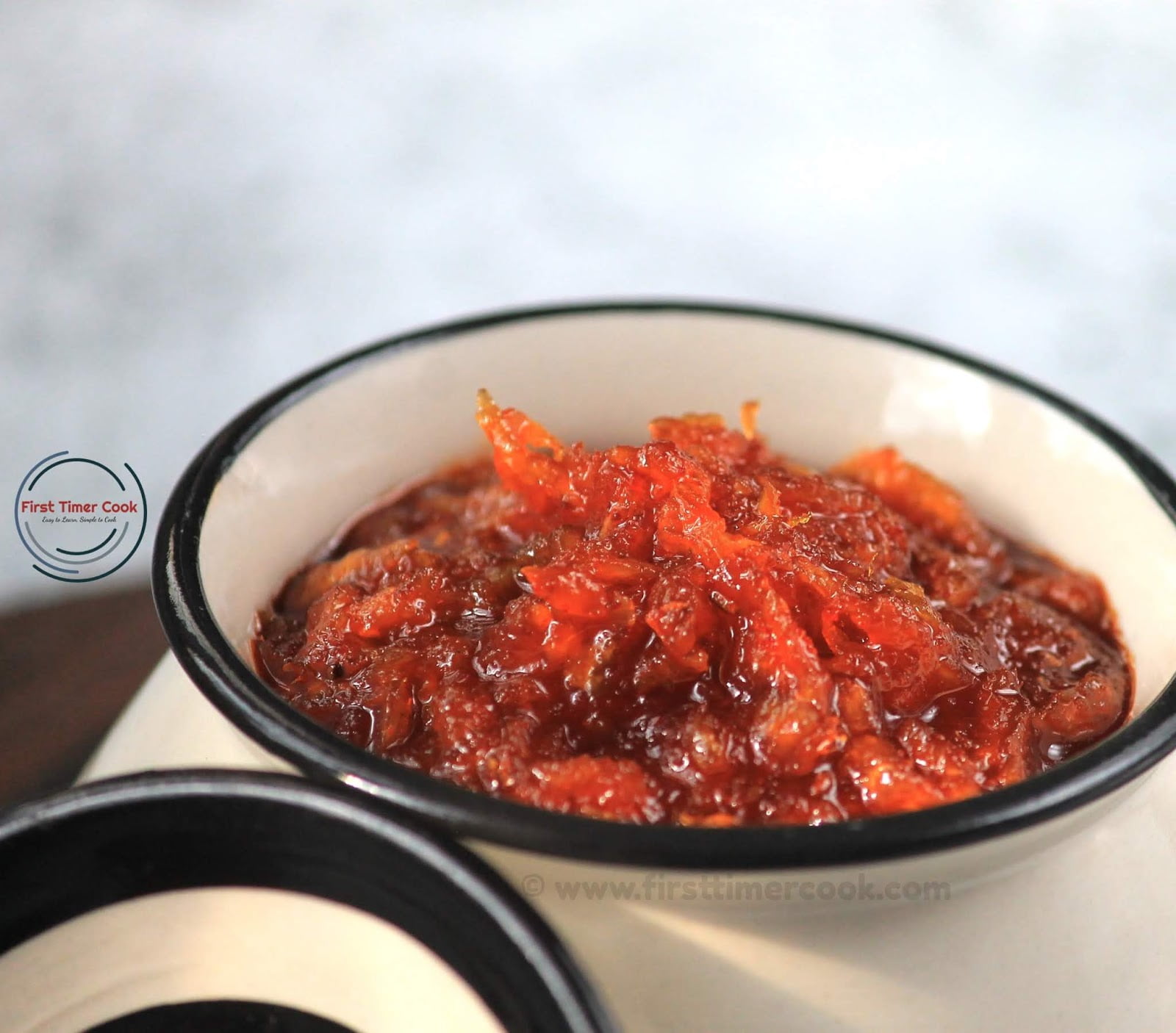 Every region of India has its own variations of pickle using raw mangoes. Today's post is all about a pickle from Gujurati cuisine as 'Aam ka Chunda' or 'Chundo' (Gujurati Sweet Mango Pickle). The authentic preparation of this sweet pickle is quite time consuming. The sugar which is added with grated raw mangoes are allowed to melt by the heat of Sun, as the jar containing the mango-sugar mixture is kept under sunlight. This whole process basically takes around 10-15 days. By this time, the sugar melts completely and a thick sugar syrup is formed in which the mango shreds look translucent.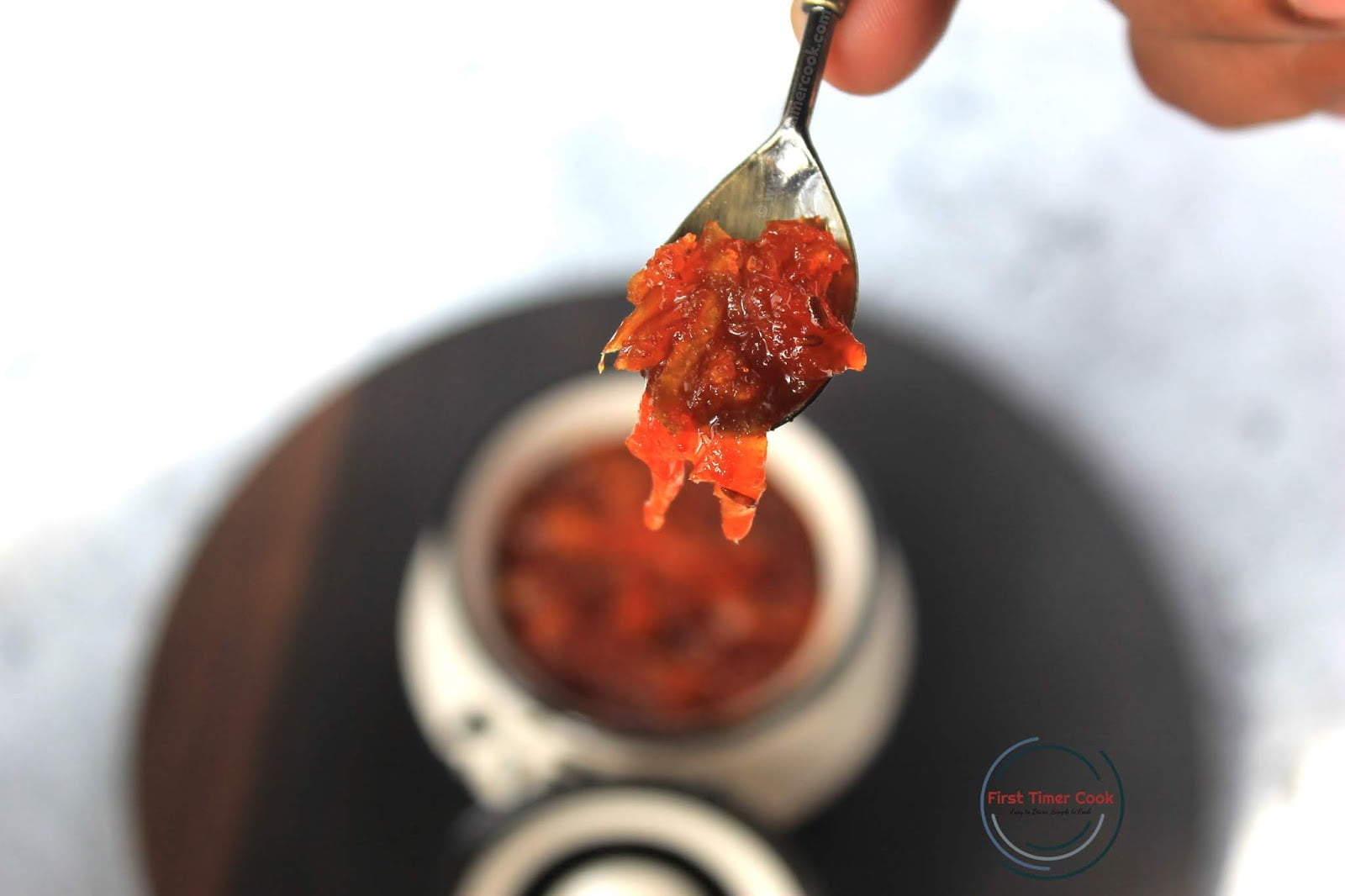 Well, here is a quick and instant version of that sweet relish which focuses to use the stove top for melting the sugar. Just grate the green raw mangoes, mixed with sugar, allow to melt on stove top and some spices are added finally. Yes, it is that much simple and quick. But while melting the sugar in this method, the crucial point is that the sugar should be allowed to melt up to 1-string consistency. Otherwise, while cooling that tends to crystallized easily.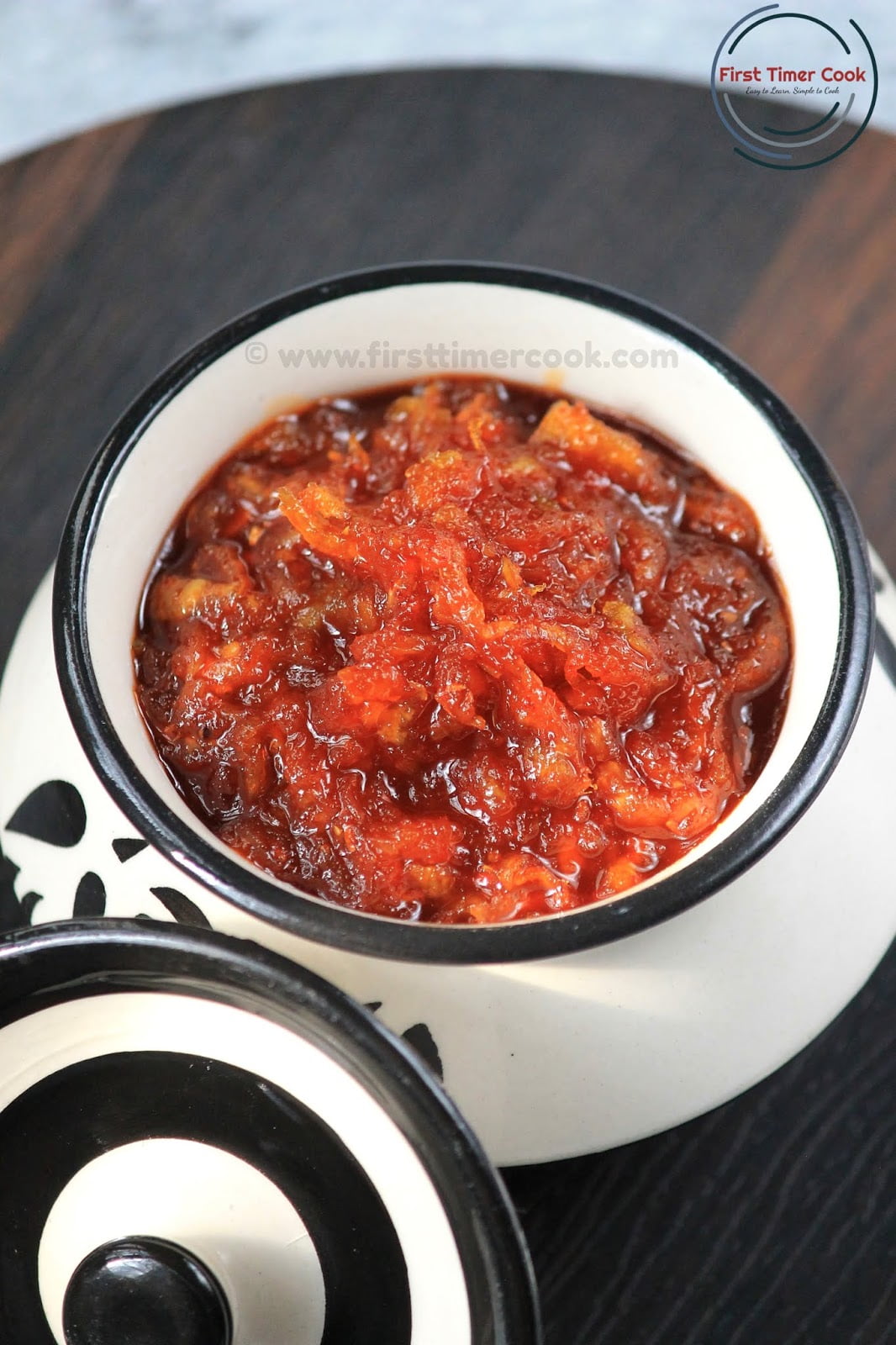 Another thing is the grater must be chosen having medium size holes. If the grater has small size holes, then the pickle will get mushy after gets cooked. The strands of mangoes (specialty of Chundo) will not visible while serving. No onion and garlic are used in this pickle. Also this is perfectly fit for Vegan as well as Gluten free dish category. Just make and store in a sterilized jar to be used up to a year or even more. This lip smacking mango pickle goes very well as a condiment with paratha, rotis, rice dishes etc. Particularly Theplas and Chundo is an ultimate combination for any Gujurati. So do try this quick version of Aam Ka Chunda / Chundo in this current mango season.
Recipe Card for 'Aam ka Chunda | Chundo (Gujurati Sweet Mango Pickle)' :

Raw mango, Vegan, Pickle, Gluten free, No onion No garlic, Instant Pickle, Gujurati CUisine, Mango Pickle,
Condiment, Pickle, Mango Raw MAngo
Gujurati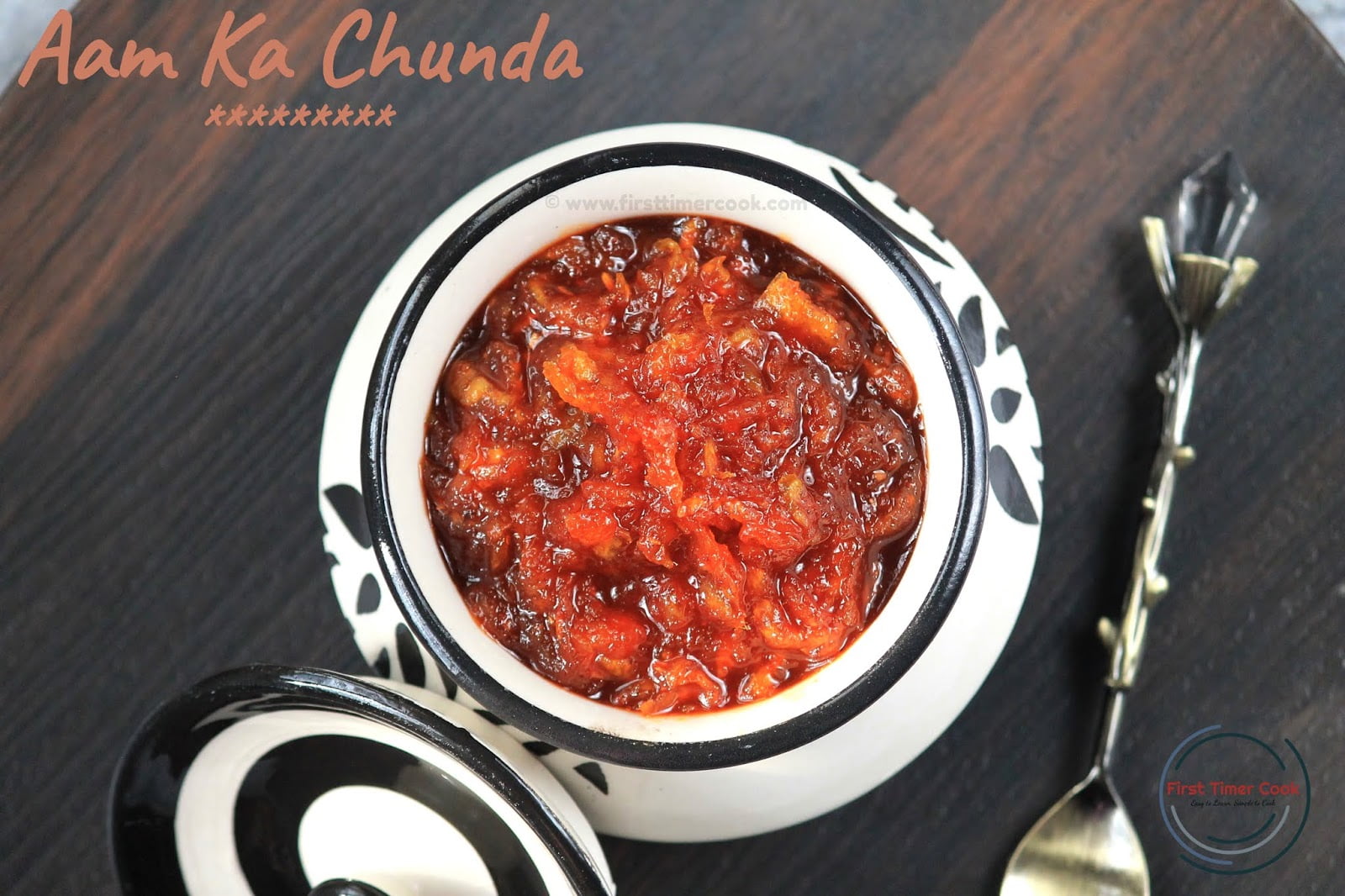 Aam ka Chunda | Chundo (Gujurati Sweet Mango Pickle)
a lip smacking, mildly spiced pickle with raw mangoes from Gujurati Cuisine
prep time: 15 Mcook time: 15 Mtotal time: 30 M
ingredients:
Mango (medium) 5 no.
Sugar 2 cup
Turmeric powder 1/2 tsp
Red chili powder 2 tsp
Cumin seed (roasted and crushed roughly) 1 tsp
Salt 1 tsp
instructions:
How to cook Aam ka Chunda | Chundo (Gujurati Sweet Mango Pickle)
First wash and clean the raw mangoes.
Wipe dry, peel the outer deep color skin of the mangoes and keep aside.
Now take a grater having medium size holes (don't prefer to use a grater having small size holes) and grate all the peeled raw mangoes.
In a mixing bowl now take all the grated raw mangoes, turmeric powder and salt.
Mix everything and keep aside for at least 1 hour.
After 1 hour the water must be released and just drain those water through a strainer lined with muslin cloth.
Now transfer this mixture to a pan along with sugar.
Heat the pan, stir and cook till the sugar dissolves completely.
Turn off heat before the sugar starts to caramelize (check up to 1-string consistency of the sugar syrup).
Add roughly crushed roasted cumin and red chili powder.
Mix everything very well using a spoon and then allow to cool down completely.
Now transfer to a sterilized jar and store to use whenever needed !
NOTES:
Only use raw green mangoes for this pickle.
Sweetness depends upon individual preference and the sourness of raw mangoes. So adjust accordingly.
This pickle has a long shelf life which can be kept fresh up to 1 year.
Always prefer to use grated having medium size holes. Don't take the graters having small size holes, otherwise the pickle will get mushy after gets cooked. The strands of mangoes'll not visible while serving.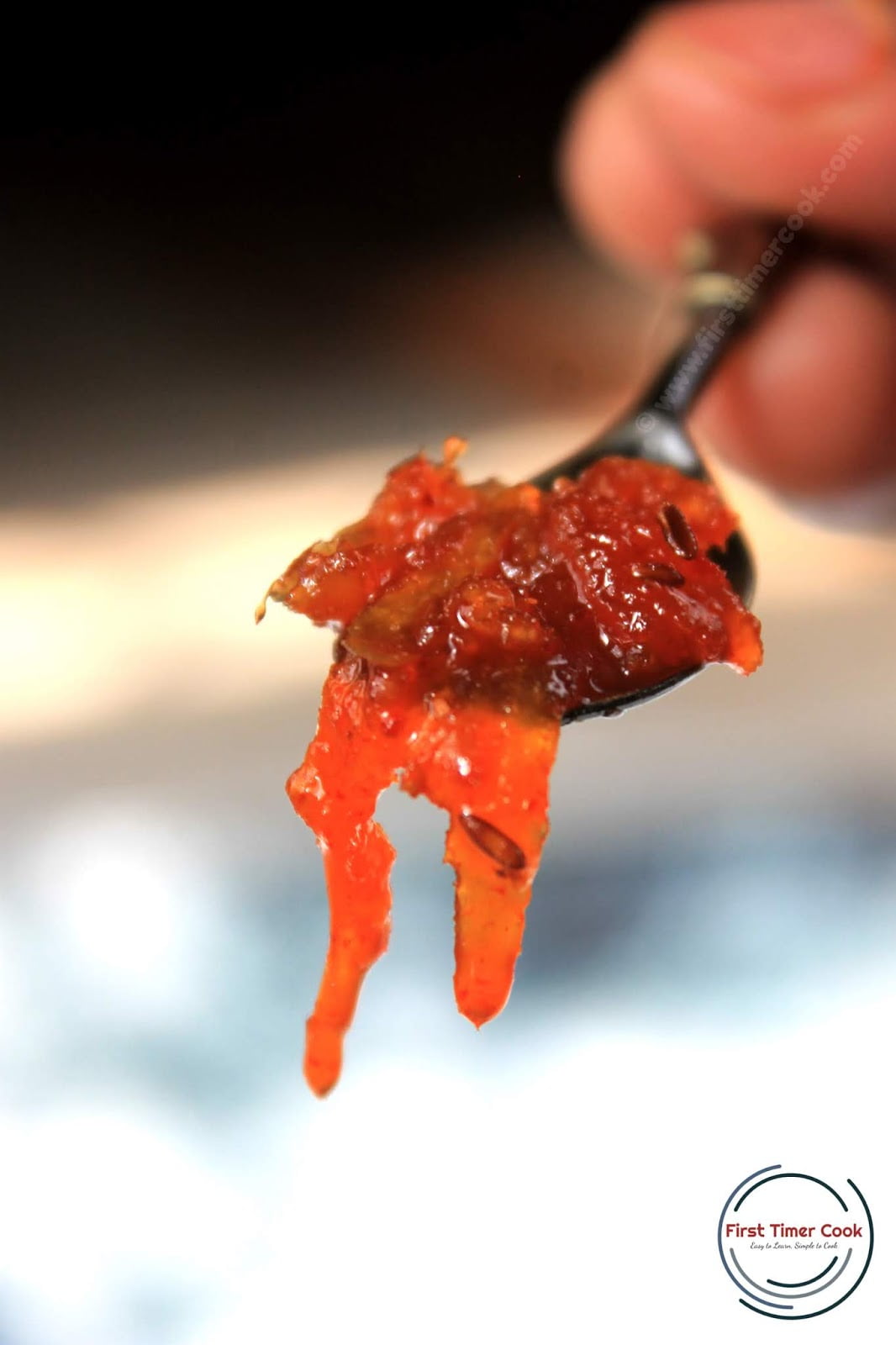 If you tried my recipe and enjoyed fully, then please share some pictures of your creation with me. Also kindly rate the recipe below, give your valuable feedback either in the comment box below or tag me as @firsttimercook on Instagram.
You may also follow me on Facebook, Pinterest, Twitter, Google+, Instagram and can subscribe for free to get new recipes directly into your inbox 😊
This Aam ka Chunda / Chundo (Gujurati Sweet Mango Pickle) is contributed for 196th theme of the Foodie Monday Blog Hop foodie group which is decided as 'Pickle Time' and suggested by 'Aruna Saraschandra' who blogs at Vasu's veg kitchen. So I chose this Gujurati Sweet Mango Pickle as Aam ka Chunda aka Chundofor the contribution.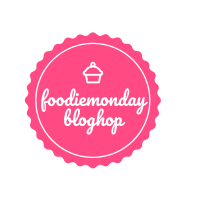 PIN for later :