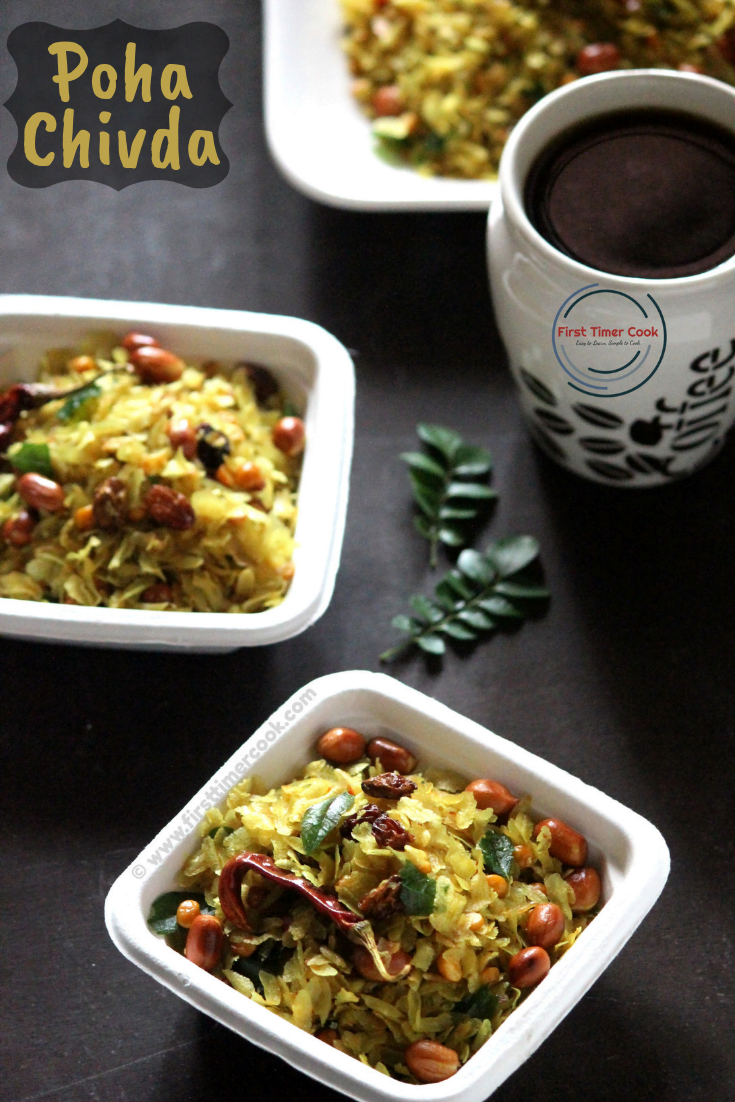 Poha / Chuda / Aval / Flattened rice flakes is nothing but the rice that has been parboiled, rolled, flattened and finally dried to get. These come in different thickness depending upon the pressure used in flattening process. Thick ones get some time to soak and hence doesn't get mushy on soaking as compared to thin variety. Well these flattened rice flakes are lactose free, heart healthy and fat free too.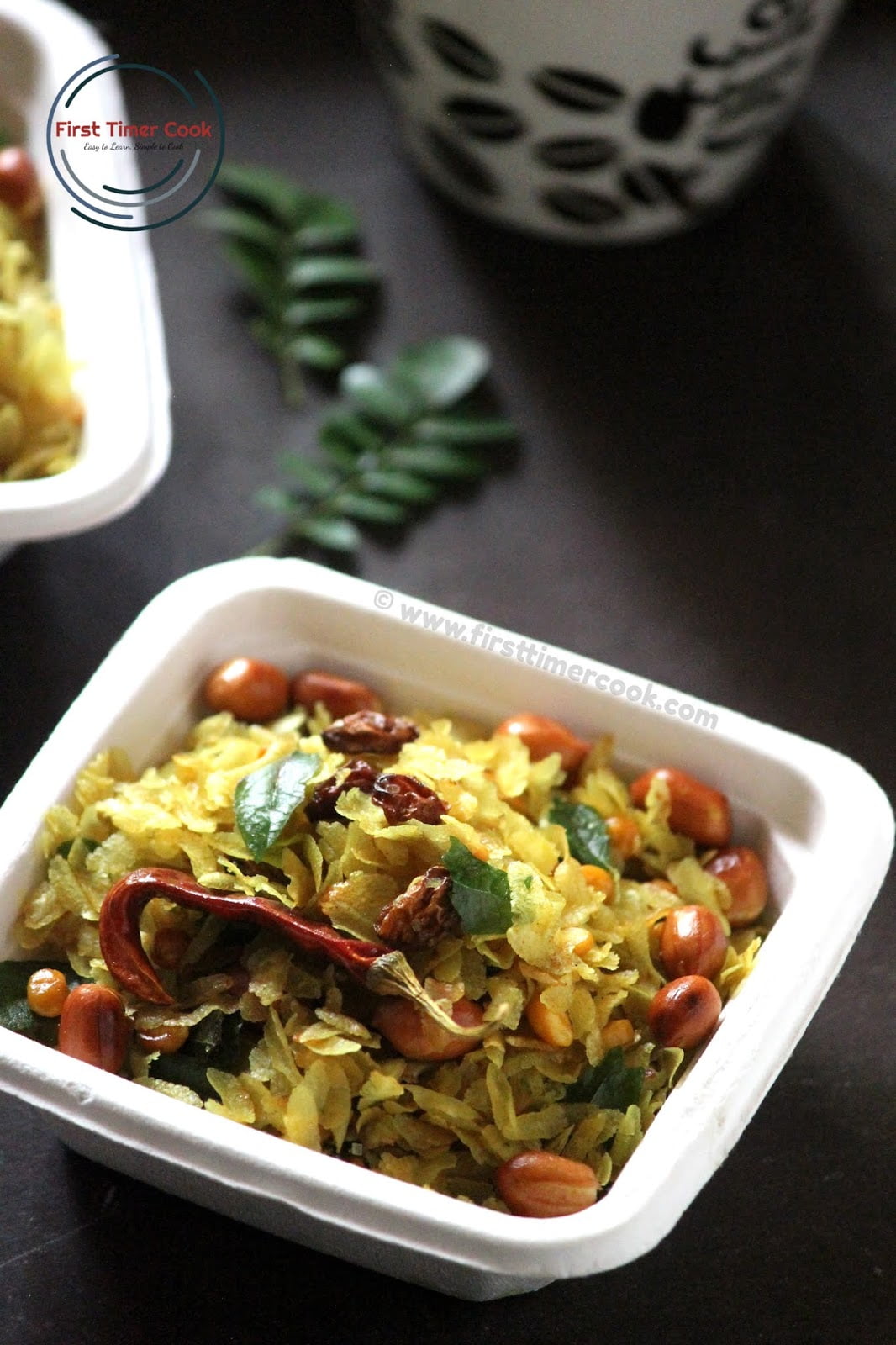 One can surely call poha as a super food because this is loaded with a number of health benefits like –
Regulates sugar levels
Has healthy carbohydrates
Most ideal choices for weight loss
Easily digestible
Rich in iron
Low on calories
A good source of instant energy etc.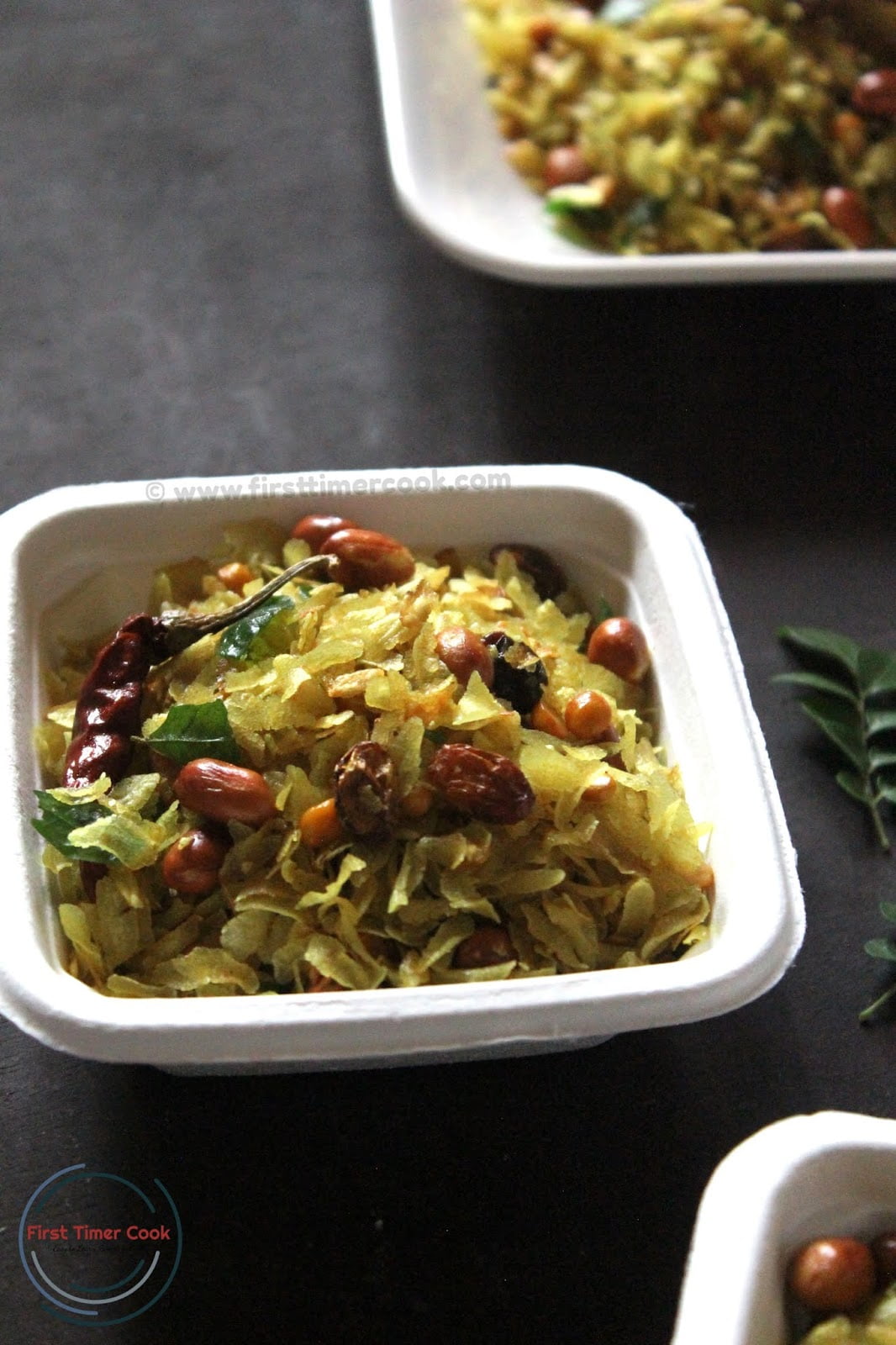 The poha is essentially a good breakfast option and can be eaten as a snack too. One can have these in raw condition by soaking in plain water / milk or lightly fried in oil. Poha upma is a regular affair at my place as a healthy breakfast option. When my pantry is loaded with coriander leaves particularly during winters, I also love to make these coriander poha. If festive time is there or if you are craving for some sweets then just check this Poha ladoo with chocolaty coconut stuffing.


Well today I have come up with a crunchy snack option using poha as 'Poha Chivda / Mixture'. It is a popular Maharastrian snack option using poha and some nuts seasoned with some basic tempering. This kind of poha dish has a crisp & crunchy texture as here the poha is roasted first to use in the dish. Totally vegan and gluten free option too this is. Also it has a mild taste due to the addition of nuts. Super simple it is and easy to prepare too. Again this stays good for a couple of weeks if stored in an air-tight container. Just along with a cup of tea / coffee, the poha chivda becomes a perfect snack option. Since neither onion nor garlic is used here so the poha chivda can be also thoroughly enjoyed during festive time and during diwali this is a must to be prepared as a festive delight. Do try to enjoy this crunchy and healthy snack.
Recipe Card for 'Poha Chivda / Mixture' :
Poha, Flattened rice flakes, chuda, snack, poha chivda, poha mixture, gluten free snack, vegan snack, no onion no garlic option, diwali snack
Snack, Vegan, Gluten free, Poha
Maharastrian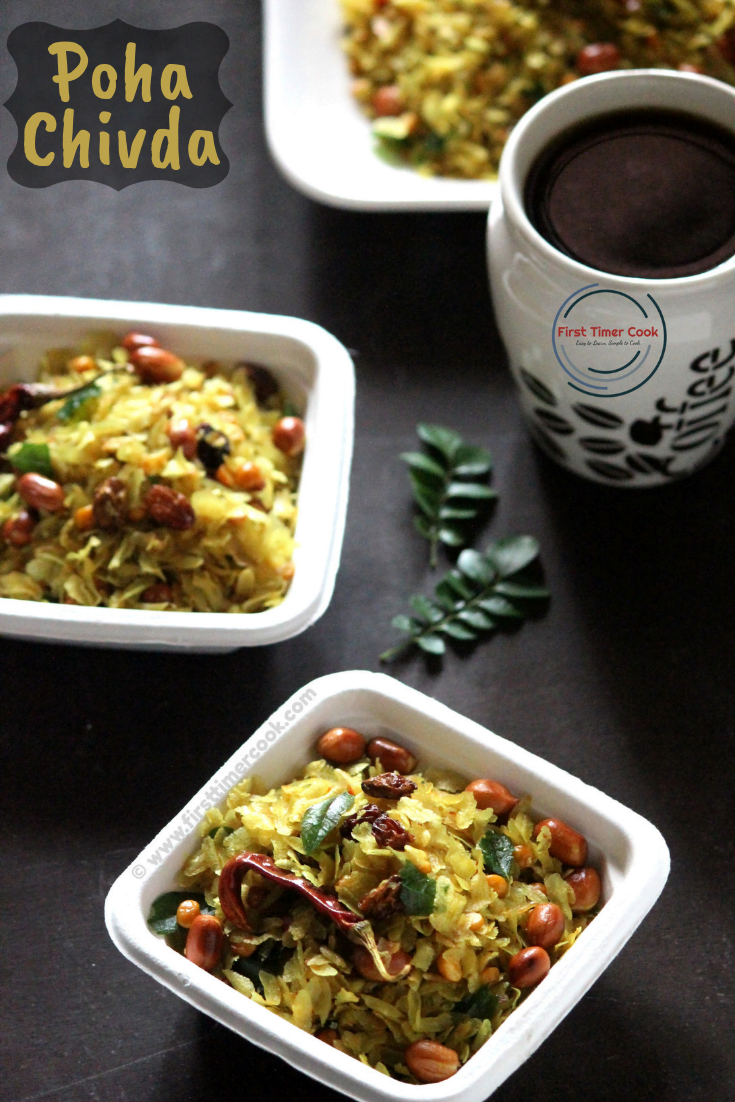 Poha Chivda / Mixture
prep time: 5 Mcook time: 20 Mtotal time: 25 M
a perefctly quick snack option using poha, nuts and spices.
ingredients:
Poha (flattened rice flakes) 3 cup
Peanut 1/2 cup
Chana dal 1/2 cup
Raisin 1/4 cup
Dry red chili 3-4 no.
Curry leaf 3-4 sprig
Turmeric powder 1/4 tsp
Sugar 3 tbsp
Cumin seed (optional) 1/4 tsp
Mustard seed 1/4 tsp
Oil 1.5 tbsp
Salt as needed
instructions:
How to cook Poha Chivda / Mixture
Heat a pan and start roasting the poha / aval / flattened rice flakes over low-medium heat.
Roast till these become crisp and transfer to a plate.
To the same pan add peanuts and chana dal.
Dry roast well and transfer to another plate.
Now add 1/2 tbsp of oil into pan and fry the raisins till they swell.
Transfer to the plate and again put the pan on heat.
Put 1 tbsp oil and allow to heat well.
Next add cumin seeds, mustard seeds and allow to crackle well.
Add curry leaves and dry red chili and fry till they become crisp.
Lower the heat and add turmeric powder, salt, sugar.
Stir till sugar starts melting and after that add roasted peanuts, chana dal, roasted poha and fried raisins.
Saute very gently for 4-5 minutes over low-medium heat.
Turn off heat and allow the mixture to cool down completely.
Transfer to an air-tight container and serve as it is or with some cup of tea / coffee !
NOTES:
I love the cumin seed flavors in my chivda, so added. But this is optional.
Here I have not added green chilies as my boy love to munch these while I take with my cup of black coffee. Instead I added some whole red chilies which can be taken out easily while serving to kids.
Other dry fruits like cashews, almonds one can surely add. I love only the sweet taste of raisins in my chivda, so stick to only this.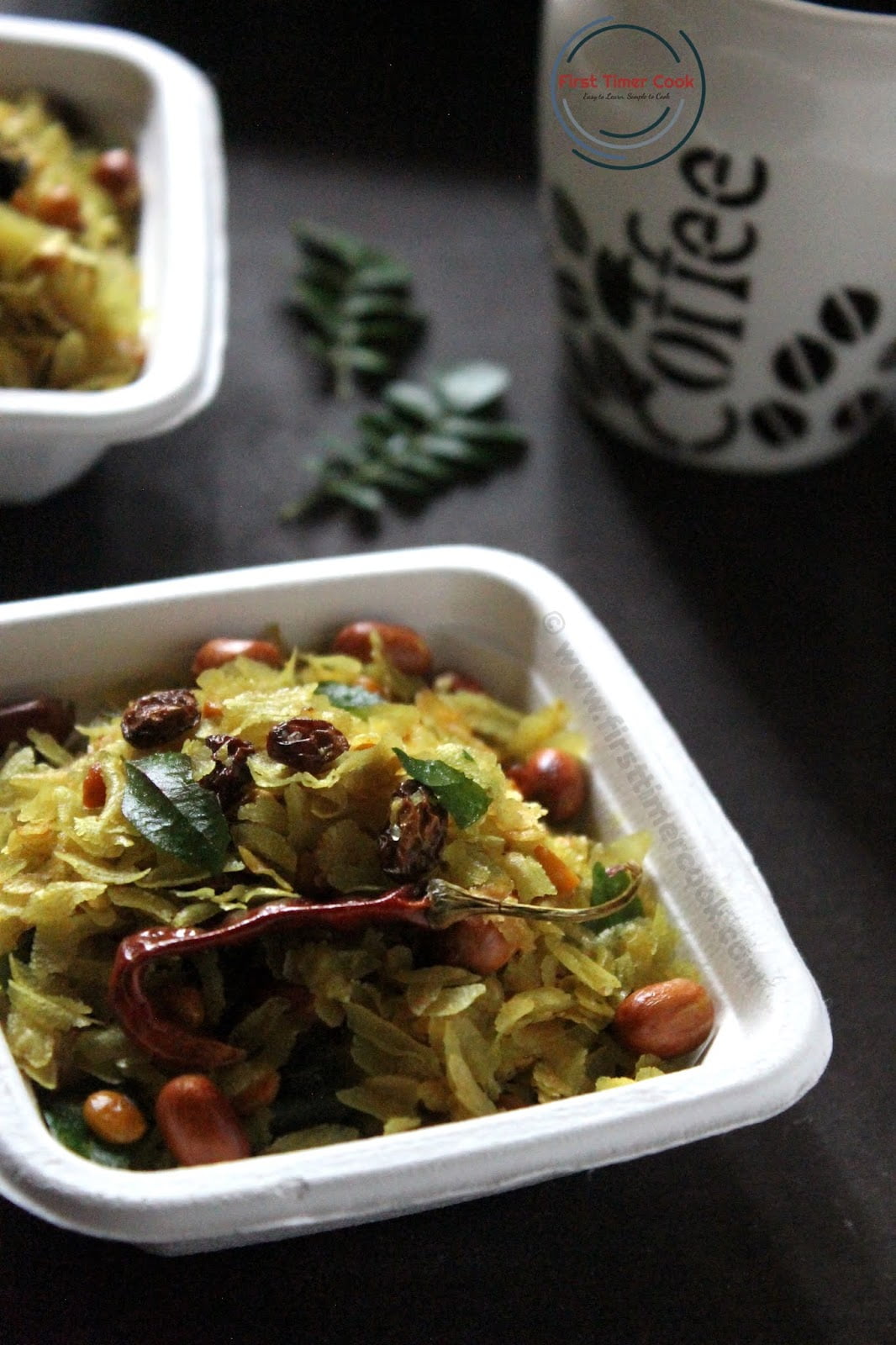 This post is for the current month's Food Bloggers Recipe Swap and I was paired with Usha who is a wonderful blogger at My Spicy Kitchen. While browsing through her posts, I came across this Poha Mixture recipe and at that time I decided to make this as I love Poha. And here is my version of that with slight changes as per my convenience as Poha Chivda / Mixture.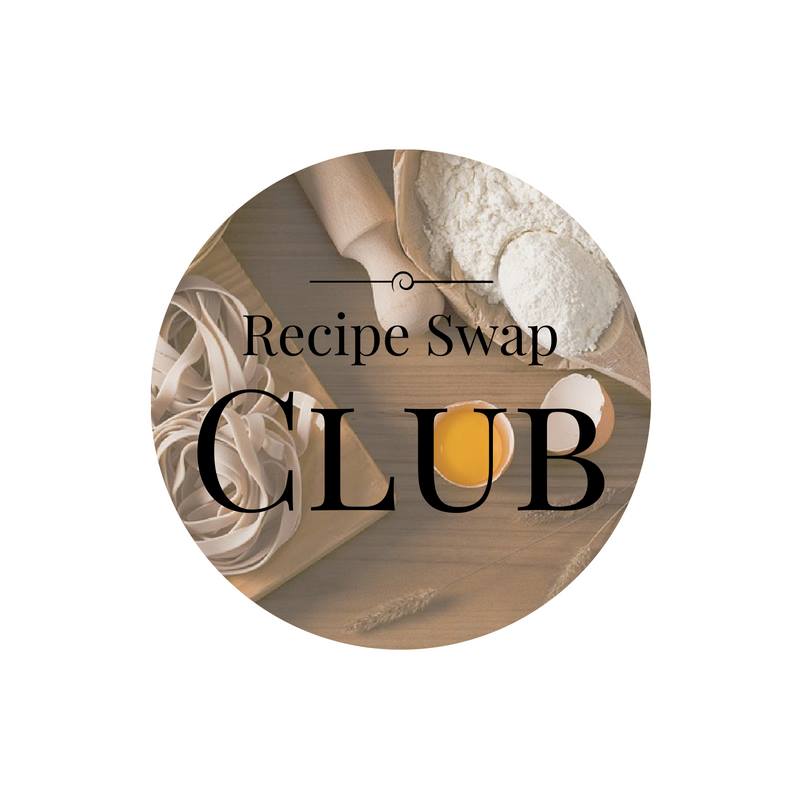 If you tried my recipe and enjoyed fully, then please share some pictures of your creation with me. Also kindly rate the recipe below, give your valuable feedback either in the comment box below or tag me as @firsttimercook on Instagram.
You may also follow me on Facebook, Pinterest, Twitter, Google+, Instagram and can subscribe for free to get new recipes directly into your inbox 😊
PIN for later :