Makar sankranti or uttarayan celebrates the harvest and the end of winter. In details, from this day on wards sun becomes uttarayan or it starts moving towards north. This festival marks the return of longer days which signals a change of season. Makara Sankranthi is one of the Hindu festivals which fall on the same date (14 January) every year. (15 January if leap year)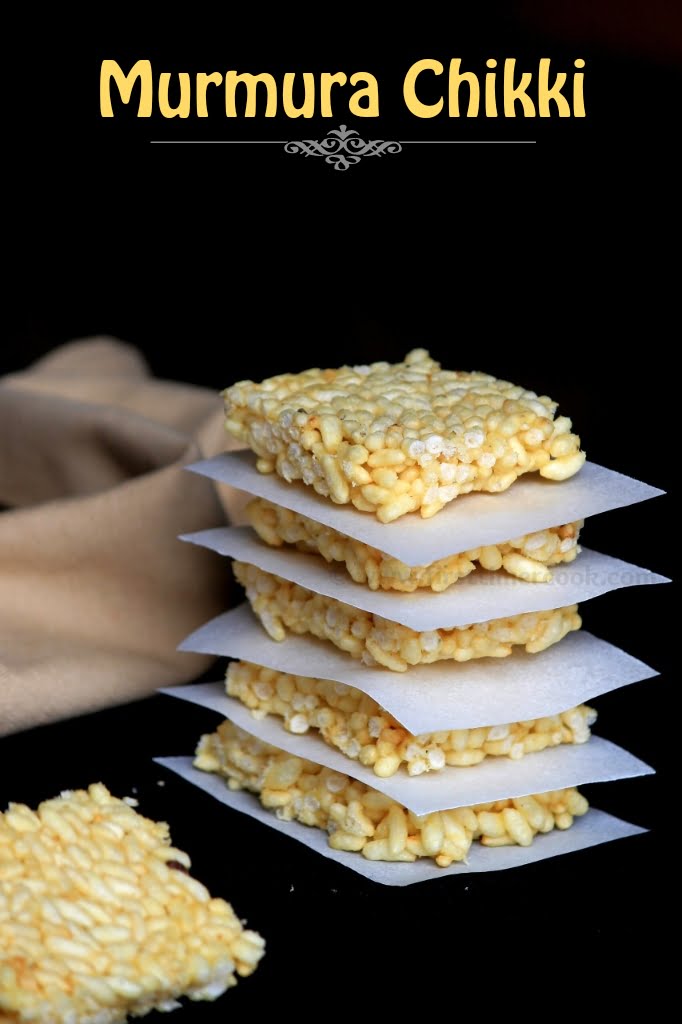 This is celebrated in many parts of South Asia with some regional variations. In India, it is known by different regional names such as pongal, makar sankranti, uttarayan etc. In Odisha, people celebrate this festival by preparing makara chaula (a mixture of uncooked newly harvested rice, banana, coconut, jaggery and chhena) as naivedya to god. Kite flying is traditionally observed as a part of this festival in Gujarat, Rajasthan, Uttar Pradesh. The sky is filled with a lot of kites which creates truly a beautiful site.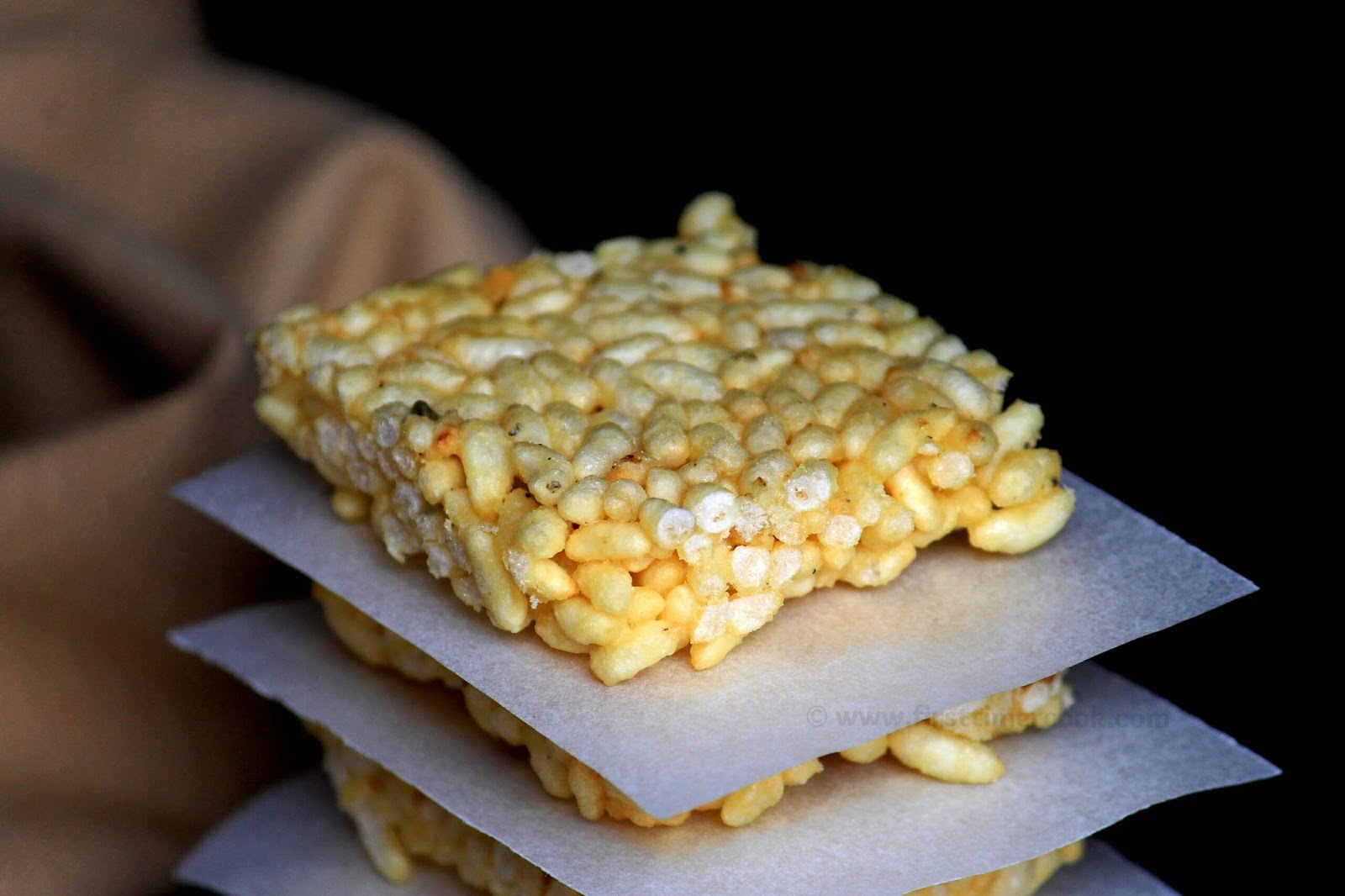 Being an Odia, I always make makara chaula on this occasion. I will discuss about the detail preparation of makara chaula in my next post. In addition to makara chaula, I have also prepared the murmura chikki (puffed rice chikki) this year.
The murmura chikki is very easy to cook and can be munched anytime. This is a popular sweet during makara sankranti festival and is prepared basically from puffed rice and jaggery. So lets go in detail.
Preparation Time : 2 mins | Cooking Time : 10 mins
Ingredients :
| | |
| --- | --- |
| Ingredients | Measurements |
| Puffed rice (murmura) | 3 cup |
| Jaggery (grated) | 1 cup |
| Ghee | 2 tsp |
​Method :
First grease a large plate with little ghee and keep aside.
Now in a pan roast the murmura (puffed rice) on slow flame till crisp.
Next heat ghee in another pan on low flame.
Add the shredded jaggery and keep on stirring on medium flame until it melts.
Soon the jaggery begins to bubble up and slowly changes its colour to golden brown.
Immediately put the flame to low, add the roasted puffed rice slowly. Keep on stirring continuously until all the puffed rice well coated with jaggery.
Then turn off the heat, transfer all the puffed rice onto the greased plate. Evenly spread like a thin layer as soon as possible.
Allow to cool. When it is still warm, make cuts with sharp knife.
Break from the cuts when it reaches to room temperature.
Store these beautiful chikkis in an air tight container.
Yummy and delicious puffed rice chikkis are ready to be relished !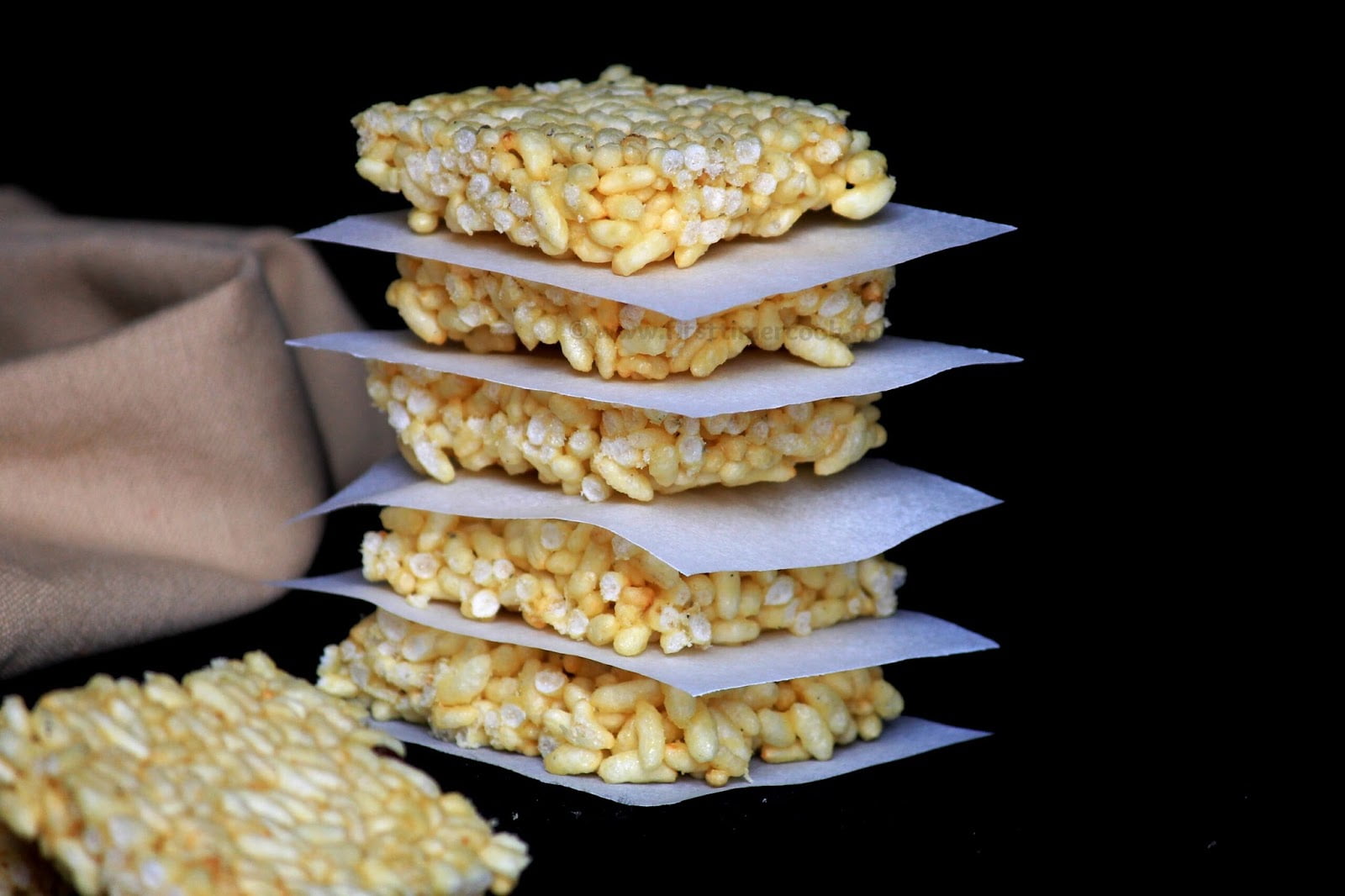 Notes :
While spreading the puffed rice on the greased plate, do spread quickly. Otherwise those puffed rice coated with jaggery becomes crisp and then it's much difficult to spread.
Traditionally chikki is made with jaggery, but normal / brown sugar can also be used instead of jaggery and taste is very similar to the jaggery version.
These chikkis remain fresh for a week if store in an air tight container.
Sending this recipe to Fiesta Friday this week co hosted by Diann and Shinta.