Festivals are the celebration of togetherness in India. They play an important role to build a better society, where positive values flourish and the spirit of co-operation prevails. There are many auspicious days in India, which are celebrating by Indians with a lot of zest and spirit. Rakhi Purnima or Rakha Bandhan or Kajri Purnima is one of them. This festival falls on a full moon day in the month of Shravana (August) according to the Hindu calendar. On this auspicious day, as per the tradition sister worship the God and ties a sacred thread on her brother's right wrist and prays for his prosperous future. It exhibits her love and affection for her brother and in the return brother ritually pledges to protect, guard and guide her through her thick and thins for the rest of his life and blesses her with good wishes.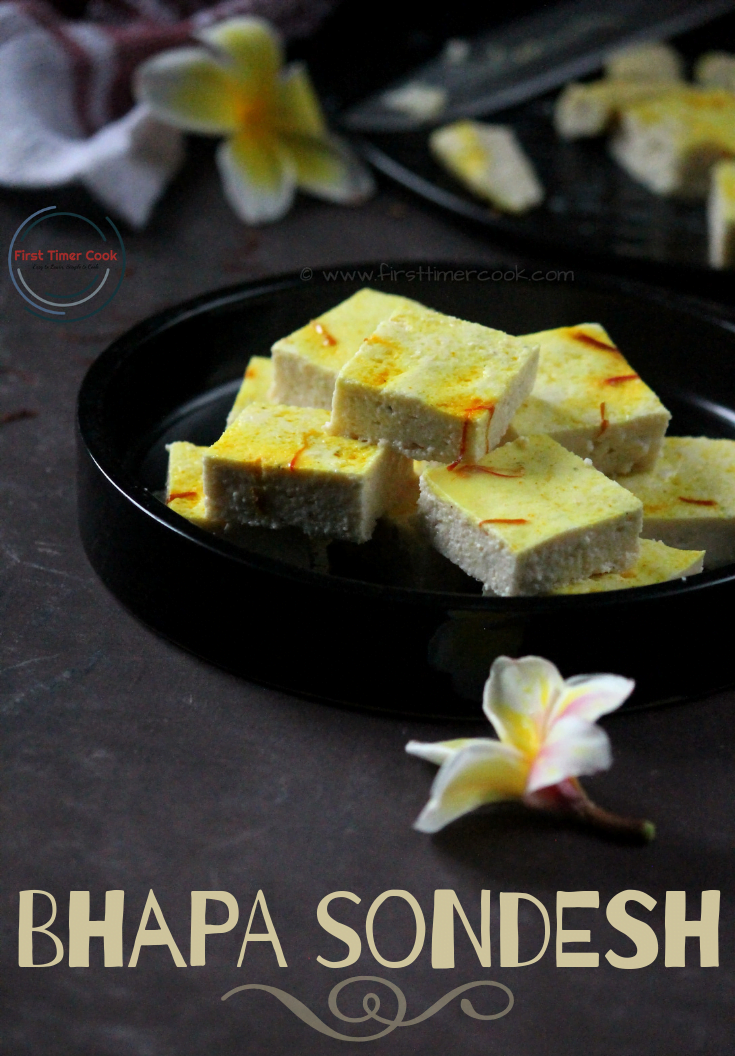 As the festival is gearing up to celebrate and this year it is on 15th August, so the sister should try to make his brother's favorite sweet dishes or even any dishes as per his like. This is the best way to show the love and affection for the brother. Today I have come up with a Bengali sweet delicacy as Steamed Cottage Cheese Fudge aka Bhapa Sondesh. Sandesh (most Bengali speaks SONDESH) is a specific type of sweet or dessert created with chhena and sugar. There can be variety types and shapes of sandesh. 'Bhapa' here is a Bengali word which means steamed. And as the name suggest this type of sandesh is prepared using steaming method.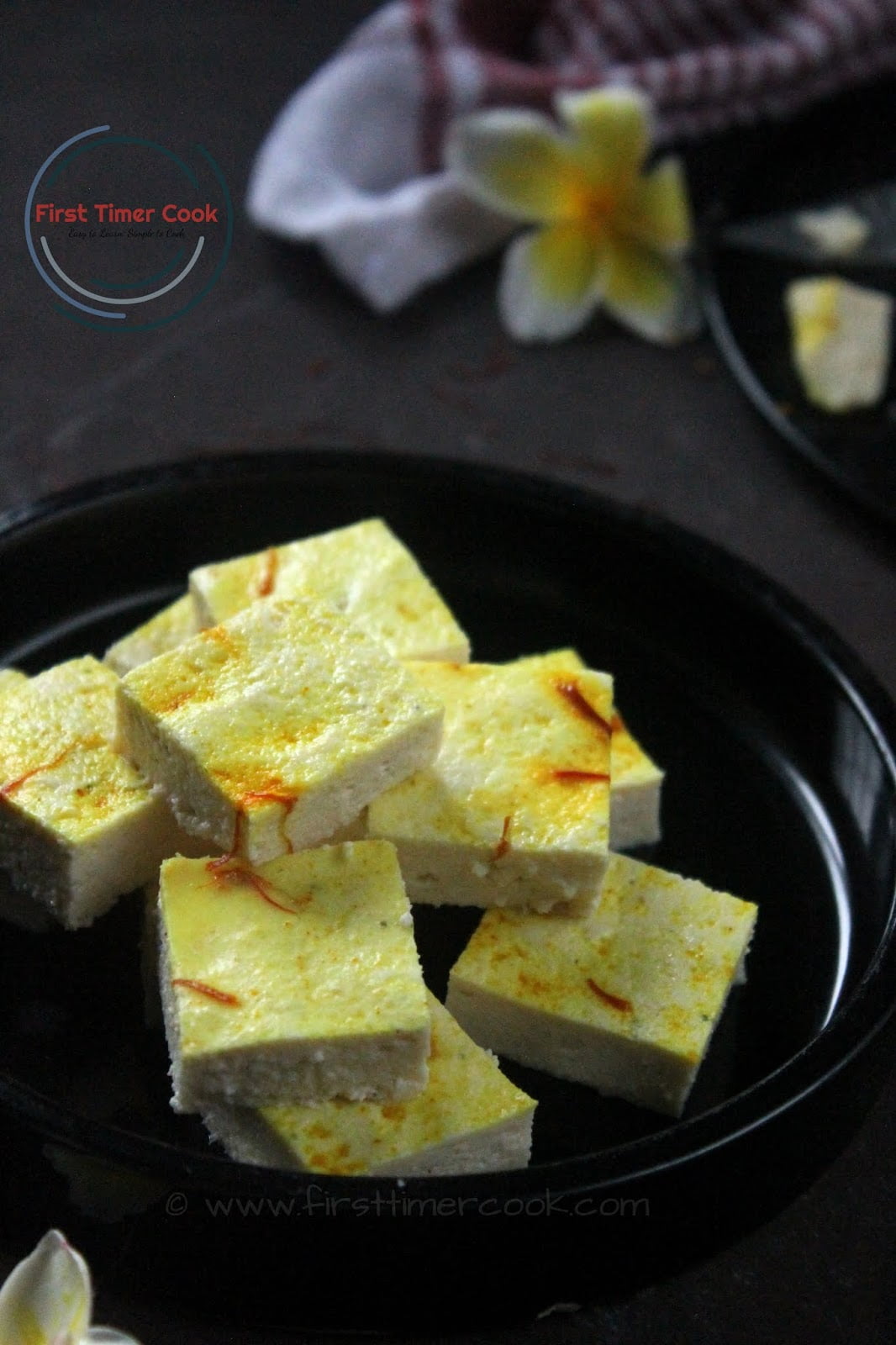 The most important ingredient here is Chhena. One can buy from market or even make at home. Here I have used homemade chhena. The chhena has to first mash well either using heel of hand or one can even use a blender. Then powdered sugar along with cardamom powder is added and mix well. Then that mixture is put into a greased bowl or container and allowed to steam by covering with an aluminium foil. This steaming method can be achieved using stove top or using microwave.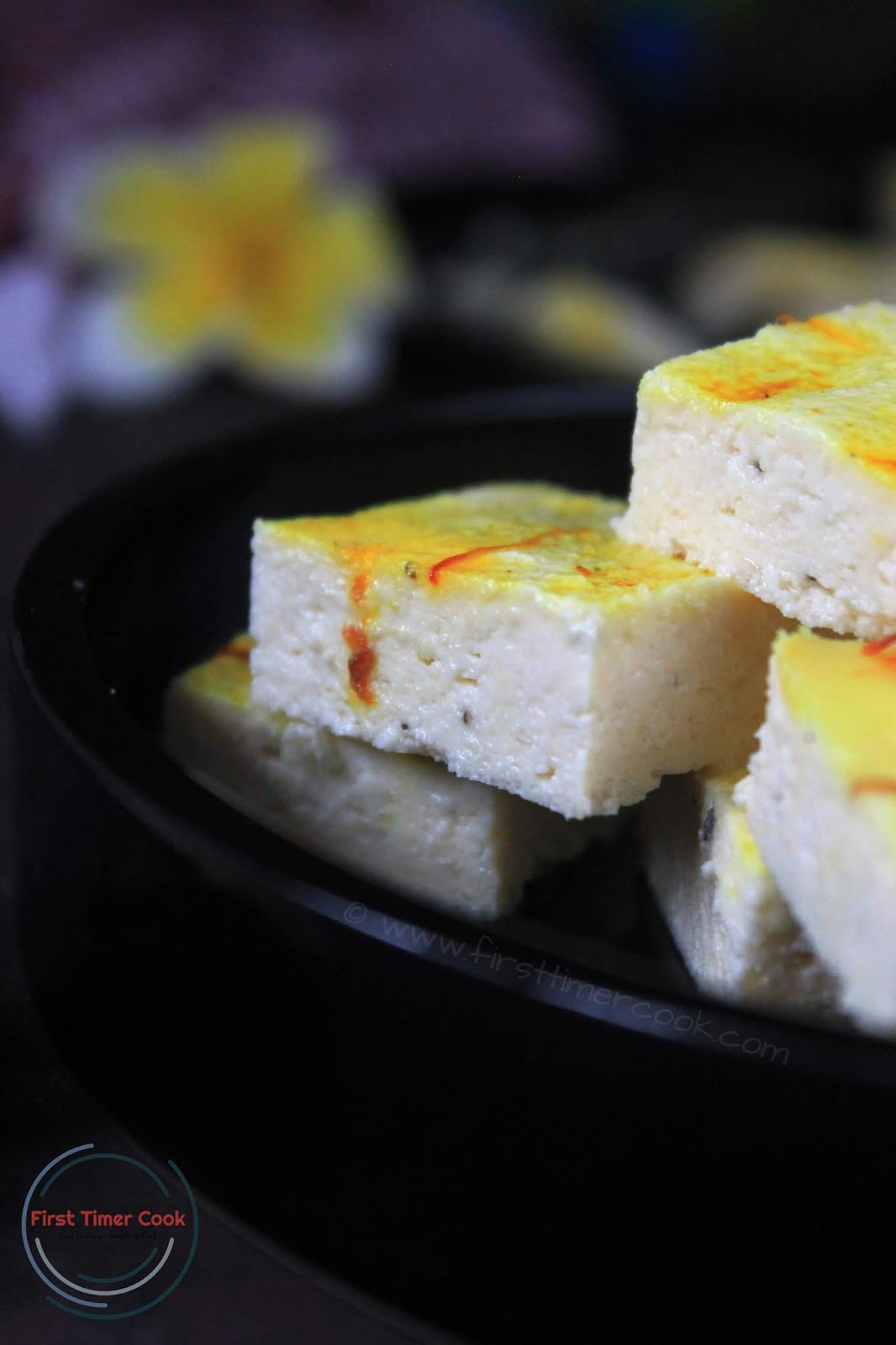 Here i have followed the microwave steaming method. The covered container is placed on a baking tray filled with warm water and then allowed to steam in the oven. After steaming the sandesh is kept in refrigerator for at least 30 minutes and then demold and cut into desired shapes using a sharp knife. This sweet dish completely gluten free. The sandesh is usually decorated with saffron strands or even with some chopped dry fruits. So instead of settling with store bought sweets, do try this easy-peasy Steamed Sandesh or Bhapa Sondesh.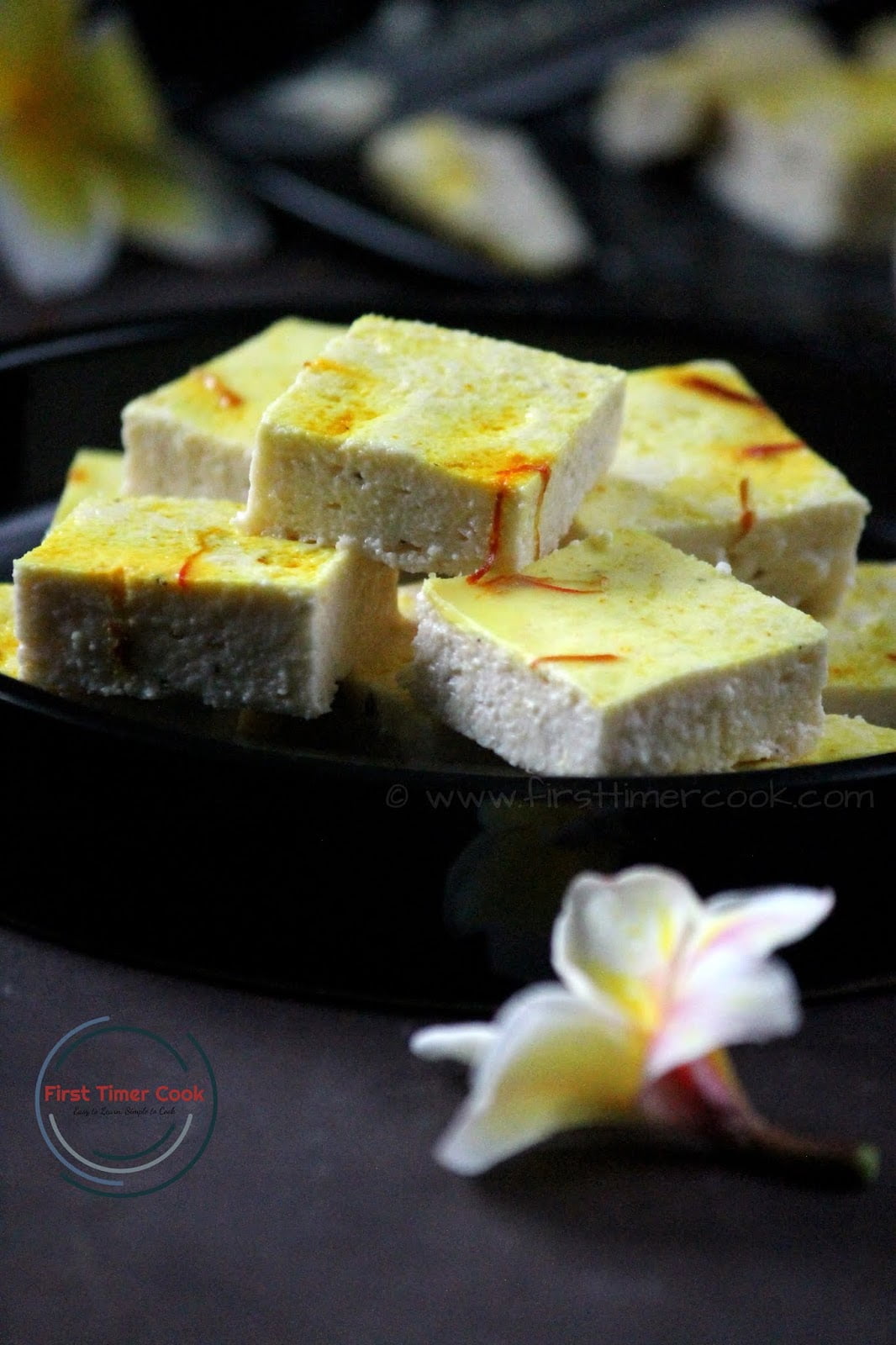 Well the 208th theme of the Foodie Monday Blog Hop foodie group is 'Meethe Bandhan' which was suggested by Archana di. If you are a lover of Goan cuisine then I must say you all should visit her blog for many mouthwatering treats. As the theme indicates Meethe Bandhan which means a sweet bond and we all decided to make some sweet or even savory dishes for this upcoming Raksha Bandhan Festival which is a lovely celebration of sister and brother. So this Bhapa Sondesh | Steamed Cottage Cheese Fudge is contributed for this.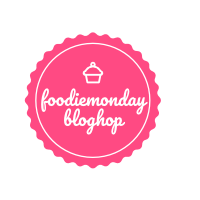 Recipe Card for 'Bhapa Sondesh | Steamed Cottage Cheese Fudge' :

Sandesh, Sondesh, Glutenfree dessert, chhena, Bhapa sandesh
Gluten free, Dessert, Steaming Method, Chhena,
Bengali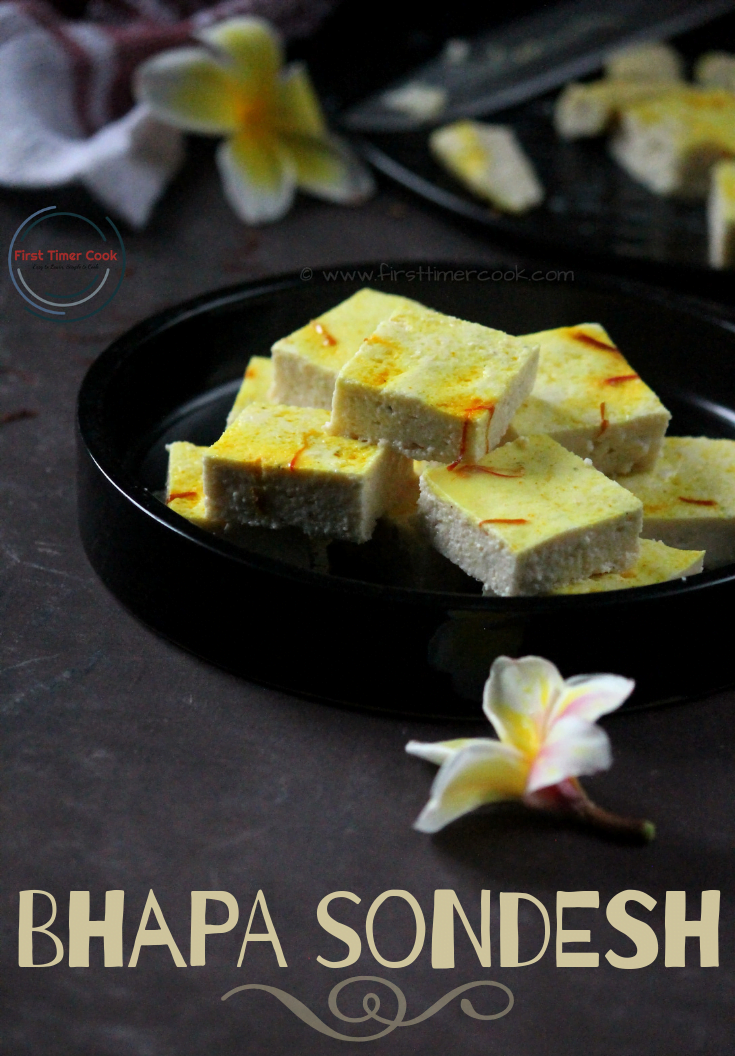 Bhapa Sondesh | Steamed Cottage Cheese Fudge
a sweet delicacy using chhena from Bengali cuisine in microwave steaming method
prep time: 15 Mcook time: 30 Mtotal time: 45 M
ingredients:
Chhena 300 gm

Milk (warm) 1 tbsp

Saffron 1 pinch

Powdered sugar 4-5 tbsp

Cardamom powder 1/2 tsp

Dry fruits (chopped) for sprinkling
instructions:
How to cook Bhapa Sondesh | Steamed Cottage Cheese Fudge
First in a bowl, take milk along with saffron.

Mix well using a spoon and keep aside.

Preheat the oven at 180 deg C.

Now take the chhena and mash it well by heel of the hand.

Then add powdered sugar, cardamom powder and mix properly.

Take a baking dish (any shape) and greased with ghee.

Transfer the chhena mixture into the greased dish and evenly spread.

Pour the saffron mixture on top and cover the dish with an aluminum foil to prevent the sandesh getting dry.

Now select a baking tray larger than the above baking dish.

Fill the tray with warm water and put a woven friendly stand in the tray.

Place the baking dish covered with aluminum foil on the stand and bake for 25-30 minutes.

Take out the dish from the oven and allow to cool down.

Keep in refrigerator for at least 30 minutes.

Demold the sandesh from the baking dish and cut into desired shape.

Sprinkle some chopped dry fruits and serve !
NOTES:
Dry fruits sprinkling is totally optional.
Always cover the dish with an aluminium foil, otherwise the sandesh will get dry.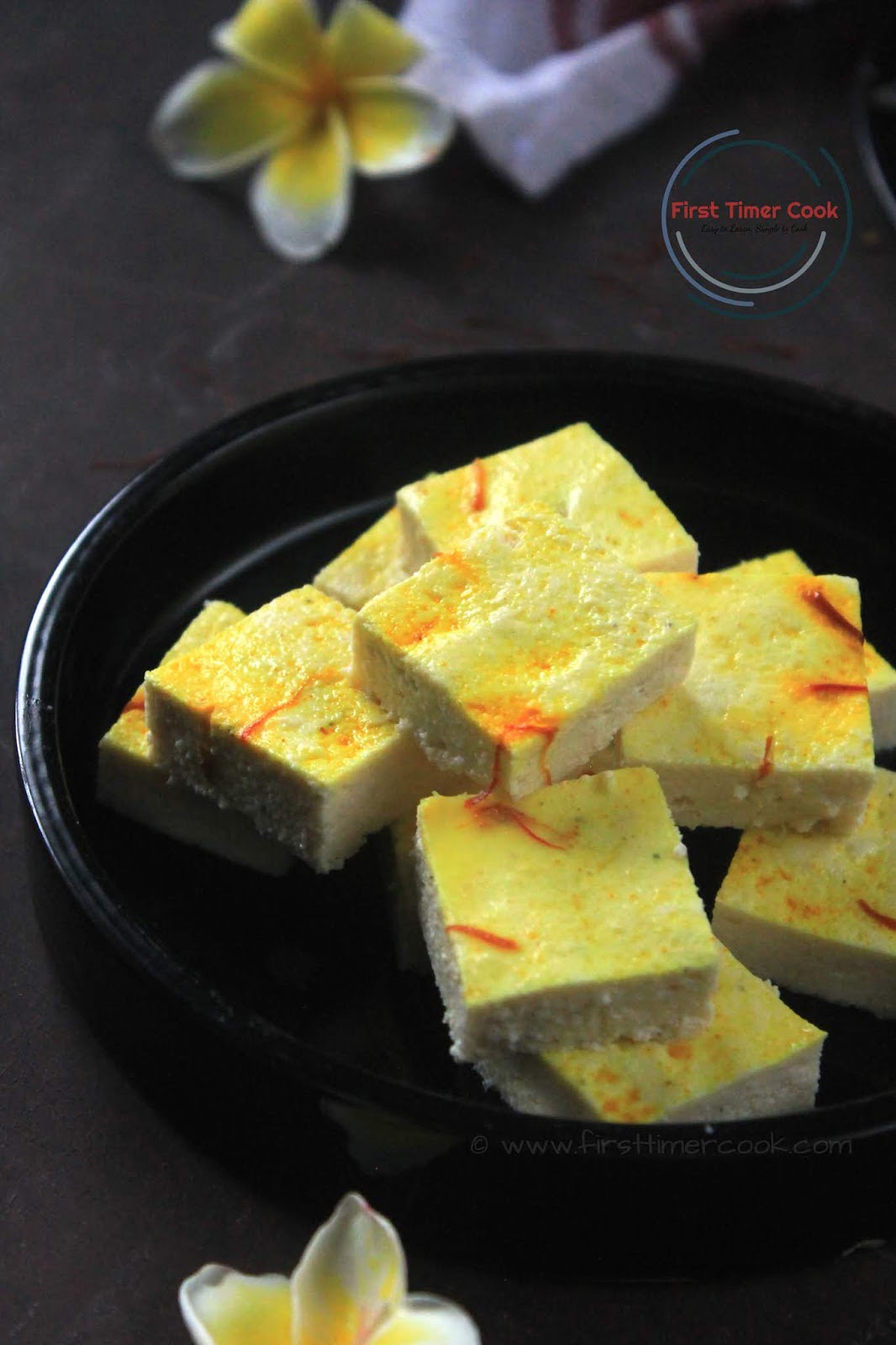 If you tried my recipe and enjoyed fully, then please share some pictures of your creation with me. Also kindly rate the recipe below, give your valuable feedback either in the comment box below or tag me as @firsttimercook on Instagram.
You may also follow me on Facebook, Pinterest, Twitter, Google+, Instagram and can subscribe for free to get new recipes directly into your inbox 😊
PIN for later :