a trademark diamond shaped mithai / sweet from Indian cuisine using Cashew & Rose flavor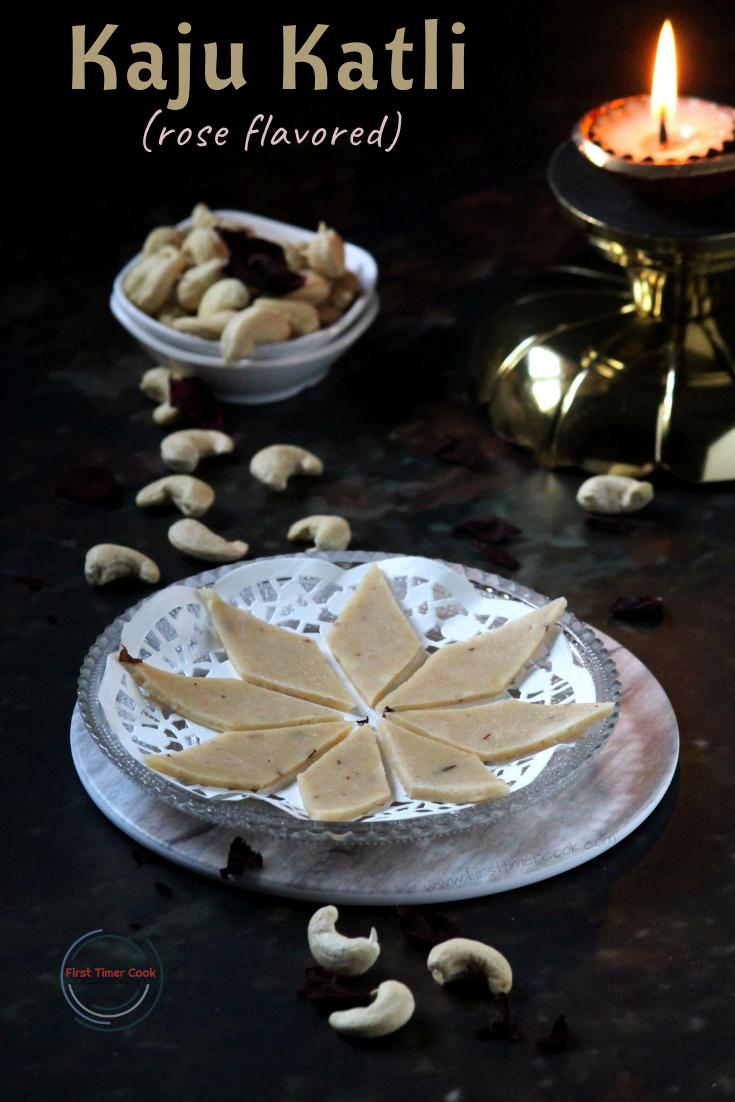 What does Kaju Katli mean ?
Kaju is the hindi name of the nut, Cashew and Katli here means thin slices. So basically it is a sweet dish using cashew as the main ingredient. Also one can called this as Thin Cashew Fudge. It is considered as one of the most expensive Indian sweet. Although I am not at all a sweet lover, but somehow I like to have this sweet.
Cashew nut benefits :
Cashew / kaju / cashew nuts is an unmistakable shaped nut which has a sweet buttery taste. Cashews contain a lot of vitamins and nutrients, but these also contain a lot of fat. And like not all fats are bad, cashews have some heart-healthy monounsaturated fats which are believed to help prevent heart disease and reduce the risk of stroke. The fat also helps to feel full and satisfied, hence it helps in managing the weight too. One can have these nuts in raw or roasted form. Starting from desserts to curries to snacks there are lot of dishes where cashews play a great role.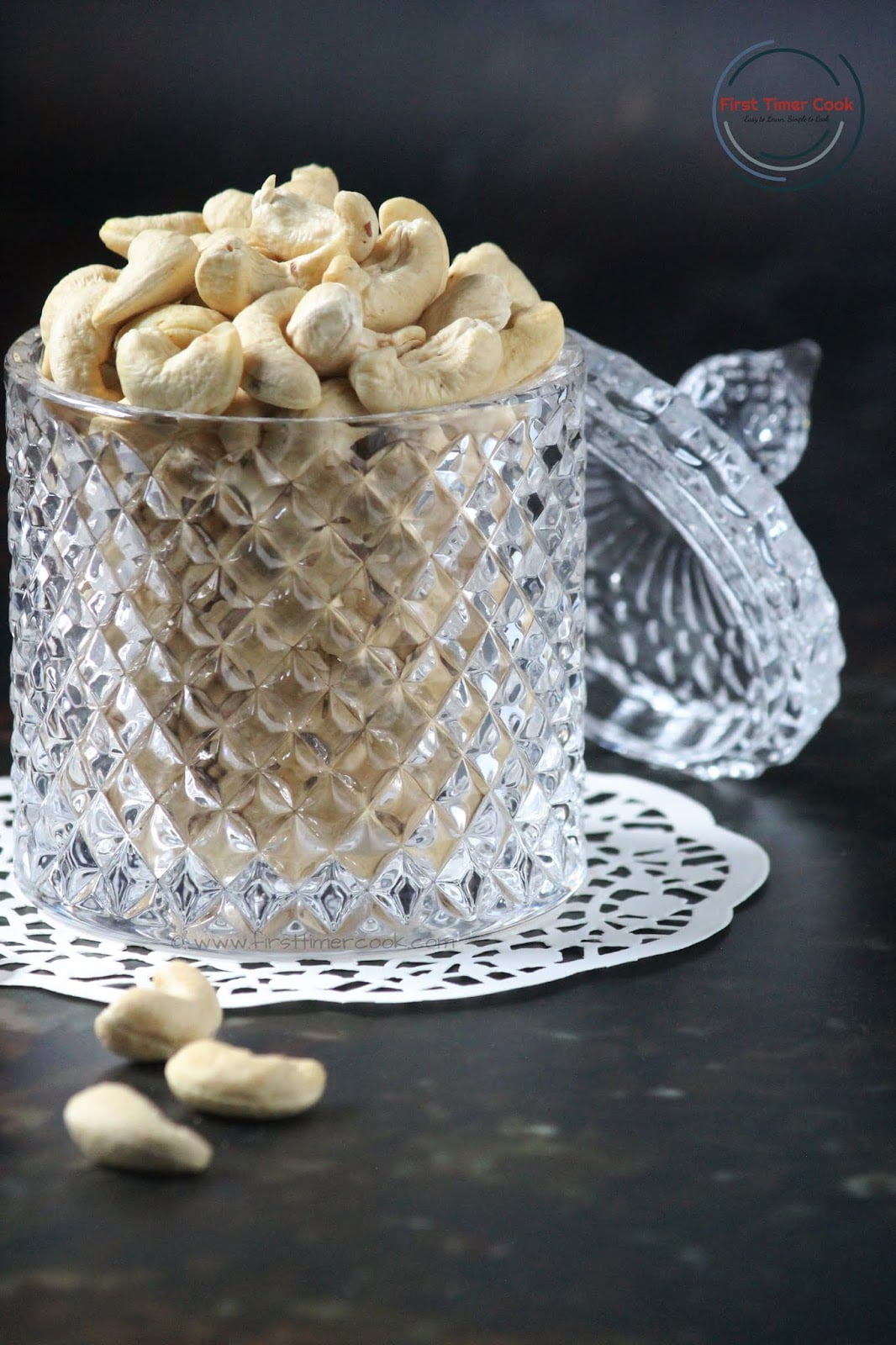 What is the exact procedure of Kaju Katli ?
With only few ingredients these sweets are prepared. First the cashews are finely powdered. Then those powder is added to the sugar syrup and cooked to get a thick paste over low heat. The paste is then kneaded to get a dough and the dough is rolled into a thickness of desired katli thickness. Using a sharp knife the rolled dough is cut into any desired shape or even simply the diamond shape which is the trademark shape of kaju katli.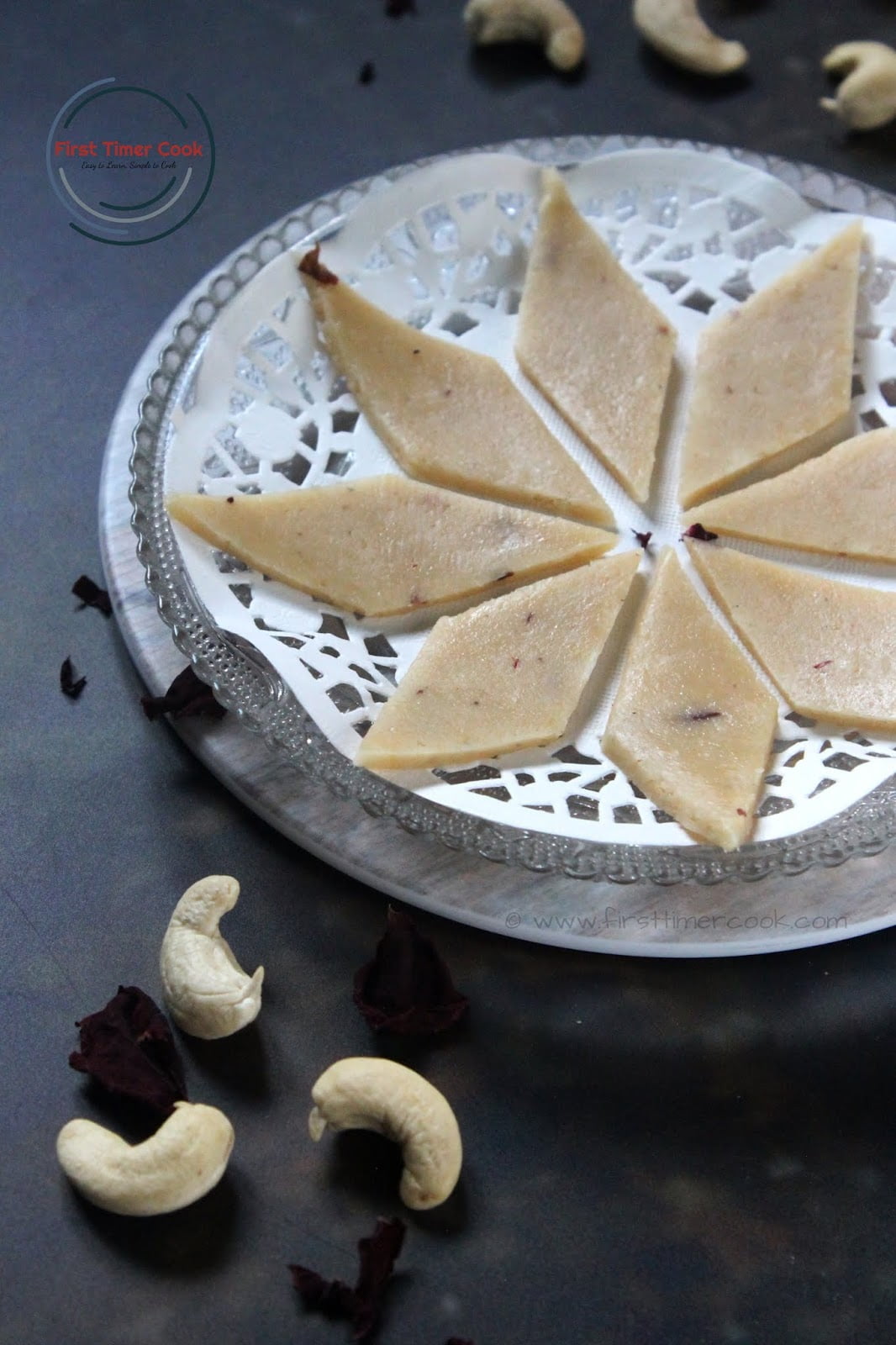 How to make powder from whole cashews perfectly ?
Before grinding, the cashews must be dried enough means there should not be any moisture. If kept in refrigerator, then take out from the refrigerator and allow to room temperature. One can also just dry roast for 1-2 minute over low heat. Then put cashews in the grinder jar in batches, don't overload the jar. The grinder jar also must dry enough and there shouldn't be any moisture. After putting in the jar, grind with a pulse of 3-4 seconds interval. Don't continuously grind, else cashews'll release oil and result into a paste. In between pulses, using a dry spoon just scrape out the inner side of the jar. After grinding, take out from jar and sieve to a plate. If any cashew pieces are there, then again put those into the jar and pulse for few second more.
Few points to consider while making Kaju Katli :
The kaju katlis are so easy to make but it is bit tricky and if some points one follow, then these sweets can be prepared without any tragedy.
The grinder jar, cashews must be dried enough without any moisture.
Always grind the cashews with a pulse of 3-4 seconds interval. If continuously grind, then the cashews'll release oil and result into a paste.
The heat must on low all the time while making the katli.
Type of pan – use heavy bottom pan preferably nonstick.
When the syrup reaches 1 string consistency, add the cashew powder.
Cook the cashews in the sugar syrup till it thickens and starts leaving the side of the pan.
Always taste a ball taste. If it seems that the paste starts leaving the side, turn off heat. Do take 1/4 tsp of the paste and start to make a small ball in between index finger and thumb. If ball is formed without sticking to finger then its done and transfer the paste from pan to a greased plate. Else cook for 1-2 minutes more over low heat. But always keep in mind that the paste is too hot and use accordingly.
Don't allow the paste to cool down completely. While it is still warm, start kneading to make a smooth dough using greased hand with ghee.
Don't keep aside the kneaded dough. After kneading immediately roll it by placing in between two parchment papers.
Use parchment paper to roll the dough always, don't skip this.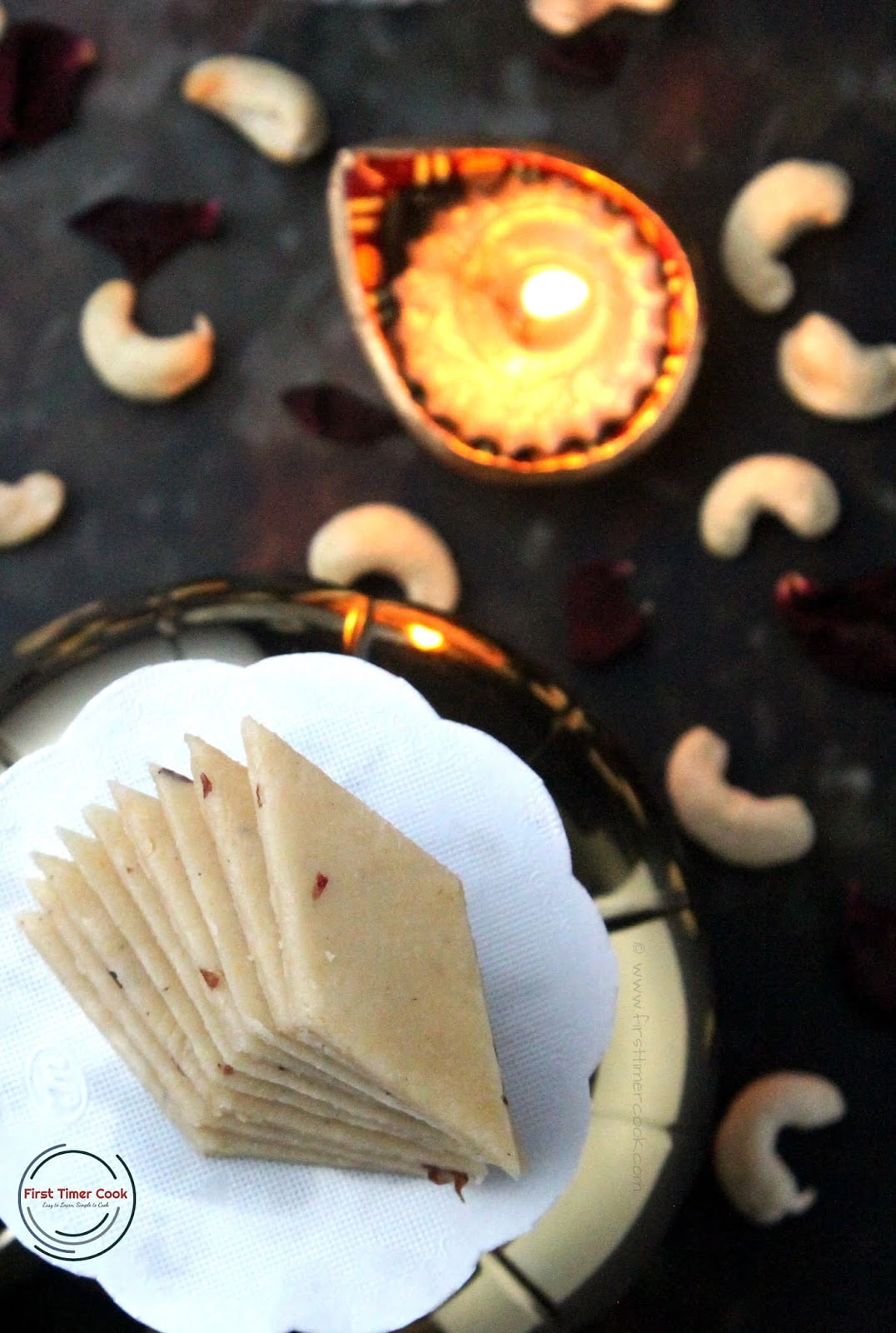 Is there any flavoring added to the kaju katli ?
Traditionally, the kaju katlis are prepared simply using three ingredients as cashew, water and sugar. But one can give the most common Indian sweet flavor as cardamom. If adding cardamom, then just make some freshly grounded cardamom and add while making sugar syrup. Here I have given some rose flavor to this sweet. And for that I have used rose water as well as some dried rose petals. While adding the cashew powder to the syrup, I simply add these two too.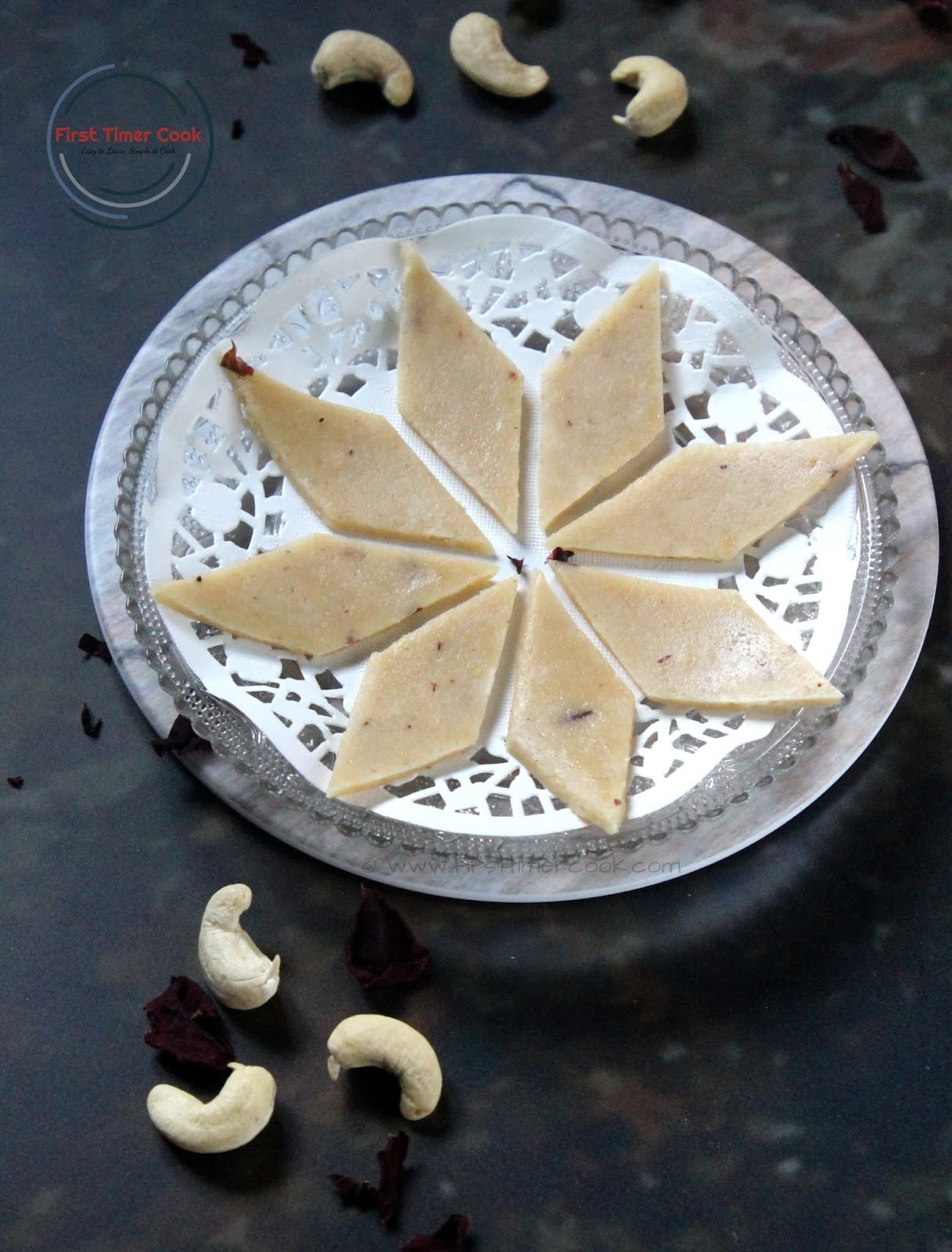 During Diwali and Raksha-Bandhan particularly this kaju katli is the most popular sweet in Indian households. Some also add the edible silver foil (varak) on top of the kaju katli just before cutting the rolled dough into desired shape. I don't prefer so I just skipped that. But that is a traditional touch. The process is so easy but tricky, so keeping all the above mentioned tips one will surely enjoy to prepare these melt in mouth gluten free sweet Indian delicacy. After making you will surely stop choosing the store-bought ones for the upcoming Diwali or any other festivals afterwards. So do try this rich and rose flavored kaju katli !
The event related to this post :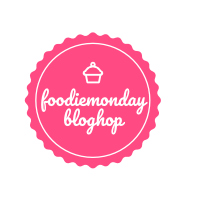 Monday is here again and this time the Foodie Monday Blog Hop team has decided the 218th theme as 'Diwali Dhamaka'. As diwali is coming in this week, so why should not we share some diwali sweet and savory dishes. So here I am sharing this rose flavored kaju katli for that.
Recipe Card for 'Rose flavored Kaju Katli' :

Kaju, Kaju katli, Katli, gluten free dessert, diwali 2019, rose water, rose flavored
Dessert, gluten free, Cashew, Festive delight
Indian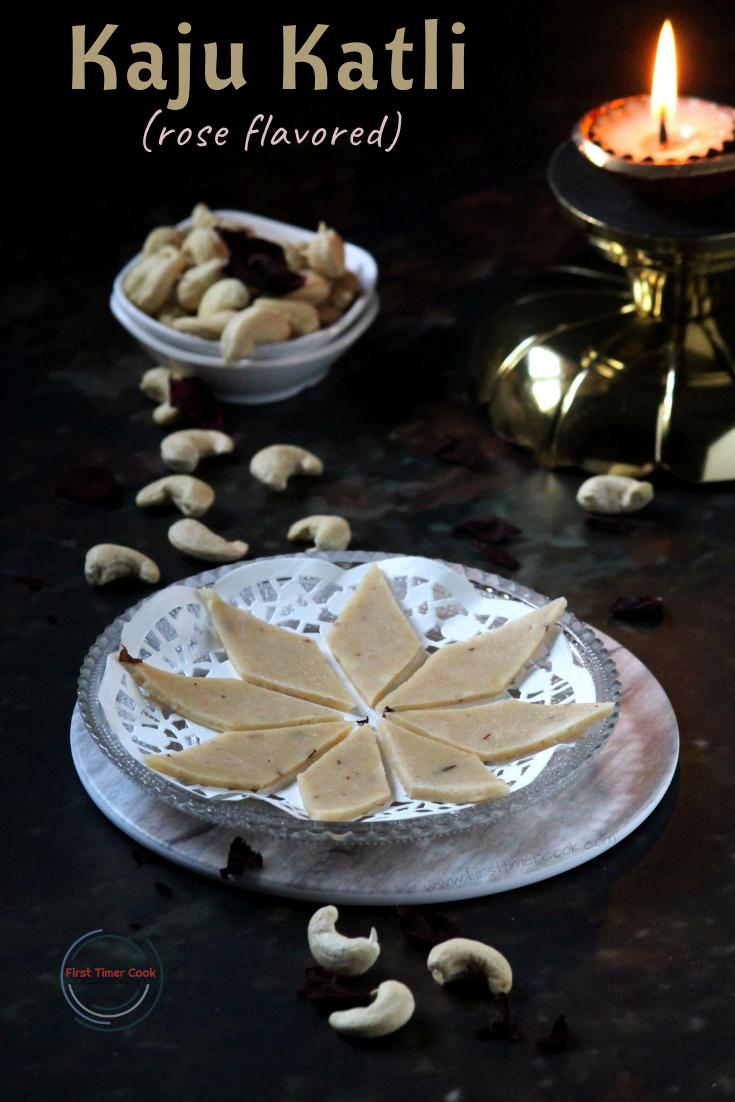 Rose flavored Kaju Katli or Cashew Fudge
a trademark diamond shaped gluten free mithai / sweet from Indian cuisine using Cashew.
prep time: 5 Mcook time: 15 Mtotal time: 20 M
ingredients:
Cashew 1.5 cup
Sugar 1 cup
Water 1/2 cup
Rose water 1/4 tsp
Dried rose petals 1/2 tsp
Ghee for greasing
instructions:
How to cook Rose flavored Kaju Katli or Cashew Fudge
First in a clean and dry grinder jar take all the whole cashews.
Make a fine and smooth powder with a pulse of 3-4 seconds interval. Keep aside.
Grease a plate with ghee and also keep aside.
Next take sugar and water in a heavy bottom pan and put on stove.
Allow the sugar to melt completely.
When the sugar syrup reaches the 1 string consistency, add cashew powder along with rose petals and rose water.
Mix everything well over low heat till there is no lumps.
Keep stirring for 6-8 minutes or till a thick paste appears and starts leaving the side.
Immediately transfer to the greased plate and spread gently.
Allow to cool a bit and then with greased hand knead to get a smooth dough.
Put this dough in between two parchment papers and start to gently roll it into desired thickness.
Take out the top parchment paper and then cut the rolled dough into any desired shapes or simply the diamond shapes.
Separate each shapes and keep in a container.
Serve and enjoy !
NOTES:
These kaju katlis can store in the refrigerator for up to a week.
Did you make this recipe?
Tag @firsttimercook on instagram and hashtag it #firsttimercook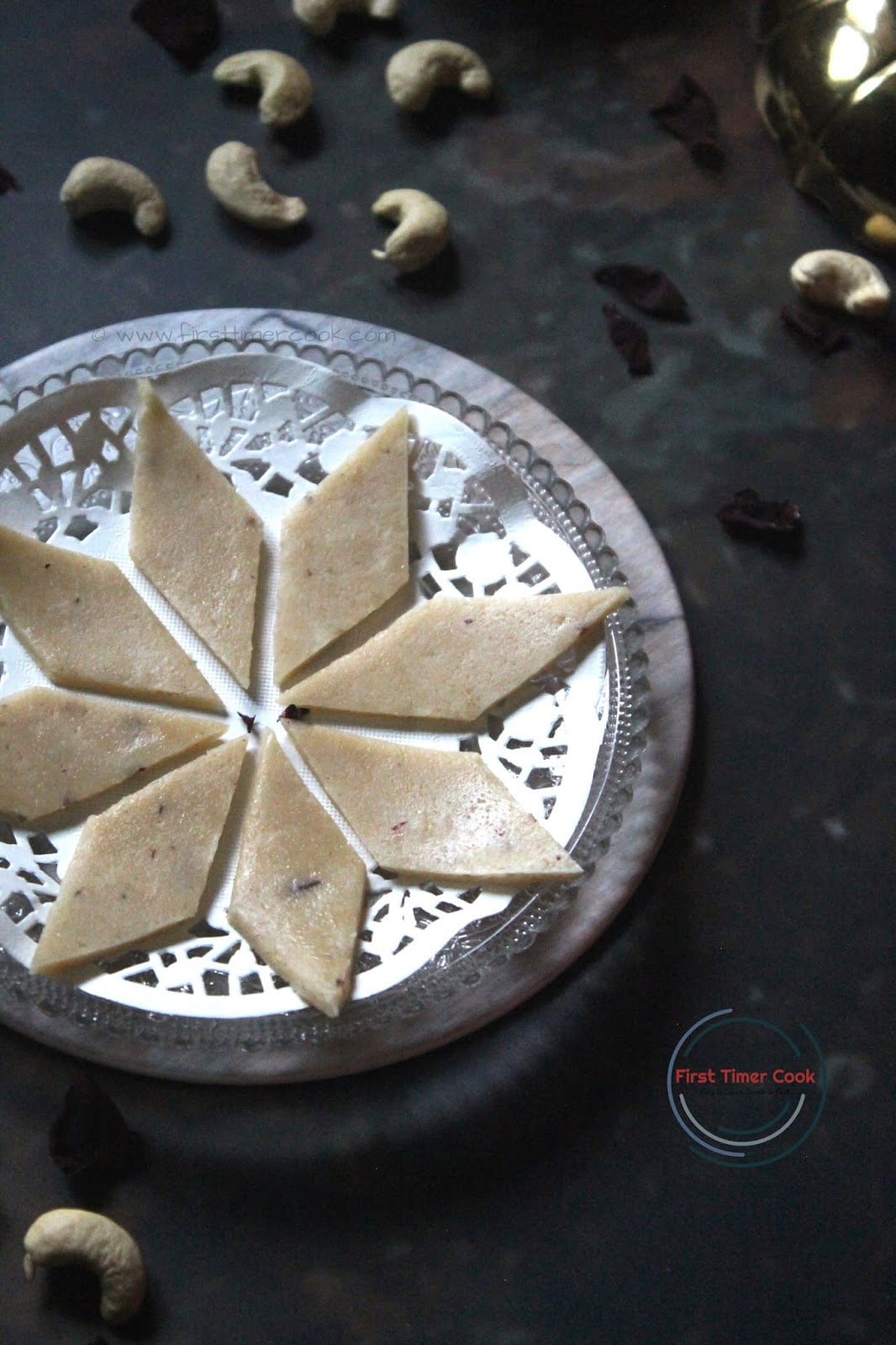 You may also follow me on Facebook, Pinterest, Twitter, Google+, Instagram and can subscribe for free to get new recipes directly into your inbox 😊
PIN for later :