instant version of the popular Gujarati snack, Khaman in a mug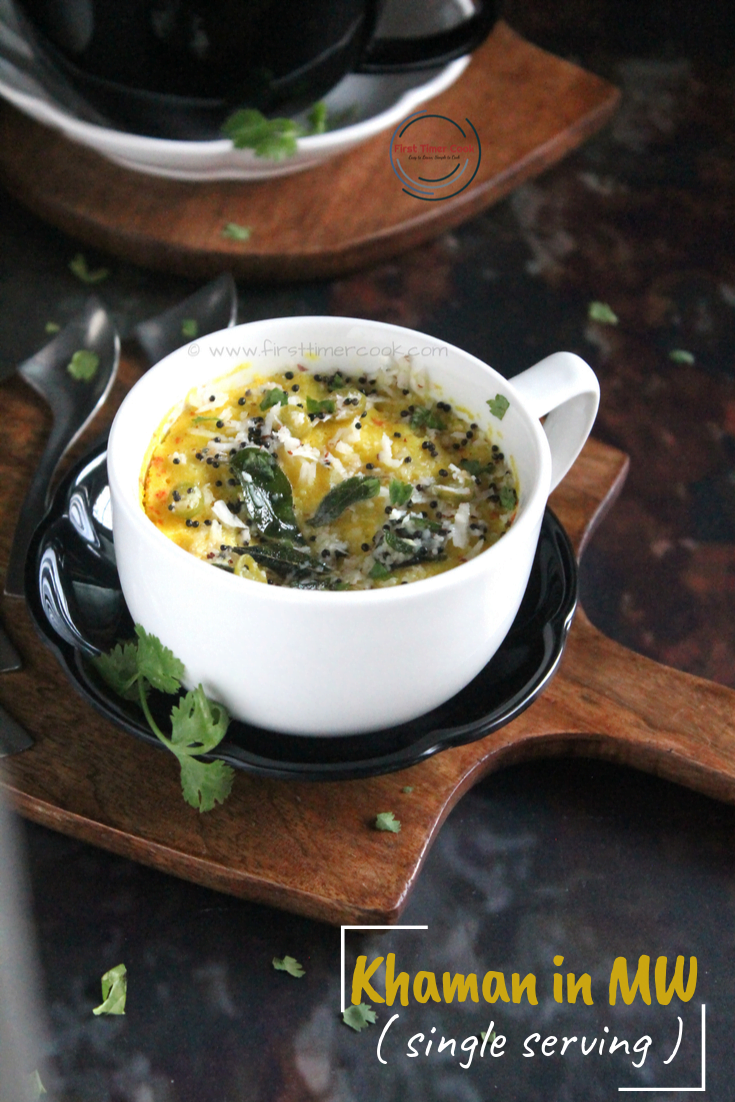 Gujarati Food is one of the oldest cuisines in India. In most dishes the guju people love to add a sweet factor (sugar, jaggery etc.) surely 😊 Starting from Kadhi to Dhokla, Fafda, Khandvi, Khaman, Shrikhand, Thepla, Dhokli, Handvo and lots more there are varieties of dishes which are the highlights of this cuisine. Some Gujarati dishes I have already shared in my blog are : Aam ka Chunda / Chundo, Lilva kachori Chaat, Vegan Gujarati Dal Dhokli, Baked Lilva Kachori / Baked Tuvar Kachori / Baked Pigeon Pea Stuffed Ball.
Well, what is Khaman ?
This is one of the most popular snack dish from Gujarati cuisine. Basically it is prepared by steaming a batter of besan / chickpea flour along with some spices and finally a tempering is poured over and then served.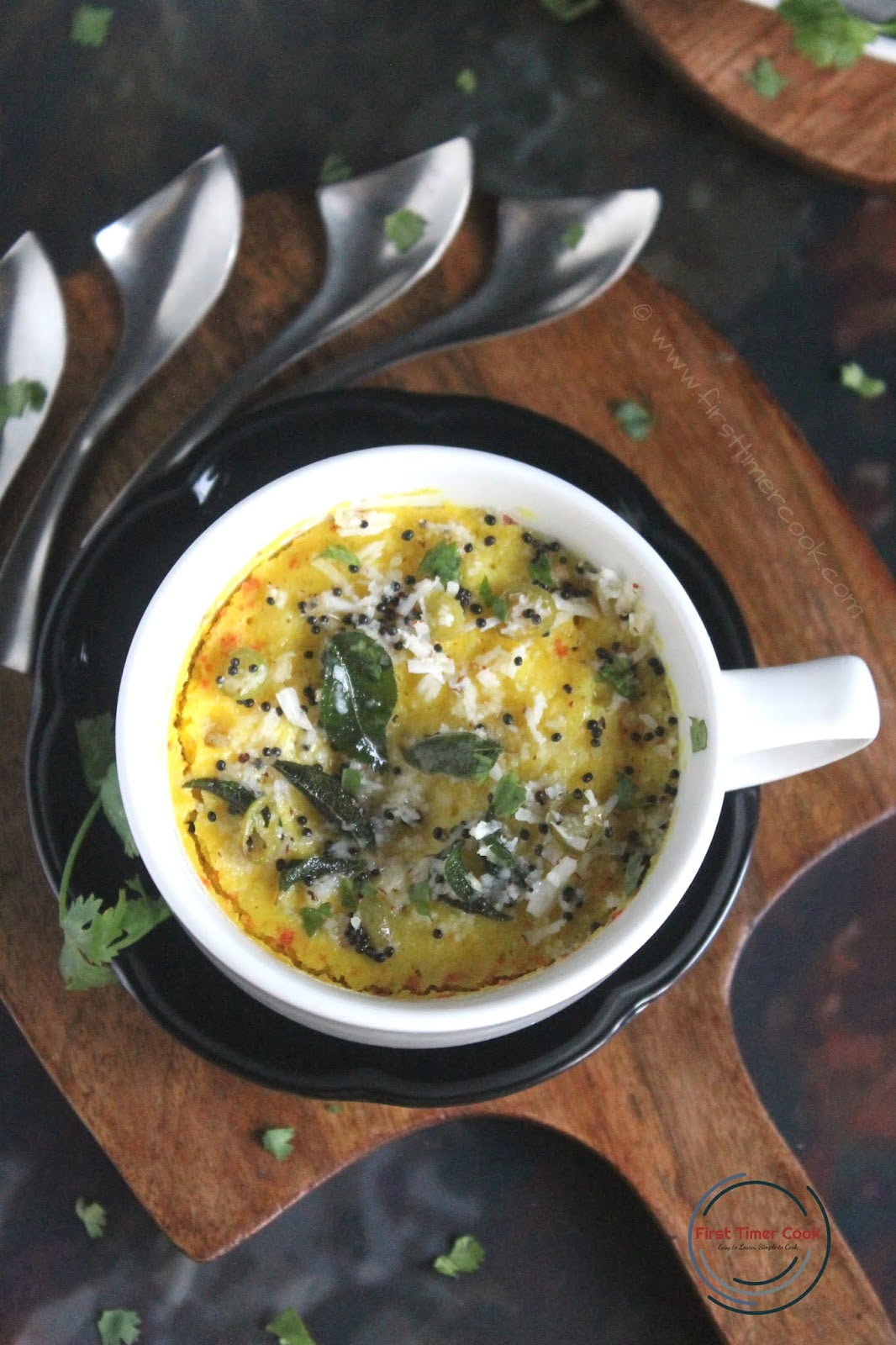 Are Khaman and Dhokla same or is there any difference ?
yes, these two are completely different dishes, still people outside the state have the thought that both are same and even some says like Khaman Dhokla to be a single dish. There are few things which can differentiate khaman and dhokla although both of them look pretty similar.
Dhokla is prepared using a batter of rice and chickpeas where as Khaman is prepared by only besan / chickpea flour. But the cooking procedure is same for both means both are cooked by steaming.
Dhokla looks light pale in color due to the addition of rice. And khaman looks bit yellowish.
As compared to dhokla, khaman is more soft and spongy in texture.
But these days, we all are in variation mood and always try to make changes in the traditional dishes. So accordingly, there are so many different versions of the authentic ones. I have also come up with a single serving option of this khaman in this post. This is completely Vegan and Gluten free too.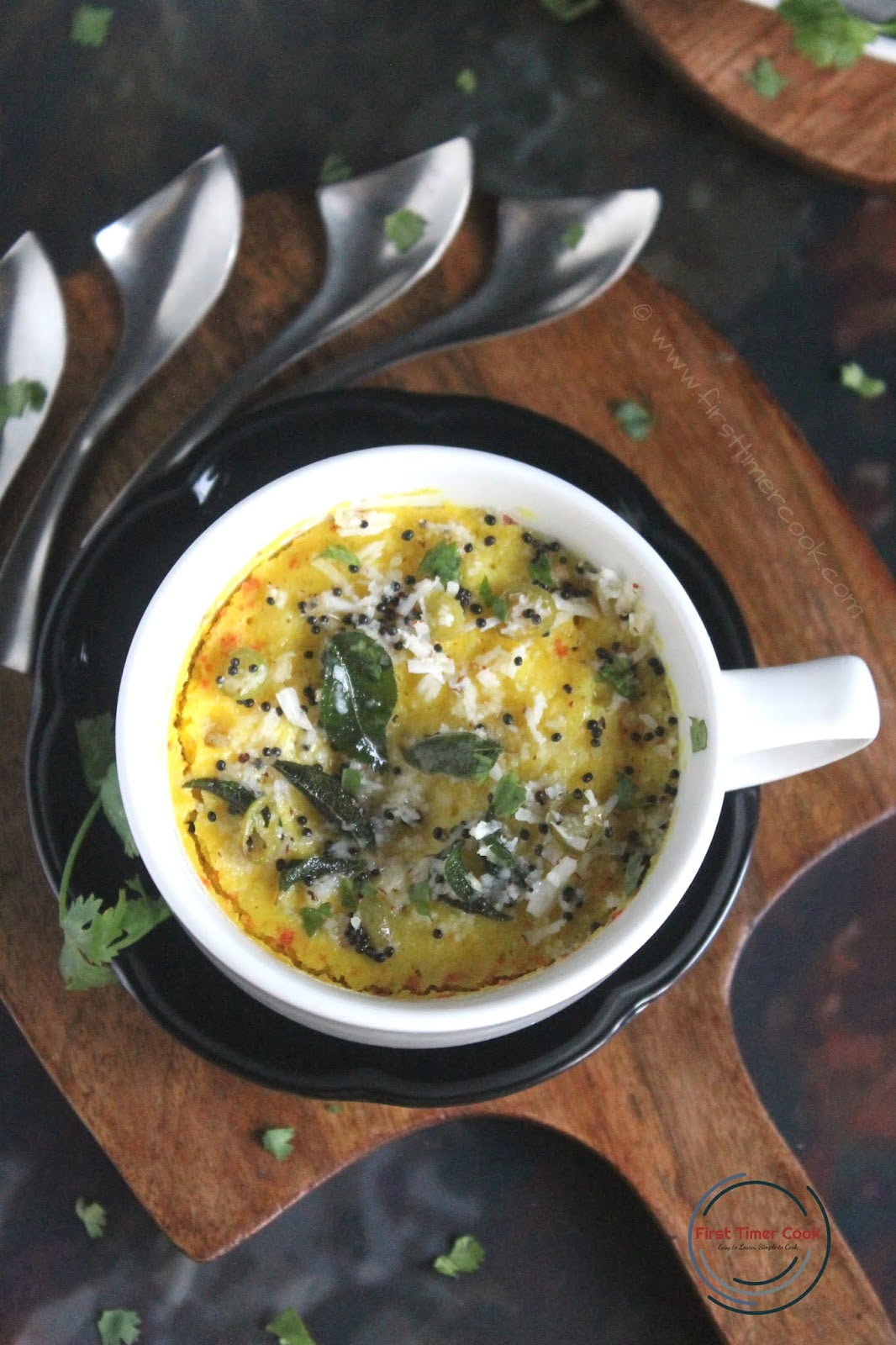 What is single serving here ?
Single serving means simply make a dish in a container and after preparing the dish serve as it is in that container. Here I have used some microwave friendly mugs and some ramekin molds. One can use any other varieties of molds which can be either microwave or steamed. Basically by this single serving method, there is no need of cutting the khaman using knife to serve. Just pour batter into the mug / small mold, microwave / steam and serve ! It's that much simple 😊
The exact procedure to make khaman in MW :
This recipe is quite simple and easy too. First in a mixing bowl a batter is prepared from besan along with ginger, turmeric powder, sugar, salt, lemon juice, oil and water keeping in mind not to have any lumps. The batter also should be pour-able consistency (neither runny nor thick). After mixing all the ingredients, the batter must be kept aside for 8-10 minutes to incorporate all the flavors. Still if there is any hurry, then this step can be omitted. After that the fruit salt (ENO) is mixed to the batter and the batter is then poured into greased molds / mugs. The mugs are filled up to 3/4th and then kept in microwave on high power for 2 to 2.5 minutes until a toothpick inserted in the center comes out clean. At last a tempering is prepared using green chili, freshly grated coconut, sugar, water, curry leaves and lemon juice. That tempering is poured over the cooked khaman to soak well and then Khaman is ready to serve. I prefer in adding the coconut to the tempering in the pan. Still one can just sprinkle on top of the khaman along with coriander leaves after pouring the tempering.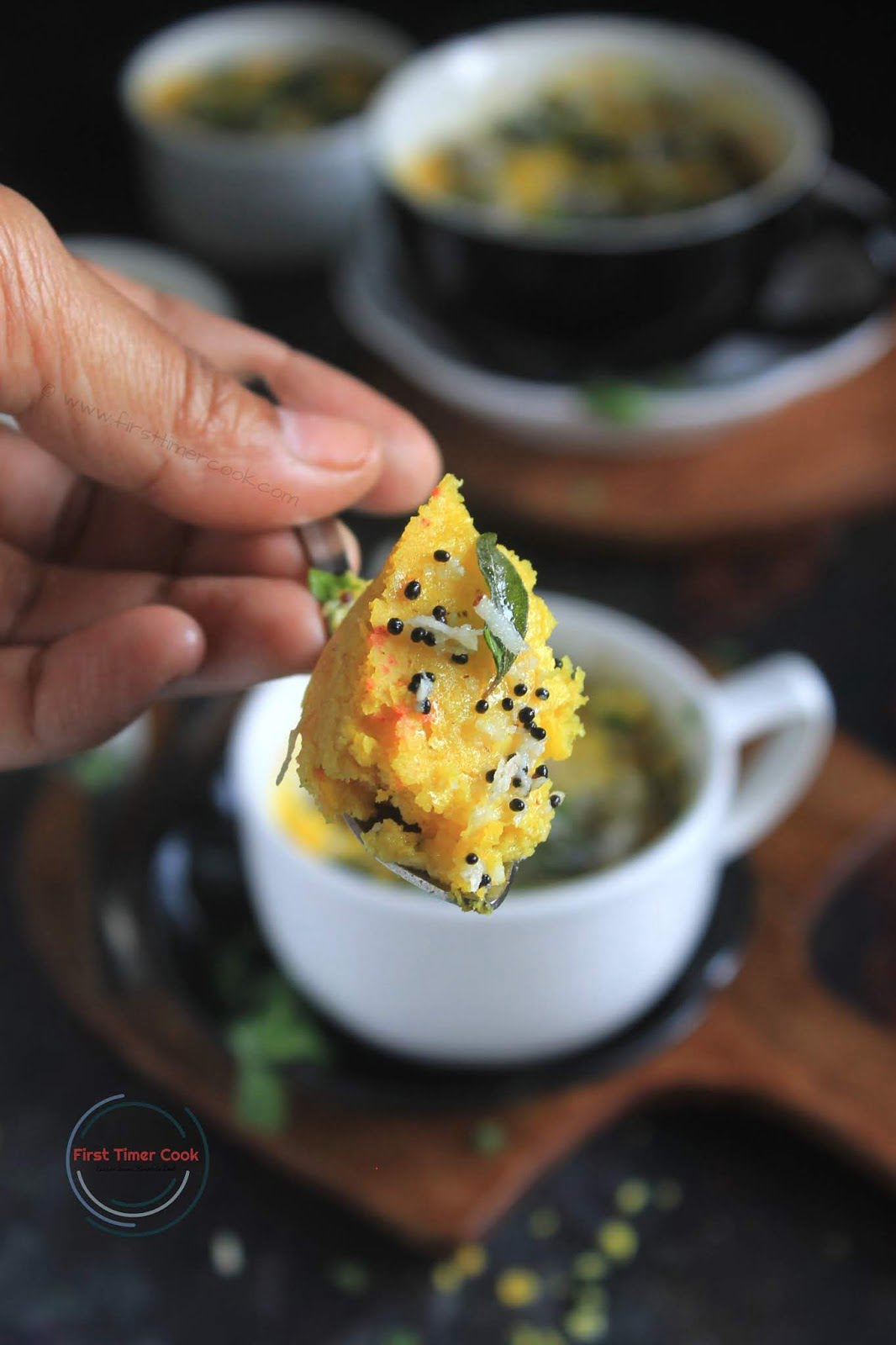 What are the serving suggestions for this dish ?
Not only these khamans taste heavenly, these are so light and can fill our tummy. These are best snack ideas using besan in hardly 5 minutes. The green chilies have to omit if serving to kids particularly. These khamans can be served as it is simply. Also the famous Indian chutneys : green and tamarind chutney pair perfectly with this snack. Preferable the khamans are served neither cold nor warm, just at room temperature. These are completely no Onion and no garlic dish.
The event related to this post :
Well while doing the Vegan Gujarati Dal Dhokli, I have kept in mind to make another recipe from the Gujarati cuisine as Khaman. So as per theme of 'Recipe Swap Challenge', I have paired up with Priya and while Browsing through her blog I came across this Khaman recipe and hurray !!! I just picked that and made some change as per my family preference and here is the recipe forKhaman in MW with single serving.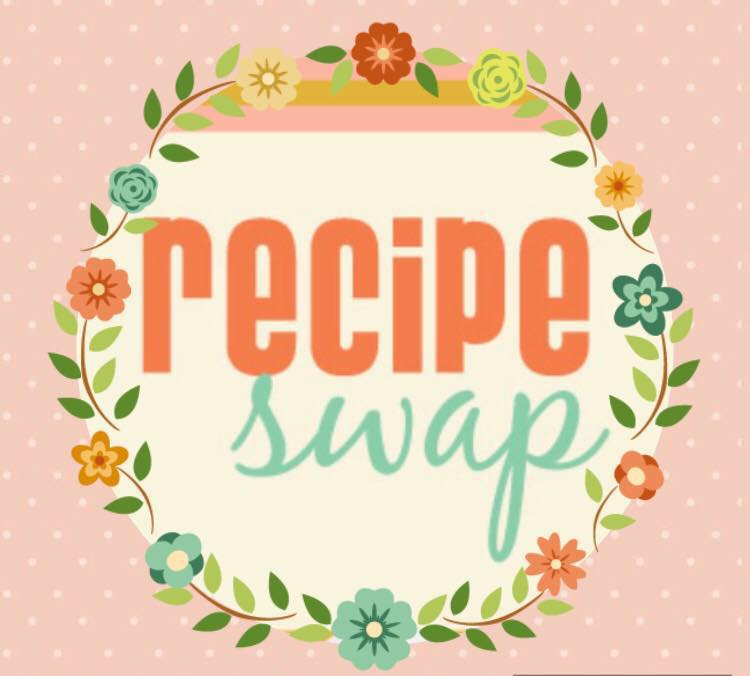 Recipe Card for 'Khaman in MW' :

Steamed snack, Chickpea flour, Lemon, ENO, fruit salt,
Vegan, Gluten free, Snack, Without onion & garlic, besan, Microwave
Gujarati Cuisine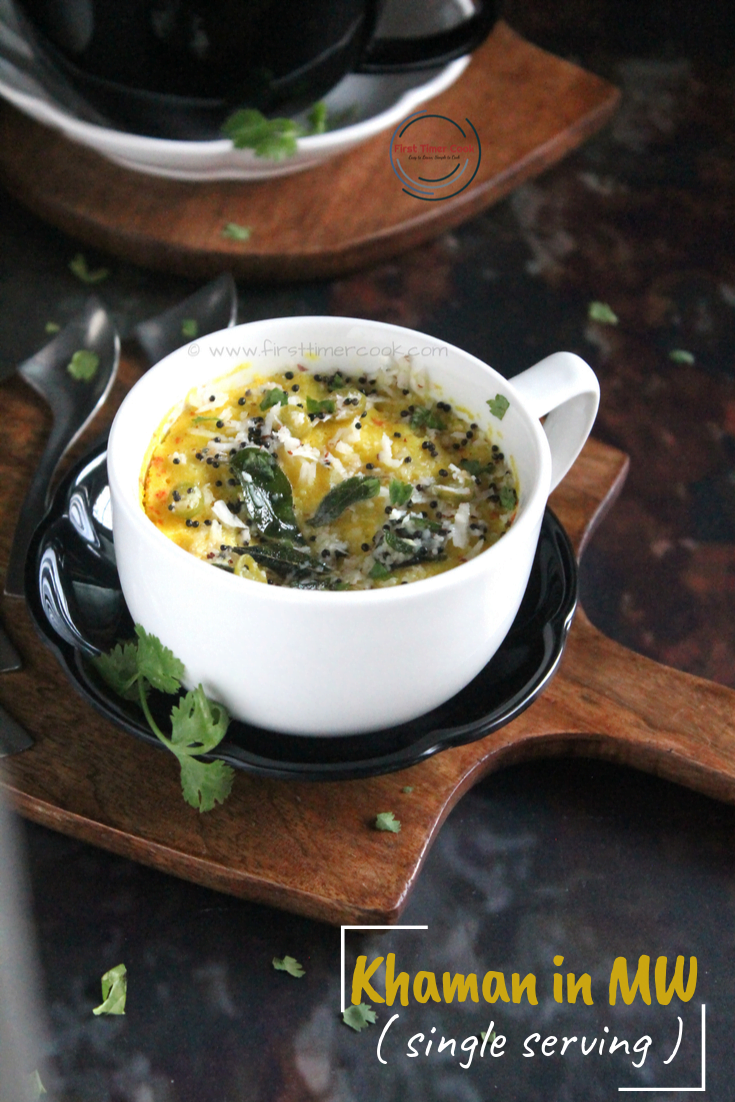 Khaman in MW (single serving)
instant version of the popular Gujarati snack, Khaman in a mug
prep time: 5 Mcook time: 3 Mtotal time: 8 M
ingredients:
For Dhokla:
Chickpea flour (besan) 1 cup
Fruit salt (ENO) 1 tsp
Turmeric powder 1/2 tsp
Ginger (grated) 1 inch
Lemon juice 3 tsp
Sugar 1 tsp
Salt 1/2 tsp
Oil 1/2 tsp
Water 3/4 cup
For Tempering :
Mustard seed 1/2 tsp
Curry leaf 1-2 sprig
Green chili 2 no.
Coriander leaf (chopped) 1 tbsp
Coconut (grated) 2 tbsp
Lemon juice 1 tsp
Sugar 1 tsp
Water 3 tbsp
Oil 1 tsp
instructions:
How to cook Khaman in MW (single serving)
In a mixing bowl first take besan, turmeric powder, grated ginger, lemon juice, sugar, salt, oil and water.
Using a whisk, mix well to get a smooth batter without any lumps.
The batter should be pour-able consistency (neither runny nor thick).
Cover the bowl and keep aside for 10 minutes.
Meanwhile grease the mugs / ramekin molds / any other molds (preferably single serving kinds) with oil.
After 10 minutes, add the fruit salt (ENO) to the batter and mix very well.
The batter will become frothy and light.
Immediately pour into the molds / mugs to fill up to 3/4th portion.
Put in the microwave and turn on for 2 minutes and 20-30 seconds more on high power.
After that insert a toothpick in the center, if that comes out clean then it is done, else cook for 5-10 second more.
Then take a tadka pan and heat oil.
Add mustard seeds and allow to splutter.
Then add curry leaves, chopped green chilies, grated fresh coconut and give a stir.
Add water along with sugar and mix well.
Turn off heat and add lemon juice.
Give a quick stir and pour over the khaman in the mug.
Sprinkle some chopped coriander leaves and serve as it is or along with any desired chutney like green or tamarind chutney !
NOTES:
Coconut can be just sprinkled over the dhokla along with coriander leaves after pouring the tempering.
Omit green chili if preparing to serve kids.
10 minutes resting time is not mandatory.
Did you make this recipe?
Tag @firsttimercook on instagram and hashtag it #firsttimercook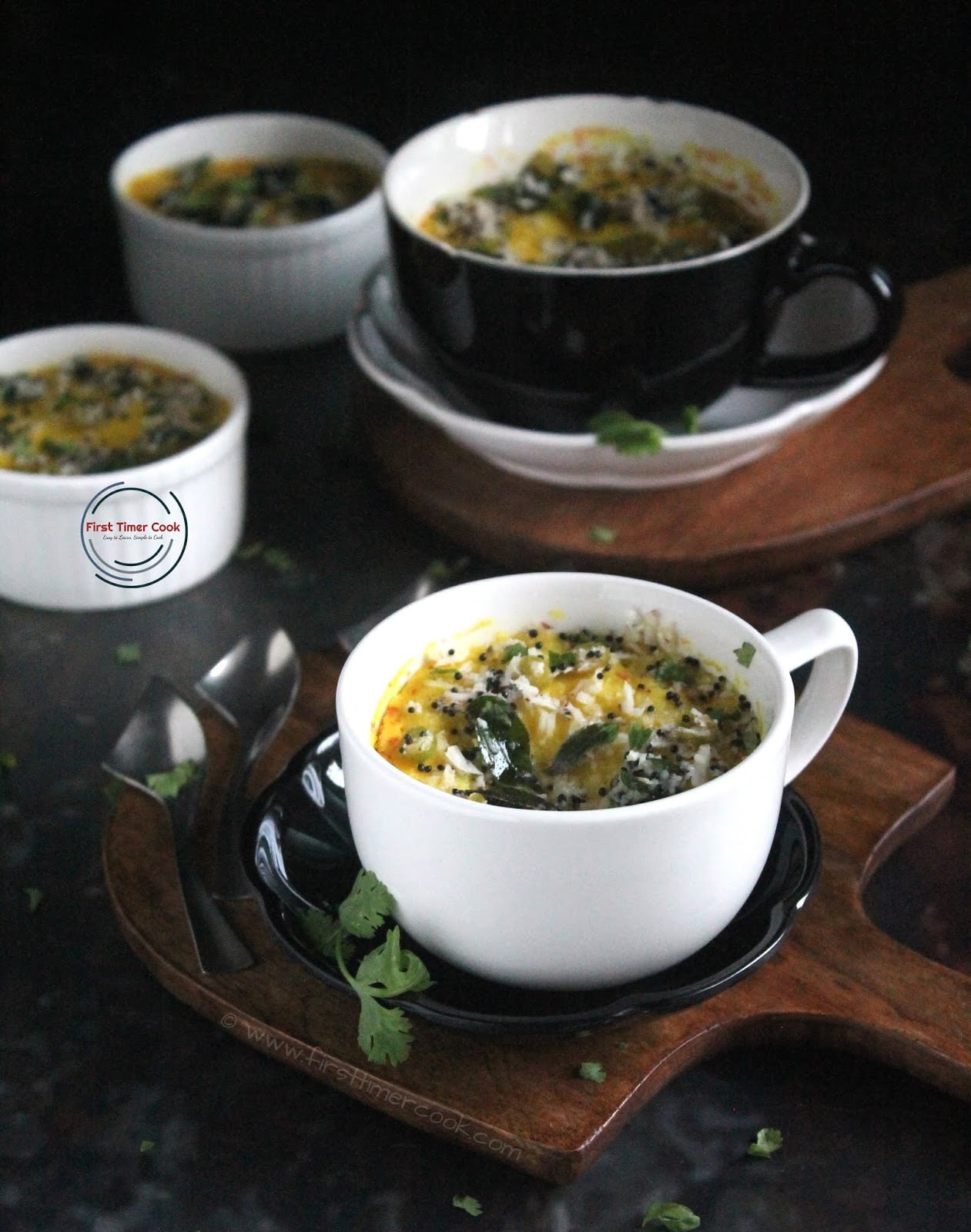 You may also follow me on Facebook, Pinterest, Twitter, Google+, Instagram and can subscribe for free to get new recipes directly into your inbox 😊
PIN for later :