cooked rice simply tossed in a tangy tempering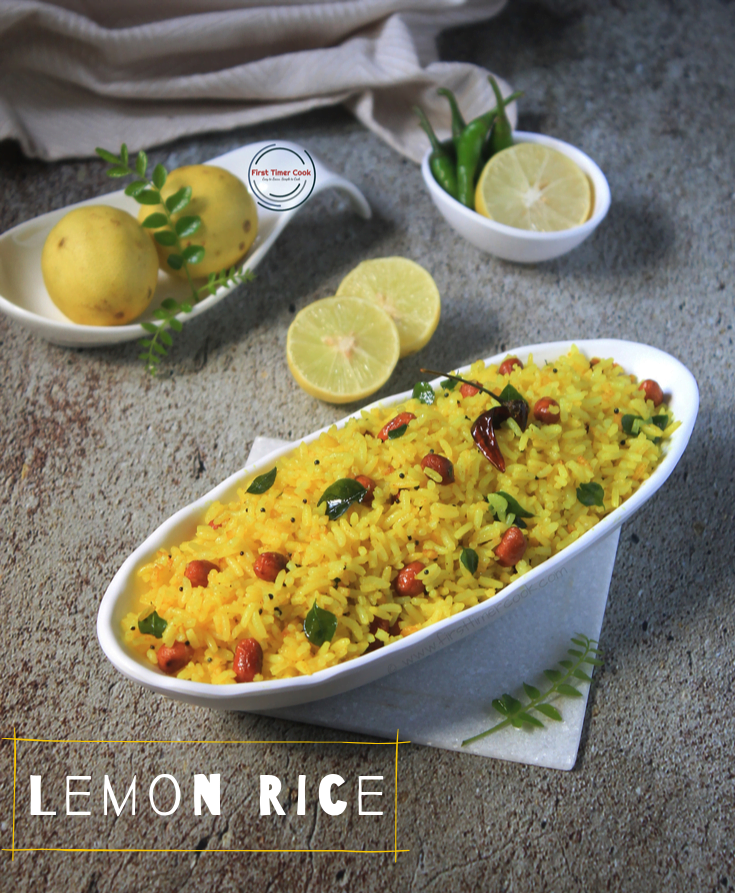 What is Lemon rice ?
This is a most popular and traditional South Indian recipe using the cereal, Rice. The lemon rice is also known as Chitranna. Basically the rice is simply tossed in a tangy tempering of spices, crunchy peanuts and plenty of lemon juice. To make a good & refreshing lemon rice, it is always recommended to use fresh big size lemons. If the cooked rice is ready or some leftover rice is there, then this dish can be done in only 5 minutes. If there is any hurry, then this lemon rice one must choose to have which seems like a light meal still fills our tummy.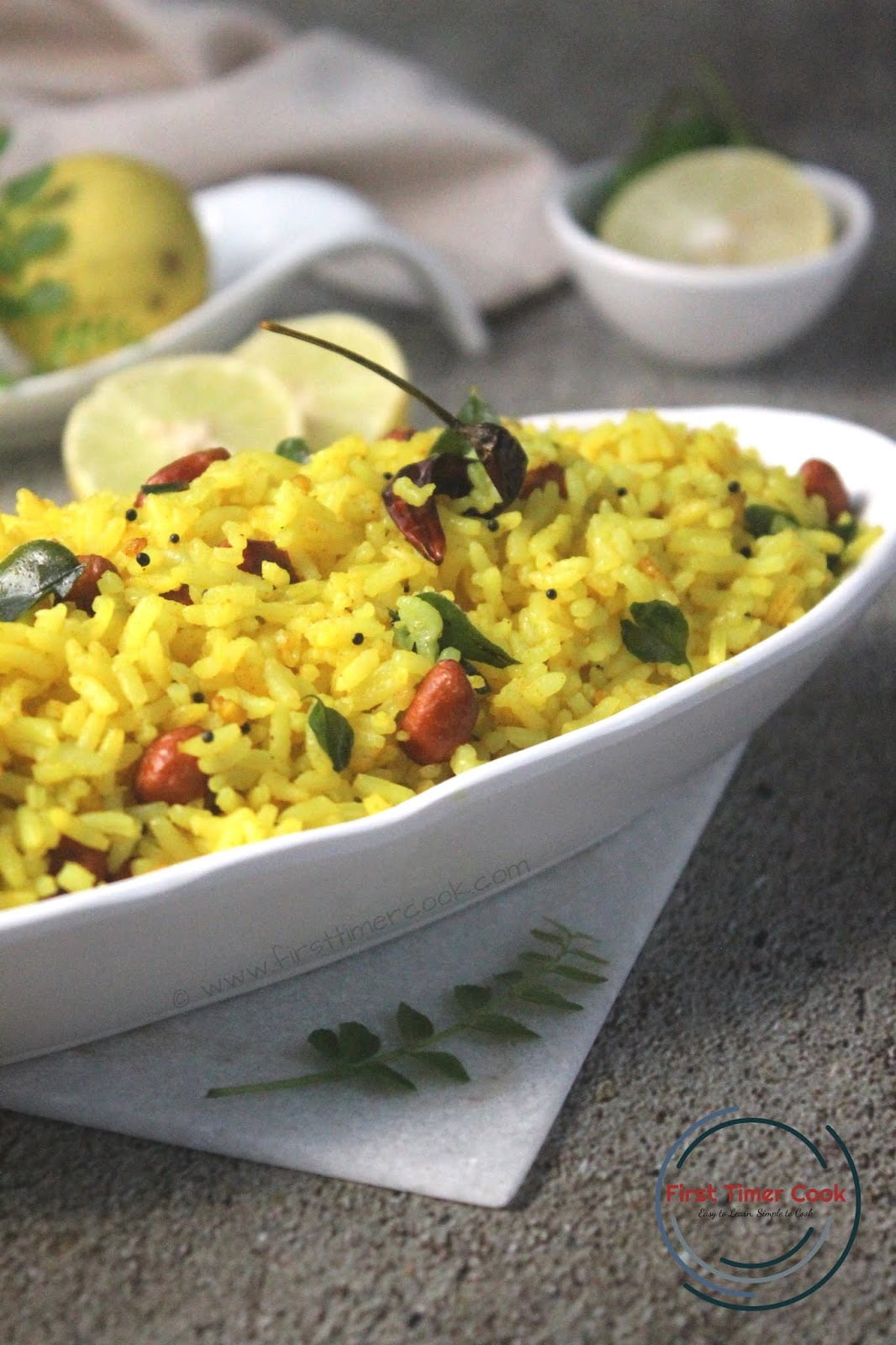 Which kind of rice must use to get perfect lemon rice ?
Any kind of rice (white rice, basmati rice, sona masoori etc) one can use to make lemon rice. There is no specific category of rice to opt. Freshly cooked rice or even with some left over rice, the lemon rice can be prepared and enjoyed fully. The main point here is that the cooked rice must cool down to room temperature. As a result after adding the cooked rice to the tempering the rice grains'll not break or even stick to each other while mixing. So if there is some left over cooked rice, then it is perfectly fine to add to the tempering. If one is going to make lemon rice with some freshly cooked rice, then
just allow the cooked rice to cool down to room temperature first and then only add to the tempering part to get perfect textured lemon rice.
Is it festive friendly (no onion & no garlic category) dish ?
yes, it is. There is no use of onion and garlic in this rice dish. And also the lemon rice comes under completely Vegan and Gluten free category.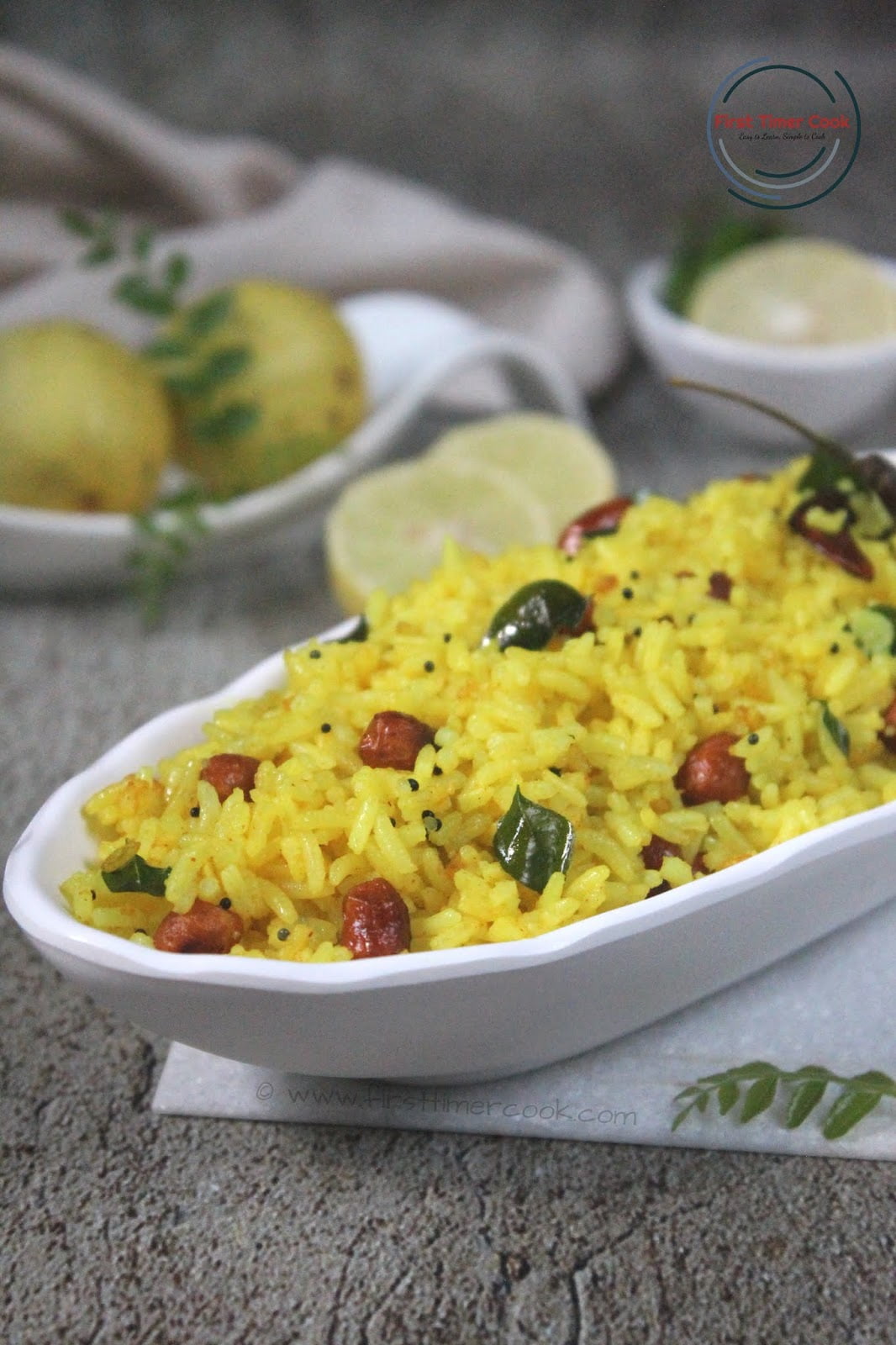 Is there any specific oil to be used ?
This rice dish is typically prepared using sesame oil which is the most common oil in South Indian households. Still one can use any other vegetable oil. I have prepared the dish here using regular refined oil.
What are the steps to make lemon rice ?
Basically rice is cooked separately (freshly cooked / left over). Then a tempering is prepared using green chili, red chili, chana dal, curry leaves, peanuts, mustard seeds and turmeric powder. After that the cooked rice is added and gently mixed well. In the last step, freshly squeezed lemon juice is added and this addition particularly gives the whole dish a lovely tangy taste. Some fried cashews one can also add along with peanuts here. This is the most easiest and quickest rice dish with minimal spices in flavoring. Lemon juice gives a very tangy flavor and peanuts add crunchiness to this aromatic lemon rice.
What are the serving suggestions for this dish ?
This lemon rice can be served and best enjoyed along with any raita or salad or pickle or simply as it is like I prefer to have. Kids definitely love this kind of aromatic rice and love to have in their tiffin box. And in that case, just omit the addition of chilies in the ingredient list. The lemon rice one can serve as a main course or as a side dish too.
The event related to this post :
Well the Foodie Monday Blog Hop team has come up with the 217th theme as 'Khaali Fridge' which is suggested by Renu. Sounds unique, isnt it ? Yes, basically the theme is about to cook a dish when there are no vegetables in our refrigerator and still we have to make a dish using any other ingredients. At that time, we can opt dishes using rice, lentil or even any other which doesn't include fresh vegetable / fruit too. It is quite bit tricky but still one can manage. So here I have come up with the most popular and flavorful Lemon Rice from South Indian cuisine for the contribution. Also do check renu's blog if you really want some delicious and healthy baked dishes particularly. I just love her those kind of posts 😊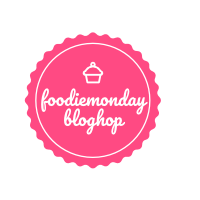 Recipe Card for 'Lemon Rice' :

Lemon, Yellow rice, Vegan dish, festice rice, South Indian Rice, Lemon juice, Tiffin idea, Snacks, Breakfast, Side dish, main course
Rice, Lemon Rice, vegan, gluten free, no onion no garlic dish
South Indian Cuisine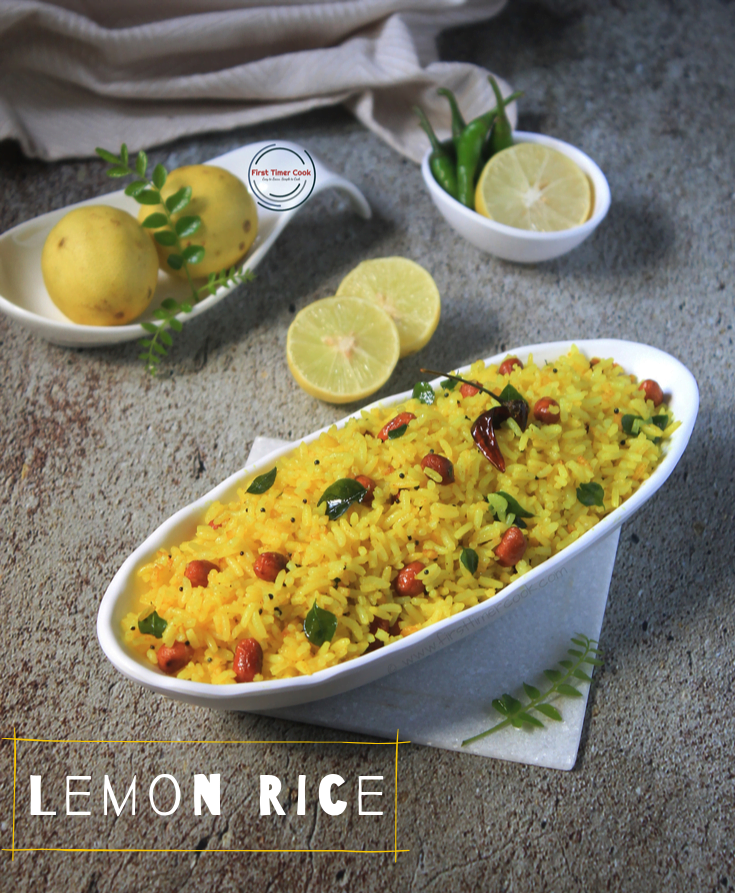 Lemon Rice (no Onion and no Garlic)
cooked rice simply tossed in a tangy tempering
prep time: 20 Mcook time: 5 Mtotal time: 25 M
ingredients:
Cooked rice 1 & 1/2 cup
Lemon juice 2 tbsp
Turmeric powder 1/2 tsp
Mustard seeds 1/2 tsp
Chana Dal 1 tbsp
Green chili 1-2 no.
Red chili 2-3 no.
Curry leaves 1 sprig
Cashew nuts 4-5 no.
Peanuts 2-3 tbsp
Oil 2-3 tbsp
Salt as needed
instructions:
How to cook Lemon Rice (no Onion and no Garlic)
Drain and transfer the cooked rice on a plate or in a bowl. Cover and let the rice cool.
Heat a kadai / pan, roast the cashew nuts till light brown. Remove the cashew nuts and keep aside.
Now heat oil in the same pan.
Add the mustard seeds and chana dal.
Allow to crackle the mustard seeds and brown the chana dal.
Then add the red chilies, green chilies and curry leaves. Fry for 12-15 seconds.
Then add the peanuts and stir.
Add the turmeric powder and fry for 2-3 seconds.
Fry everything on a low flame, so that the spices don't burn.
Add the cooked rice and gently mix everything.
Switch off the stove and add the lemon juice along with salt.
Again give a quick mix.
Keep the lemon rice covered for the flavors to blend for 4-5 minutes.
Serve the lemon rice as it is or with papads or pickle !
NOTES:
Always ensure that the rice is cooked in separate grains.
Any rice can be used or even do with left over rice.
Add turmeric generously. Then only the perfect color will come.
Adding red chilies and green chilies help a lot in flavor & spiciness.
After tempering, just switch off the stove and add lemon juice if you don't want to loose the vitamins. You can also directly squeeze the lemon over the cooked rice.
Keep aside the lemon rice after adding lemon juice to get the tastes incorporated well.
Usually the tangy-ness should be more if taste immediately. But later it will get absorbed and taste balanced.
Did you make this recipe?
Tag @firsttimercook on instagram and hashtag it #firsttimercook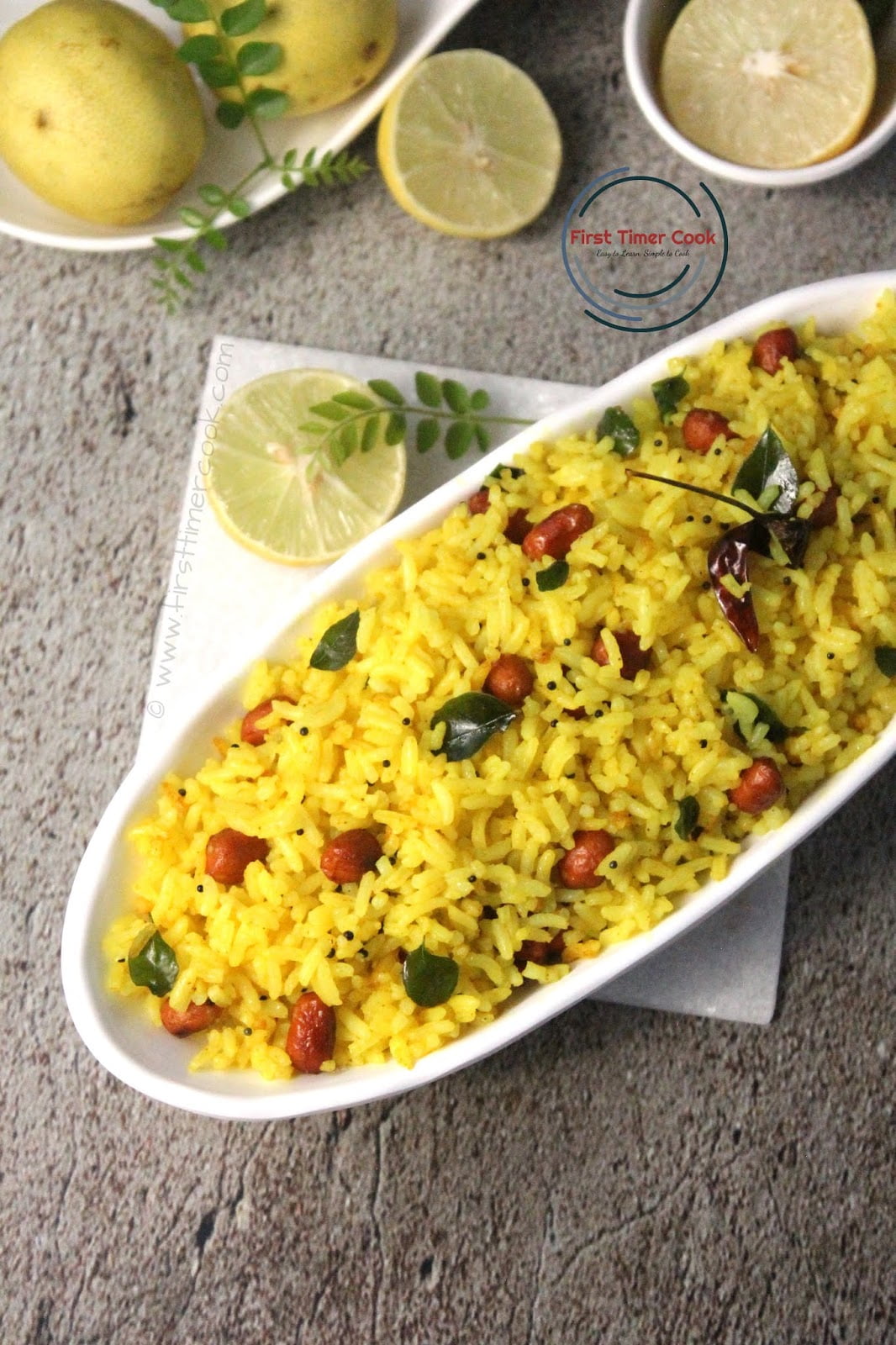 You may also follow me on Facebook, Pinterest, Twitter, Google+, Instagram and can subscribe for free to get new recipes directly into your inbox 😊
PIN for later :