an age old Odia sweet & thick pan cake using a batter of black gram, rice, jaggery.
Odisha, the state of Lord Jagannath is full of festivals and there is a saying in odia that "Bara Masare Tera Paraba" (means 13 festivals in 12 months). During festivals, a varieties of pithas are prepared. Chakuli pitha is one of them. These are rice-lentil pancakes and one can categories these into two as :Saru Chakuli and Budha Chakuli. Saru means thin and Budha means thick here. Saru chakuli are the regular chakuli pitha and people love to have as breakfast particularly during festivals, any special celebration or even in regular day. But budha chakuli is something different one.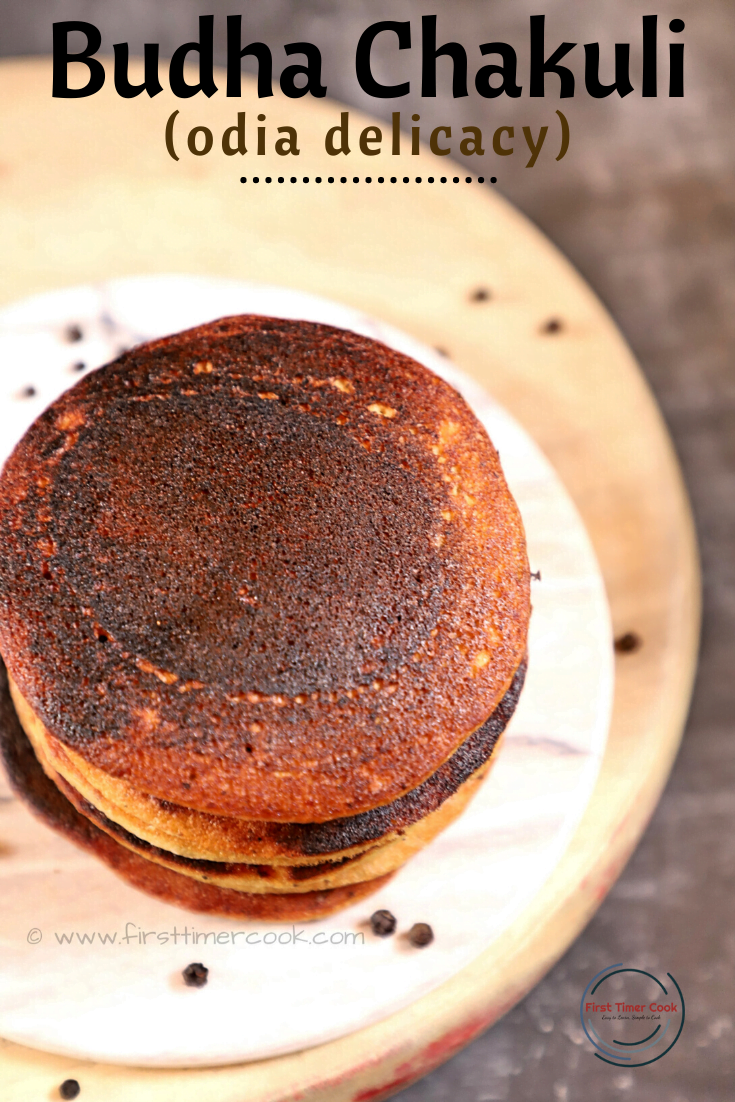 As I mentioned above, Budha chakuli means thick pancakes prepared from a thick rice-lentil batter. The rice is generally the sona masoori and the lentil is the black gram aka biri (in odia). The proportion of rice to lentil is as we do for regular chakuli pitha which is either 1:1 or 1:3/4 . But the batter consistency is thicker as compared to the saru chakuli pitha. So while grinding the batter, very little amount of water has to be added. The batter is prepared and allowed to ferment well for 6-7 hours by covering. Then grated jaggery is added along with grated fresh coconut, grated / crushed ginger, crushed black peppercorns, salt. The batter is then poured over a greased pan and allowed to spread automatically, else gently spread using the back of the ladle to make a circle of around 6-7 inches. It is cooked till looks golden brown in color from both sides, flipping in between.
Compare between saru chakuli & budha chakuli :
Saru chakuli / the regular chakuli pitha is prepared from a slightly thin rice-lentil batter where as the budha chakuli pitha's

batter is thick one.

The budha chakuli tastes sweet for the addition of jaggery, and the saru chakuli tastes slightly salty.

Jaggery, ginger, black peppercorns, coconut are added to the batter of budha chakuli. But the batter of the saru chakuli is

used to make pitha without any other ingredients addition after fermentation.

Thickness of Budha chakuli pitha is slightly thick than the saru chakuli pitha.

Regular oil or ghee (in festive time) is used in making budha chakuli, in saru chakuli pitha mustard oil or ghee (in festive

time) is used.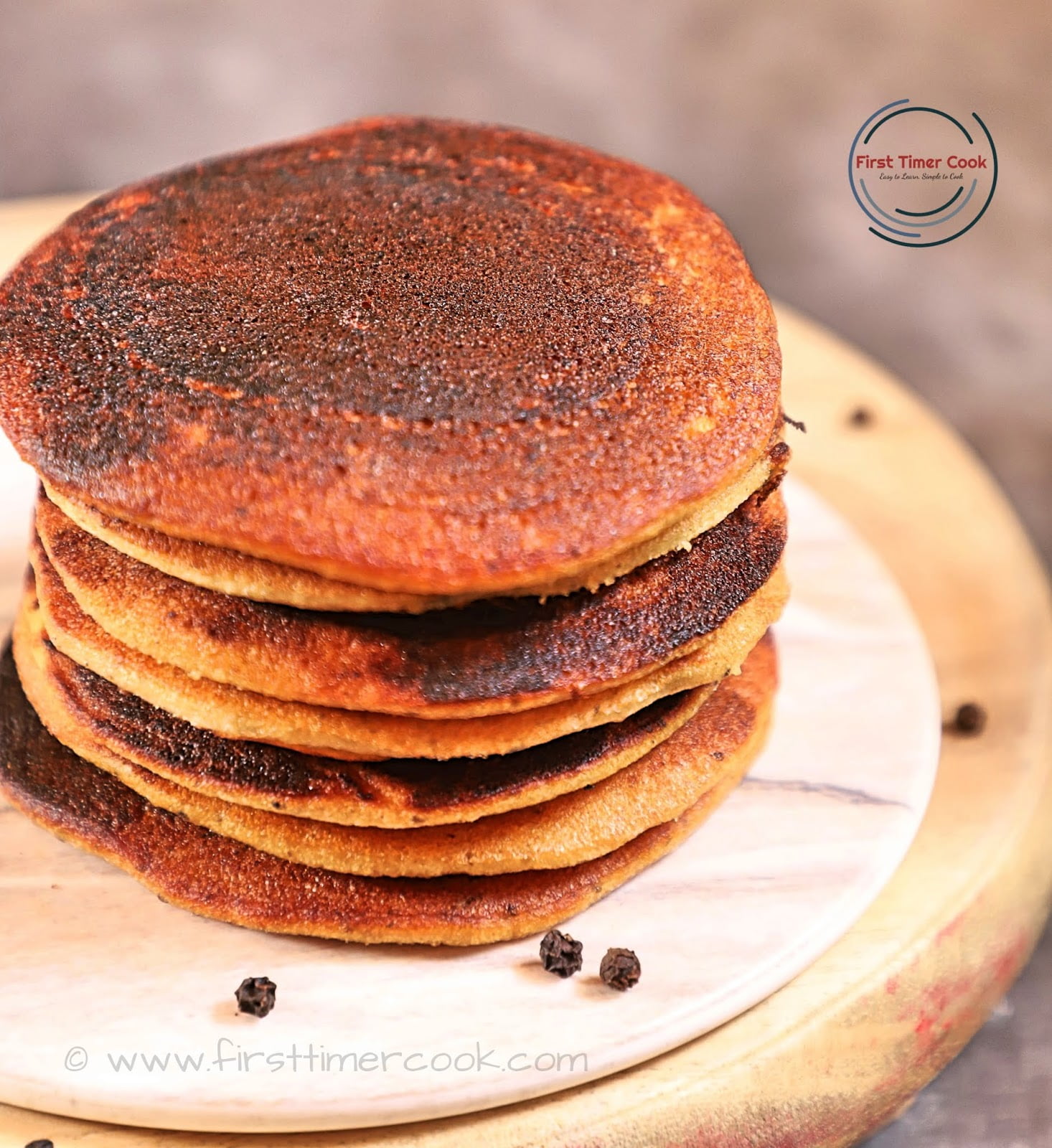 Particularly during festive time in odia households (specifically in samba dasami puja) these pithas are prepared and used as offerings. Still one can make these to have as breakfast / snack. The freshly crushed pepper corns and the ginger give a nice aroma to the budha chakuli pitha. Completely vegan and gluten free these are. One can make these pithas as per own choice of size too. Usually the size is around 6-7 inches in diameter. But I always make small sized budha chakuli (4-5 inches in diameter), from childhood I love these pithas in small sizes. This is one of the Lord Jagannath's chhapan bhog delicacy. Do try !
Event related to this post :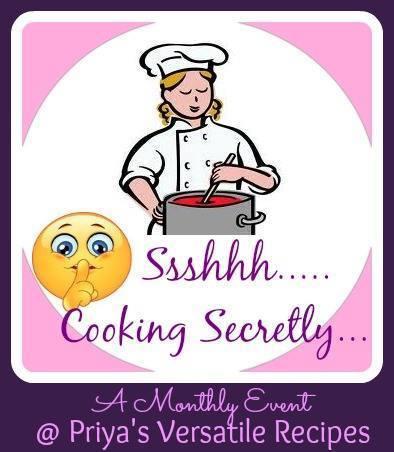 Well, the March month challenge in 'Shhhhh Cooking Secretly Challenge' group was 'Pancake Series'. The theme was suggested by Archana di. She is a so kind blogger friend of mine and her blog has a lot of Goan delicacies. Do check my current favorite Dhonas. And for the current theme, my partner was Seema who gave me 2 secret ingredients as Jaggery & Ginger and I gave her as Milk & Salt. Do check here for her dish 😊 And as usual, using mine two ingredients I had to prepare a pancake. So I have come up with this Budha Chakuli – an Odia delicacy.
Recipe Card :

Budha Chakuli – an Odia delicacy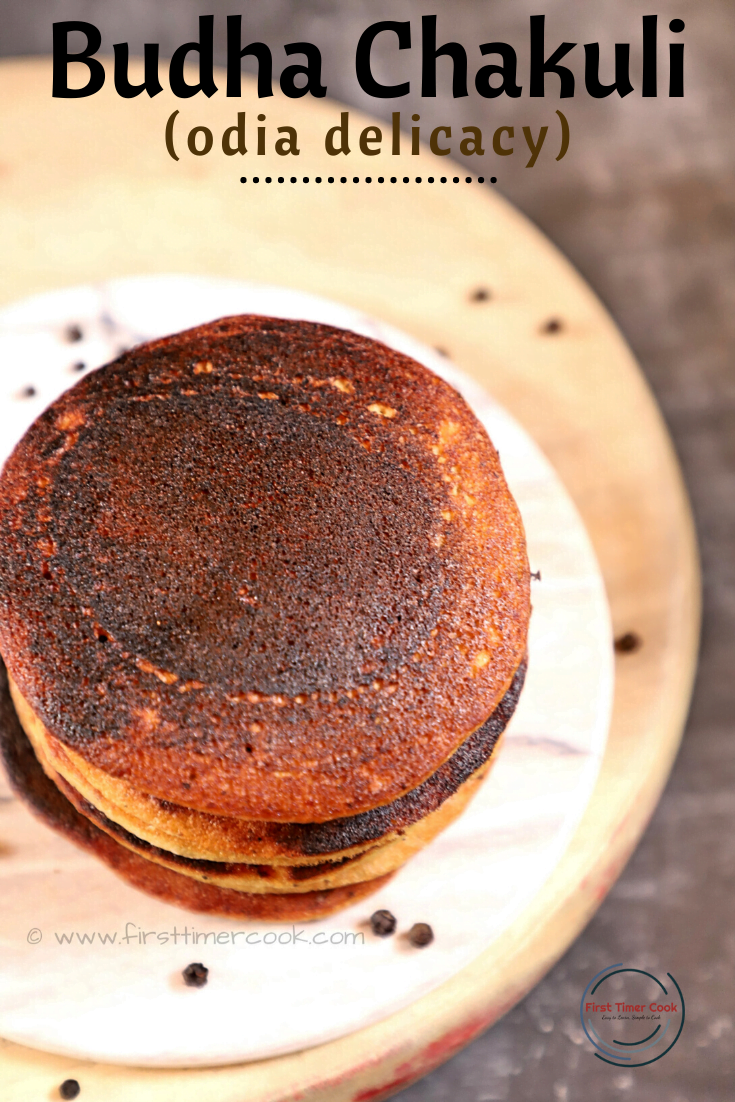 Prep time: 15 MCook time: 15 MTotal time: 30 M
an age old Odia sweet & thick pan cake using a batter of black gram, rice, jaggery.
Ingredients:
Biri (black gram dal) 1 cup
Rice (sona masoori) 1 cup
Jaggery (grated) 1/3 cup
Coconut (grated) 3-4 tbsp
Ginger (grated) 1/2 tbsp
Black peppercorn 1 tsp
Salt 1 tsp
Oil as needed
Water as needed
Instructions:
How to cook Budha Chakuli – an Odia delicacy
First wash black gram and rice separately in normal water as we do for regular chakuli pitha.
Then soak both in a bowl with enough regular water at least up to 3-4 hours.
Next drain the soaked black gram and rice and put into a bender jar.
Blend to make a smooth and thick textured batter by adding a little amount of water if needed.
Transfer to a large bowl and allow to ferment well for 6-7 hours by covering.
By the time, make a coarse powder of all the black peppercorns in a mortar-pestle.
Next add these powder along with salt, grated jaggery, ginger and coconut to the batter bowl.
Mix everything well using a spoon till jaggery melts completely.
Now heat a pan and greased with oil.
Pour 1-1.5 ladle full of batter onto the center of the pan.
Allow the batter to spread automatically, else gently spread using the back of the ladle to make a circle of around 6-7 inches.
Cover the pan (this is optional, but helps to cook fast) and cook for 2-3 minutes.
Then flip the pancake and allow to cook again without covering.
When from both sides it looks golden brown in color then transfer to a plate.
Similarly make pancakes from rest batter.
Serve as it is or with some odia curry like dalma, ghugni, aloo dum etc. !
Notes:
Ghee is used during festive time. So use it instead of oil.
The batter should have the consistency slightly thicker than the regular chakuli pitha batter. One can say it is in between that of dosa and idli.
Pancake, Sweet pancake, Odia budha chakuli, vegan, gluten free, jaggery, coconut, black peppercorn, ginger
Rice, Black Gram, Budha chakuli, Odia pitha, Festive food
Odia cuisine
Did you make this recipe?
Tag @firsttimercook on instagram and hashtag it #firsttimercook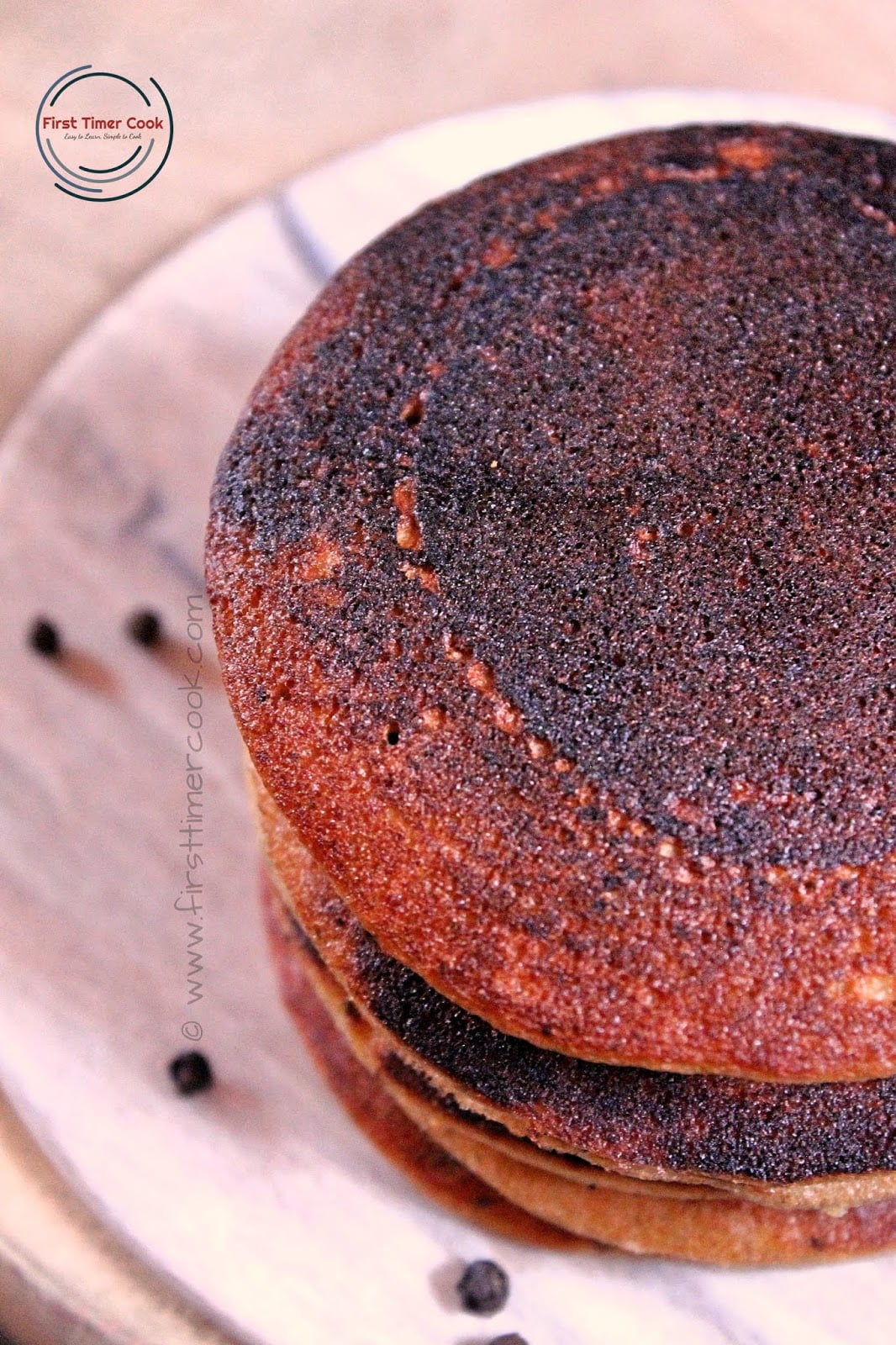 You may also follow me on Facebook, Pinterest, Twitter, Google+, Instagram and can subscribe for free to get new recipes directly into your inbox 😊
PIN for later :