The cuisine of Kashmir, the land of fruits and nuts in Indian subcontinent has been influenced by Iran, Afghan and Central Asian styles of cooking. Still, a collection of recipes from Kashmiri cuisine that are not just delicious but also easy to cook. All recipes are loaded with flavors and spices and hence the dishes have an unique aroma of their own.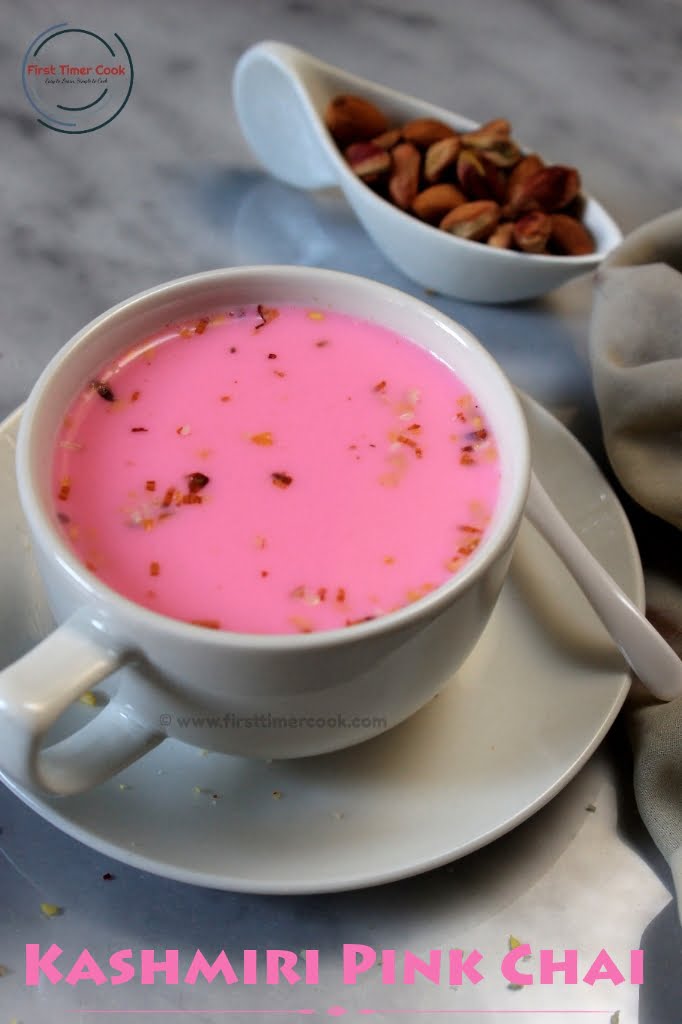 Well among all the Kashmiri cuisine, Noon Chai / Kashmiri Pink Chai / Sheer Chai is a traditional hot beverage. The word 'Noon' means salt in Kashmiri language. Unlike other tea, this tea tastes salty due to addition of salt, particularly sea salt instead of sugar. Like in any other dishes of this cuisine, nuts like chopped pistachio and almonds are used here too.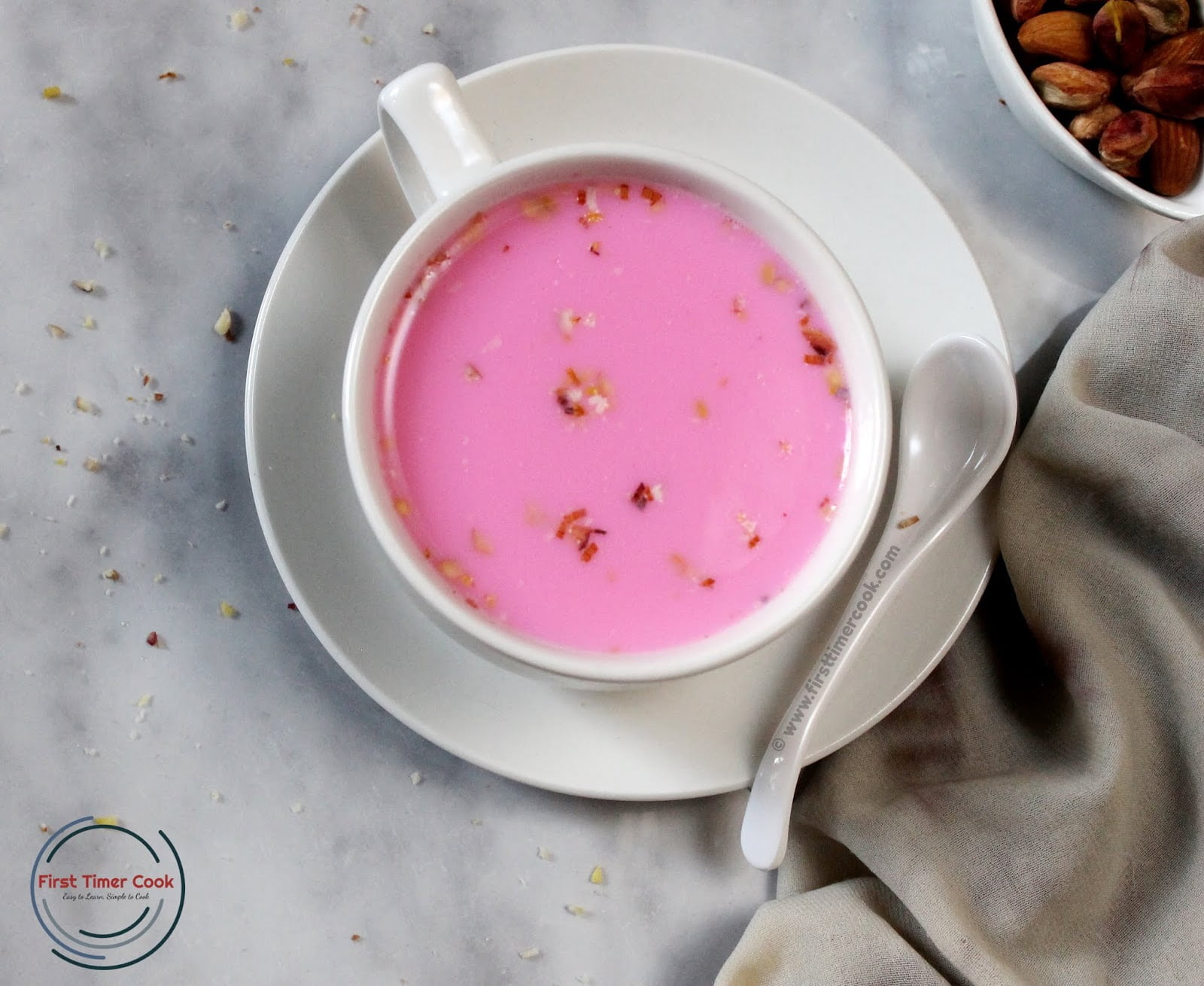 This unique tasted tea is pinkish in color. The gorgeous color comes from the addition of a pinch of baking soda. Basically the chlorophyll present in the tea leaves react with the baking soda which results into a reddish color. Then the red color finally changes into pink color by addition of milk. So before adding the milk, the tea along with baking soda must be cooked enough so that the chlorophyll released from leaves and react with baking soda (sodium bicarbonate). One pinch is sufficient to get the appropriate color and flavor of the tea. Beyond 1 pinch will surely spoil the taste of the tea. Here I have used 3 cup of water and added in batches to the tea. After that I got the exact reddish color of the tea. If there is no reddish color of the tea after addition of 3 cups of water, then some more water'll be needed to get the color. This tea is most preferable during cold winter evening in Kashmir.
So do try this salty hot beverage Noon Chai / Kashmiri Pink Chai / Sheer Chai. If you tried my recipe and enjoyed fully, then please share some pictures of your creation with me. Also give your valuable feedback either in the comment box below or tag me as #firsttimercook on Instagram. You may also follow me on Facebook, Pinterest, Twitter, Google+, Instagram and can subscribe for free to get new recipes directly into your inbox 😊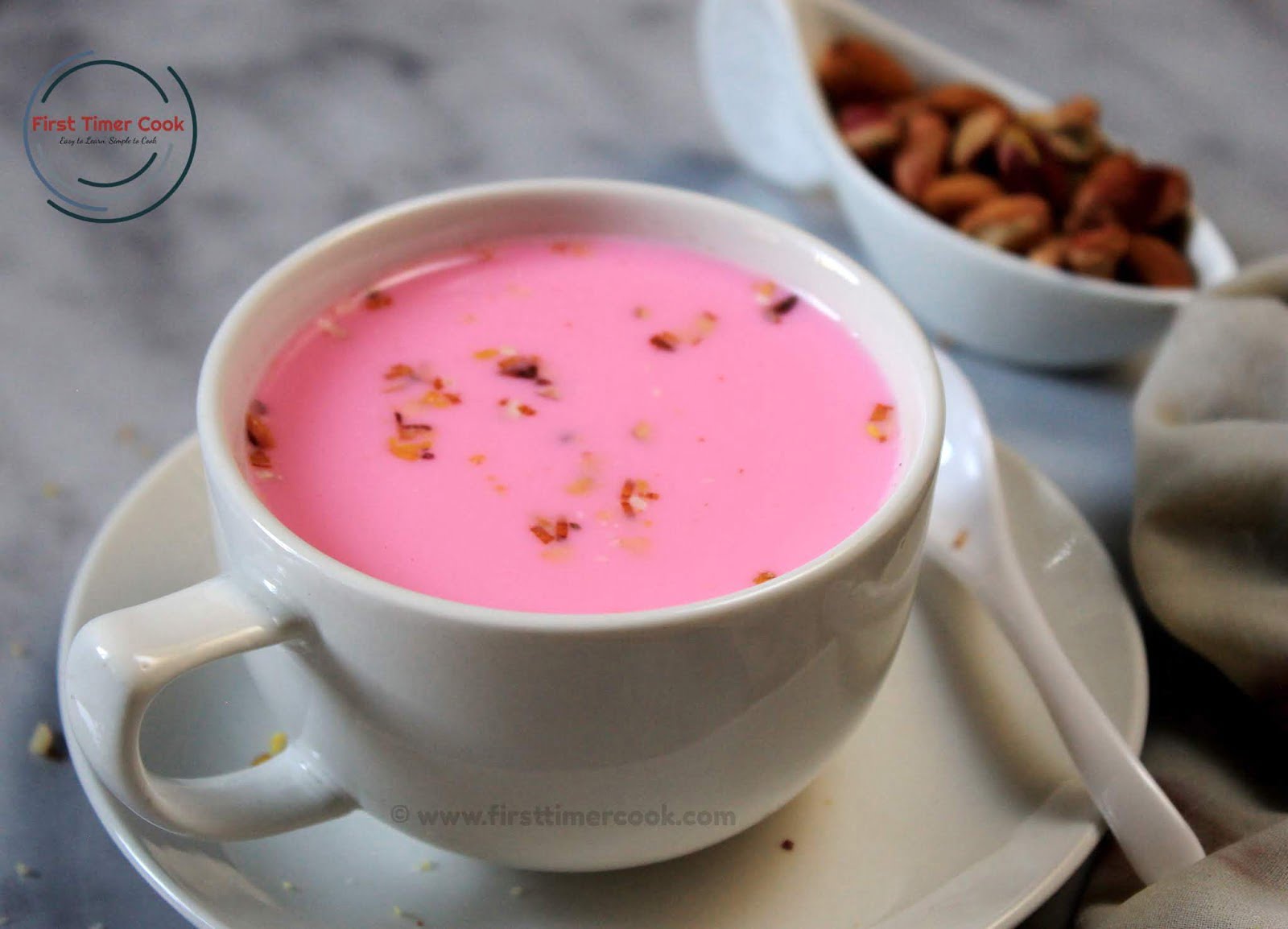 Preparation Time : 5 mins | Cooking Time : 25 mins
Ingredients :
| | |
| --- | --- |
| Ingredients | Measurements |
| Kashmiri chai / green tea leaf | 1 tsp |
| Milk (full cream) | 1 ½ cup |
| Baking soda | 1 pinch |
| Cardamom | 2 no |
| Almond (finely chopped) | Few |
| Pistachio (finely chopped) | Few |
| Water | 3 cup |
| Salt | As needed |
Method :
In a saucepan first take kashmiri chai leaves / green tea leaves, 1 cup water, baking soda.
Mix well everything using a spoon and allow to boil while stirring in between till the color of the tea turns reddish brown.
When the liquid quantity reduces a lot, then add freshly crushed cardamom, salt, 1 cup water and again allow to boil.
Next add rest 1 cup of water and boil again till the color of the tea turns deep reddish brown while stirring in between.
Now add milk and suddenly, the color of the tea will turn into pink.
Boil again for 1 minute more.
Strain and pour into serving cup.
Sprinkle some finely chopped almonds and pistachios and serve hot !!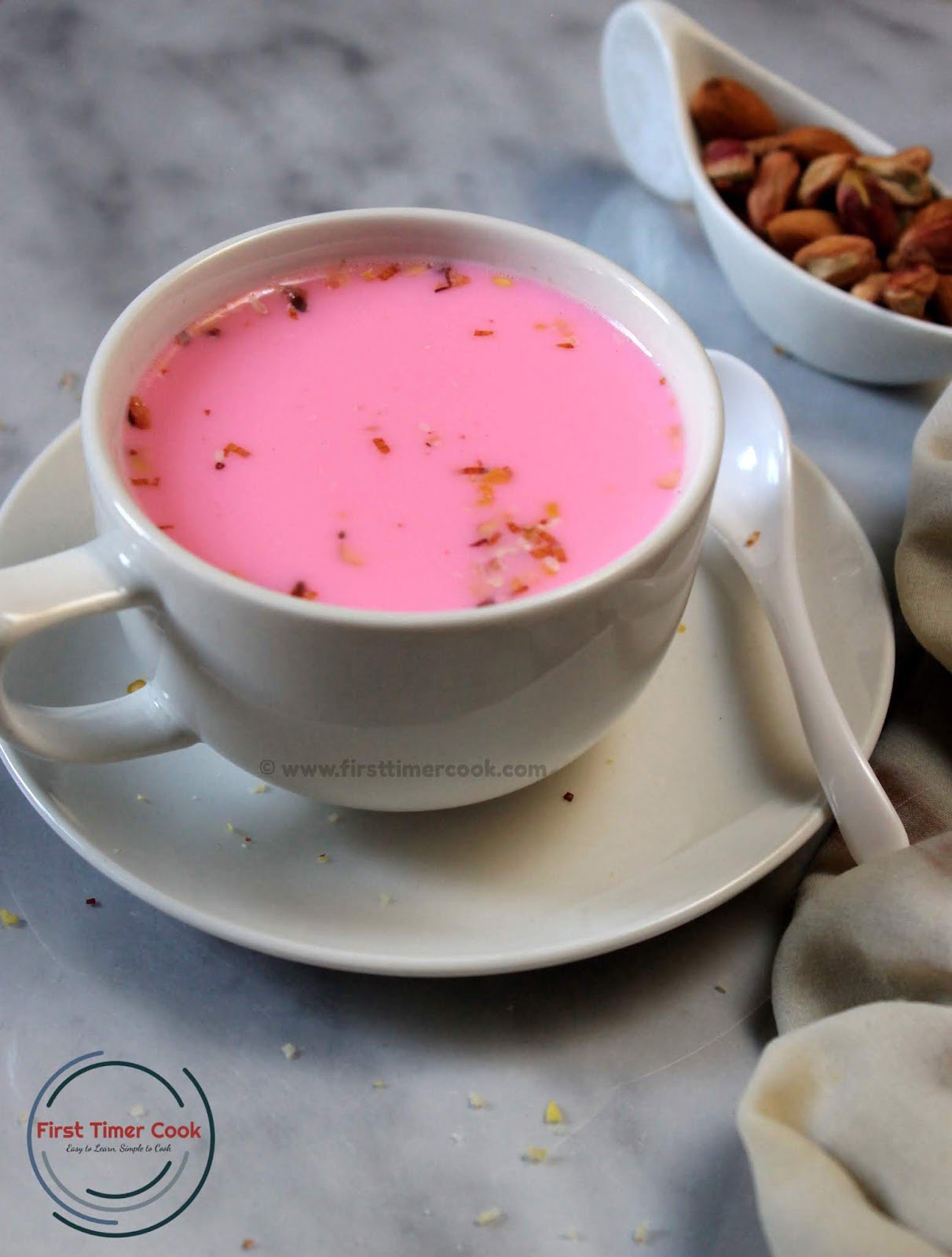 Notes :
Before adding milk, it is advisable to taste. Take 1 tbsp of the steeping tea mixture in a bowl and add few drops of milk. If the color changes to pink after mixing, then its the time to add milk. Otherwise boil the tea mixture for some more time.
Straining the tea before serving is optional. I prefer to strain first and then serve.
If full cream milk is not available, then use normal milk. But while serving, add some cream to get some creamy and thickness in the tea.

PIN for later :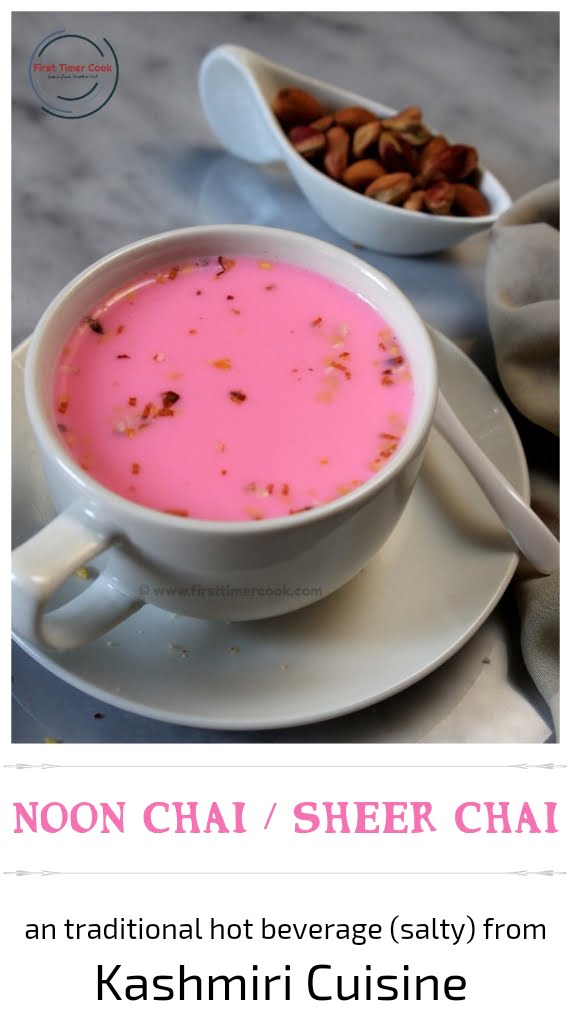 This 'Noon Chai / Kashmiri Pink Chai / Sheer Chai' is contributed for 52th Healthy Wellthy Cuisines where the theme is 'Kashmiri Cuisine at HW'. Here are more similar recipes shared by our Healthy Wealthy Group members as Kashmiri Paneer Saunfia Chaman, Kashmiri Pulao, Kashmiri Dum Aloo.