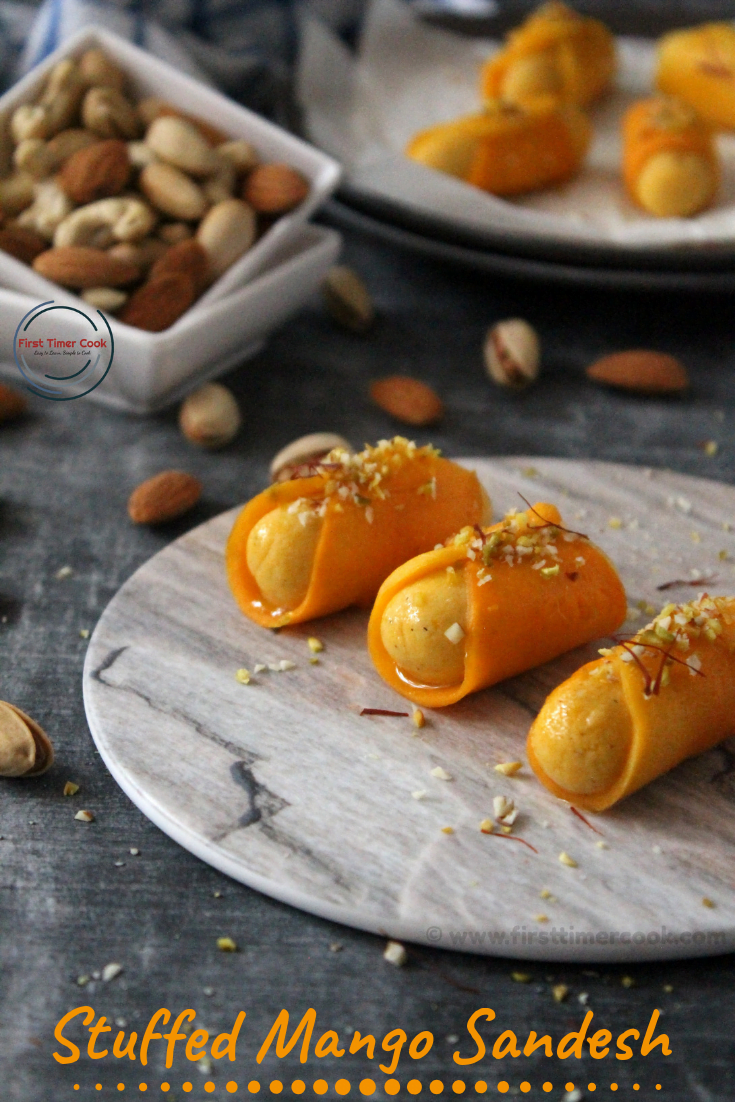 Summer means Mango is on full-fledged. Anywhere one can surely notice mango, that may be in roadside stalls, supermarkets, backyards and even on roadside trees. Hence noone should miss the chance to enjoy this king fruit, Mango. And being a huge lover of Mango, my pantry always is loaded with varieties of mangoes. Also I never mind to have this fruit at any time of the day 😋
This year, I have already prepared and posted some dishes in my blog using either raw or ripe mangoes are
And also many other before are there too, do check. So before the mango season goes away, one should definitely make use of this fruit.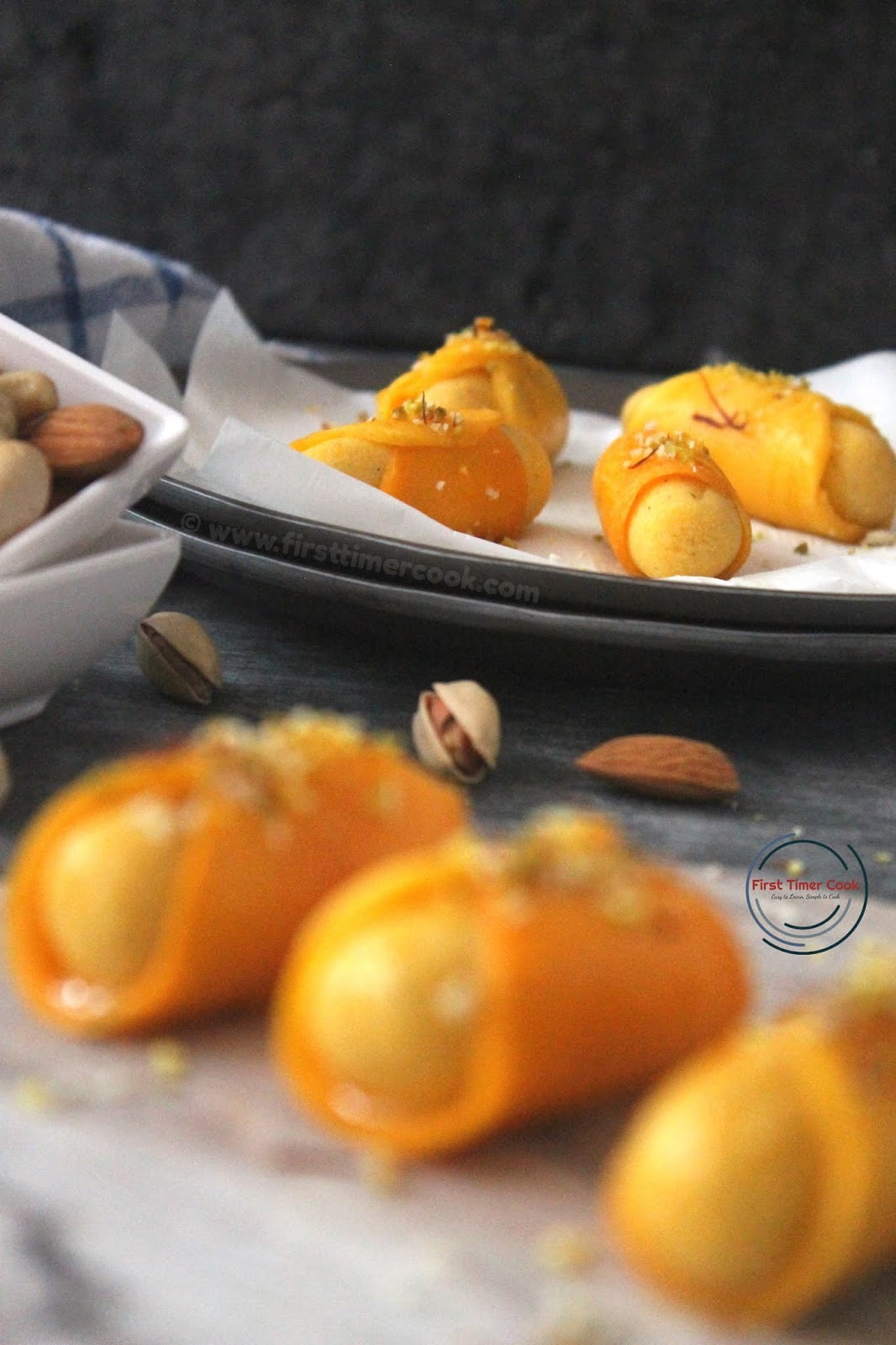 Well, today's post is a sweet dessert using mango that too from Bengali cuisine as 'Stuffed Mango Sandesh'. Doesn't it sound interesting ? oh yes, it is. Some days before, we were at a party and there I came across a dessert similar to this where some chocolate sandeshes are rolled with pineapple slices. Oh my goodness, i was just in love with that, they had so beautifully presented those cute sandeshes. As the mango season is going on, so I prepared some mango sandeshes rolled with thinly slices of mangoes. Completely gluten free dessert is this.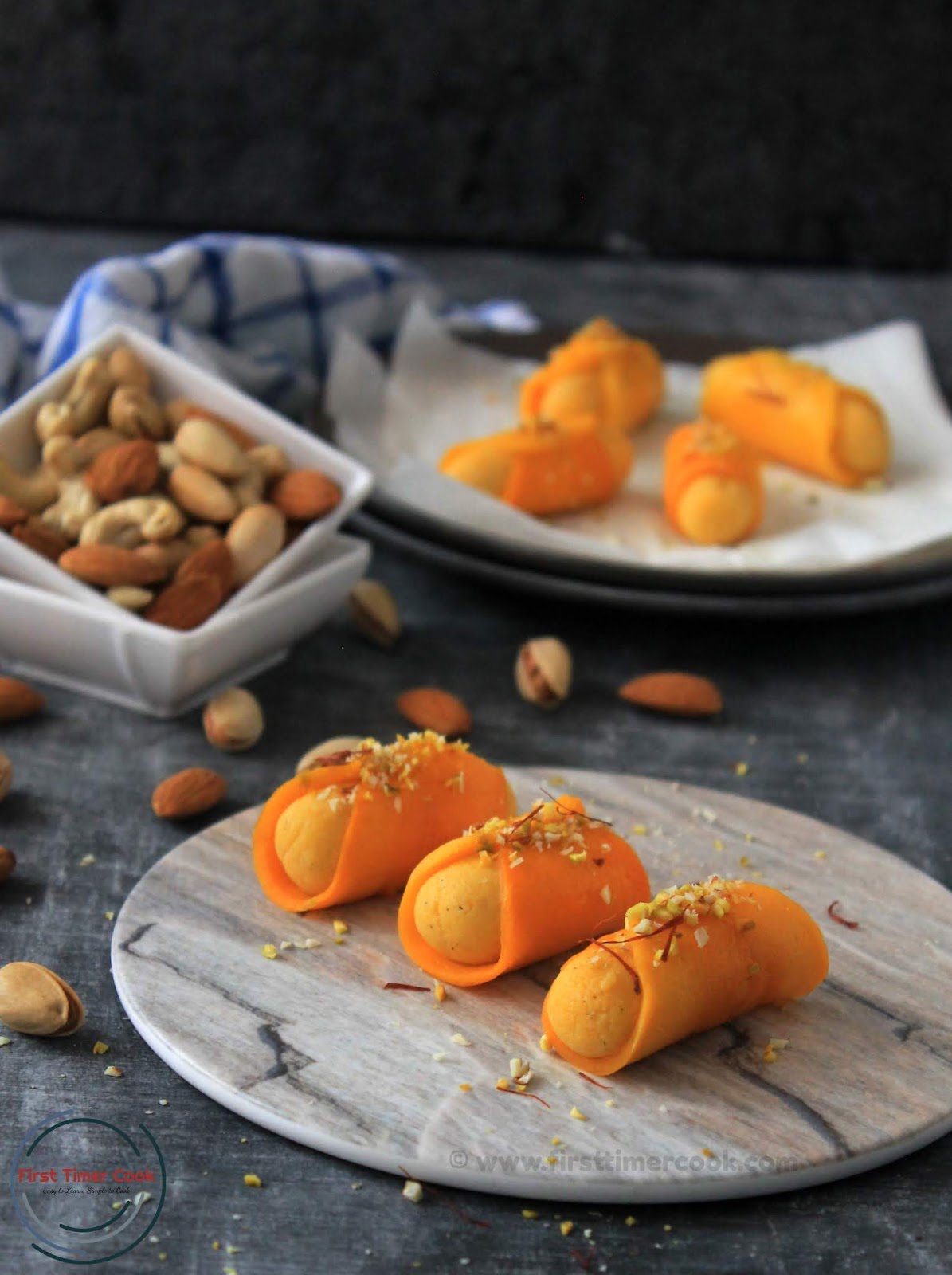 The process is quite simple and easy. One can within a few times, prepare these cute looking sandeshes. I always prefer to use homemade chhena rather than store bought ones. Instead of chhena, some paneer can be opted here. As I am using chhena so I just mash with heels of my hand to get a soft texture so that all other ingredients'll easily incorporated with that. If paneer is used, then i will suggest to take all the ingredients along with paneer in a blender jar and just blend to get a smooth paste.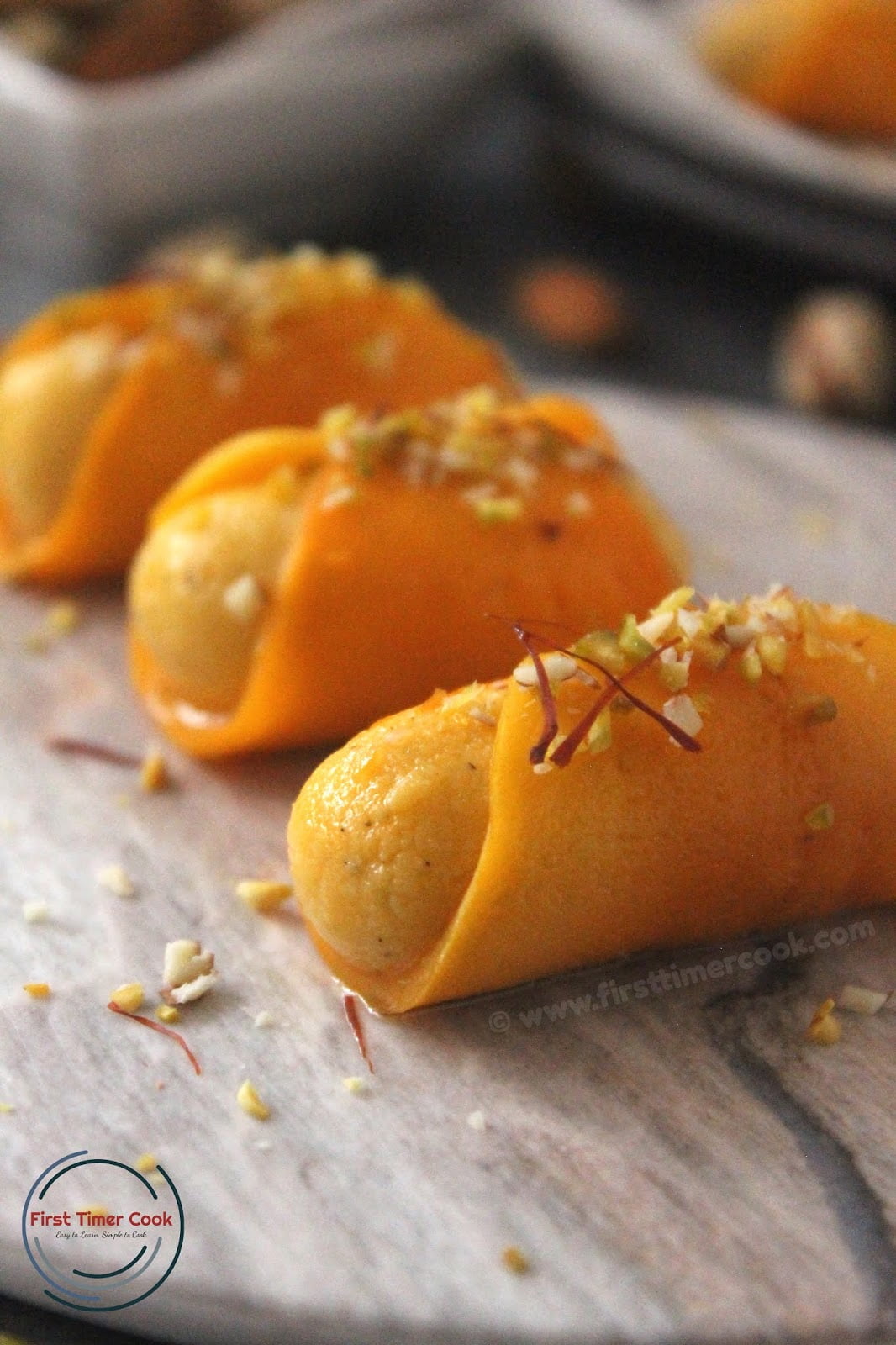 Rest other procedure is same for both chhena as well as paneer. Mango essence if possible do add in the sandesh, I don't have so added cardamom powder. These stuffed mango sandeshes are perfect eye-catchy dessert option in any party or gathering celebration. After preparing, these can be stored in refrigerator and also taste great if served cold ! Some more sandesh from my blog are Pista Sandesh, Strawberry Sandesh. Do check.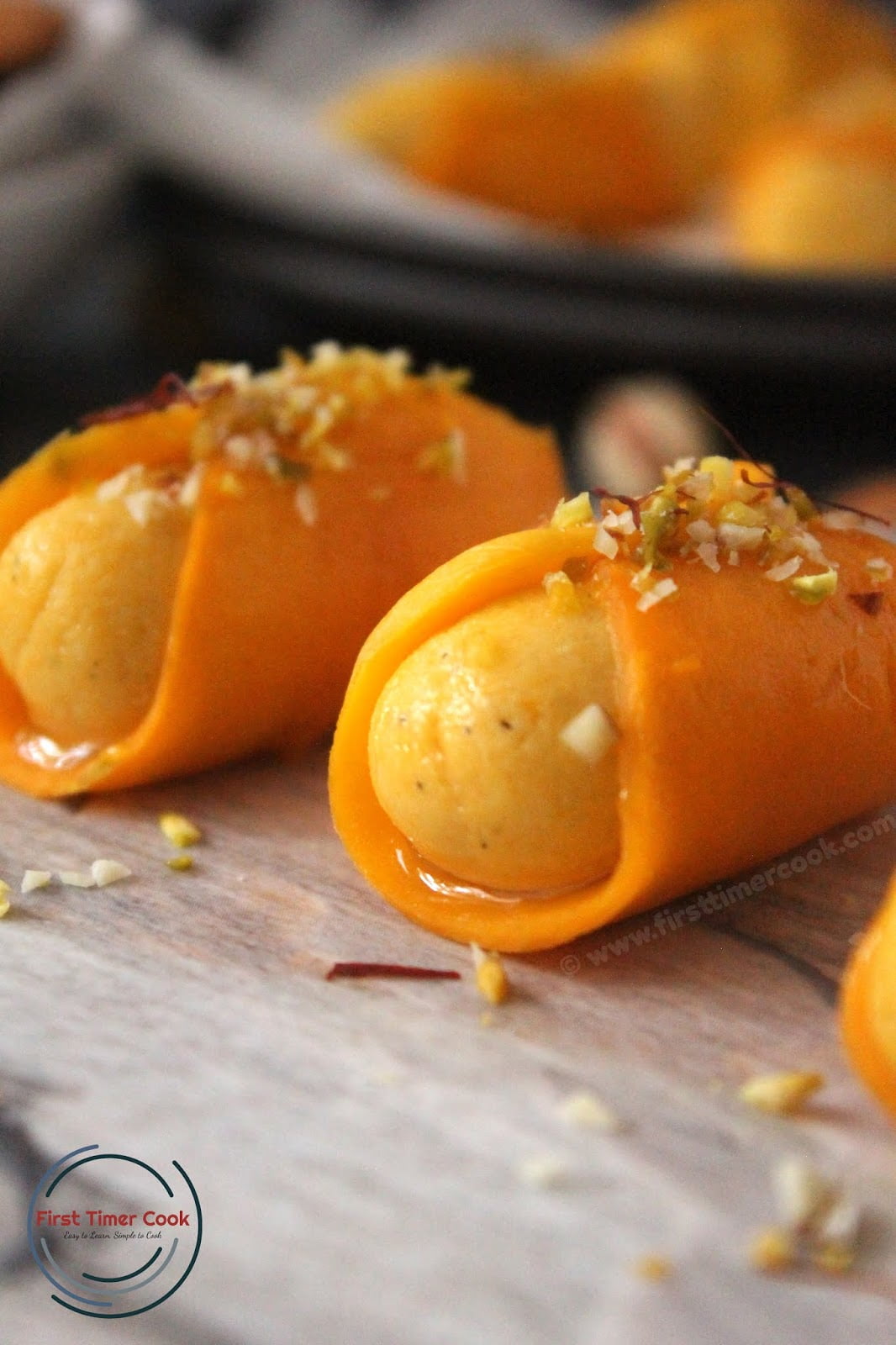 Recipe Card for 'Stuffed Mango Sandesh' :

Dessert, Gluten free, Mango, Sandesh, Bengali Cuisine, Vegetarian Dessert, Sondesh
Dessert, Gluten free, Mango, Sandesh
Bengali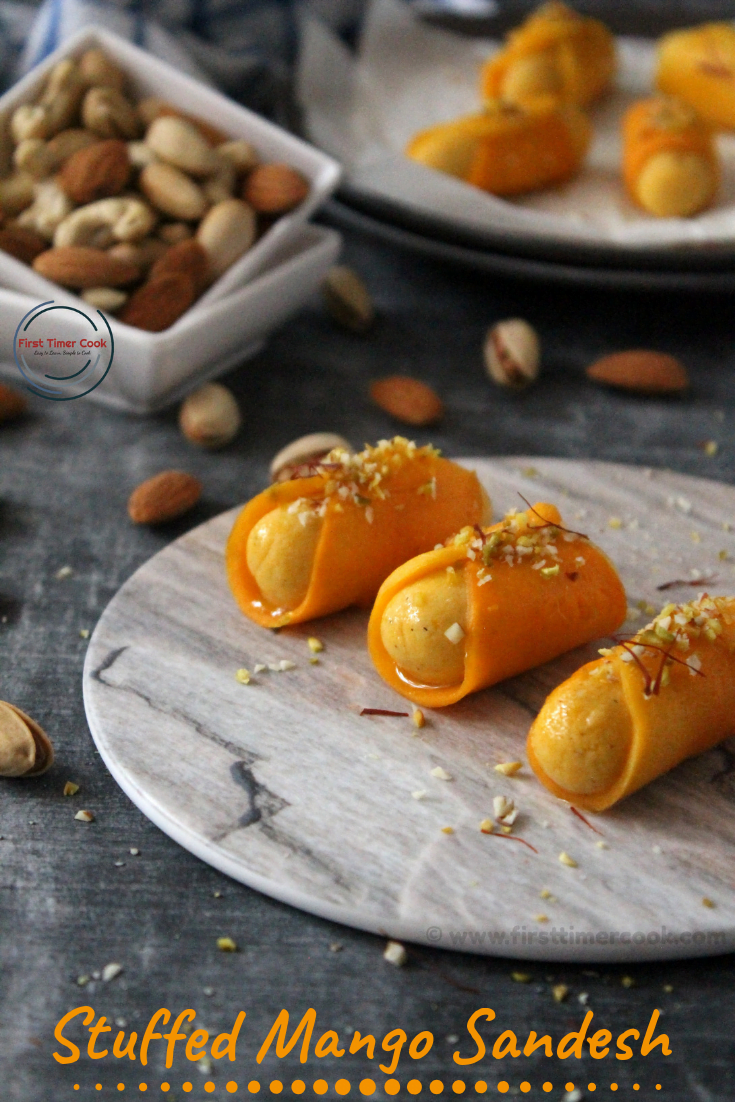 Stuffed Mango Sandesh
a most popular Bengali dessert flavored with Mango and stuffed with thin mango slices
prep time: 15 Mcook time: 15 Mtotal time: 30 M
ingredients:
Chenna

250 gram

Mango 1 no.

Mango pulp 2-3 tbsp

Sugar (powdered) 7 tbsp

Cardamom powder 1/2 tsp

Saffron few strands

Pistachio (finely chopped) for garnishing
instructions:
How to cook Stuffed Mango Sandesh
Wash and peel the mango.

Cut thin slices of mango lengthwise and keep over a plate lined with paper towel.

Then take the

chenna

in a plate and mash it with heels of the hand till it becomes soft & you start feeling the oil in the palm.

Then stop mashing and add powdered sugar, cardamom powder and mango pulp. Mix well.

Take this mixture in a heavy bottom pan and cook over low heat.

Stir continuously, till the mixture starts leaving the pan and is thickened like a soft dough consistency.

Turn off the heat and keep aside to cool completely.

Make small balls from the soft dough, give 2-2.5 inch long cylindrical shape.

Now take one mango slice, place one mango sandesh on the center and roll gently so that the mango slice cover the sandesh.

Similarly roll all the sandeshes.

Sprinkle some finely chopped pistachios and saffron strands on the top of each stuffed mango sandesh.

Keep refrigerated until ready to serve !!
NOTES:
Mango essence if available then add instead of cardamom powder here.
Always preferred to serve chilled.
Sweetness is as desired.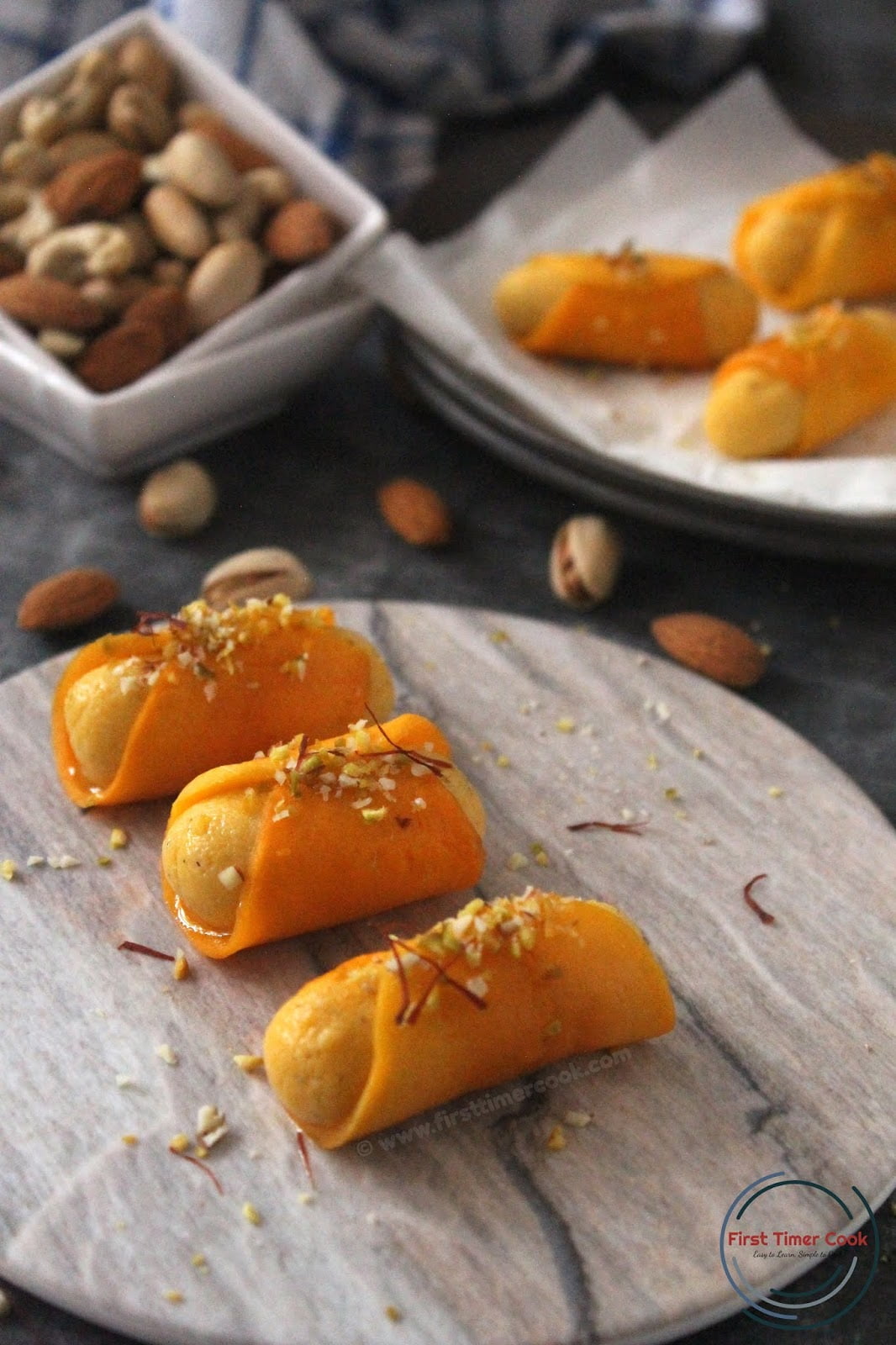 If you tried my recipe and enjoyed fully, then please share some pictures of your creation with me. Also kindly rate the recipe below, give your valuable feedback either in the comment box below or tag me as @firsttimercook on Instagram.
You may also follow me on Facebook, Pinterest, Twitter, Google+, Instagram and can subscribe for free to get new recipes directly into your inbox 😊
This Stuffed Mango Sandesh is contributed for 200th theme of the Foodie Monday Blog Hop foodie group. It is such a proud moment for all the very cooperative members of this group who are continuously contributing to the group which is reached at its 200th no of post. As you must be known that this is a Facebook group which focuses to make a new post as a per a theme decided earlier by the members of the group. This time for the celebration, we decided to cook recipes from our fellow members blog following the Robin Round method. And for me, after my name alphabetically Sujata Roy di's name comes. While searching through out her blog, many Bengali sweets came to knowledge and from those I opted the Mango Sandesh, but with some variation.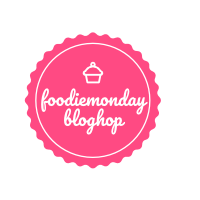 PIN for later :