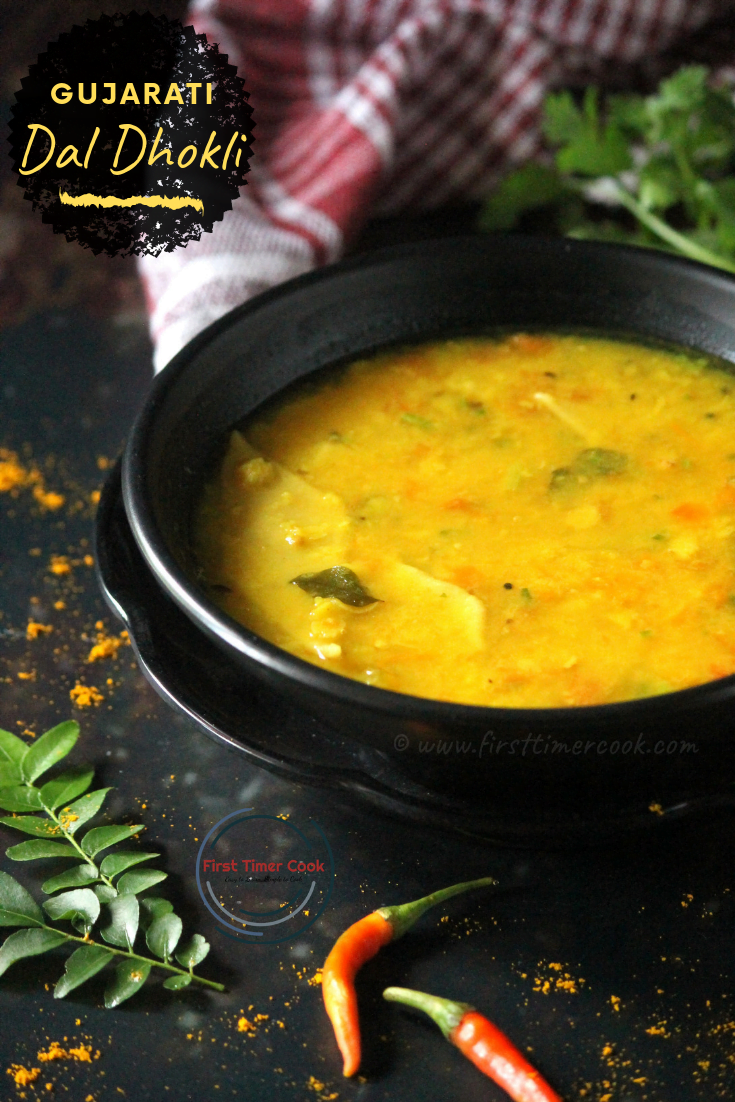 India's westernmost state, Gujarat is very famous for food. Even it is said that, if you live in Gujarat and you don't like food to eat then you are not a true Gujarati :p . The special thing of Gujarati food is that in each dish there is some amount of sweet factor added. This Gujarati cuisine is one of the the oldest culinary treasures of India and is primarily vegetarian. There is a huge variety of vegetarian dishes, each with its unique cooking style which can be eaten all the time.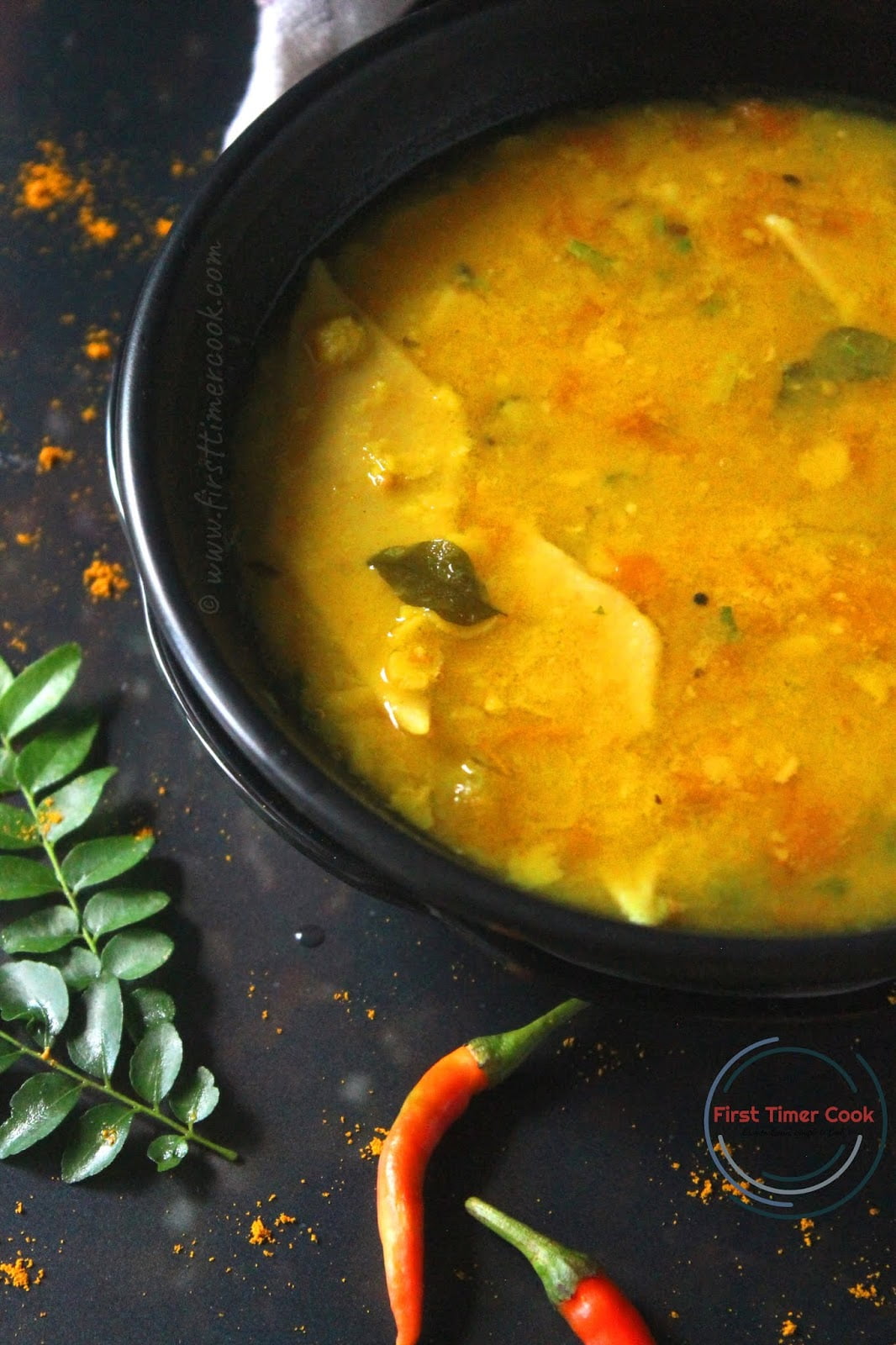 Well Dal Dhokli is one of the traditional dish of Gujarat state of India. The main ingredients here are lentil / dal and wheat flour. The toor dal / arhar dal / split pigeon pea is the lentil variety and is the most popular one in Gujarat. Here the dish has a smooth texture liquid part comes from the dal to which some wheat flour slices are added. The wheat flour dough along with some gram flour is rolled into a thin circle like chapati and then cut into small diamond shapes using a knife or cutter. The traditional method uses ghee for the tempering part, but as I am keeping the whole dish completely vegan so used vegetable oil.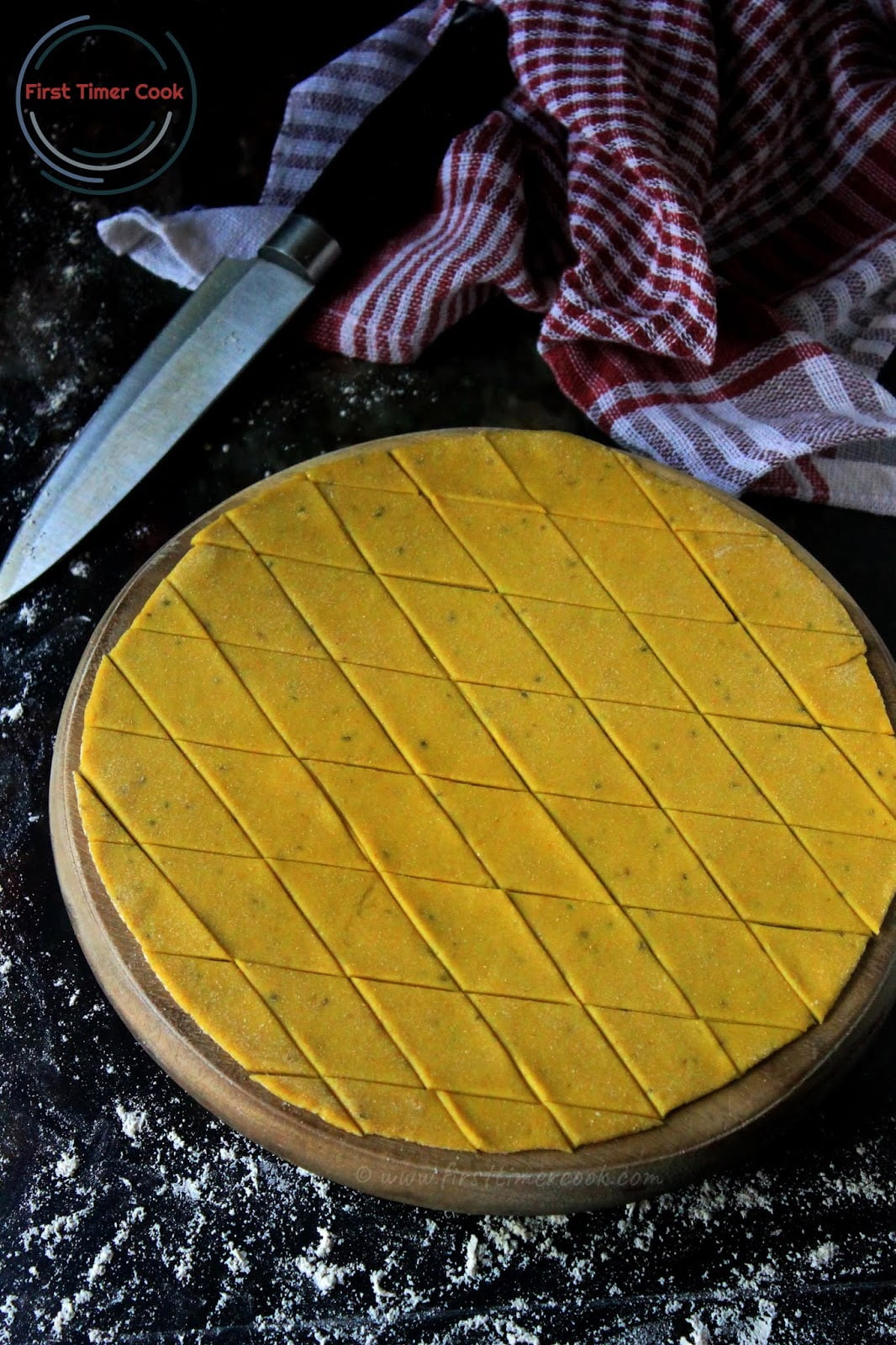 The dish is very healthy and loaded with nutrients. It is like a Indian soup which can be thoroughly enjoyed through out the whole year. This dish is also found in Rajasthani cuisine where jaggery is not used and in Maharastrian cuisine where some kokum is used as tangy factor in the dish. In Gujarati dal dhokli the sweetness comes from jaggery and the freshly squeezed lemon juice adds the sourness. This is almost a kind of One-Pot meal means can be served as it is. Even one can enjoy this along with some steamed rice. Today I had this hot dal dhokli as it is with some papad 😛 .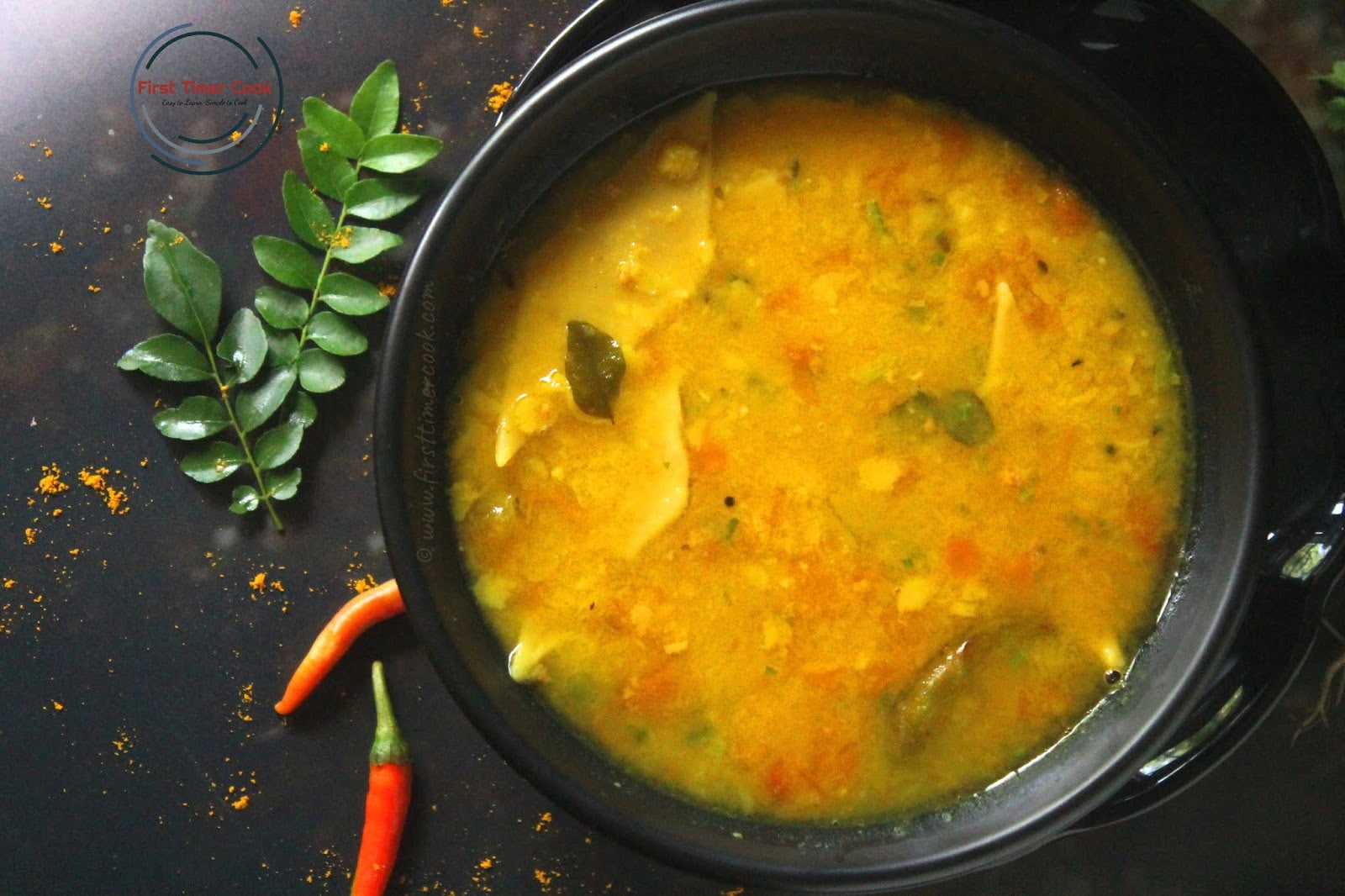 Recipe Card for 'Sugar free Ragi cookies | Finger Millet cookies' :

Gujarati cuisine, Vegan, One pot meal, Vegetarian dish, Wheat flour, Lentil, Toor dal, Split pigeon pea, Jaggery, lemon juice
SIde dish, One pot meal, Gujarati cuisine, Vegan
Gujarati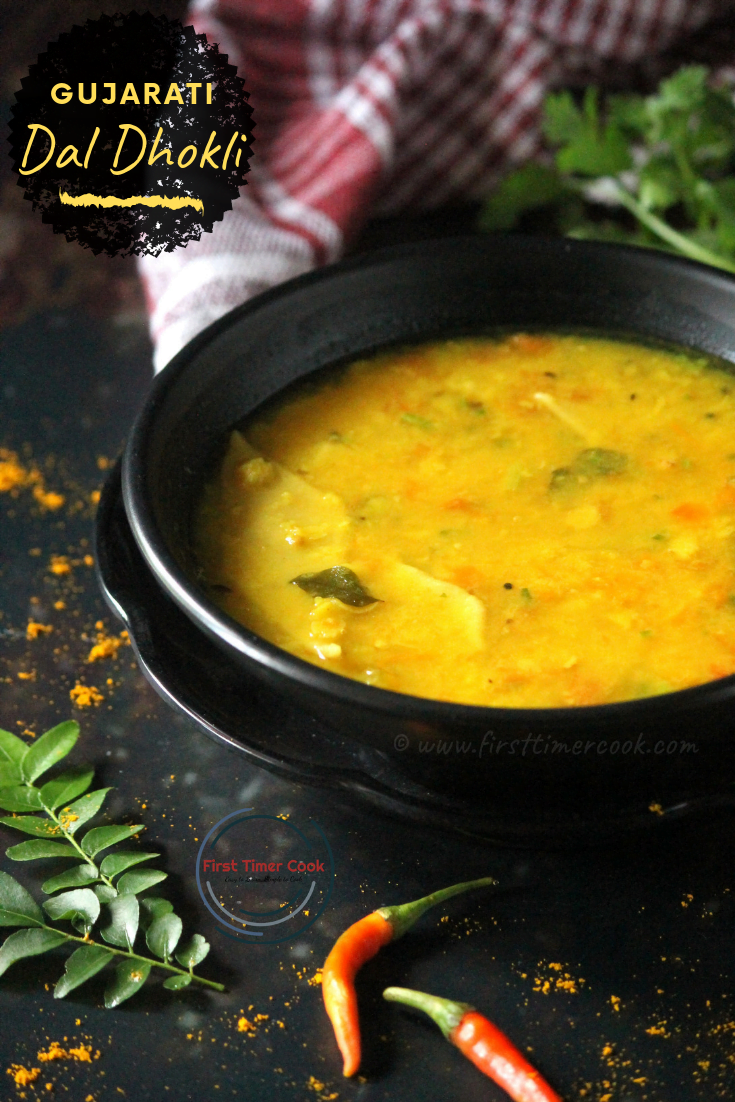 Dal Dhokli (Gujarati Cuisine)
an one-pot-meal with mixed flavors of spicy as well as sweet using wheat flour and lentil as the main ingredients
prep time: 15 Mcook time: 30 Mtotal time: 45 M
ingredients:
For dhokli
Wheat flour 1/2 cup

Besan (gram flour) 1 tbsp

Ajwain 1/2 tsp

Turmeric powder 1/4 tsp

Oil 1 tsp

Salt as needed

Water as needed
For dal
Toor dal (split pigeon peas) 1/2 cup

Tomato (finely chopped) 1/4 cup

Turmeric powder 1/4 tsp

Red chili powder 1/2 tsp

Jaggery (grated) 1/2 tsp

Lemon juice 1 tbsp

Peanut (roasted) (optional) 1 tbsp

Coriander leaf (finely chopped) 1-2 tbsp

Ginger (grated) 1/4 tsp

Cumin seed 1/2 tsp

Mustard seed 1/2 tsp

Curry leaf 1 sprig

Green chili 1-2 no.

Salt as needed

Oil as needed

Water as needed
instructions:
How to cook Dal Dhokli (Gujarati Cuisine)
Wash and clean the toor dal.

Put in a pressure cooker along with finely chopped tomato, turmeric powder, red chili powder, salt and enough water (2-3 cup) .

Close the lid of the pressure cooker and cook the dal till done over medium heat.

Meanwhile in a mixing bowl take all the ingredients under dhokli except water.

Mix everything and then add water little by little to make a soft dough.

Cover and keep aside.

Next to the cooked dal add grated jaggery, grated ginger and 1 cup water. Mix well till the dal blend well either using a spoon or even using a hand blender.

Keep the pressure cooker over low heat.

Now make 2 parts of the dough.

Take 1 part at a time and roll into a thin chapati / roti over a floured surface.

Cut the rolled dough using a knife or even with any cutter into diamond shapes which are known as Dhokli.

Put the dhoklis 2-3 pieces at a time, otherwise these'll stick to each other.

Give a stir and repeat till all the dhoklis are added to the dal.

Cook till dhoklis are well done.

Heat oil in a tadka pan.

Add cumin seed, mustard seed, green chilies and allow to crackle.

Add curry leaves and wait for 4-5 second.

Then pour this tempering over the dal dhokli mixture.

Give a gentle stir and then add lemon juice, roasted peanuts.

Stir again and turn off heat

Add all the chopped coriander leaves and serve hot !
NOTES:
Ghee can be used instead of oil.
Spiciness is as desired.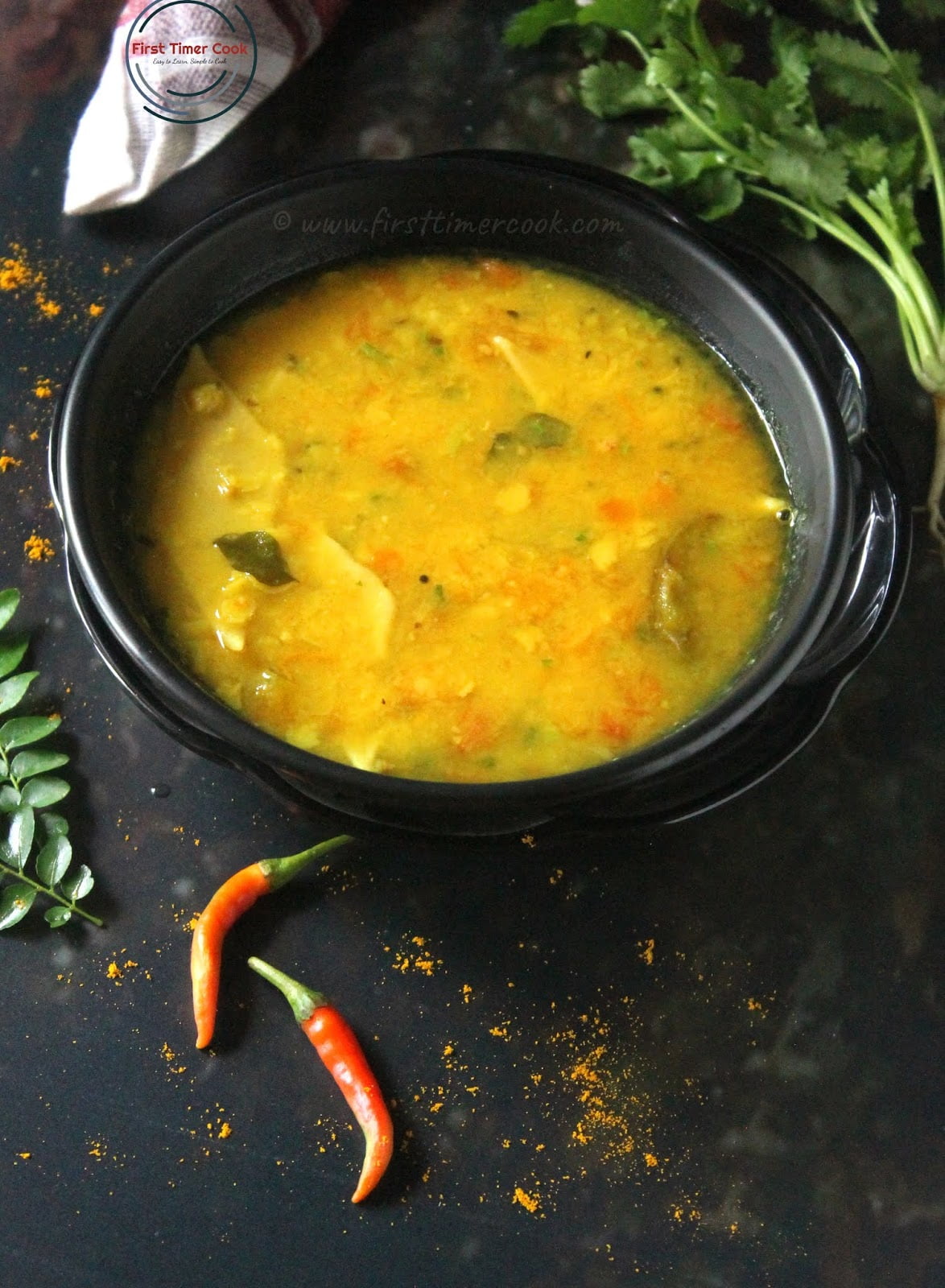 If you tried my recipe and enjoyed fully, then please share some pictures of your creation with me. Also kindly rate the recipe below, give your valuable feedback either in the comment box below or tag me as @firsttimercook on Instagram.
You may also follow me on Facebook, Pinterest, Twitter, Google+, Instagram and can subscribe for free to get new recipes directly into your inbox 😊
This Vegan Gujarati Dal Dhokli is contributed for 201th theme of the Foodie Monday Blog Hop foodie group which is decided as 'Jamva Chalo Ji' and suggested by 'Mayuri di' who blogs at Mayuri's Jikoni.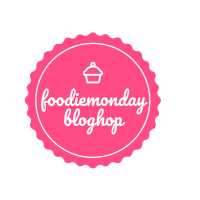 PIN for later :