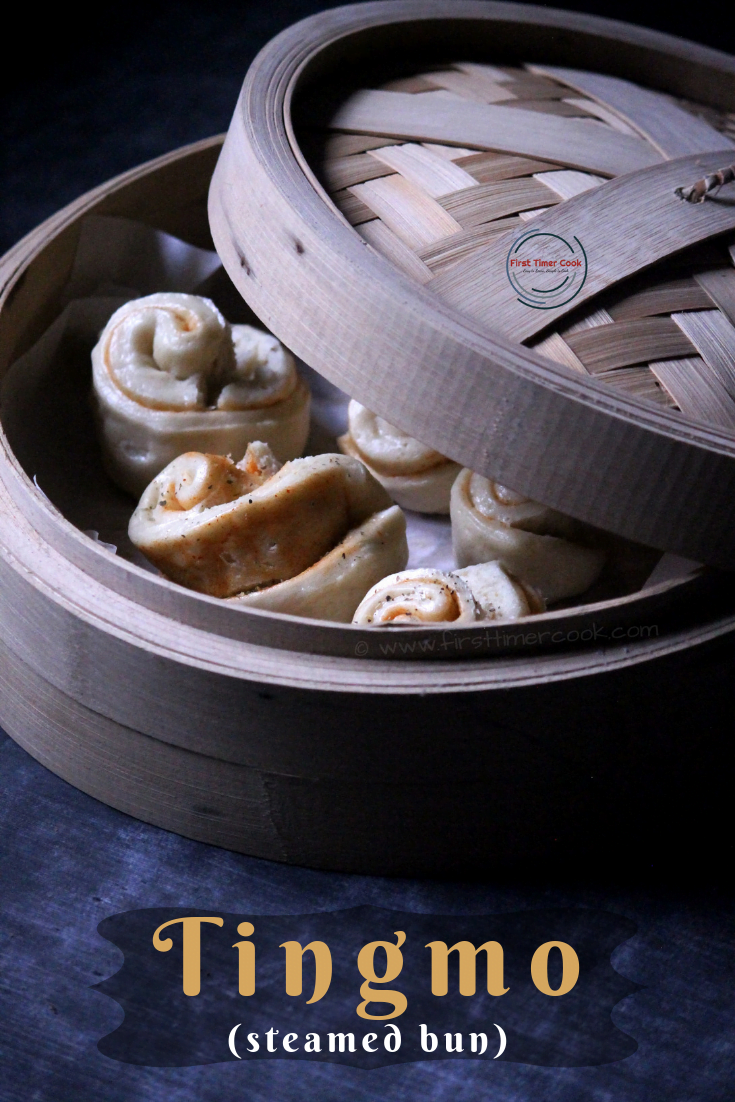 Sikkim, the northeastern state of India is the smallest state of the country located in the eastern Himalayas. Sikkim traditional food is a blend of cultures and traditions of Nepal, Bhutan, Tibet and local Sikkim flavors. The delicious cuisines in Sikkim is unlimited for non-veg as well as veg since both are easily available. Maize is the staple food of Sikkim people, although most of the dishes there are made up of rice. Meat and dairy products are a regular among people of Sikkim and eating fermented vegetables is quite popular there. Some common dishes from this cuisine as Bamboo shoot Curry, Momos, Tingmo, Thukpa, Thenthuk, Sael Roti etc.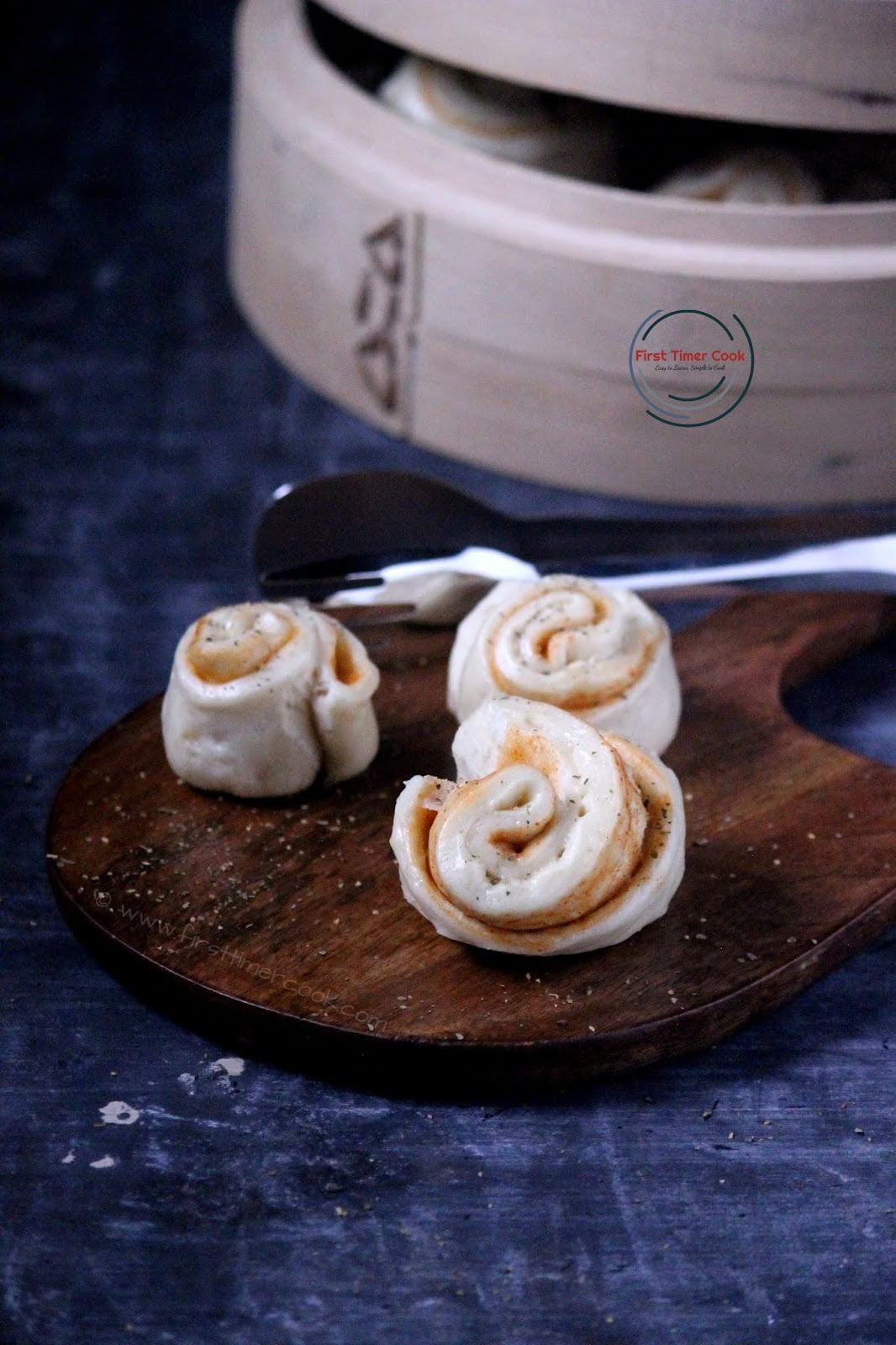 Well, why I am elaborating the cuisine of Sikkim is that the August month challenge in 'Shhhhh Cooking Secretly Challenge' group was 'Sikkim Cuisine'. For this theme, my partner was Aparna who gave me 2 secret ingredients as Wheat flour & Baking Powder and I gave her as Noodles & Cauliflower. And as usual, using mine two ingredients I had to prepare a dish from Sikkim cuisine. So I have come up with the famous steamed dish from this Sikkim cuisine as Tingmo / Ting Momos (Steamed bun).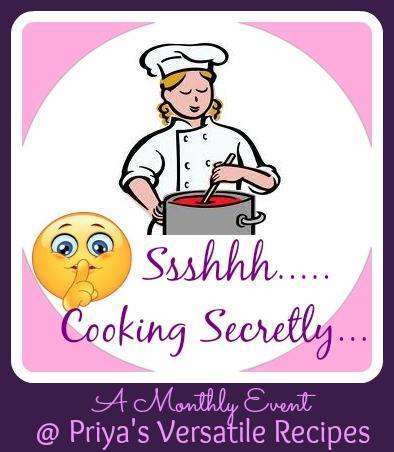 Here the bun is basically like a regular soft, airy bread-roll but instead of baked in oven this is steamed in a steamer. The traditional method of these steamed buns doesn't follow to use any yeast. Only the baking powder is the rising agent in the bun preparation. But by the addition of yeast the bun becomes much soft and floppy which is a common ingredient in modern days of cooking. This steamed bun is a common Tibetan bread and since Tibet is the border of Sikkim, so that steamed bun is also the popular dish in this state. The ting momo / tingmo, momo and even the Chinese steamed bun, all three seem to have a common origin.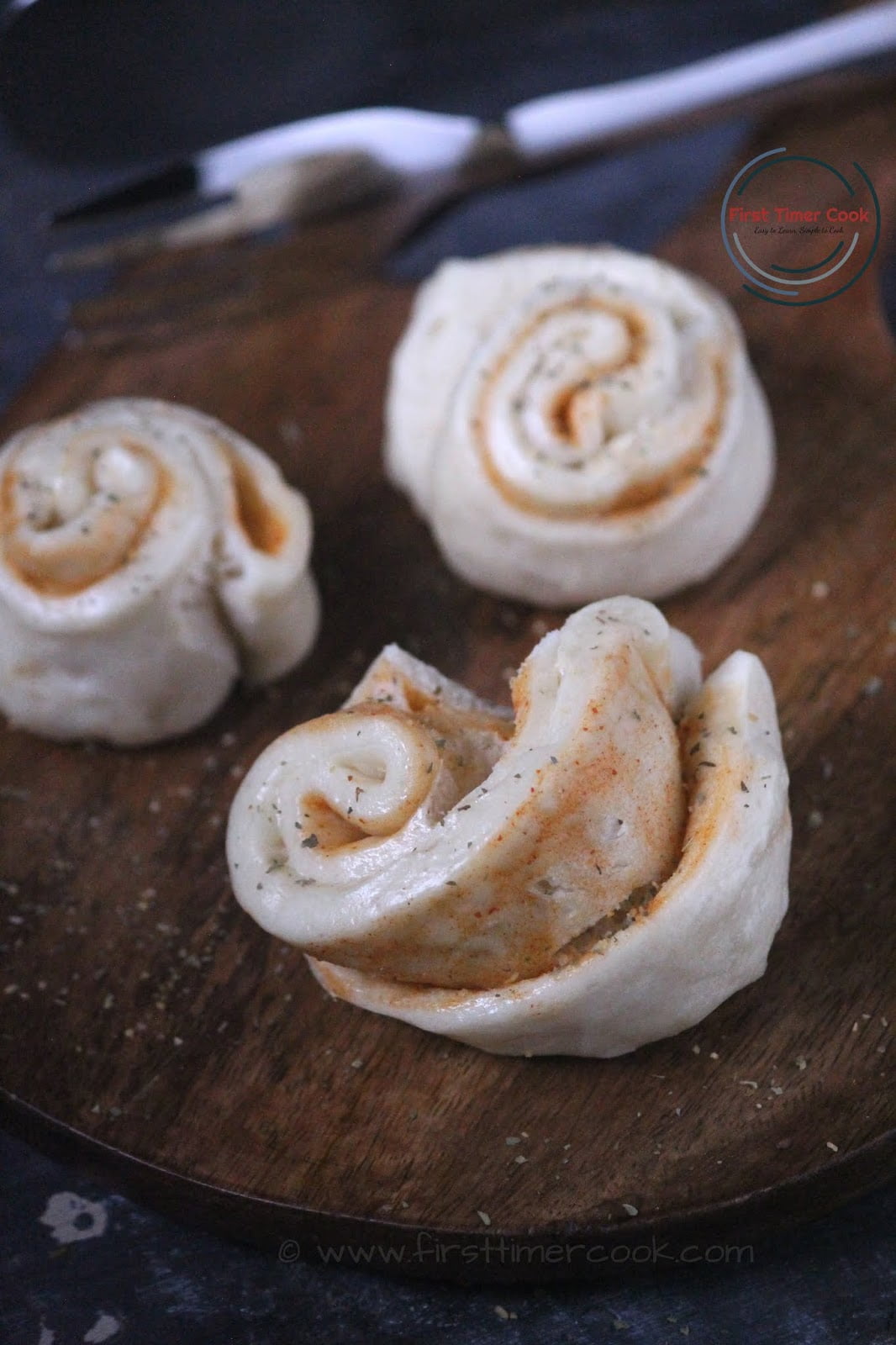 These steamed buns are completely vegan. Although the dough prepared from flour first sets to rise and then buns are shaped just by twist / twirl to give a flowery pattern, but I have made some changes while preparing the steamed bun. The flour used here is a mixture of both all purpose flour and wheat flour. Also instead of simply rolling the dough and then shaping, I have spread some sauces in the rolled dough. Then cut the rolled dough into 2 inch strips, fold each strip into half and then simply roll like cinnamon rolls. After that the buns are steamed in a bamboo steamer. Any sauce can be used here, and by doing these the buns can be eaten as it is. Also along with any soup, curry or any other sauce these steamed buns can be served.
Recipe Card for 'Tingmo / Ting Momos (Steamed bun)' :

Bread Roll, Bun, Steaming, Vegan, Sauce, No onion No Garlic, Steamed bun, Tibetian Cuisine
Bread Roll, Bun, Steaming, Vegan, Sauce
Sikkim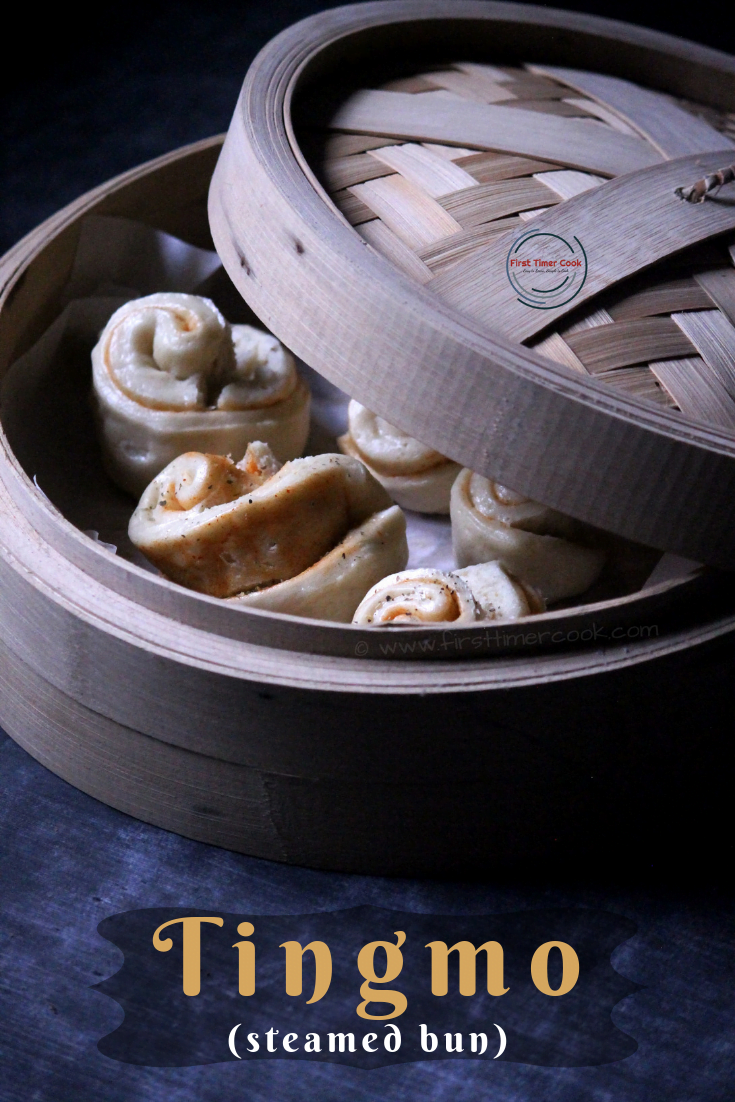 Tingmo / Ting Momos (Steamed bun)
soft, airy bread-rolls by steaming from Sikkim cuisine
prep time: 20 MRest time: 2 Hcook time: 30 Mtotal time: 2:50 M
ingredients:
Wheat flour 3/4 cup

All purpose flour 3/4 cup

Yeast 1.5 tsp

Baking powder 1/2 tbsp

Sugar 2 tsp (1 + 1)

Water (warm) 3/4 cup

Salt 1/4 tsp

Oil 1 tbsp

Sauce (as per choice) 2-3 tbsp
instructions:
How to cook Tingmo / Ting Momos (Steamed bun)
In a mixing bowl, mix 1 tsp sugar with Luke warm water.

Then add yeast to the sugary warm water and keep aside for 10 minutes.

After 10 minutes, the mixture should turn frothy and have risen well.

Take another broad bowl and add both flours, baking powder, oil, salt, 1 tsp sugar along with the frothed yeast mixture.

Gather to get a smooth and soft dough, no need to knead so much.

Keep covered with a wet cloth for 1-2 hour or till doubled in size.

After the dough rises well, take out from the bowl and knead for 1 minute.

Cut into 3-4 equal parts.

Take one part and roll on a floured surface.

Spread 1 tsp of any sauce on the rolled dough and cut into 2 inch strips.

Fold one strip into half lengthwise and then twist / twirl to give a flowery pattern (simply one can roll like a cinnamon roll as well here).

Similarly prepare buns from rest strips and dough.

Place over a plate and keep aside to rise a bit again for 10-15 minutes.

Meanwhile switch on the steamer.

Put few buns on a greased steamer plate keeping space in between and steam for 15-20 minutes.

Transfer the steamed buns to a plate and repeat the steaming again with rest buns.

Serve as it is by sprinkling so mixed herbs or with any sauce or soup !
NOTES:
The sauce spreading is optional. But we enjoyed tingmos like that way.
Any kind of sauce can be used here.
These buns can be prepared using 100% all purpose flour / wheat flour. Here I have used both the flours in 1:1 ratio.
If you tried my recipe and enjoyed fully, then please share some pictures of your creation with me. Also kindly rate the recipe below, give your valuable feedback either in the comment box below / tag me as @firsttimercook on Instagram.
You may also follow me on Facebook, Pinterest, Twitter, Google+, Instagram and can subscribe for free to get new recipes directly into your inbox 😊

PIN for later :