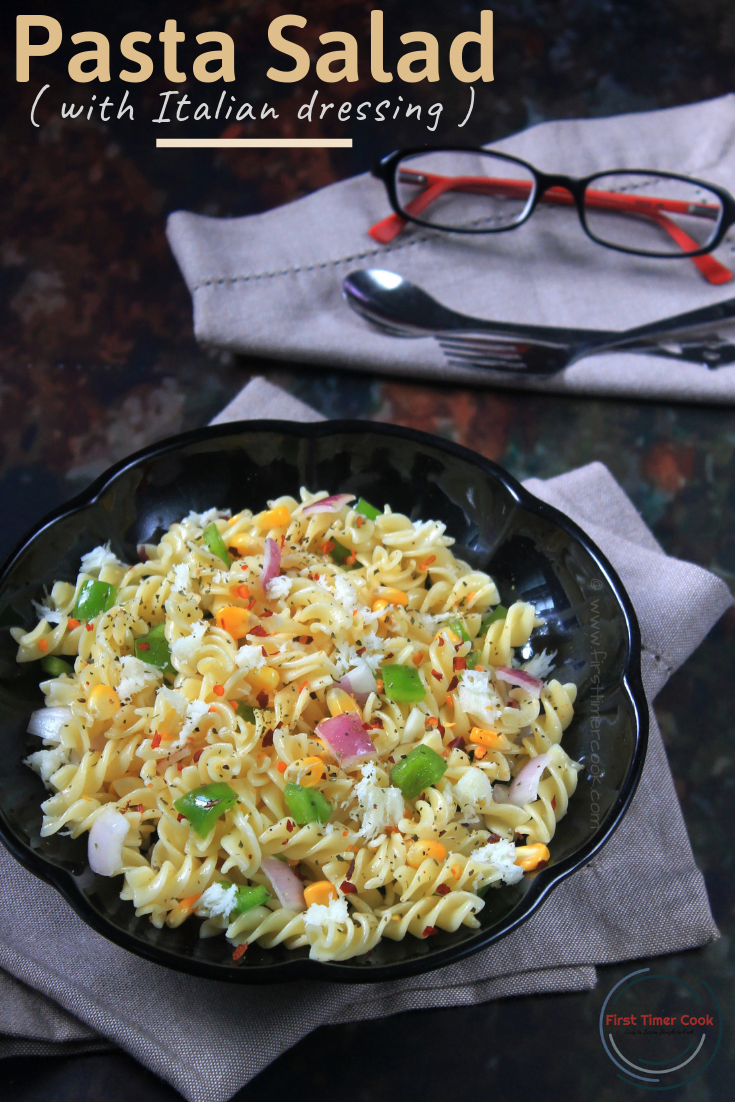 'Salad' describes any type of mixed-ingredient dish which can be served cold or at room temperature. There are varieties of salads served around the world. And the large varieties exist only because the salad can be based on vegetables, legumes, grains, fruits, meat, cheese and many more. So salads can be of both vegetarian and non-vegetarian type. When one wants to have something light and healthy food, then the salads are that kind of dish. Not only salad is just for healthy eaters, but also for those who love a burst of flavor. The seasoning / salad dressing amplifies the taste of the whole dish particularly. Some salad recipes which I have already uploaded in my blog earlier are :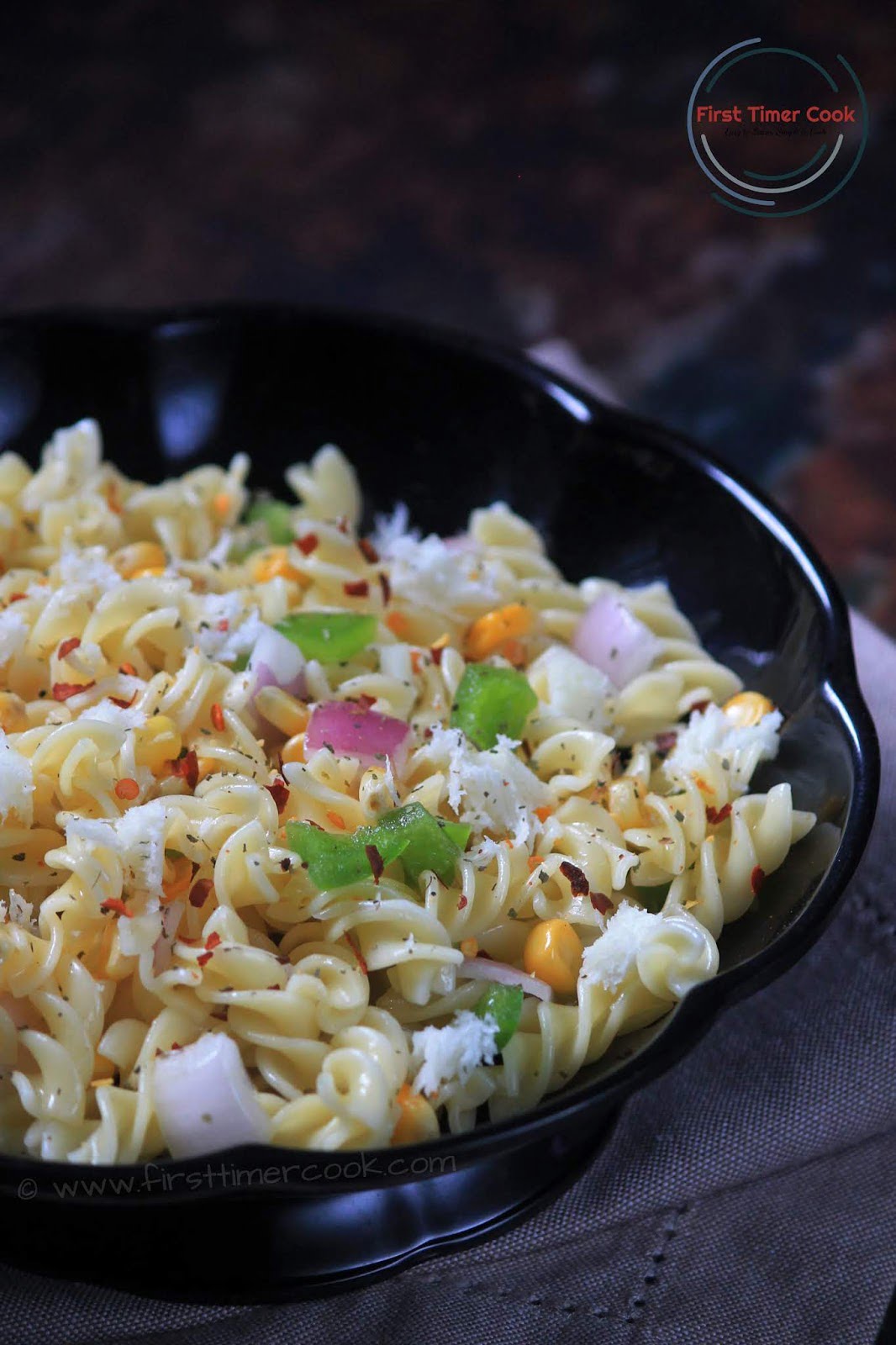 The salads can be categorized depending upon the ingredients used, the dressing / seasoning part, the serving options and even the method of preparation. Well, why I am discussing about the salad in this post is the Foodie Monday Blog Hop group has come up with the 212th theme as 'Salad Series' which is suggested by Narmadha of Nams Corner. The theme is focused to make any variety of salad which can be served as a side dish or a whole meal itself, but raita must not include as per her wish for this particular theme. So keeping all these, I have prepared Pasta Salad with Italian dressing which is preferably served cold.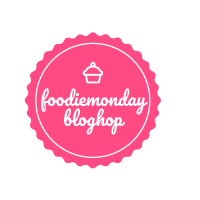 Have you tasted pasta in cold condition ? I will suggest to try this salad which transforms the pasta into something totally different from its heated counterpart. Any kind of pasta salads can be prepared using the desirable pasta, but usually include corkscrews, elbow, bow-tie pasta and that too along with a vinaigrette dressing. Aside from tomatoes, sweet peppers (red, green, yellow), corn and other vegetables, particularly some crumbly cheese makes pasta salad much special. One can also serve this pasta salad as a whole meal (main course) just by adding chickpeas, cubed chickens, shrimps or even ham.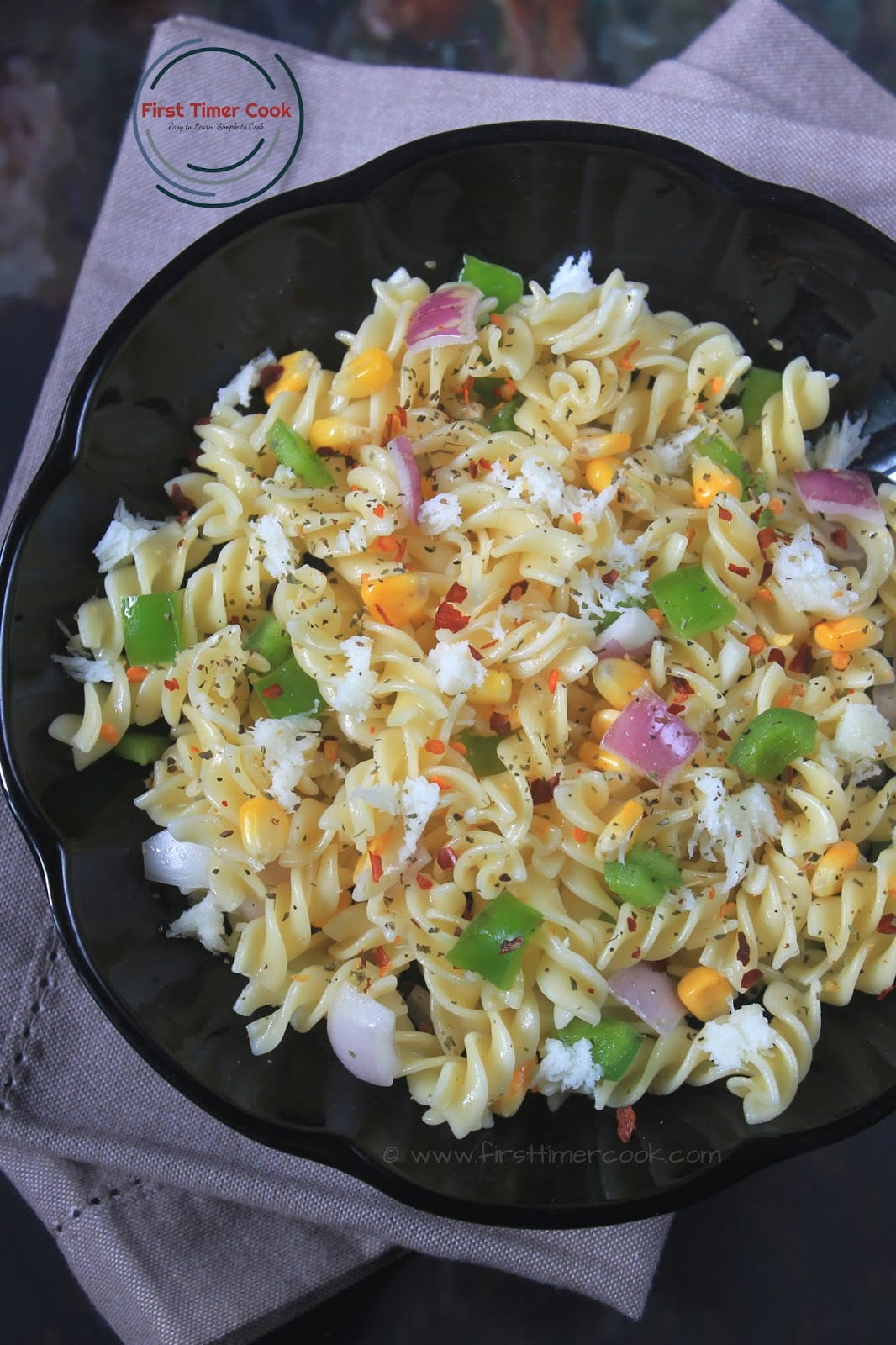 Among all varieties, the elbow pasta (macaroni) is often used in pasta salad. But here I have come up with the pasta salad by using corkscrew variety. The process of pasta salad is quite simple and quick. The salad dressing here I have opted is a mixture of apple cider vinegar, extra virgin olive oil and enhanced with some mixed Italian seasoning, salt. The pasta is first cooked as per the packet instruction. And the cooked pasta is mixed with some choice-able vegetables like bell peppers, onion, corn; the dressing and finally topped with some crumbled cheese, chili flakes and few more mixed Italian seasoning. This pasta salad tastes great if kept in refrigerator before serving. And just at the time of serving, top some cheese of choice and some more seasonings, then serve ! This kind of salad is enjoyed by any age group through out any season. So do try 😊😊
Some other pasta dishes from this blog are :
Recipe Card for 'Pasta Salad with Italian dressing' :

Cold Salad, Pasta, Quick Snack, Italian dressing, vinaigrette, No cook recipe, Healthy, Olive oil, Apple cider vinegar,
Salad, Pasta, Snack, Italian dressing, vinaigrette
Italian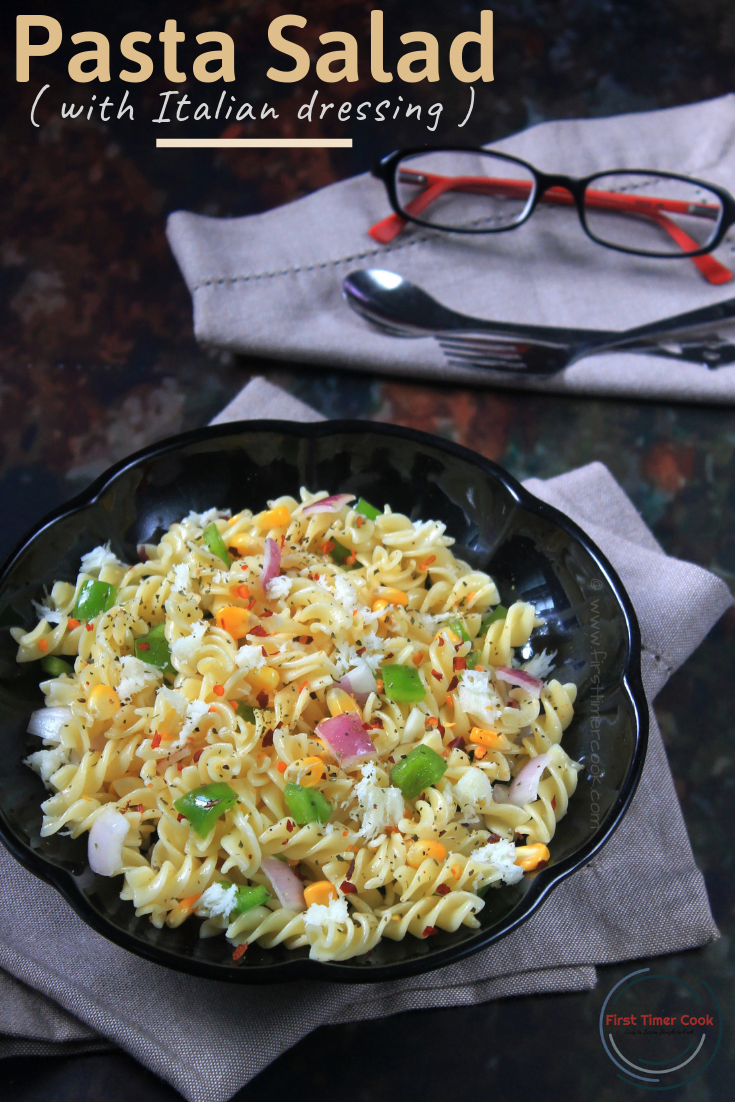 Pasta Salad with Italian dressing
an easy and quick salad using pasta with a vinaigrette enhanced by some mixed Italian seasoning.
prep time: 10 Mcook time: total time: 10 M
ingredients:
Pasta (cooked as per packet instruction) 2 cup

Corn (steamed) 1/2 cup

Green pepper (small pieces) 1/2 cup

Onion (small pieces) 1/2 cup

Cheese (crumbled) as needed

Chili flakes as needed
Italian dressing
Olive oil (extra virgin) 1 tbsp

Apple cider vinegar 1 tbsp

Mixed Italian seasoning 1/2 tsp

Salt as needed
instructions:
How to cook Pasta Salad with Italian dressing
In a small bowl first take olive oil, apple cider vinegar, mixed Italian seasoning and salt.

Mix well and keep aside for 4-5 minutes.

Meanwhile in a mixing bowl take cooked pasta, corn, onion, green bell pepper and mix using a spoon.

Then pour the dressing and again mix everything till incorporated well.

Keep in refrigerator for 10-15 minutes.

Next transfer to a serving bowl, sprinkle crumbled cheese along with chili flakes and few more mixed Italian seasoning.

Serve and enjoy !
NOTES:
Any other vegetable like tomatoes, red bell pepper, olives etc can be added too.
Created using The Recipes Generator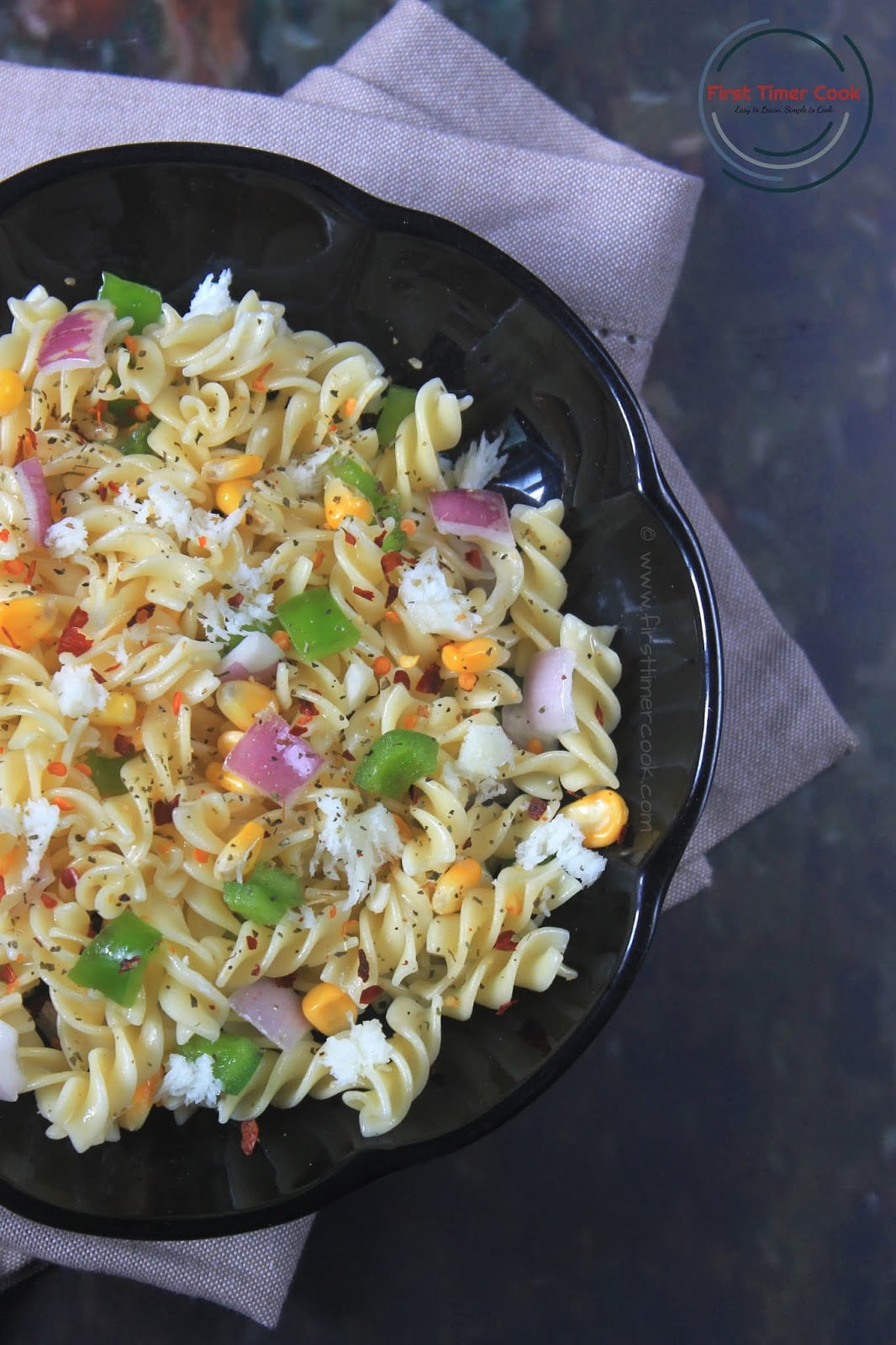 If you tried my recipe and enjoyed fully, then please share some pictures of your creation with me. Also kindly rate the recipe below, give your valuable feedback either in the comment box below or tag me as @firsttimercook on Instagram.
You may also follow me on Facebook, Pinterest, Twitter, Google+, Instagram and can subscribe for free to get new recipes directly into your inbox 😊
PIN for later :