Today is 31st December. Have you planned anything special for your guest to ring in the new year 2017 ? If not, then here I have come up with a most interesting and delicious cake, countdown to midnight chocolate cake. This cake is purely eggless and butterless, also so simple to make. A beautiful clock ticking its way towards midnight is loved by everyone. Mainly this cake comes in an chocolate (base cake) and creamy flavor (frosting part) and decorates like a clock, which will melt in mouth at the first instance. This cake is both interesting to look at and very tasty. It can become a highlight of countdown to midnight party. Lets go in detail method of preparation as mentioned below.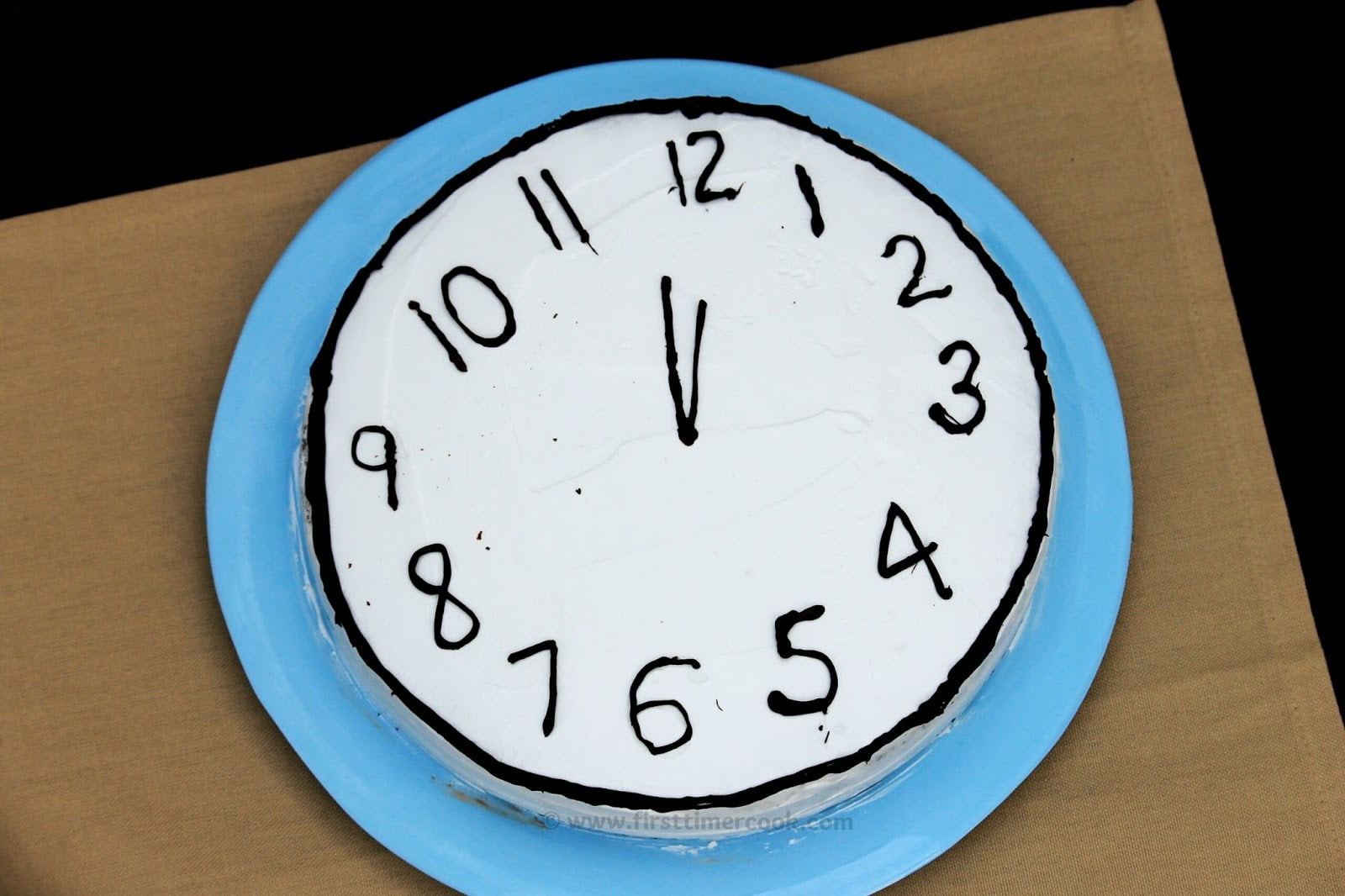 Preparation Time : 5 mins | Cooking Time : 40 mins
​Ingredients :
| | |
| --- | --- |
| Ingredients | Measurements |
| All purpose flour | 1 ½ cup |
| Cocoa powder | 3 tbsp |
| Sugar | 1 cup |
| Vinegar / lemon juice | 1 tbsp |
| Baking soda | 1 tsp |
| Oil | ¼ cup |
| Vanilla essence | 1 tsp |
| Water | 1 cup |
| Heavy whipping cream | 250 ml |
| Icing sugar | 5 tsp |
| Dark chocolate | 75 gm |
​Method :
Preheat oven to 180 deg C. Lightly grease the cake tin lined by butter paper with oil and keep aside.
Sift all purpose flour, cocoa powder, salt, and baking soda in a bowl. Keep aside.
Take sugar in another bowl. Add water, oil, vanilla essence and vinegar. Mix well.
Next add the shifted dry ingredients into the wet ingredients. Just gently fold in, don't over mix.
Immediately pour the batter into the greased cake tin and bake for 35-40 mins.
Take out from oven and let the cake to cool down for 10 mins in the cake tin. Then invert and allow to cool down completely.
Meanwhile, start the frosting part.
Whisk whipping cream along with icing sugar using electric whisk for about 7-8 minutes in the highest speed or until stiff peaks arise. Don't overdo the beating as the cream might turn into butter. Frosting part is done.
Now take the cooled cake on a plate. Spread generous amount of frosting on top and sides of the cake and scrape out with a spatula. Refrigerate for atleast 30 minutes.
Next melt the dark chocolate by using double boiler or just microwave for 1 minute.
Take a piping bag fitted with a medium round nozzle. Fill it with the melted chocolate and then decorate the top of the cake like the face of a clock.
Again refrigerate for atleast 30 minutes and after 30 minute, it is ready to serve !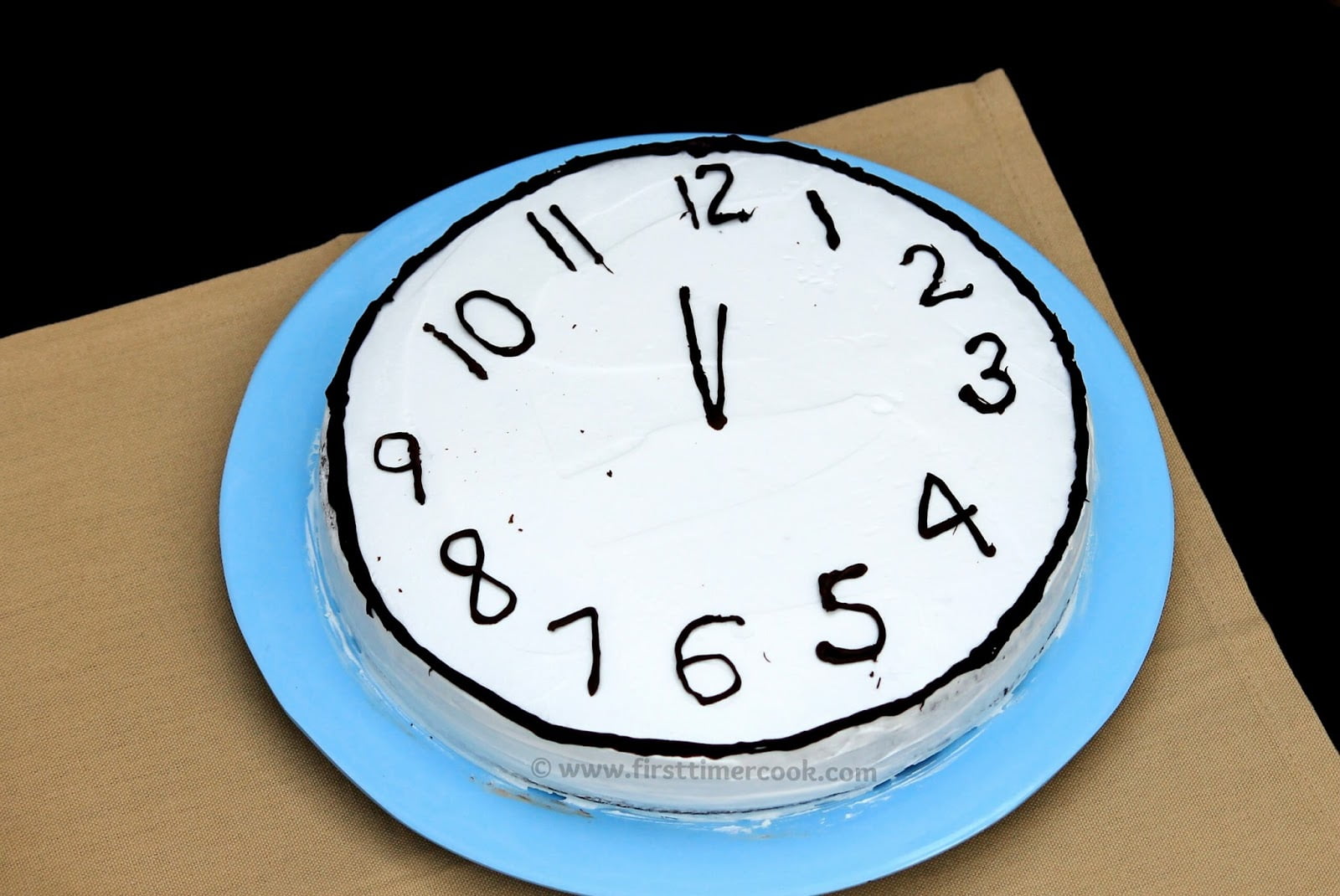 Notes :
Instead of melted chocolate, chocolate icing can also be used.