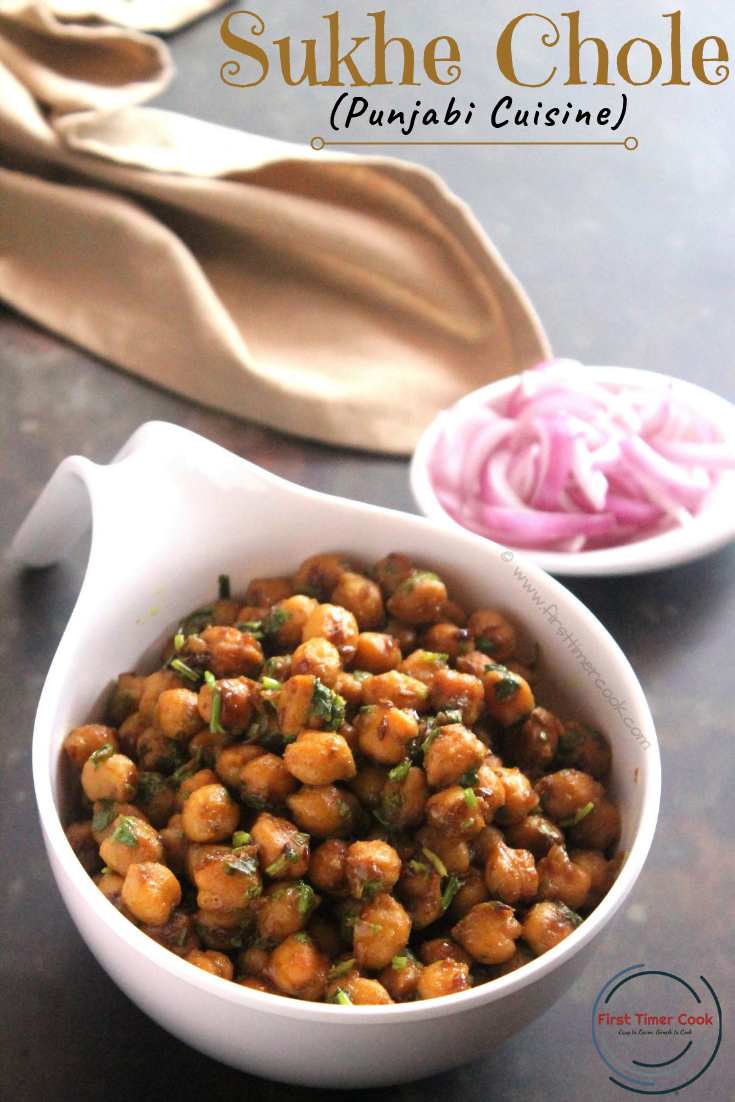 Punjabi cuisine is widely popular and it can be non-vegetarian or even completely vegetarian. One of the main features of Punjabi cuisine is its diverse range of dishes. Most dairy products are abundantly used in Punjabi cuisine. My family particularly love the punjabi cuisine dishes using paneer as well as chole / chickpeas which can be cooked in many possible way. Starting from Chole Masala, Chole Chaat, Pindi Chole, Peshawari Chole to lots more one can surely enjoy.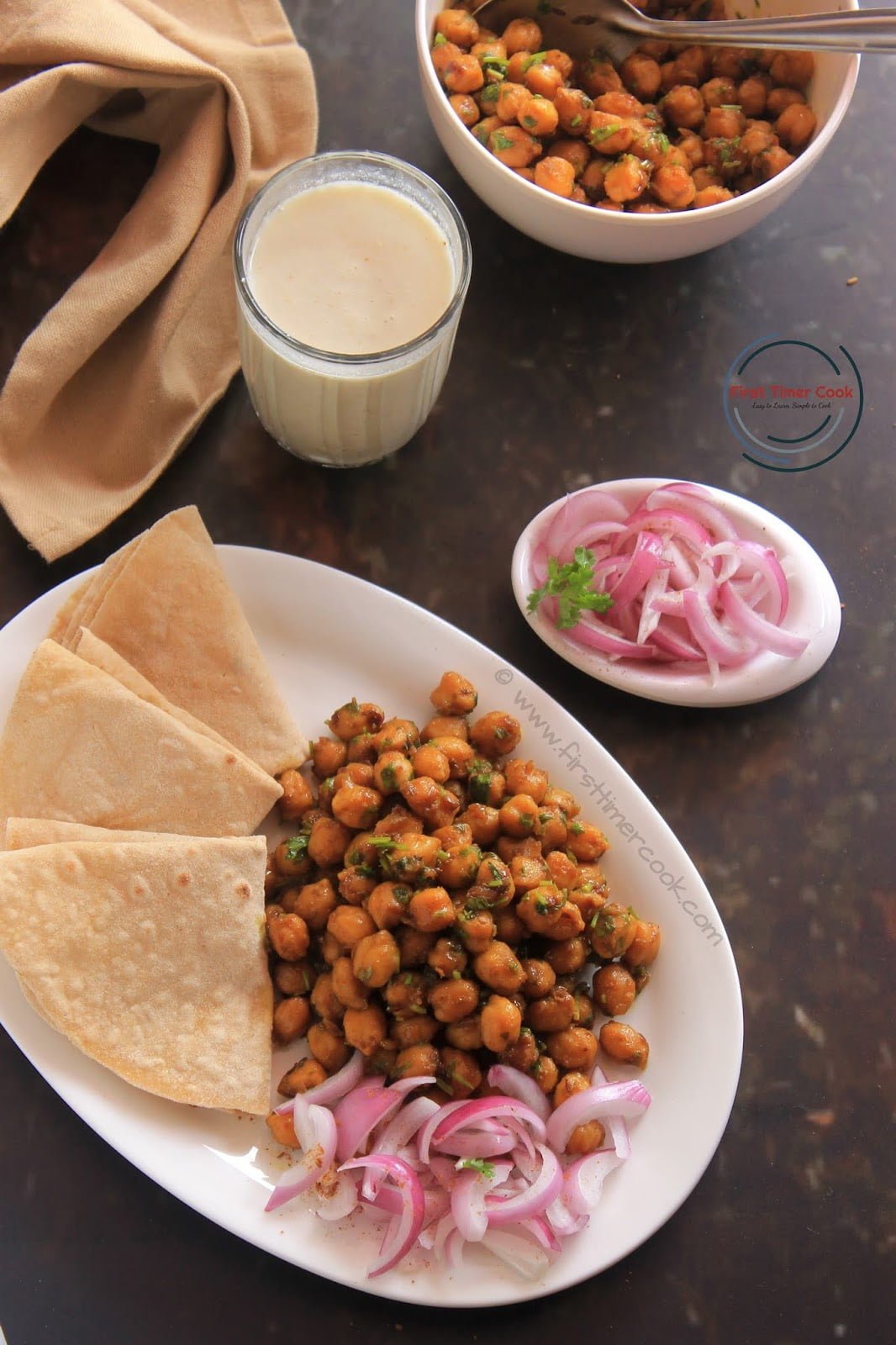 Here the post is all about a dry dish using chickpeas as Punjabi Sukhe Chole / Chickpea Stir-fry. Along with roti / paratha or even with pulao, steamed rice-dal combo this can be perfectly fit. The process is quite simple and within few time the dish is prepared. The pressure cooked chickpeas are cooked with some dry spices, so the dish is quite dry type without any gravy.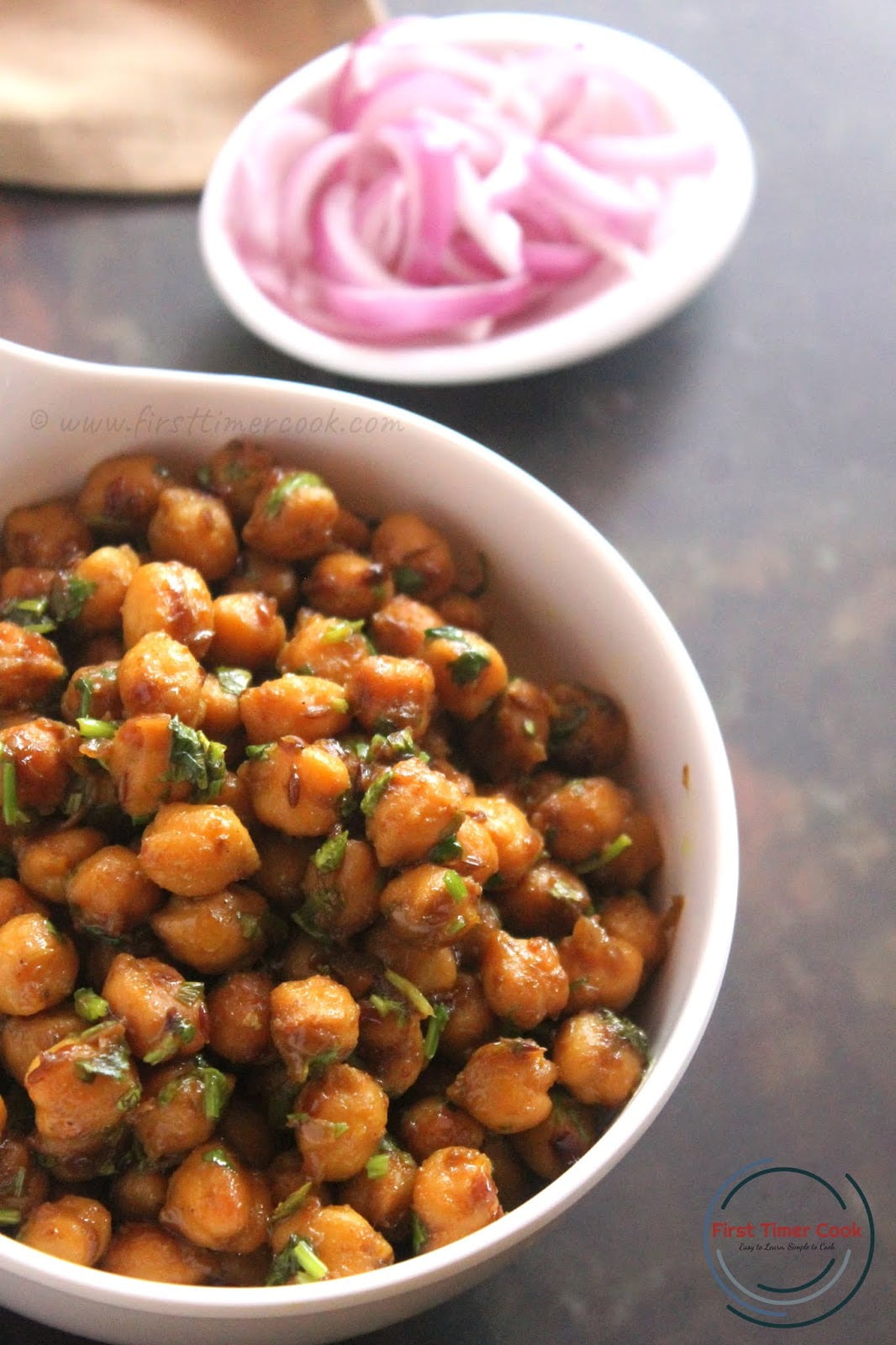 The dish is completely vegan and gluten free too. And if you are in a hurry then you must try this punjabi sukhe chole. I love to have this dish with some hot phulka / roti, some sliced onions along with a glass of masala chhas.
Some other chickpea recipes from my blog are :
Recipe Card for 'Punjabi Sukhe Chole / Chickpea Stir-fry' :

Vegan, Gluten free, side dish, chickpeas, Punjabi Cuisine, Dry dish, Vegetarian, Chole, Kabuli chana
Vegan, Gluten free, side dish, chickpeas, Punjabi Cuisine
Punjabi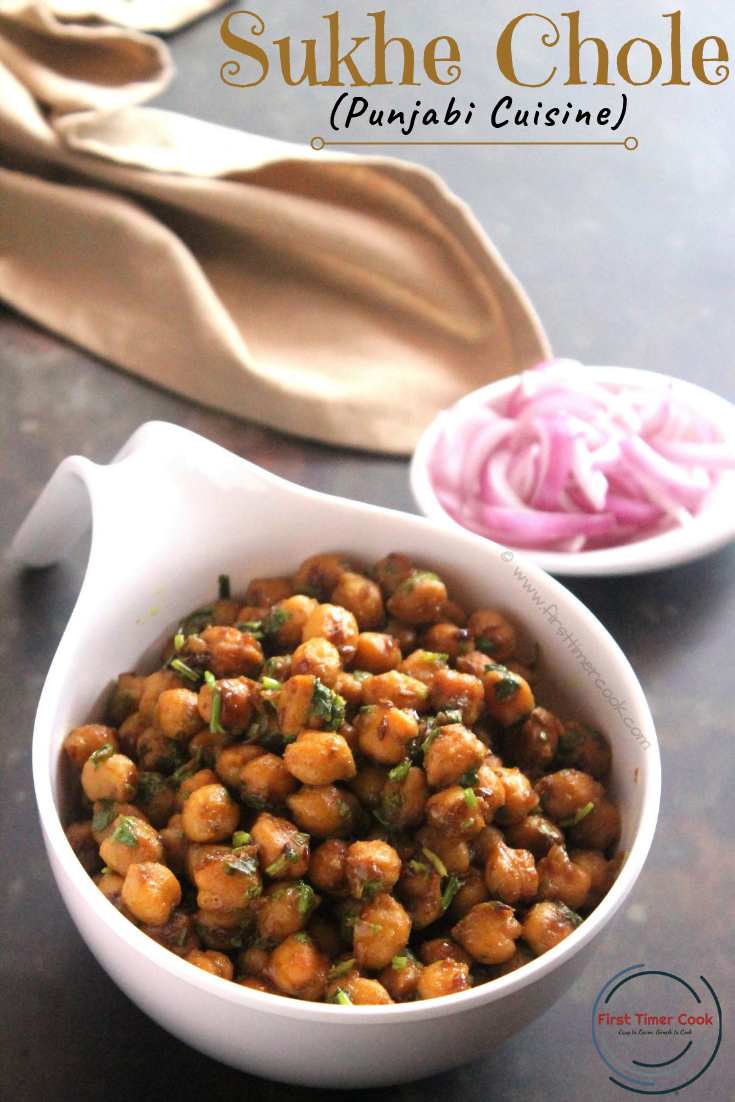 Punjabi Sukhe Chole / Chickpea Stir-fry
a quick and easy dry vegetarian dish using chickpea / chole from Punjabi Cuisine.
prep time: 15 Mcook time: 15 Mtotal time: 30 M
ingredients:
Chickpea (kabuli chana) (soaked) 1.5 cup

Onion (finely chopped) 1/2 cup

Ginger garlic paste 2 tsp

Turmeric powder 1/2 tsp

Red chili powder 1 tsp

Coriander powder 1.5 tbsp

Garam masala 1.5 tsp

Cumin powder 1/2 tsp

Cumin seed 1 tsp

Lemon juice 1 tbsp

Coriander leaf (finely chopped) 1 tbsp

Salt as needed

Oil 1 tbsp

Water as needed
instructions:
How to cook Punjabi Sukhe Chole / Chickpea Stir-fry
In a pressure cooker take the soaked chickpeas along with salt and enough water (3-4 cup).

Pressure cook till the chickpeas are done completely.

Drain the cooked chickpeas and keep aside.

Now heat oil in a pan and add cumin seeds.

Allow to crackle and then add finely chopped onion.

Saute till transparent and next add ginger-garlic paste.

Again saute till raw smell goes away.

Then add all the spice powder, salt and cooked chickpeas.

Mix well and cook for 2-3 minutes over low heat by covering the pan with a lid.

Next add chopped coriander leaves and lemon juice. Mix again.

Turn off heat and serve hot with paratha / roti or even with any rice dish !
NOTES:
Some chopped green chilies can be added if more spiciness is required.
Well, the June month challenge in the food group named as 'Shhhhh Cooking Secretly Challenge' was from 'Punjabi Cuisine' and my partner was Kalyani. I gave her as Almond and Kasoori methi and mine are Coriander powder and Lemon juice. Check her dish here. As usual, using mine two ingredients I had to prepare a dish from Punjabi cuisine. So I have come up with this easy and quick Punjabi Sukhe Chole / Chickpea Stir-fry.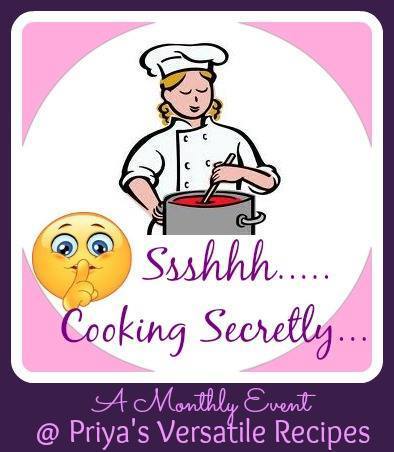 If you tried my recipe and enjoyed fully, then please share some pictures of your creation with me. Also kindly rate the recipe below, give your valuable feedback either in the comment box below / tag me as @firsttimercook on Instagram.
You may also follow me on Facebook, Pinterest, Twitter, Google+, Instagram and can subscribe for free to get new recipes directly into your inbox 😊


PIN for later :