a refreshing Indian traditional drink from the fruit of the spiritual, religious & medicinal plant : Bael / Wood Apple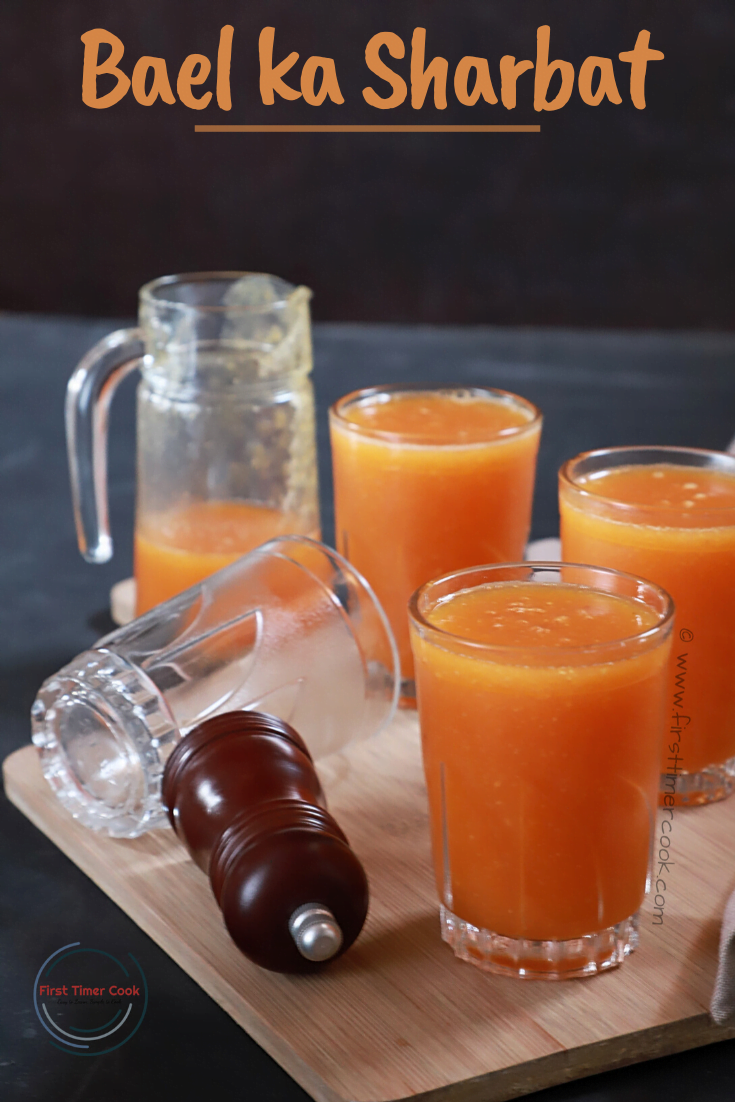 Bael is a spiritual, religious, and medicinal plant. This is one of the few Ayurvedic plants whose entire parts from root to leaves are used for different diseases. The bael fruit is a large but dull orange in color. It has a hard shell and has to be cracked with a hammer or machete to open up. The pulp inside the fruit is the fibrous yellow type and has a very aromatic flavor. It turns from a greyish green color to a dull yellow. Bael is also known as Bengal quince, stone apple, golden apple, Japanese bitter orange, wood apple, etc.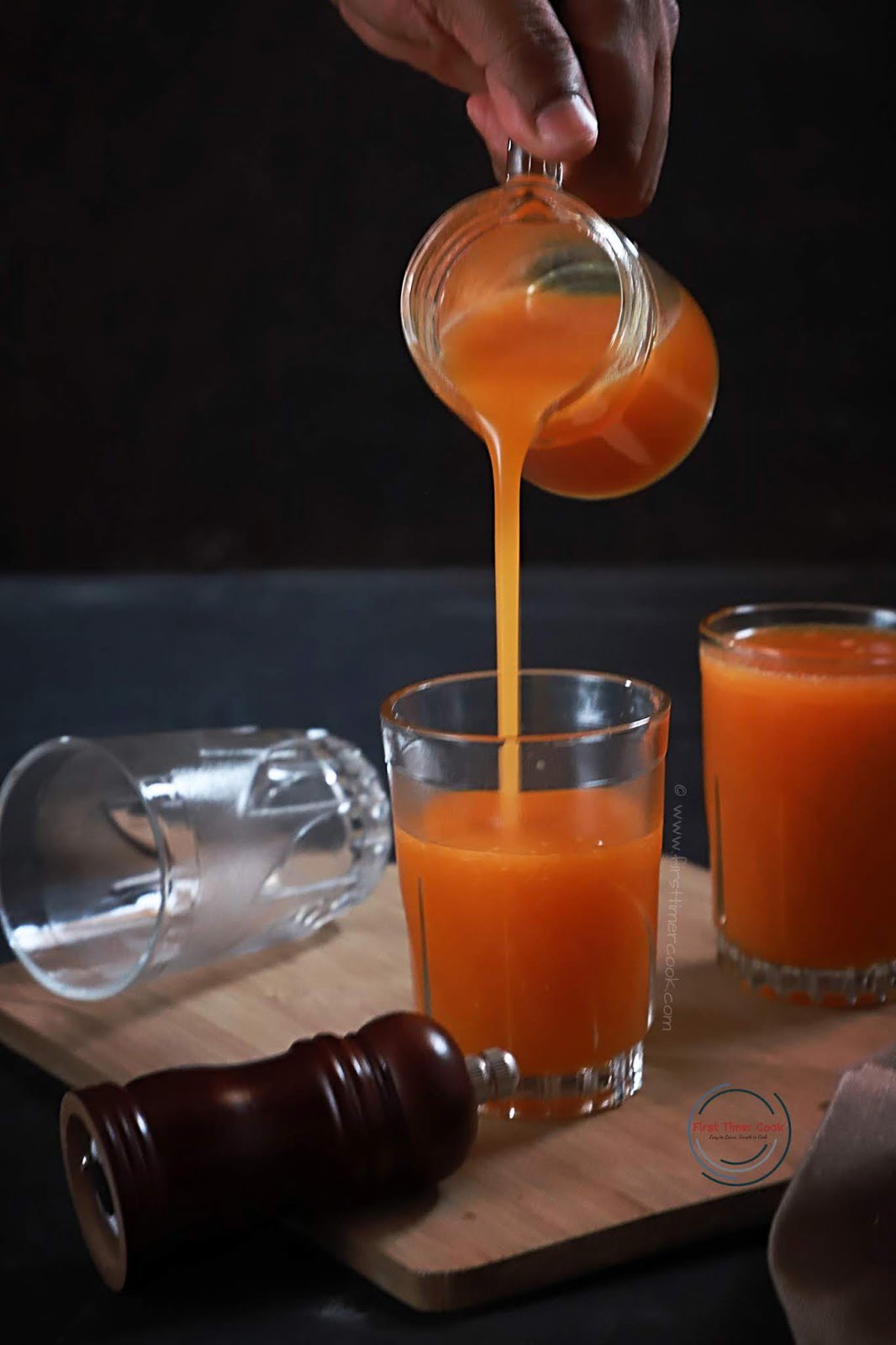 Since wood apples or baels are loaded with nutrients, vitamins, organic compounds including tannins, calcium, phosphorous, fiber, protein, iron, etc so there is a vast array of health benefits related to this fruit. Bael tender leaves are used as salads. The leaves are also used as offerings to Lord Shiva. The extracted oil is used to cure many respiratory problems. The pulp of the fruit is used in the preparation of squash, pulp powder, and many other eatable products. Its juice is used to make many flavorful and refreshing drinks, especially in the summer season because of its sweet and pleasant nature. Some benefits of bael juices are :
Gives a great comfort in heartburn, acidity, hyper-acidity, indigestion
Always advisable to drink bael juice if suffering from intestinal parasites
Rich in vitamin C
Useful in curing constipation because of its laxative properties etc.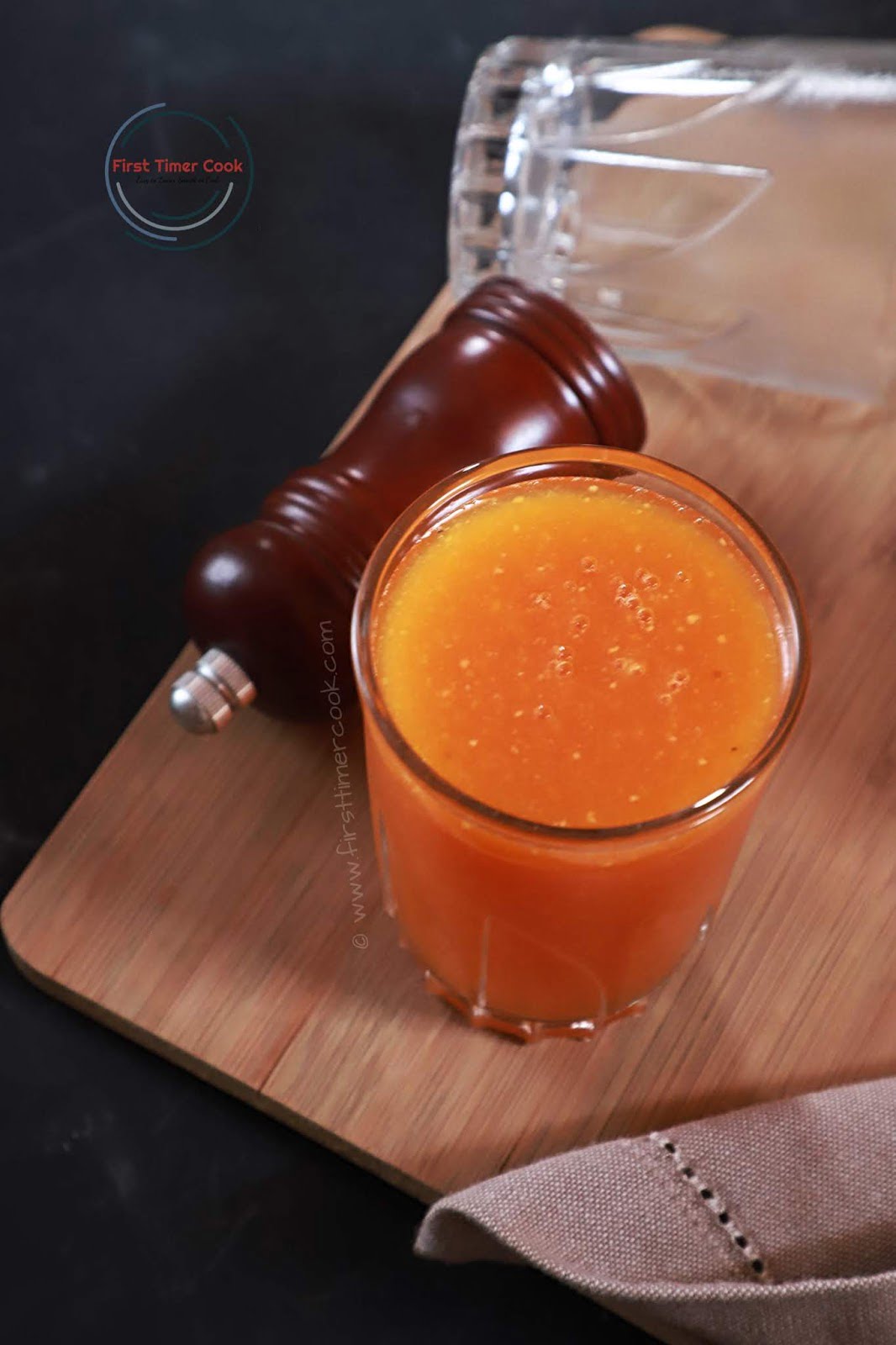 Well, here I have come up with a simple panna using the bael juice as Bael Panna or Bael ka Sharbat. Summer, this is the season of this fruit Bael. The aroma of a fully ripe bael is divine. The pulp of the ripe bael is sweet in taste, so there is no need for any extra sweetener while using this fruit in any dish. Still, if more sweetness is desired, one can add to some sweetener. Just scoop out the pulp, strain through a strainer, mix with some freshly crushed pepper, adjust the consistency by adding water, and voila !!! The much refreshing and divine flavored drink is ready. The drinks can be served along with some ice cubes or can be kept in the refrigerator to use later. So do try this Bael Panna or Bael ka Sharbat this summer!
Also do check another bael recipe from this blog as Bael Lassi 👇
Recipe Card :

Bael Panna | Bael ka Sharbat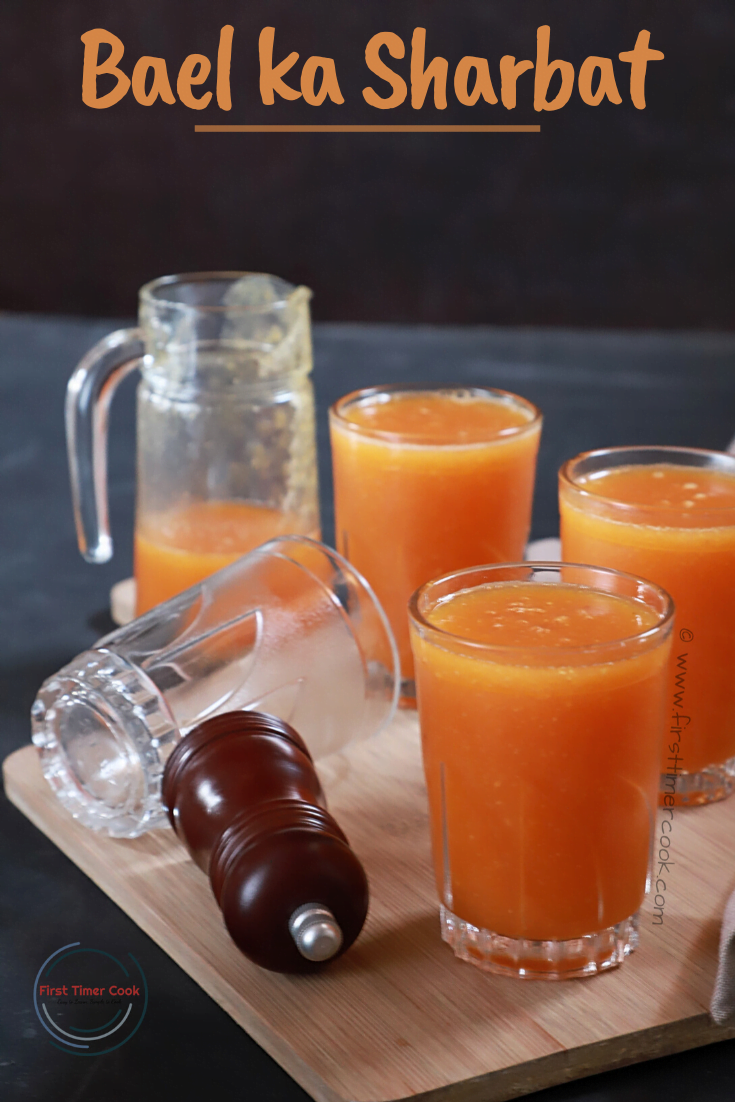 Prep time: 15 MCook time: Total time: 15 M
A refreshing Indian traditional drink from the fruit of the spiritual, religious and medicinal plant : Bael or Wood Apple.
Ingredients:
Bael fruit (ripe) 1 no
Black pepper (crushed) ½ tsp
Sugar (optional) As needed
Black salt ¼ tsp
Water As needed
Ice cube few
Instructions:
How to cook Bael Panna | Bael ka Sharbat
First break the hard outer surface of the fruit, bael.
Using a spoon, take out all the pulp into a bowl.
Gently start mashing the pulp using hand.
Then pour water and continue to mash all together.
Strain the pulp-water mixture through a strainer into another bowl, discard the seeds and fibers.
Now add black salt and freshly crushed black pepper.
Give a good mix till everything incorporated well.
Keep in refrigerator for 30 minutes.
Pour into serving glass along with some ice cubes and serve !
Notes:
The fruit, bael used here is more ripe one, so the pulp is already naturally sweet. Hence I have not added any sugar. But if the pulp is not much sweet, then add desired amount of sugar along with black salt and pepper. Mix everything till sugar dissolves. Then serve.
Also depending upon the consistency of the panna, add more / less water.
No cook recipes, Summer drink, Healthy drink,
Vegan, Gluten free, Wood apple, Beverage, Bael, Bael ka sharbat
Indian
Did you make this recipe?
Tag @firsttimercook on instagram and hashtag it #firsttimercook
You may also follow me on Facebook, Pinterest, Twitter, Google+, Instagram and can subscribe for free to get new recipes directly into your inbox 😊
PIN for later :