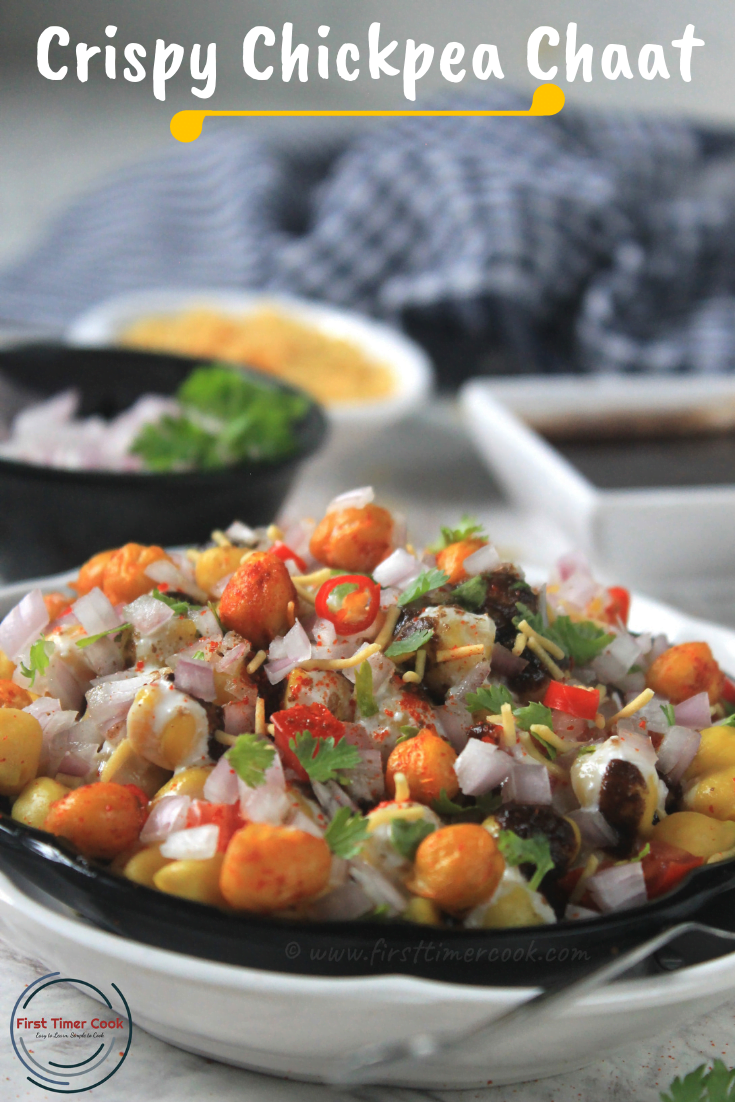 Monsoon finally strikes most part of Indian subcontinent. And for a foodie, this is the best season to have some chatpata, spicy and mouth-watering food in order to calm the craving of food. Samosas, pakoras, chaat, bhutta (smoked corn on the cob) etc are the some delicious food one can devour during these periods. To this the masala chai or any flavored chai complements very well.
I have today come up with such type of monsoon friendly snack recipe using Chickpea as Crispy Kabuli Chana (chickpea) Chaat. Chickpeas, also known as garbanzo beans are part of the legume family which are a good source of protein, carbohydrates as well as fibers. Their nutty taste and grainy texture pairs well with several other foods and ingredients. In this recipe the chickpeas are used in two varieties : one is the crispy version of boiled chickpeas and the other is the normal boiled ones. The crisp chickpeas I have prepared using baked method which I will share in details in another post. This is a completely no-cook recipe and also vegetarian snack option.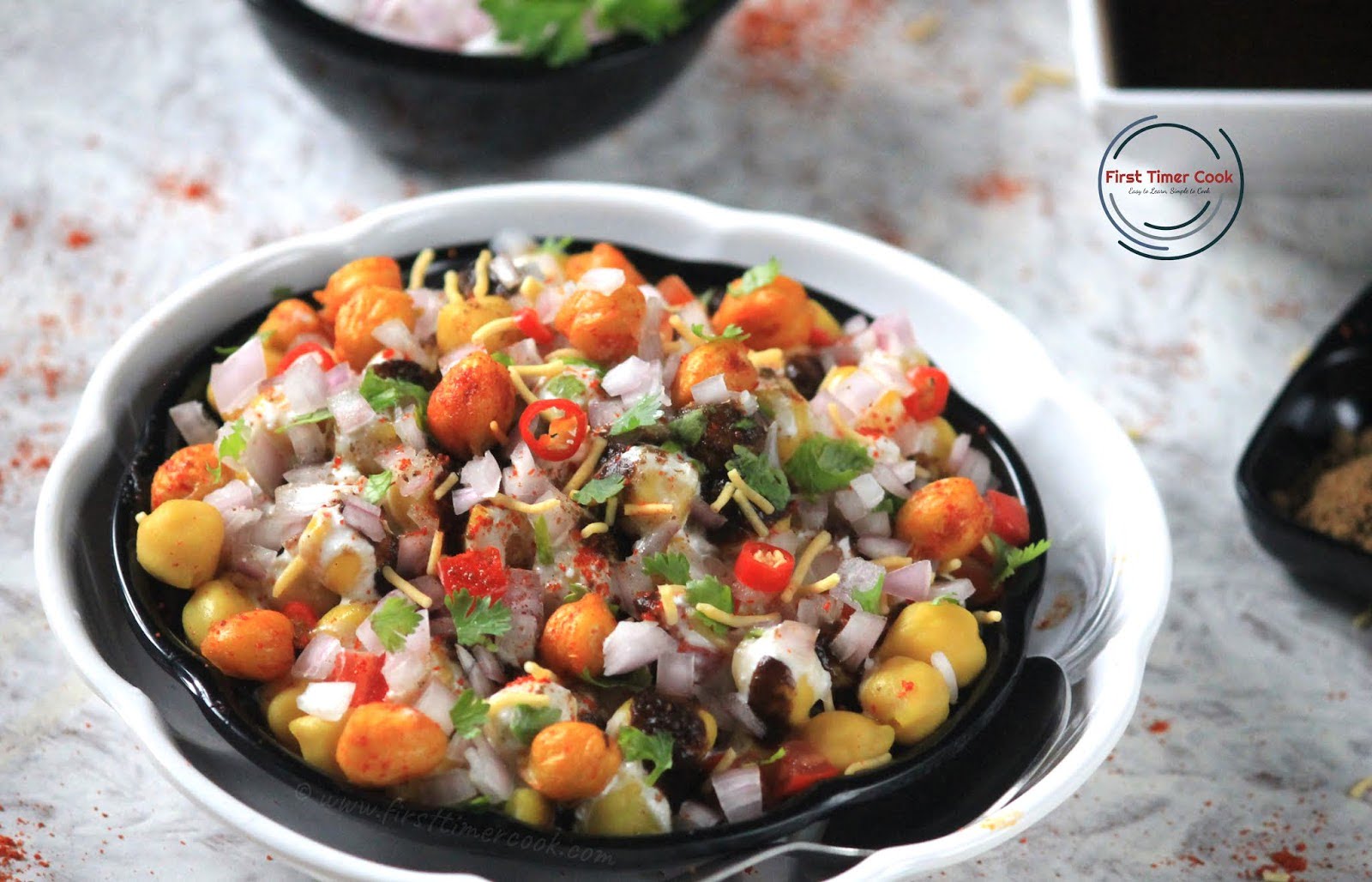 The chaat is super simple one. Only the time taking part is arranging the ingredients. Otherwise it takes hardly few minutes. Just mix everything and top with seasoning, Voila !!! The dish is ready to serve. Like the other Indian chaat recipes, here also the tamarind chutney, green chutney are used along with curd. But I have not added green chutney as I was run out of mint leaves 😉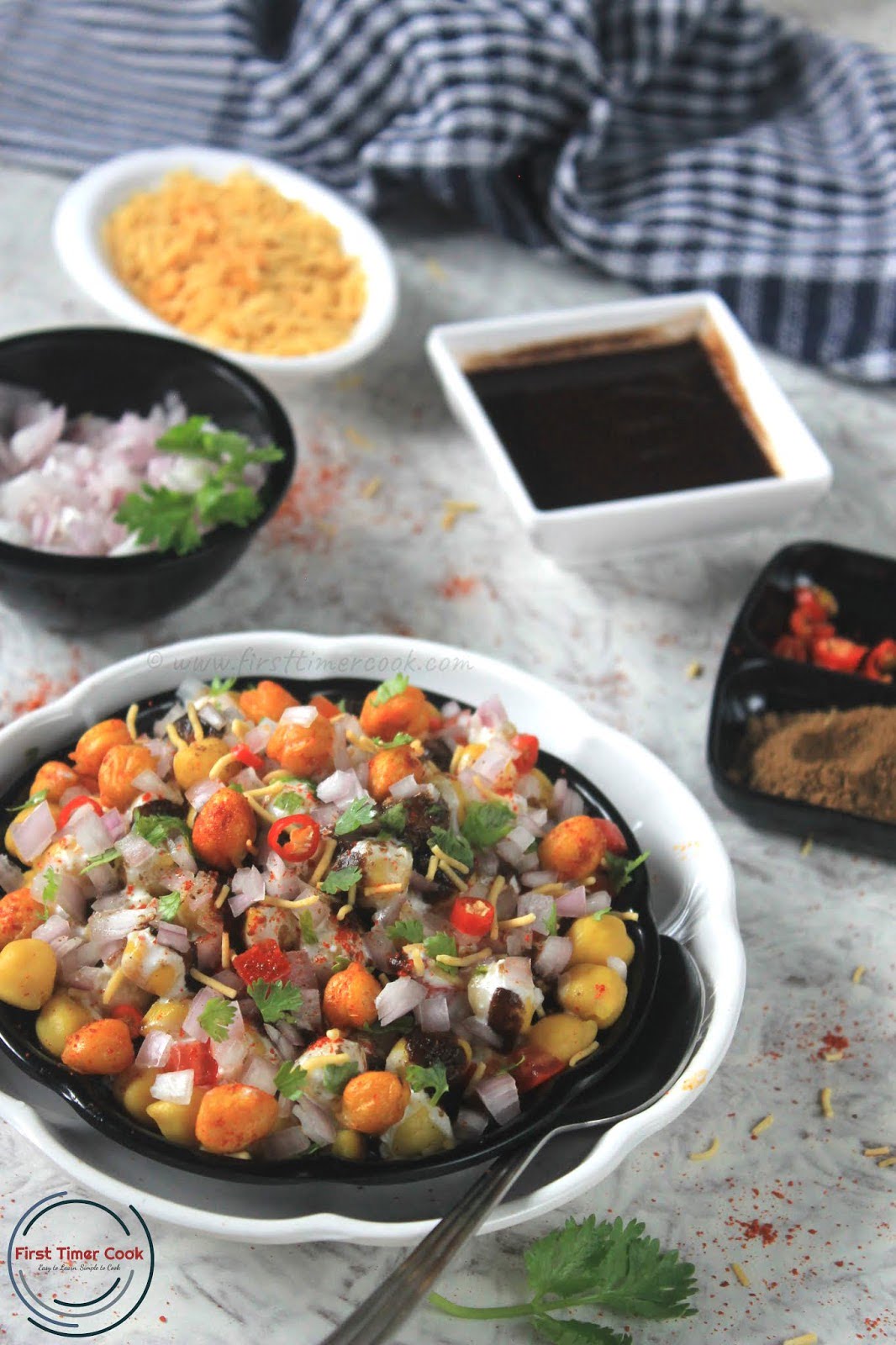 The crispy chickpeas add a nice crunch to the whole chaat. The boiled chickpeas also one can completely omit here, but as we like both of them so I have added here. For any age group this is a sure shot hit with the goodness of chickpeas. This fits perfectly for quick breakfast as well as snack option and fills our tummy for hours. Just keep in mind to skip green chilies if serving to kids. So do try !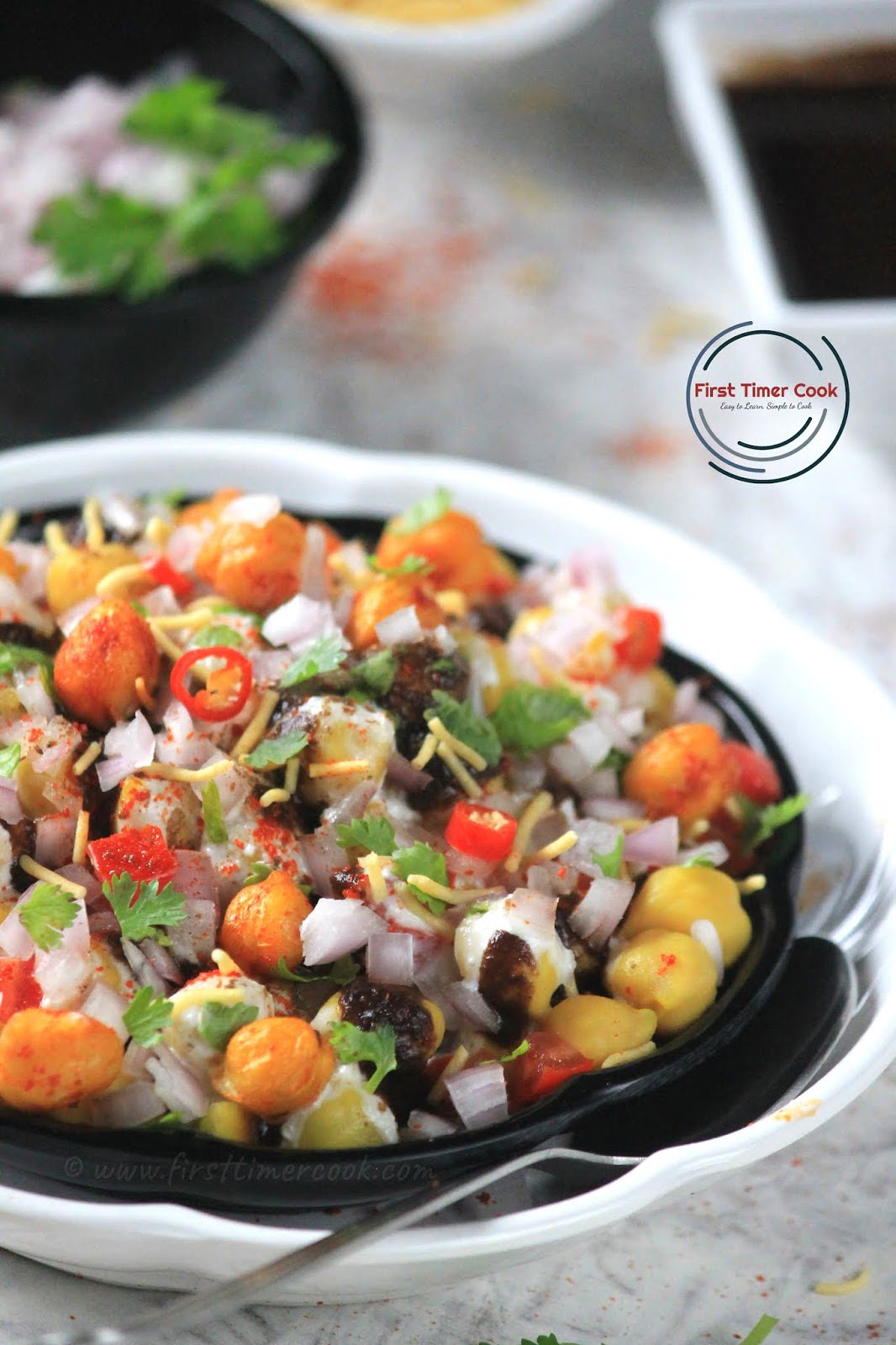 Recipe Card for 'Crispy Kabuli Chana (chickpea) Chaat' :

Kabuli chana, Crisp Chickpeas, Monsoon Recipe, Indian Street food, Chickpeas, Chaat, Indian Snack, Vegetarian Snack,
Chickpeas, Chaat, Indian Snack, Vegetarian Snack,
Indian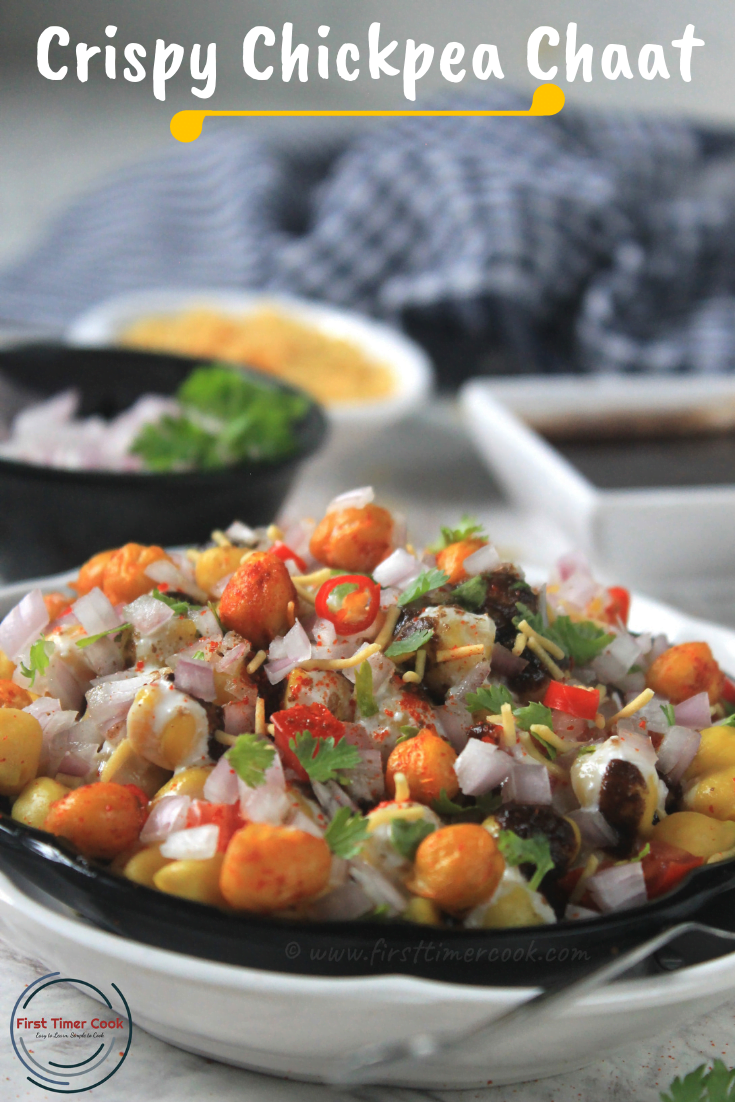 Crispy Kabuli Chana (chickpea) Chaat
a quick vegetarian snack option using boiled as well as crispy chickpeas (kabuli chana).
prep time: 15 Mcook time: total time: 15 M
ingredients:
Chickpeas (crisp) 3/4 cup

Chickpeas (boiled) 1/2 cup

Onion (finely chopped) 1 no.

Tomato (finely chopped) 1 no.

Green chili 1-2 no.

Coriander leaves (finely chopped) as needed

Tamarind chutney as needed

Curd (optional) as needed

Red chili powder 1/4 tsp

Chaat masala 1.5 tsp

Sev as needed

Black salt as needed
instructions:
How to cook Crispy Kabuli Chana (chickpea) Chaat
In a mixing bowl take the crispy as well as boiled chickpeas along with finely chopped onion, tomato, green chilies, 1 tsp chaat masala, red chili powder, finely chopped coriander leaves (2 tbsp), black salt.

Give a nice mix using a spoon.

Take a serving bowl and spoon some of this mixture.

Drizzle well beaten curd, tamarind chutney over the mixture.

Sprinkle some more finely chopped onion, tomatoes, coriander leaves, 1/2 tsp chaat masala and sev.

Serve immediately !
NOTES:
Green chutney here one can use along with tamarind chutney.
Sev is optional.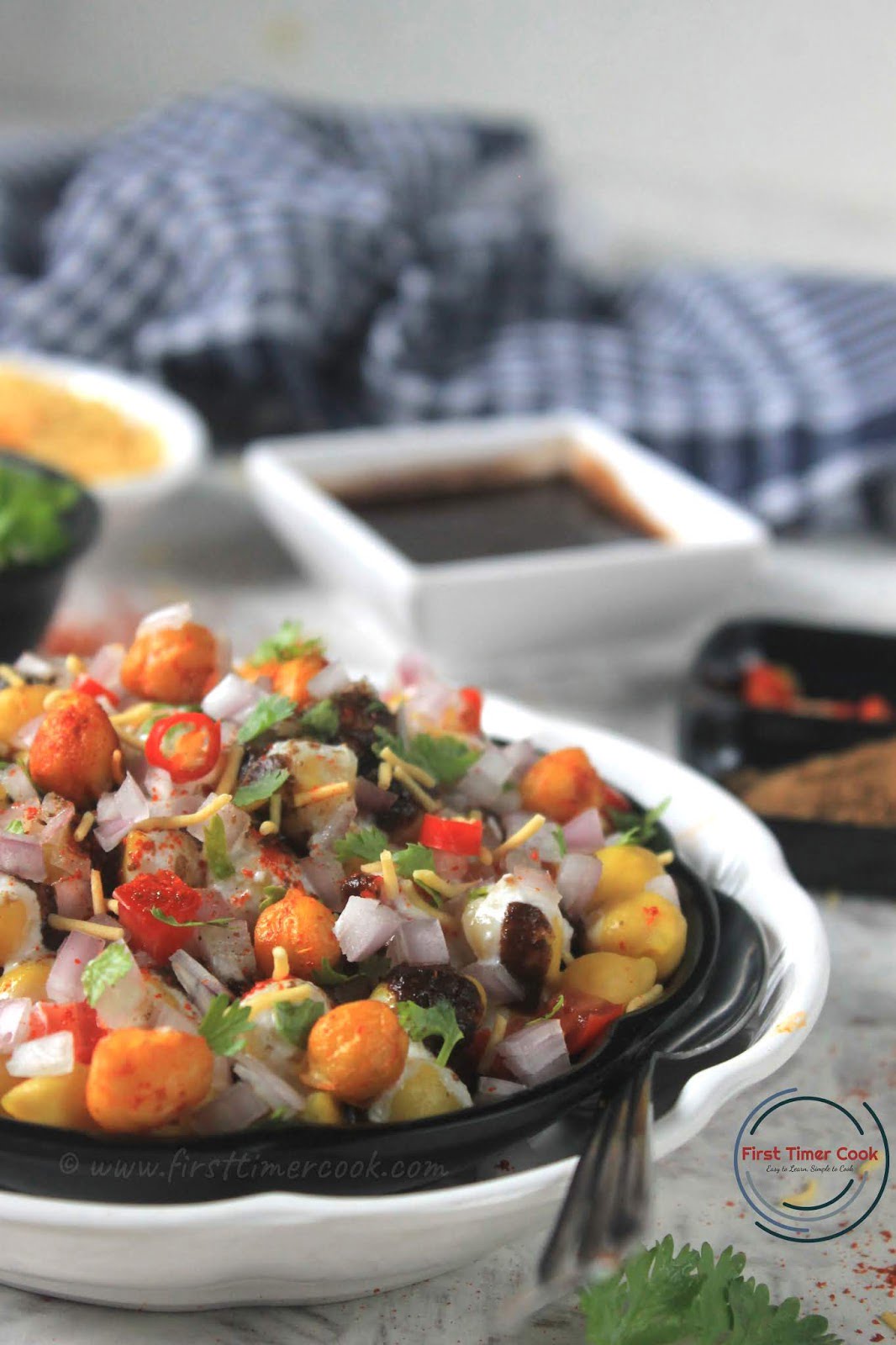 If you tried my recipe and enjoyed fully, then please share some pictures of your creation with me. Also kindly rate the recipe below, give your valuable feedback either in the comment box below or tag me as @firsttimercook on Instagram.
You may also follow me on Facebook, Pinterest, Twitter, Google+, Instagram and can subscribe for free to get new recipes directly into your inbox 😊
This Crispy Kabuli Chana (chickpea) Chaat is contributed for 203th theme of the Foodie Monday Blog Hop foodie group which is decided as 'Rimjhim Barse' and suggested by 'Preethi di' who blogs at Preethi's Cuisine.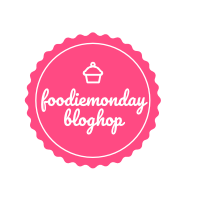 PIN for later :