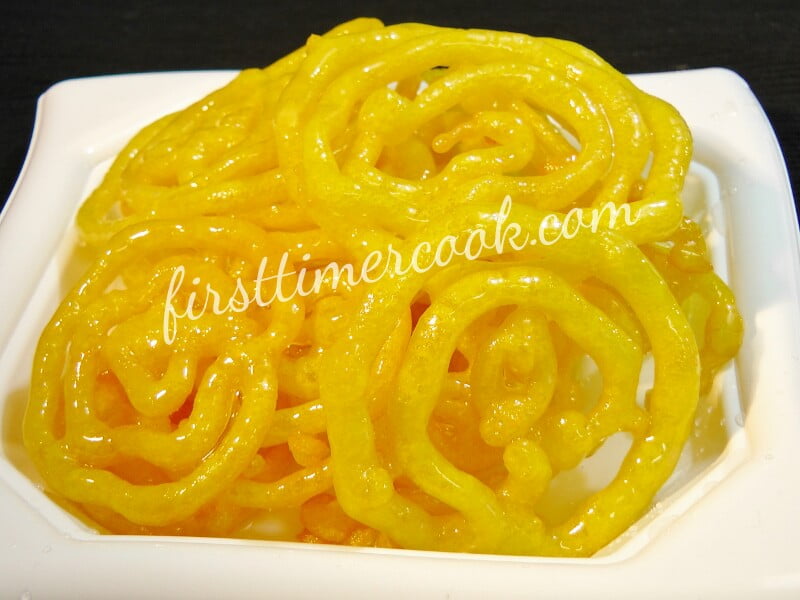 Preparation Time : 10 mins | Cooking Time : 30 mins
Ingredients :
| Ingredients | Measurements |
| --- | --- |
| All purpose flour (Maida) | 1/2 cup |
| Corn starch | 1 tbsp |
| Turmeric powder | 1 pinch |
| Yogurt | 1 tbsp |
| Saffron | 2 pinch |
| Rapid rise yeast | 1 tsp |
| Oil | 1 tbsp |
| Sugar (for sugar syrup) | 1 tbsp |
| Water (for sugar syrup) | 3/4 cup |
Method :
In a bowl add maida, corn starch and turmeric powder.
After that crush saffron into powder and mix into the maida.
Add yogurt, rapid rise yeast, oil & little water. Combine well to get smooth pouring consistency.
Now cover it and let it ferment (rise) for about 15-20 minutes. Once the batter is fermented, stir the batter in a cut and fold motion to combine it once again.​​
​ To make sugar syrup :​
Mix sugar and water in a heavy bottomed pan and simmer till 1 thread consistency is attained.
Once the consistency attained, bring down the temperature of the sugar syrup.
Squeeze lime juice to prevent crystallization. Next mix saffron, rose syrup and cardamom powder into the syrup.
To make jalebis :
Make a small needle sized hole in a ziplock bag and fill with the jalebi batter. Alternatively fill a squeezing bottle with the batter.
Heat oil in a deep fry pan (low to medium heat) and squeeze the bottle to make little swirls in the oil to give that a jalebi shape.
Fry from both the sides till jalebis get light golden color.
Then immerse them in the warm sugar syrup for about 20 seconds and remove and enjoy !​
Notes :
Use curd at room temperature.
Ensure the batter is smooth pouring consistency, or else they won't retain the shape of the jalebis.
The oil for frying should be low to medium hot. If it is too hot, the jalebis will end up burnt.
Also make sure you keep the heat on low when you pipe the jalebis into the oil. This will ensure you to see the circles you are piping and also the jalebis will rise up slowly.
Piping the jalebis into the medium hot oil takes a little experience. The more you pipe, the more practice you will get and well shaped jalebis come out.
​​Don't over stir, you want the air pockets in the batter to remain. This will help in the jalebi being crisp and also in turn help it to absorb the sugar syrup.
Food color can be used instead of turmeric powder.