Plain Upma is a traditional south Indian breakfast recipe made from semolina. It has very light and fluffy texture and normally served with any type of pickle / chutney. It is a great breakfast option if you are in a hurry and don't have much time to cut vegetables. In addition with veggies, it'll turn to vegetable upma. So simple & easy recipe it is and can be made quickly with some of most easily available ingredients. It can be served as breakfast / snack as well.
Below is the step by step method of preparation to make a healthy plain upma.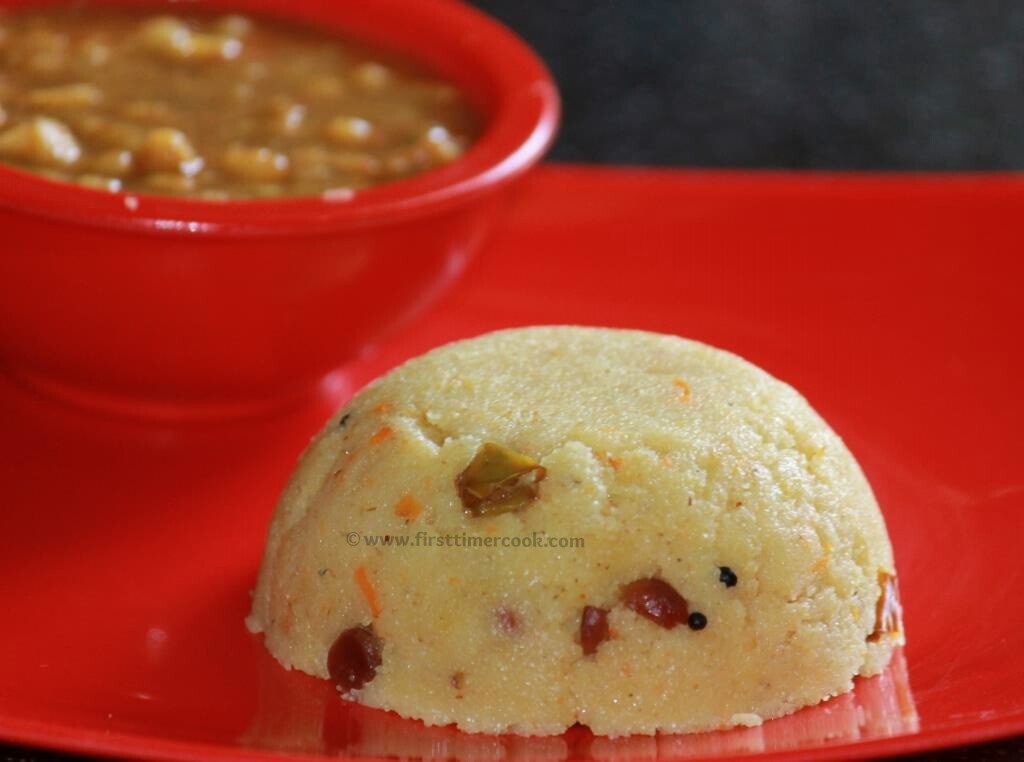 Preparation Time : 15 mins | Cooking Time : 15 mins
Ingredients :
| Ingredients | Measurements |
| --- | --- |
| Semolina (suji) | 1 cup |
| Mustard seeds | 1 tsp |
| Urad dal | 1 tsp |
| Channa dal | 1 tsp |
| Cumin seeds | 1/2 tsp |
| Green chilies | as needed |
| Curry leaves | 1 spring |
| Onion (medium) | 1 no. |
| Ginger (chopped) | 1/2 tsp |
| Oil | 2 tbsp |
| Water | 2 & 1/2 cup |
| Salt | as needed |
Method :
Chop 1 medium sized onion, green chilies & keep aside.
Heat a pan, dry roast the semolina till it turns golden brown or get the aroma & keep aside.
Heat oil in a thick bottom pan. Reduce the flame to low & add mustard seeds. Then add channa dal, urad dal and cumin seeds when mustard seeds begin to splutter. Fry till dals turn golden-brown.
Add chopped green chillies, curry leaves, ginger and chopped onions & fry for 1 minute.
Now add water to this mixture & then salt as needed. Stir well.
On a medium to high flame, heat the water and let it come to a rolling boiling. When the water comes to a rolling boil, lower the flame. Then add semolina gradually with one hand and keep stirring with your other hand.
It will splutter a lot, so be careful. Mix well & the rava grains absorb water and thus swell and get cooked.
Cover and allow the rava upma to steam for 2 minutes on the low flame.
Then switch off the flame & the rava upma is ready to serve !
Notes :
​Do not mix the semolina too many times after adding. The reason is that the upma will become sticky.
Lemon juice can be used at the end to give a tangy flavor of the upma.
You can add finely chopped carrots along with onions.
This is very basic recipe of upma. If any vegetables are added, then it becomesvegetable upma.