Finally the summer is in full swing !! With the high mercury level, the scorching sun has the potential to drain us out completely. By ignoring this, many feel dehydrated during these months and experienced low energy level. So, it is important that we should take extra care during this hot season. From eating right to following certain lifestyle changes, we can beat the hazardous impacts of summer. Apart from drinking lots of water, a special summer diet consisting of light and healthy food would ensure a cool mind as well as a cool body. So there must be a big NO to all oily and junk foods which are not at-all digested easily during these hot days.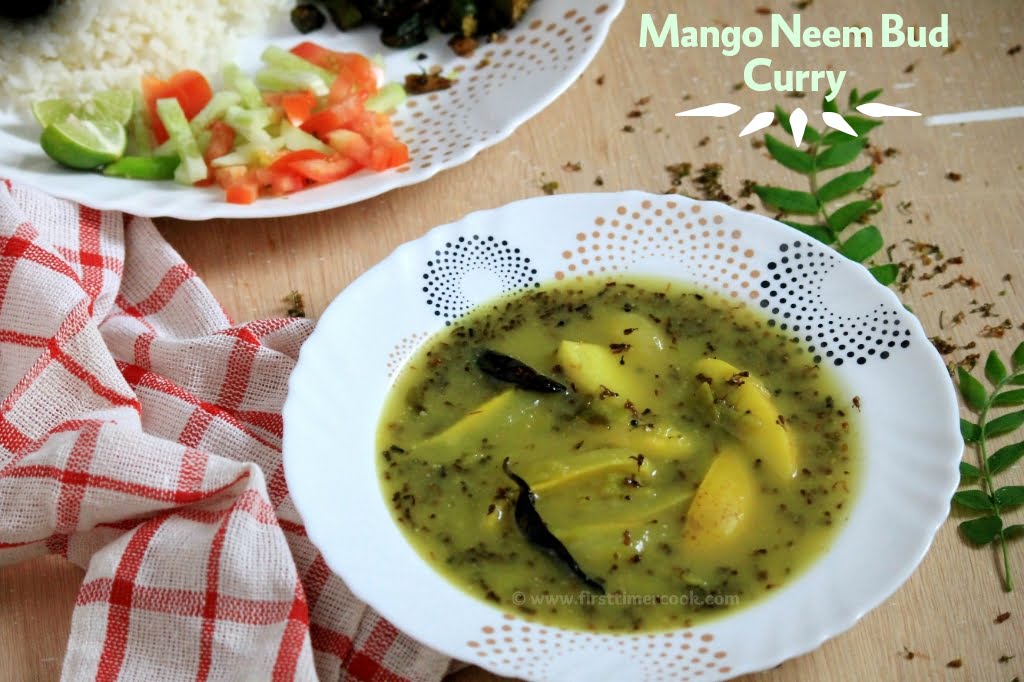 In Odisha, the summer season is also bit hectic one. People are used to have Pakhala, a watered rice with curd / some tempering over it during summers. This fermented rice is the perfect dish to beat the heat and give a refreshment to the whole body. Since summer gets started from around mid of the month March, so 20th March is celebrated as Pakhala Dibasa (Universal Pakhala Day) by all Odias to welcome summer season with Odisha's traditional food. Also some people prefer to have kanji which may be torani kanji or dahi kanji or sukhua kanji etc. This kanji is also a good body coolant during these days.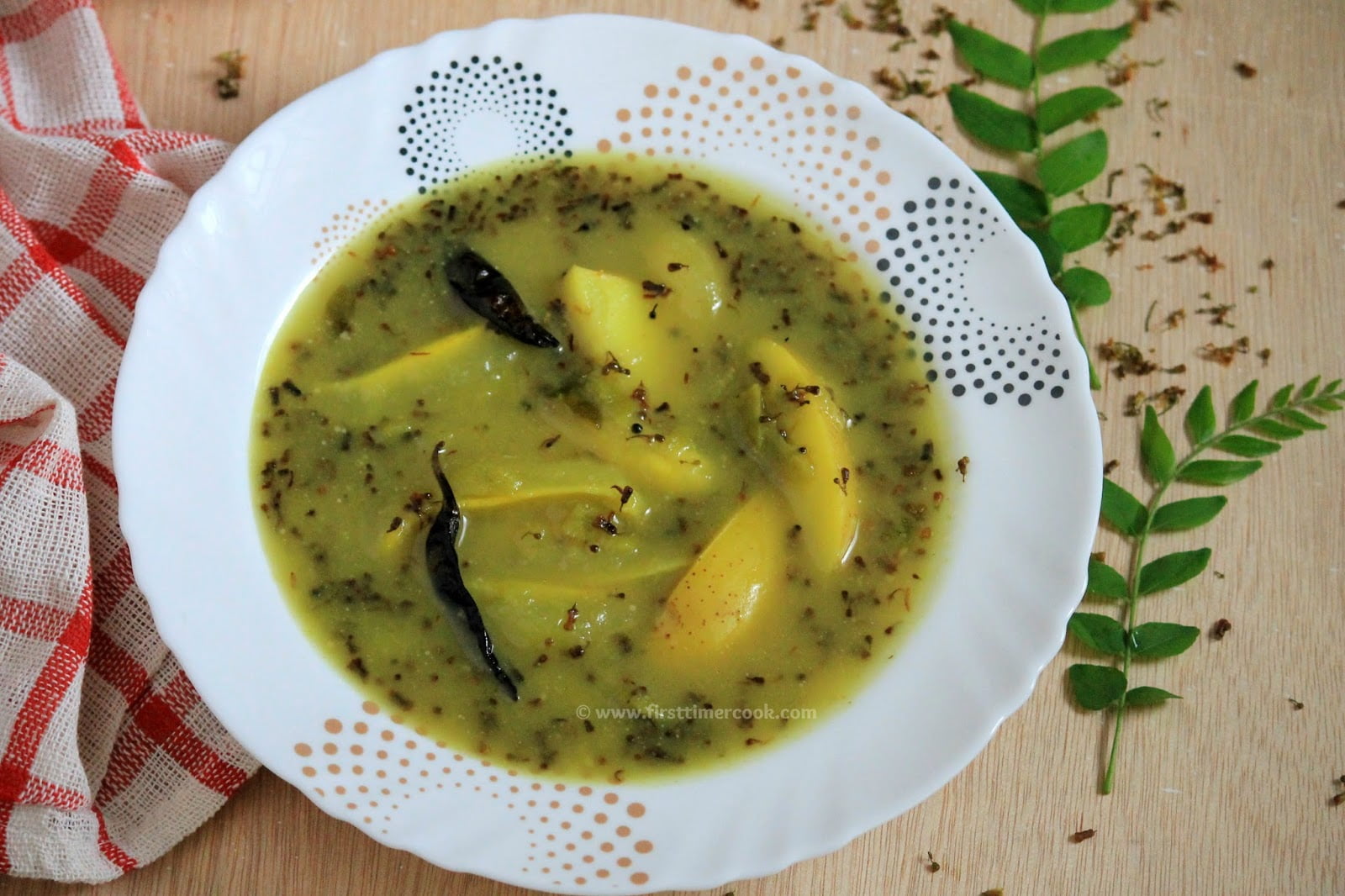 Well, here I have come up with a sour dish using neem buds and raw mango which is known as Nimba Amba Jhola. During starting time of summer months, mango trees are loaded with so cute cute mangoes which are neither too big nor small. Also the seed of these mangoes are bit tender. And this type of mangoes are mainly used in this dish. Along with neem buds and mango, I have also added some colocasia (arbi), potato. Some fried badis (sun-dried lentil (black gram) dumplings) are also added at the end to give a crunch in the dish. This sour dish and a bowl of steamed rice is a pure bliss for me during hot sunny days !!! The whole process is so simple and easy to make. So do try this Amba Nimba Jhola or Mango Neem Bud Curry and give your valuable feedback either in the comment box below or tag me as #firsttimercook on Instagram. Lets go in details method of preparation of this sour dish.
Preparation Time : 15 mins | Cooking Time : 15 mins
Ingredients :
| | |
| --- | --- |
| Ingredients | Measurements |
| Neem bud (fresh / dried) | 2-3 tbsp |
| Mango (raw) (medium) | 2 no |
| Potato | 1 no |
| Colocasia (medium) | 2 no |
| Badi | 5-6 no |
| Red chili | 2 no |
| Cumin seed | ¼ tsp |
| Mustard seed | ¼ tsp |
| Turmeric powder | ¼ tsp |
| Coriander powder | ½ tsp |
| Mustard oil | 2 tbsp |
| Salt | As needed |
| Water | As needed |
Method :
First take all the neem buds / nimba kadhi in another bowl and pour some water.
Thoroughly wash and clean the buds.
Finally strain the buds using a strainer and keep aside.
Now heat 1 tbsp mustard oil in a pan, then add washed and clean neem buds.
Fry over medium heat till crispy texture.
Take out of the pan and keep aside in a plate.
Wash and peel colocasia (arbi), potato and cut each into 4 pieces lengthwise. (I have not peeled the potatoes)
Put all the chopped potato, colocasia in the pressure cooker along with some water and cook for 1 whistle.
Next wash and peel raw mango and cut into 4 pieces lengthwise. Discard the seeds and keep aside in a bowl.
Heat rest mustard oil in a pan.
Shallow fry the badis till golden brown in color.
Transfer to a bowl and keep aside.
To the same pan, add cumin seed, mustard seed, red chili and allow to splutter.
Next add chopped raw mangoes and saute well.
Sprinkle turmeric powder, coriander powder, salt and give a mix.
Add 2 tbsp water, mix well and cover for 3-4 minutes over low-medium heat.
Then add boiled potato, colocasia pieces and 1 cup water. Give a stir.
Cover and simmer for 5 minutes more.
Finally add fried badi and turn off heat.
Serve hot this nimba amba jhola with steamed rice !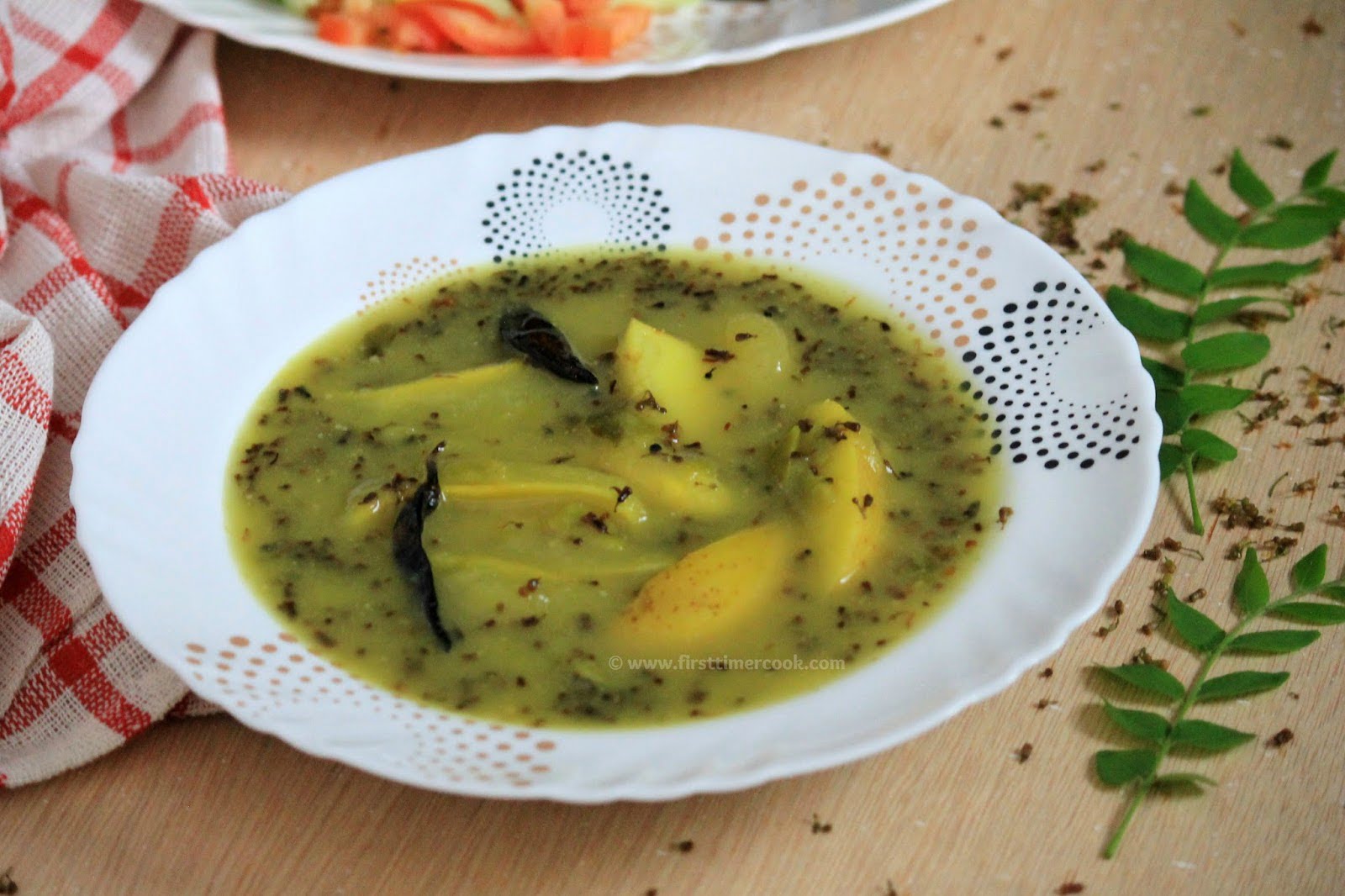 Notes :
If neem buds are dried ones, then proceed directly from step-4.
I was run out of badis, so I have not added these. But do add to get crunchiness in the dish.

PIN for later :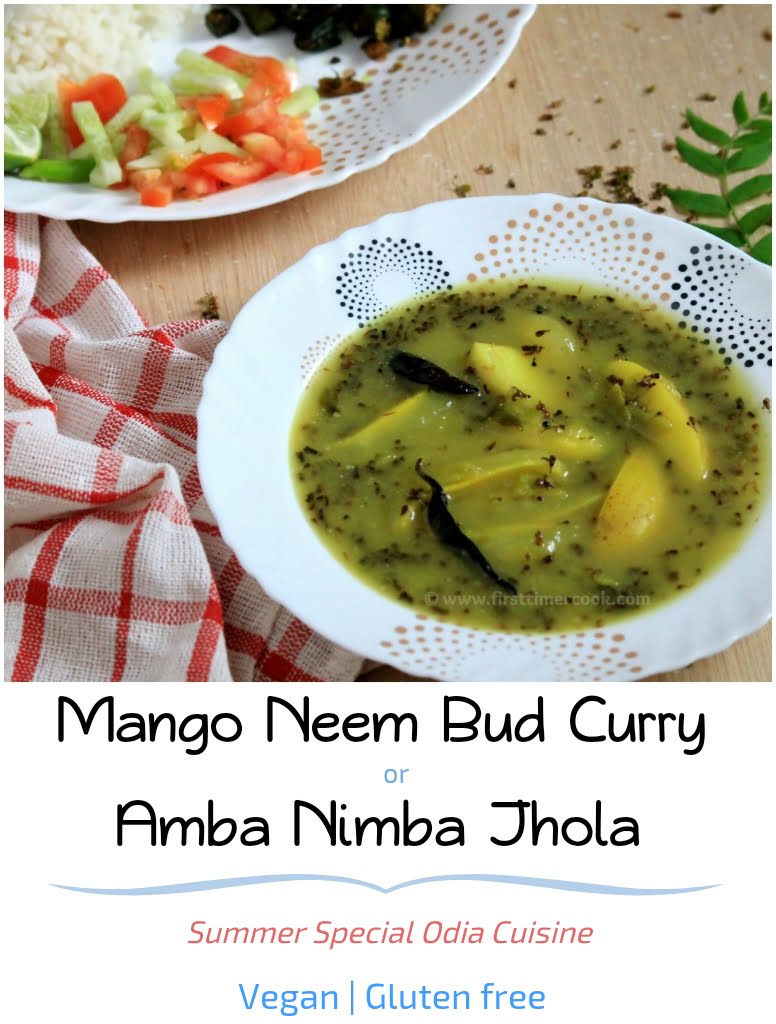 This 'Amba Nimba Jhola' is contributed for 46 Healthy Wellthy Cuisines where the theme is 'Summer Comfort Food'. Here are more similar recipes shared by our Healthy Wealthy Group members as Dahi aam poha, Curd rice and mango salsa buddha, Malai paneer, Mambazha pulissery / ripe mango yogurt curry, Dahi wali dry bhindi.