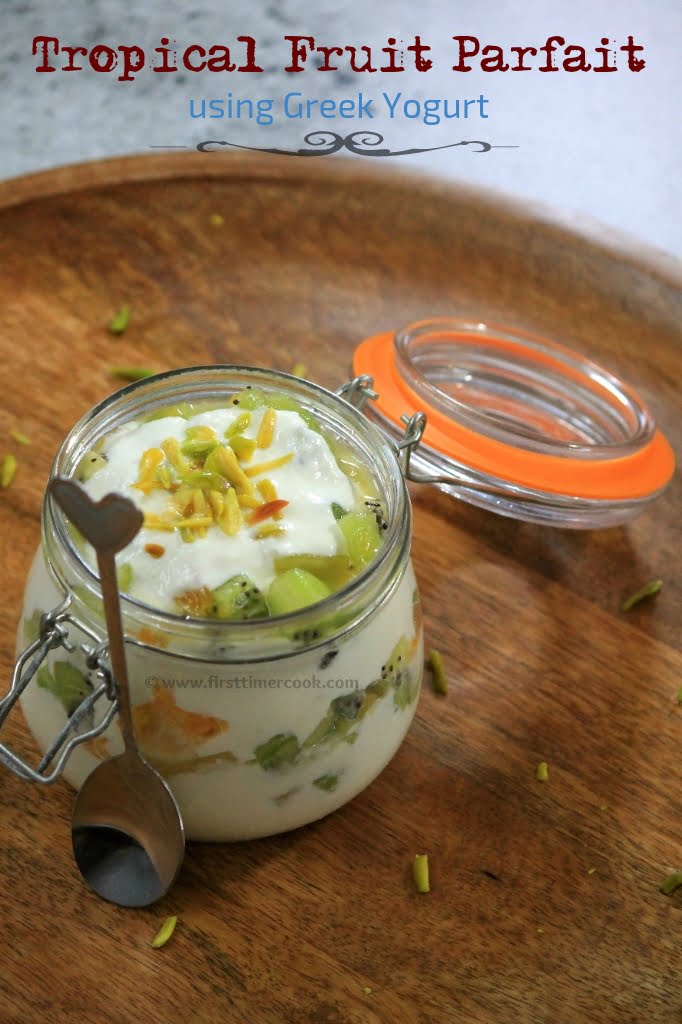 Monday, the starting day of a week ! If you are following my blog posts, then you might know that I have been part of a group known as 'Foodie Monday Blog Hop' where each Monday all group member share a post according to a theme decided before hand. This time, means the 139th theme is decided as 'Healthy Dessert'. Dessert, that too healthy – Interesting, isn't it ?
When health is a top concern that means whether it is a dieting schedule or simply living a healthy lifestyle, desserts can seem to be an off-limits category. But not necessarily ! If you have a strong sweet tooth and also determined not to let this ruin your healthy lifestyle, then there are several ways to satisfy the sweet tooth without disturbing the health goals.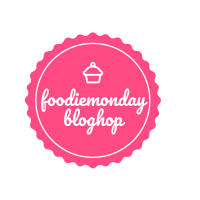 All those healthy sweet treats are obviously healthier than their traditional counterparts. Mainly these are nutritionally boosted with many super foods like Greek yogurt, chia seeds, berries, flax seeds and many more. Well here I have come up with such a healthy dessert using some tropical fruits known as Tropical Fruit Yogurt Parfait. Parfait is usually served frozen but this one can also be eaten as it is.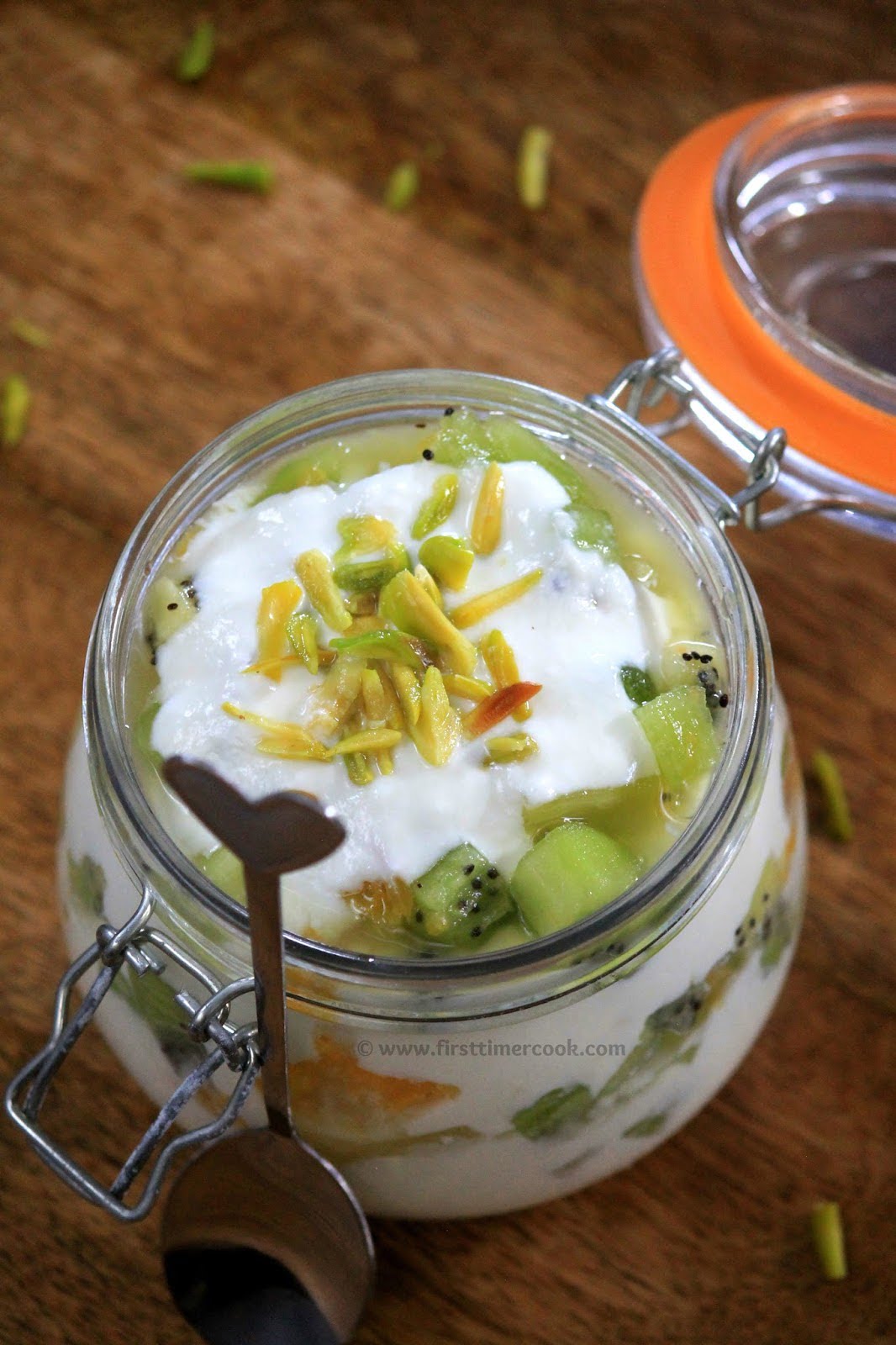 Greek yogurt, the thicker and creamier yogurt contains probiotic cultures and is lower in lactose and has twice the protein content of regular yogurts. So this is a must if you have a healthy concern. Also some tropical fruits I have used like pineapple, kiwi, mango. Any other fruits can be used as desired. I have also added some honey to the yogurt which is optional. This parfait is so simple, easy and quick to assemble without involving any cooking procedure. With just 3 ingredients and within 5 minutes, the tropical fruit yogurt parfait is a perfect grab-n-go jar loaded with so much healthier nutrients. So do try this tropical fruit yogurt parfait and give your valuable feedback either in the comment box below or tag me as #firsttimercook on Instagram. Lets go in details.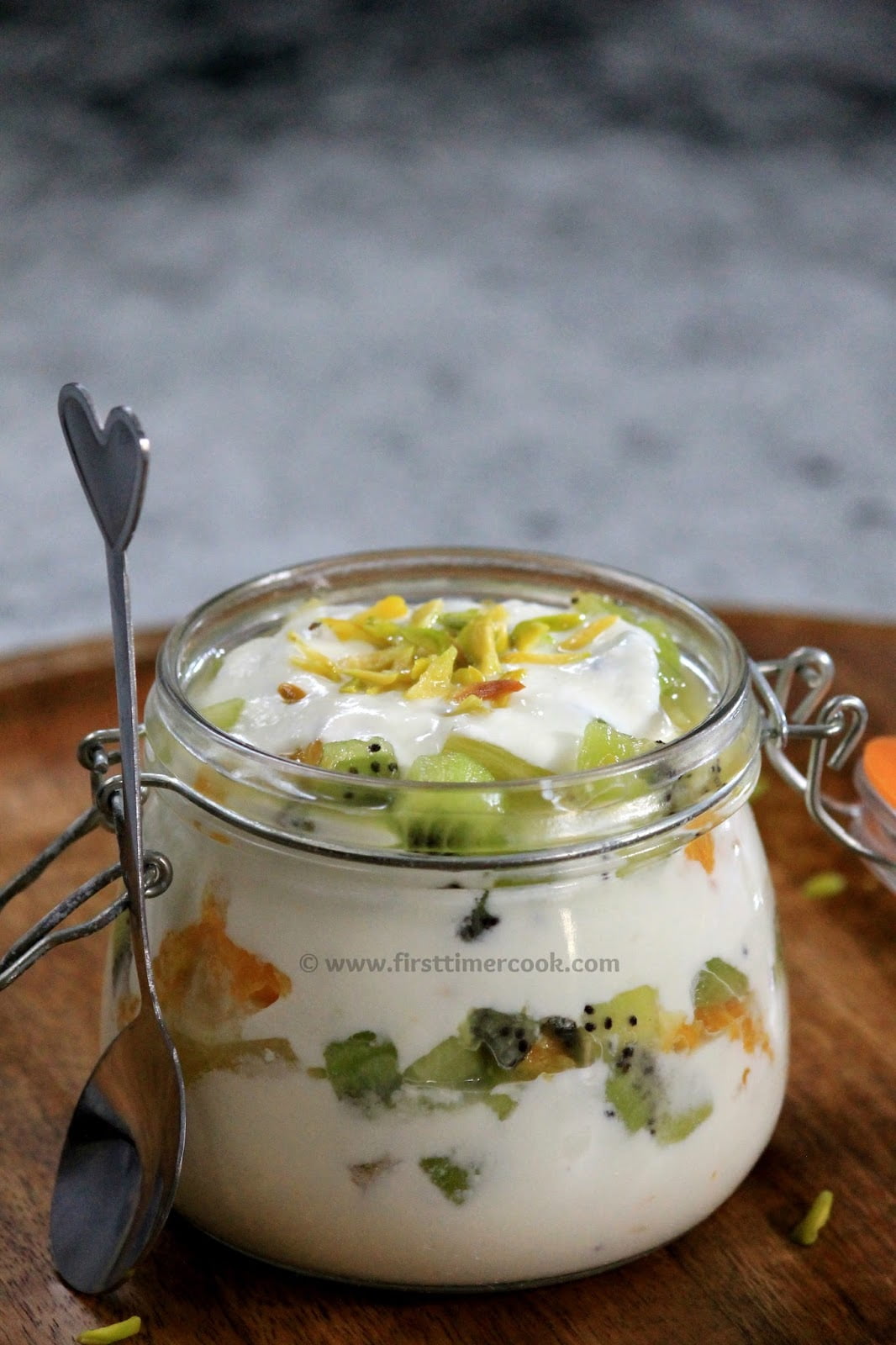 Preparation Time : 5 mins | Cooking Time : 0 mins
Ingredients :
Ingredients

Measurements

Greek yogurt

2 cup

Mixed fruit (pineapple, kiwi, mango)

(1 inch cubes)

1 cup

Honey

As per taste

Nut (chopped)

As needed
​
Method :
Take yogurt and honey in a bowl. Whisk well.
Now take serving container (preferably glass material, so that the layering of the parfait will be visible clearly).
First make a yogurt layer in the bottom of the serving container.
Next put some mixed fruits over the yogurt layer.
Then again make alternative yogurt and fruit layer till top of the container.
Finally sprinkle some nuts and serve !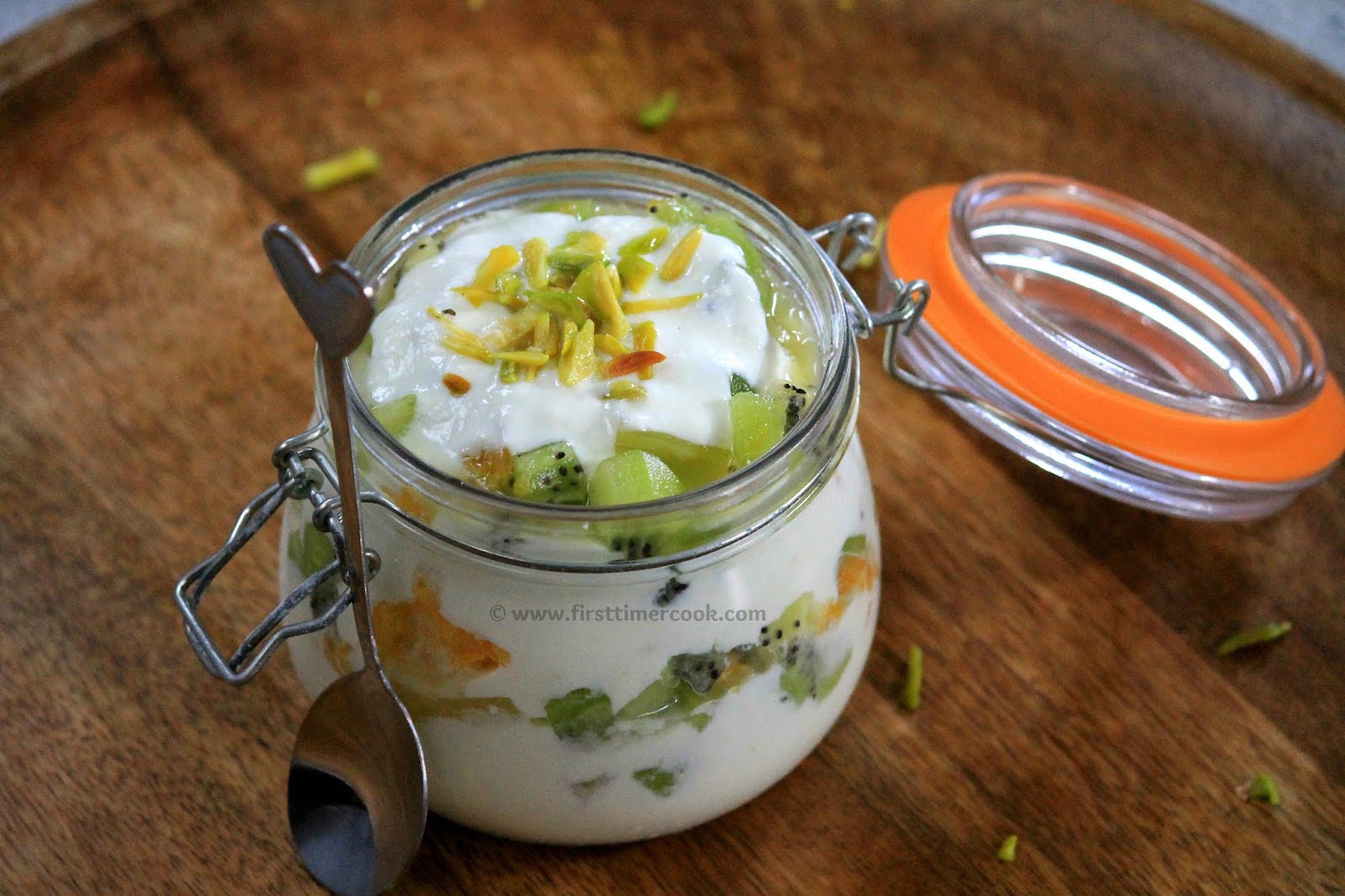 Notes :
Honey is optional.
This parfait can be prepared ahead of time and stored in refrigerator till serving.
PIN for later :