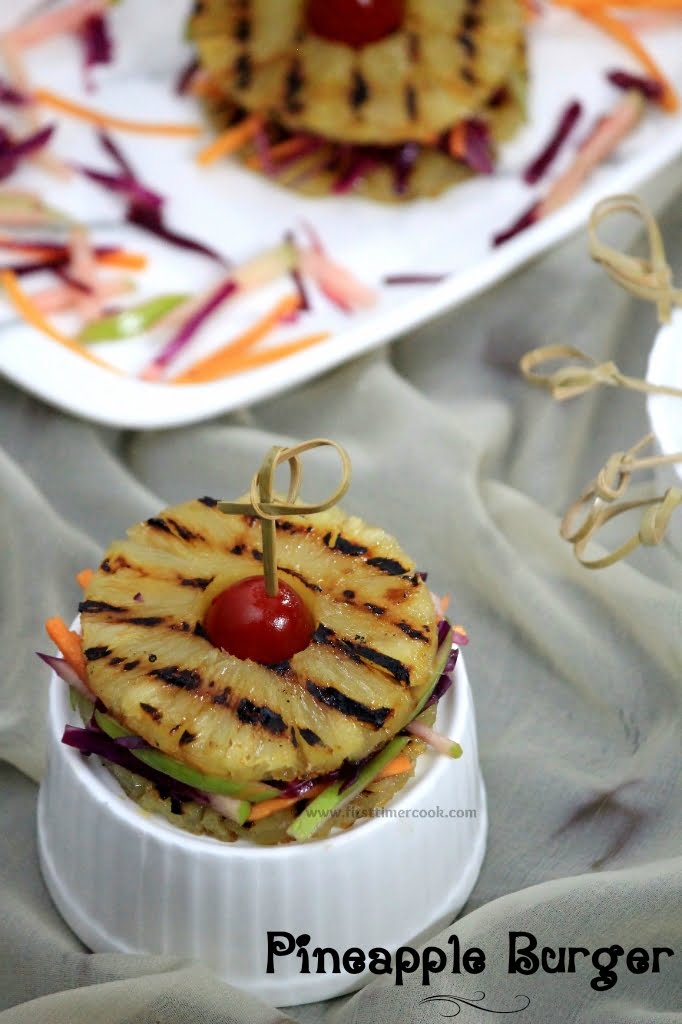 Monday is here again !!! So the Foodie Monday Blog Hop has come up with the138th theme as 'Pineapple'. Pineapples are members of the bromeliad family and one of the few bromeliads to produce edible fruit according to some studies. The fruit is actually made of many individual berries that fuse together around a central core. Each pineapple scale is an individual berry. These tropical fruits are rich in vitamins, enzymes and antioxidants. They help in boosting the immune system, building strong bones and aiding indigestion. Despite their sweetness, pineapples are low in calories because of fat-free, cholesterol-free and low in sodium content.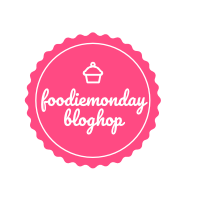 Pineapple doesn't ripe further after being picked. So always select a ready-to-eat one which is heavy in size and with a rich, sweet fragrance, the leaves should be green and fresh-looking. Pineapple, one of the spring's sweetest treat can be indulged in a variety of fresh, healthy dishes from sweet to savory. Pineapple blends beautifully with almost a number of dishes. When grilled, the fruit takes on caramelized notes. Pineapple juice forms the base of many easy cocktails as well as mocktails. These can be blended into smoothies for a tropical twist, roasted for buttery flavors that accompany cake perfectly. No matter how the uses, pineapple proves always a good pick. Some of dishes related to pineapple which are already shared in my blog are as :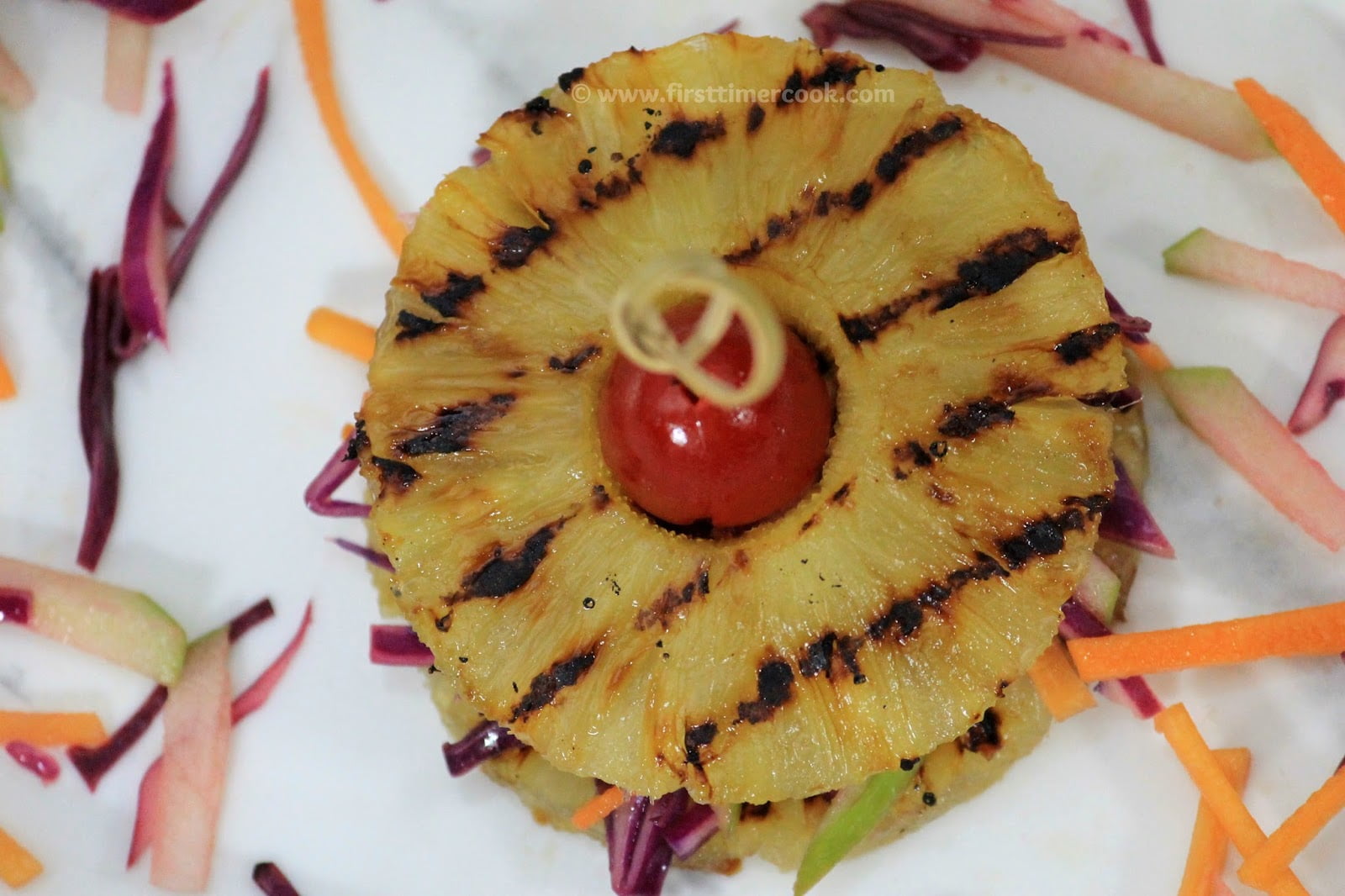 Using this versatile fruit, here I have come up with a fruity burger dish as Pineapple Burger. The dish is so simple, quick and easy to assemble as well. Some shredded purple cabbage, green apple and carrots are mixed up along with some dressing to make healthy slaw. This slaw is used as the inside filling between two grilled pineapple slices and finally topped with cherry to give a burger look. The pineapple burger'll be a sure hit in party as appetizer. The whole dish is completely vegan and gluten free too. So do try this unique Pineapple Burger and give your valuable feedback either in the comment box below or tag me as #firsttimercook on Instagram. So lets go in details.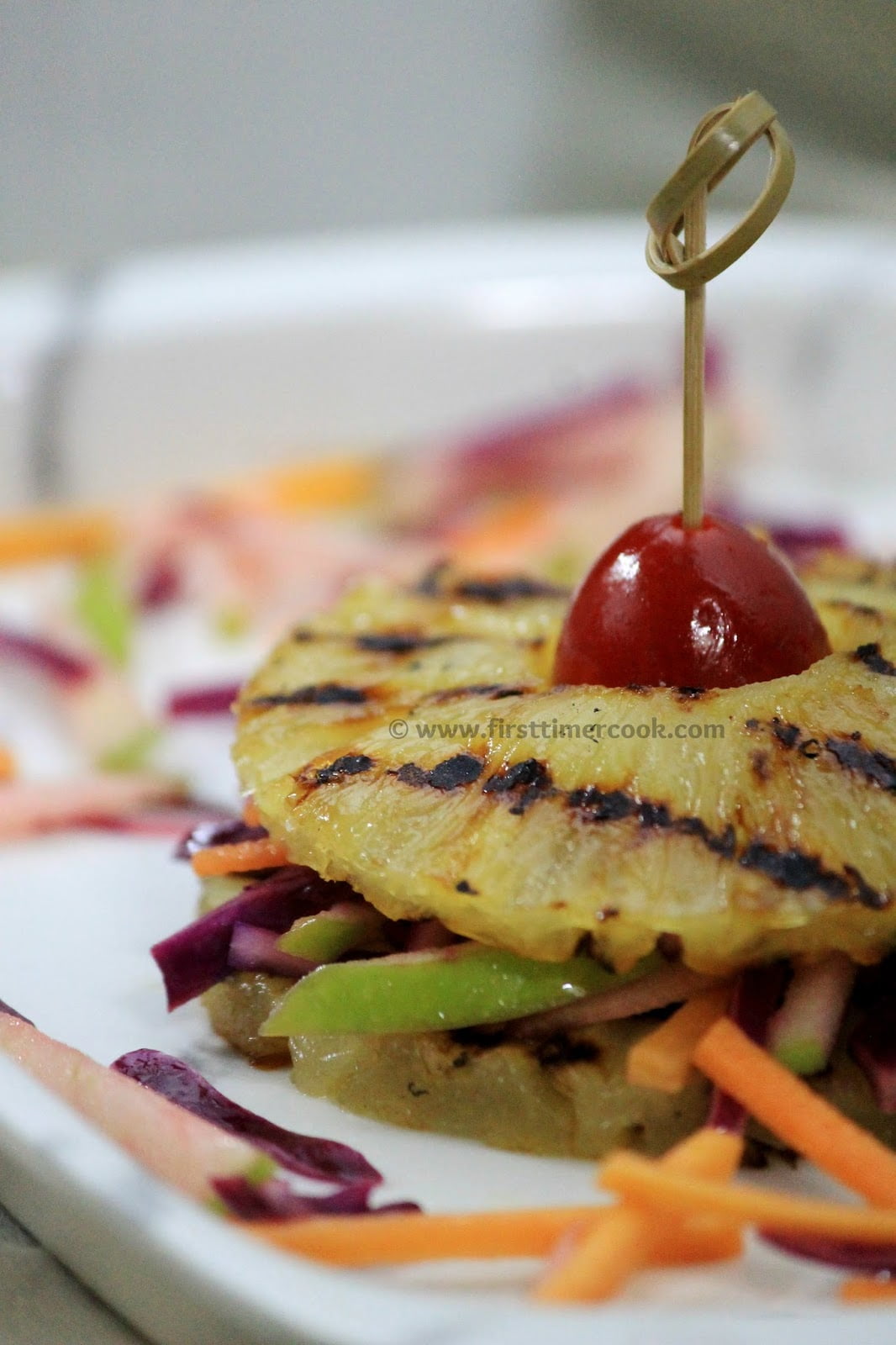 Preparation Time : 20 mins | Cooking Time : 6 mins
Ingredients :
| | |
| --- | --- |
| Ingredients | Measurements |
| Pineapple slice (1/2 inch thick) | 6 no. |
| Red cabbage (shredded) | 1 cup |
| Green apple | 1 no |
| Carrot (thin stripe) | ½ cup |
| Apple cider vinegar | 1 tbsp |
| Honey | 2 tbsp |
| Lime juice | ½ tbsp |
| Olive oil | 1 tbsp |
| Pepper powder | As needed |
| Salt | As needed |
| Cherry | For garnishing |
​
Method :
In a small bowl take olive oil, honey, apple cider vinegar, lime juice, salt and pepper.
Whisk this liquid mixture until everything incorporated well. Keep aside this dressing.
Next cut the green apple into thin match-stick pieces and put in a mixing bowl.
Add shredded cabbage, thinly stripped carrot to the green apple pieces.
Then pour the dressing onto the bowl and toss well until everything is coated in the dressing. Keep aside.
Now heat a grill pan over medium heat.
Place the pineapple slices carefully on the hot grill pan.
Grill until lightly charred one side for about 3 minutes.
Flip and again grill the other side.
Turn off heat and take out the grilled slices from the pan.
Now take a serving platter and place one grilled pineapple slice.
Put 1-2 tbsp slaw over the pineapple slice evenly.
Next place another grilled pineapple slice over the slaw.
Finally put a cherry on top and serve !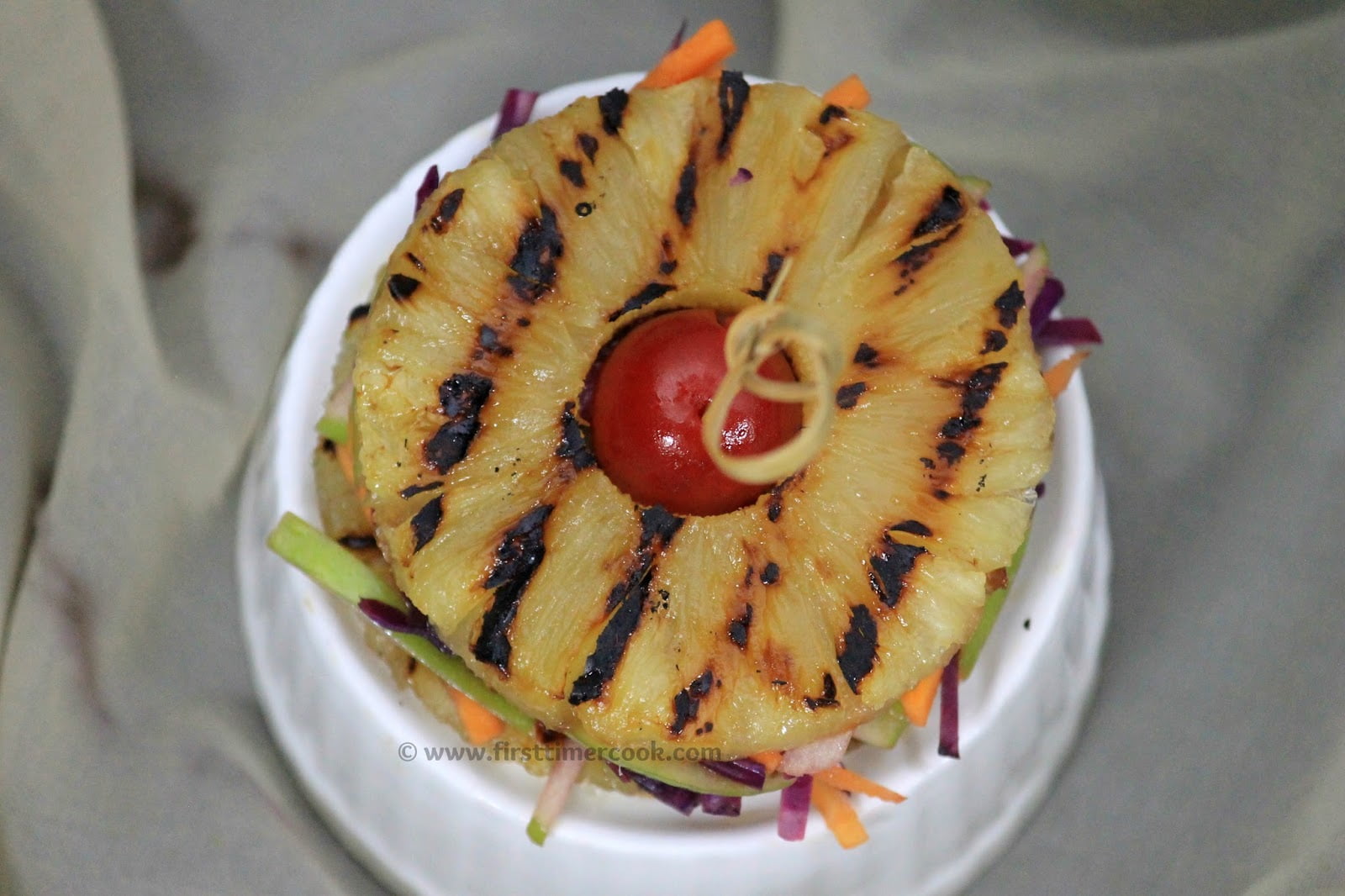 Notes :
Lime juice is optional, but adds a bit tangy flavor to the slaw.
Semi ripe or fully ripe pineapple are perfectly suit for preparing these pineapple burger.
PIN for later :