Monday is here again !! Monday means there must be a post for Foodie Monday Blog Hop team. This time the theme (171th) is decided as 'SaagSaga'. That means we have to make a post using any leafy green vegetable aka saag. Well when the theme was chosen, from that day I had listed a no. of dishes in my mind from my home state, Odisha for the contribution. And finally I have ended up with a no-onion-no-garlic curry using amaranth leaves as Amaranth Leaves Curry aka Koshala Saga Tarkari.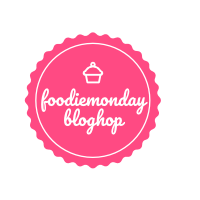 Saag / saga plays a vital role in Odia cuisine. There are a number of plants which are used as sag like Palanga Saga (spinach leaves), Koshala Saga (amaranth leaves), Poi Saga (malabar spinach), Kalama Saga (water spinach leaves), Sajana Saga (drumstick leaves / moringa leaves), Madaranga saga (alternanthera sessilis), Pita Saga (glinus oppositifolius), Sunusunia Saga, Kakharu saga (leaves of pumpkin plant) and many more. The simplest way to indulge these leafy greens for me is : First wash and clean the leaves; chopped them; heat oil; add panch phoron, whole red chili, sightly crushed whole garlic cloves; add chopped leaves, salt; mix well and cover; thats all. I love any leafy greens in this way mostly along with water rice (pakhala) or steamed rice-dal combo.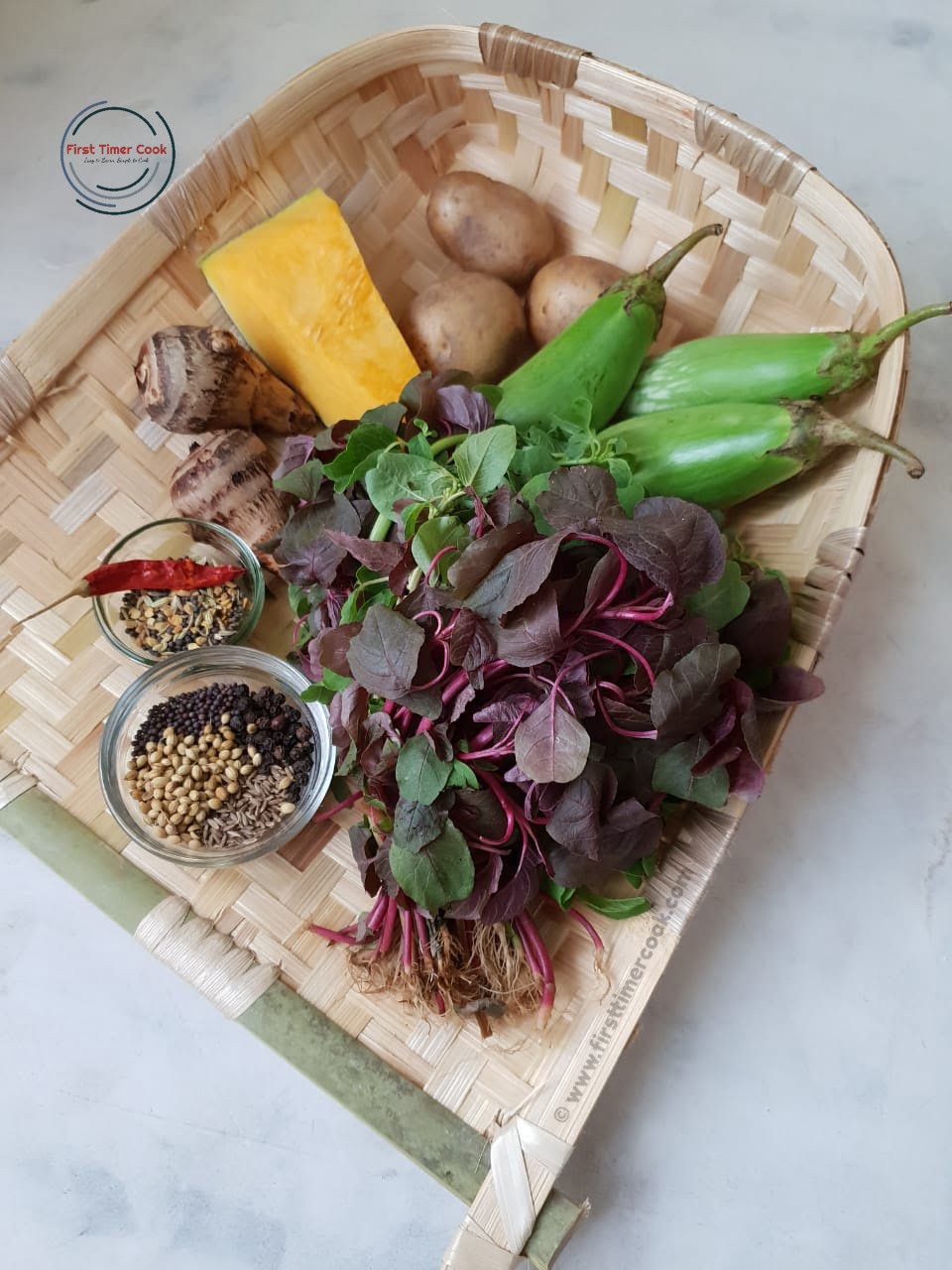 But today which I have shared the saag dish, Amaranth Leaves Curry aka Koshala Saga Tarkari is prepared using amaranth leaves, some vegetables and a specific masala paste. The saag here used is the amaranth leaves / koshala saga but, I have added both green as well as red varieties. The paste is prepared of cumin seed, mustard seed, whole black pepper, coriander seeds along with little amount of water. The dish is basically prepared in temples, so it is without onion-garlic vegetarian dish. So for any festive season this tarkari is perfectly fit to be on the menu. If you want to try in any other day, then some garlic cloves can be added while making the paste. And also the whole black pepper can be omitted. Instead of ghee, mustard oil can be used to enhance the flavor of the dish along with the garlic flavor. The authentic preparation uses ghee, but I have opted oil here to include a healthy note.
So definitely do try this vegan, gluten-free and without onion & garlic Amaranth Leaves Curry / Koshala Saga Tarkari. If you tried my recipe and enjoyed fully, then please share some pictures of your creation with me. Also kindly give your valuable feedback either in the comment box below or tag me as #firsttimercook on Instagram. You may also follow me on Facebook, Pinterest, Twitter, Google+, Instagram and can subscribe for free to get new recipes directly into your inbox 😊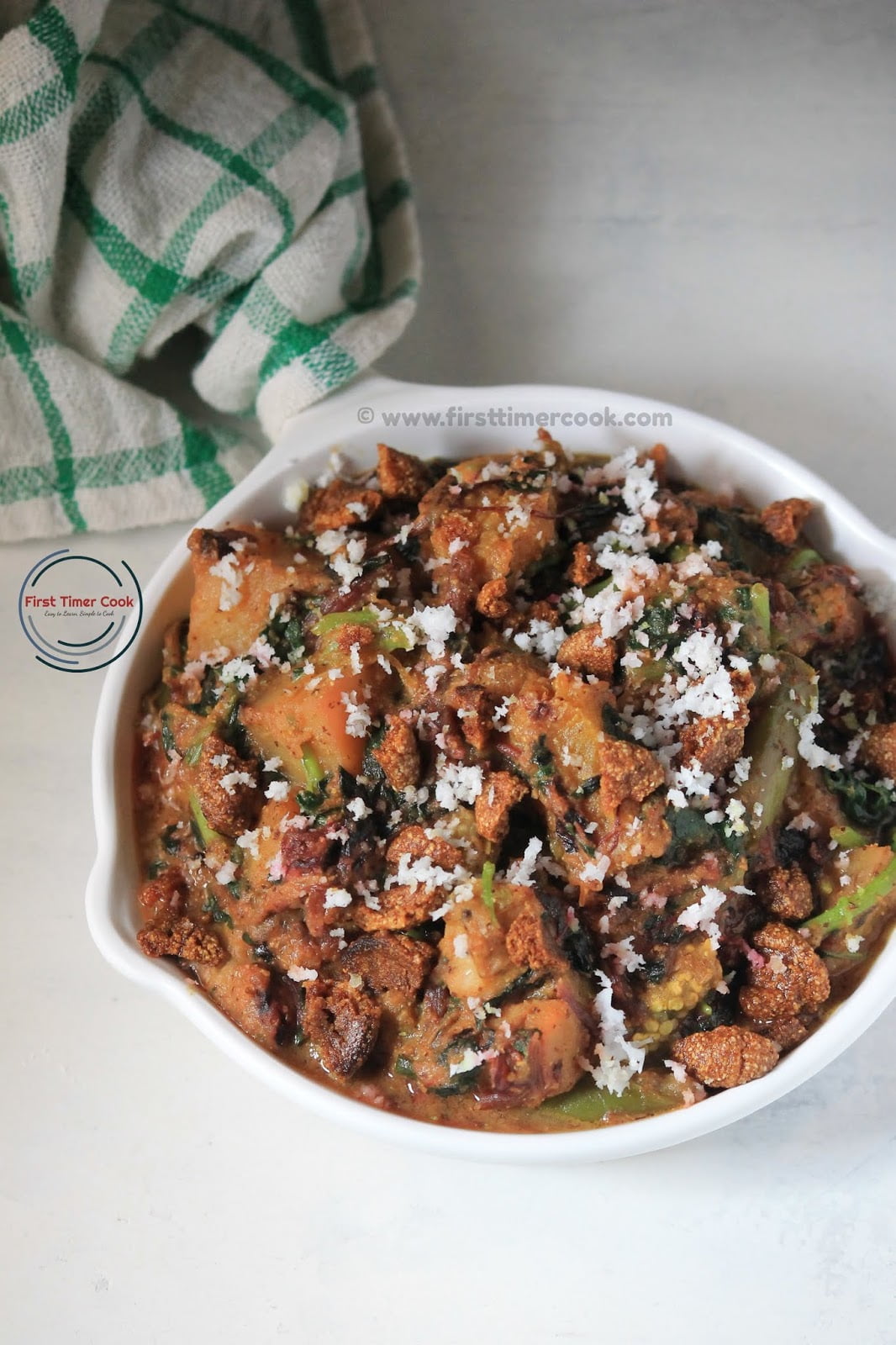 Preparation Time : 20 mins | Cooking Time : 30 mins
Ingredients :
Ingredients

Measurements

Koshala saga (amaranth leave)

(washed & chopped)

2 cup

Colocasia (arbi) (peeled and cut into cubes)

½ cup

Potato (peeled and cut into cubes)

1 cup

Yam (peeled and cut into cubes)

½ cup

Pumpkin (peeled and cut into cubes)

½ cup

Brinjal (cut into cubes)

½ cup

Badi (sun-dried lentil (black gram) dumpling)

(round / long shape)

4-5 no

Cumin seed

1 tbsp

Mustard seed

1 tbsp

Whole black pepper

½ tsp

Coriander seed

1 tsp

Whole red chili

1-2 no

Panch phoron

½ tsp

Asafoetida

1 pinch

Turmeric powder

½ tsp

Coconut (grated)

1-2 tbsp

Oil

3 tbsp

Salt

As needed

Water

As needed
​
Method :
First make a fine paste of cumin seeds, mustard seeds, whole black peppers, coriander seeds and a little amount of water. Keep aside.
In a pan, then heat 1 tbsp ghee and shallow fry the badis till golden brown in color.
Transfer those fried badis to a plate and keep aside.
Next to the same pan, add 1 tbsp ghee again.
Add all the chopped vegetables except eggplant and saute for 2-3 minutes.
Next add chopped eggplant, turmeric powder and salt.
Mix everything well and add some water (around 1/2 cup).
Cover the pan and allow to cook till the vegetables are soft a bit, not overcooked.
Then add the paste which is prepared in the first step and mix well.
Next add chopped amaranth leaves / koshala saga and the fried.
Mix well and again allow to cook till everything is done by covering the pan.
Next in a tadka pan, heat 1 tbsp ghee.
Add whole red chili, asafoetida, panch phoron and allow to crackle.
Pour this tempering onto the pan.
Mix gently and allow to cook for 1 minute more.
Turn off heat and add grated coconut.
Give a gentle mix again and serve as a side dish with steamed rice-dal combo !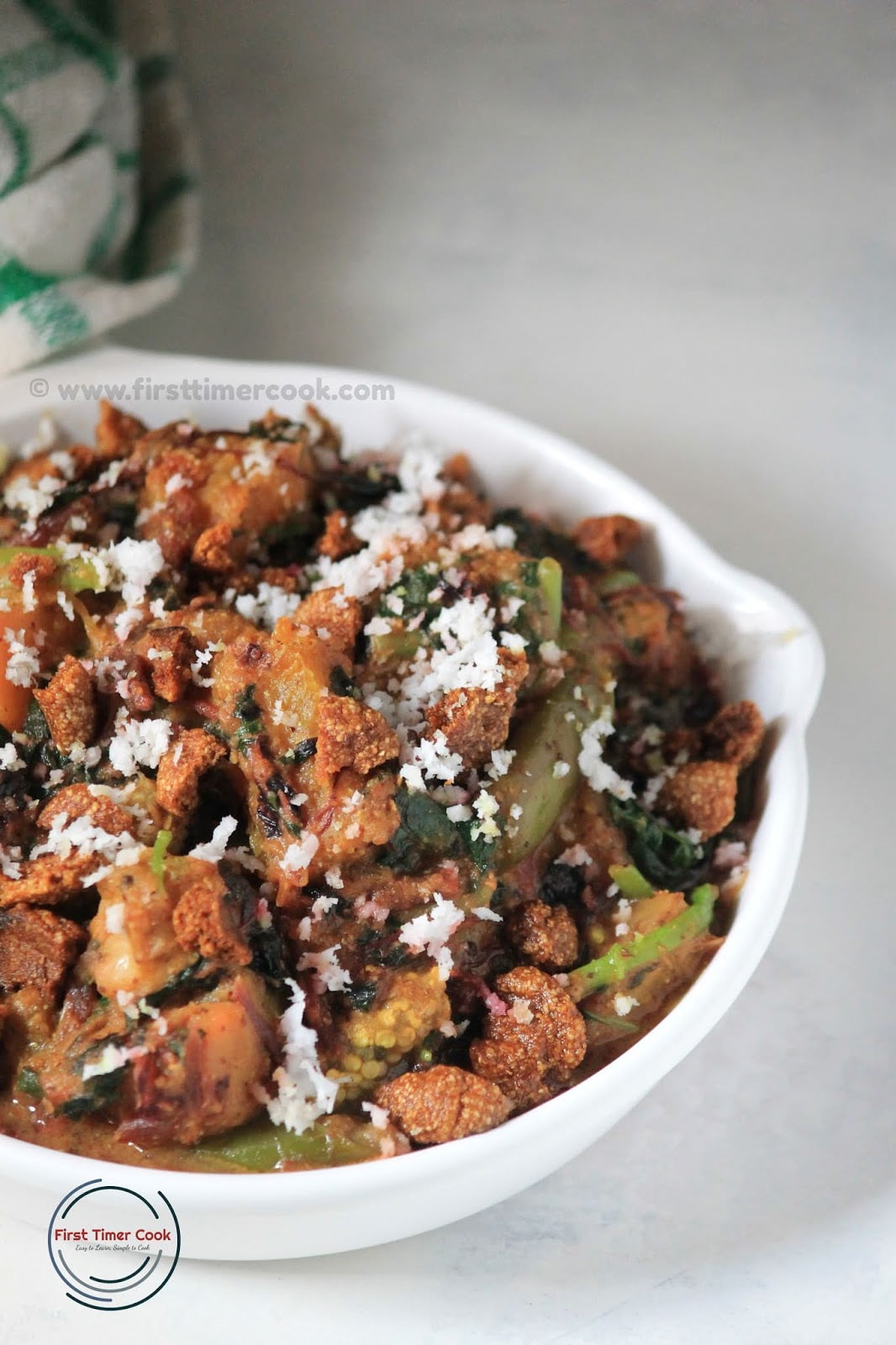 Notes :
Oil I have used here. But ghee can be used to get the authentic temple flavor in the dish.
Always keep in mind that after washing the amaranth leaves / koshala saga, these leaves should be drained out completely placing in a colander.
PIN for later :