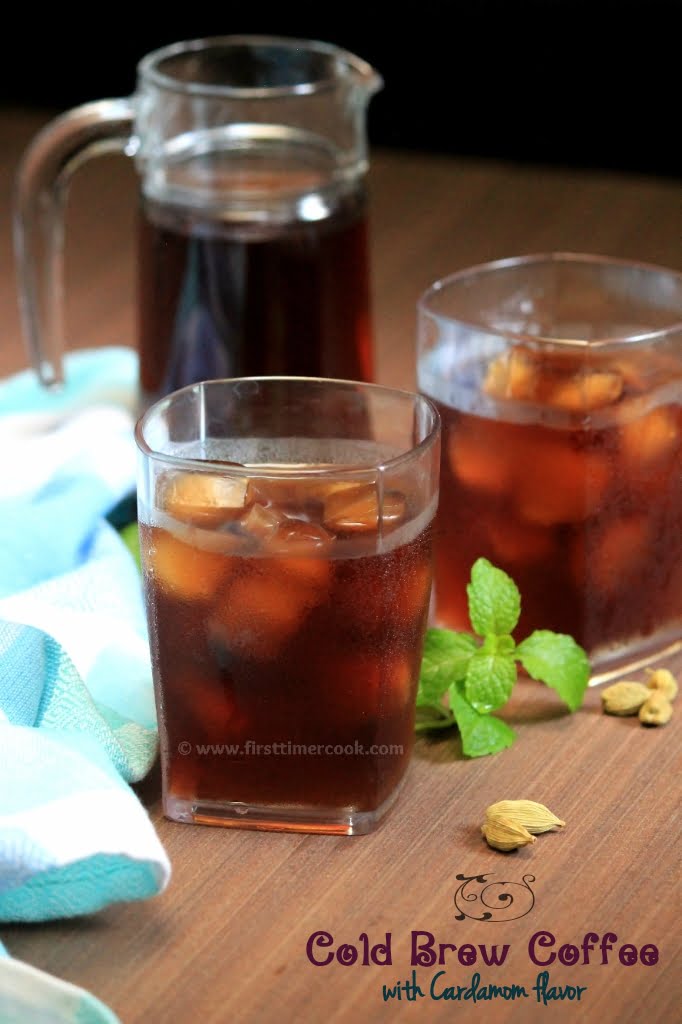 Coffee is one of the most consumed beverages in the world. Really there can't be any adult in this whole world that has never tried coffee 😉. Well, moderate amount of drinking coffee is safe and 2-3 cups a day may have some health benefits according to some research. Though fruits and vegetables have tons of antioxidants, still the human body absorbs the highest antioxidants from coffee. Coffee has also been shown to reduce the risk of many diseases including type 2 diabetes, liver disease, colorectal cancer, Alzheimer's and skin cancer too.
Hmm, this time the Foodie Monday Blog Hop team has come up with 140th theme as 'Coffee'. So keeping that in mind, I have prepared a no-cook beverage using coffee which is completely vegan as Cold Brew Coffee with Cardamom flavor. I always love the combined flavor of cardamom / cinnamon with coffee. This time I have opted to the cardamom one.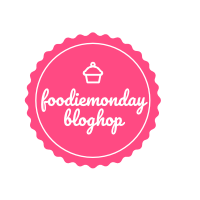 Many may get confused between iced coffee and cold brew coffee. Well, in iced coffee the coffee is brewed hot, poured over ice and served cold. Where as in cold brew coffee, the coffee is steeped in refrigerator or room temperature water for an extended period of time (at least 12 hours or more), filtered out and results in a coffee concentrate which is then poured over ice cubes or mixed with water / milk and served. In cold brew coffee, since the coffee is never heated up so the acids and oils (that make any hot coffee a bitter taste) are never released which finally results in a smoother taste.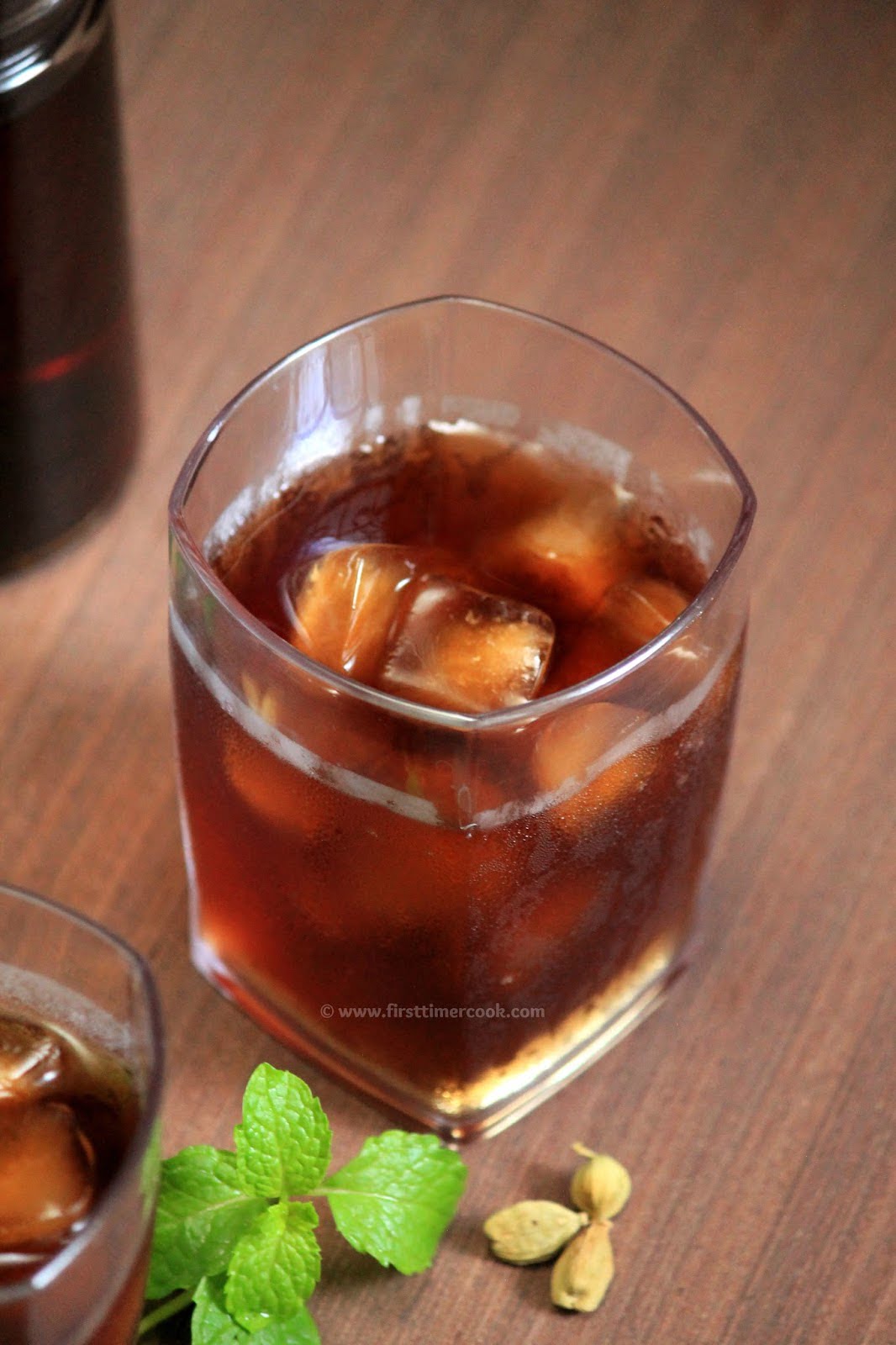 The whole process is so simple, easy to make and yields a much refreshing beverage. Grind the coffee and cardamom coarsely, combine with water, allow to steep for at least 12 hours or more, strain and pour over some coffee ice cubes. So the only time consuming part is the steeping time. At least 12 hours or more is required to infuse the coffee and cardamom flavor into the cold water. So finally a strong, concentrated brew is created. This brew can also be refrigerated in an airtight jar for 1 week. If you are a coffee lover, then definitely you'll love this cardamom flavored cold brew coffee as compared to any iced coffee. So do try this cold brew coffee with cardamom flavor and give your valuable feedback either in the comment box below or tag me as #firsttimercook on Instagram. Lets go in details.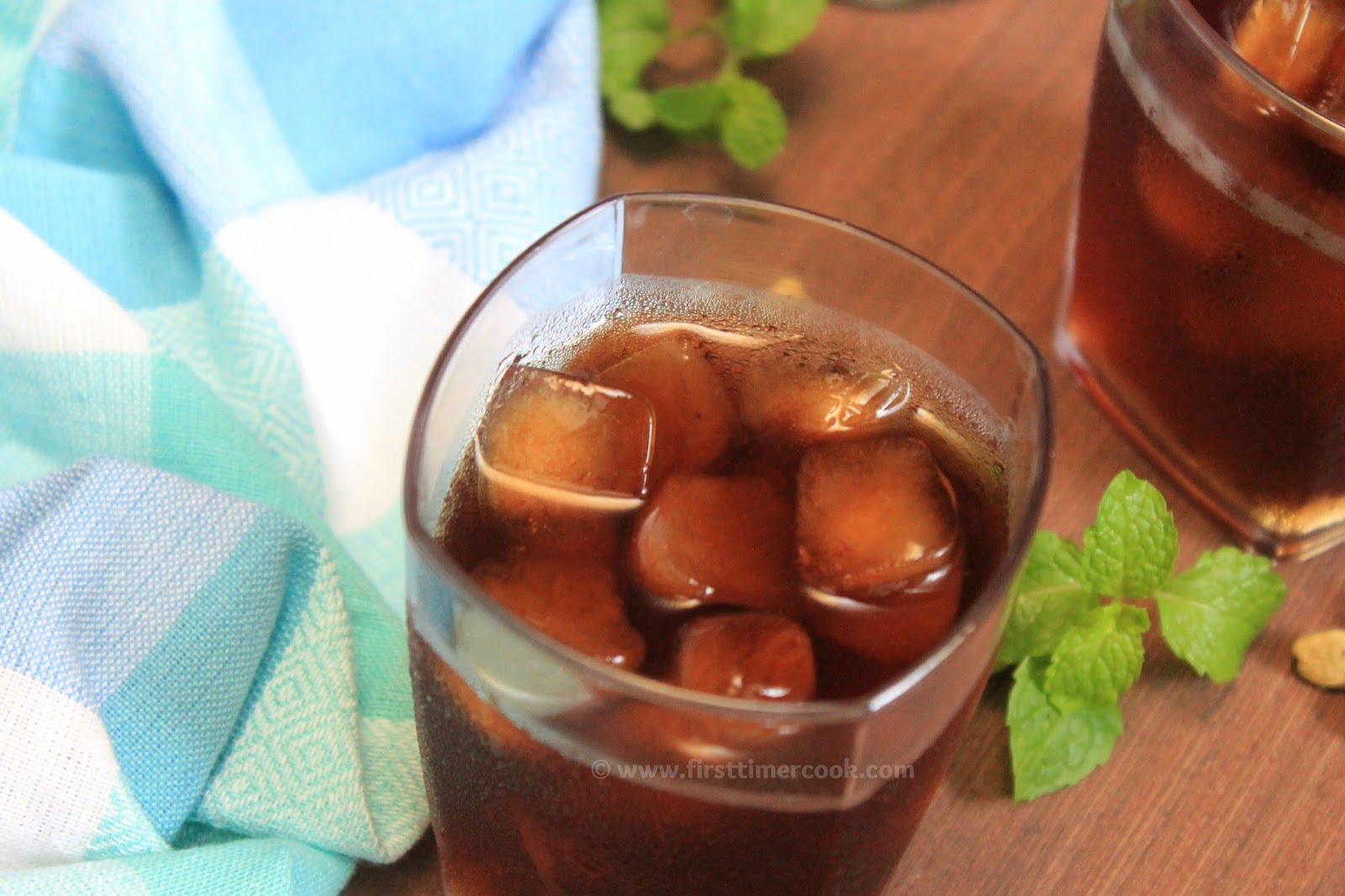 Preparation Time : 5 mins | Steeping Time : 12 hrs | Cooking Time : 0 mins
Ingredients :
| | |
| --- | --- |
| Ingredients | Measurements |
| Coffee bean | ½ cup |
| Cardamom pod | 1-2 no |
| Water | 2 cup |
| Coffee ice cube | few |
​
Method :
Take coffee beans and cardamom seeds in a blender jar and make coarse powder.
In a large bowl, put the coarse coffee powder and water.
Using a spoon, stir well.
Cover the bowl with a lid and keep in refrigerator for at least 12 hours or more depending upon the desired strength of the brew.
Then take another large bowl and place a plain strainer over it.
Now put a cheesecloth over the strainer and strain the coffee.
Finally take the serving glass.
Put some coffee ice cubes into the glass and then pour the strained coffee.
Serve and enjoy !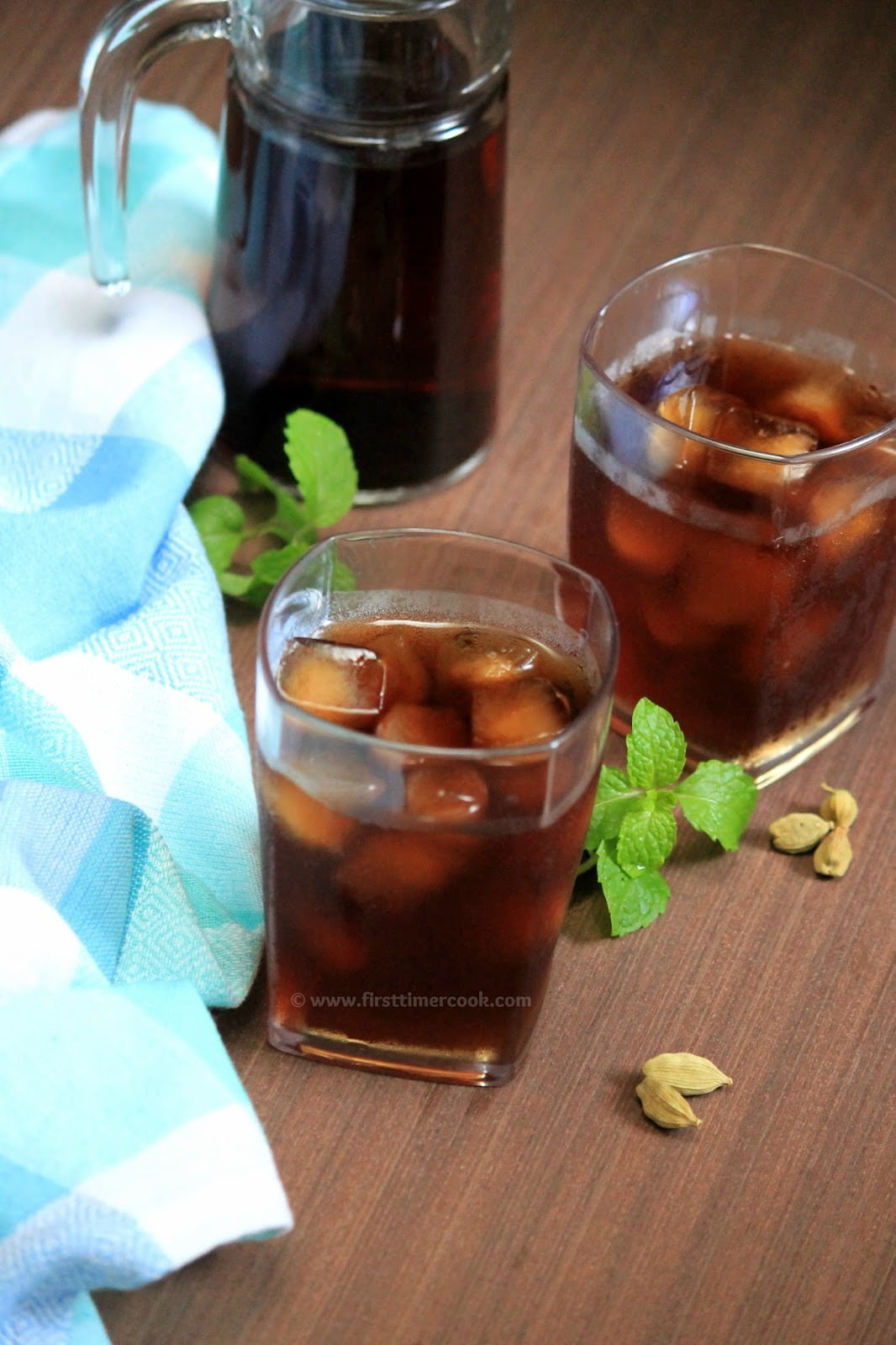 Notes :
Coffee ice cubes can be prepared as : Pour some coffee brew into ice cube tray and freeze until solid.
If coffee filter is available with you then there is no need of plain strainer and cheesecloth. Directly filter the coffee using the coffee filter.
Sugar can be added depending upon the natural sweetness of the coffee. I always like my cold brew coffee without adding sugar.
Along with coffee ice cubes, some plain water also can be added to get a little diluted cold brew coffee.

The strained coffee can be refrigerated in an airtight jar up to 1 week.
PIN for later :