The dry chili jackfruit is an Indo-Chinese delicacy using unripe jackfruit pieces. The dish yields spicy and mildly sweet – full of freaking flavors. Best as a starter or appetizer.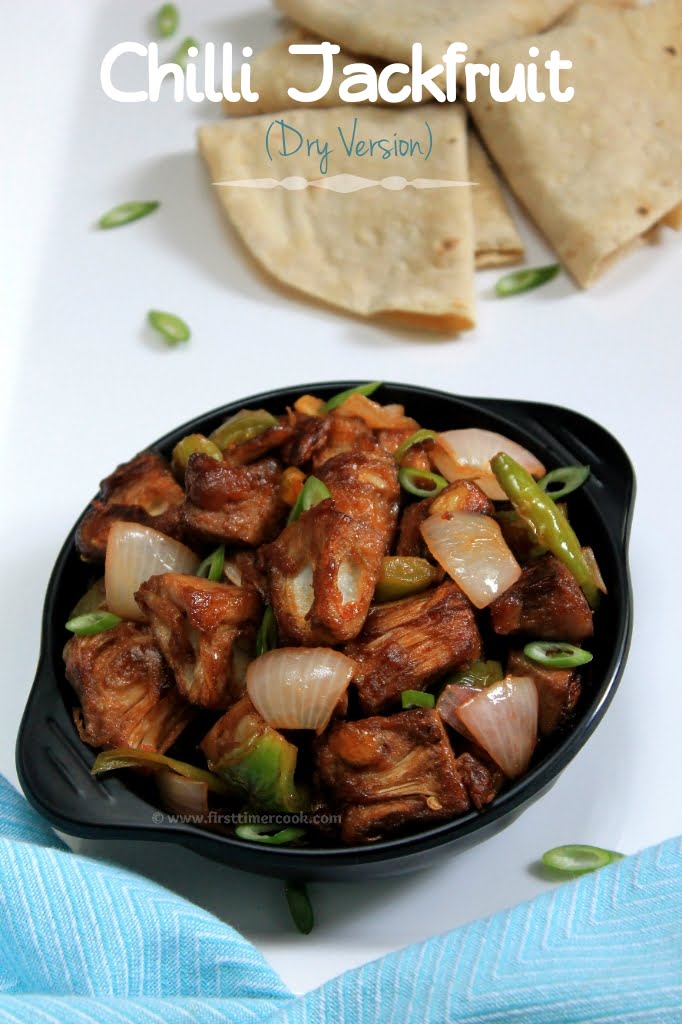 Jackfruit!
Jackfruit is an exotic fruit in tropical regions of the world. It has a spiky outer skin and is green (unripe) or yellow (ripe) in color. One unique aspect of jackfruit is its unusually large size and also this is the largest tree fruit in the world. This makes an excellent meat alternative in vegetarian and vegan recipes due to its texture, which is comparable to shredded meat. The particular season of jackfruit is during the summer. The consumed part of jackfruit is the flesh and the seed which are edible both when ripe and unripe. For sweet as well as savory dishes this suits great. Also, jackfruits are high in nutrients and antioxidants and have a number of health benefits including improved blood sugar control, reduced risk of heart disease, reduced risk of viral infections, etc.
Among all the varieties of dishes prepared using jackfruits, today I have come up with an Indo-Chinese version of Jackfruits as Dry Chili Jackfruit.
Dry Chili Jackfruit –
This is almost similar to any Indo-Chinese chili recipe, prepared with raw jackfruit pieces. I have prepared this chili variation as a dry one without any gravy. The key ingredient here is the shallow fried jackfruit pieces. 
These can be deep-fried too 😉 But before shallow frying, first the raw jackfruit pieces are cooked a bit till soft, coated with a batter which is neither thin nor thick consistency, and then shallow fried.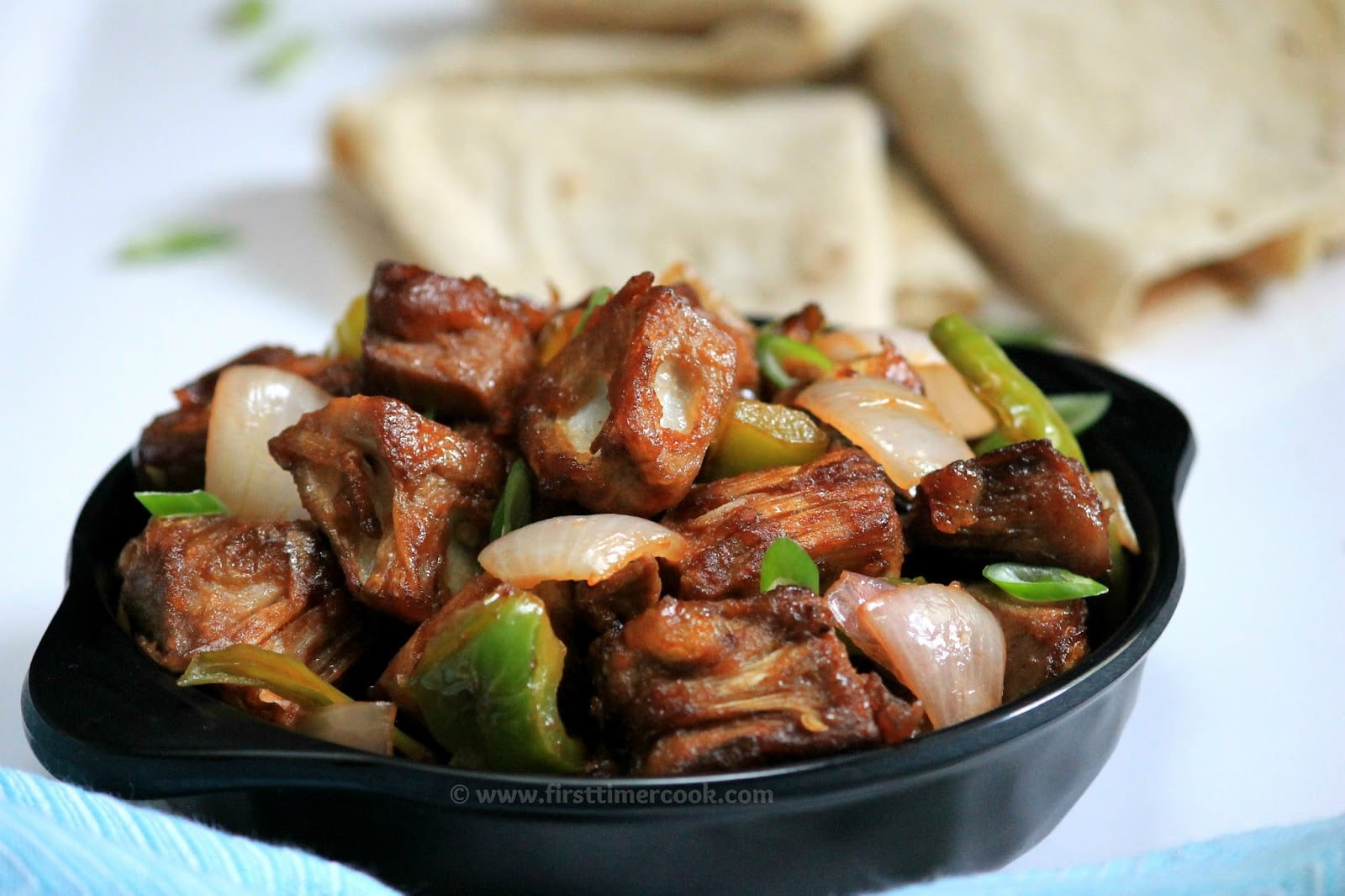 Then the fried jackfruits toss in a sauce consisting of finely chopped ginger, finely chopped garlic, soy sauce, tomato sauce, chili sauce, sugar, onion, and capsicum cubes.
The whole dish overall gives a sweet and spicy flavor. This dry chili jackfruit can serve as a starter or appetizer. Also, this tastes ideal when served along with fried rice or noodles or plain roti too.
If you like this Dry Chili Jackfruit, then do check some more JACKFRUIT based recipes –
📖 RECIPE CARD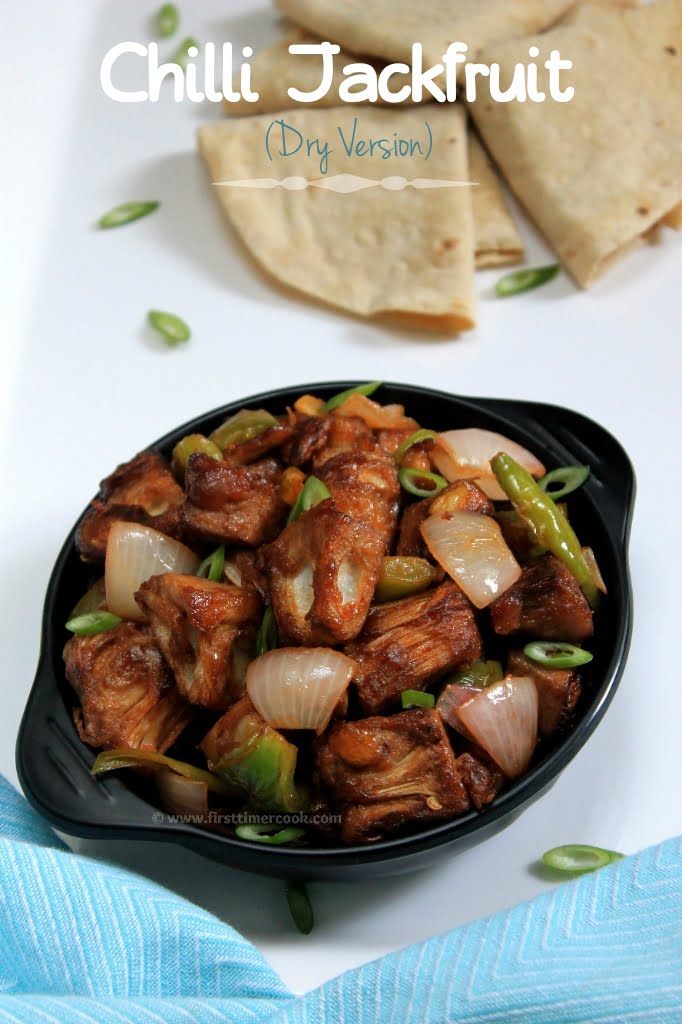 Dry Chilli Jackfruit
The chili jackfruit is the Indo-Chinese version of shallow fried jackfruit pieces. Best served as a starter or appetizer.
Ingredients
2

cup

Jack fruit (chopped and deseed)

4

tbsp

Maida (all purpose flour)

2

tbsp

Corn flour

¼

tsp

Ginger garlic paste

½

cup

Onion (1 inch cube)

¼

cup

Capsicum (1 inch cube)

2

no.

Green chili

1

tsp

Garlic (finely chopped)

½

tsp

Ginger (finely chopped)

2

tbsp

Spring onion (chopped)

¼

tsp

Red chili powder

¼

tsp

Black pepper powder

2

tbsp

Tomato sauce

1

tsp

Chili sauce

1

tbsp

Soy sauce

¼

tsp

Sugar

Oil

as needed

Salt

as needed

Water

as needed
Instructions
First in a deep non-stick pan, heat enough water.

Add the chopped jack fruit, salt and cook over medium heat for 12-15 minutes or till jack fruit pieces turn a bit soft. Do not over cook, the pieces should cook till soft.

Drain the water using a strainer and transfer the jack fruits into a plate. Keep aside.

In a mixing bowl take maida, corn flour, ginger-garlic paste, red chili powder and salt.

Add water and make a smooth lump free batter which will be neither thick nor thin consistency!

Add jackfruit pieces and mix gently so that these are coated well with the batter. Keep aside for 5-10 minutes.

Now in a pan heat oil and shallow fry these coated jackfruit pieces, tossing in between.

Fry till the jackfruits turn golden and crisp. Transfer to a plate and keep aside.

Now into the same pan, add oil and turn on heat.

Add the finely chopped garlic and saute for a few seconds.

Add the finely chopped ginger and saute on high for a few more seconds.

Next add onion cubes, capsicum cubes and stir fry for 2-3 minutes over high heat.

Then add shallow fried jackfruit pieces and mix everything well.

Now add tomato sauce, chili sauce, soy sauce, pepper powder, sugar and salt.

Saute over high heat till everything incorporated well.

Sprinkle some chopped spring onions and give a quick mix.

Turn off heat and serve hot along with roti or fried rice or noodles !
Notes
Do not overcook the raw jackfruit pieces, the pieces should cook till soft.
Adjust spiciness as desired
The jackfruit pieces can be deep-fried too instead of shallow fried
You may also follow me on  

Facebook

, 

Pinteres

t, 

Twitter

, 

Instagram

 

and can subscribe for free to get new recipes directly into your inbox 😊
PIN to read later :