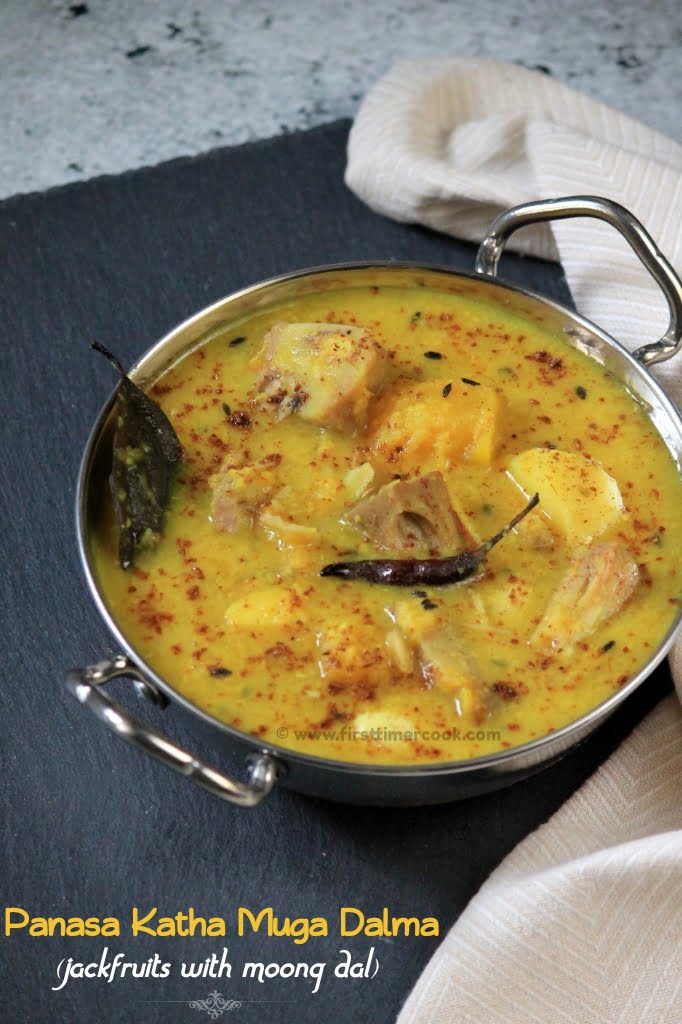 Dalma is a traditional and famous delicacy from the state of Odisha. Basically this is a type of dish where the lentil or dal cooked with different nutritious vegetables and less spices. The dish is easy to prepare, also packed with proteins from the dal & minerals, vitamins from vegetables. So it is the perfect combination of taste as well as health. Dalma mainly seasoned with a tempering of jeera, bay leaves, dry red chili in pure desi ghee, by which the dish becomes much more aromatic. There are actually a varieties of dalma dish. Dalma can be prepared using onion-garlic or without. Preferably in temple and during festivals the dish is prepared without using onion-garlic.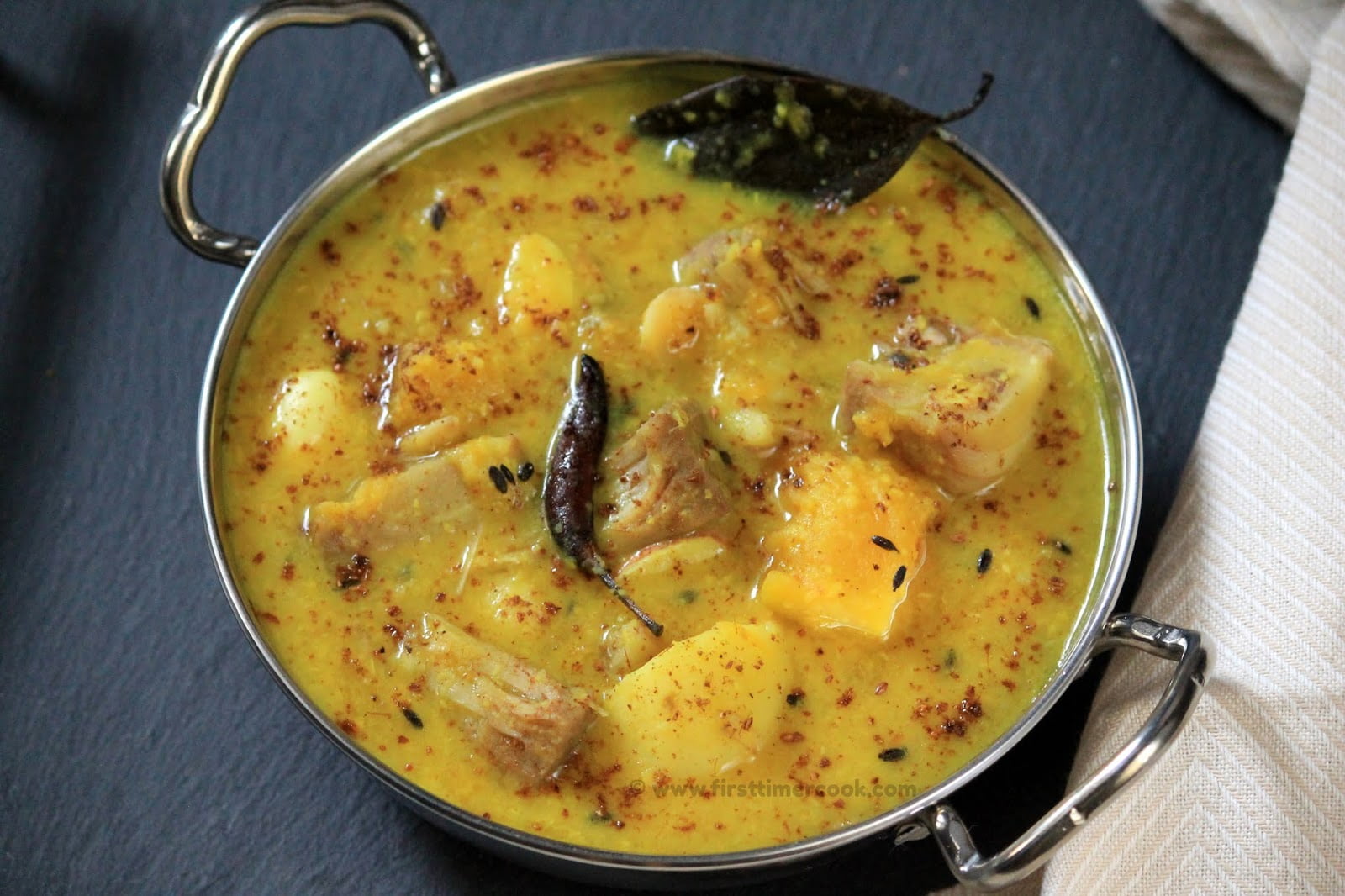 Here I have come up with one of my favorite dalma as Panasa Katha Muga Dalma or Jackfruits with Moong Dal. This dalma is without onion-garlic version. First the moong dal or spitted green gram is dry roasted, then the dal is pressure cooked along with jackfruit cubes, potato cubes and pumpkin cubes, next some tempering of cumin seed, bay leaf and whole red chili is added and finally some freshly grated coconut and roasted red chili-cumin powder is sprinkled. This variety of dalma is particularly enjoyed a lot when the jackfruits are in season. Although authentic method of preparation involved use of pure
desi ghee to get that aromatic flavor, but here i have prepared the dish using only 1 teaspoon of oil. It can be thoroughly enjoyed as a side dish with some steamed rice or plain roti or paratha.
So do try this Odisha special Panasa Katha Muga Dalma or Jackfruits with Moong Dal. If you tried my recipe and enjoyed fully, then please share some pictures of your creation with me. Also kindly give your valuable feedback either in the comment box below or tag me as #firsttimercook on Instagram. You may also follow me on Facebook, Pinterest, Twitter, Google+, Instagram and can subscribe for free to get new recipes directly into your inbox 😊
Preparation Time : 30 mins | Cooking Time : 20 mins
Ingredients :
| | |
| --- | --- |
| Ingredients | Measurements |
| Moong dal | ¾ cup |
| Jackfruit cube (unripe) | 1 cup |
| Potato cube | ½ cup |
| Pumpkin cube | ¼ cup |
| Tomato (medium) | 1 no |
| Cumin seed | ½ tsp |
| Red chili | 1 no |
| Bay leaf | 1 no |
| Turmeric powder | ¼ tsp |
| Red chili-cumin powder (roasted) | 1 tsp |
| Coconut (grated) | 1-2 tbsp |
| Oil | 1 tsp |
| Salt | As needed |
| Water | As needed |
​
Method :
In a pan first dry roast the moong dal till light brown.
Transfer the roasted moong dal to a bowl containing water and allow to soak for 12-15 minutes.
Then wash the soaked dal nicely and put into a pressure cooker.
Add in pumpkin cubes, potato cubes, jackfruit cubes, turmeric powder and salt.
Stir everything, close the lid and allow to cook over low-medium heat.
Turn off heat and keep aside to release the gas automatically.
Now heat oil in a small pan.
Add bay leaf, whole red chilies, cumin seeds and allow to crackle.
Next add chopped tomatoes and cook till tomatoes become mushy.
Pour this tempering into the pressure cooker containing cooked dal.
Again place the pressure cooker over gas flame and allow to cook for 2-3 minutes without lid.
Add some grated coconut and give a nice stir.
Turn off heat and sprinkle roasted red chili-cumin powder.
Serve hot this moong dal panasa katha dalma along with steamed rice, roti or paratha !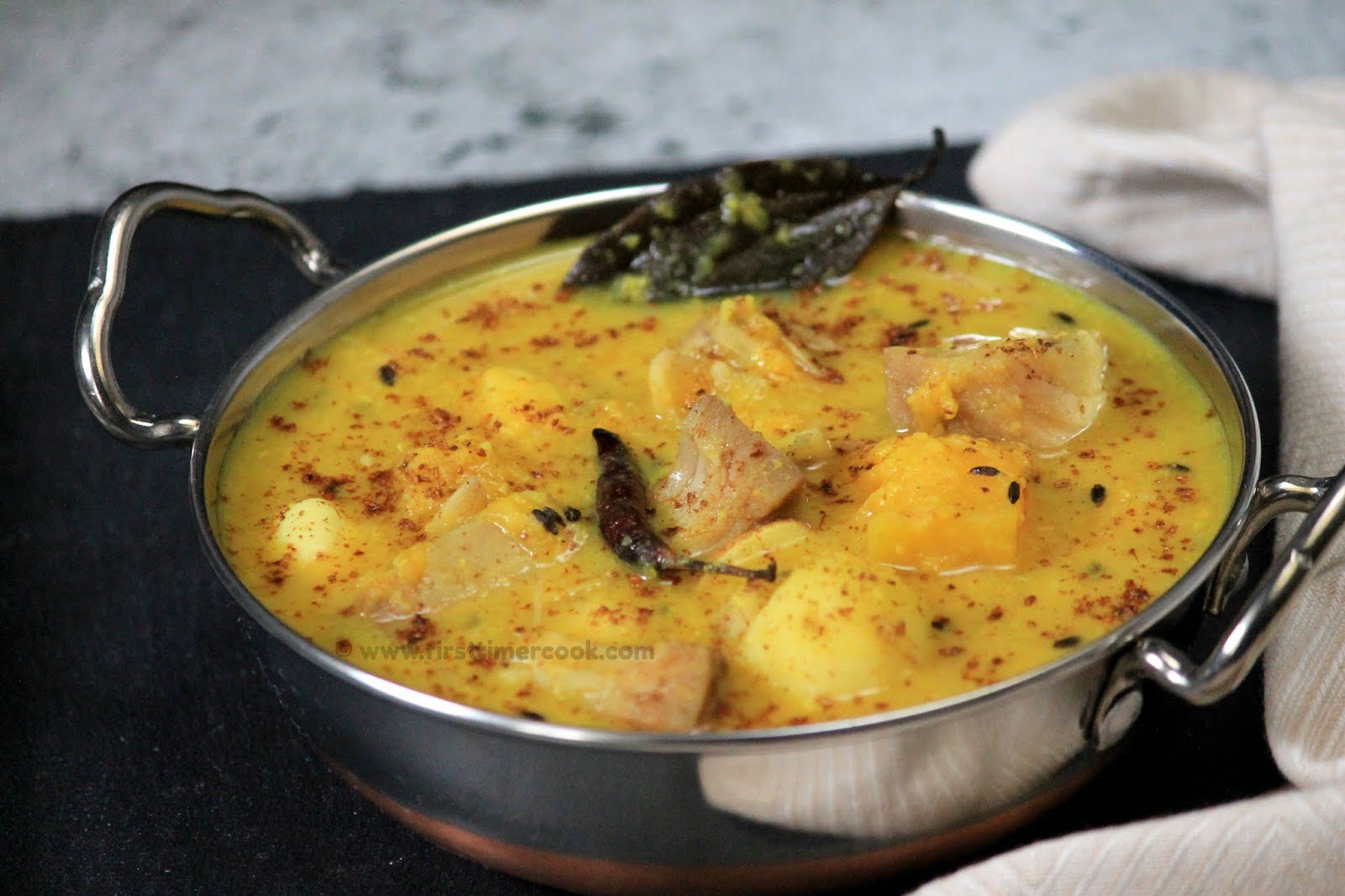 Notes :
Instead of oil, ghee can be used for tempering to make an authentic flavor of the dalma.
PIN for later :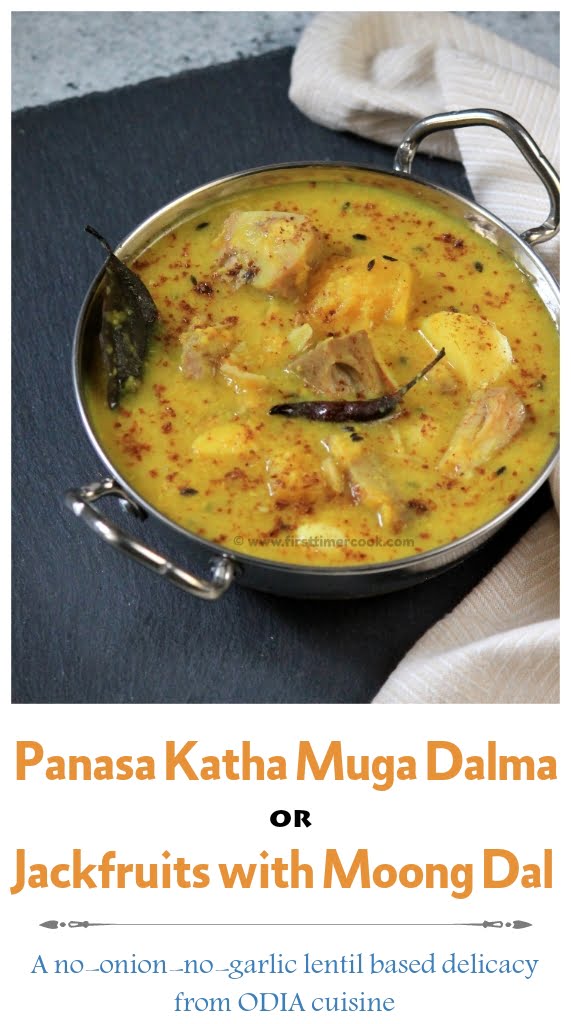 This Panasa Katha Muga Dalma | Jackfruits with Moong Dal is contributed to the 150th theme of Foodie Monday Blog Hop team where the theme is decided as 'Veggies with 1 tsp Oil'.