Odisha – an eastern Indian state, is known for its tribal cultures and its many ancient Hindu temples. Jagannath Temple at Puri which is one of the four great 'Char Dham' pilgrimage sites of India is situated in this state. The simple yet distinctive style of cooking in Odisha has its own identity. Odia cuisine is very simple yet delicious, prepared in very little or no oil which not only enhances the taste but makes them very healthy as well. Odia dishes are mostly rely on local ingredients. Rice (both sun dried and par-boiled) is the staple food of the people in this state. The cuisine of Odisha has a distinctive cooking style and the same is followed in the preparation of the dishes as well.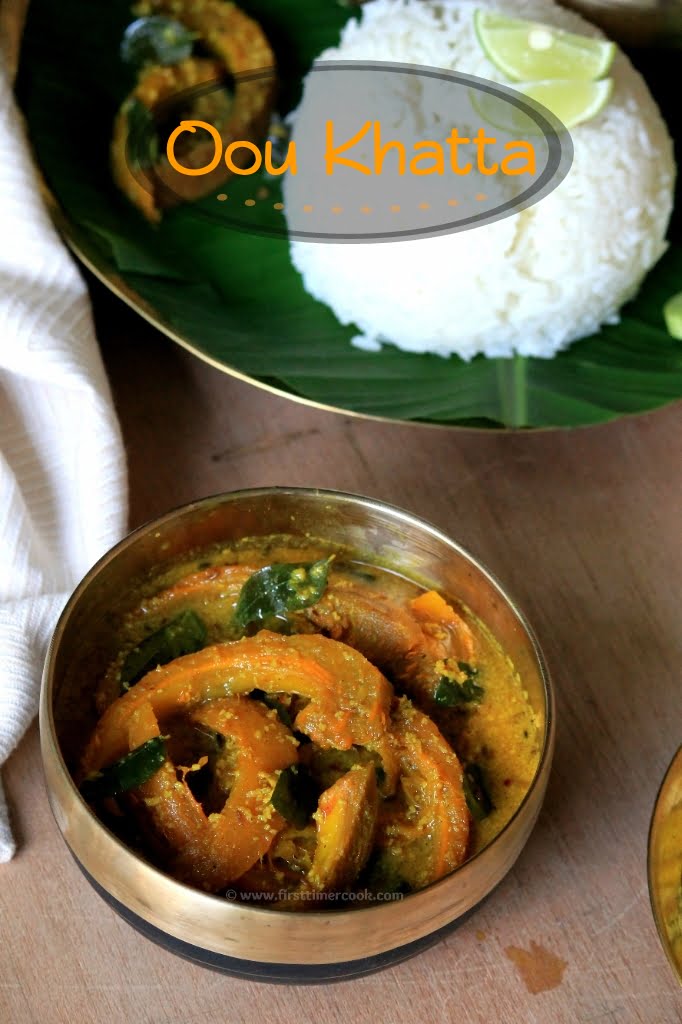 The mustard oil is the oil used in many dishes. But for festivals or in temple, only ghee is allowed to prepare any dish. Most common spice used in several dishes is panch phutana or panch phoron which is an equal mixture of cumin seeds, mustard seeds (black), fenugreek seeds, fennel seeds and nigella seeds.
Well, this is Monday. So the Foodie Monday Blog Hop theme is back and this time the theme is 'Odia Cuisine' which is the cuisine of my home-state Odisha. After finalizing the theme in the group, I have a lot of dishes in mind to prepare. But finally I have ended up with the 'Meetha Oou Khatta' or 'Sweet Elephant Apple Relish'. There are already some dishes from Odisha cuisine which are uploaded in my blog as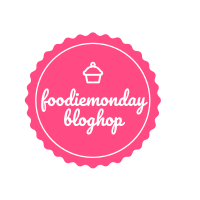 Mainly the oou or elephant apple or dillenia indica is a seasonal fruit, always widely available between post monsoon and early winters. The fruit pulp is sour in taste. So to give any sourness in any dal or curry during winter, this is also used. This is a hard structured fruit which has a no of petals. One has to be really mastered in cutting this hard fruit, because while layering out the petals some liquid releases which is much slippery and there always a chance of injury.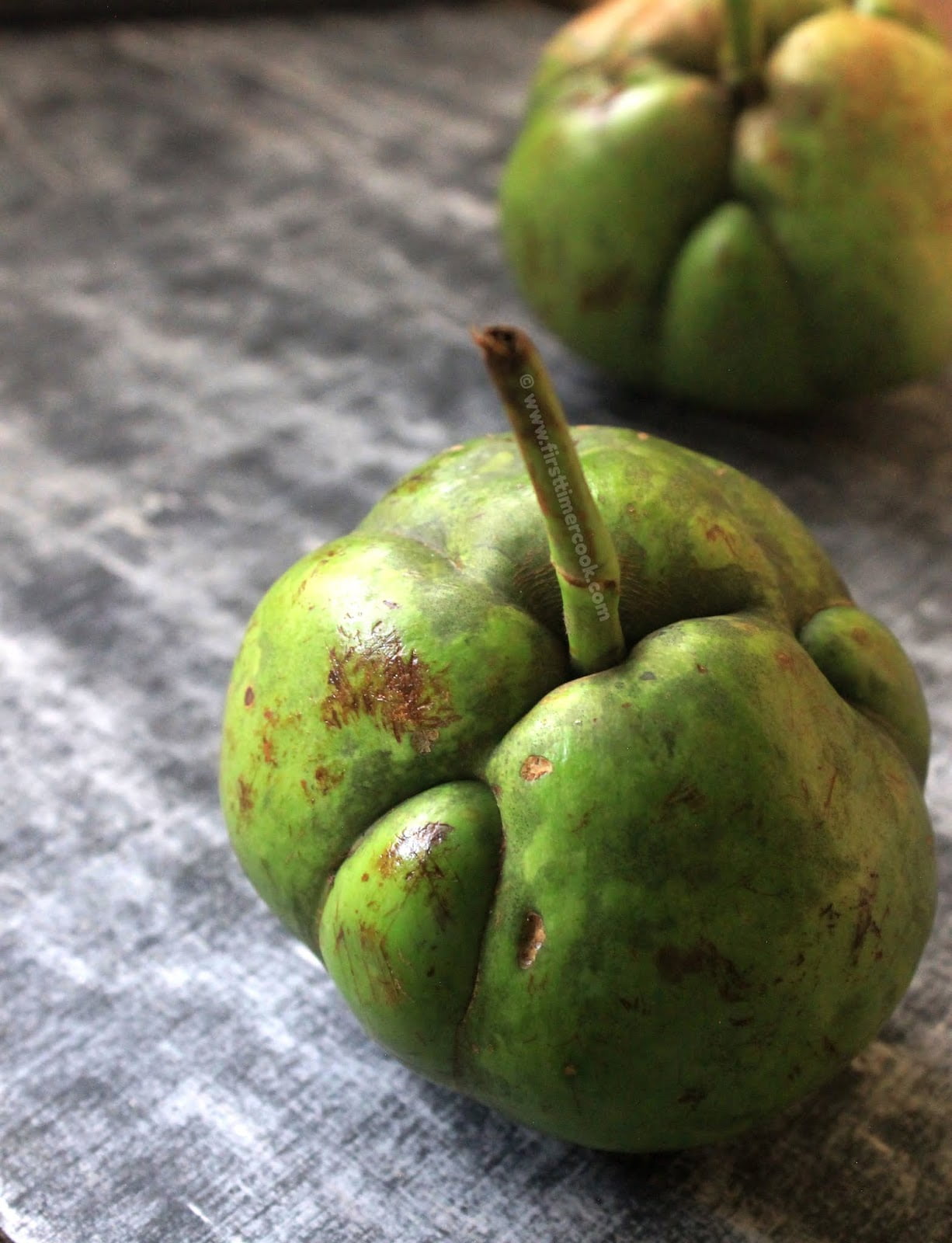 Oou khatta is cooked with jaggery or sugar to cut down the sourness if desiring for the sweet version since this is a sour fruit. Also this can be prepared along with tangy mustard paste to more enhance the sourness which I will post in details in another post. This sweet version of oou khatta is one of the dish of Habisha meal ( A meal prepared in Odisha households on each Monday of Kartika month of Hindu calendar which consists of steamed rice (arua arnna), habisha dalma, oou khatta) in Odia cuisine. Though this fruit is not much recognized by most Indians, but this is super tempting relish which can be easily prepared once the fruit is on hand. Lets go in details.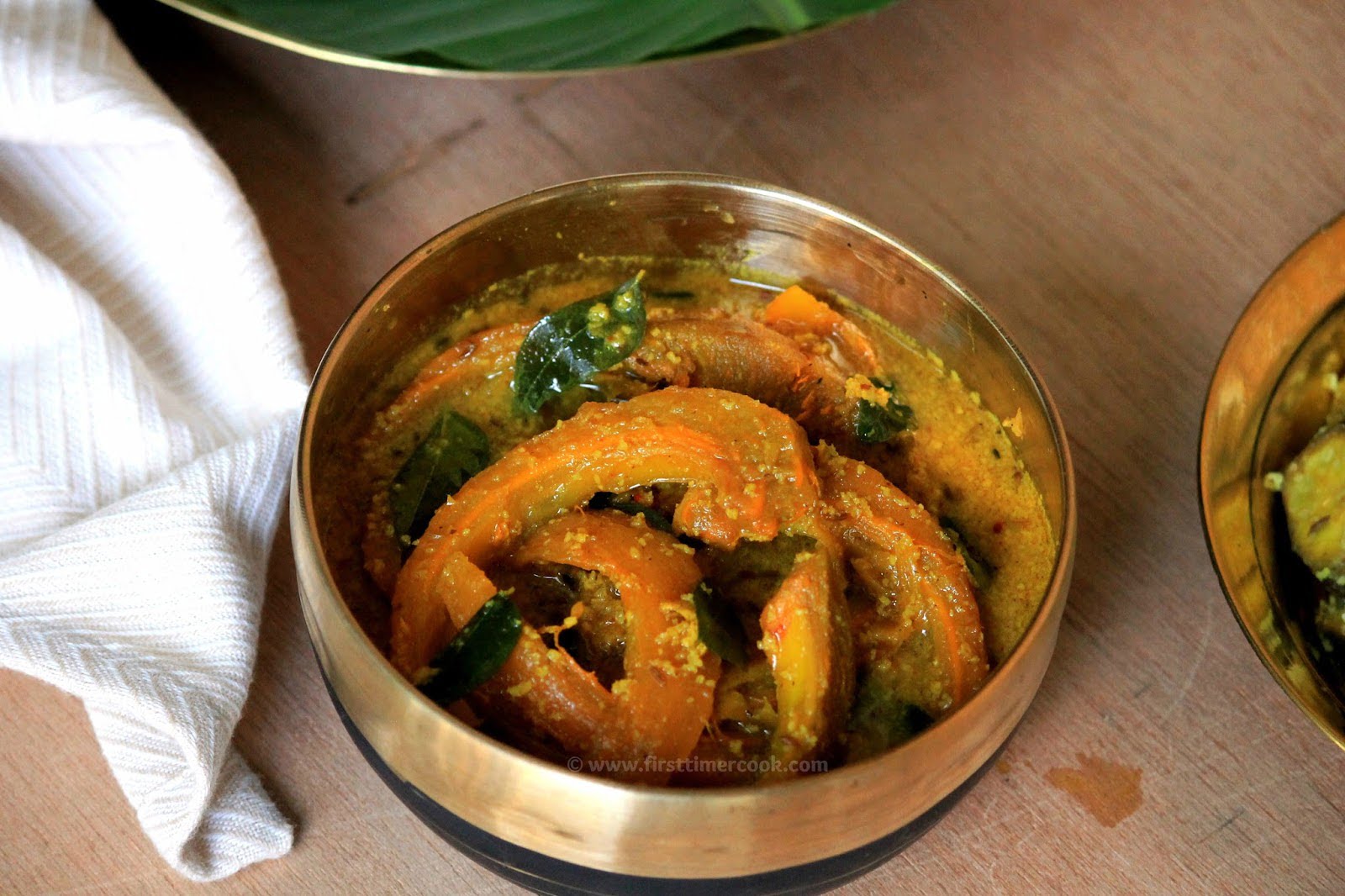 Preparation Time : 30 mins | Cooking Time : 30 mins
Ingredients :
| | |
| --- | --- |
| Ingredients | Measurements |
| Oou (elephant apple) | 1 no |
| Jaggery (grated) / sugar | ½ cup |
| Ginger (grated) | ½ tsp |
| Cumin seed | 1 tsp |
| Mustard seed | 1 tsp |
| Red chili | 1 no |
| Coconut (grated) | 1 tbsp |
| Turmeric powder | ½ tsp |
| Roasted red chili-cumin powder | ½ tsp |
| Oil | 2 tbsp |
| Salt | As needed |
| Water | As needed |

​
Method :
Clean the oou (elephant apple) well and pat dry.
Cut and remove all petals of the elephant apple (oou) carefully since these petals are bit slippery.
Peel the outer skins out from both sides of each petal.
Then cut vertically each peeled petal into finger sized pieces.
In a deep pan add cut oou pieces, 2 cup water, salt, 1/4 tsp turmeric powder and allow to boil till the oou pieces are well cooked over medium heat.
Turn off heat, drain out and collect all the cooked oou pieces. Keep aside.
Next in another pan, heat oil.
Add cumin seeds, mustard seeds and allow to splutter.
Then add curry leaves, grated ginger and red chili. Saute for few seconds.
Now add cooked oou pieces, grated jaggery or sugar, 1/4 tsp turmeric powder, salt and mix everything well.
Jaggery or sugar will start to melt. Stir occasionally.
Next add grated coconut, 1 cup water. Give a quick stir and cook for 10 minutes or till there is a thick consistency.
Turn off heat and sprinkle some roasted red chili-cumin powder.
Stir well and serve this oou khatta / elephant apple relish with steamed rice.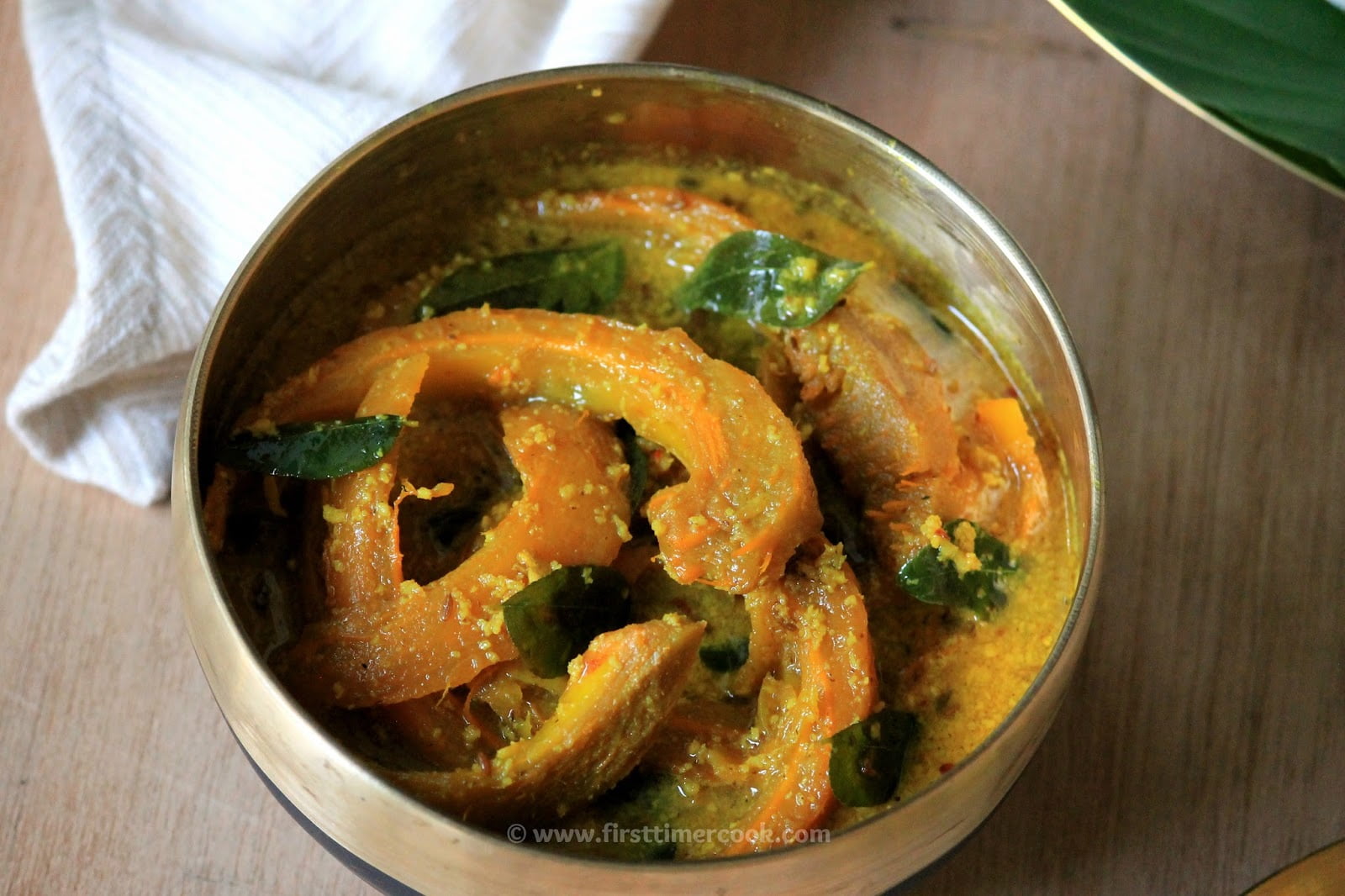 Notes :
Instead of cooking the oou pieces in a deep pan, simply these can be cooked in a pressure cooker if there is any hurry.

Green chili can be used in place of red chili.

The cooked oou pieces can also be crushed by a pestle if desire.


PIN for later :