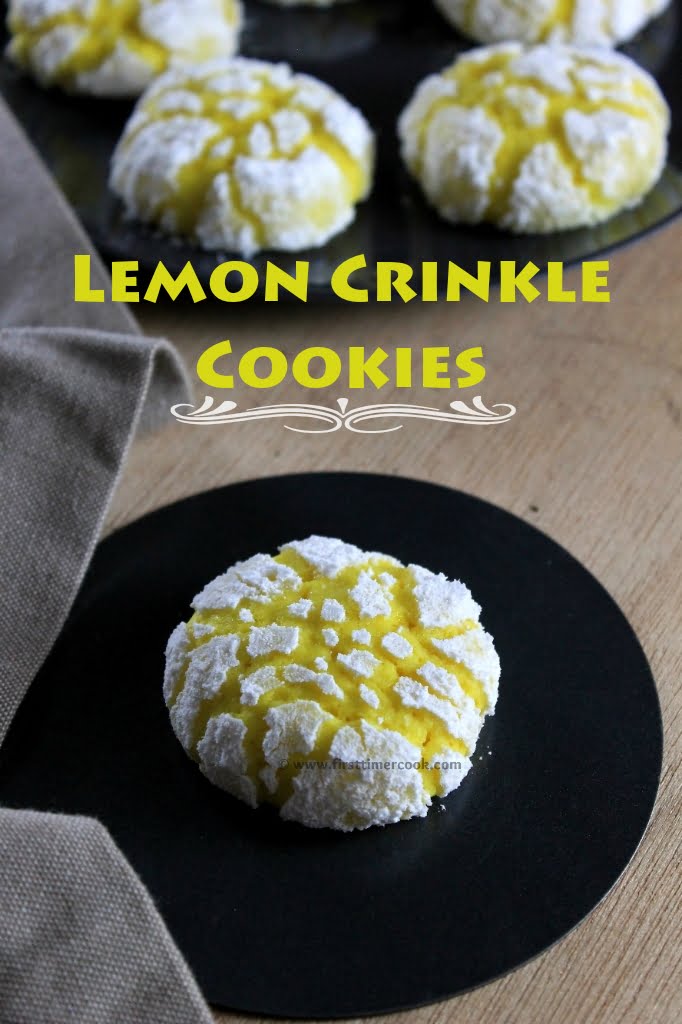 Christmas is coming. Have you all get ready for celebration ?
Christmas is a great festival of the year. Everyone do lots of preparations and decorations of the Church, houses etc some days before the event celebration. There is also tradition of giving gifts like sweets, chocolates, cards, Christmas trees, decorative things etc to the family members, friends, relatives and neighbors. Mainly people start preparations in the beginning of the month December with a big passion. So for celebrating Christmas, how about some melt in mouth egg-less lemon crinkle cookies – a perfect balance of sweet and lemon flavor in cookies along with some pretty cute crinkle effects on top !!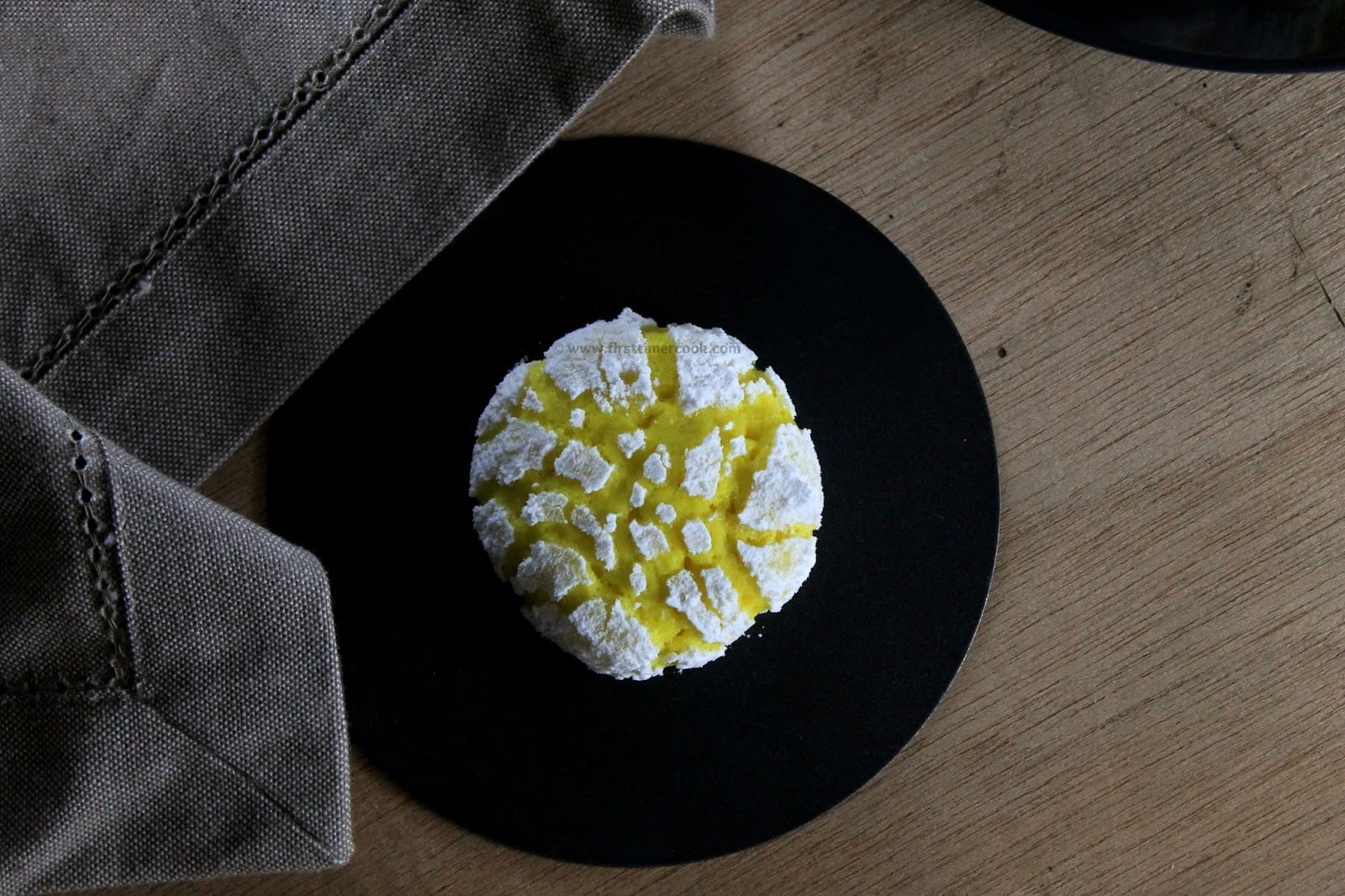 Lemon is one of my favorite fruit. I always try to include this in my diet. So when it comes to a cookie, I definitely cannot wait to grab all at once 😆. These lemon crinkle cookies are totally egg-free. These delicious cookies are not totally a crispy kind, rather these are soft and fluffy ones but at the same time have a nice crunch like cookies. The name 'crinkle' mainly refers to how the coated powdered sugar cracks as the cookies bake. That means when the cookies are baked, some cracks appear on top and gives a nice crinkled effect over the cookies.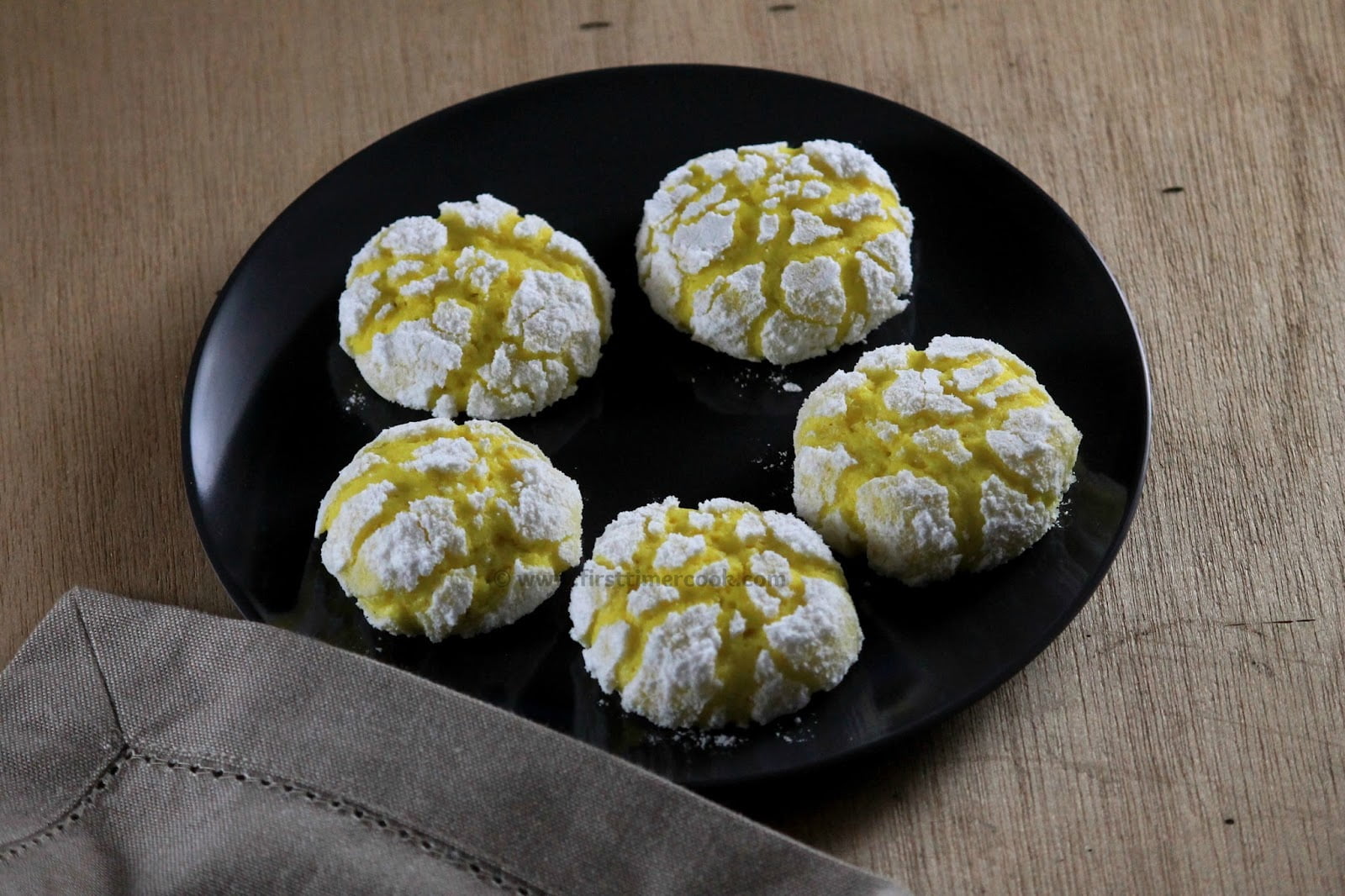 Appearance wise, these look so much pretty and smell great while baking as well. One can easily prepare these lemon flavored crinkle cookies with available ingredients at home. With the fresh lemon zest, fresh lemon juice and lemon essence any one can definitely find an abundance of lemon flavor. So lets go in details method of preparation of these melt in mouth, super delicious egg-less lemon crinkle cookies as mentioned below.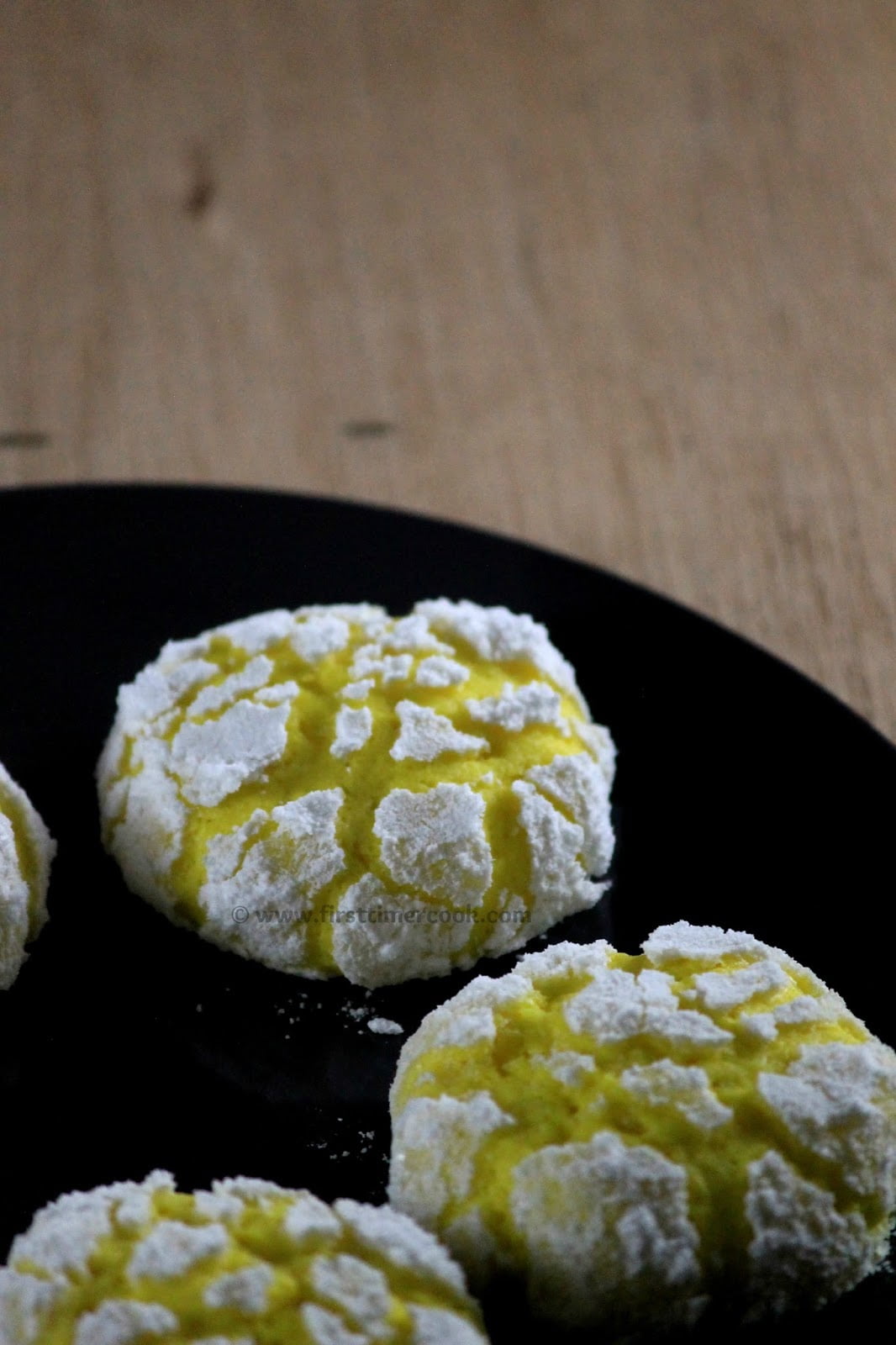 Preparation Time : 10 mins | Freezing Time : 1 hr | Cooking Time : 15 mins
Ingredients :
| | |
| --- | --- |
| Ingredients | Measurements |
| All purpose flour | 1 & ¾ cup |
| Butter | ½ cup |
| Baking powder | 1 & ½ tsp |
| Milk | ½ cup |
| Sugar | ¾ cup |
| Lemon juice | From 1 lemon |
| Lemon zest | From 1 lemon |
| Lemon essence | ½ tsp |
| Salt | 1 pinch |
| Powdered sugar | ½ cup |
| Yellow food color (optional) | 3-4 drops |
Method :
First sieve all purpose flour, baking powder and salt in a mixing bowl and keep aside.
In another mixing bowl, whisk soft butter and sugar until a creamy texture.
Next add zest of a fresh lemon, lemon juice of a medium lemon, lemon essence and whisk well.
Then add milk, yellow food color and whisk till everything incorporated well.
Now add dry ingredients and mix well. This results in a sticky dough.
Wrap the dough in a cling film and keep in refrigerator at least for 1 hour.
After 1 hour, preheat the oven at 180 deg C and also take out the dough from refrigerator.
In a plate spread powdered sugar well.
Take 1 tbsp of dough, shape as a round ball, roll over the powdered sugar generously so that the dough ball'll be well coated with powdered sugar and finally place over a baking sheet.
Repeat for rest of the dough and arrange all the powdered sugar coated dough balls over the baking sheet having 2 inches space in between.
Bake in preheated oven for 15 minutes or till crinkles appear well over the cookies.
Once done, take out the cookies from the oven, allow to cool on the baking sheet for 3-5 minutes, then transfer to cooling rack to cool completely.
Store these lemon crinkle cookies in an airtight container !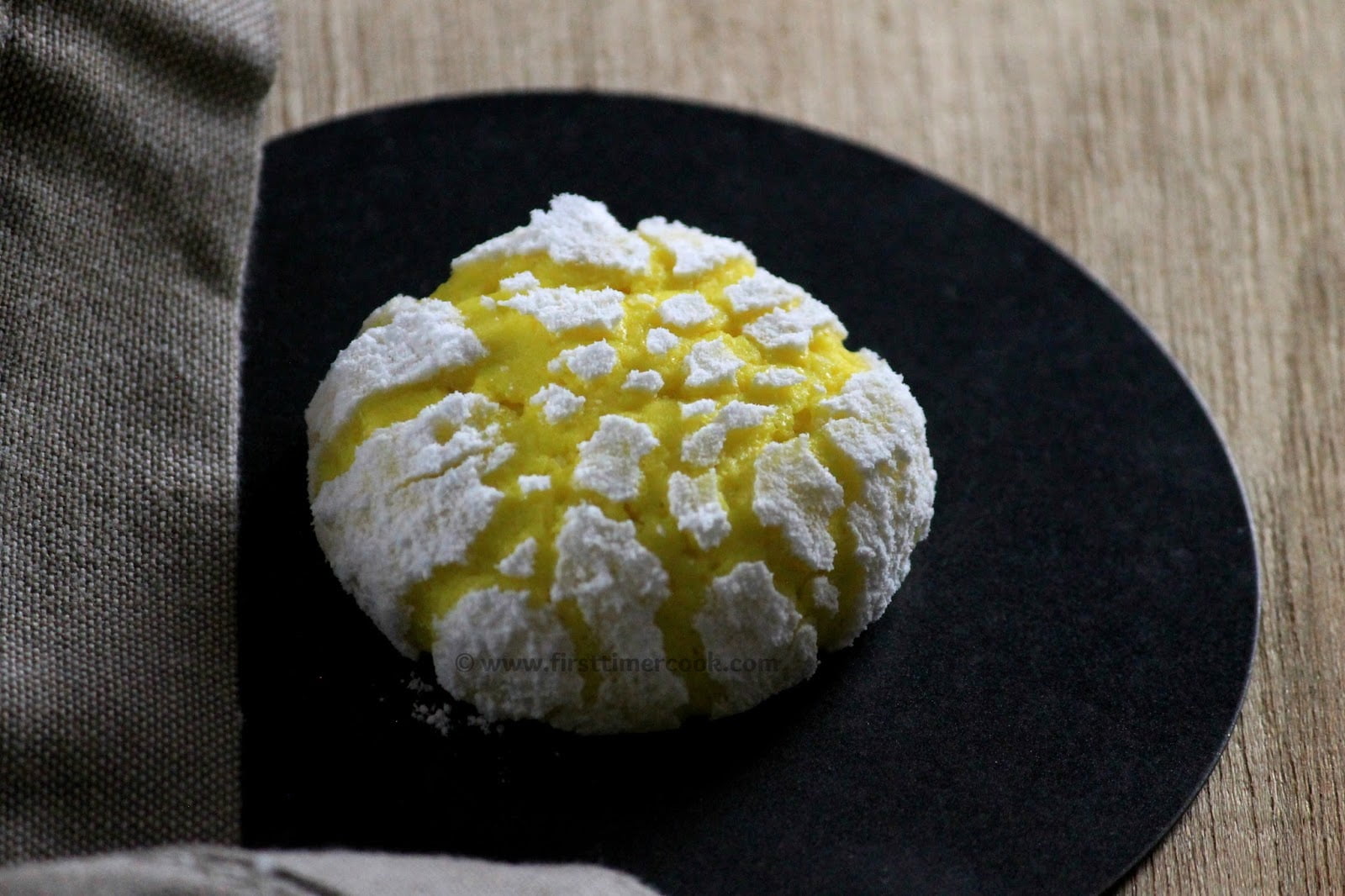 Notes :
Dough can be stored for more hours if you are not ready to bake.
If the dough is more sticky then add 1-2 tbsp all purpose flour. Also if the dough is thick, then add some tsp of milk.
Lemon essence is used here to give some extra citrus flavor to the cookies. But this is optional if not available.
Food color is also optional.

PIN for later :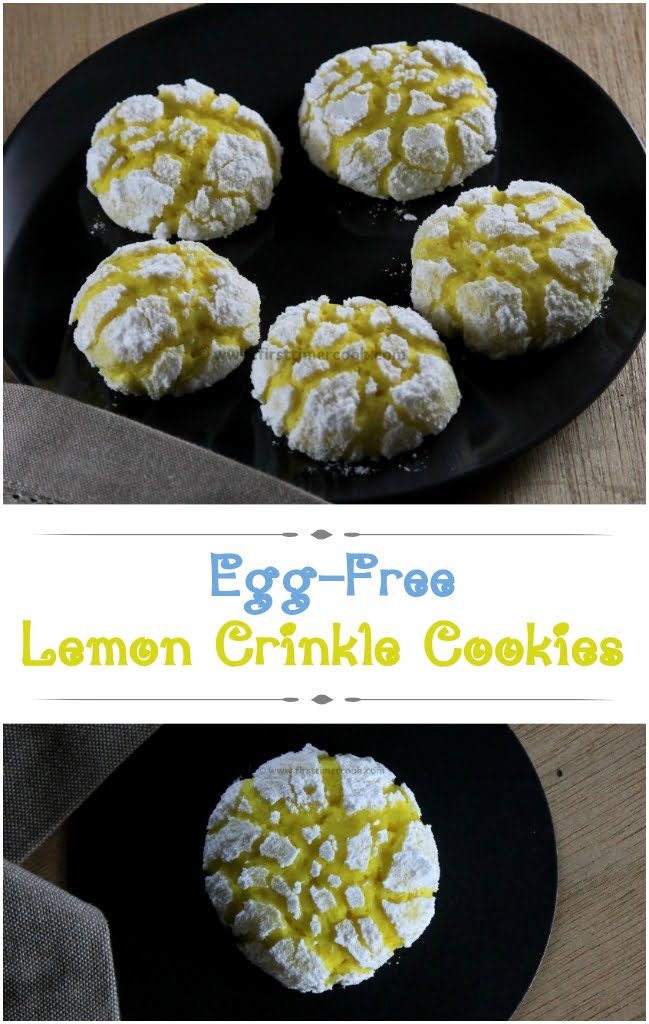 This 'egg-less lemon crinkle cookie' is contributed for 38 Healthy Wellthy Cuisines where the theme is 'Baking with Fruity Affair'. Here are more similar recipes shared by our Healthy Wealthy Group members as Chocolate Fruit Cake, Apple Pie Crescent Rolls, Nutty Fruity Cookies, Pineapple Tarts, Orange-Cranberry Cream Cheese Pound Cake, Lemon-Coconut-Blueberry loaf cake and Raisins and Walnuts Quick Bread.


Sending this recipe to Fiesta Friday this week co hosted by Mollie and Petra.